Do you wonder how to pay for Sling TV outside the US? We got two tested ways for you.
In order to bypass the Sling TV geo-block you'll need a VPN. Unfortunately, even with a VPN, you cannot sign up for this service if you don't have a payment option registered in the US.
When you use a non-US card, an error message will pop up saying We are unable to process your request. Please try after some time.
Luckily, there's a way around it. We are about to show you how to get a US payment option in your country.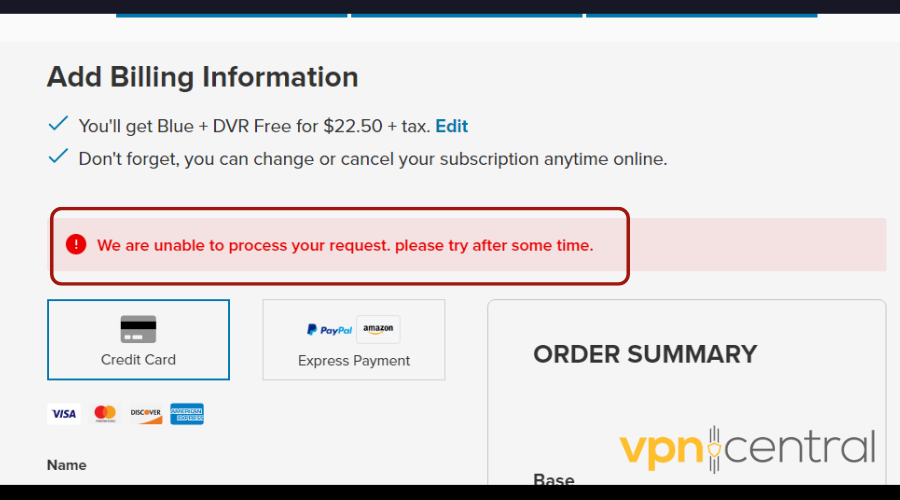 How to pay for Sling TV outside the US?
Naturally, you only have to use an American card to pay for Sling TV. But what if you don't own one? That's where our solutions come in. Carefully read the instructions below to get this done easily.
There are 2 trusted ways to do this. But first and foremost, regardless of which one you pick, the first thing to do is to use a VPN to change your location to the US.
Here's how to do that:
Get a reputable VPN with servers in the US and install it on your device.
Launch the app.
Browse the server list and connect to one located in the United States.
Now your IP address will change to a US IP, which will make Sling TV and other US-based platforms think you access them from the States.
Now, let's see what options you have to pay for Sling TV from abroad.
1. Create a US PayPal account
You can use PayPal to pay for this service.
To sign up for PayPal US, you first have to connect to a VPN server in the States. ExpresVPN is a great choice that won't reveal your real location.
Here's how to do it:
Sign up for a US PayPal account on the official website.
Confirm the US as your location.
For some users, PayPal will ask for your phone number for verification. If that's the case, signup for a virtual US number using a service such as 2ndLine.

Once you've created an account, add money to your PayPal using your card.
Visit Sling TV's official website.

Sign up for a new account or log in to an existing account on the website.
Enter your PayPal details and pay.
Go ahead and stream all the media content you love on Sling TV.
2. Pay with an American virtual prepaid card
Another option is to pay using a prepaid card service. There are some prepaid card companies that let you sign up for a US card even if you're outside the country.
Similarly to PayPal, you'll have to use your main card to transfer the amount to pay for Sling TV.
Here's how to use this type of service:
On your device, signup for a virtual prepaid card. We used States Pay.
Give your information to create a US virtual prepaid card.
Transfer funds to your account using a credit card or Visa card when you have successfully created the account.
Log in to a VPN and connect to a US server.
Go to Sling's TV official website and sign up for an account.
In the billing page, click on the credit card option to use your StatesPay US virtual prepaid card to get your subscription.
Enjoy your time on Sling TV.
As we said earlier, you cannot use your local credit or debit card to pay directly on Sling TV. By following the methods we've listed above, you'd be able to pay for the TV without too much hassle.
How to watch Sling TV outside the US
Just like the payment process, you need a VPN to circumvent geo-restrictions on Sling TV if you live outside the US.
If you attempt to use the service without a VPN, you'll get an error message. It will be something along the line of We're sorry, Sling TV is only available inside the US. Thank you for your interest.
To watch Sling TV even when you are not currently in the USA, follow the guidelines below accordingly.
Sign up for ExpressVPN and download it to your device. It supports all major operating systems, including Windows, macOS, Linux, iOS & Android.
Launch the VPN app and log in with your correct credentials.
Connect to a US server.
Visit Sling TV's official website.
Login or create a new account by clicking on Sign up at the top right-corner of the page.
Enjoy streaming all your favorite content.
We picked ExpressVPN because it has everything you'll need for a good Sling TV streaming experience.
This is because it uses the standard 256-bit military encryption to scramble your traffic in and out of the website.
Also, its servers are optimized for streaming. This means that you can watch a show or movie for an extended period of time without buffering or lagging.
Furthermore, ExpressVPN has over 20 US server locations. This gives you a wider range of server options to choose from when you want to watch Sling TV outside the US.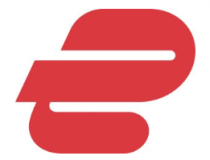 ExpressVPN
Use this foolproof VPN to bypass all blocks and quickly sign up for Sling TV as if you were in the US!
Summary
Sling TV streams a lot of popular US-TV content, such as Bravo TV shows and the US Comedy Central.
Using a VPN to unlock and pay for Sling TV will give you access to all of this content from anywhere in the world.