Is your proxy having connectivity issues? This could negatively impact your online privacy.
Surprisingly, this problem affects many users. The proxy server cannot establish a connection with the target error can truly be a nuisance. Especially when you urgently need internet access.
The good news:
We're going to explore why the problem occurs and how to fix it. So, should it resurface, you'll have multiple workarounds.
Let's kick things off.
Why your proxy server cannot establish a connection with the target?
This proxy error primarily occurs due to internet connectivity issues. It can happen as a result of the following causes:
Network problems: Your proxy fails to connect when your internet is down.
Misconfigurations: Having incorrect settings prevents your proxy from working correctly. It happens when you set the wrong details or due to the device resetting the credentials.
Firewall/Antivirus: Sometimes, these two protection mechanisms can mistakenly block proxy server connections to safeguard your device.
Browser errors: Browser cache build-up may cause errors that disrupt your proxy's function.
Proxy server issues: You may encounter connection errors if the proxy service is experiencing problems.
Target resource problems: The issue may also be with the resource you're trying to access online. It can be down or trying to block access from proxies.
The above list provides a solid starting point when the problem arises. Now let's cross over to the solutions.
How to fix your proxy server connection?
We tested various fixes and boiled them down to the best few. So, let's see what we've got:
Check your internet/proxy settings
Start by checking the quality of your internet connection. While doing so, verify that your proxy settings are correct.
To do this, you'll need to:
Open the PC Settings and look for Network & Internet.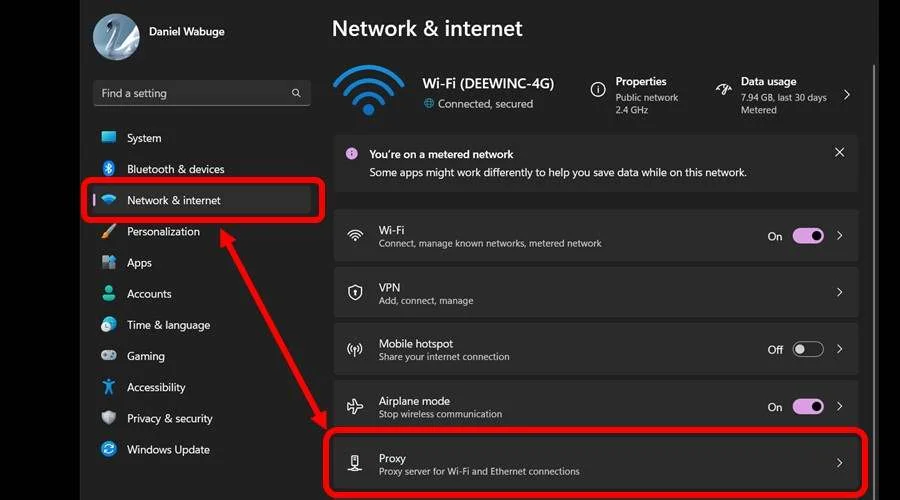 2. Locate Manual proxy setup and select Set up.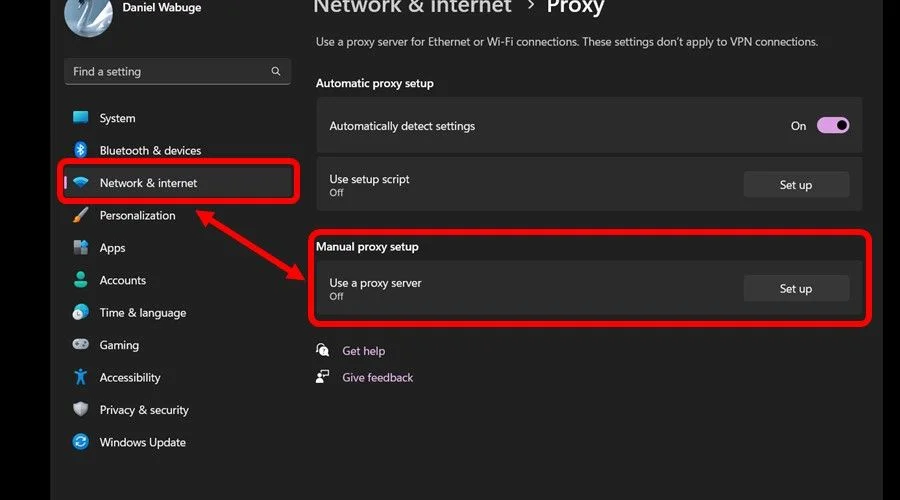 3. Cross-check the Proxy IP address and Port settings for the correct details.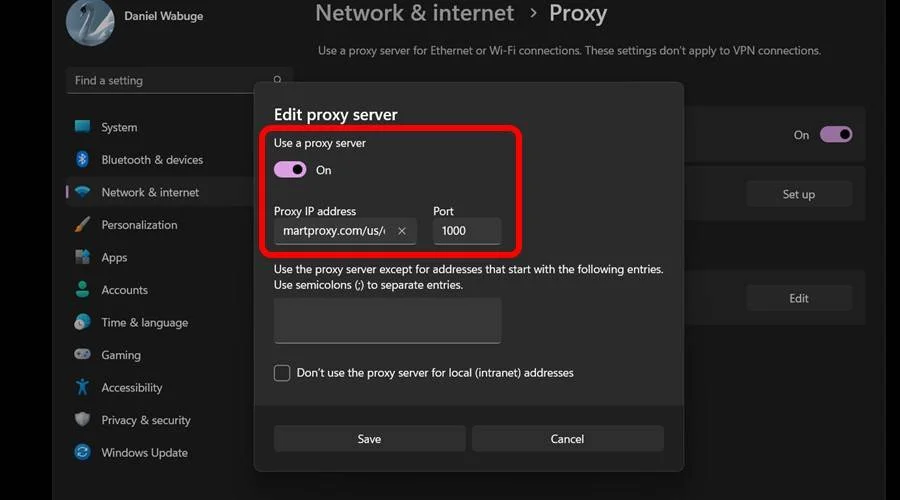 4. Then, toggle the proxy server to Off.
5. Open any website to see if your internet is working.
6. Go back to Step 4, toggle On the proxy server, and retry using it.
Doing the above helps to quickly confirm the cause of the issue. Web pages won't open if your connection is experiencing problems. Likewise, you'll know it's not your internet if it fails to work when the proxy is active.
Reset proxy settings
The proxy server settings might be correct but still fail to work. Accordingly, resetting and reconfiguring them can help fix unknown underlying issues.
Just do the following: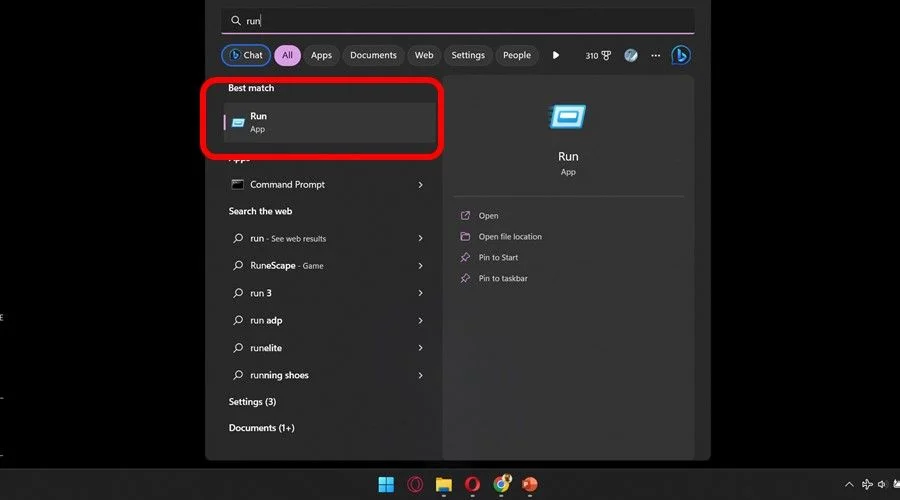 Click the Start button and open Run App.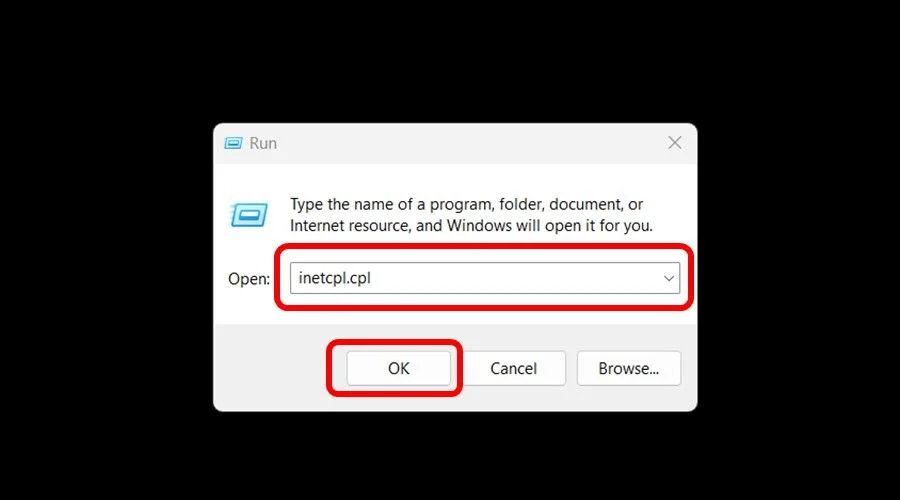 2. Run the script inetcpl.cpl.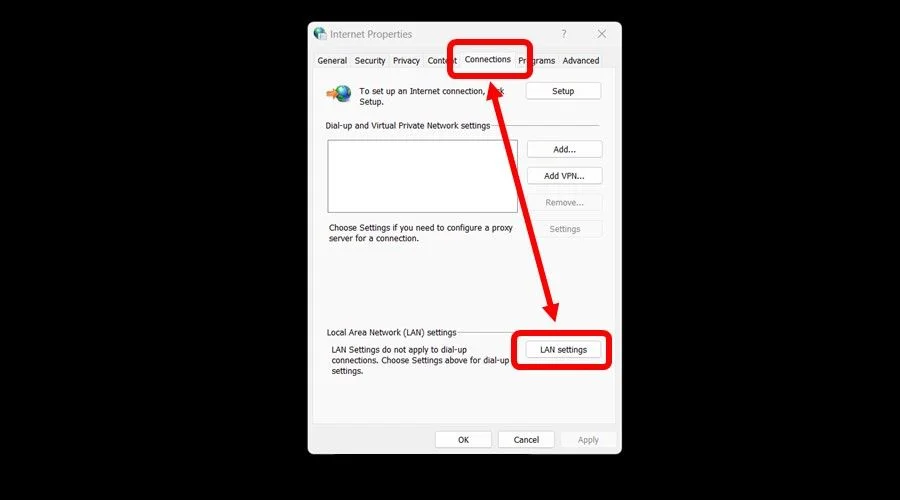 3. Locate the LAN settings under the Connections tab.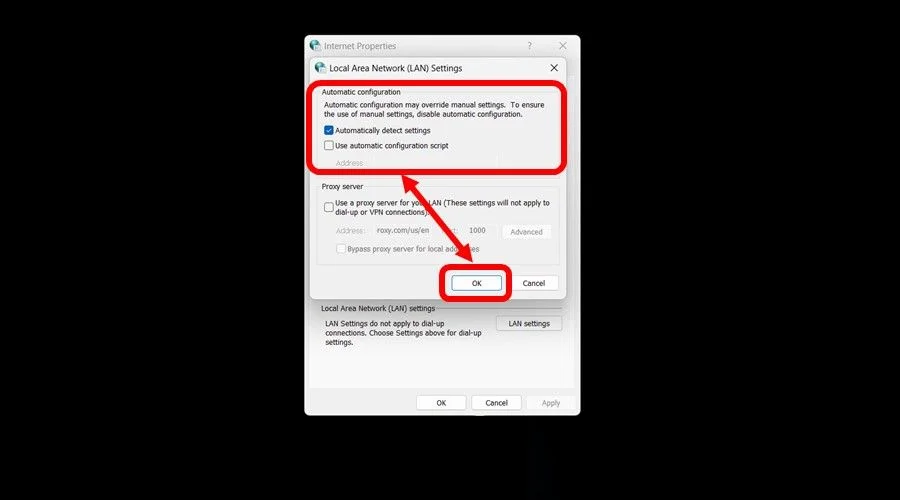 4. Uncheck the Proxy server and check Automatically detect settings.
5. Click okay and restart your computer.
6. Reenter your proxy settings and connect to the internet.
This is an easy way to fix glitches causing your proxy server to not work properly. It also eliminates issues that may go unnoticed during troubleshooting.
Reset Internet Properties
Sometimes, your internet may run into compatibility issues with the proxy. It occurs due to a sudden change of configurations on your connection.
As such, the reset option is ideal for reconfiguring it without breaking a sweat. Just follow the steps below to do it:
Click the start button on your PC and type Run.
Type in inetcpl.cpl on the dialogue box and click OK. The action will pop up Internet Properties settings.
Next, select the Advanced tab.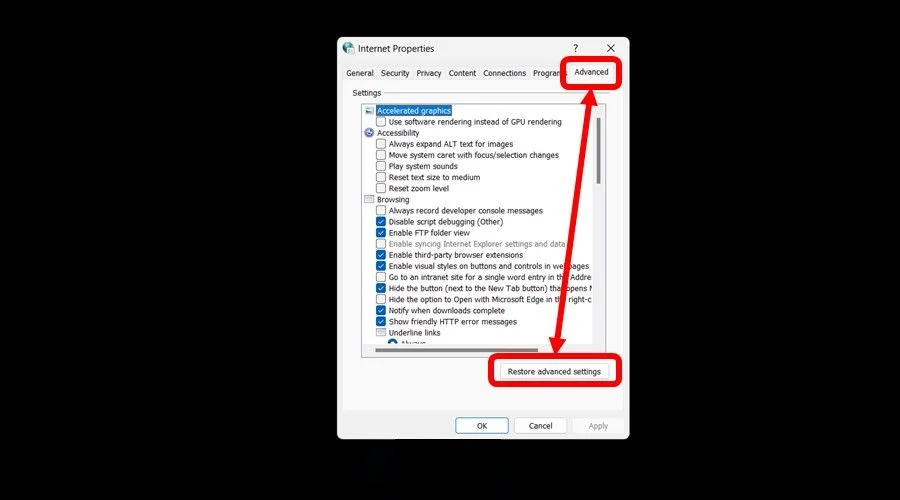 4. Scroll down to the bottom and click Restore advanced settings. On some other devices, the option will appear as Reset.
5. Click Okay for the action to take effect.
6. Restart your computer, reconfigure your proxy, and connect to the internet.
This method sweeps clean all internet settings on your device. It helps erase misconfigurations to your network that conflict with your proxy.
However, it may do away with personalizations to your internet browser. It's worth it if you're unsure of the last changes you made to the settings.
Clear browser cookies
Browser cookies can sometimes pile up and corrupt your internet connection.
The solution? Clear them by following this method:
Open browser Settings on Google Chrome (the steps will be similar on other popular browsers).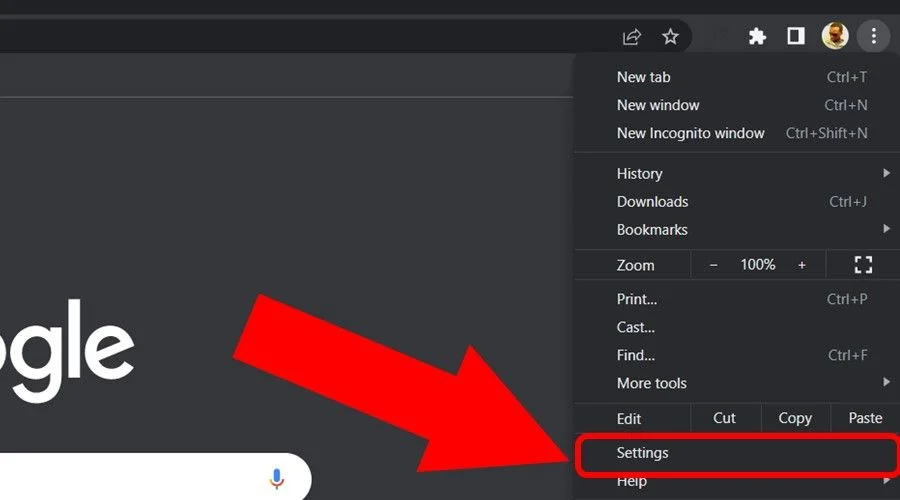 2. Locate Privacy and Security on the left tab.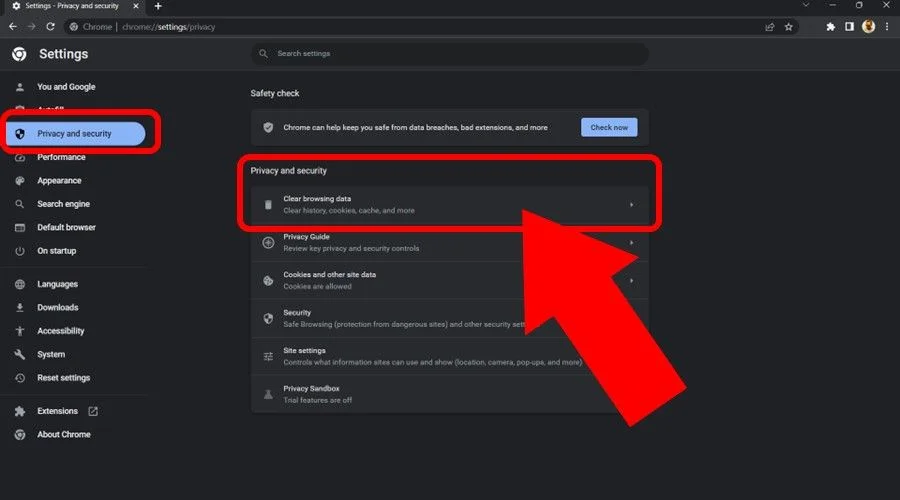 3. Scroll down on the right pane and look for Clear browsing data.
4. Switch to the Advanced tab, select All time, and check all options under that section.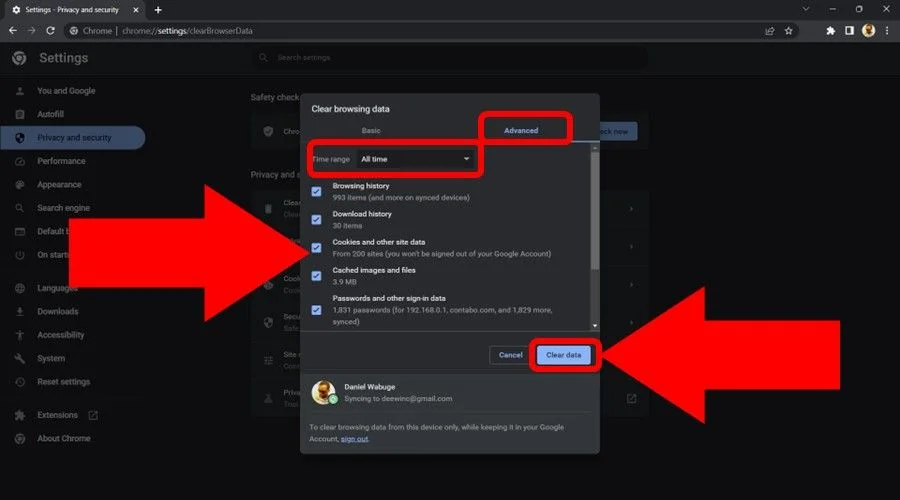 5. Click Clear data.
6. Close the browser, restart it, and connect to the internet.
Clearing this data resolves browser-related issues that are breaking proxy server connections. It also deletes unused junk that could prevent your browser from working optimally.
Change your proxy provider
There's also a good chance you're using an unreliable proxy vendor. You can easily recognize this if the connection error occurs time and again.
We recommend using SmartProxy due to its reliability and consistency. It often tops our charts of the security and privacy tools we benchmark.
Moreover, the vendor offers over 50 million IP addresses available in 190+ countries. This ensures you enjoy fast speeds and reliable connectivity.
Here's how to use it:
Signup for SmartProxy.
Access your account and get the Proxy IP address and Port details.
Enter the new credentials under your device's proxy settings.
Save them, and connect to the internet.
The beauty of SmartProxy is the flexible pricing. You can opt for the volume-based pay-as-you-go (PAYG) tier or choose monthly plans.
Furthermore, the service comes with excellent customer support around the clock. You'll find its agents friendly and always ready to resolve your issues.
It's time to wrap up!
Summary
Seeing the error message proxy server cannot establish a connection with the target can be frustrating. But there's nothing to worry about.
Our actionable recommendations can help you quickly resolve this problem. The good thing is they require little to zero technical know-how.
However, consider changing to a more reliable proxy server vendor if the problem persists. It will save you all the hassle of troubleshooting and fixing this error.