A VPN is a relatively simple tool. You open the software, connect to a server, and you can browse the web from a different IP address. You can do it knowing no one can monitor your online activity.
That's entirely true.
However, when you look at your VPN app, you'll see that, under settings, you can make a number of changes. From switching protocols to turning various features on and off, all of these things impact your experience on the web.
So, what happens when you get these settings wrong?
That's exactly what we'll deal with in this post. First, we'll look at the impact of VPN misconfiguration, and then we'll help you configure your VPN the right way.
Let's start!
What's the Impact of VPN Misconfiguration?
You can make more mistakes when setting up your VPN than you can imagine. Sometimes, even leaving everything on default can negatively impact your online experience.
With that said, let's take a look at what kind of impact VPN misconfiguration can have:
Inadequate Speed or Security
If you've ever looked at the settings section in your VPN, you've probably stumbled upon VPN protocols such as WireGuard and OpenVPN. These things determine the way the app routes your data through the connection.
Every VPN protocol has different specifications based on what you want to achieve. For example, some of them prioritize speed, while others focus on encrypting data and ensuring your traffic doesn't leak.
So, let's imagine all you want to do is browse the web from another IP. If you set up a protocol that focuses on security structure, you're wasting valuable resources on something you don't really need. In other words, you'll get lower speeds in exchange for extra protection that doesn't do much in this situation.
Similarly, if you want your VPN to protect your data at all costs but you pick a protocol that's made to deliver fast speeds and only basic security, your entire experience won't be what you hoped for.
Poor protocol choice is a more common VPN misconfiguration than it may appear. Unfortunately, most users simply leave all settings on default, meaning that they don't always use a protocol that matches what they're trying to achieve by using a VPN.
Even when switching protocols, many users aren't educated enough about this setting. They end up choosing simply what they assume would work the best.
Only some VPNs on the market offer in-app protocol descriptions to help customers use the right one.
Experiencing a Data Leak
Let's imagine you're doing something online, and you're using a VPN because you don't want anyone to know it's you. Right in the middle of it, you lose connection to the VPN server, and all of a sudden, your actual IP and location leaks.
In various situations, this can have serious consequences.
Luckily, VPN providers are aware of how much of a problem this could be. That's why they came up with a tool that automatically shuts down your connection if your link to the server gets cut off.
This useful feature is usually referred to as a kill switch, but some VPNs have their own names for it.
If you use a VPN with a kill switch functionality, you can toggle it on or off in the settings section. If you don't turn it on before an online session, you're risking compromising your privacy.
Slowing Down Your Connection
Many VPN users don't know that they usually have full control over what data they encrypt through a VPN server and what data travels the usual route.
In most cases, they'll simply turn on a VPN, connect to a server, and have all their traffic encrypted even though they're using it for just one app.
This may not necessarily seem like a big deal, but when you're doing multiple things at the same time, you're wasting valuable resources encrypting actions that you could do without a VPN.
By enabling this feature in the settings section, you can create two simultaneous connections – one for protecting sensitive data and one that won't slow down your other internet activities.
Leaking Your Data on a New Network
These days, we connect to countless networks. While it may feel like that one free Wi-Fi you always use is entirely safe, that doesn't necessarily have to be the case.
You can connect to a compromised network and have your data stolen just like that. Using a VPN can prevent this. But since you can't count on always remembering to hop onto a VPN server when connecting to a new network, you can have the app do this for you.
Some of the top VPNs on the market have a feature that automatically hooks you up to a VPN server and encrypts all your traffic. So, even if you connect to a compromised network, third parties still won't be able to catch a glimpse of your data.
It takes just a few clicks of a button to turn this setting on, and it can be a real lifesaver.
Ads and Pop-Ups Appearing
We all know how annoying ads and pop-ups are. These little things can turn a pleasant browsing session into a real nightmare. Not to mention that some of them may actually be a tool for internet wrongdoers to get their hands on your passwords and money.
But what does this have to do with using a VPN? After all, the job of a VPN service is to mask your IP and encrypt your traffic, not block spam.
Just think about it. These companies make programs that complement your internet browsing sessions. So why wouldn't they deal with spam for you along the way?
Also, given what they do, most VPN companies have already identified many phishing websites and other dangerous places online. So, why not use that knowledge to block them and prevent their customers from becoming the next victim?
That is exactly why some high-end VPNs come with built-in tools for blocking ads and pop-ups and blocklisting shady sites.
However, this feature isn't always auto-enabled when you first run your VPN. So, if you don't take a second to toggle it on, you'll still see all these annoying things during your browsing session, and you may be more vulnerable to hacker attacks.
How to Configure Your VPN the Right Way?
Above, we listed all the bad things that can happen if you fail to configure your VPN the right way. Now, we'll show you how to set it properly.
Select the Right Protocol
As mentioned above, every VPN protocol is designed for a specific task. Therefore, choosing the right one for your online session is the key to a pleasant online experience.
While they may seem intimidating, it takes very little effort to understand the basics of every protocol.
Let's look at the most common ones among them and how they work:
This is the oldest VPN protocol currently in use. It delivers great connection speeds but comes with many security issues. It's suitable for users who don't need heavy encryption.
L2TP doesn't provide any encryption on its own, but it can support multiple encryption protocols. When paired with the IPSec security protocol, it becomes highly secure while remaining lightweight. It's suitable for users who want more balanced speed and security.
This open-source protocol uses the unbreakable AES-256 key encryption, among other top-notch security features. It's not necessarily the fastest option available, but It's suitable for users wanting maximum security.
Also frequently paired with IPSec, this protocol provides both high speed and privacy. Suitable for all users.
This is the newest VPN protocol that uses a simpler codebase while still offering high security and great speeds. It's suitable for all everyone, but especially for mobile users.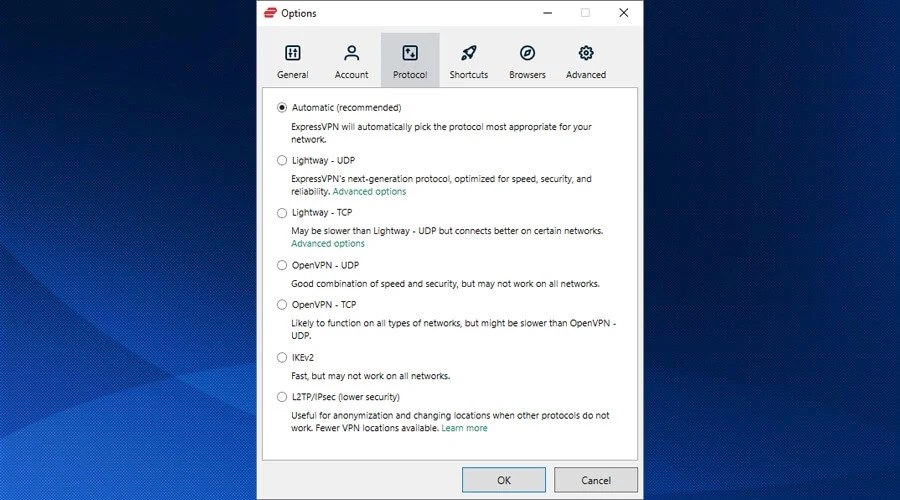 Note: Some VPNs offer other protocols, so doing some research before opting for one is a good idea. For example, NordVPN has its own protocol called NordLynx.
Turn On the Kill Switch
Simply turning the kill switch on can save all your sensitive information from leaking in case you lose connection to the VPN server.
The best part is that it takes just a few clicks to set this tool up. With most VPNs, you can find it within the settings section and just toggle it on.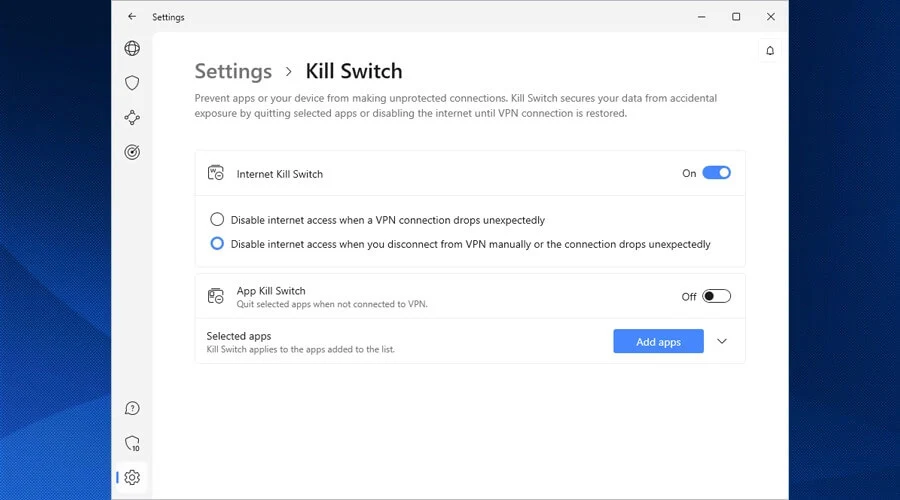 Note: Not all VPNs refer to this tool as a kill switch. For example, ExpressVPN simply asks you whether you want to stop traffic if the VPN disconnects unexpectedly.
Turn On Split Tunneling
The split tunneling feature is easy to set up. If you get it right, it can significantly impact your speed while connected to a VPN server and shape your online session.
Just like the kill switch, this tool is usually located in the settings section. It usually comes with a simple toggle on/off button.
To give you an example, here's how to set it up on NordVPN:
Locate Split tunneling in Settings.
Toggle the Split tunneling button on.
Choose whether you want to enable or disable VPN on selected apps.
Select the apps you want to add to the list.
Note: Some VPNs don't refer to this feature as Split tunneling within their apps. For example, SurfShark has its own Bypasser tool that does the same thing.
Auto-Connect to a VPN Server
If you often connect to new and untrusted networks, automatically hopping onto a VPN server can keep your data away from cyber criminals.
Like with some of the other settings we discussed, it doesn't take more than a few clicks to turn this feature on.
Here's how to do it on NordVPN:
Locate the Auto-connect feature in Settings.
Choose when you want your device to automatically connect to a VPN server.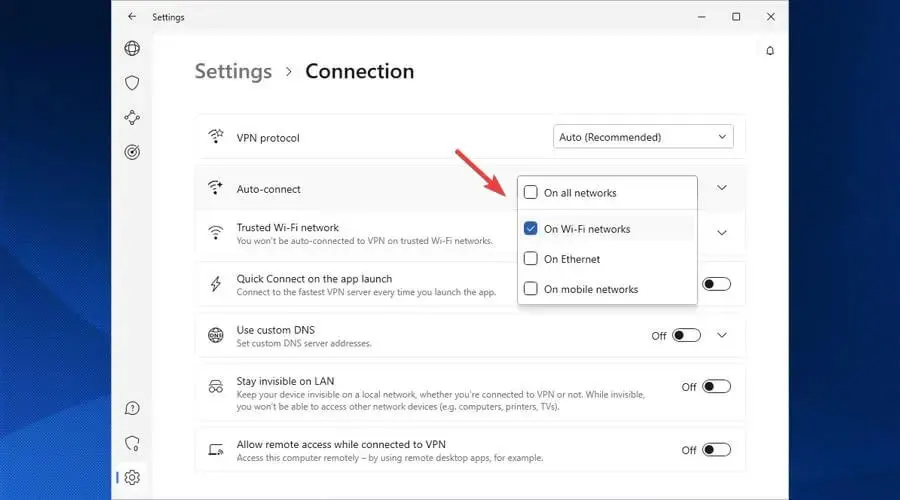 Turn On Extra Security Features
We mentioned earlier that some VPNs use their apps to also help you stay safe while browsing the web.
All you have to do is toggle this feature on and enjoy your browsing session. The VPN app will take care of the rest for you.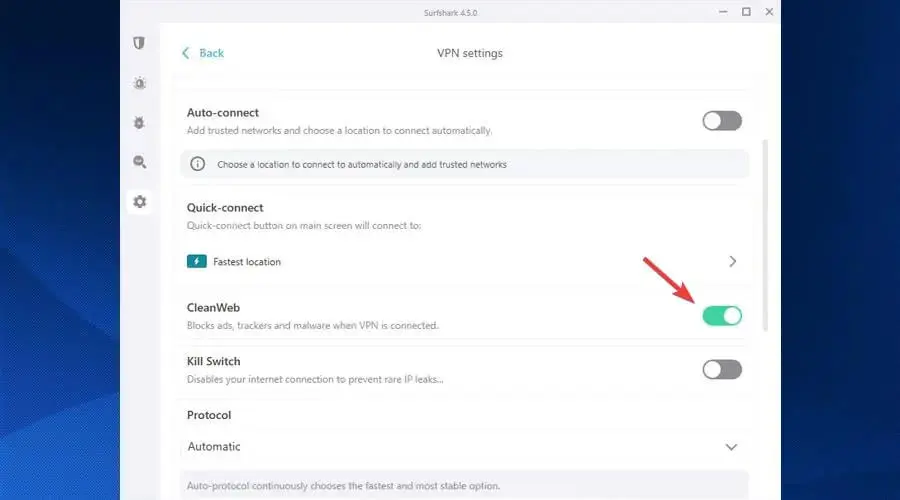 Note: This is another feature many VPNs have their own names for. For example, SurfShark calls it CleanWeb.
Wrap-Up
As you could've seen in this post, the impact of VPN misconfiguration is greater than it may seem at first look. Often, even just leaving all settings on default is a call for trouble.
Therefore, taking some time to set up your VPN correctly is a good idea. Look at the features your VPN of choice offers and learn more about them before deciding how you want to use each.