Servus TV is popular among sports lovers due to its live coverage of international sports competitions like the UEFA Champions League, Formula 1, and so on.
It's big in Austria and offers free access to a great deal of video content. However, it comes with geo-restrictions which makes it only available to residents within Austria.
This means that Austrians who have traveled outside the borders of the country cannot access the streaming platform. Hence, they'll miss out on their favorite shows and sports programs showing on Servus TV.
The good news is that you can watch Servus TV from any location in the world, without having to reside in Austria. All you need is a VPN.
This post details how you can watch Servus TV with a VPN and the 3 best ones to choose for a seamless streaming experience.
Why do you need a VPN to watch Servus TV?
Trying to access Servus TV from outside Austria will bring an error message that reads Dieser Inhalt ist Ihrem Land nicht verfügbar which translates to mean This content is not available in your country.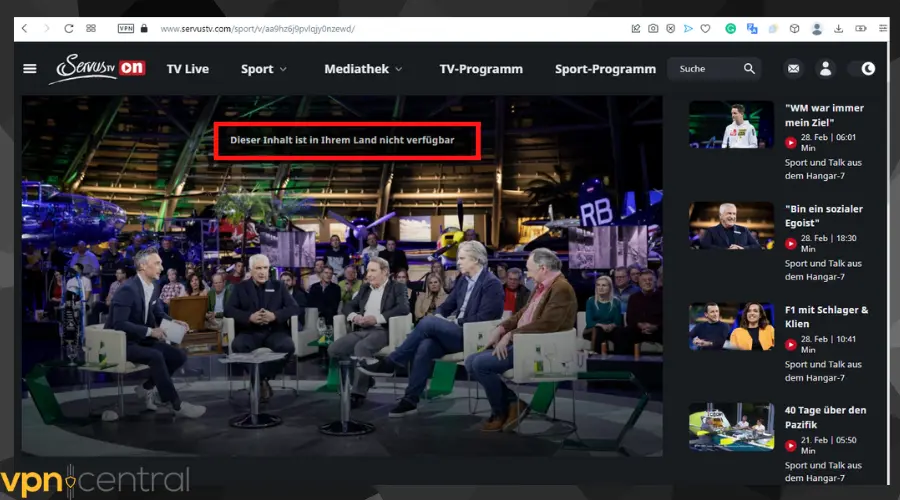 This is because the streaming platform has the ability to detect your actual location based on the information attached to your IP address.
When the app identifies that your IP address doesn't belong to Austria, you will experience difficulties in watching its content.
The easy way to hide your IP address and trick Servus TV into thinking you reside in Austria is to use a VPN. Using a reliable VPN allows you to change your IP address by connecting to an Austrian server.
And by doing so, your original IP address will be hidden and replaced with a temporary one belonging to the VPN server you connect to.
This will grant you access to the streaming platform as it'll recognize your system location as Austria.
Therefore, as long as you reside outside Austria, you will need a VPN to watch Servus TV.
How to watch Servus TV with a VPN
For the best experience on Servus TV, it's important to use a VPN optimized for streaming and also has an effective unblocking function.
Therefore, ExpressVPN is our top Servus TV VPN recommendation.
Follow along to use it for unlocking Servus TV.
Visit ExpressVPN's website to pick a subscription plan and download the software.

Install the app.

Launch the app and connect to an Austrian server.

Visit the streaming platform and enjoy your favorite shows and programs.
Best VPN Services For Servus TV
Although you can unblock Servus TV with different services, we have carefully selected the 3 best Servus TV VPNs that you can use.
This is after a thorough comparison with other VPNs with respect to speed, security, server network, and device compatibility.
1. ExpressVPN – Best VPN for Servus TV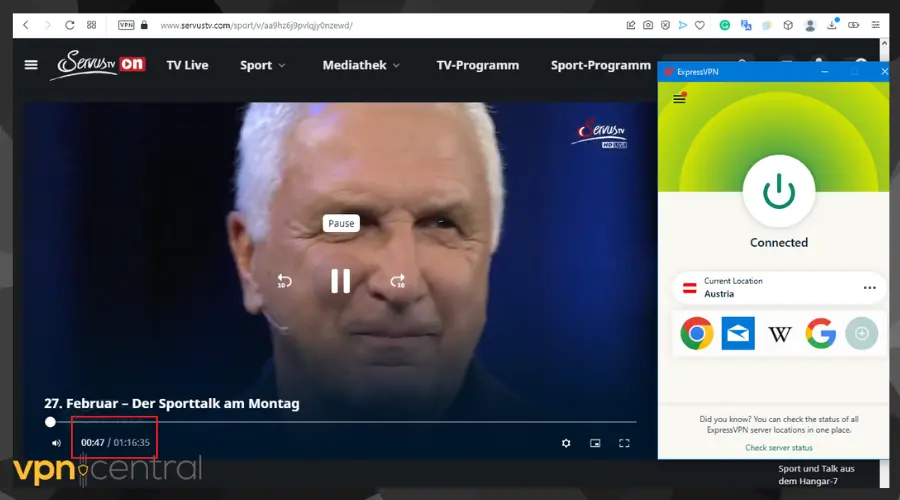 If you're looking for the best VPN to stream ServusTV from outside Austria, ExpressVPN is the best choice.
Boasting over 3000 servers in 94 countries globally, and with servers in Austria, ExpressVPN tops the chart in every category that matters.
The Austrian servers on ExpressVPN are super fast and fully equipped with Private DNS to ensure that you enjoy seamless and buffer-free streaming while connected to the VPN.
Besides that, you can make use of it on many different platforms.
In fact, with proper configuration, ExpressVPN can also get past blocks and errors such as the 5.4.5 error on F1 TV, trick Fox Sports Go's location restriction, and more.
Also, ExpressVPN is known for its top-notch security features which include AES-256-bit encryption, DNS leak Protection, a no-logs policy, and a kill switch.
These features protect your data from leaking your actual location away to Servus TV.
When connected to ExpressVPN, you can rest assured that all your data is secure as it prioritizes users' online privacy and security.
This provider is compatible with iOS, Android, MacOS, Windows, and Linux gadgets and allows simultaneous connection on 5 devices.
Pros:
Fastest VPN provider
AES-256-bit encryption
No logs policy
Topnotch security features
Cons:
Expensive subscription plans
Little to no discounts on plans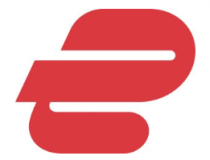 ExpressVPN
Unlock Servus TV from anywhere using this fast and undetectable VPN!
2. Surfshark – Most affordable VPN for Servus TV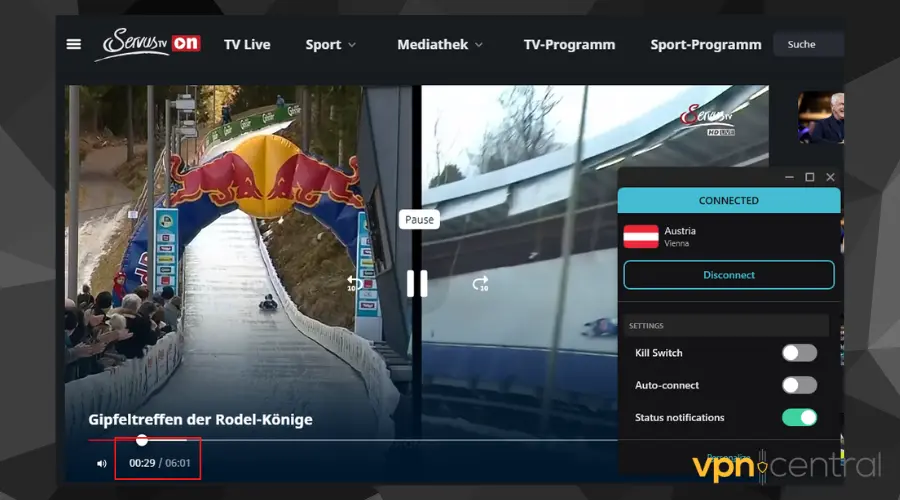 Surfshark is another Servus TV VPN with which you can watch from outside Austria.
It's one of the most affordable premium VPNs on the market, and this does not reduce its efficient unblocking capabilities.
With 3200 servers in 1000 countries including Austria, Surfshark has the necessary features you need to bypass Servus TV's geo-restrictions and stream seamlessly.
In addition to strong tunneling protocols like OpenVPN and WireGuard, Surfshark uses AES-256-GCM encryption to protect your data and privacy online.
Furthermore, it is compatible with several platforms, including Windows, MacOS, Linux, iOS, and Android.
Also, it allows for unlimited simultaneous connections on a single subscription plan, making it a value-for-money VPN.
As with other VPN providers, Surfshark comes with a guaranteed 30-day money-back policy.
Pros:
AES 256-bit encryption
Affordable subscription plans
No logs policy
Unlimited device connections
Supports torrenting
Cons: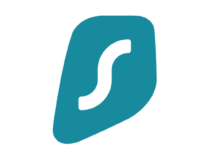 Surfshark
Get unrestricted access to Servus TV from any location in the world!
3. CyberGhost – Speedy servers for streaming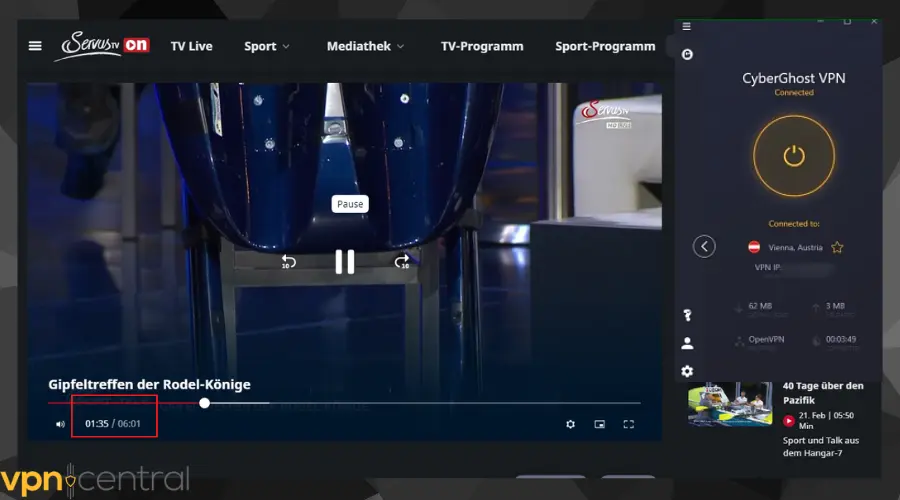 Another Servus TV VPN you can use to access the streaming platform is CyberGhost.
CyberGhost has over 9754 servers in 91 countries, with over 200 server locations in Austria.
This makes it suitable for unblocking Servus TV from outside Austria as it allows you access to different server locations for more flexibility and seamless connections.
Moreover, because it gives you access to so many different locations, it's a suitable tool for unblocking other networks such as F1 TV Pro, beIN Sports, or Netflix.
Furthermore, like ExpressVPN and Surfshark, CyberGhost uses military-grade encryption to securely transmit your data online.
This is in addition to strong tunneling protocols like WireGuard and OpenVPN. Unblocking Servus TV is as easy as pie with these top-notch features.
But that's not all, CyberGhost also operates a strict no-logs policy, just like the other VPNs mentioned above.
Additionally, it's compatible with multiple platforms like Windows, MacOS, Linux, iOS, and Android. It also allows simultaneous connections on 7 devices and it offers a 45-day money-back guarantee.
Pros:
Automatic kill switch
AES-256-bit encryption
No logs policy
P2P Friendly
Compatible with routers and mobile devices
Cons:
PC free rial is 1 day only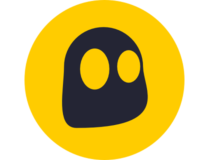 CyberGhost
Enjoy uninterrupted streaming on Servus TV using this reliable VPN!
Conclusion
It makes absolute sense to want to stream Servus TV live because everything it offers is completely free.
Therefore, we hope you will have no issues choosing the best VPN for the platform as we've already made it easier with this post.
With the 3 best Servus TV VPNs mentioned, you'll enjoy a buffer-free streaming experience on your local TV content from abroad.
Now you will no longer miss out on your favorite TV shows and sports programs because you can now use a VPN to watch Servus TV from outside Austria.