VPN apps allow for easy access to settings and are available across desktop and mobile. However, they're not always practical if you want to easily encrypt an entire network.
The solution? Configure the VPN directly on your router and then any device that connects to the router will use the VPN without needing an app.
Today we look at ZTE, one of the most popular router brands, and the steps involved in the ZTE router VPN setup.
For your ZTE router to be compatible, it must use special firmware called OpenWRT.
It's rare to find a ZTE model that supports VPNs by default. Moreover, most ISPs don't provide ZTE routers with OpenWRT firmware.
How to setup a VPN on a ZTE router
ZTE router VPN setup comes in three stages.
First, you must install the OpenWRT firmware and set up the OpenVPN client feature.
Then, you must obtain your provider's router files and configure the VPN on the router via the OpenVPN client.
Install OpenWRT on your ZTE router
OpenWRT is only supported on the following ZTE routers:
ZTE H201L
ZTE MF281
ZTE MF283+
ZTE MF286
ZTE MF286A
ZTE MF286D
ZTE MF286R
ZTE MF289F
ZTE Q7
If yours is not on the list, consider using a VPN app on your device instead. Alternatively, you can purchase a VPN-ready router as recommended by your VPN provider.
If you do own one of the above ZTE models, here's how to upgrade your firmware to OpenWRT:
Download the OpenWRT firmware image for your specific ZTE router model from the OpenWRT website.

Log in to the router's web interface by typing the IP address of the router into a web browser and entering the login credentials.

You can usually find them on the back or bottom of your router, or you can Google the model to find the details online.

Locate the firmware update option.

Depending on your model, this could be under Advanced Settings or the System tab.

Select the OpenWRT firmware image you downloaded in step 1 and upload it to the router.
Wait for the router to update and reboot.
Once the router has rebooted, log into the OpenWRT web interface using the default login credentials (username: root, password: blank, or openwrt).
You can now reset your router login details or leave them as default.
Install OpenVPN on your OpenWRT ZTE Router
Now that your ZTE router is running on the OpenWRT firmware, it's time to install the OpenVPN client:
Navigate to the System > Software settings and select Update Lists.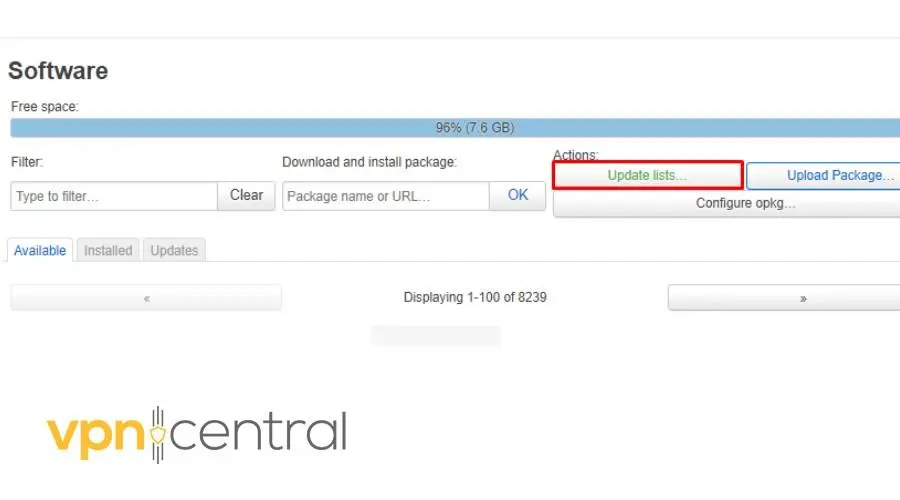 Under Download and install package, search for "openvpn-openssl", "luci-app-openvpn", and "ip-full". Your router will pull these from the internet automatically, but you can also source them yourself and navigate to the files on your system.
Install all 3 packages to give your router the relevant settings.
This will add a VPN tab at the top of the page, though it might be nested under the Services parent tab on some models.
Configure your VPN via OpenVPN
Before proceeding, check that your VPN provider supports router installation and OpenVPN.
We'll use NordVPN as an example, but you can subscribe to any of our top picks below.
Open a new browser tab and visit NordVPN's website, then sign into your customer account.
You need to locate the VPN's configuration files and your service credentials, which are often different from your account credentials. You can find NordVPN's files at: https://nordvpn.com/servers/tools/.
During this process, you can choose the location or server you wish to connect to.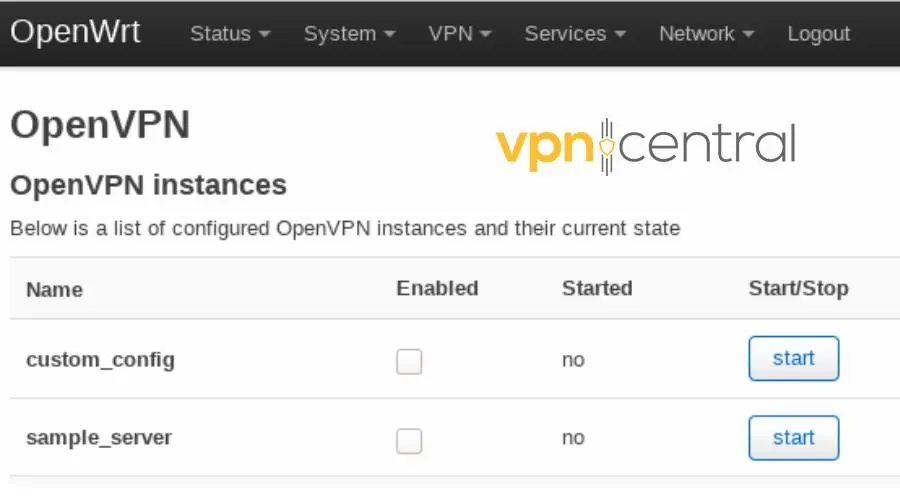 Switch back to your OpenWRT ZTE router page and go to VPN > OpenVPN.
Create a new instance.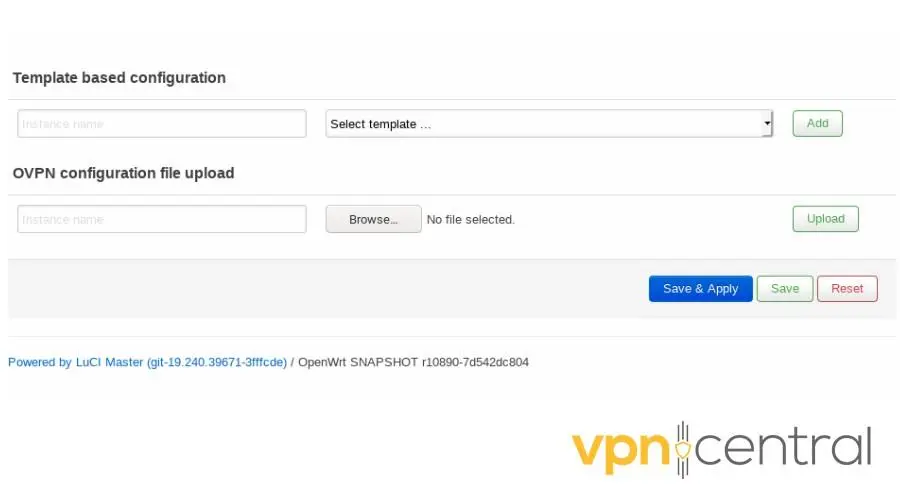 Under OVPN configuration file upload, name your connection and find the configuration file that you downloaded from your VPN provider.
Once the instance is added, click the edit button and fill out any additional fields required by your VPN provider, such as the service username and password credentials.
Once modified, click the Start link to connect to the VPN.
What are the best VPNs for ZTE routers?
Many VPNs support ZTE routers through OpenVPN. However, we put the top providers to the test to see which 3 perform the best.
1. NordVPN – specialty servers for your router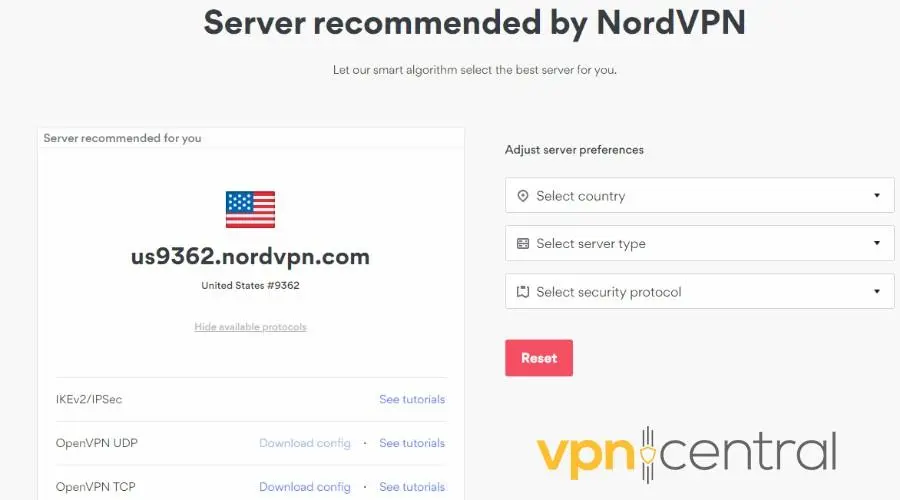 NordVPN provides extensive support for ZTE routers running OpenWRT and OpenVPN. It has both the UDP and TCP ports and you can configure everything before downloading the config file on its tools page.
You can find its own detailed setup guide here.
NordVPN offers full access to over 5,000 individual servers, spanning 60 countries. This means there's always a super-fast one close to you while choosing one further afield will easily unblock geo-restricted content.
It also deserves praise for its variety of specialty servers, which are all available for your config file. This includes double VPN, P2P, obfuscated servers, and Onion over VPN. 
Dedicated IP addresses are available from 212 locations. And it lets you connect up to 6 devices simultaneously.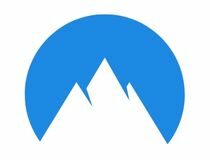 NordVPN
Seamlessly install NordVPN on your ZTE router and benefit from its highly-secure specialty servers.
2. PIA – fast server speeds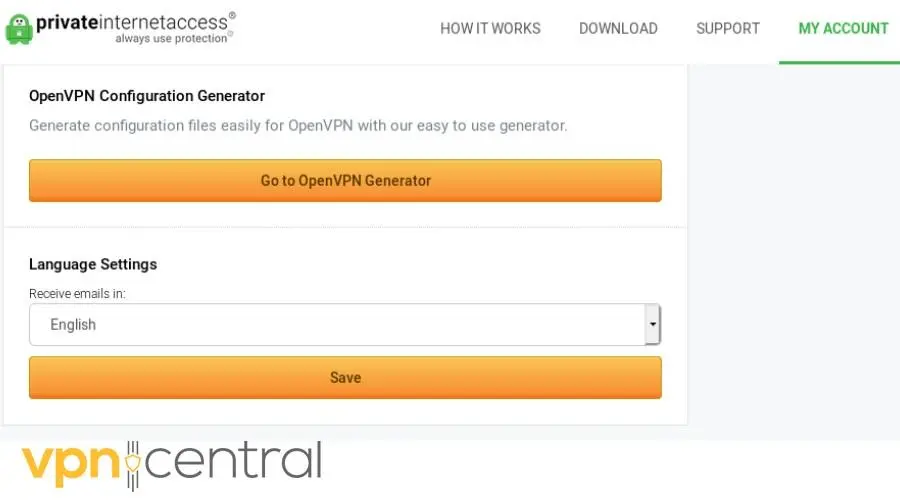 PIA has a number of different configuration files that you can download or via the generator on your account page.
It offers UDP and TCP ports, depending on your requirements. Moreover, custom DNS setup is also available.
It's one of the faster VPNs whether you're using your router or an app, with speeds of over 100Mbps.
It also covers over 80 countries, making it ideal for bypassing geo-restrictions. 10 different devices can be connected to the network at the same time.
PIA has an excellent no-logs policy and allows you to pay in crypto, so if you're in a heavily censored country, your identity is safe.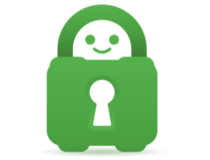 Private Internet Access
Enjoy full router support and the best performance with PIA.
3. Surfshark – unlimited bandwidth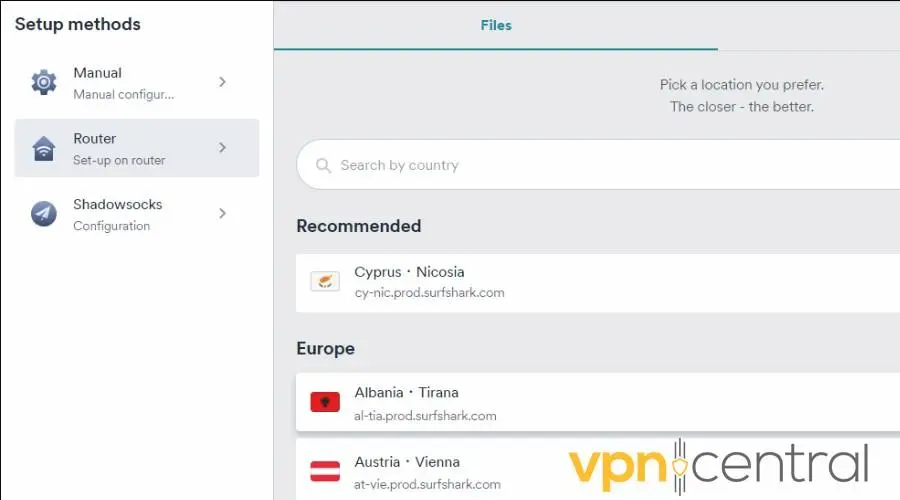 Surfshark provides one of the easier ways to configure your router files, with a dedicated page to find your service credentials and choose your server.
Simply click the files tab, locate the country, and then download the UDP version of the file. Here are the complete instructions.
Surfshark is able to unblock virtually any region-restricted content with more than 3,200 servers in 100 different countries.
Whether you're streaming in 4K, gaming intensively, or sharing files, you'll always get great stability and speed.
It also supports unlimited connections with no bandwidth restrictions, which is ideal if your router facilitates a large home or even office network.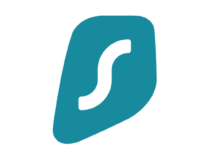 Surfshark
Cover your entire network and enjoy unlimited bandwidth on all your devices with Surfshark.
How to choose the right VPN for a ZTE router
Choosing the right service for your ZTE router depends on your needs, but there are some specific things you need to look out for:
OpenWRT and OpenVPN
Currently, the only surefire way to get a VPN running on your ZTE router is via the OpenWRT firmware and the OpenVPN protocol.
If the VPN provider doesn't support the protocol, it won't work. Moreover, if it doesn't offer a simple way to configure and download the relevant config files, it may be more trouble than it's worth.
Server choice
One of the drawbacks of using your router to connect to a VPN is that there's no simple way to change servers. However, a good VPN will still offer most of its servers over OpenVPN.
The likes of NordVPN and PIA give full access and let you easily browse by country and download the corresponding config files.
Speed and bandwidth
Chances are if you're setting up a VPN on your router, you wish to protect an entire network with lots of devices.
This requires fast server speeds, ideally in the hundreds of Mbps. Moreover, the more supported connections/devices the better. For example, Surfshark has unlimited bandwidth.
Price
Most top-tier VPNs are in the same monthly price range. Anything lower than $9.99 is a great price, but you shouldn't expect to pay anymore than $12.99 for a rolling contract.
If you're happy with the service, consider committing to a 6-month, 12-month, or longer contract. This will give you considerable savings off the comparative monthly price.
Wrap up
If you've been scratching your head about finding a VPN for ZTE router models, the solution just got a bit simpler.
If your model is supported, you just need the OpenWRT firmware with the OpenVPN package. Then it's a case of finding a good VPN service that supports OpenVPN and the necessary config files.
By following the above steps, you can encrypt your entire network without having to install individual VPN apps.
And if you experience any issues, here's a quick guide on how to deal with VPN blocking your router.