Farming Simulator is a modern agricultural game where players (also known as farmers) have actual farmlands where they plant according to seasons.
Despite being a popular game, some users experience problems when trying to use a VPN with Farming Simulator.
In this article, we explain the common causes that lead to Farming Simulator 22 not working with VPN and what to do about them.
Why is Farm Simulator not working with VPN?
Certain conditions come into play when your VPN is unstable with Farm Simulator. Most of the common factors are:
➡️ Network Connection: it pays to troubleshoot your connection before you look for other faults.
➡️ Firewall Restrictions: If your VPN is not allowed through your Firewall then you will have a hard time using it because your system would blacklist it as malicious.
➡️ Anti-virus interference: This operates similarly to the Firewall as it tries to protect you from any harmful application by blocking that app's operations. Disable any antivirus before you start your game.
➡️ Unresponsive VPN server: A VPN server can play a vital role in how your VPN performs. Switch your server location if you keep running into problems. Then observe for any improvement.
What can I do if the Farming Simulator is not working with VPN?
1. Check your antivirus and firewall
It could be that the security setup on your device is blocking the VPN from working properly. Make sure your VPN is allowed through the firewall and that your antivirus isn't blocking it.
→ Check your firewall
On your Start Menu, type Firewall.
Click on Firewall and Network Protection.
Click on Allow an app through the firewall.
Find your VPN in the list and add it as an allowed app.
At this point, your Firewall shouldn't be blocking your VPN again. Launch the VPN and try to connect to a server.
→ Check your antivirus and add the VPN as an exclusion
If you are using the Windows Operating System and you haven't installed any other Antivirus app, then try to turn it off:
Type Windows Security on your Start Menu.
Click on Virus & threat protection.
Click on Manage settings below Virus & threats protection settings.
Toggle off the Real-time protection.
Check if your game works now when you connect to VPN.
Now, head back to the Virus and Threat protection and click on Add or remove exclusions.
Find your VPN app and add it as an exclusion.
This process of disabling and whitelisting is similar for third-party antivirus applications though you will need to do this from the app's settings itself.
🗒️ Note: Avoid keeping your antivirus disabled for too long as this can affect the security system of your device. It is only to see if your VPN issues are coming from it.
2. Switch to another VPN service
If the VPN you are using is giving you too much trouble, then we suggest you try another client that might work better for you.
The best VPNs for playing Farming Simulation should have impenetrable encryption, the ability to withstand bandwidth pressure, and conceal the IP address of users without a trace.
For games, you need a VPN with fast and secure servers that can help fix latency and increase internet speed. Here are some of our top VPN picks for Farming Simulator:
| | |
| --- | --- |
| VPNs | Key features |
| ExpressVPN | Ultra-fast servers in 94 countries, 256-bit Encryption, and 24/7 customer service |
| Private Internet Access | +3200 servers in 80 countries, Zero Log Policy, and DDoS attacks protection |
| Surfshark | A friendly user interface, DNS leak protection, and adblock |
| NordVPN | Super speed, 5400 servers in 59 countries, and standard Military encryption |
| VyprVPN | Chameleon protocol, Automatic Kill Switch, and Quick servers |
Most of these VPNs assure users of a money-back guarantee and a free trial period, so it's a win-win situation for you. Regardless, ensure to use a paid subscription to access full features.
3. Configure DNS manually
Press down windows + R together.
On the Run window that appears, type ncpa.cpl and click Ok.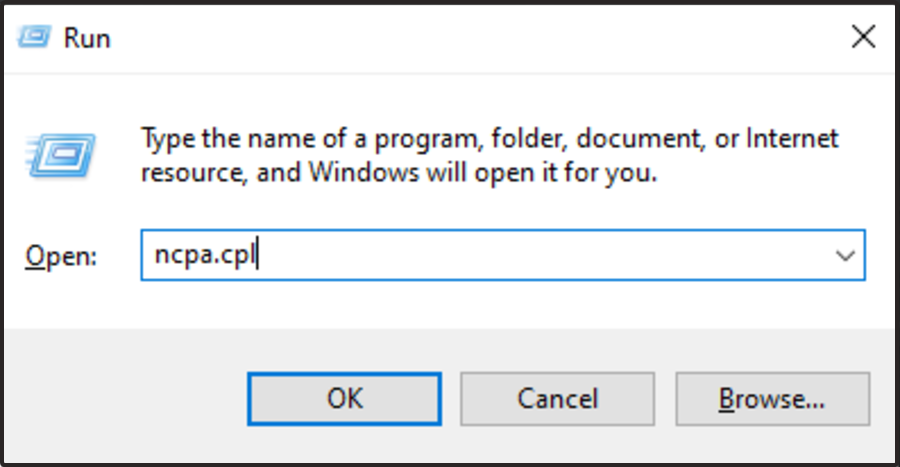 Select your regular network connection (LAN or Wireless Connection).
Right-click on the selection and select Properties.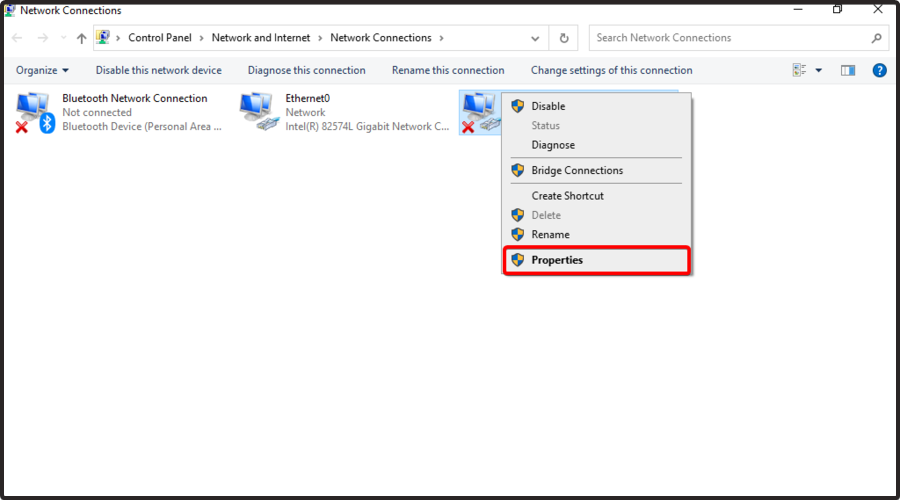 Double-click Internet Protocol Version 4(IPV4) and click on Properties.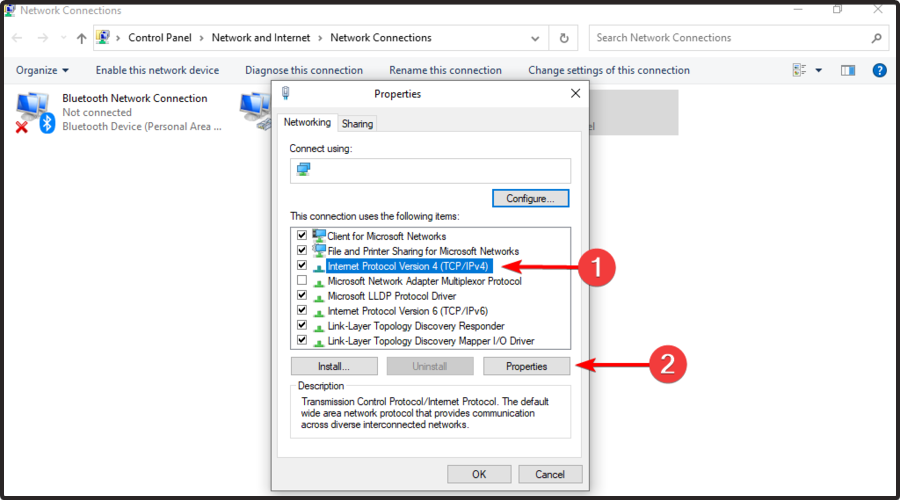 Select Use the following DNS addresses.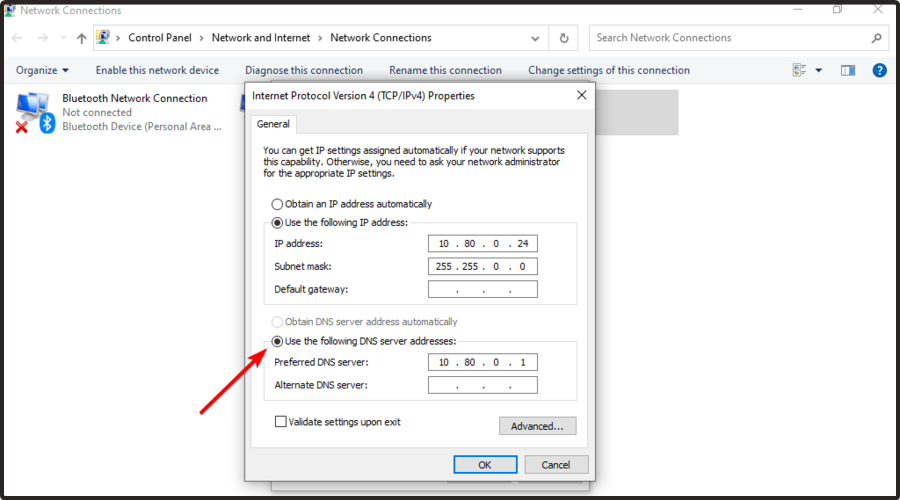 Type these Google DNS server addresses: Preferred DNS server – 8.8.8.8 and Alternate DNS server – 8.8.4.4.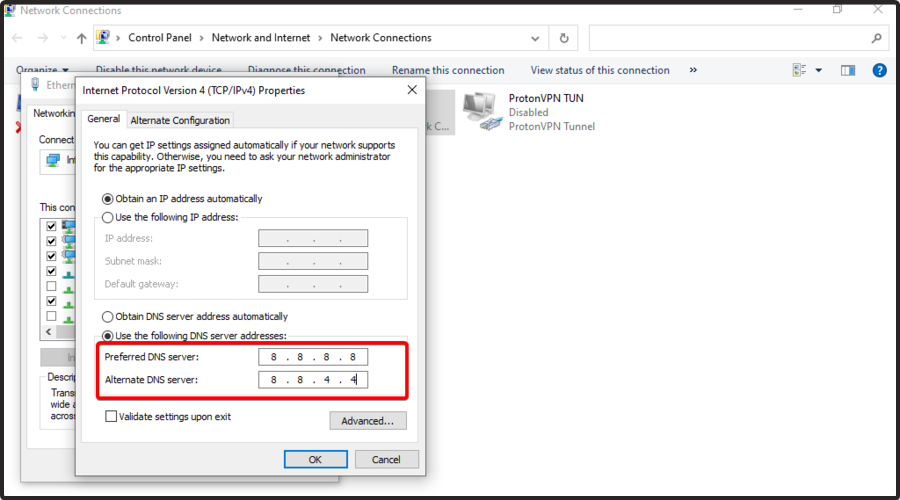 If Google DNS is blocked, try the following: Neustar DNS Advantage (156.154.70.1 and 156.154.71.1) and Level3 DNS (4.2.2.1 and 4.2.2.2) enter and press OK.
Setting up your DNS manually may boost your internet connection and allows your VPN to work better with the Farming Simulator game.
The main reasons why your VPN is not working with the Farming Simulator are bad internet connection and Firewall permissions but both are fixable.
Setting up a manual DNS and using an entirely different VPN can also help you achieve a stable VPN connection to this game.