If you attempt to watch F1 TV pro from the UK, it will not work and you'll get an error message saying you are currently in an unsupported region. This is due to the geo-restriction placed on this service.
F1 TV does this to follow distribution and copyright laws, but there are ways to watch from the UK.
In order to make it around this block, you will have to connect to a VPN with servers in supported regions.
After going through the guide below, you'll be able to watch F1 TV Pro in the UK.
Why do you need a VPN to watch F1 TV Pro abroad?
You need a VPN to bypass geo-restrictions on F1 TV.
F1 is a great platform that streams F1 live for a good price, but it's not available in the UK.
VPNs come with server locations around the world that help you change your region at will. For example, since F1 TV is available in the US, you can connect to a US server on your VPN.
Immediately you do this, the VPN conceals your original IP address and then makes the address of the server visible. F1 TV will then assume that you are in the US and grant you access to its services.
Now, let's see how to do it.
How to watch F1 TV Pro in the UK?
To watch F1 TV Pro in the UK, the first thing to do is find a trustworthy VPN with servers in supported countries such as the US, Sweden, Canada, or the Netherlands.
We recommend NordVPN as it has proven to be extremely good at bypassing geo-blocks on F1 TV. Not only that, it has advanced servers in all the above-mentioned locations.
Follow the guide below to get started:
Subscribe to and download NordVPN to your device.

Launch the NordVPN app and log in with your correct information.
Connect to a server in any of the accepted regions, like the US.
Visit the F1 TV official website using a supported browser like Chrome and subscribe to its services.
Enjoy watching F1 TV Pro.
Best VPN services for watching F1 TV Pro in the UK
NordVPN – impressive speed for streaming
PIA – rich servers collection in the US
ExpressVPN – streaming optimized servers
1. NordVPN – swift and dependable for streaming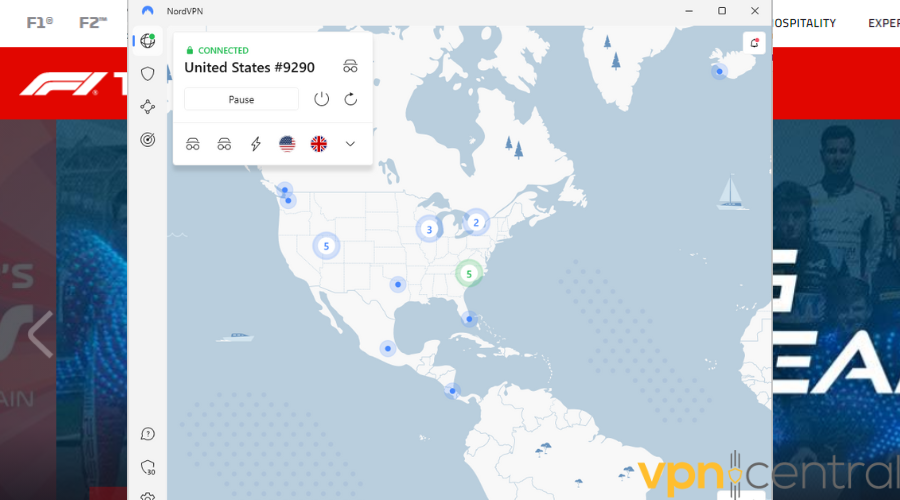 NordVPN has an extensive network of servers across the world, including about 1970 US servers.
This means that you can easily connect to one of them and get access to F1 TV Pro from anywhere in the world.
Secondly, NordVPN has a feature called SmartPlay, which automatically selects the best server for streaming based on your location. So you can enjoy uninterrupted streaming without buffering.
Furthermore, NordVPN offers military-grade encryption and other advanced security features to protect your online activity and data. This is especially important when using public Wi-Fi networks.
In addition to this, NordVPN's proprietary protocol called Nordlynx offers great VPN speeds for streaming.
The VPN also offers unlimited bandwidth which comes in handy if you want to binge on many race shows.
NordVPN also has a 24/7 customer support team that you can contact via live chat or email if you have any questions or issues.
Finally, NordVPN is reliable and trustworthy. It has a no-logging policy, which means that it doesn't keep any records of your online activity or personal information.
The VPN has also been independently audited by PwC to verify its security and privacy measures, so you can be confident that your data is safe with them.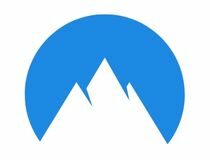 NordPVN
Connect to NordVPN to watch F1 TV Pro from the UK without any limitations!
2. PIA – best for US server locations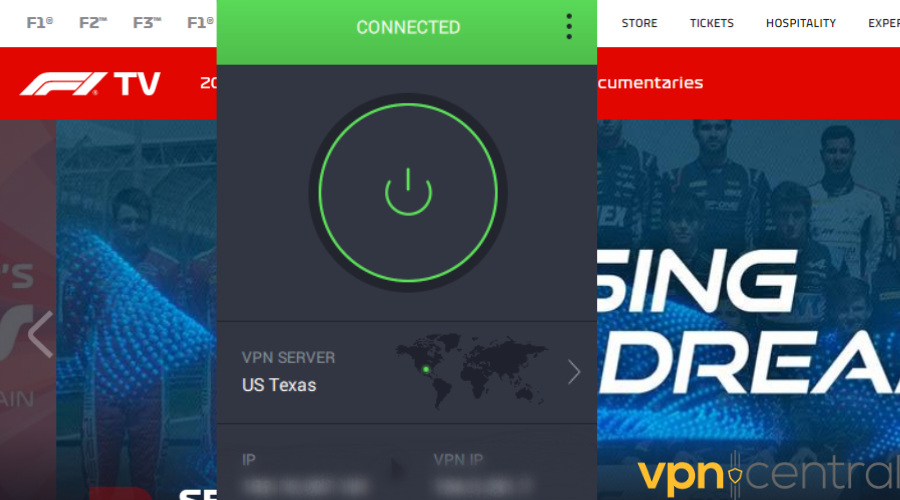 PIA is undoubtedly one of the best VPNs for watching F1 TV in the UK. That's because it offers an array of features that make it ideal for streaming.
First, this VPN is capable of unblocking any geo-restricted content. With PIA, users can connect to a server located in a region where F1 TV is available, thereby gaining access to the content they desire.
For that, PIA has servers in all 50 states in the US and has locations in Canada, the Netherlands, and other regions where F1 TV pro is supported.
With its extensive network of servers, PIA ensures that users can connect to the fastest server available. You can count on it for watching F1 TV pro in the UK, Australia, or any other unsupported region.
In addition to its high-speed servers, PIA also provides top-notch security features. It uses a strong encryption algorithm to protect users' data and maintain their privacy while using the VPN.
PIA also maintains a strict no-logs policy, meaning it doesn't collect or store any user data, including browsing history or online activity.
Furthermore, PIA is compatible with a wide range of devices, including desktop and mobile platforms.
This versatility allows users to access F1 TV from various devices and operating systems, providing them with the flexibility and convenience they need.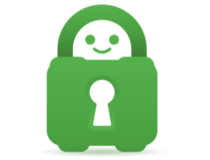 Private Internet Access
Enjoy unlimited access to F1 TV Pro using this reliable, error-free VPN!
3. ExpressVPN – Well-optimized servers for streaming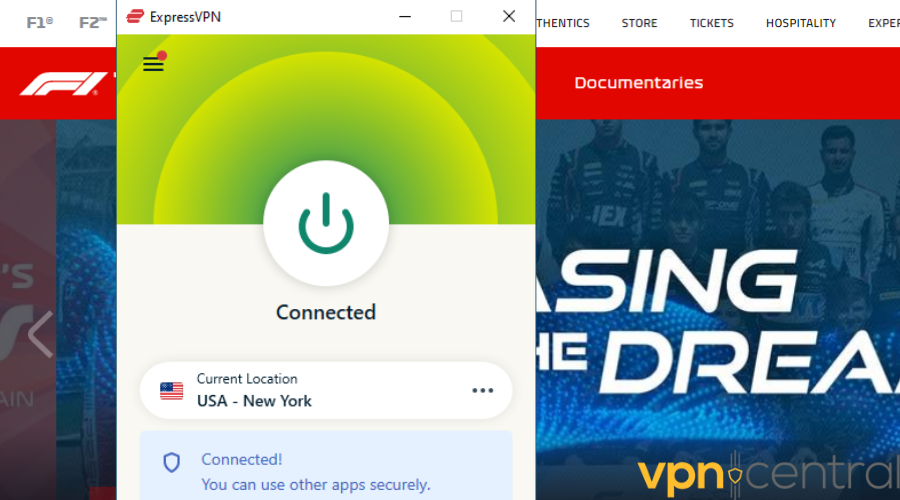 ExpressVPN has a collection of over 3000 super-fast servers including locations in Canada, the USA, and the Netherlands.
By connecting to one of them, you can circumvent region blocks on F1 TV.
In addition to this, the proprietary protocol of ExpressVPN, named LightWay, may boost internet speed. Thanks to its modern configuration you'll be less likely to experience stuttering while streaming.
Also, this VPN uses the advanced 256-bit encryption algorithm to scramble your traffic while you are surfing the F1 website.
This gives you the assurance that trackers or ISPs cannot pin down your location.
Furthermore, ExpressVPN offers unlimited bandwidth giving you the chance to watch all content on F1 TV Pro without worrying about data caps.
What's more? ExpressVPN offers you five simultaneous device connections. Whether your friends or family want to join in on streaming races from their devices, then it's possible because of this feature.
We must also mention that ExpressVPN takes privacy seriously, that's why they assure users of a strict zero-activity log regardless of your location.
So you can be relaxed while using this VPN knowing fully well that your personal data is safe.
As long as you keep it up to date, ExpressVPN ExpressVPN should open F1 TV Pro without any errors.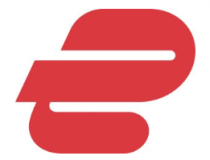 ExpressVPN
Use ExpressVPN to enjoy buffer-free streaming of all content on F1 TV Pro!
Wrap up
You can watch F1 TV pro in the UK regardless of your location. All you need to do is subscribe to a reliable VPN provider with servers in supported countries like the US, Canada, and Netherlands.
The reason you have to use a VPN to access this service is because F1 TV is not available for all countries in the world currently. Also, a VPN will keep you safe while at it.