Many people are frustrated because they can't seem to figure out how to watch Turkish TV in Australia.
However, the reason why it's difficult to pull it off is simple: Most Turkish TV channels are region-blocked.
Your ISP usually assigns your device with a location-specific IP address. So, it's only normal that it changes to that of the country you're currently in.
That's why Turkish channels can block you when you connect from Australia. But fixing the issue is also quite simple.
So, if you want to have unrestricted access to your favorite Turkish content now that you're in Australia, this article is for you.
Read to the end and you'll learn the easiest way to unblock your favorite channels.
How to watch Turkish TV in Australia?
You can watch Turkish TV in Australia with the help of a VPN. You just have to get a trusted provider with more than one server in your home country.
This will allow you to connect and get a Turkish IP address, which will in turn unblock the previously blocked websites and streaming platforms.
Now that all that's said, it's important that you choose a VPN with strong unblocking features and streaming-optimized hardware.
It's for these reasons that I recommend that you:
Use ExpressVPN
The entire process of watching geo-blocked Turkish channels in Australia with ExpressVPN is easier than you ever imagined.
Just follow this simple step-by-step guide:
Subscribe to ExpressVPN and download the software on your phone or PC.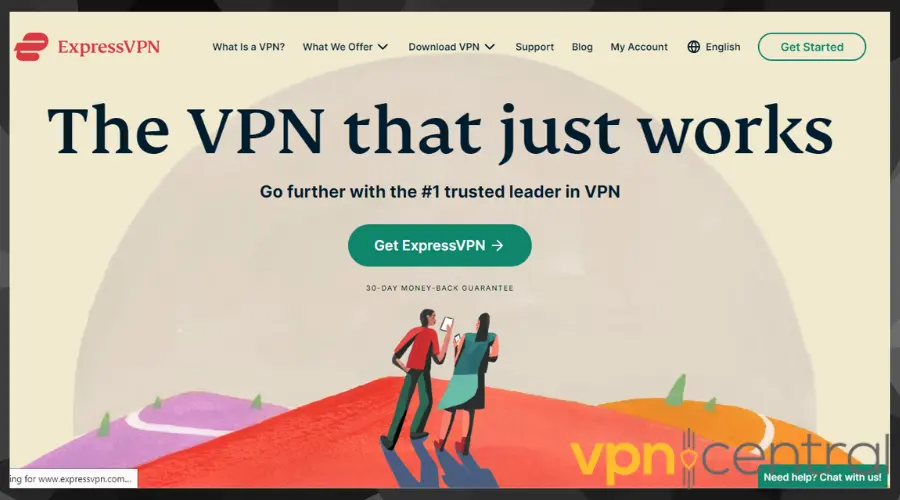 Open the app and connect to a server in Turkey.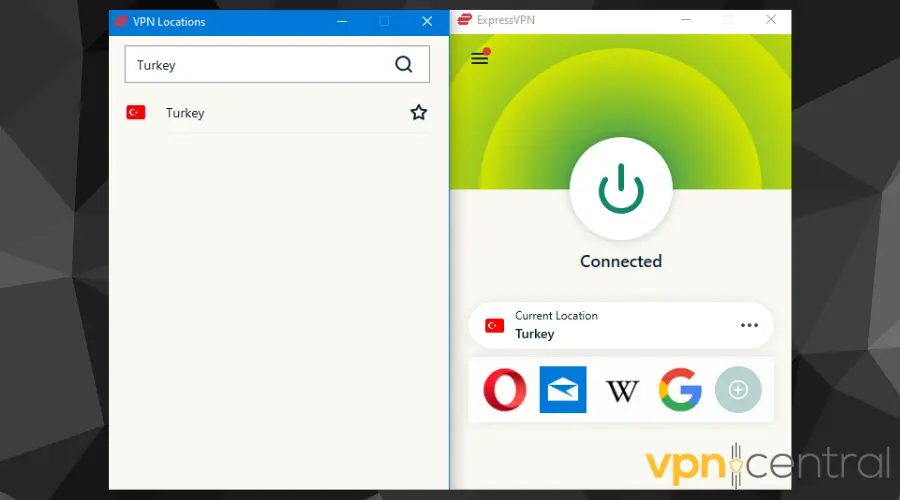 Now that you have a Turkish IP address, navigate to the streaming platform or website you wish to unblock. You'll have full access.
For example, I was able to watch Dilek Tasi on Kanal D using ExpressVPN.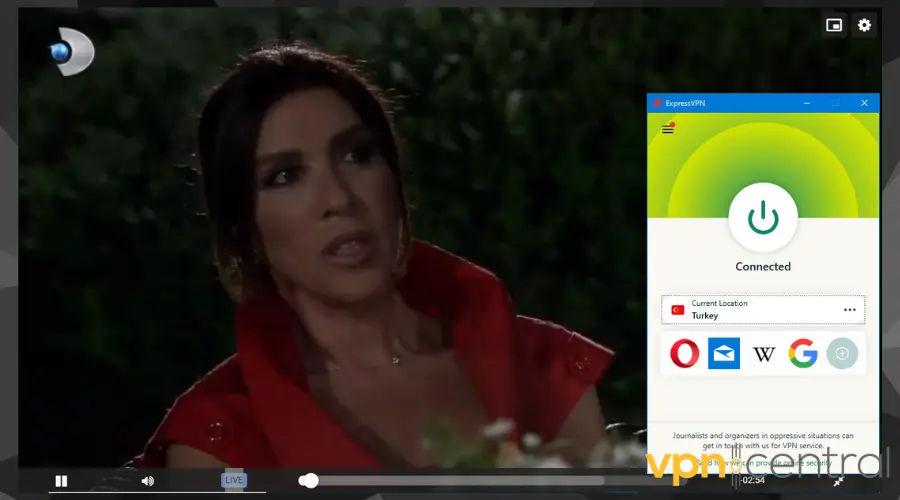 Why do you need a VPN to watch Turkish TV in Australia?
You need a VPN to watch Turkish TV in Australia because the majority of Turkish TV channels are region-blocked.
This means that the only way to evade the blocks is to connect to a VPN server. This lets you access the website with an IP address from its approved location.
In this case, if you're in Australia, connecting to a server in Turkey tricks the platform into believing that you're in Turkey so you can stream all your favorite channels.
Best VPNs for Turkish TV
In this section, you'll find the best VPNs suitable for watching Turkish TV.
In case you're wondering how I formed this list, below are the factors I considered that helped me make this conclusion:
Large network
Availability of Turkish servers
Strong encryption
Proven record of bypassing geo-blocks and restrictions
Fast connection speeds
Strong security features
Fast-responding support team
Money-back guarantee.
Now let's dive right in:
1. ExpressVPN – overall best VPN for Turkish TV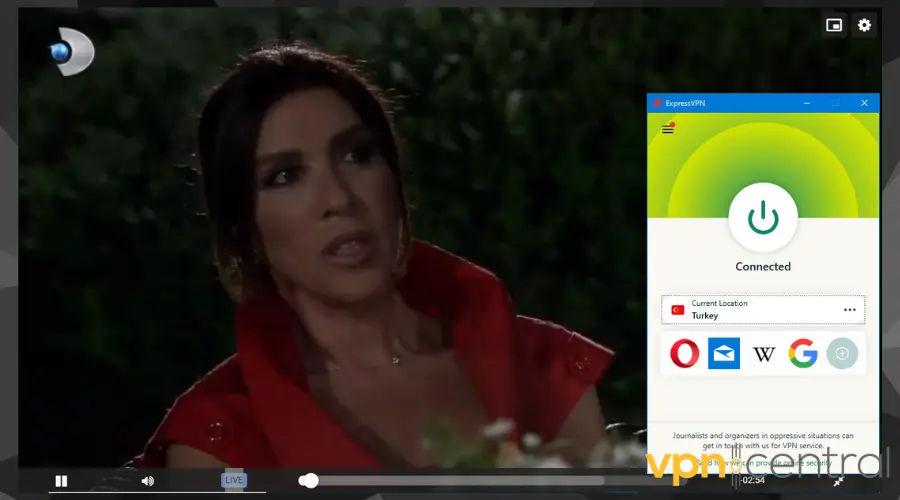 ExpressVPN has a wide network of more than 3000 servers in 90 countries, including Turkey.
Alongside this, it has a proven track record of seamlessly unblocking restricted channels and bypassing content blocks on different websites and streaming platforms.
ExpressVPN has strong security features like DNS and IPv6 leak protection. Additionally, it has an inbuilt kill switch to stop your traffic whenever your VPN connection fails.
It also uses strong connection protocols like Lightway and OpenVPN to help you bypass even the toughest internet censorship alongside its use of 256-bit-AES encryption.
In addition, it operates a strict no-logs policy that's been proven and is continuously being independently audited, which assures its users that their information is safe and cannot be accessed by anyone.
Its apps are compatible with Windows, iOS, Android, Linux, MacOS devices, and routers.
Pros:
Unblocks Turkish TV channels easily
Large server network
Strong security features and encryption
Compatible with a range of devices and routers
24/7 support is available via email and live chat.
Cons:
Expensive subscription plans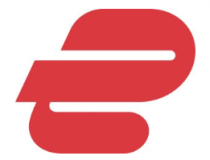 ExpressVPN
Unblock your favorite Turkish channels and enjoy top-notch streaming quality with ExpressVPN.
2. CyberGhost – fast servers for smooth streaming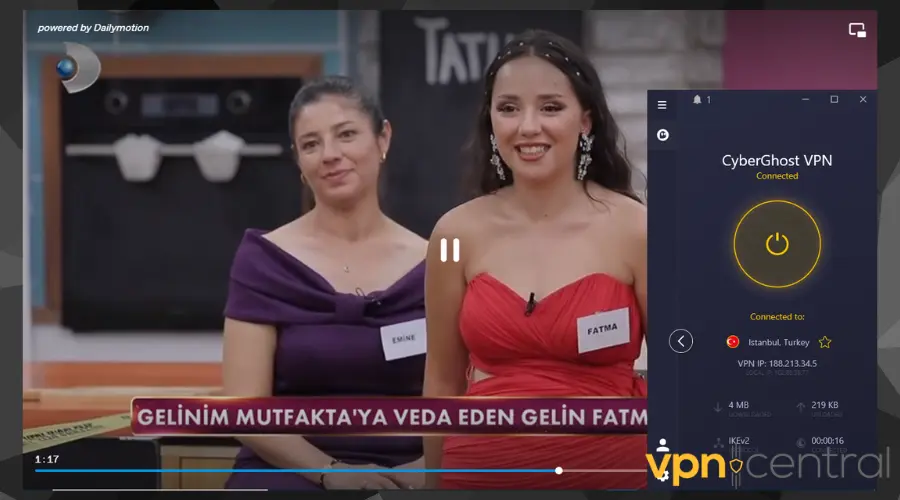 With 9500+ servers spread across 91 countries worldwide and about 24 servers based in Turkey alone, CyberGhost is suitable for streaming Turkish TV channels from abroad.
It has fast speeds of up to 10GB/s for butter-smooth streaming and encrypts your internet traffic using AES-256-bit encryption.
In addition, it has DNS and IPv6 leak protection and a built-in kill switch that comes on in case of a drop in your VPN connection.
CyberGhost has a no-logs policy, which ensures the company doesn't keep track of anything you do online or any information related to you, whether identifiable or not.
CyberGhost has apps for iOS, Linux, Android, Mac, Android TV, and Amazon Fire TV.
Also, it offers browser extensions for Chrome and Firefox and allows for manual installation and configuration on compatible routers.
Pros:
Seamless unblocking of Turkish TV content from abroad
Largest server network
Top-notch encryption and security features
Allows 7 simultaneous device connections
Free support via live chat
Cons:
Doesn't perform well in locations like the UAE or China.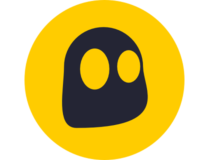 CyberGhost
Benefit from streaming-optimized servers and unblock your favorite TV channels with ease.
3. NordVPN – over 10 Turkish servers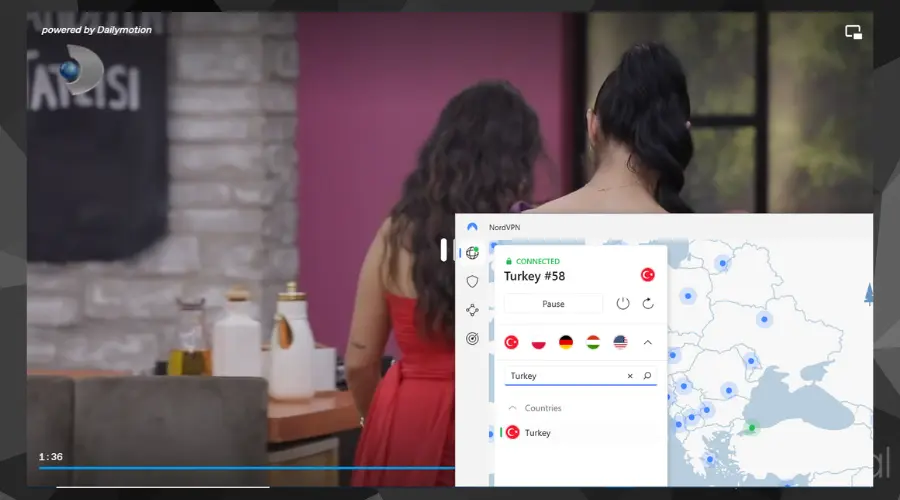 NordVPN is the second VPN with the largest number of Turkish servers.
It has over 12 servers in Turkey which means you can watch Turkish TV from any location just by connecting to any of these servers.
Just like ExpressVPN and CyberGhost, its security features are commendable, as it uses military-grade uncrackable encryption, and has an inbuilt kill switch and DNS/IPv6 leak protection.
Also, it has obfuscated servers that allow you to disguise your VPN connection as normal internet traffic, so it can bypass VPN restrictions and internet censorship.
Apart from IKEv2/IPsec and OpenVPN, NordVPN uses its own protocol called NordLynx for faster connection speeds.
And it employs an independently-audited no-logs policy to ensure you none of your data is being stored or tracked.
NordVPN has apps for Android, Windows, Mac, iOS, and Linux devices and it allows manual installation on routers.
Pros:
Over a dozen Turkish servers
Lightning-fast speed
No-logs policy
Top-notch security and encryption
6 simultaneous device connections
24/7 available support team
Cons:
Advertising IDs need to be cleared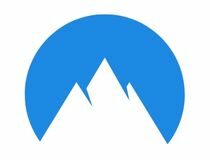 NordVPN
Blow past any and all geo-restrictions and stream in high quality with NordVPN.
4. Surfshark – super affordable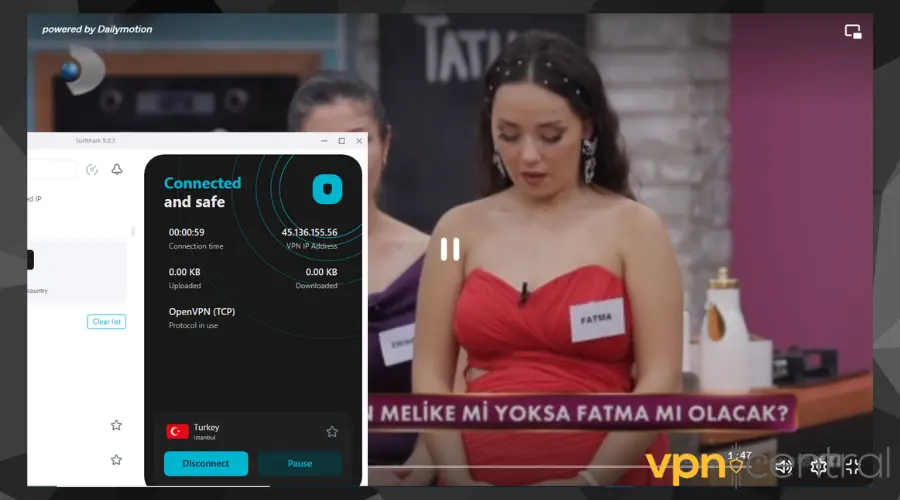 Although cheaper than other VPNs mentioned earlier, Surfshark offers a wide array of impressive security features that'll interest you.
Let's start with its 3200+ RAM-only servers spread across 100+ countries. These ensure that your activities are wiped once you disconnect from an active session.
They also guarantee you speeds ranging from 1GB/s to 10GB/s for buffer-free streaming.
Furthermore, Surfshark uses an unbreakable 256-bit AES encryption and an automatic kill switch that blocks the outflow of traffic when your connection drops in order to prevent leaks.
You also get DNS leak protection for better security, an inbuilt ad blocker, antivirus, and tracker blockers.
Surfshark operates a sincere no-logs policy that's been independently audited multiple times and proven to be true.
It allows unlimited device connections and has apps for Windows, Android, Linux, iOS, Mac. Also, it has browser extensions for Chrome and Firefox and another app for Amazon Fire TV.
However, for use on routers, this requires manual installation and configuration.
Pros:
Unlimited simultaneous device connections
Powerful security features and encryption
Grants access to Turkish TV from abroad
Available support team via Live-chat
Worldwide usability
Cons:
Some features come at an extra cost usually monthly.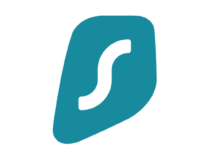 Surfshark
Easily unblock Turkish TV channels and stream on all your devices with Surfshark.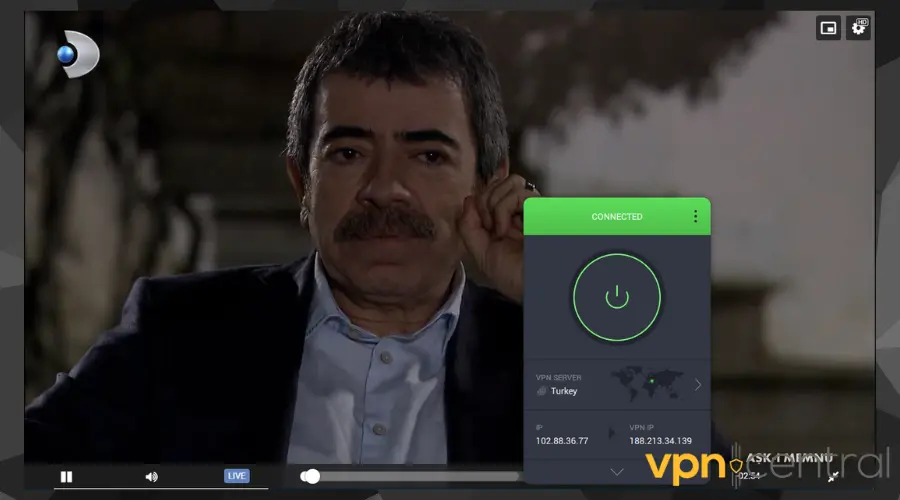 PIA is one of the most popular providers on the market and it has made a name for itself.
As of now, it has 35,000+ servers in 84 countries around the world, including Turkey. These servers boast up to 10GB/s speeds to help you watch Turkish shows, movies, and sports without any lag ot buffering.
This VPN also allows you to choose between 128-bit or 256-bit AES encryption, giving you flexible connection options to easily use the internet the way you prefer.
In addition, it has a kill switch to protect your data from leaking on unstable networks.
Furthermore, it has DNS leak protection to help you avoid detection through your DNS requests, and offers an in-built ad blocker.
It also has a record of unblocking major streaming platforms like Netflix, BBC iPlayer, Hulu, and others, therefore, unblocking Turkish TV channels will be a breeze.
Private Internet Access has a strict no-logs policy and allows for unlimited simultaneous device connections.
The best part is that it offers unlimited bandwidth, just like all the other providers on this list.
This means that you can stream as much as you want without ever worrying about usage caps or speed throttling.
It has apps for Android, Windows, iOS and MacOS.
Pros:
Strict no-logs policy
Fast connection speeds
Option to choose your encryption mode
Anonymous sign-up
Cons:
Less server network
Support teams aren't available 24/7.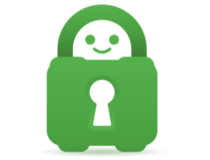 Private Internet Access
Make quick work of geo-restrictions and enjoy high-quality streaming with PIA.
Which Turkish TV channels can I watch online?
The Turkish TV channels listed below all work with a VPN, so you can unblock and watch them from anywhere in the world:
TRT 1: Has a wide array of sports, news, movies, and series programming, including titles like Akif, Diriliş: Ertuğrul, Kara Sevda, The Good Family, Joy Of My Life, and Malazgirt 1071: The Apocalypse of Byzantium.
Fox TV: You can watch entertainment content on this channel. Some of the titles include Sen Anlat Karadeniz, Bambaska Biri, and Yasak Elma.
Show TV: This channel focuses on entertainment, including dramas, comedies, and reality shows like Aşk Laftan Anlamaz, Çukur, and Bridal House With Asli Hunel.
Star TV: You can watch movies, series, and reality shows like Kara Bela, Sefirin Kızı, Kaderimin Oyunu, Kizgin Ates, Berlin Kaplani, and Lezzet Rotasi on this channel.
TV8: Has popular series and reality shows like Masterchef Turkiye All Star, Health at 8, If You Were A Meal, Red Room, and Against Fate.
Kanal D: Lovers of comedies and series would love titles like My Bride Is In The Kitchen, Arkar Sokaklar, Wishing Stone, Kuruluş Osman, and Bir Zamanlar Çukurova on this channel.
Puhu TV: Get access to live shows and entertainment content like Bir Avuc Guzel Insan (A Handful Of Beautiful People), Lezzet Rotasi, Adim Adim Zaglik, Isler Gucler, and Dila Halim.
Is it legal to watch Turkish TV in Australia with a VPN?
Yes, it's completely legal to watch Turkish TV in Australia with a VPN.
Although such activities can be against most platforms' terms of service, you're not breaking any laws by watching a geo-restricted show with a VPN.
But keep in mind that your connection may be blocked if it's detected. However, with the providers on this list, regaining access will be easy.
Summary
If you're traveling out of Turkey, using a VPN will help you keep up with your local shows and movies while away.
But that's not all, VPNs also help you protect your privacy, avoid censorship, and evade your ISP's speed throttling.
So, when you really think about it, knowing how to watch Turkish TV in Australia is a win-win situation for you. Just pick any of the recommendations above and enjoy unrestricted access for as long as you want.
---