Although Canadians benefit from internet freedom, some content may be limited because of domestic law or copyright agreements.
That's where VPNs come into play! Thanks to this tool, you can bypass restrictions and access your favorite content.
You can install VPNs on different types of devices, including PCs, laptops, and smartphones.
However, installing the app isn't possible in some cases, except for browser extensions, especially Chrome.
This article lists five of the best Canada VPN Chrome extensions and services. They all offer high-speed, stable connections as well as cutting-edge security features. Let's have a look!
What are the best VPNs for Chrome in Canada?
Google Chrome is one of the most popular browsers. It's a fast, straightforward service you can customize with extensions.
Due to its popularity, many renowned VPN providers have developed special extensions for Chrome.
Below, we have listed five trustworthy Canada VPN extensions that provide high-quality connections. Let's zoom in!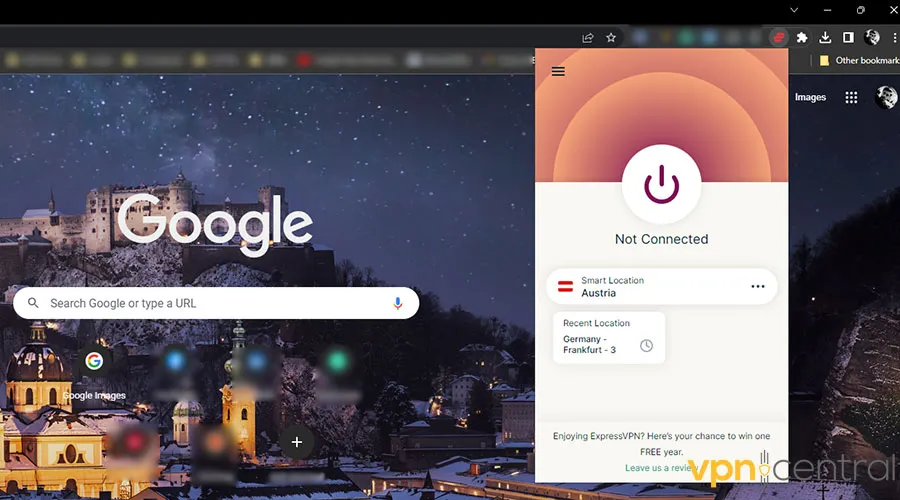 ExpressVPN is one of the best VPN providers, with over 3000 high-quality servers across 94 counties. It features unlimited bandwidth and supports up to 5 simultaneous connections.
This VPN's Chrome extension is more than a mere proxy. It offers many of its app's security features, including WebRTC blocking, location spoofing, and HTTPS Everywhere.
Furthermore, your location and IP address will remain anonymous, providing you with a secure and leak-proof connection.
It's also worth noting that the full app version offers even more features, like split tunneling and a kill switch.
Pros:
Excellent speed and steady connection
Vast servers
Strong security features
Cons:
Browser extension only works when the main app is installed
More expensive than its peers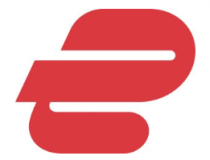 ExpressVPN
ExpressVPN has a full suite of features that will protect your privacy in Canada, especially on Chrome.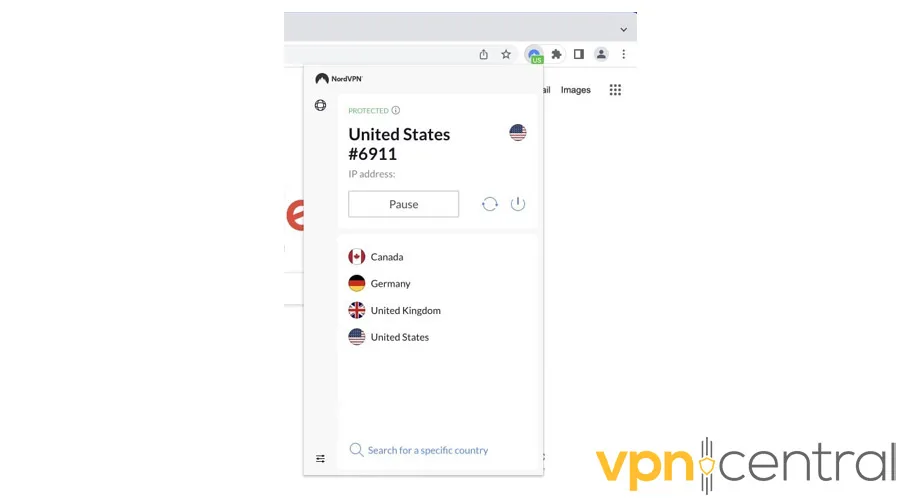 NordVPN offers over 5500 servers in 60 countries and a fast and stable connection. It also has one of the best Canada VPN Chrome extensions.
It can work independently from the main app and features WebRTC blocking. However, it's vital to remember that security features only apply to Chrome traffic.
Moreover, NordVPN supports IKEv2/IPsec and OpenVPN advanced protocols and also uses 256-bit AES for encryption.
Finally, with DNS leak protection and a kill switch, this tool always protects your real IP.
Pros:
Excellent speed and unlimited data cap
Extensive server coverage
Affordable plans
Cons: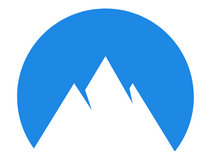 NordVPN
NordVPN will envelop your Chrome traffic in an encrypted tunnel and hide it from prying eyes.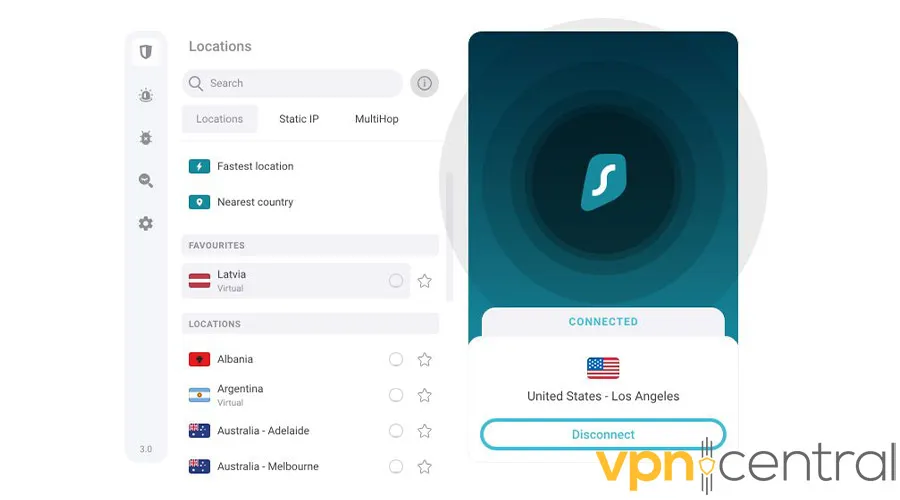 Surfshark has an affordable Canada VPN extension that supports unlimited simultaneous connections.
It also counts 3200 servers across more than 60 countries and offers decent connection speed thanks to its WireGuard protocol. Moreover, it features a standard yet reliable kill switch.
Additionally, Surfshark's Chrome extension packs various security features. It can hide your IP address, encrypt your connection, and even block unwanted cookie requests from websites you visit.
Lastly, Surfshark offers a 7-day free trial and guarantees a full refund after a month of premium use.
Pros:
Unlimited simultaneous connections
Additional security features for the Chrome extension
Ad-blocker on extension
Cons:
Customer support can be dodgy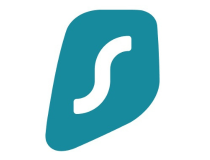 Surfshark
Protect as many of your devices as you want with Surfshark's unlimited VPN connections.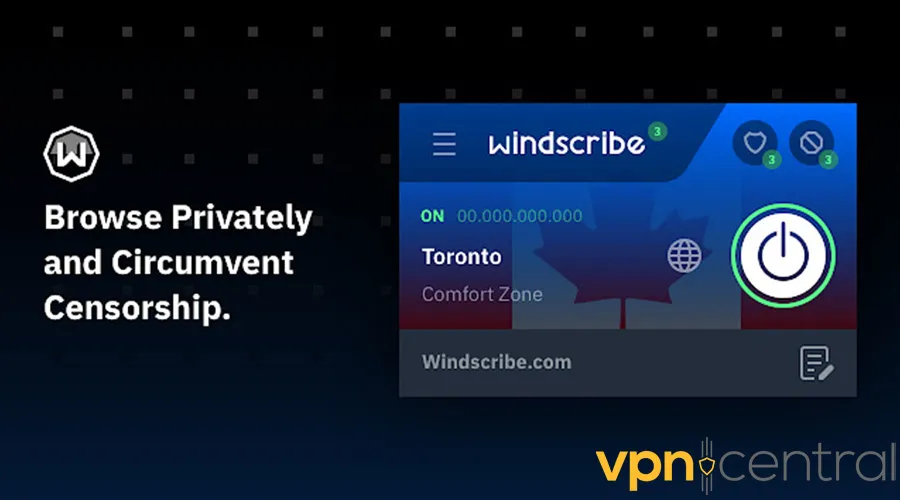 Windscribe covers more than 60 countries but with fewer servers than its peers. However, it offers 2 GB of free data, which you can upgrade to 10 GB with a free email subscription.
Windscribe's Chrome extension packs various security features, including ad-blocking and malware detection. It also prevents advertisers from collecting data.
The free version of Windscribe's extension offers free servers across 10 counties, including Canada, Germany, US, and UK. It can also work independently from the VPN's main app.
However, if you use the extension along with its main app, you'll be able to employ double-hop for extra security.
Pros:
Convenient free plan
Advanced extension packed with features
Double-hop encryption
Cons:
A limited number of servers
No live chat support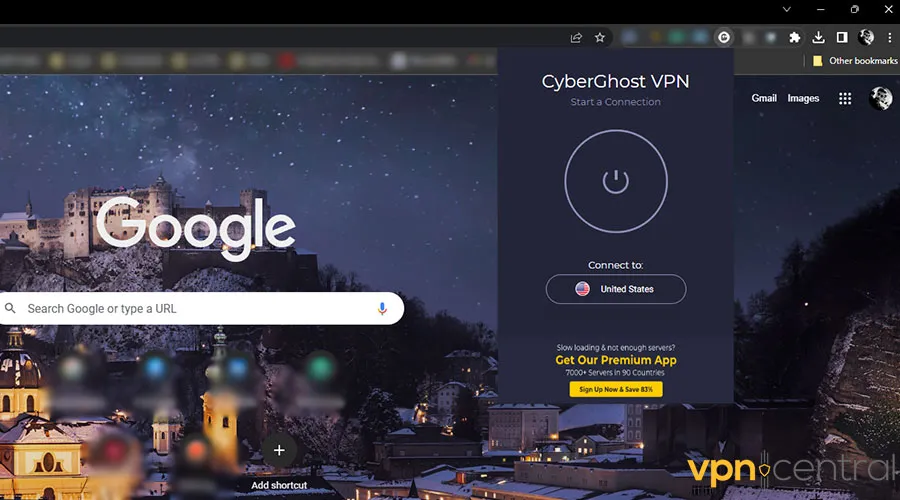 CyberGhost VPN is the best option if you're searching for a Canada VPN Chrome free extension with no data cap.
The Chrome plugin works without the main app. It also has 8 server locations across the US, Romania, Germany, and the Netherlands.
Besides unblocking restricted websites, it can detect and block malicious content as well.
Overall, this VPN has around 6800 servers in 91 countries, which guarantees you access to content from any country. However, you should note that most of these features are available in the app version.
Pros:
Free Chrome extension with decent servers
Unlimited data cap
Extensive server coverage in the paid version
Cons:
The extension has basic features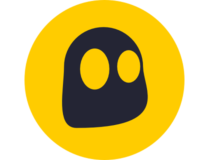 CyberGhost
Enjoy complete anonymity with CyberGhost's free Chrome VPN extension.
What are the benefits of using a Chrome VPN in Canada?
A VPN can hide your IP address and mask your location, enhancing connection security and bypassing geo-restrictions. Overall, using a Chrome VPN in Canada has the following benefits:
1. Protection from the Five Eyes
After the Second World War, Canada, the US, the UK, Australia, and New Zealand formed an intelligence alliance. They called it the Five Eyes, focusing on communication surveillance.
However, the Five Eyes still monitor the media. So, many people have turned to VPNs to protect their privacy from the authorities.
2. Countering intrusive regulations
The Canadian government has instituted laws allowing ISPs to monitor your online activity and check if you violate copyright regulations.
These laws also allow ISPs to keep track of your bank accounts and travel plans.
However, using a Chrome VPN in Canada encrypts your connection and helps you remain anonymous.
3. Protection from cyber attacks
An increasing percentage of Canadian organizations and individuals have been experiencing cyber attacks, mainly ransomware.
Ransomware blocks user data on the targeted devices until a ransom is paid. But with a VPN, you can be less susceptible to such attacks.
4. Accessing blocked content
A significant chunk of content on major streaming platforms is geo-restricted. Also, ISPs block web content regularly, especially on certain torrenting websites.
Thanks to a VPN, you can bypass geo-restrictions and access blocked content.
Bottomline
Many VPN services have developed browser extensions. ExpressVPN, NordVPN, Surfshark, Windscribe, and CyberGhost are some of the most well-rounded providers with excellent Chrome plug-ins.
With a Canada VPN Chrome extension, you can protect your privacy and gain exclusive access to blocked content. So, what are you waiting for?