As an anime fan, you came across 9anime, an amazing free streaming website with a great viewing experience, a large selection of content, high-quality video options, and regular updates.
Excitedly, you hurry to stream your favorite anime. But all of a sudden, you are bombarded with ads or can't access the website at all.
You'll get an error like This site has been blocked in your country. So, you wonder if you need a VPN for 9anime or if VPNs can improve your 9anime experience.
The simple answer is yes. A quality VPN can significantly enhance streaming performance and the safety of accessing 9anime.
And more importantly, it gives access to users from all regions.
This article will clear all your doubts about using a VPN for 9anime, then show the best ones available and how to use them.
Do You Need a VPN for 9anime?
You probably understand the disappointment of being unable to stream your favorite anime on 9anime due to geo-restrictions.
For instance, many users from India can no longer get to the website since a lot of ISPs started blocking access to it.
A VPN can also be beneficial if you want to enhance your security and privacy while streaming on the site.
So, yes, you may need a VPN for 9anime.
Here's a list of the benefits of using a VPN with 9anime.
Bypass geographical restrictions: 9anime isn't officially banned, but certain ISPs in some countries do block access to it
Better streaming performance: certain VPNs help with buffering, plus certain clients have built-in adblockers
Protection against ISP throttling: A VPN can help prevent this by encrypting your connection and making it harder for your ISP to detect and restrict streaming on 9anime
Prevent tracking: VPNs can prevent third parties from tracking you on 9anime and gathering data about your browsing habits
Best VPNs for 9Anime
While there are many VPNs out there, all of them are not created equal. That means not all VPNs are suitable for 9anime.
So, how do you choose the best 9Anime VPN out of the dozens of available options?
Here are some features we consider most important in a VPN:
Server locations: Ensure the VPN has lots of servers
Speed: Streaming anime requires a fast and stable connection
Security and privacy: strong encryption and a no-logging policy
Compatibility: cross-platform VPN services are preferred
Price and plans: good value for money and some form of free trial/money-back guarantee
Well, don't worry about the stress of searching around for VPNs with those features.
Based on those features, we've helped pick out the Top 3 VPNs for 9anime. Here they are.
1. CyberGhost – the most user-friendly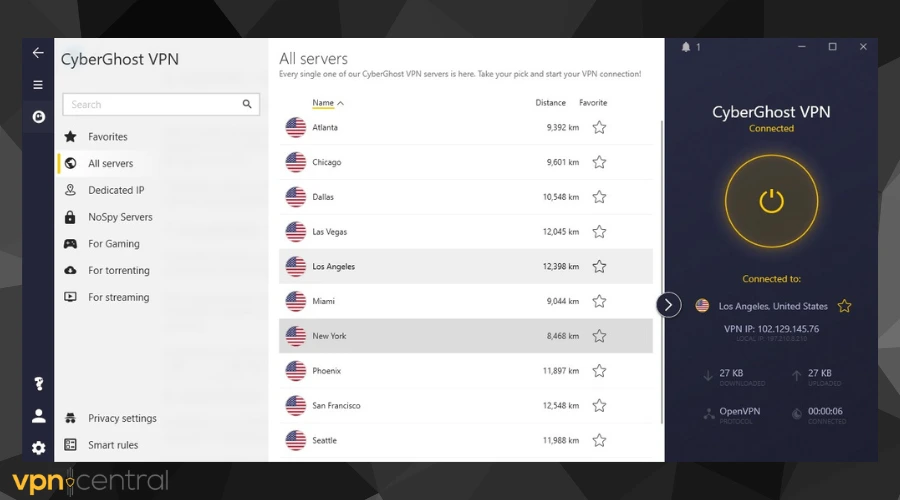 When it comes to streaming anime and unblocking websites, CyberGhost VPN, produced by Kape technologies, stands out as the top choice for security.
Some ISPs may throttle traffic which can lead to bad speed for streaming or some ISPs can block your access to 9anime altogether.
But, you can protect your streaming on 9anime with CyberGhost's top-notch 256-bit AES encryption.
Additionally, the CyberGhost Private Browser prioritizes privacy by featuring an in-built ad-blocker and tracking blocker, allowing for uninterrupted streaming on websites with ads like 9anime.
For great privacy and fast connectivity, CyberGhost VPN uses the fastest and most secure protocols available, including IKEv2, WireGuard®, and OpenVPN.
Additionally, you'll get a 45-day money-back guarantee, which allows you ample time to try all its features before making a commitment.
Here is what CyberGhost VPN offers:
+7,000+ servers in 91 countries.
Compatible with windows, mac OS, Linux, Android, Chrome, Firefox, and Opera.
Efficient Security protocols: Open VPN, wire guard, IKEv2
256-bit AE5 encryption
Ad-blockers
Inbuilt leak protection and Split tunneling.
45-day money-back guarantee (1-day free trial/ no credit card)
No spy servers: Privately owned for maximum security.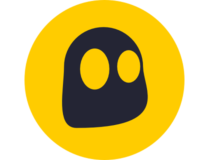 CyberGhost
Get rid of intrusive ads and protect your privacy for uninterrupted streaming on 9anime!
2. ExpressVPN– fastest server location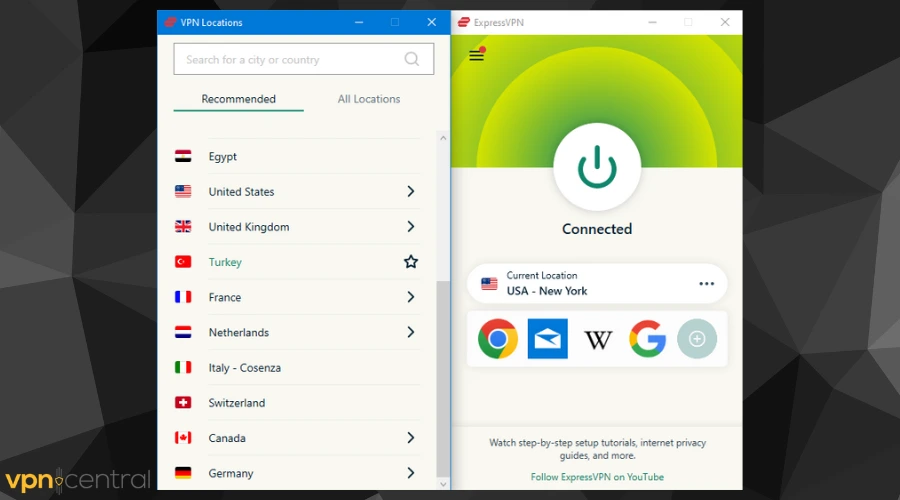 Using ExpressVPN could make you never worry about location restrictions such as ISP blocking 9anime again.
With its 3000+ servers in 94 countries and outstanding performance, ExpressVPN is one of the best choices for streaming anime on 9anime, no matter where you are.
Created by Kape Technologies, ExpressVPN boasts many features that make it the perfect choice for streaming anime on 9anime.
ExpressVPN also offers advanced security features, including its encrypted DNS, which ensures a fast and secure connection. 
They also have a smart DNS tool called the Media Streamer that helps you get better speed for streaming. As opposed to VPNs, smart DNS services only hide your location, but they don't use encryption.
With that, you can enjoy lightning-fast streaming speeds without interruption.
Additionally, it has unlimited bandwidth, so you can securely access 9anime as often as you want.
What ExpressVPN offers:
Network lock kill switch
VPN split tunneling
No activity or connection logs
Made for Windows, Mac OS, Linux, Android OS, Chrome, Firefox, and Opera
30-day money-back guarantee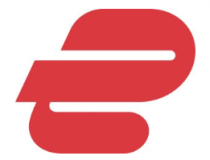 ExpressVPN
Get a great connection speed and amazing security features to fully enjoy all content on 9anime.
3. NordVPN – strongest privacy features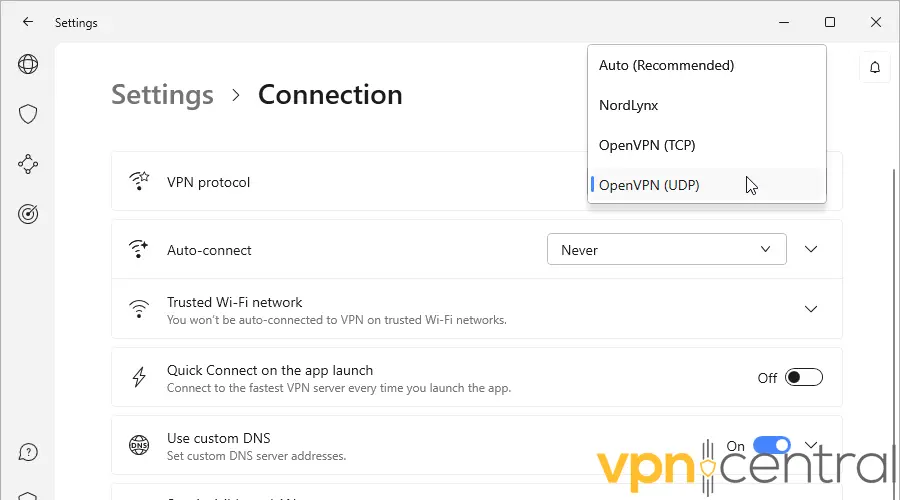 Created by Tefin Com&Co, S.A., it offers a kill switch feature that guarantees all your online traffic and activity are secure while streaming your favorite anime.
A kill switch automatically disconnects your device from the internet if your VPN connection drops, protecting your information from leaking out.
Also, NordVPN ensures that your data is protected from potential leaks and cyber threats through its robust AES-256-GCM encryption and strict no-logs policy.
Its newest Threat Protection feature stops ads and trackers, making your browsing safer, faster, and smoother.
Additionally, one subscription allows for simultaneous connections on up to 5 or 6 devices, ensuring all your devices are protected while streaming on any of them.
What NordVPN offers:
+5,500 servers located in 60 countries
Custom DNS servers
Zero logging policy
30-day-money-back guarantee
DoubleVPN.
DNS leak protection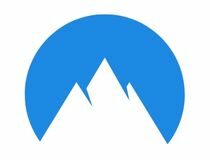 NordVPN
Use NordVPN to protect your data and enjoy ad-free streaming on 9anime.
How to use a VPN with 9anime
Streaming your favorite anime on 9anime is a breeze with the help of a VPN.
Time needed: 7 minutes.
To get started with the top-recommended 9anime VPN, CyberGhost, all you need to do is follow these simple steps:
Download and install CyberGhost VPN on your device.
Open the app, then connect to a server.

Once you've connected, open 9anime on the browser of your choice and start streaming. 
Is 9anime legal?
Although many sites have been shut down for hosting copyrighted content, 9anime is still operating.
This is because linking to copyrighted material is not illegal, which is what 9anime does.
The website operates as a directory, providing information on where to find episodes, but it does not host any copyrighted content per se.
Instead, the copyrighted media is stored on hosting servers located in regions outside of the jurisdiction of US law.
The website itself adheres to Title II law (Digital Millennium Copyright Act).
However, the content it links to is not copyrighted, so might actually be breaking the law if you download or stream anime using the website.
Wrap up
Do you need a VPN for 9anime? By now, we've put your worries to rest.
As outlined in this article, using a VPN can significantly enhance your streaming experience on 9anime.
It will allow you to bypass any restrictions and offer added security and privacy measures to keep you safe while you enjoy your favorite anime.
So, make sure to take advantage of the ultimate streaming experience on 9anime.
FAQ
Can you watch 9Anime without VPN?
Yes. You can. If you are in a supported country. However, it can be risky because of the potentially malicious ads and popups on the website.
Is 9Anime Safe to use?
The website itself does not host infected content, but because it distributes copyrighted content, the ads they run don't come from trusted sources, so they may link to suspicious websites.
Is 9Anime a pirate site?
9anime is not considered a pirate site as it does not host copyrighted anime on its servers and adheres to the DMCA.