Swatting occurs when someone makes a false distress call to emergency services in an attempt to have a SWAT team sent to someone else's address.
It may end up causing significant harm to the victims.
Many perpetrators use the web to gather personal information about the victims. Moreover, people online threaten with swatting during arguments.
In light of this threat, people wonder whether a VPN does help prevent swatting. The short answer is yes, it can, but not on all levels.
In this article, we will explore the role of a VPN in averting swatting.
Does VPN prevent swatting?
A VPN could prevent swatting if the perpetrator is trying to track you online.
→ VPNs can minimize online tracking, which is one of the methods swatting perpetrators use to get your address and other personal details about you.
When you use a VPN, you can make it seem as if you're browsing the web from the opposite part of the world.
That is because a VPN hides your real IP and the details sent over the public Internet will be associated with the IP address of the VPN server you connect to.
This way, a swatting perpetrator will not be able to get any consistent information about the person that's using a VPN.
Furthermore, a VPN establishes a secure and encrypted tunnel between your device and its servers. All your requests are scrambled into an unreadable code, so your personal details remain safe.
The encryption used by most reputable VPNs, AES-256 bit, is powerful and chiefly based on cybersecurity standards to date.
Putting all of these privacy features together, we can agree that a VPN goes a long way in preventing swatting.
→ However, there still are some security risks a VPN does not protect you from.
For instance, you may have littered your contact information all over the social media platforms you are on. You should consciously choose what to share and what not to share.
VPNs cannot protect you from malware and viruses, which can also be used to steal private data, along with phishing attempts, which a VPN can't really help you with either.
So, does a VPN prevent swatting?
Yes, it does. Nevertheless, we recommend that you limit how many personal details you put out in the public, particularly when it is about your location.
How to choose a VPN for swatting prevention
To avoid becoming a victim of swatting, it is essential to take steps to protect your privacy and security online. One such step is to use a VPN, which can help to conceal your online activity and location.
When choosing a VPN for swatting prevention, it is crucial to choose a reputable provider. Look for key features such as strong encryption, a no-logging policy, and a large network of servers.
You may wonder why exactly these qualities should guide your decision. We'll go into an in-depth explanation of why you need to consider them before picking a VPN to prevent swatting.
1. Strong encryption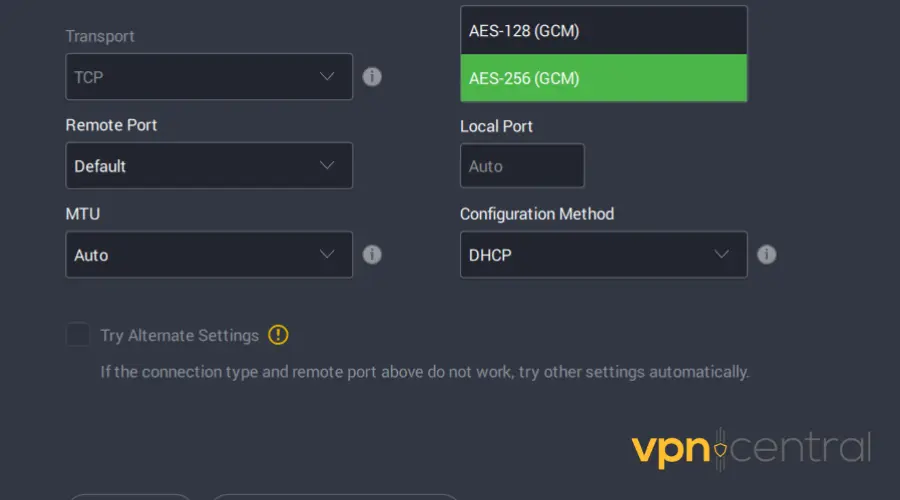 A VPN that can effectively prevent swatting should have up-to-date and robust encryption algorithms such as AES-256.
This military-grade algorithm makes your data undecipherable. It is widely regarded as the most advanced algorithm to date.
We cannot stress enough the importance of good encryption.
In a situation where your VPN is outdated and its encryption fails to properly conceal your DNS, your IP address location may leak.
2. DNS leak protection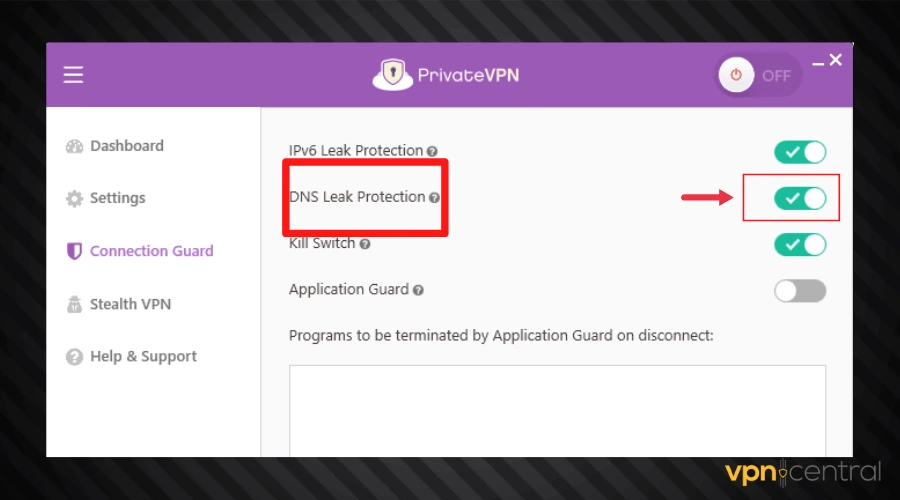 DNS protection prevents DNS requests from seeping through to the public. It's an added layer of security that will protect all your data.
This means your DNS queries are sent through a DNS server belonging to your VPN, and not directly to your browser.
Moreover, in view of this, some VPN services use several security techniques like DNS filtering and traffic analysis to prevent modification of DNS records.
DNS filtering uses blacklist and whitelist methods to block access to known malicious websites that try to steal your data or infect your device.
3. Automatic kill switch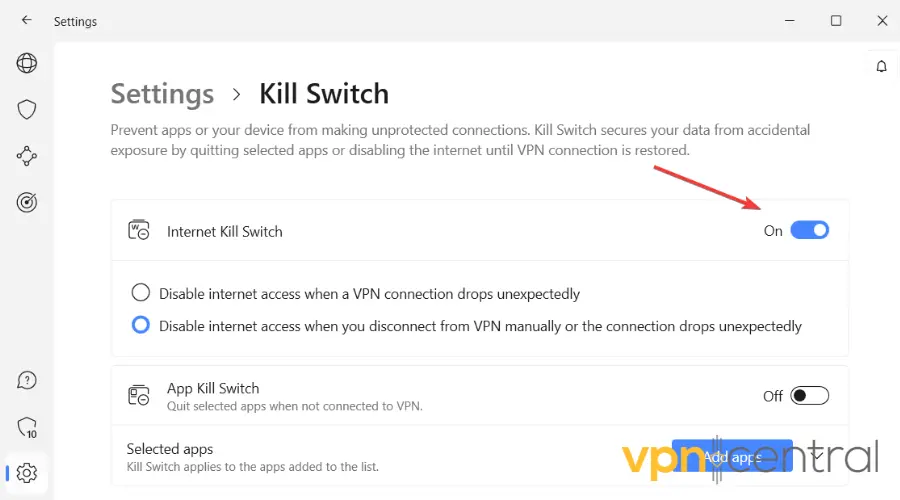 A kill switch feature automatically terminates all internet traffic if you lose your VPN connection.
This intends to protect your privacy by ensuring that your network does not transmit sensitive in an unencrypted form.
It's a very useful VPN feature that can prevent data loss during downtime and stop malicious tracking that can lead to swatting.
4. No log policy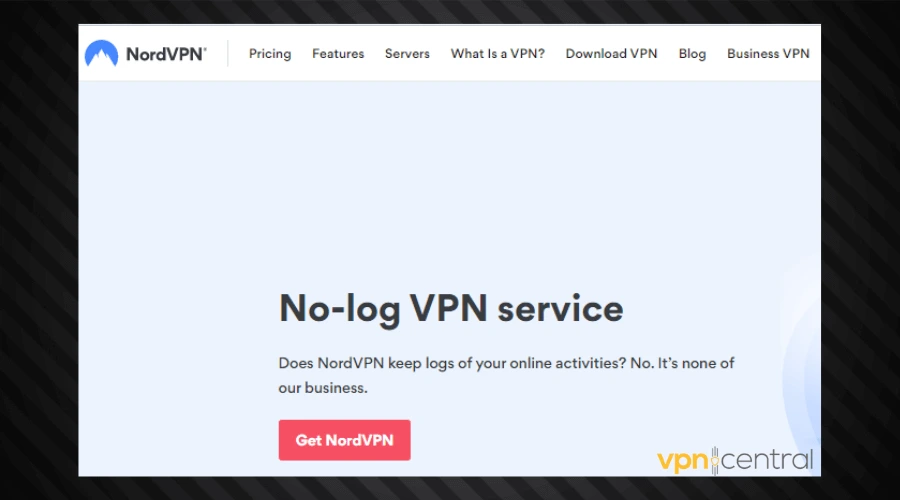 Some VPN providers log users' details and some of them sell this information to third parties. This means you no longer have control over who exactly has your data.
Any of these third parties having poor security systems pose a risk to you as a VPN user. If they get hacked, the hacker can get ahold of your data.
The data would include your IP address which may give the tracker a general idea of your location
On the other hand, with a no-log policy, your data is safe even if the VPN itself gets hacked. So choosing a VPN with a reputation for maintaining a no-log policy is paramount to prevent swatting.
5. Server locations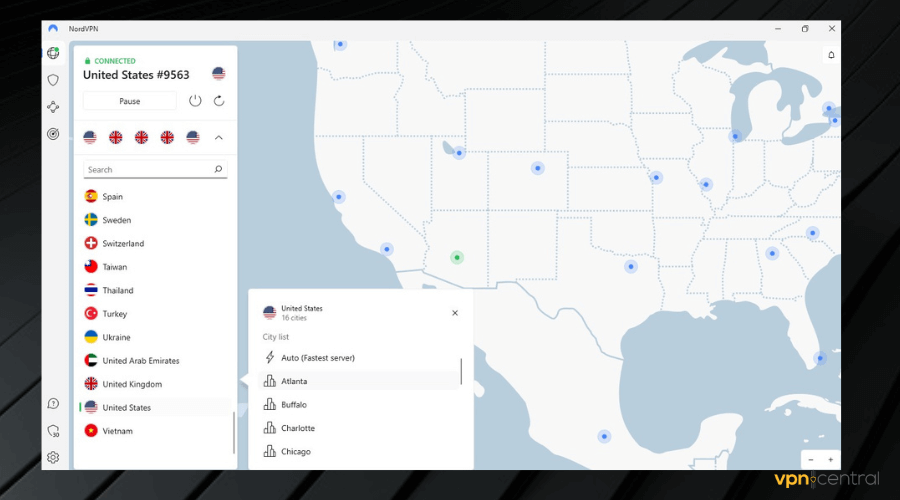 Even if someone tries, they can't get any consistent information if you regularly change your server, thus IP and location.
Plus a vast collection of servers means less room for overcrowding, therefore, fewer chances of getting disconnected and having your data exposed.
Fortunately, there are top-rated VPN clients who have large server networks spread all around the world.
Now, most VPNs that include all of the above-mentioned features are generally premium tier.
However, most of them include free trials and offer affordable yearly and monthly plans.
Swatting incidents
There are cases of swatting in history that have gained attention across the globe. Some resulted in ugly experiences, while others caused slight hurt and harassment to the victims.
In this section, we will review seven popular swatting incidents in the world.
1. Wichita, Kansas swatting incident (2017)
Tyler Barris placed a hoax emergency call claiming to be an armed individual holding hostages in Finch's house. This resulted from an online argument over a video game in which the victim wasn't even involved.
The police sent a SWAT team and one of the officers shot and killed Finch when he answered the door.
One of those involved in the dispute gave out the victim's address claiming to be his own. This shows how wrong sharing personal information online can go.
The incident gained widespread attention and led to renewed discussions about the dangers of swatting.
2. Tyler "Ninja" Blevins swatted live (2018)
In March 2018, popular Twitch streamer Tyler "Ninja" Blevins was the target of a swatting incident while he was live-streaming.
The police were called with a fake emergency report claiming there was a shooting and hostages at Blevins' home. The police responded, but Blevins and his family were not harmed.
The incident made society aware of the frequency of swatting incidents that target online personalities.
3. Lil Wayne's home surrounded by SWAT team (2015)
A man who called the cops, claiming that he shot four people at Lil Wayne's Miami beach home, elicited a response from the police.
It came as a shock to the rapper to see the SWAT team surround his home. Fortunately, nobody sustained any injury. Everyone present on the scene was safe. Lil Wayne's properties were equally intact.
4. Shooting hoax at Rihanna's LA residence (2013)
A swatting incident that involved the popular RnB singer, Rihanna, made the police more conscious of the dangers of this crime.
In 2013, LA PD received an emergency call about a shooting in Rihanna's home.
Officers quickly mobilized and soon surrounded the singer's home at Rivas Canyon block. However, they soon realized it was a prank. Rihanna was absent at the time of this attack.
5. Adin Ross swatted while live streaming(2022)
On August 7, 2022, when a well-known Twitch streamer, Adin Ross, was about to complete his gambling stream, four police officers barged into his room with weapons. Viewers watched everything live.
He was not hurt by the police and ended the streaming session shortly after.
Kai Cenat claimed to be the man behind Adin Ross's swatting incident. According to him, he was getting back at Adin for missing his message on Discord.
Adin commented on this situation while live streaming on Twitch. This act led the platform to ban him temporarily for going against community guidelines.
6. Tom Cruise swatting incident (2013)
In 2013, police received a phone call claiming that there was a shooting taking place at Tom Cruise's residence and that multiple hostages were being held at gunpoint.
In response to the emergency, they dispatched a highly-armed SWAT team and several helicopters to the scene.
After a thorough search of the premises, it quickly became apparent that the call was a hoax. Tom Cruise was not at the residence at the time of the incident. The motive behind the false report remains unknown.
7. Brandon Wilson prank call (2015)
Brandon Wilson, a 19-year-old teen living in Las Vegas go goes by the online handle, 'Famed God' at the time, made a call reporting a fake murder.
Police quickly uncovered that the call was a hoax, and found evidence that Wilson might have been involved in similar incidents.
His personal computer linked him to a previous swatting event, including attempted online identity stealing.
Summary
In conclusion, a VPN does prevent swatting attempts, but not entirely.
It is important to keep in mind that VPNs are not foolproof and may have limitations in providing complete protection against swatting.
Ultimately, the best way to protect against swatting is to be cautious when sharing personal information online and reporting any suspicious behavior to the authorities.