ExpressVPN and ExitLag are godsends to you if you experience gameplay delays.
The former is a popular VPN owned by Kape, making it a sister product of Private Internet Access and CyberGhost. It has built a reputation for easing the many pain points of different breeds of gamers.
The latter is a program engineered to specifically reduce in-game latency. It's owned by a game development company of the same name.
ExpressVPN was launched in 2009, a year before ExitLag. Despite being about the same age, they have matured differently.
So, which of the two is more suitable to kiss your gaming latency woes goodbye? Keep reading as we unravel what each is really all about and determine when one makes more sense to use than the other.
| | | |
| --- | --- | --- |
| | ExpressVPN | ExitLag |
| Server count | Thousands | Hundreds |
| Network | Global | Global |
| Protocols | Lightway, OpenVPN, and IKEv2 | TCP and UDP |
| Compatibility | Virtually unlimited | Limited |
| Price range | $8.33–$12.95/month | $4.99–$8.99/month |
| HQ | British Virgin Islands | USA |
ExpressVPN vs ExitLag – Features
Both solutions have many capabilities you'd love. Let's see how they stack up against one another.
Automatic traffic route selection
With Smart Location, ExpressVPN can select the server that promises optimal performance at the time of your connection. It factors in the hardware's proximity to you, download speed, and latency.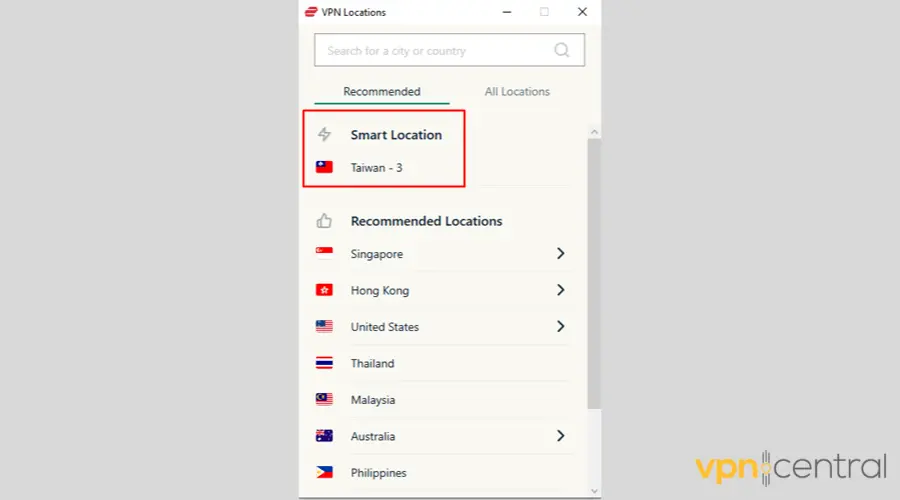 Having said that, it's only useful when you want to connect to the fastest server available. If you want to target a game server from a particular region, you'll still have to choose the specific country, territory, or city to experience minimal lag while playing.
Moreover, ExpressVPN decides the most appropriate tunneling protocol for your network on your behalf by default. The chosen protocol may positively or negatively impact the internet connection speed during VPN sessions.
ExitLag, on the other hand, leverages its proprietary algorithm to figure out the most efficient routes between points A and B in real time based on a region, which you may manually choose.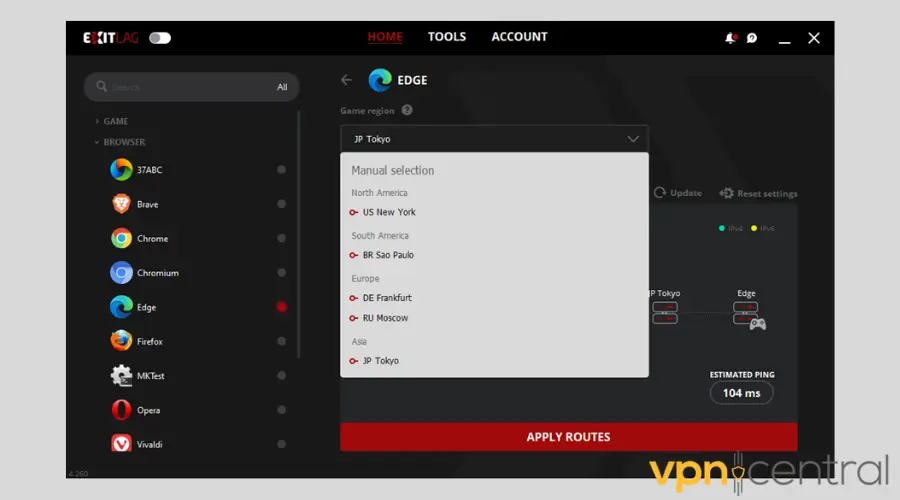 Using Multipath Connection, this software delivers data packets through several so-called magic routes to the game server at the same time. This way, it can prevent packet loss even when one or more data routes become unstable.
ExitLag is a plug-and-play app. So, it comes pre-configured with each of its supported programs. That said, you can apply specific numbers of TCP and UDP routes for your game at your own risk.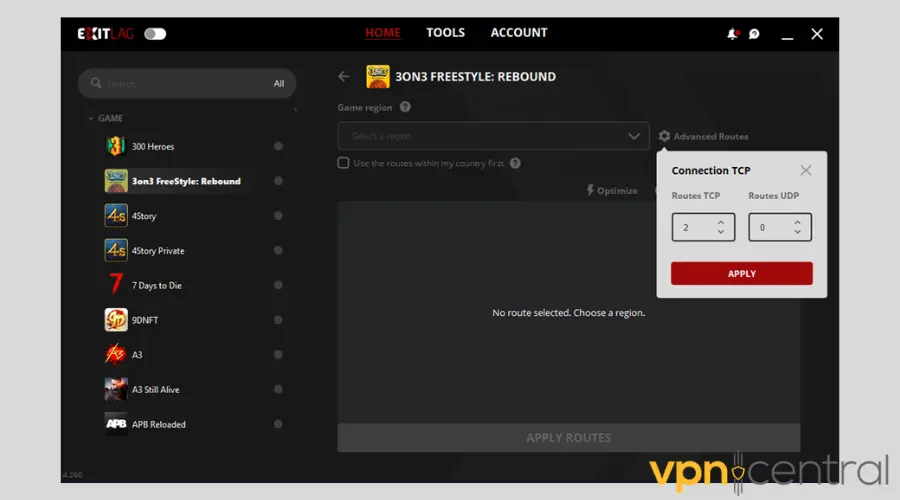 FPS enhancement
ExpressVPN has no means to alter your device's settings to improve graphics performance.
Conversely, ExitLag has FPS Boost, which tweaks your system's settings in order to maximize your hardware's resources for a better frame rate.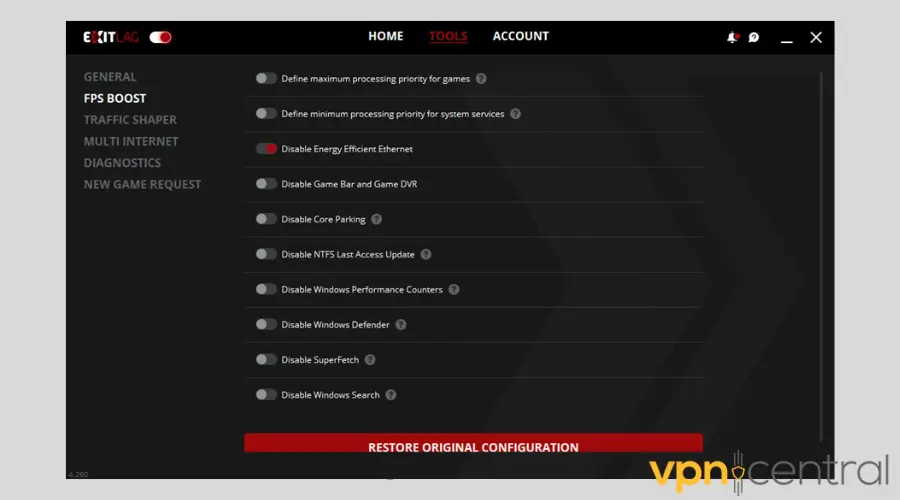 If you're an advanced user who can carry out the necessary optimizations on your own, you won't have to rely on ExitLag to raise your game's FPS.
FPS Boost exists for gamers who are less technologically inclined. It dramatically simplifies the otherwise intimidating process of fine-tuning your device to achieve more fluid animations.
Compatibility
Natively, ExpressVPN has dedicated apps for Windows, Linux, macOS, iOS, Android, and Fire OS. It offers browser extensions for Chrome, Firefox, Edge, Brave, and Vivaldi too.
It can also secure the traffic of devices it doesn't natively support such as PlayStation, Xbox, and Nintendo Switch when set up on a VPN router.
On the contrary, ExitLag is compatible with Windows only.
ExitLag Mobile is still in beta and is limited to Android users. As of writing, the company says that the app will be available on iOS soon.
Supported games
Considering that ExpressVPN could support any platform with the right setup, it would be able to route the traffic of all conceivable games.
In contrast, ExitLag can only optimize the games installed on your PC and doesn't prohibit you from playing on unofficial servers.
Also, it could work with digital game distribution platforms like Steam as long as you run them on a Windows-powered device.
Currently, it supports more than 1,000 titles. When you don't find your game on the list, reach out to customer support to make a request. If it's feasible, ExitLag will offer magic routes for your requested game sooner or later.
IP masking
Cloaking IP addresses is one of the basic tasks ExpressVPN does excellently. Because of this, it can help protect you from distributed denial-of-service attacks and get around region locks.
Likewise, ExitLag could mask your device's IP, which would be useful for bypassing geo-restrictions.
It doesn't hide DNS requests, though.
Split tunneling
Like most, if not all, VPNs, ExpressVPN uses inverse split tunneling by default. Unless you specify which apps should ignore its encrypted tunnel, all of your device's traffic would pass through its private network.
However, its split tunneling functionality doesn't apply to URLs. In other words, you can't manage your connections on a per-site basis.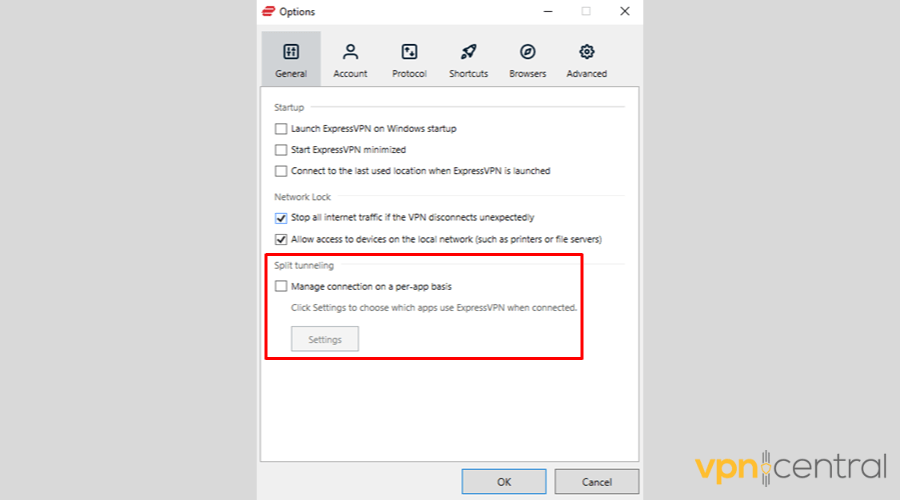 ExitLag has app-based split tunneling in its DNA, as it only improves network connections for the programs it supports.
Originally, it can fine-tune traffic routes for game apps only. But it can now handle browsers, VoIP apps, emulators, and others.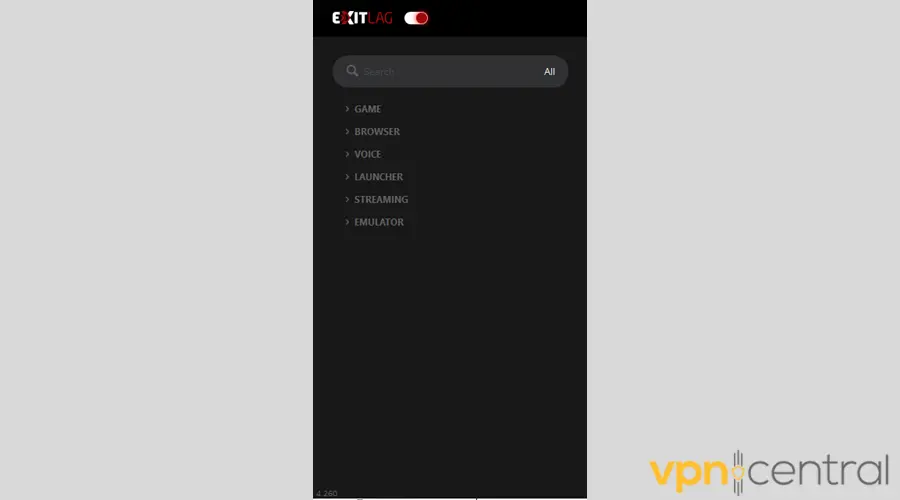 Moreover, ExitLag can limit the connection speeds of the apps it doesn't optimize through Traffic Shaper.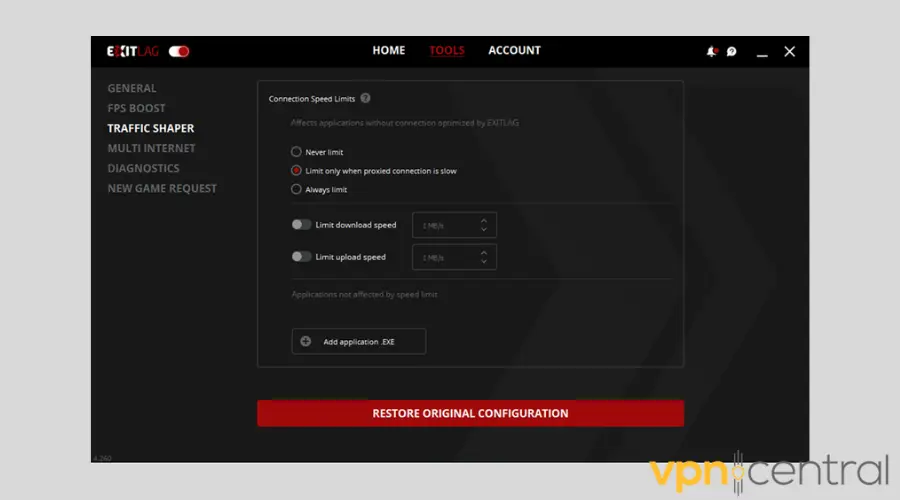 Plus, you can make exceptions so that this restriction doesn't apply to the programs you specify.
Kill switch
ExpressVPN uses Network Lock to prevent your gaming traffic from moving outside of its encrypted tunnel when your VPN connection drops.
This way, your actual IP and DNS queries don't get leaked so you can preserve your privacy online, especially when you're trying to hide it.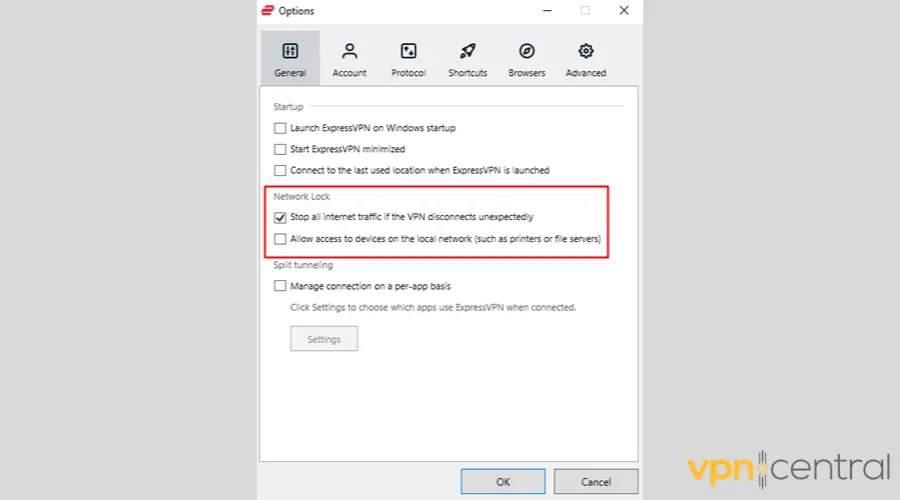 As a consequence, all of the apps ExpressVPN is supposed to secure stay offline until your VPN service goes back.
ExitLag has no kill switch; the closest feature in its arsenal to it is Multi Internet. When enabled and you simultaneously use multiple internet points, it can help keep the party going if one fails.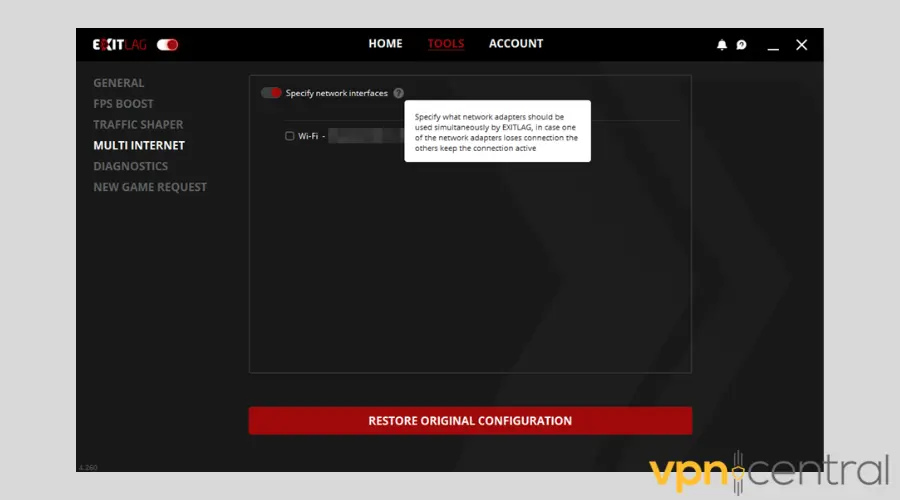 Simultaneous device connections
For every ExpressVPN subscription, you can secure up to five devices at once.
If you want more, you'll have to buy an additional plan. But you can skirt this restriction when you install ExpressVPN directly on a router since it would only count as one device.
ExitLag's license permits you to use the software on just one PC. So, your account will be automatically disconnected from your computer if you use it on another.
Server networks
Neither of these companies discloses the exact number of servers they have. But both claim to have global networks.
ExpressVPN gives you access to IPs from 94 countries and territories across the Americas, Europe, the Middle East and Africa, and the Asia Pacific (which includes South Asia).
ExitLag has hundreds of servers scattered throughout all continents. This means it could improve your gameplay wherever you are.
Speed
Using Speedtest by Ookla, our base and ExpressVPN download speed, upload speed, and ping figures are as follows: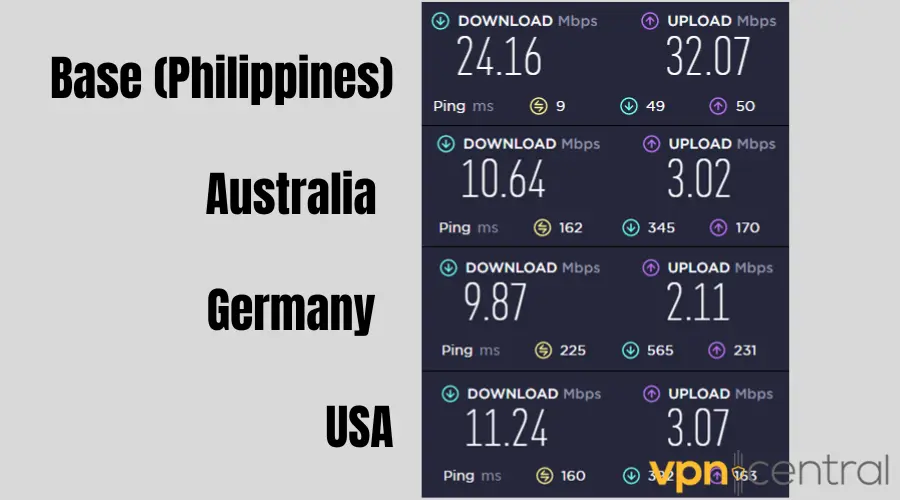 Here's how these numbers changed after connecting to three different ExpressVPN servers on Windows:
| | | | |
| --- | --- | --- | --- |
| | Download speed (Mbps) | Upload speed (Mbps) | Ping (ms) |
| Australia server | -55.96% | -90.58% | 1,700% |
| US server | -53.48% | -90.43% | 1,677.78% |
| Germany server | -59.15% | -93.42% | 2,400% |
We tested ExitLag's impact on Fortnite. Have a look at the before-and-after screenshots to see the change in ping.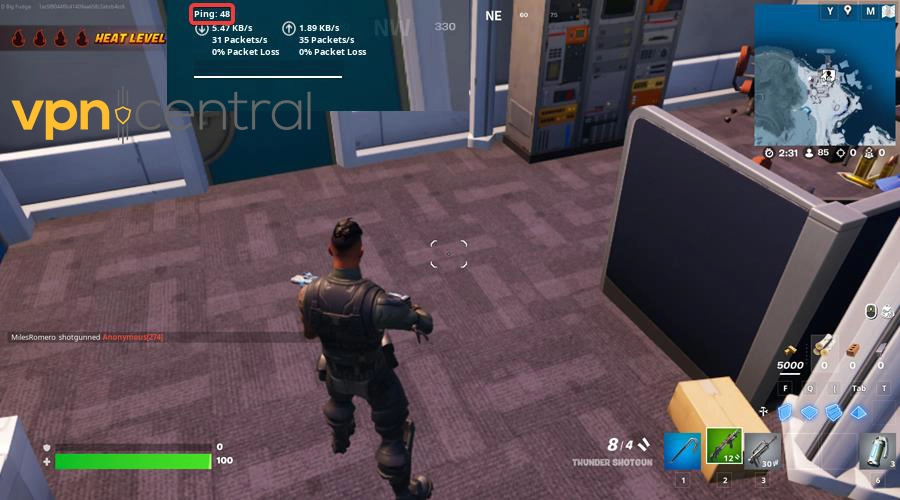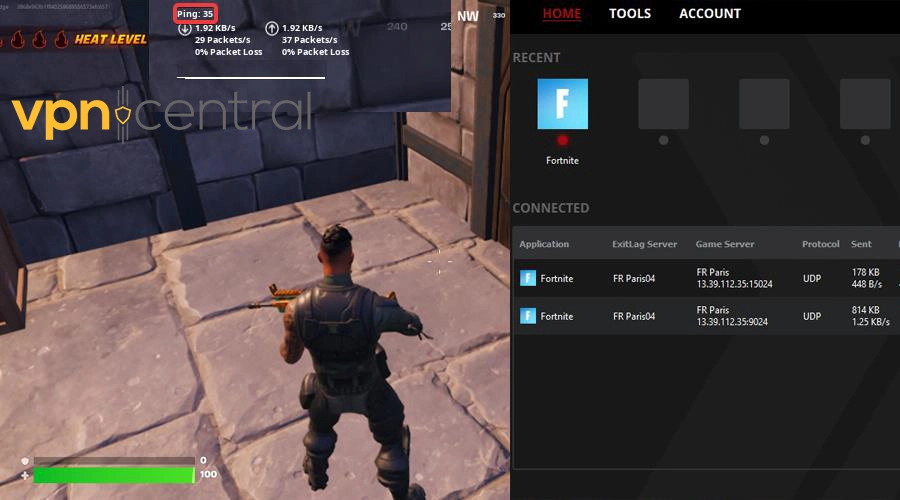 Protocols
ExpressVPN supports OpenVPN, IKEv2 (arguably the best for gaming), and Lightway (a proprietary tunneling protocol).
This VPN hasn't adopted WireGuard yet. But Lightway has adjustable settings where you can use ChaCha20 (the cipher WireGuard uses) in lieu of AES-256 (the industry standard) to secure your traffic with encryption.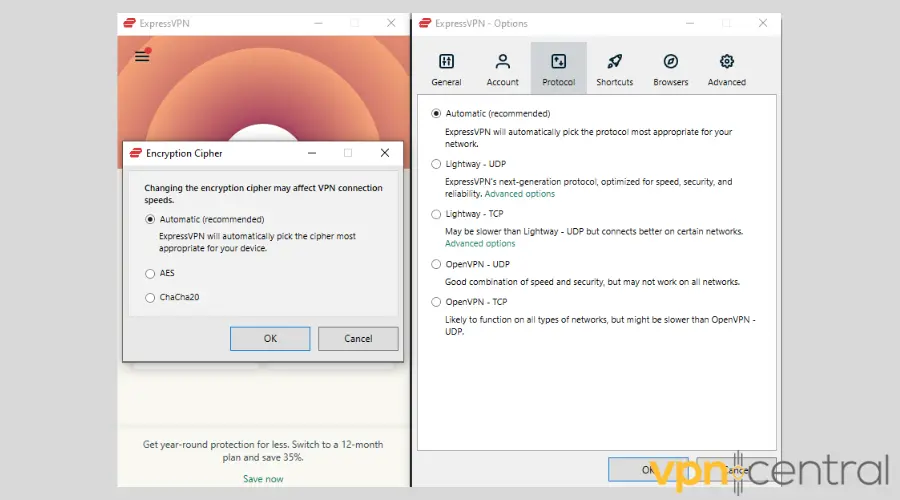 Like most VPN tunnels, ExitLag routes are generally based on TCP and UDP protocols.
TCP is more reliable because it ensures that the receiver gets the data packet properly. Whereas UDP is faster since it skips verification.
Here's ExitLag's latest list of protocols used for route analysis: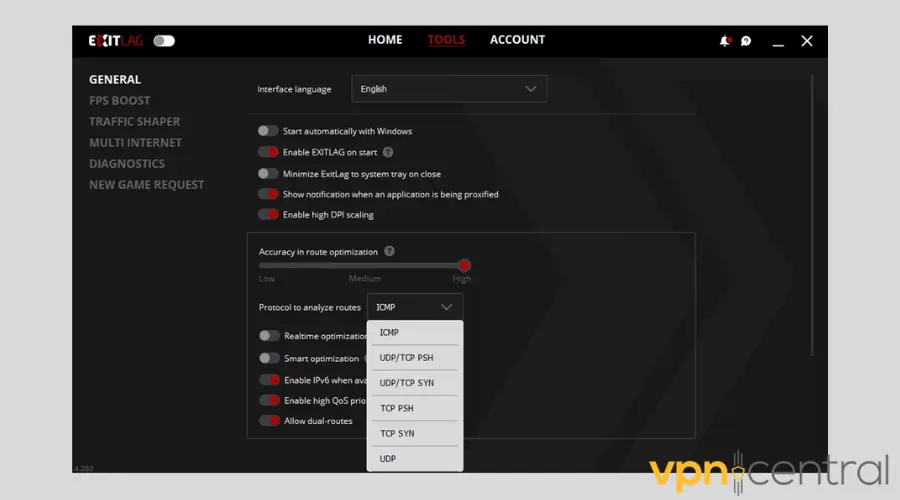 Logs and privacy policies
ExpressVPN takes several different measures to keep your gaming activity private.
First of all, it has chosen the British Virgin Islands to be its home base, so it doesn't have to abide by any mandatory data retention laws. As a result, it can delete log connection and activity data without worrying about angering the authorities.
Furthermore, this VPN stores whatever information it collects on RAM.
Over the years, several impartial auditors such as KPMG, PricewaterhouseCoopers, and Cure53 have confirmed that ExpressVPN does what it says on the tin.
ExitLag gathers details about your device like your IP and data you voluntarily give during signup. On top of that, its software tracks your usage, games, and interactions with them.
Your payment data would never wind up on the company's servers. But ExitLag may share the information in its custody with its third-party partners like hosting service providers.
Data leaks
ExpressVPN has passed our IP and DNS leak tests three out of three times. Here are our real IP and DNS addresses: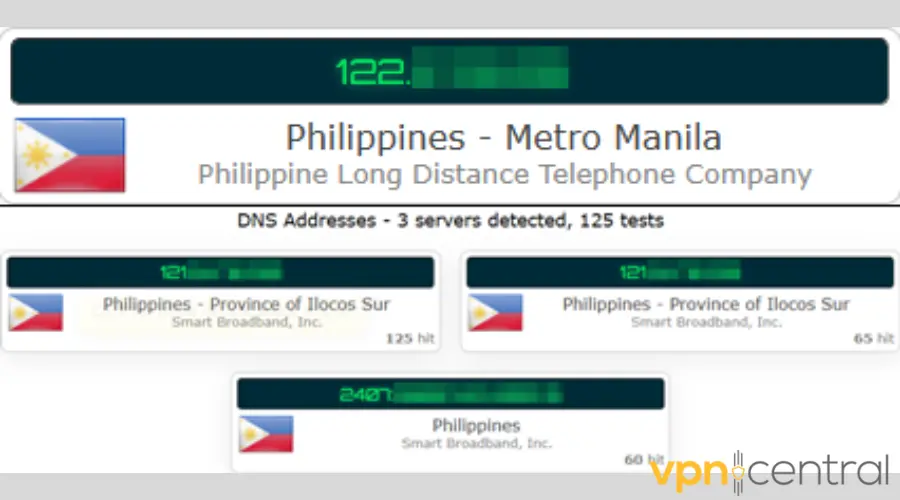 Here's the proof that ExpressVPN successfully cloaked our IP: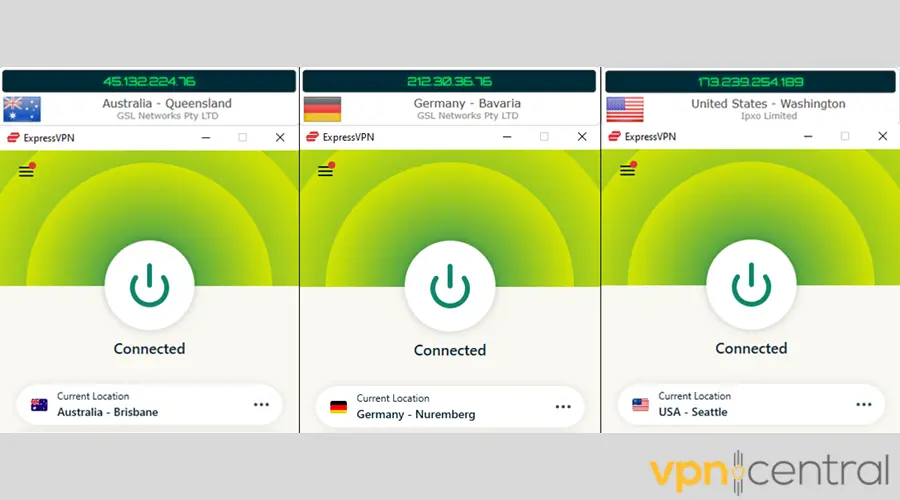 And here's the evidence that it was able to hide our DNS addresses too: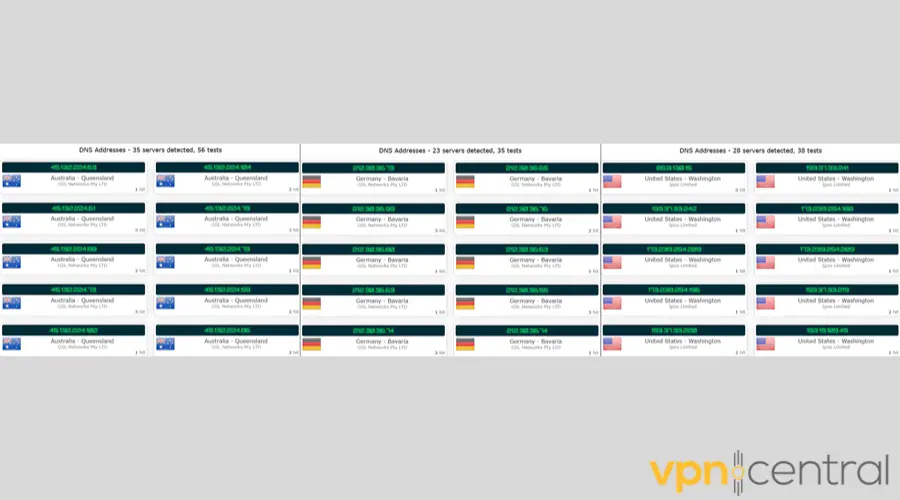 As mentioned, ExitLag can obscure your device's general location, but not your DNS requests.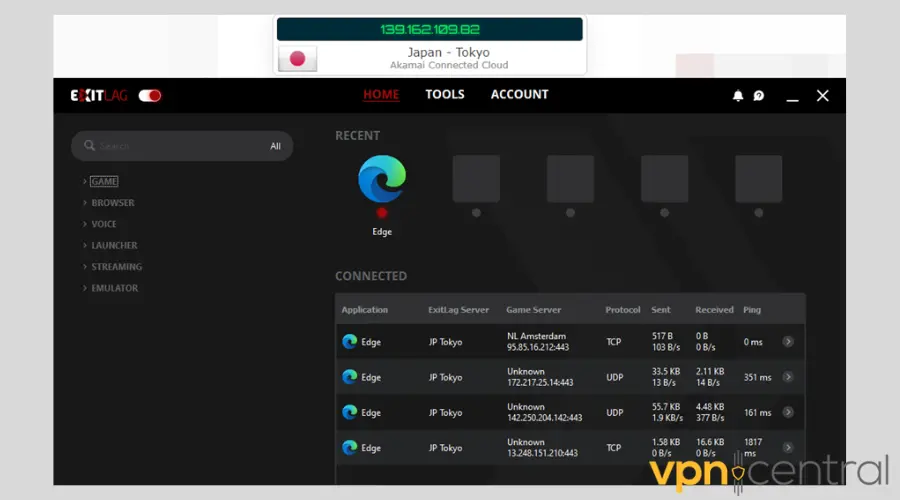 So, expect data leakage when using it.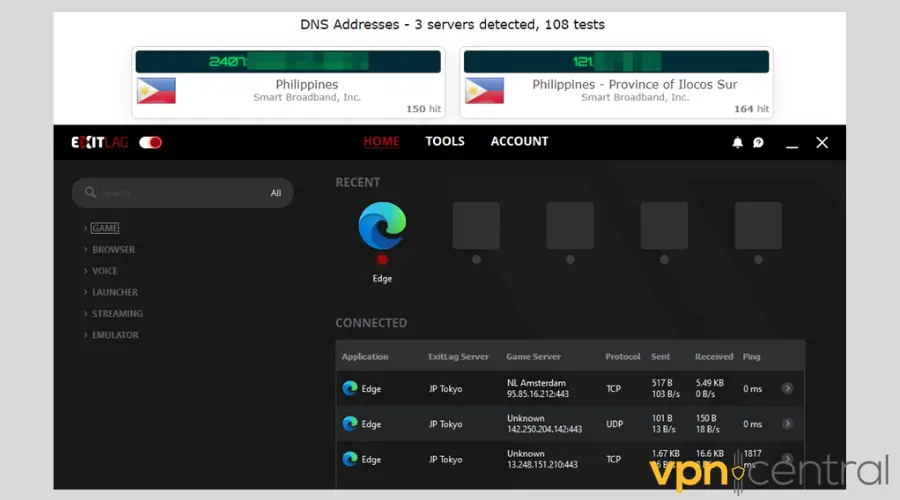 Price
Here's how much ExpressVPN and ExitLag subscriptions would set you back and then some:
| | | |
| --- | --- | --- |
| | ExpressVPN | ExitLag |
| 1 month | $12.95/month | $8.99/month |
| 6 months | $9.99/month | $6.67/month |
| 12 months | $8.33/month | $4.99/month |
| Subscription auto-renewal | Supported | Supported |
| Free trial | 7 days for iOS and Android | 3 days |
| Money-back guarantee | 30 days | None |
| Accepted payment methods | Credit cards, PayPal, BitPay, and Paymentwall | Credit cards, PayPal, and Paymentwall |
ExpressVPN vs ExitLag – Who is the winner?
Comparing ExpressVPN vs ExitLag is like comparing apples to oranges.
Yes, ExitLag is technically a VPN, but not in the way that we think of VPNs these days. Its private network has only one use case: to minimize lag by determining the least congested network connection routes, especially in areas with less developed internet infrastructures.
As a bonus, it automatically deals with PC reconfiguration to boost your game's FPS.
ExpressVPN can't beat ExitLag in the latency reduction game, but it's the more logical choice if you want to play with better privacy and security.
Considering that both solutions have their merits and you can even use them simultaneously, the real winner is you!