Brave is an open-source web browser founded by the inventor of JavaScript and co-founder of Mozilla. It is based on Chromium, which is the open-source code behind Chrome.
In addition, it comes with features such as one-click anti-fingerprinting, built-in ad-blocker, script blocker, tracking protection, and HTTPS-Everywhere functionality.
However, keep in mind that using Brave Browser alone is not secure enough unless it is combined with a VPN.
A Virtual Private Network provides an encrypted connection between your computer and the VPN's servers, thus boosting security and privacy.
Does Brave Browser have a VPN?
At the moment, only iOS and Android users can benefit from a Brave VPN. The feature is called Firewall + VPN and is included in the paid version of the app.
The team behind Brave is currently working on releasing a similar feature for Linux, Windows, and macOS. However, the release date is not yet determined.
Firewall + VPN can protect up to 5 different devices using Brave Browser. It encrypts traffic data, blocks trackers, and secures public Wi-Fi networks so no one can see your browsing history.
It's easy to set up, with automatic server pairings and a toggle button to enable/disable a VPN connection.
However, if you want to use a VPN for all devices and get access to more features, using the apps is your best bet.
How do I enable a VPN in Brave Browser?
You have 3 options to use a VPN with your Brave Browser.
Namely, you can:
➡️ Install the VPN client on your device
➡️ Get the built-in Brave Firewall + VPN feature if you're an Android or iOS user
➡️ Add the Hoxx VPN Proxy browser extension (free option)
Now, let's see how these 3 options work for allowing secure browsing on Brave:
Set up the VPN on your device
The standard method to enable your VPN for Brave is to configure the VPN client on your device, which can be a desktop, laptop, phone, or tablet.
When you're connected to the VPN client, all the internet traffic across your device will be secured, regardless of the browser, you're using.
Below, you'll see how to set that up on a Windows device. The example provided is with Private Internet Access (PIA), but the process is similar to other VPN products as well:
Get a Private Internet Access subscription plan and download the dedicated app. We use this premium VPN because it offers great encryption and access to thousands of servers across the world.
Install the client on your device and launch it.
Go to the list of available countries and pick a server.
Connect to the chosen server.
Launch Brave and start surfing anonymously and securely.
🦁 Get Brave Firewall + VPN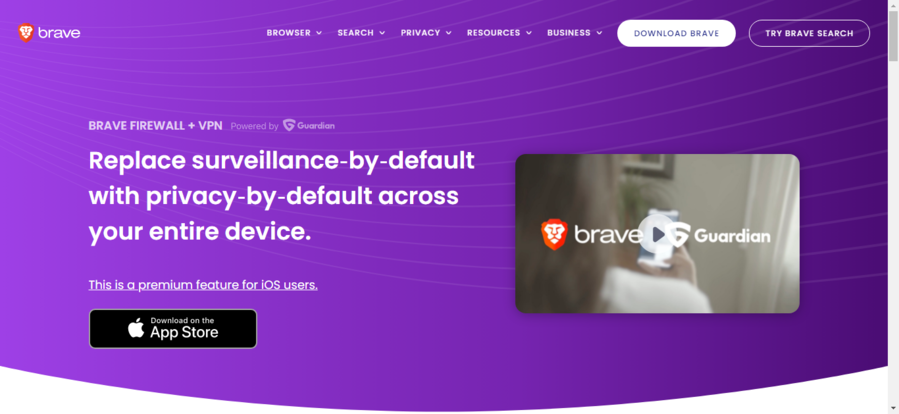 The Brave Firewall + VPN (or simply Brave VPN, as it is called on the internet) is a premium feature that is currently only available for iOS and Android users.
So, if you have such devices, you can use it directly from the Brave Browser mobile app since it is a built-in service.
This feature prevents unauthorized tracking and secures a user's data throughout the user's entire device. It offers enhanced security and privacy by encrypting your activity and hiding your location.
If you have an iOS or Android device and the Brave Browser is installed on it, you can also purchase the Firewall + VPN feature via in-app purchase.
More about Brave Firewall + VPN:
✔️ Blocks trackers across all apps
✔️ Secures all connections
✔️ Fast and unlimited up to 100 Mbps
✔️ Up to 5 devices supported
✔️ 24/7 support
Enable a VPN extension on your Brave Browser
If you wish to use VPN only during your browsing sessions, then you can install a VPN extension instead.
You can do that using Hoxx, a free VPN extension for Brave. It's a reliable option that you can trust to unblock websites and encrypt your connection.
Take a look at the following steps to get this extension right away. Once you've added it, you can enable or disable it anytime you want. Keep in mind that you can add this extension from the Chrome web store only.
Go to the Hoxx page in the Chrome web store.
Click on Add to Brave.
Click on Add extension to confirm.
Go to the menu and click on Extensions.
Make sure Hoxx VPN Proxy is toggled on.
Create an account and log in with your credentials.
Go to the list of available countries and select one.
Now you're connected and can start browsing securely with Hoxx VPN Proxy.
The same steps apply if you consider using a different VPN extension.
If you're interested in getting better security and access to a large pool of servers from around the globe, you'll be better off using a premium-level option.
Below you'll find the best VPN for Brave, regardless of which option you want. That's because these providers kill two birds with one stone, allowing you to use their extensions or full VPN apps (or both).
What are the best VPNs for Brave Browser?
Using one of the VPNs below, you'll protect all the traffic data you send online and hide your real IP. If you want to leave no trace on your device either, you can use these extensions in Incognito mode.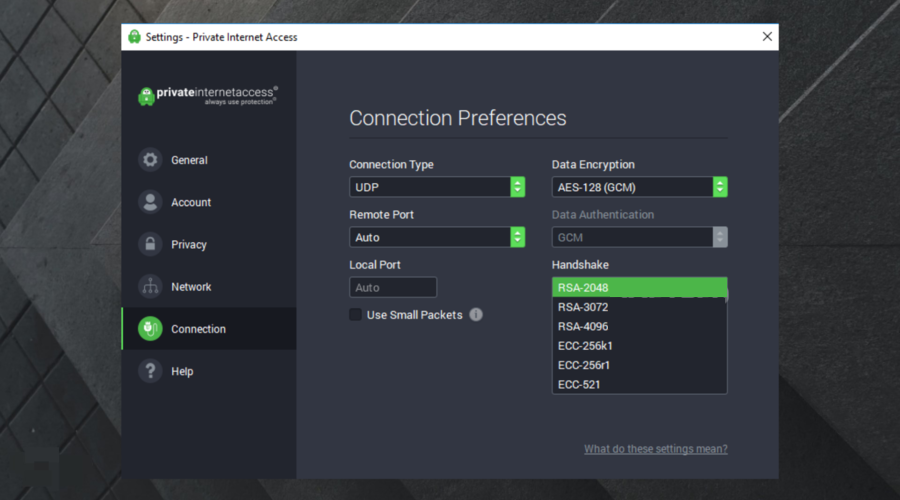 Private Internet Access is one of the most reliable VPN services we've ever reviewed.
Kape Technologies puts some of the most important aspects of their VPN solution in your hands, giving you a great amount of control over how it works.
Even if you're not tech-savvy, advanced configuration is not a challenge when helpful tooltips and a streamlined settings menu are at your disposal.
Private Internet Access supports both AES 128-bit and AES 256-bit encryption. Furthermore, you can connect up to ten different devices through some of the latest VPN tunneling protocols.
These include IPSec/L2TP, OpenVPN, PPTP, or Socks5 proxy protocols. On top of that, PIA has several Shadowsocks proxies available right within the application.
Setting up a proxy in addition to your VPN means that you can add an extra layer of protection while using your browser.
Take a look at the most exciting features that are included in this service below:
Incredibly easy to install
Unblocks Netflix, Amazon, Disney Plus, and HBO GO
Compatible with a massive list of devices
Browser extensions for Chrome, Firefox, and Opera
An impressive number of servers, offering 3200+ servers across 46 different countries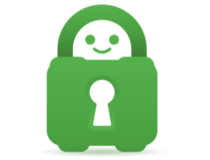 Private Internet Access
Private Internet Access is the best VPN for Brave Browser. Now available at a major discount!
2. NordVPN – best for streaming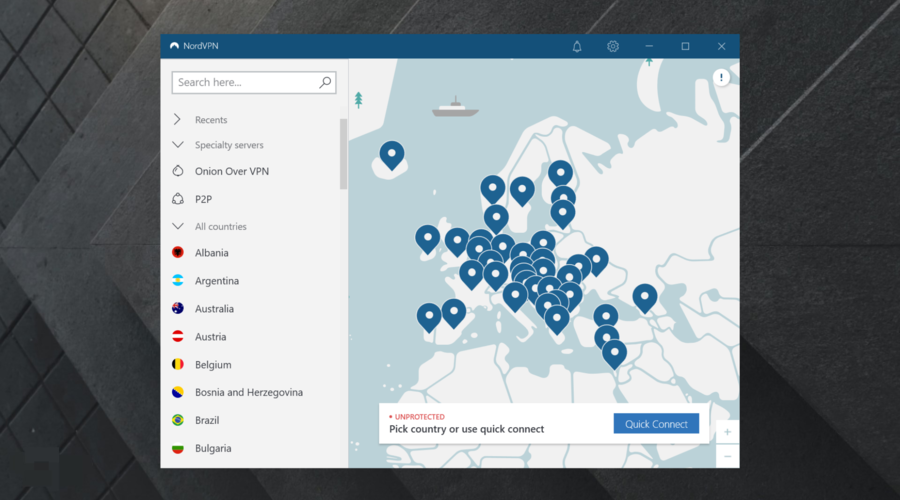 Another great Brave Browser VPN service provider is NordVPN, based in Panama. With 59 server locations, it has a user-friendly interface that makes it easy to install and use.
In addition, NordVPN evades VPN detection systems and gives you access to restricted sites and blocked content.
You can use it on different operating systems, such as Windows XP, 7, 8, or 10. Also, NordVPN is compatible with Windows phones.
What's more, you can connect up to 6 devices simultaneously. So, you can share the NordVPN experience with your family or friends.
If you want to use Brave Browser without worries, NordVPN has all the features you need:
Zero logs policy
Strong encryption
Dedicated IP option
Simultaneous connection of up to 6 devices
It can be used on different operating systems (Windows XP/7/8/10), and Windows Phone, with many options to protect all your devices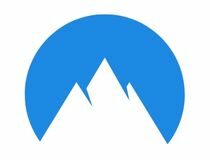 NordVPN
Looking for a VPN that works well with Brave? Check out NordVPN.
3. ExpressVPN – best for gaming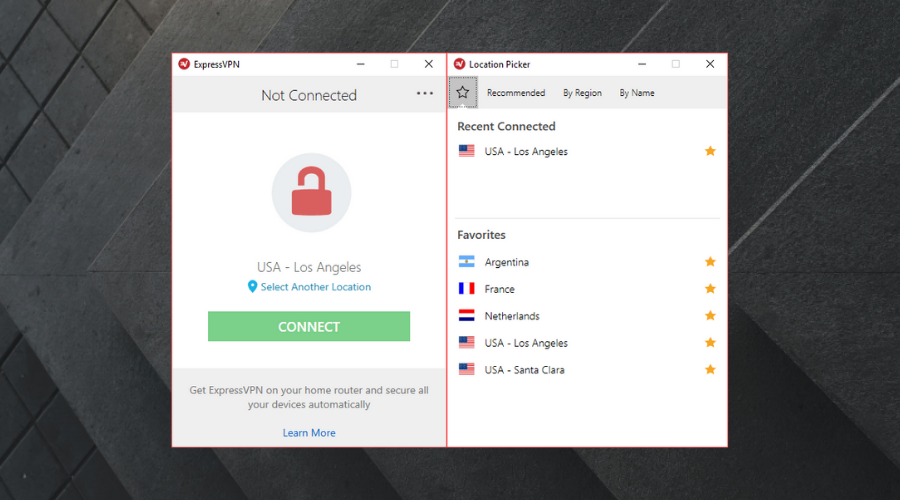 ExpressVPN has been around since 2009. This Express VPN International Ltd. solution gives you access to over 1500 servers in 94 different countries across the globe.
It has a user-friendly interface, so don't worry if you're new to operating this kind of program. And, in case you can't handle it, keep in mind that you can also get live chat support.
In addition, it is available on all operating systems, including Windows XP, Vista, 7, 8, & 10. Furthermore, ExpressVPN also has an extension for Mozilla Firefox, Safari, and Google Chrome.
Brave Browser reportedly works anonymously when using ExpressVPN. Its speed test tool always helps you find the fastest server to use.
Check out these key features:
Speed test tool

Optimized for speed
OpenVPN as standard
Network Lock Kill Switch
One-click connection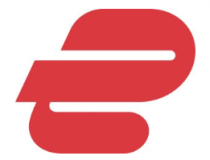 ExpressVPN
ExpressVPN can help you protect your privacy seamlessly while using Brave.
4. Surfshark – best for multiple devices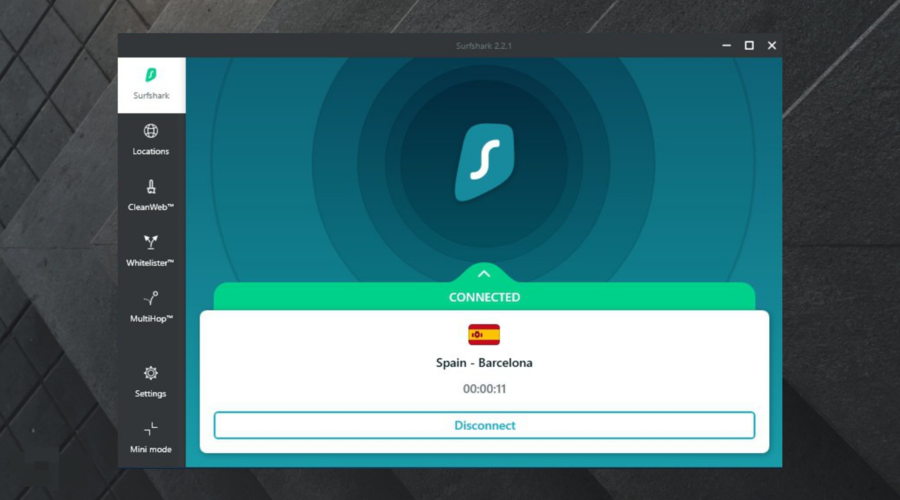 This VPN service developed by Surfshark Ltd. lets you connect an unlimited number of devices and has dedicated applications for all platforms.
It gives access to over 3200 servers in 65 countries. All the servers support secure VPN protocols. So, you can choose between Wireguard, IKEv2, and OpenVPN.
Surfshark does not fall short when it comes to speed. The VPN provider claims to offer at least 1 Gbps port per server. What's more, they do add new 10Gbps ports every day.
Additionally, Surfshark has a strict no-logs policy. They do not keep any information regarding your online activity and they certainly don't sell any data to third parties.
For increased security, the app supports two-factor authentication. This is to ensure that no one else can access your VPN account.
Surfshark offers advanced VPN features, the most important of which include:
Private DNS and leak protection on every serve
Killswitch to stop traffic in case the connection drops
Split-VPN feature for Windows and Android
Auto and manual server configuration
Multi-Hop VPN (routes traffic via 2 VPN servers)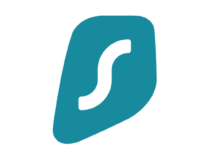 Surfshark
Get access to thousands of worldwide servers and secure your connection on all your devices.
5. CyberGhost – great worldwide coverage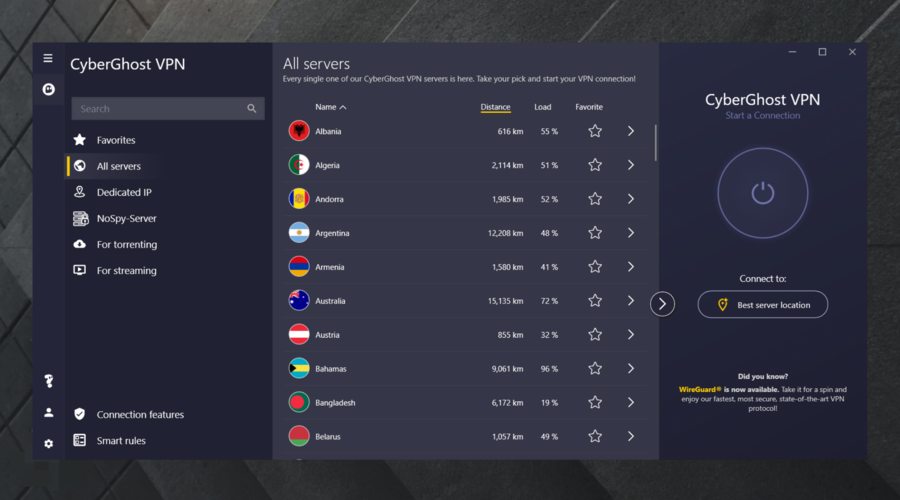 This VPN service provider is often ranked as the best VPN for the Brave Browser. With CyberGhost, you can spoof your location; hence, you can select from over 9000 servers worldwide.
Basic features include strong encryption, support for OpenVPN, zero logs policy, P2P file sharing, protection for up to 7 devices, automatic kill switch, highest possible speed, and unlimited bandwidth and traffic.
In addition, CyberGhost is very easy to set up. And, it can easily integrate with Brave.
Let's take a look at its main capabilities:
Simple and intuitive user interface
Over 6400 servers to choose from
Advanced connection features for blocking ads and pop-ups
Blocking malicious websites and online tracking
Automation possibilities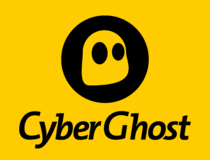 CyberGhost
Enjoy enhanced online security with this amazing VPN! Claim the best deal as soon as possible!
6. PureVPN – fastest servers
This VPN is probably the world's fastest VPN service. With over one million users worldwide, they utilize very powerful encryption protocols.
If you choose to use PureVPN, you'll gain access to over 2000 secure servers in 140+ countries. Plus, you have unlimited server switching and unlimited data transfer.
PureVPN gives you 5 multi-logins with one account – just what you need to share VPN service with your friends. Also, it features an ad-blocker which is a native feature of the Brave Browser.
Furthermore, PureVPN's global network of highly-optimized servers enables you to change your IP address right away.
PureVPN is not just fast; it's easy to set up for a beginner.
Moreover, this program is compatible with 20+ devices: consoles, SmartTV, Roku, Amazon Fire, Chromecast, Routers, Laptops, Desktops, and Smart devices.
Verify PureVPN's key features:
Optimized streaming servers

Ad Blocker
Web Filter
App Filter
Internet Kill Switch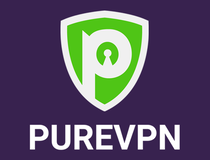 PureVPN
In need of a VPN that works great with Brave? Check out PureVPN.
7. IPVanish – easiest to use apps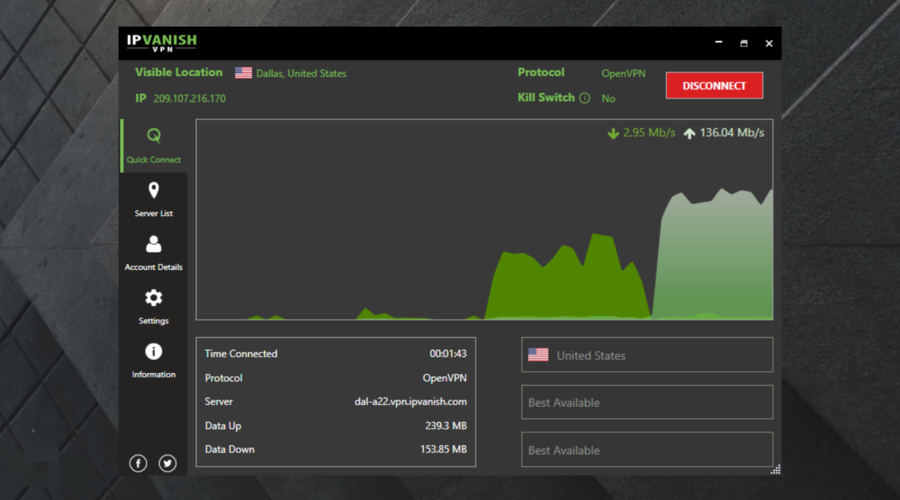 As a reliable VPN for the Brave Browser, this one makes your IP address disappear, ensuring your real location stays hidden.
IPVanish protects your data and masks your identity online with its encryption technology (256-bit AES). It protects your data and can get rid of ISP tracking and throttling.
It offers you 1400+ anonymous servers, through which you can access censored apps and websites. Moreover, you'll be able to enjoy unlimited server switching and unlimited bandwidth, and P2P traffic.
Hence, you get the combined characteristics of a secured web browser as well as a fast VPN, when using the Brave Browser with it.
Keep in mind that if you face problems in operating this program, you can take advantage of 24/7 customer support.
Other features of this StackPath, LLC VPN service include:
OpenVPN and L2TP/IPsec VPN protocols

Zero traffic logs
Anonymous torrenting
SOCKS5 web proxy
5 simultaneous connections on multiple devices
Furthermore, IPVanish has user-friendly apps for all of your devices, making it a great VPN for the Brave Browser.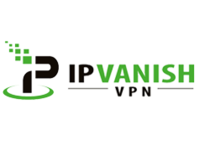 IPVanish
Change your virtual location and enjoy secure browsing on Brave!
How do I choose the right VPN for Brave?
In general, choosing the right VPN for a particular purpose (gaming, streaming, torrenting) might not be an easy task unless you do your research very well in advance.
The same goes here with Brave, so take a look at the following aspects to take into account before purchasing a VPN subscription.
We think the VPNs recommended above fulfill these requirements very well, but in the end, it's up to you to compare and decide on the best option.
➡️ Server distribution – the more servers available across multiple locations and countries, the more options you have to access restricted content.
➡️ Speed – VPN speed is of paramount importance as well, whether it be for streaming, gaming, torrenting, or simply surfing the web.
➡️ Encryption – top VPN providers use the latest and most secure encryption standard, namely, the AES with 256-bit keys, which is also used by intelligence agencies and militaries.
➡️ Protocols – are sets of rules that determine how the VPN tunnel is formed. Most popular VPN providers use VPN protocols such as OpenVPN, L2TP/IPSec, IKEv2, Wireguard, etc.
➡️ Features – a kill switch, ad blocker, split tunneling, or obfuscation are also some important security and privacy features that top-notch VPNs like the ones above also provide.
Wrap up
All things considered, we hope the above list makes it easier for you to choose the best VPN for Brave that meets your Internet surfing needs.
For the best security, it's best you get a premium VPN. Unfortunately, a free VPN for Brave will only go that far. Most of them have data caps, fewer locations, and lack important security features.
Additionally, you can take a look at our best VPNs with one monthly subscription if you're only interested in a short-term contract.
Feel free to share with us your experience in using any of the VPN service providers we mentioned here by commenting below.
FAQ
Why do I need a VPN for Brave Browser?

While Brave is one of the most secure browser options, you still need a VPN if you care about security.
It has a built-in tracking protection feature, but it's not enough to block all tracking scripts.
The VPN will hide your IP and encrypt all traffic information, making tracking an extremely difficult ask.


Can Brave hide your IP?

The standard version of Brave Browser doesn't hide your IP. However, if you get the Firewall + VPN feature (for iOS and Android), you can use it to hide your IP.
You can also use the Open a Private Window with Tor option. That will rotate your traffic across various Tor servers, keeping your true IP hidden.

Can I use a free VPN with Brave?

Yes. You can use a free VPN with Brave, but keep in mind many of them aren't really safe. A good option we recommend is Hoxx VPN Proxy, although it's a bit limited when compared to premium VPNs.

How to enable VPN in Brave Browser?

1. Setting up a VPN with Brave is easy:
2. Choose a VPN service and install it on your device.
3. Go to the list of available countries and pick a server.
4. Connect to the one you've chosen.
5. Launch Brave and start surfing anonymously and securely.
6. Keep in mind that the steps above may slightly differ, depending on the VPN you've decided to use in Brave.