Why is IPVanish VPN one that many people choose? Is it still one of the best VPNs on the market? Let's see what we discovered in our updated IPVanish review.
After many years of trusted service, IPVanished went through some exciting restyling. The website now has a new modern and fresh look.

The so much sought-after 24/7 live chat is back, and you will be happy to know that a 30-day money-back is now available. Moreover, you can now install IPVanish on unlimited devices.
IPVanish is the only Top Tier (also called tier 1) VPN provider on the market.
It has recently released a well-performing Amazon Fire TV App. Shortly we will explain in detail why these are important features for you and how they will make your VPN experience a lot safer and more enjoyable.
IPVanish is a popular virtual private network that many people choose to utilize. In fact, it is one of the top-five VPNs to choose from on the market.
Here are some of the big selling points of IPVanish
Affordable prices
Dependable customer service
Unlimited devices
A super high reputation that has been earned from years of being in the business
Native Applications
Great VPN server network
Hassle-Free 30-day Money-Back Guarantee
IPVanish review – prices and plans
At an affordable and economical price of $3.25/mo (only for the 1 Year plan), IPVanish has outranked other VPNs on the market that may offer similar services, but for higher prices.
If you take into account that we are talking about one of the most secure VPNs you can choose from, the price is totally appealing.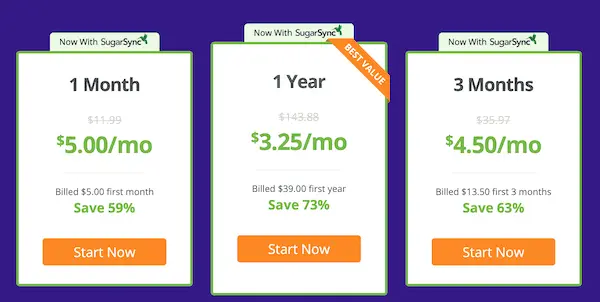 They do accept multiple payment methods plus Bitcoins. That makes it easy enough for everyone to get this service and if you are looking for an extra layer of security, the Bitcoin option is there for you.

It should be noted that they do offer a hassle-free 30-day money-back guarantee.
We call it hassle-free because IPVanish will give you a refund back within 30 days of signing up, with no questions asked. From our experience we can confirm that they honor this promise and, good for them, they do not need to deal with this kind of request that often.
This does make this provider a risk-free option for those who are searching for a VPN reliable and well-performing.
IPVanish is the only top-tier (Tier 1) VPN
You may have heard of IPVanish being the only top-tier VPN in the industry. And you may wonder how that is important to you.
Well, it may sound like a small detail, but in reality, it means a lot for your security and user experience.
Being a top-tier or tier 1 VPN means that the company owns and operates its private network, physical points of presence (PoPs,) and hundreds of anonymous servers located all around the world. IPVanish controls its application and server software development in-house. They also manage their own DNS services and customer support.
What does that mean for you?
You will experience a higher level of security and performance. Since IPVanish doesn't depend on third parties to provide its services, they are in a super favorable position to safeguard your privacy and reduce any issues regarding data leakage, point-to-point encryption, and no-log policies.
VPN connection performances are positively affected too. The company invested a lot of money in its infrastructures like point-to-point networks, VPN servers, and hardware to provide its customers with the fastest and most reliable technologies.
Moreover, since they own it, they can handle high volumes of traffic without slowing down the connection speed. This is a serious advantage over other VPN providers that rent these infrastructures and have no control over these issues.
Sometimes even the best VPNs on the market may at times be quite slow. Hardly ever you will have the same issue with IPVanish which makes this provider perfect, for instance, if you love watching high-quality streaming content.
Key service features

Absolute Zero Logging: IPVanish will never store any data about your activity on the Internet. As we just explained above, the Top Tier provider can secure your privacy better than most of the other VPNs providers on the market.
Unlimited Bandwidth and Server Switches: The service has been designed to give you total freedom and encourage you to have your VPN active 24/7. Doesn't matter how much data you want to transfer or how many VPN servers you want to change, you don't have any limitation to that.
Kill Switch: This is a feature that all the best VPNs offer. The Kill Switch has been designed to make your connection super secure even in case of problems. In the case the VPN protection is for some reason interrupted, the Kill Switch will instantly block any network activities.
Up To 10 devices Connected: You can install the software on as many devices as you like and you can connect up to 10 of them simultaneously. That means that with just one subscription you can protect all your devices or your entire family.
Torrent Friendly: P2P traffic is supported by IPVanish. This VPN provider will never throttle your connection or speed. IPVanish is now equipped even with SOCKS5 proxy which makes P2P, BitTorrent, and Tor traffic not only super fast but even anonymous.
Amazon Fire TV App: There are only a few providers that offer a dedicated app for Fire TV. IPVanish has developed a Fire TV app that works very well and give you total protection during its use.
These are some of the main features that make this provider one of the main VPNs that people consider when they are shopping around for a VPN.
Privacy and security
IPVanish utilizes a 256-bit AES encryption that is used by military and government officials.
Privacy and security should not be a concern when using this VPN.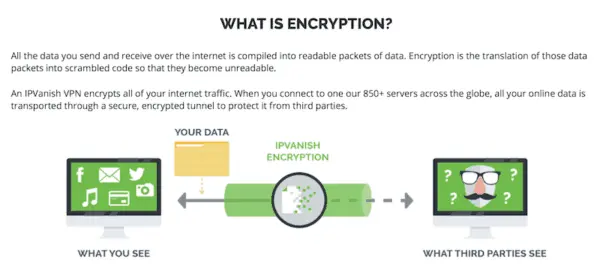 On top of this, the VPN does offer log-less encryption. What does this mean?
With other VPNs on the market, they may log what you are doing for their own personal use. This means that there will always be a trace of your online activity and what websites you are visiting. In case of an investigation, the VPN provider may be forced to make all your data accessible to authorities.
IPVanish is not doing this! Thus, you are completely free and protected while online and connected to this VPN. It gives you the freedom to enjoy the internet without fear that someone is going to see what you are doing, along with ensuring that you are always safe!
Moreover, your privacy is protected by additional layers of security:
Shared IP infrastructure: instead of assigning you a dedicated IP, the service provisions shared IP which makes it even harder to monitor single-user activity.
IPv6 and DNS leak protection: Activating these 2 separate features you can ensure that none of your sensitive data is accidentally transferred to third parties.
IP Randomizer: It gives you the possibility to change your IP address at specified intervals of every 45,60,90 or 120 minutes.
NAT (Network Address Translation): This is firewall protection for when you are connected to the VPN network. It prevents bonnets, hackers and other malicious entities from exploiting your Internet-connected devices.
IPVanish supported protocols
Included in every plan there are several protocols for all the OS:
Windows – OpenVPN 256-bit, OpenVPN Scramble, L2TP
macOS – OpenVPN 256-bit, L2TP, Cisco IPSec
iOS – IKEv2/IPSec, L2TP (manual), Cisco IPSec (manual)
Android – OpenVPN 256-bit, OpenVPN Scramble, L2TP (manual), Cisco IPSec (manual)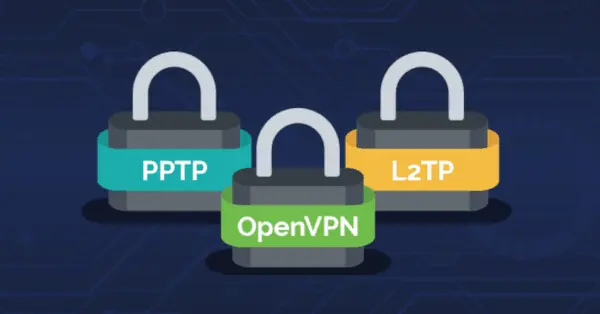 With numerous protocol options available, it makes it super useful for every type of person. Remember, PPTP is considered the most insecure option, so this must be taken into consideration.
IPVanish VPN server network
One of the more important aspects to evaluate when shopping for a VPN is the number of servers that are available via this client. The more you have around the world and the more you will enjoy your Internet freedom.
A big VPN server network will make it very easy to access geo-restricted websites, bypass censorship, find the best shopping deals and a lot more.
IPVanish has over 1400 servers in more than 75 countries.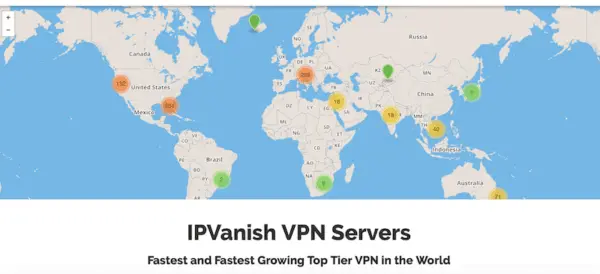 VPN servers are present in all these regions:
North America
South America
Asia
Oceania
Europe
Africa
Central/South America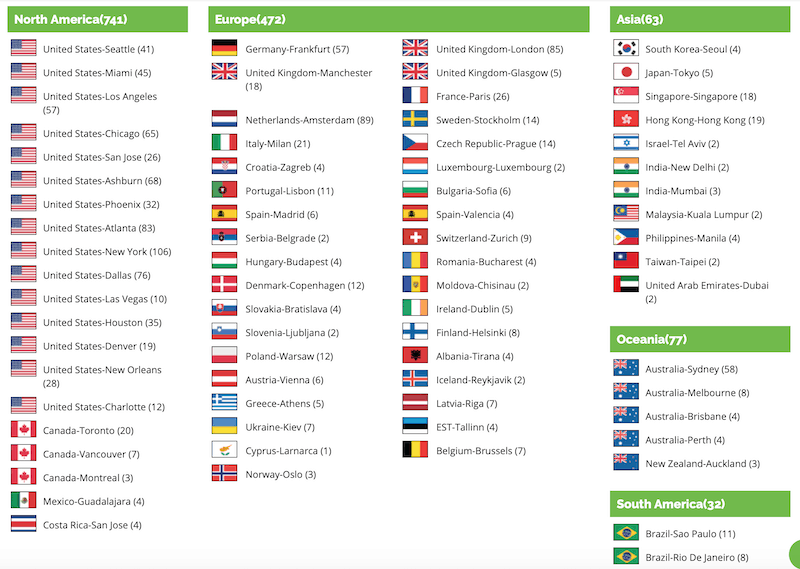 The network keeps on expanding, and all the new servers will be available for your use without additional costs.
Due to the wide range of servers, they are allowing people to access websites that may have been blocked otherwise, and those services that may not be readily available in their area.
IPVanish native app for Amazon FireOS, Fire TV Stick, and Kindle Fire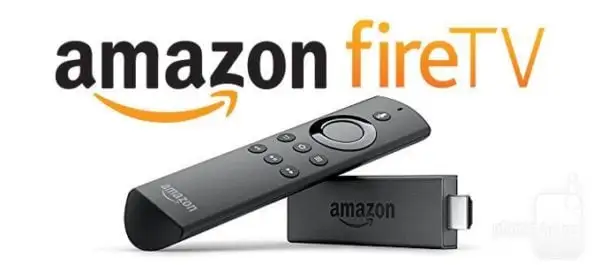 IPVanish comes with native Amazon app.
The app is compatible with all major devices running FireOS and native Amazon devices like Fire Stick TV and Kindle Fire HDX.
These are the OS compatible with IPVanish Amazon app:
Windows 7 and higher
OSX 10.10 and higher
Android 4.0.3 and higher
iOS 11.0 and higher
How to Install IPVanish for Fire TV
Download the app – On your device, download the Underground app to access the Amazon Appstore. (You can skip this step if you are using a native Amazon device like Amazon Fire TV or Fire TV Stick).
Search for IPVanish VPN and download the Amazon app
Install the app – Open IPVanish VPN on your device running the Underground app, Amazon Fire TV or Fire TV Stick
Log into your IPVanish account
You are now ready to enjoy your safe connection
NOTE: If you are already using a side-loaded APK installation of IPVanish VPN for Fire TV, you must first uninstall the IPVanish APK before downloading the new native app. If you don't do it, you will not receive app updates from the Amazon App Store.
Here is how to uninstall the APK:
Go to the Home screen on your Amazon Fire TV or Fire TV Stick
Choose Settings, and then choose Applications
Scroll down and choose Manage Installed Applications
Find and select IPVanish VPN
5. Choose Uninstall
The APK is now removed from your device
Connection speed test
The connection speed when utilizing servers in the United States was impressive.

On average, consumers are getting about 80 to 90% of the speed promised, which is greater than the usual 40% that consumers find with other VPNs on the market.
Speeds in Europe:

Much the same is true with servers located in the Europe area. The speeds are still impressive, showcasing that consumers may not have to worry about much of a speed decrease when using this VPN compared to their original internet connection.
IPVanish VPN is user-friendly
IPVanish is one of the easier VPNs on the market to utilize. In fact, the signup process is rather easy: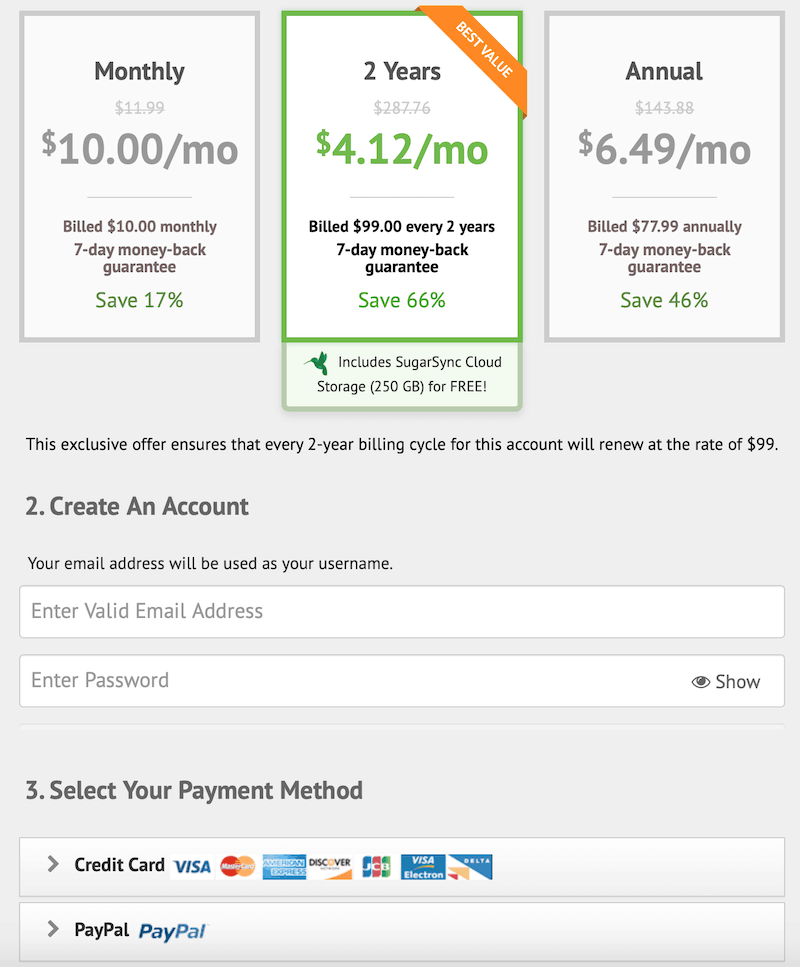 Simply choose the plan you want
Enter your email address
Choose your payment method.
Download the option that you need
Enjoy!
It is rather straightforward to use, making it a perfect option for those who are just beginning in the world of VPNs.
The setup process for all devices, whether they are computers or mobile devices is easy. You can benefit from an easy way to set up all your devices via their VPN Setup page: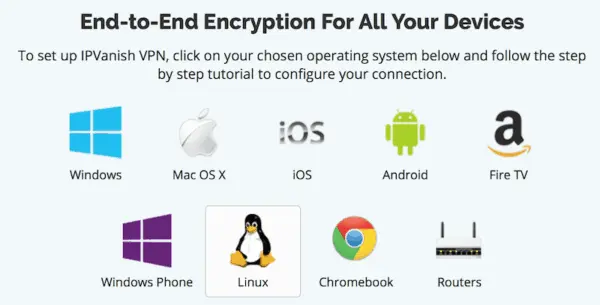 It makes the entire process super easy, and so that anyone can do this.
IPVanish native applications
IPVanish VPN has applications for the most important operating systems including:
Windows
MacOS
Android
iOS
manual configuration for the major platforms
All the applications are user-friendly and can put at ease even inexperienced users.
They feature an API server load balancing. This is a background algorithm that automatically selects the best server for your VPN's connection based on ping time and server load. This feature will make sure that your VPN connection always works at top performance.
The company has, in fact, announced that shortly they will offer native experiences on multiple platforms and fast-growing technologies like:
Smart TVs
Set-top boxes
Smartwatches
Car interfaces
More…
The company's goal is to secure your activity no matter what device you are using to transmit data.
Let's now see some of the specific features of the IPVanish app.
Onboarding tutorial: As you open the application for the first time, a tutorial will walk you through the application. You can decide to follow it, to skip it or to go back to it later.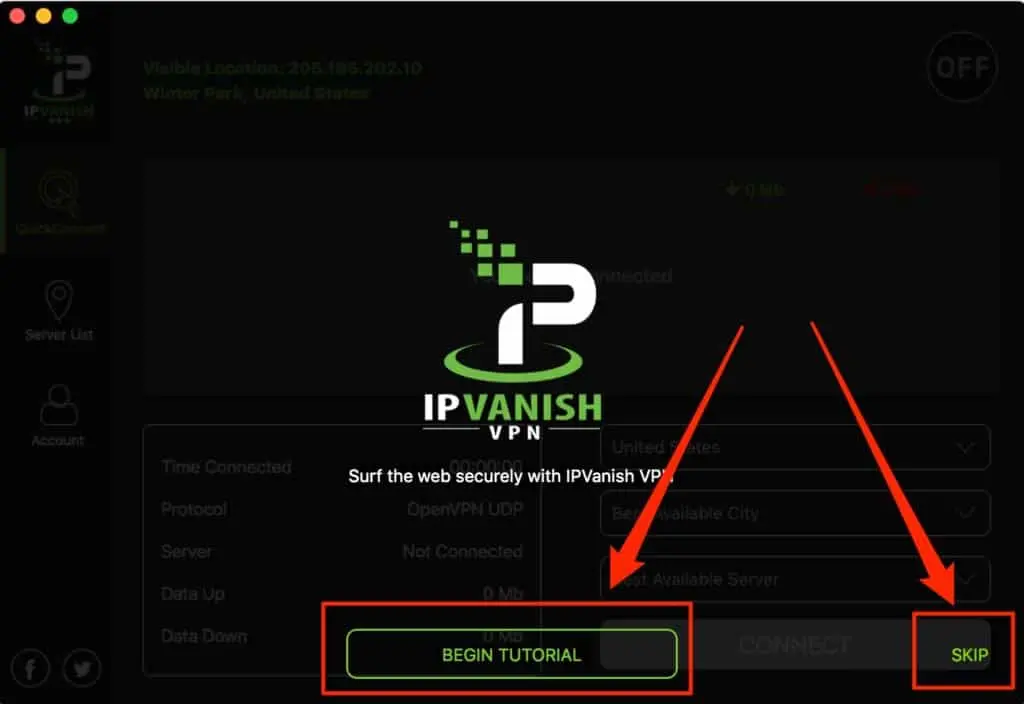 QuickConnect: This feature allows you to choose the region you want to connect to and IPVanish VPN will connect you to the optimum server
Optimized Server Searching: This option facilitates the search for a VPN server. You can choose to QuickConnect to a region, select from an interactive map, or filter through the servers by load and ping time.
Connection Screen: This is a window that provides you with the most relevant information on your VPN connection. Here you can see your current IP address, approximate location, and server information. There is even a useful graph that shows real-time connection information and the size of data you are transferring in each session.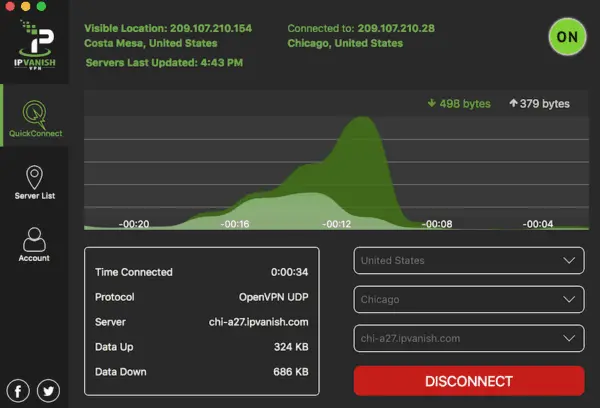 Server Notifications: In the case of problems with the server you are currently using, the system will inform you about it without allowing the connection to falter. Moreover, the interface will provide you the option to switch servers without opening the full application.
iOS
Today Extension: This added feature allows for making easy VPN connections from anywhere outside of the IPVanish app.
Always On VPN: When this option is enabled, the VPN connection will be automatically activated on your device whenever Internet traffic is detected.
On-Demand Connections: You can save specific URLs on the On-Demand panel, and the VPN will activate every time traffic toward them is detected. You can even save specific SSIDs to have the VPN automated every time you connect to a particular Wi-Fi network. This feature is pretty cool and will make the use of your VPN very comfortable.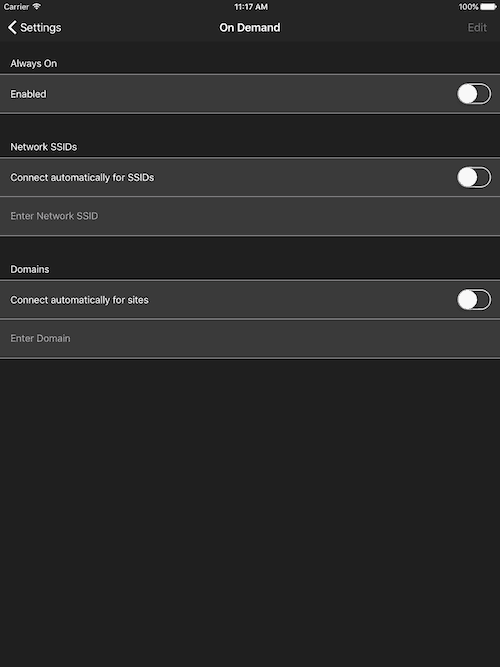 Android
Widget: IPVanish has created an installable widget that you can place on the Android home screen. You can customize the widget and place it wherever you like on the screen. Its purpose is to manage the connection without opening the full VPN app.
Native support for AndroidTV: V3 has a native client designed for TV Interfaces. At present, there is official support for large screen format with built-in functionalities for remotes. In time, an interface for TV screens (e.g., Android box users, Android phones/tablets and iOS phones/tablets) will become available.
AutoReconnect: This feature will automatically initiate the VPN upon device boot-up.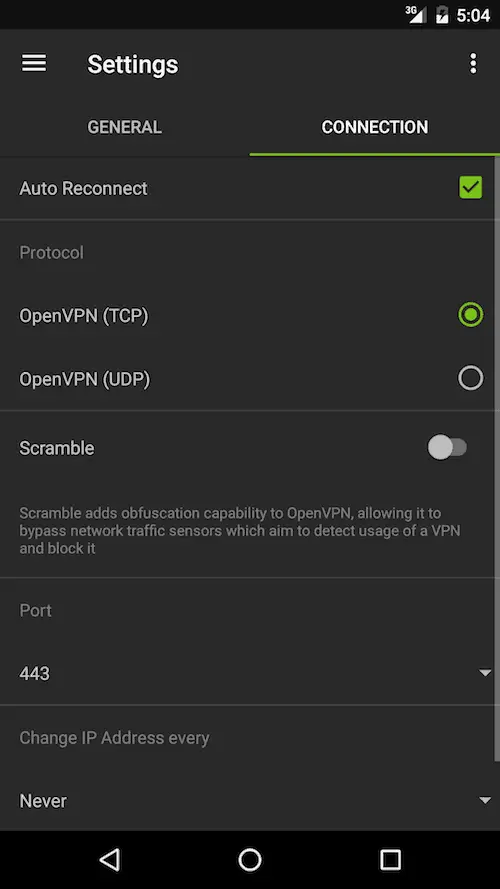 macOS
Mini UI: This is a simplified and smaller IPVanish client that features only basic functionalities like the ability to connect and disconnect, and to change regions. It will not to make your screen overcrowded.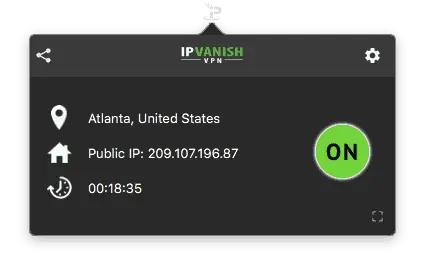 OpenVPN Scramble: This is very helpful for maintaining VPN connectivity in a location or country that tries to block VPN connections by using deep packet inspection (DPI). This protocol disguises your traffic to look like something other than VPN traffic whenever firewalls inspect it.
DNS Reset: Using this button you can reset your DNS settings within the application preferences. You will find this feature useful in case of improper disconnection that messes up your DNS and makes it appear like there is no available Internet connection at all. Just use this function, and you will solve the problem.
Windows
Mini UI: You can choose between the full-featured client or a simplified version where only basic connections and region preferences are available. Many inexperienced users highly appreciate this feature.
3rd Party DNS: Now you can configure third-party DNS addresses directly inside the client. Of course, IPVanish VPN does not recommend doing that, but some use cases may require it.
OpenVPN Scramble: In nations where the OpenVPN protocol can be detected and the traffic terminated, you can use this feature to have an additional layer of encryption. When enabled, OpenVPN scramble can counter this blockade.
LAN Blocking: When LAN blocking is on, no device sharing a user's local area network (LAN) can communicate with the enabled device. LAN blocking also prevents a user's outbound traffic from going over the LAN.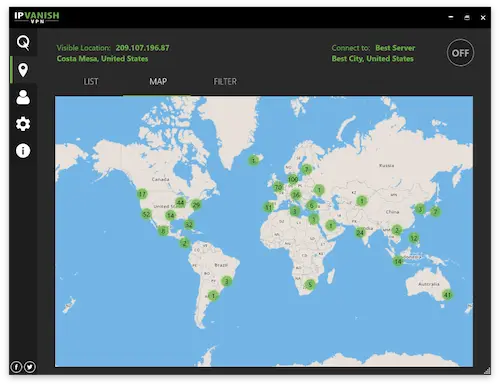 Customer support
Customer support for IPVanish is available 24 hours a day, 7 days a week, throughout the entire year. When entering a support claim, you get an answer on a first-come, first serve basis.
Alternatively, you can email the support, or even post a public question via their forum on their website. You may also find that the official Facebook page is a great way to gain information on issues that you may be having.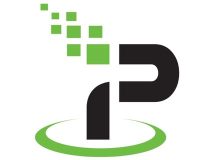 IP Vanish
Boost your online privacy and security with this top-of-the-line VPN.
IPVanish review – Verdict
Do we recommend IPVanish?
YES !!
IPVanish has a reputation for being one of the best VPNs on the market, and it is evident from our tests why this reputation still holds
They continue to grow and offer services that most people love.
IPVanish VPN is one of the top players on the market for security and privacy. As we explained, they are the only Top Tier VPN, and that has a huge impact on digital security and performance.
For those who are looking for online privacy, they are going to find that the strong protocols, encryption, speed, and the company's logging policy make this VPN a clear winner among those that are on the market.
Plus, the new Amazon Fire TV app that IPVanish VPN just released is another interesting development for this provider. There are just a few VPNs that have a native Amazon app and IPVanish is the best-performing at the moment.
Price-wise, they are competitive and are lower than other VPNs. For those who decide to go for it, they are going to find that they are not sorry for this decision!
---