Skill isn't enough to get kills and wins in Call of Duty. You'll also need a stable internet connection. Maybe you've tried playing with a regular VPN, but the lag spoiled all the fun.
Luckily, it doesn't have to be that way.
Some VPNs are designed specifically for CoD players to facilitate the best possible gameplay. Sweat VPN is one of them.
But how good is it? Will it boost your CoD performance? Can you use it for other things? I tested the service first hand and I'll discuss it all in this Sweat VPN review.
| | | | |
| --- | --- | --- | --- |
| Number of countries | 42+ | Interface | 5/10 |
| Price | $5 | Best for | Call of Duty |
| Speed | 8/10 | Customer support | Email, Discord |
How good is Sweat VPN for gaming?
Sweat VPN is a great service for all Call of Duty players. The team behind it has built it specifically to ensure they can reduce ping and connect to all the servers they want to play on.
It supports six titles in the series on PC, Xbox, and PlayStation:
Call of Duty: Warzone
Call of Duty: Warzone 2.0
Call of Duty: Modern Warfare
Call of Duty: Modern Warfare II
Call of Duty: Vanguard
Call of Duty: Black Ops Cold War
The provider's website also mentions that it'll add any new CoD titles that come out in the future.
But what is it that makes Sweat VPN stand out from the crowd when it comes to games in this series?
Among its strongest perks are the extra-fast servers. Connecting to one of them won't increase your ping/latency like it sometimes happens with regular VPNs.
This results in smoother gameplay, allowing you to perform better than ever before.
It also takes just a quick look at the VPN's interface to figure out why Sweat VPN is every CoD player's dream VPN.
The app comes with a few extra features designed for this series that you'd never dream of getting from other providers.
Let's take a better look at how each of these perks affect your gameplay:
Does Sweat VPN lower ping?
With the right settings and servers for your location, Sweat VPN can help you lower ping when playing CoD.
I ran several tests to prove this. I compared my ping without the VPN to the one when connected to the Spanish server.
As you can see below, my ping hovered around 27ms, slightly less than the 32ms I usually get. This resulted in more than pleasant gameplay.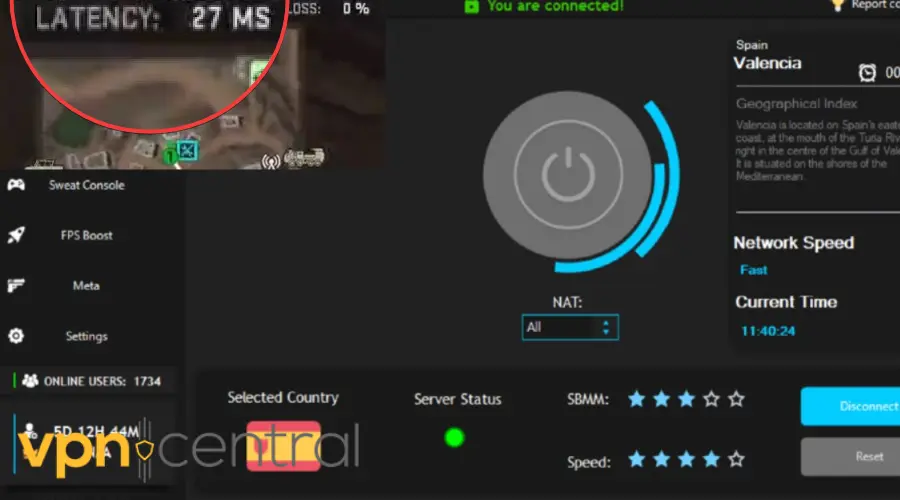 The same wouldn't necessarily happen with traditional services. Unlike them, Sweat VPN only routes some packets through its servers, eliminating any negative effects on the connection.
Still, as with all VPNs, more distance usually means lesser speed. If you choose a distant server, it's possible you won't get the same results.
Can you get easier lobbies?
Sweat VPN can help you get easier CoD lobbies and play with less pressure.
If you're wondering how, here's an explanation.
Sometimes, you might want to take the pressure off and play against AI bots and less-skilled players. It's also a great way to practice new moves and improve your overall skill.
To do that, you'll have to play on less-populated servers, often referred to as bot lobbies. You can usually find them when connecting to a server in countries with a smaller player base.
As you can imagine, Sweat VPN offers servers in these locations. That includes:
Egypt
Nigeria
South Africa
Singapore.
It also includes often neglected locations like Belize and Brunei. They're also a smart pick for bot lobbies. My advice is to test these countries and stick to the ones that work.
Sweat DUMA
Sweat DUMA is one of the special features you get when you subscribe to Sweat VPN. Its main purpose is to let you connect to any CoD server you want to play on.
So, if you want to face players from a specific region or you want to connect to bot lobbies, Sweat DUMA can make that possible.
But how exactly does it let you choose the specific game server?
When you select a location listed in Sweat DUMA, the app automatically blocks the servers in all other regions. This allows you to play on the one you want.
You can also pick more than one location. It will then point you to the best game server in your chosen region, which makes finding a match there a real piece of cake.
It also tells you the estimated ping based on your current whereabouts and the server you've chosen.
Keep in mind that using Sweat DUMA to connect to a distant CoD server will increase your ping in most cases. However, it usually won't be high enough to make the game unplayable.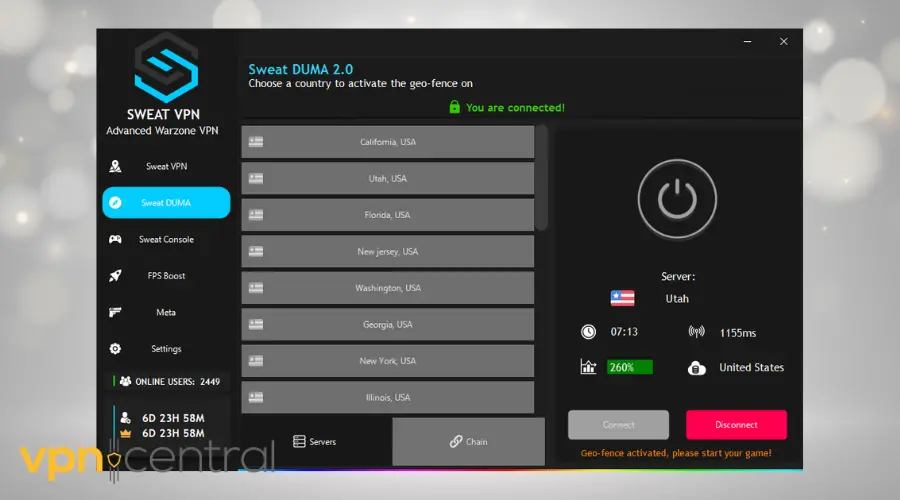 Sweat Console
As mentioned earlier, Sweat VPN allows you to change your location not only on PC but on Xbox and PlayStation as well.
The best part – it makes it extremely easy to do so!
Its special Sweat Console feature guides you through the entire process and simplifies using a VPN on your console.
As long as you have a USB network adapter, you can easily make the connection through this unique Sweat VPN feature.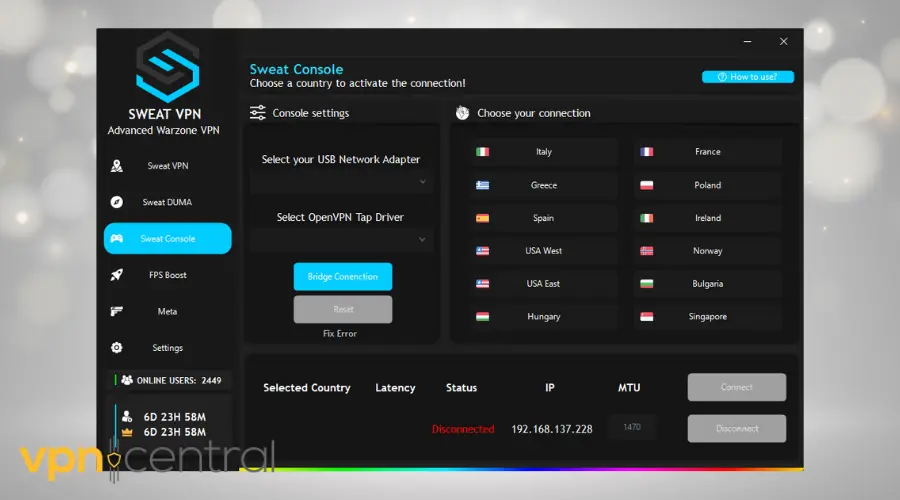 FPS Booster
Another feature I was impressed by is the FPS Booster.
It lets you manage all options that can increase your FPS in the game in one place. All you have to do is toggle on the settings you want to use.
This means you can get that FPS boost every player dreams of in a matter of seconds.
For example, you can use it to disable startup apps and turn on GPU acceleration.
Sweat VPN also ensures that none of the options you choose will hurt your hardware, such as your graphics card, CPU, or motherboard.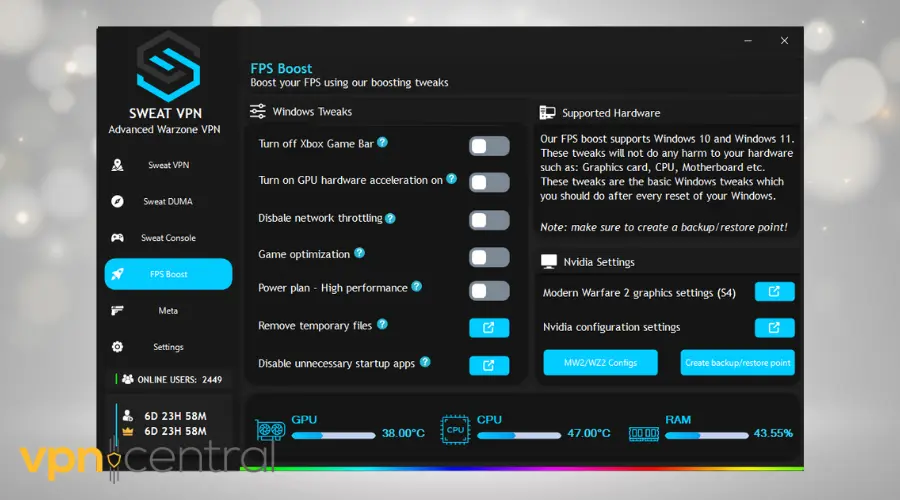 Meta weapons
As CoD players know, every game update brings something new to the table. Therefore, staying up-to-date with what currently works the best is the key to more kills and wins.
Luckily, there's no need to look up meta weapons manually. Sweat VPN comes with a special section where you can see what most players are using.
It also gives quick access to information such as the type of ammunition the weapon uses.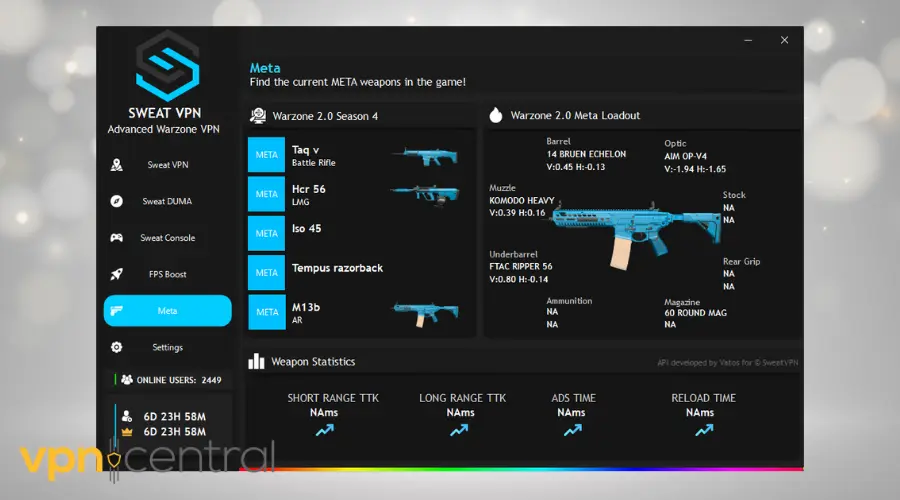 Can you use Sweat VPN as a regular VPN service?
Sweat VPN is advertised as a VPN for games in the CoD series and is best used that way. If you expect it to operate as a regular service, you'll find that it doesn't do most of the stuff regular VPNs do.
The team behind Sweat VPN sacrificed some standard VPN functionalities for unique features that boost your CoD experience. Therefore, you don't get split tunneling, kill switch, and other functionalities that are usually a part of the bundle with more traditional VPNs.
Server network
Finding the right VPN server for your location and the game server you want to play on is extremely important.
In this regard, Sweat VPN offers more than enough. It comes with 42 locations plus the ones you get if you opt for a VIP membership.
Sweat VPN speed
When you use a VPN, you can always expect your internet speed to go down a bit. This is because your traffic travels through another server before it reaches its final destination.
For CoD players and gamers alike, a fast connection can often make the difference between success and failure.
To ensure this VPN really is fast enough for CoD, I tested it on speedtest.net and compared the results to my base speed.
Here are the results I got: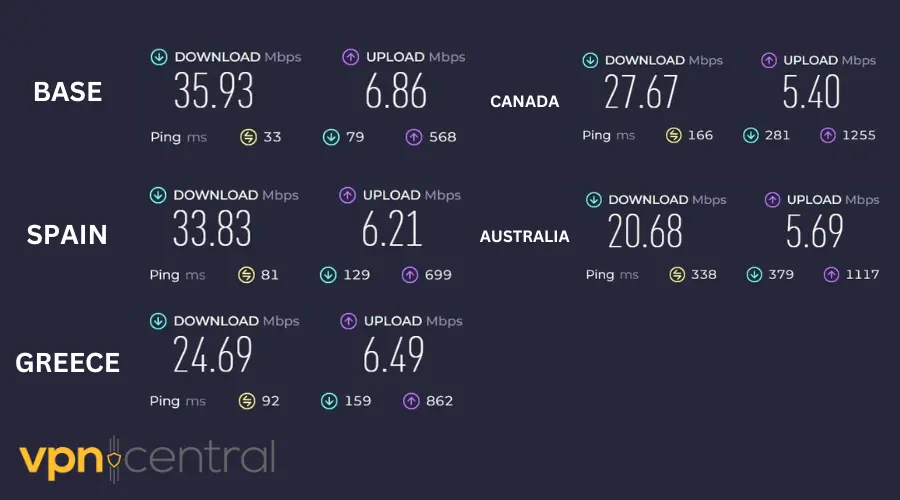 None of the Sweat VPN servers reduced my internet speed significantly. The biggest decrease in the download speed (42.5%) happened when I connected to the Australian server.
This makes it obvious that Sweat VPN isn't just talk. It effectively changes your location without increasing your ping/latency in the game.
The decreases in speed were on par with some other standard VPNs.
Privacy
Sweat VPN says in its privacy policy that it prioritizes complete transparency with its customers.
True to its word, it lists all the information the provider collects and why it does so. All conditions mentioned in it are governed by Dutch law.
While VPNs based in countries in the 14-Eyes Alliance aren't the best option for privacy, this shouldn't be much of a problem for Sweat VPN users.
Since its primary focus is CoD gameplay, you probably won't use it for any other purposes. But if you want full online anonymity, you'll need a more traditional VPN.
Is Sweat VPN safe?
For this section of my Sweat VPN review, I wanted to check how effectively Sweat VPN will hide my actual IP address.
Unfortunately, the results proved that this isn't something it excels at.
However, keep in mind this isn't something Sweat VPN was designed to do. Discord mods have said on the product's server that the app doesn't change your IP with the default settings.
However, it's capable of doing so when you change the nat type to Direct. While this will change your IP address, mods don't recommend it for CoD, since your ping will be significantly higher.
I visited ipleak.net to see whether the website will my IP when using Sweat VPN. It was exactly the way mods have described it.
With the default settings, my actual IP address in Montenegro was always exposed.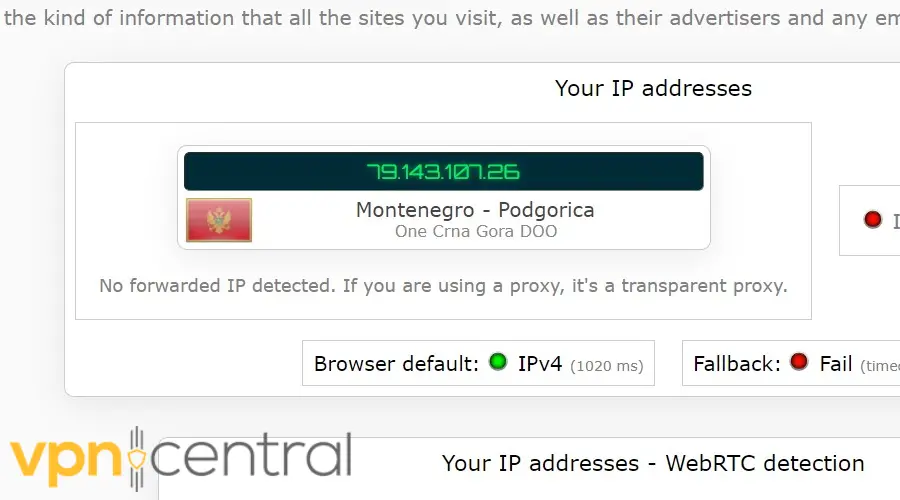 But once I changed nat type to direct, my original IP didn't leak.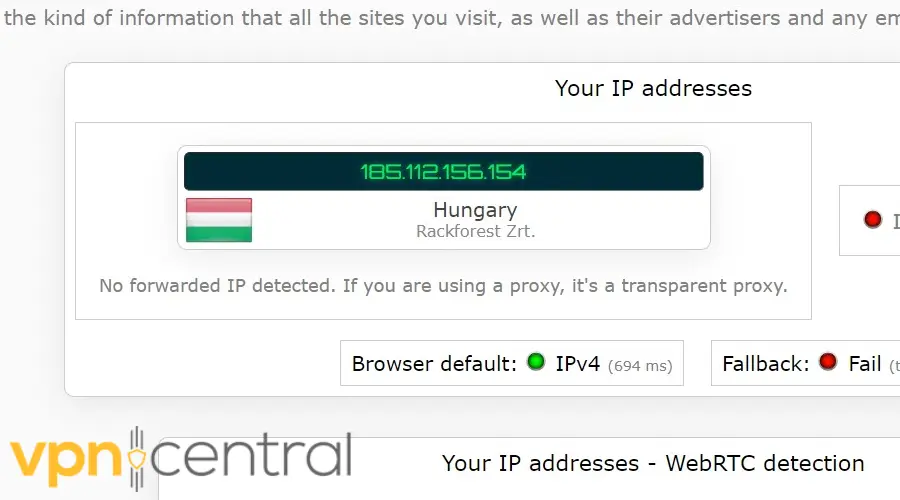 Still, I experienced DNS leaks in both cases.
So, while Sweat VPN can enhance your CoD experience, it's definitely not the best option for those looking for complete anonymity.
Is Sweat VPN good for streaming and torrenting?
Being a service dedicated to CoD players, Sweat VPN isn't the most suited for streaming, but it works. It performs slightly better when torrenting, though.
Here's why.
My speed tests suggested that this VPN should do well in this task.
I first wanted to see how it would perform when streaming a movie on Tubi. Connecting to a Canada server unblocked the streaming service without trouble. There was very little buffering and the video quality remained high most of the time.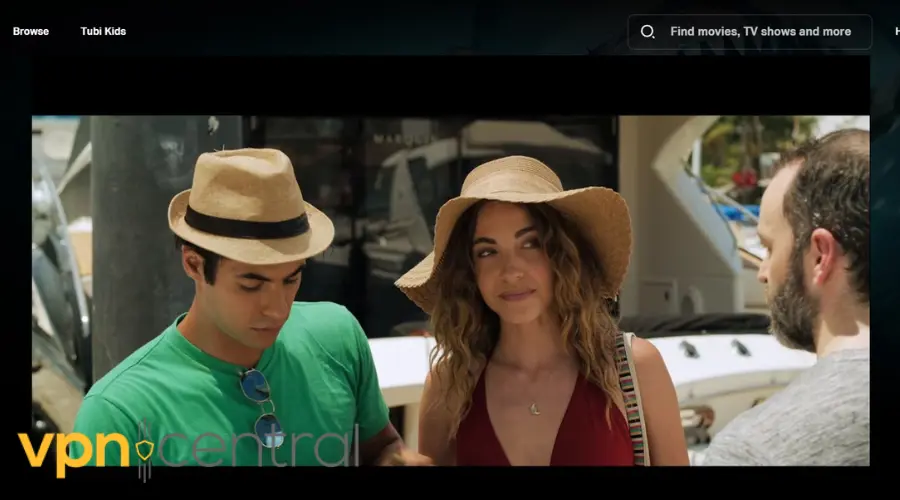 However, when I tried bypassing geo-restrictions on another streaming service, Sweat VPN didn't live up to the task.
For example, connecting to a server in Australia didn't unblock 9Now.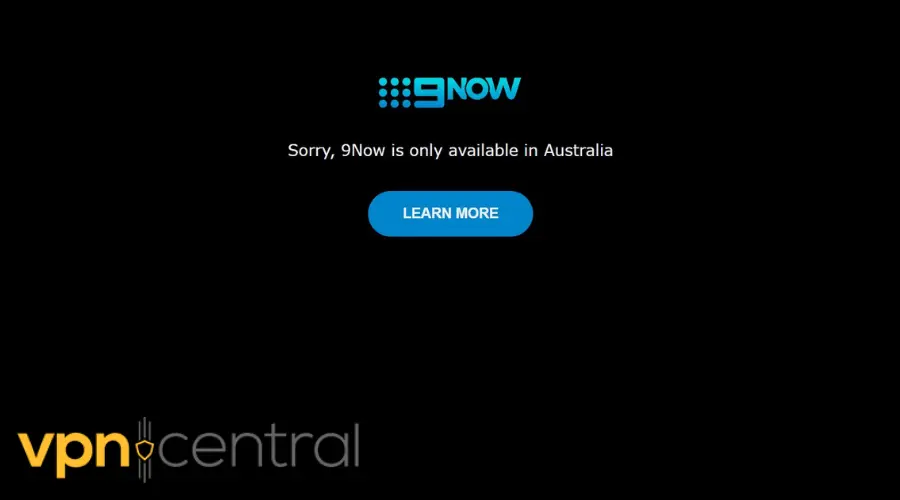 Also, with Sweat VPN missing some key locations like the UK and the US, you won't be able to unblock BBC iPlayer and Peacock.
On the bright side, the app performed well in my torrenting tests for this Sweat VPN review. I successfully downloaded a video from the Internet Archive.
You can do better with more traditional VPNs, but I was able to download the movie relatively quickly.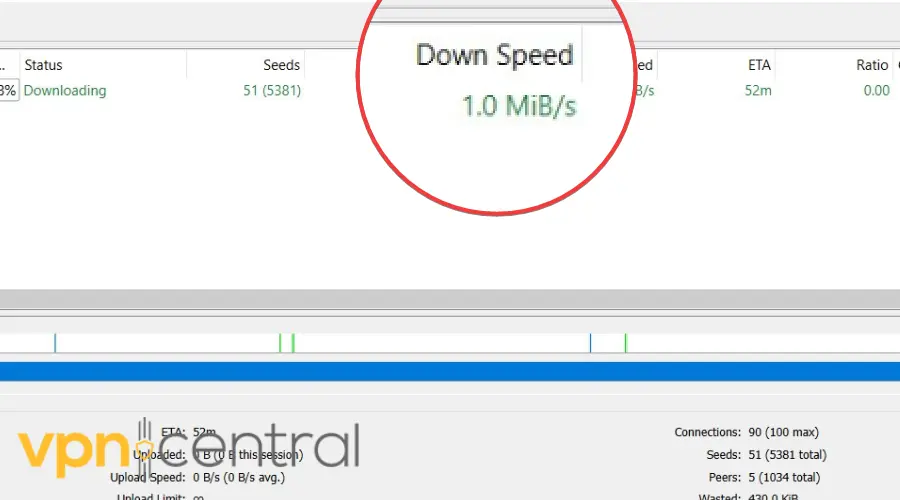 Pricing
Sweat VPN offers seven pricing options you can choose from. This includes standard and VIP memberships:
Standard:
One week – $5
One month – $15
One year – $35
VIP:
One week – $7.5
One month – $20
Three months – $50
One year VIP – $150
Personally, I'd like to see more information on the provider's pricing page. It's difficult to figure out what perks you're getting with a VIP membership before actually buying it.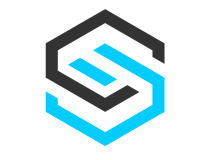 Sweat VPN
Transform your CoD experience with Sweat VPN! Decrease ping, boost FPS & gain tactical insights for more kills.
Sweat VPN review – Summary
All things considered, this is a phenomenal service for CoD players. Lower ping, bot lobbies, and extra features can really transform your gaming experience and translate to more kills.
Still, I also tested it in other areas for a full performance review. While it fails in some tasks, it's important to note that this service is primarily a CoD VPN. Therefore, I expected that when I started writing this Sweat VPN review.
So, if you play CoD, you shouldn't think twice about subscribing. On the other hand, if you want a more standard set of VPN features, there are plenty of other options.
---