HBO GO is an excellent streaming service that is filled with all kinds of shows and movies.
It features all the newest content, but also some of the most popular hits from years back. As such, it has something for everyone, no matter what you want to watch.
Unfortunately, it also has a flaw that revolves around the fact that it is geo-restricted. This means that if you happen to want to watch it outside of the US, you may not have the ability to do so.
It might simply be unavailable to you because it does not allow everyone to access it.
Of course, HBO GO is available in some countries besides the US. But, you might also discover that it doesn't provide the same content as the one you're used to, which can, once again, interfere with your enjoyment.
This is why you need to use a VPN, which can allow you to hide your true location by masking your IP address and appear to be somewhere else.
As a result, you can unblock and watch HBO GO from anywhere in the world while pretending to be in the US.
In addition to that, a VPN also protects you from online threats and online surveillance, and it lets you keep your privacy.
Which VPN unblocks HBO Go?
There are countless VPNs today, many of which have bad security, small server networks, and slow speeds.
All of this makes it very hard for a first-time user to decide which VPNs are good, and which ones should be avoided.
That's why we created this list of the best VPNs to unblock HBO GO from anywhere in the world.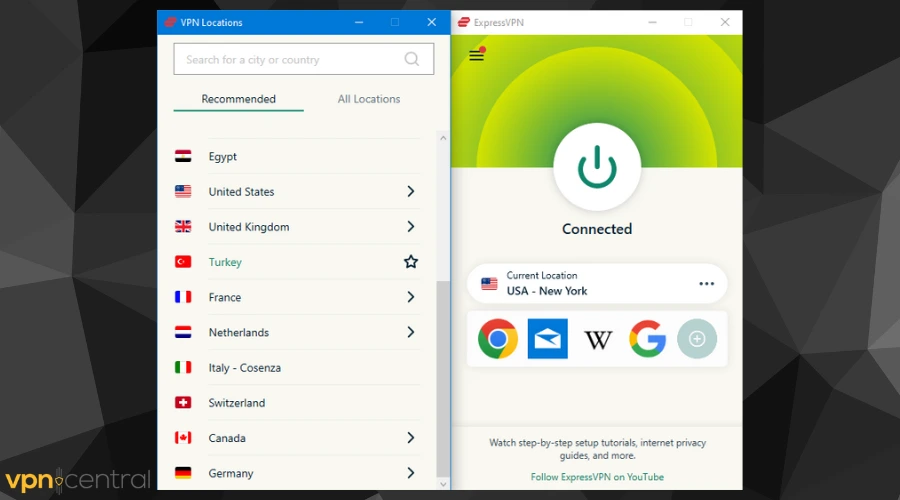 The first on our list, and our top pick for this kind of job is ExpressVPN.
This is a service headquartered in the British Virgin Islands. As such, it is outside of the jurisdiction of any intrusive government or surveillance alliance.
This already ensures that you can count on it to keep your privacy, and its zero-logs policy confirms it.
The service also offers the best security and privacy features.
Those include such as the strongest security protocols, the best available encryption, a kill switch, and more.
However, what we are really interested in, for the purpose of unblocking HBO GO overseas, is its server network.
ExpressVPN has one of the largest server networks in the industry, with over 3,000 servers spread around 94 countries.
This allows you to unblock almost every version of HBO GO out there.
And, with so many servers, the service ensures that they will not be overcrowded. So you get some of the best speeds in the industry if you choose this VPN.
Moreover, ExpressVPN is compatible with most operating systems, as well as various devices like consoles, routers, and smart TVs.
That way, you can use it on any device or system that can run these browsers, even if there is no dedicated app for that specific device.
Its prices are rather affordable too, and they reduce with longer plans.
And, best of all, the service offers a 30-day money-back guarantee. No stress in case you change your mind and decide that it is not good for you.
However, since this VPN is a top pick for unblocking numerous streaming services around the world, it is likely that you will be more than satisfied.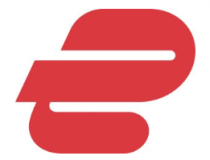 ExpressVPN
Get rid of geo-blocks in just a few clicks with ExpressVPN!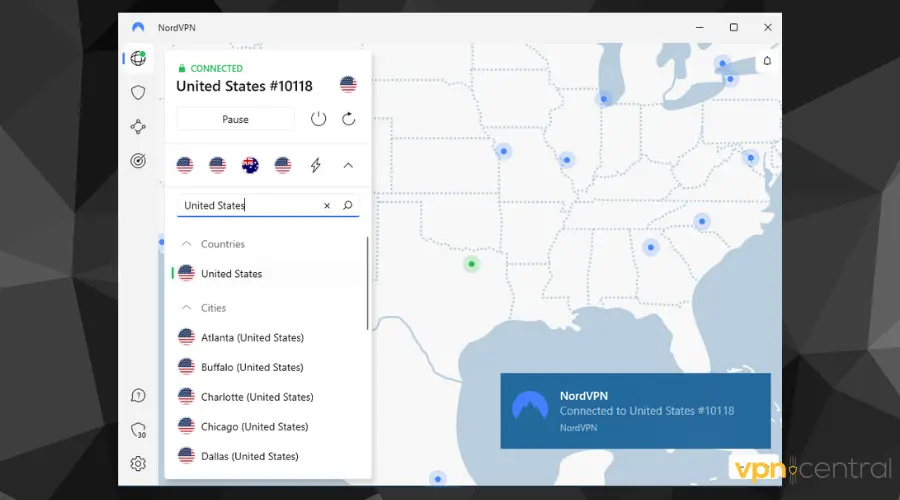 Next, we have NordVPN, a Panama-based service that is just as good privacy-wise.
NordVPN has proven time and time again that it doesn't keep logs. What you do is nobody's business but your own.
Like ExpressVPN, NordVPN also offers the best security and privacy features that you can get, at a similar price.
It 5,200 servers around the world, even though it has servers in fewer countries than ExpressVPN.
It even has a very user-friendly app that presents you with the map of the world and lets you choose a server on it.
Even so, it covers 59 countries, which is still more than good.
Best of all, around 1,700 of its 5,200 servers are located in the US. You will be able to unblock HBO GO and keep excellent speeds from anywhere in the world.
Apart from that, this service allows you to use its app on 6 devices at the same time. It supports most devices, such as Windows, Mac, Android, iOS, and Linux, as well as browser extensions.
Lastly, its money-back guarantee lasts for 30 days, so you can test it out and get a refund if you don't like it.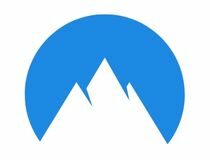 NordVPN
Easily unblock HBO Go in any country with NordVPN!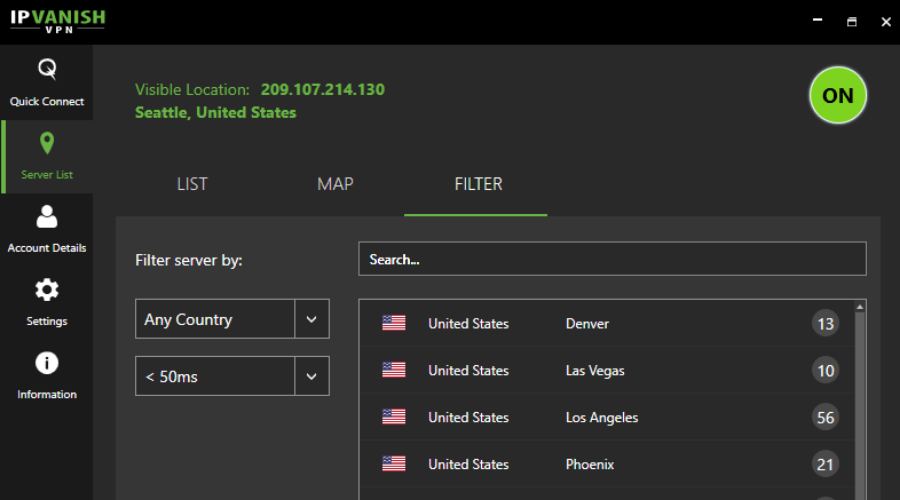 Next, we have IPVanish, which is also extremely fast and safe. It actually owns all of its servers around the world.
That includes over 1,300 servers in around 75 locations, and it totals 40,000 IP addresses for you to connect to.
Other than that, the service provides a number of various features, such as excellent speeds, user-friendly apps, unlimited bandwidth, and zero-logs, all of which are crucial for streaming.
It is also just as good as the others that we mentioned when it comes to privacy and security. Plus, its prices are even slightly lower than the previous two providers.
Best of all, it allows you to connect as many as 10 devices at the same time.
The only downside with this provider is that its money-return policy only lasts for 7 days.
Still, a week is more than enough time, so you should not worry too much.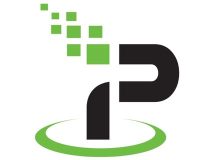 IPVanish
Bypass geo-restrictions and enjoy seamless streaming using this reliable tool!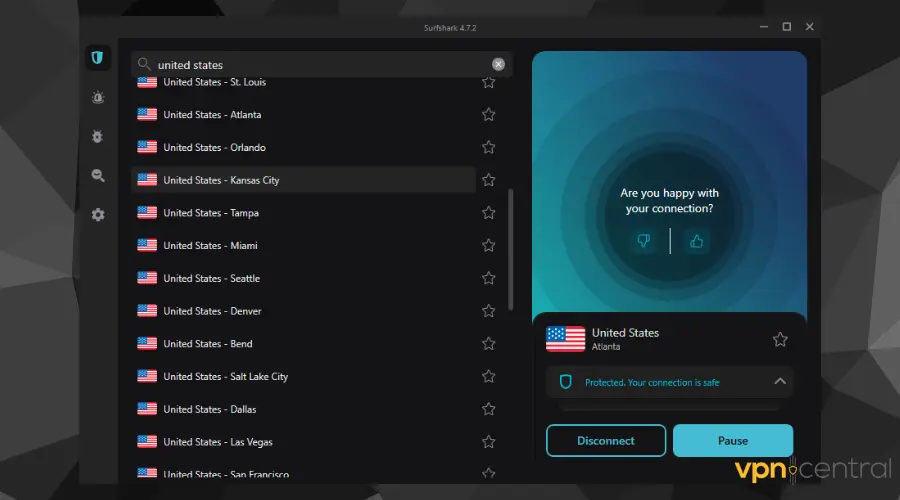 Nearing the end of our list, we have Surfshark. It is also a great choice for unblocking HBO GO, but also other services.
If you wish to unblock HBO GO, it is just as fast, just as safe, and just as capable as any other service on this list.
Surfshark features strong security measures, as well as other top providers. It offers low prices, as well as a 30-day money-back guarantee.
Plus, it keeps no logs and has 1040 servers in 61 countries. You can unblock pretty much anything with it.
It also has apps for Android, Mac, iOS, Firefox, Chrome, Smart TVs, consoles, Linux and Windows, and it even has a free trial for some apps. Moreover, you can use Surfshark on unlimited devices.
All in all, it is an excellent VPN that definitely deserves a chance, and if you don't like it, you can always request your money back and try out a different VPN.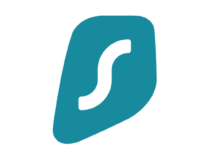 Surfshark
Use Surfshark to watch your favorite HBO Go content anywhere in the world!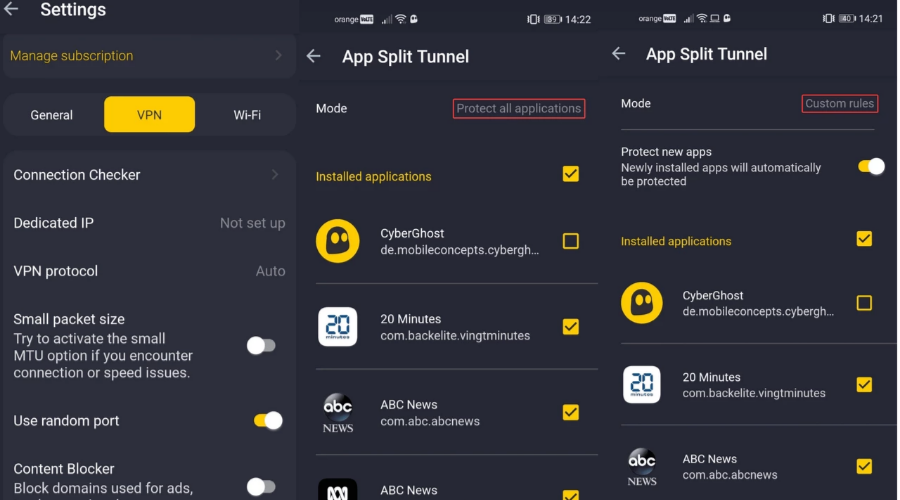 Last but not least, we have CyberGhost, which stands out for a number of things. First of all, this is another very fast, old, and respected service that has been around for years.
It is based in Romania, outside of any intrusive jurisdictions, which makes it a great choice right away.
Apart from that, its biggest advantage over others is that it provides a 45-day money-back guarantee.
You can spend a month and a half testing it and still get your money back.
From the privacy and security standpoint, it features all the best security protocols, as well as the best encryption out there.
However, its server network is bigger than that of NordVPN, as it features 9,100 servers.
This makes its network one of the largest ones in the industry, and it is definitely more than capable of unblocking HBO GO.
It keeps no logs, and it is available on Windows, Mac, Android, iOS, Smart TVs, Linux, Chrome, and Firefox.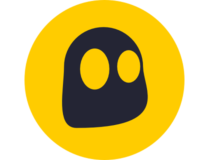 CyberGhost
Get unrestricted access to HBO Go from by connecting to CyberGhost!
How to watch HBO Go from anywhere
Now let's see how to actually unblock HBO Go using one of these VPNs.
The process is very easy and quick, and all you need to do is follow these steps:
Choose a VPN provider
Go to its website, and register.
During the registration, you will have to choose a payment plan, and enter your payment details.
Once you are done, pick a device on which you want to stream HBO GO, and download an app for that device/system.
Install the app, launch it, and log in with your new VPN credentials.
At this point, you will have to locate a list of servers within the app. Select any server in the US, and hit 'Connect.'
And, that's it! You should now be able to access your HBO GO account from anywhere in the world, as if you were still in the US.
Are there free VPNs for HBO Go?
The first thing that you should know is that free VPNs do exist. The second thing that you must know is that using them is a very bad idea.
Free VPNs offer you to use their services for free, that much is obvious.
While you may not be paying for them with money, you are still paying for them with information. Where premium VPNs do not collect any of your data, free VPNs will collect whatever they can.
They will then sell this data to advertisers, the government, or anyone else willing to pay.
Granted, some of them won't do that, but instead, they might bombard you with ads, or find some other way to earn money off of you.
This is hardly surprising, since running a VPN service, including servers, costs money.
However, even if you don't have a problem with a VPN collecting and selling your data and you should, since that can lead to all kinds of major problems for you you will likely discover that the service is nowhere near as good as what premium VPNs have to offer.
Their security protocols are old and leaky, their encryption is bad and probably breakable, and their server networks only contain a few servers in two or three countries.
Plus, they are always overcrowded and slow, so streaming anything without constant buffering would be a miracle.
Not to mention the fact that you might just be unlucky enough to pick a VPN owned by hackers who might steal your data in order to steal your money, assume your identity, or cause other kinds of damage that you will have to work on repairing for a long time.
In the end, it is not worth it, especially when you can get a professional service for $10-$13 per month, or even cheaper if you use one of the long-term plans, so keep that in mind.
A few dollars per month is not worth risking your privacy and security.
Lastly, you should also know that not all VPNs are to be trusted, even if they are premium services.
While this only concerns a few providers, there are some very big names that were proven to be untrustworthy, and you should avoid them at all costs. This includes the likes of PureVPN, Hotspot Shield, and Hola.
Conclusion
Modern technology comes with some excellent benefits, and streaming services like HBO GO can be very entertaining and useful to pass the time.
Unfortunately, with modern technologies, we also need to deal with modern limitations, such as geo-restrictions that are imposed due to streaming rights or some other reason.
Luckily, you can still deal with this by using more technology, which is where VPNs come in.
They are easy to use, safe, and capable of unblocking pretty much anything while keeping you safe and protected, provided that you chose the right provider.
The ones listed above are all confirmed to be safe to use, so you should definitely give them a chance.
Alternatively, you can always try to choose another provider by yourself. Just keep in mind to never use free services, or the ones we mentioned as untrustworthy.
Do your research, and pick a good provider, as doing so can spare you a lot of trouble.