HBO Max is an international streaming service that is provided by the American Home Box Office (HBO) cable network. The service is specifically targeted at customers outside of the United States.
With HBO Max, subscribers have access to all of the original HBO content as well as other selections, such as TV series, films, comedy specials, documentaries, sporting events, etc.
You can use HBO Max to stream your favorite content on your PC or laptop by accessing the web version, or you can download the app from the Play Store or App Store if you wish to use it on your smartphone or tablet.
Although the service is only available outside the USA, however, it is not available all over the world but only in select countries, which can be frustrating for many who are unable to watch it.
If you live in France and want to stream HBO Max content, you will be restricted from doing so since the service is not available in France. However, we have the solution for you.
All you need to do is take a look at our list of best VPNs to watch HBO Max from France, pick the service of your choice, connect to a server in a country where HBO Max is available, and you'll be able to enjoy your favorite shows and movies without limitations.
Can I stream HBO Max in France?
Unfortunately, it's not possible to stream HBO Max for the moment because it's still not available. Even though the streaming platform launched on May 2020, it was mainly in the US.
According to different sources, HBO Max content will be available in France from 26 October so any user can access it without restrictions.
How to Watch HBO Max in France
In case you need to access HBO Max from France anyway, simply use an effective VPN like ExpressVPN for optimized servers that unlocks HBO Max, HBO Now, and HBO Max content.
This is how you can watch high-quality content on HBO Max using this VPN connection:
Sign up for a VPN account for ExpressVPN.
Download the software on your PC.

After installation, open the VPN app to connect to other servers

Connect to any servers where HBO Max is available.

Go to the HBO Max website and start watching your movies.
Why isn't HBO Max available in France?
When you try to access HBO Max from a continent or country where the service is not available, you will be geo-blocked and shown a message similar to the above, which we encountered when trying to access HBO Max Asia from a European country.
HBO Max is only available on specific continents and countries around the world. Unfortunately, France is not one of them, and you can't do anything about it.
Except for using a VPN – since it has to do with the television network's policies and regulations.
For example, in Europe, HBO Max is available in Hungary, the Czech Republic, Slovakia, Romania, Poland, Croatia, Serbia, Slovenia, North Macedonia, Montenegro, Bulgaria, and Bosnia.
As you can obviously see, France is not on the list of European countries where HBO Max is available. So, let's say you want to go to HBO Max Serbia from France or any other country that is not found on the list.
After you click on Serbia (Србија), you will be redirected to the corresponding website, but you'll get a location error immediately, like the one shown below.
Certainly, you will be able to get around this location error when trying to access HBO Max from France by using a VPN service from our list of top recommendations.
As to why HBO Max is not available in France or other countries worldwide for that matter, this is generally due to its policies and certain licensing rights and agreements between HBO and local content distributors.
Therefore, in order for HBO to abide by those policies and agreements, it chooses to implement geo-blocks and proxy bans in order to prevent unauthorized access to its content.
Which are the best VPNs to watch HBO Max from France?
1. ExpressVPN – Vast server network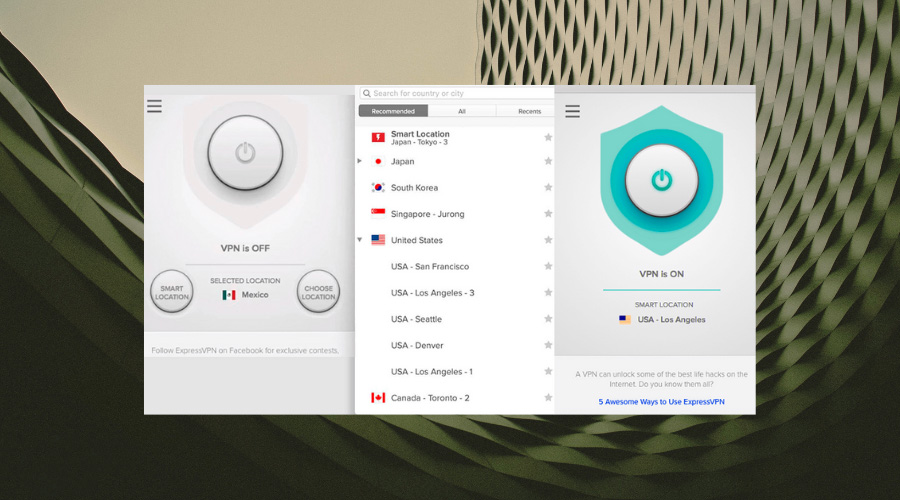 ExpressVPN is an extremely fast software that offers you unlimited access to multiple streaming platforms like HBO Max.
This privacy solution can help you to easily access streaming originals without any region limitations or slow speeds while watching your HBO favorite movies.
You benefit from thousands of servers in 94 different locations so you can easily connect to secured addresses all over the globe.
It's possible to use this VPN connection for any devices in your house using a single subscription for 5 devices at once.
There are various server locations with advanced VPN encryption and protocols that can speed up your Internet connection.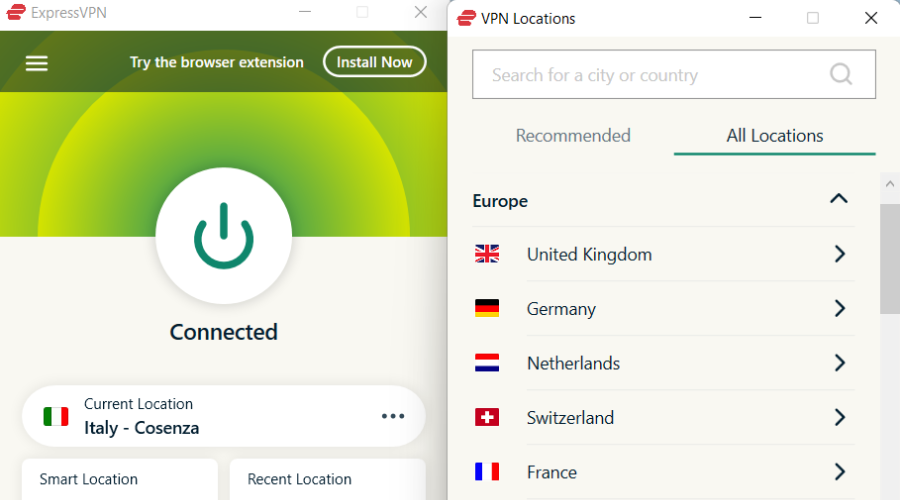 This VPN solution can also unblock any websites that limit your access to different web services. Using TrustedServer technology, you can use a reliable service connection.
Additionally, you have high-class data encryption for all your devices along with a speedy server connection for smooth navigation.
You can as well enjoy fast streaming speed for HBO MAX without any buffering. Besides this, you can set up the connection in a few simple steps.
Once you connected to ExpressVPN, you have access to advanced tools like split tunneling, network kill switch, or private DNS for each server.
More about ExpressVPN:
Advanced server technology
AES 256-bit encryption
Extensive server network in 94 regions
Without connection log data
Blazing fast server speed
That being said, you can employ this VPN client for high-quality video streaming due to optimized servers for streaming platforms like HBO Max.
It's proven that you can bypass region limitations for multiple web services and avoid geo-blocking for multiple devices running Windows, Mac, or mobile devices.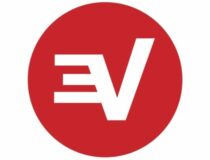 ExpressVPN
Watch HBO Max content from any region using this advanced VPN solution with streaming benefits.
2. NordVPN – Numerous servers worldwide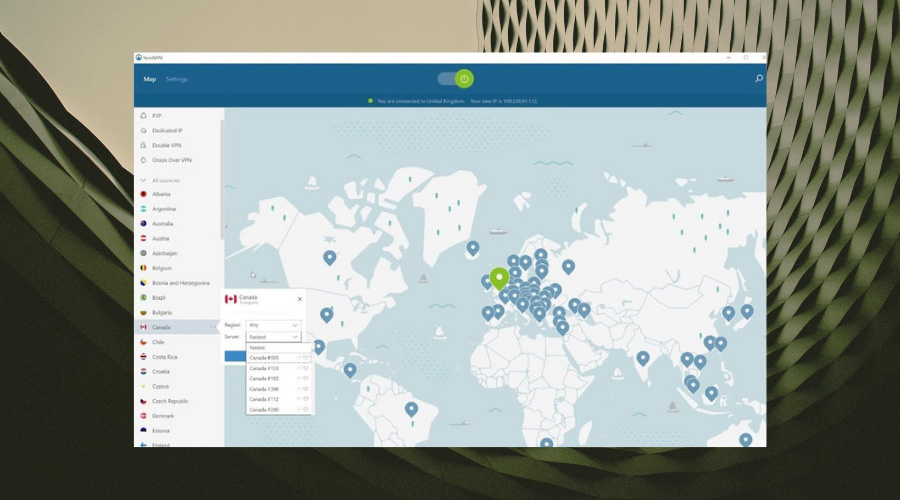 NordVPN is a one-of-a-kind VPN service that offers great performance, strong unblocking capabilities as well as many other unique features that cannot be found with other competitors.
The VPN provider is headquartered in Panama and is owned by Tefincom S.A. This VPN is used by more than 14 million customers worldwide, which is a confirmation that its overall performance and reliability are simply top-notch.
NordVPN comes with a user-friendly interface and can be used on all major devices and platforms. The service is available for the Windows, macOS, Linux, Android, and iOS operating systems as well as for Android TV. In addition, it also provides browser extensions for Chrome and Firefox.
In terms of server availability, NordVPN excels as well by offering access to multiple VPN servers across various countries around the world.
Therefore, if you're living in France and want to watch HBO Max, just select a VPN server in a country where the streaming service is available, connect to it and start watching your favorite content without limitations.
NordVPN also offers great speeds, which are so important for streaming. As such, not only will you be able to bypass HBO Max blocks effectively, but you'll also enjoy quality streaming while connected to a NordVPN server.
In addition to allowing you to circumvent geo-blocks, NordVPN will secure and anonymize your online data and traffic too.
In order to do that, it uses AES with 256-bit keys encryption – which is the industry standard – and the OpenVPN, IKEv2/IPsec, and NordLynx VPN protocols.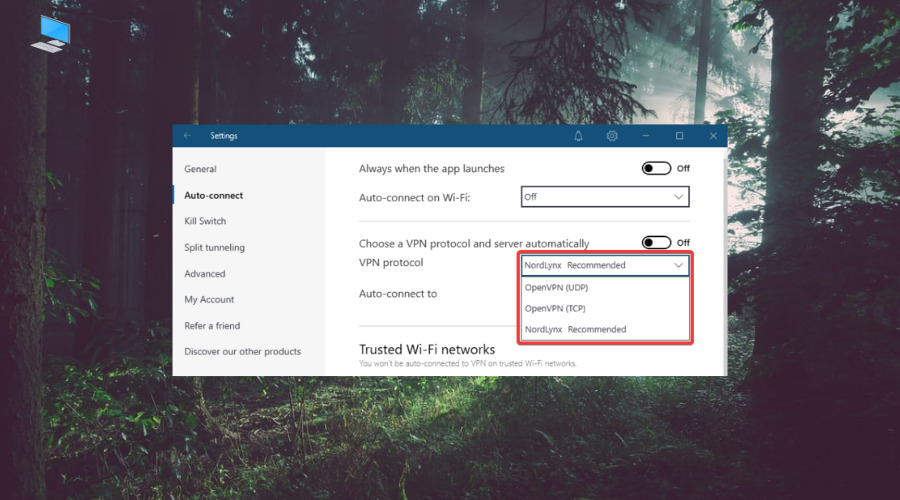 Other features included are: Kill Switch, NordVPN CyberSec (ads and malware blocker), Split tunneling for Android and Windows, Obfuscated Servers, Double VPN, Onion over VPN, Dedicated IP, and P2P.
Obfuscated servers or obfuscation is a very special feature that, when enabled, allows you to connect to a specialized server that will hide the fact that you're using a VPN. Therefore, you will be successful at bypassing censorship in restrictive environments since not even your ISP will know that you're connected to a VPN.
More about NordVPN:
5,400+ servers in 59 countries.
Strict no-logs policy.
Up to 6 devices are connected simultaneously.
30-day money-back guarantee.
24/7 live customer support.
Given all of the above, it's pretty obvious that NordVPN is reliable, powerful and bundled with awesome features that will contribute to a better online experience.
So, if you want to stream HBO Max from France, you can rest assured that by using this VPN you'll manage to get around any geo-blocks right away.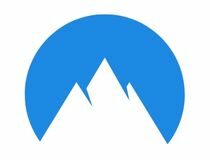 NordVPN
Benefit from an extensive server network and connect to VPN to access HBO Max from unavailable locations.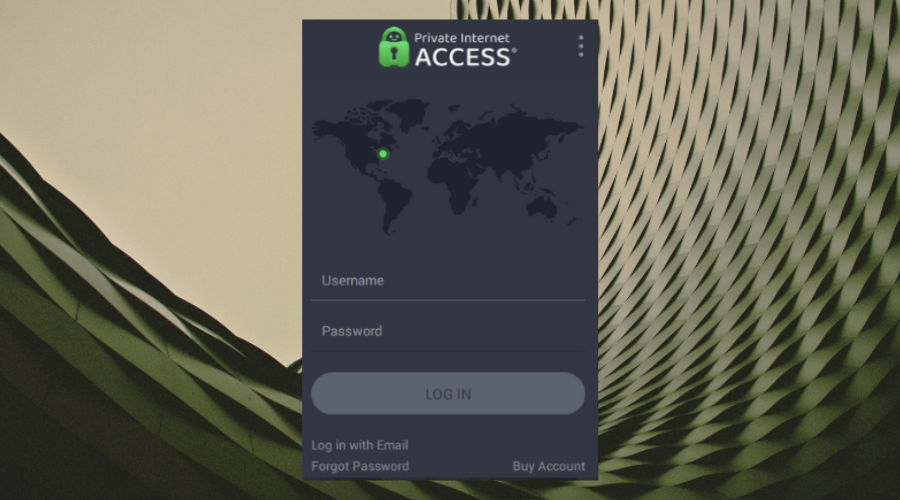 Private Internet Access (PIA) is based in the United States and operated by Kape Technologies. It very often makes the top lists of best VPNs available on the market, and that is for good reason since more than 15 million users worldwide trust it on a daily basis.
With PIA, you will be able to bypass geo-blocking when trying to watch HBO Max from France while also benefiting from the highest privacy and security standards currently available.
Private Internet Access is very easy to use and is available on Windows, macOS, Linux, Android, and iOS devices and as a browser extension for Chrome, Firefox, and Opera.
If you want to secure all your devices and benefit from its anti-geo-blocking features, you can configure PIA on your router too.
When it comes to servers, PIA distinguished itself among other VPN competitors, as it provides the most inclusive and diverse list of VPN servers.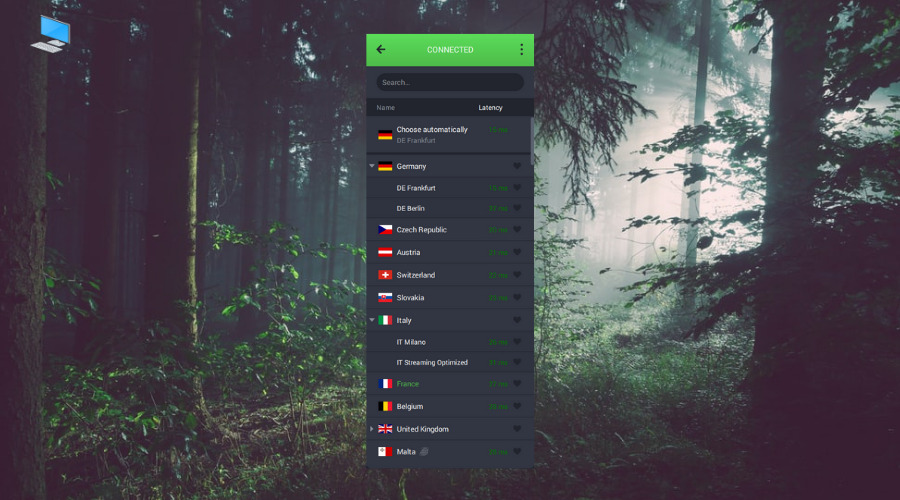 No other VPN provider offers more servers than PIA, so therefore, you'll have plenty of options to choose from, which will allow you to access different HBO Max streaming libraries from France.
PIA takes your online privacy, anonymity, and security very seriously. As such, when you use this service, you should no longer be concerned about advertisers, hackers, trackers, or surveillance, as your browsing footprints and sensitive data will remain private and secure.
Your online privacy and security are guaranteed via AES-128 or AES-256 military-grade encryption and the OpenVPN and WireGuard VPN protocols, the latter being a new addition that offers improved performance and faster speeds.

With PIA, you can also enjoy the following: VPN Killswitch, PIA MACE (ads and malware blocker), Split Tunnel, Port forwarding, Connection Automation, Dedicated IP, Unlimited bandwidth, P2P and torrenting support.
The VPN Killswitch adds an extra layer of protection by shutting down your internet connection when the VPN connection drops, while the Split Tunnel allows you to select which part of your traffic goes through the VPN tunnel and which one has direct access to the Internet.
More about PIA:
32,000+ servers in 101 locations across 78 countries.
No traffic or request logs.
Up to 10 simultaneous connections.
Risk-free 30-day money-back guarantee.
24/7 live chat customer support
As shown in the above description, Private Internet Access has all you need for securing your devices and circumventing geo-restrictions.
Consequently, we believe it's a great option for watching HBO Max from France, as it has very effective unblocking capabilities. Just check it for yourself and you won't get disappointed.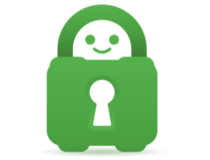 Private Internet Access
Use this VPN solution for the highest speeds and free access to geo-blocked content on HBO Max.
4. Surfshark – Affordable VPN security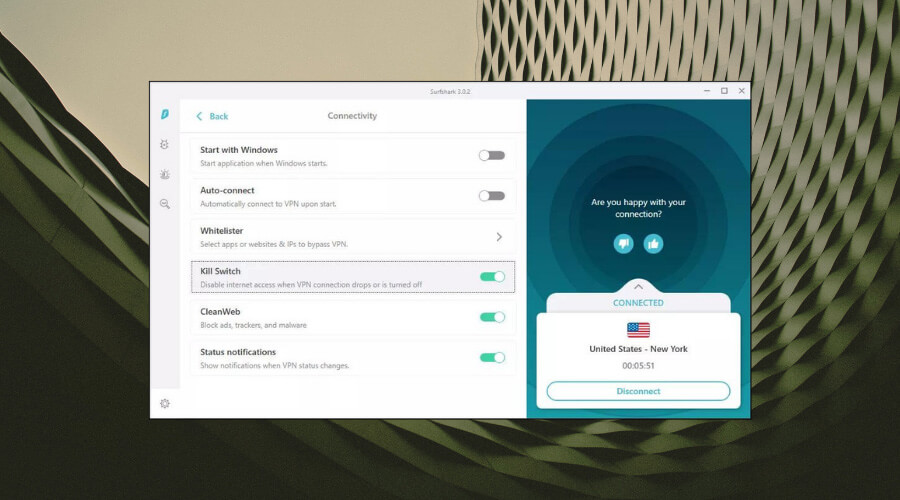 Surfshark is registered in the British Virgin Islands and is managed by Surfshark Ltd. Given the many features it offers, this service is very affordable and can be a very effective solution for streaming HBO Max from France.
It is very successful at unblocking streaming services in general. Moreover, it ensures the highest security and privacy standards, so you can surf the internet freely, privately, and securely, without worrying about your data being stolen or your activity being monitored.
Surfshark has an easy-to-use interface and is available as a downloadable app for Windows, macOS, Linux, Android, iOS, and Amazon Fire TV devices and also for Chrome and Firefox as a browser extension.
It provides more than enough VPN servers outside of France, to which you can connect in order to stream your preferred HBO Max content from different libraries without any sort of restrictions.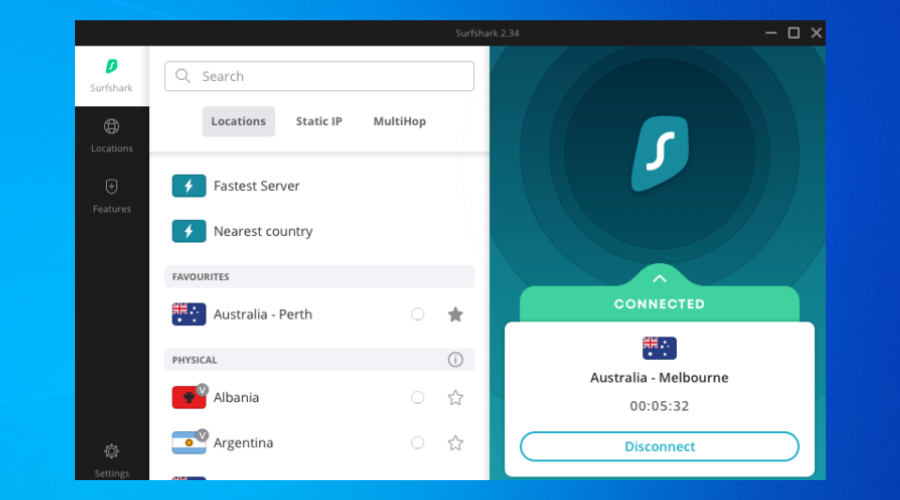 Now that you are able to access HBO Max from France, Surfshark will also take care of your browsing activity by making it private and secure.
It employs AES-256 encryption, which is also used by governments, militaries, and intelligence agencies. It also uses the WireGuard, IKEv2, OpenVPN, and Shadowsocks VPN protocols in order to route the data between your device and the VPN server.
This way, you will stay away from prying eyes and not even your ISP will know what you're up to while browsing the web. Also, your sensitive data, including passwords and online banking credentials are safe at all times while connected to a Surfshark VPN server.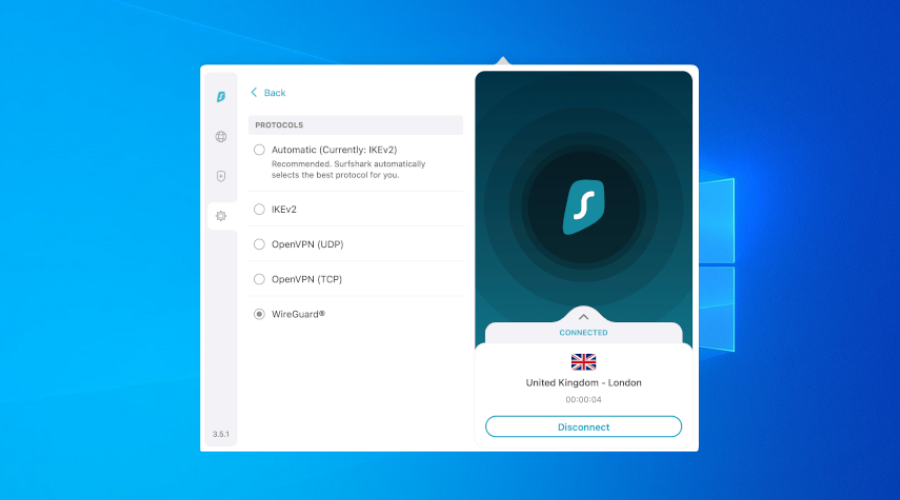 Moreover, the following features are also included with a premium Surfshark subscription: Kill Switch, Whitelister (split tunneling), Camouflage mode (obfuscation), MultiHop (double VPN), NoBorders mode, and CleanWeb (ads and malware blocker).
The NoBorders mode is a special Surfshark feature that is aimed at allowing you to use the service in restrictive regions. When Surfshark detects restrictions on your network, it will automatically turn on the NoBorders mode.
More about Surfshark:
3200+ servers in 65 countries.
Strict no-logs policy.
Unlimited devices connected simultaneously.
30-day money-back guarantee.
24/7 friendly customer support team.
Surfshark can be the real deal for you since it's very affordable, so when you combine that with all of its features and capabilities, it's clear that you'll get good value for your money.
Give it a shot if you like what it brings to the table, and you'll manage to watch HBO Max from France hassle-free while also benefiting from strong privacy and security.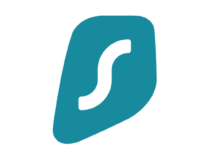 Surfshark
Take advantage of this high-quality VPN to access restricted content for HBO anywhere you are.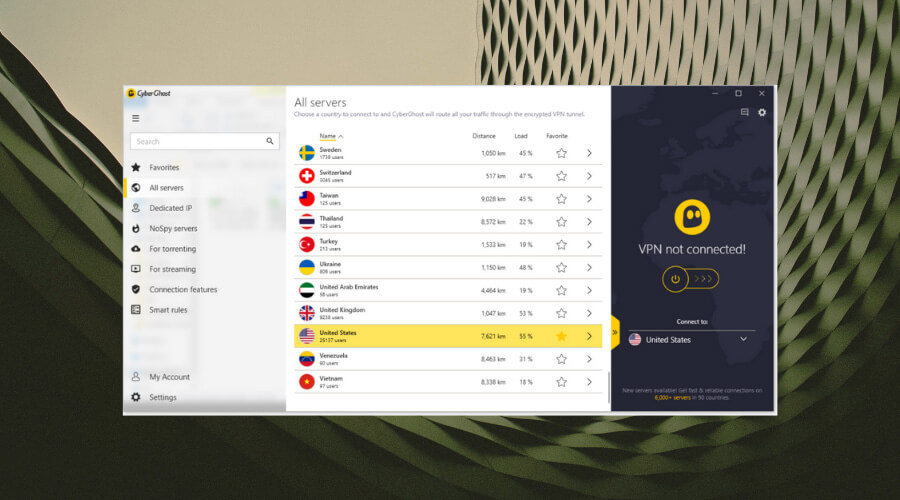 CyberGhost VPN is trusted by more than 36 million users around the world and is a very reliable option both in terms of bypassing geo-blocking and also for enhanced online security.
The service was acquired by Kape Technologies – the same company that also owns Private Internet Access – and is based in Bucharest, Romania.
You can use CyberGhost VPN on many devices and platforms, including Windows, macOS, Linux, Android, iOS, Chrome, Firefox, Amazon Fire TV, Android TV, Apple TV, Samsung Smart TV, LG Smart TV, Roku TV, Google Chromecast, Xbox, and PlayStation.
For many of the above, you can easily use the service by downloading the appropriate VPN app, while for the rest you can set it up on your router so that all your devices connected to it will benefit from all of its features.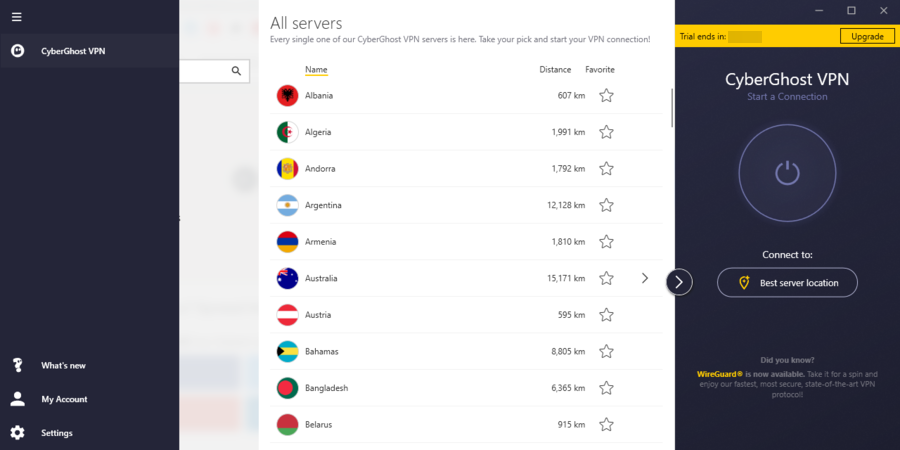 CyberGhost VPN is pretty user-friendly and offers a great selection of servers distributed across multiple locations. These servers are independently operated by the CyberGhost team with the highest security and privacy standards in mind.
With CyberGhost VPN, you should be able to bypass geo-blocking in general, no matter where you're located. So, if you want to watch HBO Max from France, CyberGhost VPN will take care of everything.
This VPN service also offers dedicated servers, which are optimized for streaming, gaming, and torrenting. These servers are very fast, so worry no more about interruptions, buffering or lag.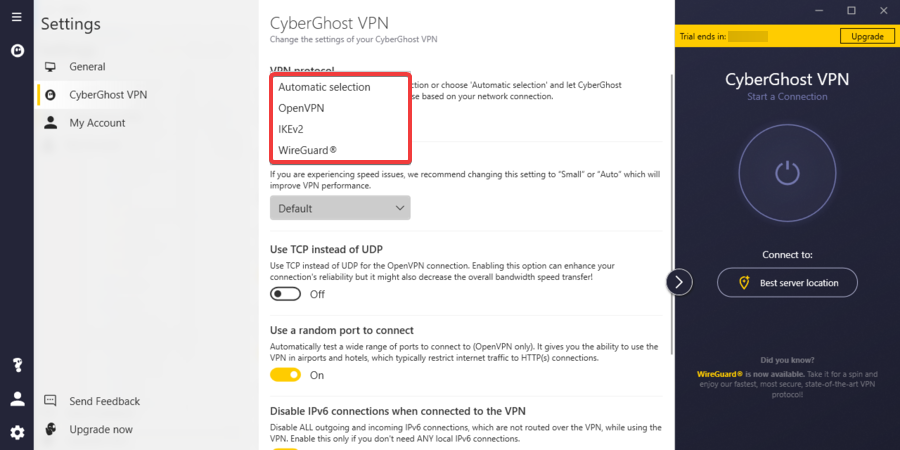 CyberGhost VPN also guarantees your online anonymity and safety via AES 256-bit military-grade encryption and the OpenVPN, IKEV2, WireGuard, and L2TP/IPSec VPN protocols.
Some other useful features that you can benefit from are: Kill Switch, App Split Tunnel (split tunneling) for Android only, Dedicated IPs, access to NoSpy servers, and P2P and torrenting.
More about CyberGhost VPN:
7,200+ servers in 91 countries.
No-logs policy.
Up to 10 devices connected simultaneously.
45-day money-back guarantee.
24/7 email & live chat customer support.
CyberGhost VPN offers a 1-day free trial that includes all of its premium features. This way, you can test it out to see whether it allows you to watch HBO Max from France or not.
We do think, however, that you'll manage to stream your favorite HBO movies and shows from France right away, once you connect to a server in a country where HBO Max is available.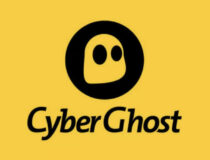 CyberGhost VPN
This complete privacy solution has optimized servers for streaming and private navigation on the web.
6. VyprVPN – Comprehensive security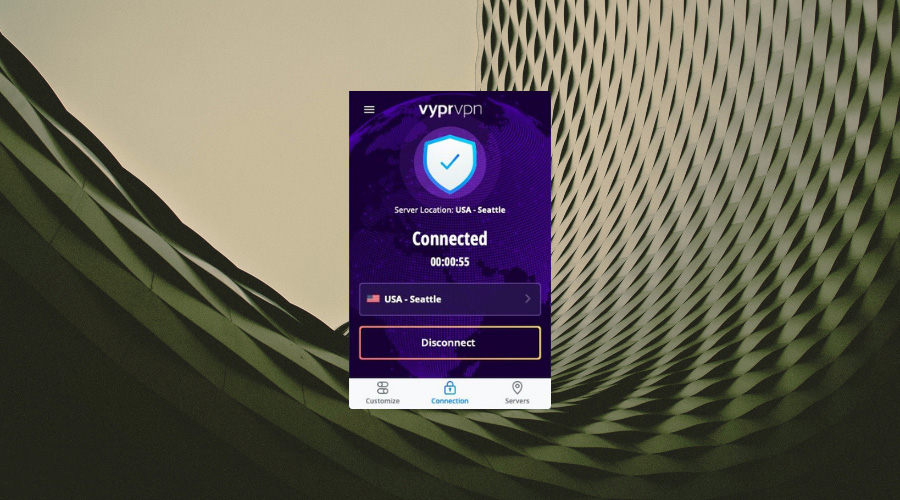 VyprVPN is a Switzerland-based VPN service that is operated by the Golden Frog GmbH company. It is a very streaming-friendly VPN that you can confidently use to stream whatever you like from HBO Max foreign libraries while in France.
This VPN is used by more than 2 million customers globally, provides powerful security and privacy, and includes a host of nice features that will ensure a smoother online experience.
It is available on the most popular operating systems, such as Windows, macOS, Android, iOS, Android TV, Amazon Fire TV, and Apple TV (using the VyprVPN router app).
VyprVPN includes a router app that was specifically designed in order to make it simpler for you to configure your router to use VyprVPN and extend protection to all the devices connected to your home network.
Although VyprVPN does not provide as many servers as the above VPN providers, it does include sufficient enough servers across many locations where HBO Max is available, so don't worry, as you'll be covered with this VPN.
VyprVPN uses AES 256-bit encryption – the highest standard available – when routing your traffic and data via a secure tunnel. The VPN protocols used are: WireGuard, IPSec (L2TP and IKEv2), OpenVPN, and Chameleon.
Chameleon is VyprVPN's proprietary VPN protocol that helps you defeat VPN blocking and bypass censorship in very restrictive areas. It is very fast and lightweight and scrambles your packed metadata so that it is not recognizable through deep packet inspection.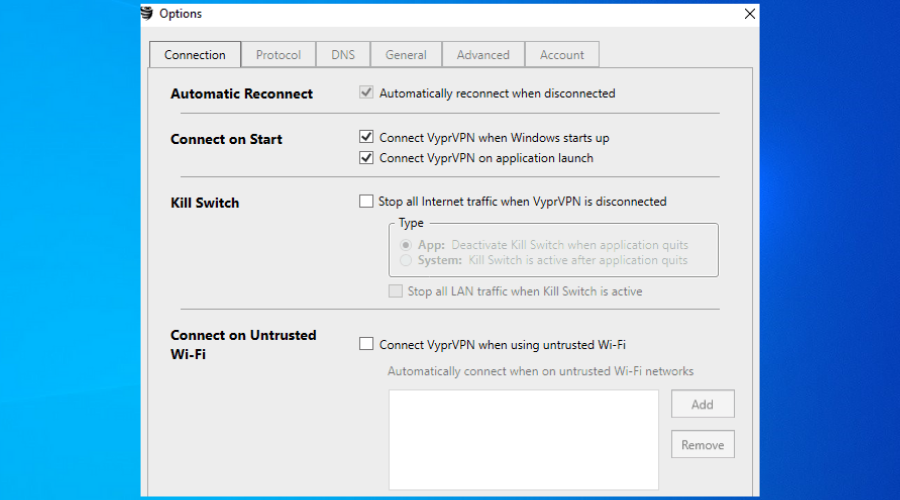 With powerful anti-geoblocking tools and strong encryption, VyprVPN will allow you to easily bypass geo-restrictions – whether it's about HBO Max or any other streaming service, website, or app for that matter – while also protecting your sensitive data and concealing your online activity.
Moreover, it is also packed with the following features: NAT Firewall, Kill Switch, Connection Per App (split tunneling) for Mac and Android, VyprDNS and VyprVPN cloud, public Wi-Fi protection as well as P2P and torrenting support.
More about VyprVPN:
700+ servers in 70+ locations.
Audited no-log VPN.
Allows up to 30 simultaneous connections.
30-day money-back guarantee.
24/7 email & live chat support.
All in all, VyprVPN is very affordable and works just fine with HBO Max, so if you're in France and having issues accessing the streaming service, VyprVPN will do the job for you.
If you find appealing what it offers, try it out and you'll see that's far more to it than just watching HBO Max from France without restrictions.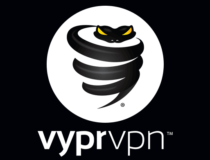 VyprVPN
Stream your HBO Max content without problems by using high-class anonymity tools.
7. ZenMate – Free access for blocked websites
ZenMate is another comprehensive VPN that offers high-quality privacy and streaming benefits for unlimited access to your HBO Max account.
You can utilize this VPN software to connect to 81+ regions globally with high speeds for many devices at the same time.
Using this privacy solution, you gain complete anonymity online and safeguard your data from cyber-attacks with the latest encryption tools.
Moreover, you have access to multiple streaming platforms without encountering restricted content. Plus, it's possible to access blocked content from unlimited devices.
Regarding server locations, you may connect with numerous server locations and hide your IP address with 4800 servers.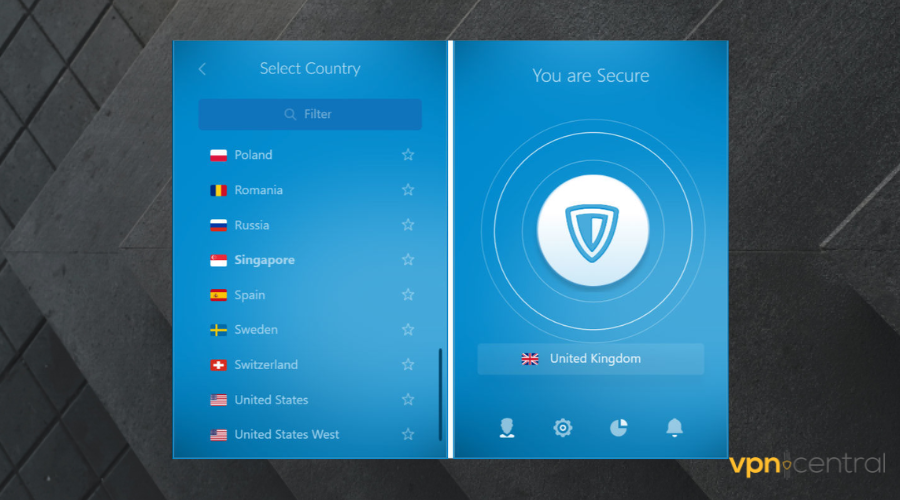 In addition to that, using this VPN connection ensures advanced protocols such as iKEv2, and L2TP/IPsec. This can improve private browsing for your secure digital presence.
It's possible to choose your protocol and speed up your connection in order to access blocked websites anywhere.
Plus, it allows you to navigate privately for all your web services or streaming platforms like HBO Max, Netflix, and many more.
More about ZenMate:
Access any blocked website
Streaming live sports
Fully private browsing
Kill switch functionality
Zero-log policy
It's also worth knowing that you have the most secure server network with great connection speeds. There are dedicated streaming servers for any platform.
You can bookmark your recurrent servers and quickly connect anytime you want to see your favorite streaming shows.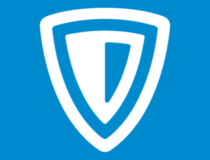 ZenMate
Watch your favorite productions on HBO Max from France and any location using this complex VPN.
In conclusion, we understand how important it is for you to access HBO Max from France, as the service includes a great deal of quality content that you can enjoy.
While it's understandable why the streaming service is not available in France or other countries, you can breathe a sigh of relief since we provided you the solution to get around the geo-restriction error.
We are also aware that finding the right VPN might not be an easy task, as certain factors need to be taken into account when selecting a product.
Moreover, testing is also very important, but you can rest assured, as we tested the recommended services already.
Finally, we do hope that our list of the best VPNs to watch HBO Max from France as well as the info presented in each description will help you decide as to which VPN is the best choice for you.