Google Adsense is a remarkable advertising and marketing initiative that took content creation and blogging to a new level.
Bloggers and typically anybody who loves to showcase the value of any form on the internet can benefit from Adsense and earn a few dollars depending on traffic.
However, that's not entirely the crux of this discussion. Rather, it is about not being able to access your Adsense account, facing restrictions with logging in or creating one, or simply having it banned due to bot checks citing self clicks or other fraudulent acts.
We looked up what a VPN needs to be suitable to bypass Adsense geo-blocks and offer an overall great user experience, so make sure to check our recommendations below.
Can I Use VPN for Adsense?
Absolutely, Yes. You can use a VPN to bypass restrictions on your account especially when Google blocks you from using the Advert service.
You will find VPN particularly useful in many cases including when you need to access your Adsense account but you are in a restricted region such as:
🌐 Crimea
🌐 Cuba
🌐 Donetsk People's Republic (DNR) and Luhansk People's Republic (LNR)
🌐 Iran
🌐 North Korea
🌐 Syria
If you are in any of these locations, you will need a VPN to create an account for Adsense, or even log in to an existing account. This is because a VPN allows you to connect to remote network servers around the world, making it appear as you browse from that location, thus helping you bypass restrictions.
How Do You Use VPN for Adsense?
➡️To use a VPN for Adsense, you have to:
Subscribe to a VPN. You need to choose a VPN client. We recommend NordVPN for its high-end encryption feature which is suitable for bypassing restrictions and surveillance on Adsense.
Select a Server from a supported location.

Open AdSense restriction-free.
Note: It is important to select a server before connecting to Adsense. If you are bypassing regional restrictions, then you should choose a server where Adsense is working, like the U.S. You can use the Quick Connect feature to randomly select a server.
What are the best VPNs to Use With Adsense?
We have researched the best VPNs in the market. They contain several features that solve many restriction issues, security worries, and privacy breaches:
Access to servers all around the globe
Unlimited bandwidth
Zero logs policy and strong encryption
Dedicate VPN features to unblock geo-restrictions
Taking all these into account, we concluded that the best VPN options you can use for Adsense are the following:
All of the following VPNs are great for Adsense, but each has particular features and offers a unique user experience. Make sure to fully read our overview so you can make an informed decision for yourself.
1. NordVPN – Best Servers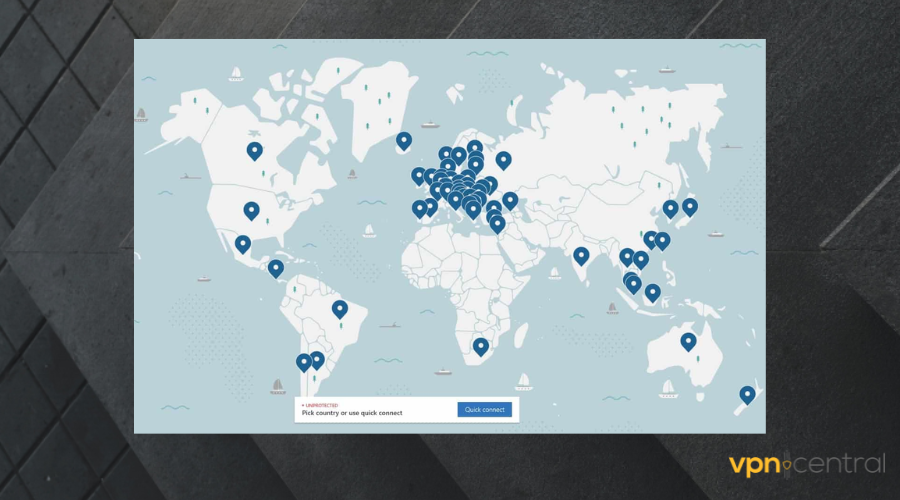 NordVPN works perfectly in unblocking geo-restrictions you may face. By simply choosing a server where Adsence is allowed, you can do anything as though you weren't restricted.
The VPN requires a certain subscription fee and then offers a wide range of privacy and security specs. Irrespective of your device, you can use NordVPN.
It is compatible with Android, iOS, Windows, macOS, Linux, smart TVs, and some gaming consoles and can even be installed directly on a router.
Its kill switch, split tunneling, and multi-hop features all allow for total privacy. NordVPN servers are untrackable by Internet Service Providers or Google, so you can use Adsense without worry.
See more reasons to consider NordVPN for Adsense and private browsing in general:
DDoS Protection
Split Tunneling Technology
IP Address Protection
CyberSec Malware Protection
Anti-Throttling
Lag-Free
Kill Switch
24/7 Customer Support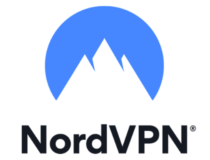 NordVPN
Use Adsense anywhere in the world restriction-free, and with your traffic data tightly protected!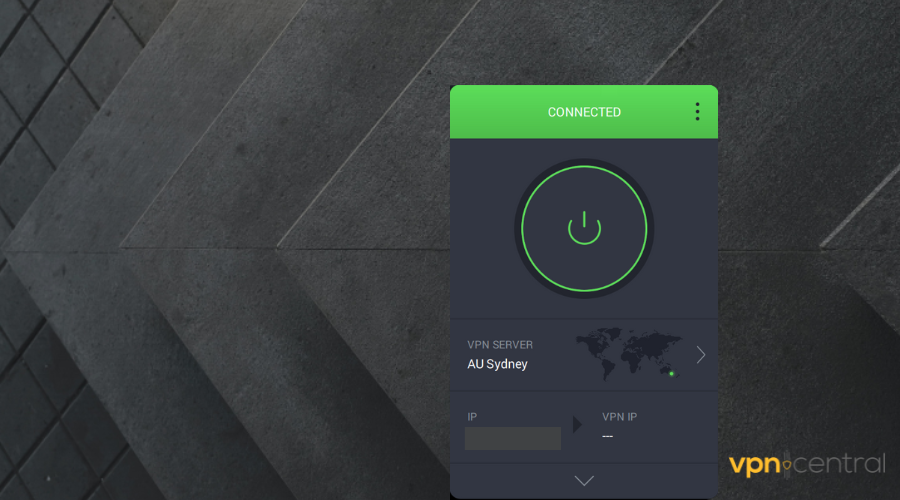 Private Internet Access is among the most reliable and respected VPN clients in the market. The VPN leverages cutting-edge technology to offer high-end data encryption strong enough to bypass ISPs and Google's surveillance eyes.
Actually, there are no surveillance eyes because the VPN secures your connection and offers you a totally anonymous and untrackable DNS address, thanks to its personalized smart DNS feature.
PIA requires a subscription and multiple users can then login and secure their devices. The tools is compatible with Android, iOS, Windows, macOS, and Linux, just to name a few.
Other key benefits of using Private Internet Access include:
Advanced OpenVPN, IKEv2, WireGuard Protocols
35, 000 servers
24/7 Live Support
DDoS Protection
Auto and manual connection options
Dedicated apps for all major platforms
30-day money-back guarantee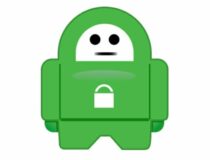 Private Internet Access
Connect to a secure PIA server and unlock any restricted platform on the web!
3. Surfshark VPN – Best for Unlimited Devices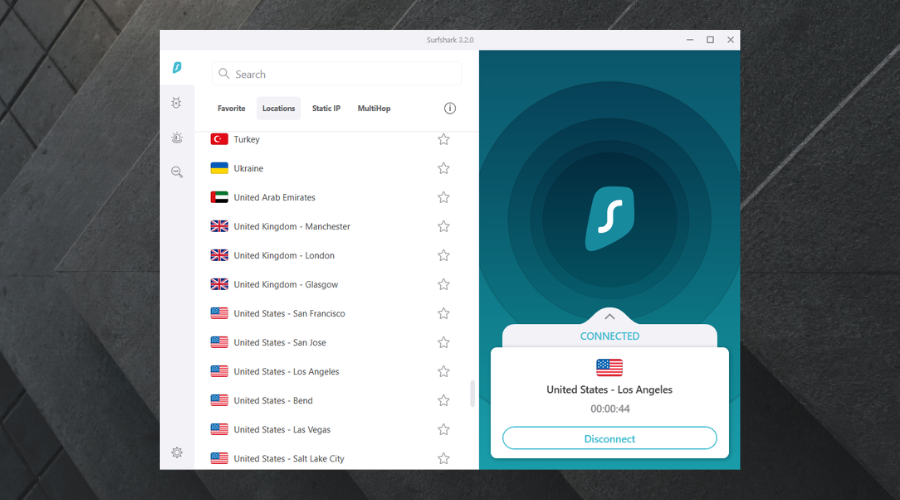 Surfhsark boasts of several privacy and security technologies. The VPN is making waves in the market and one of the things we believe it can do is grant you access to restricted platforms.
Using Surfshark VPN for AdSense helps you eliminate the regional barrier. You only need to subscribe and then log in to choose a location where Adsense is accessible.
Upon this, you can proceed to the Adsense platform and direct your advert planning and earnings. Surfshark offers added benefits, being one of the few VPNs to bypass Netflix site errors caused by geo-restrictions.
It supports pretty much any streaming platform and has a lower one-month subscription price when compared to similar VPNs.
3 200+ servers
IP Address Masking
Personalized Smart DNS
Fast and Lag-Free
Amazing Customer Support
Fast WireGuard Protocol
Strong Security and Encryption
GPS Spoofing feature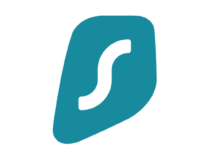 Surfshark
Get a virtual IP address to unlock regional Adsense restrictions for good!
4. ExpressVPN – Strict Security Protocols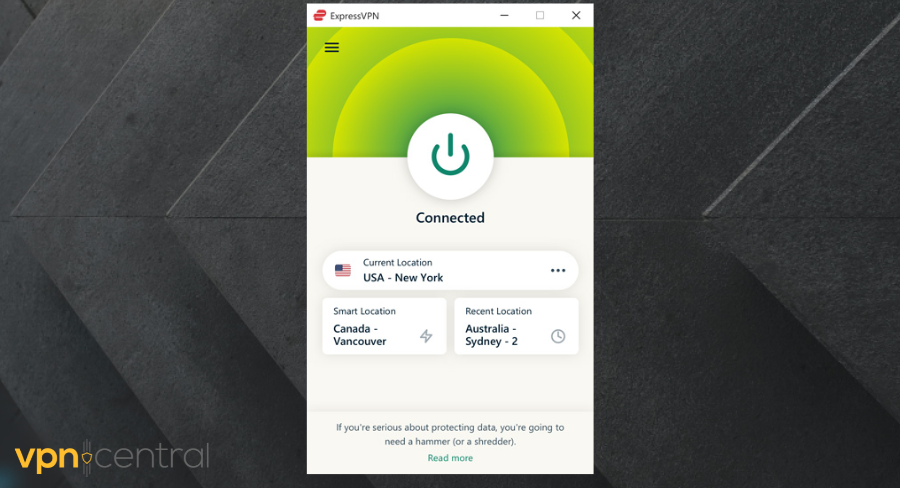 We are proud to list Express VPN among the best VPNs to use for accessing top Adsense. Say your region is affected by the restriction and you are unable to access your performance, Express VPN will break the barrier.
The VPN uses a strong AES 256-bit encryption technology that keeps hackers at bay and cuts off the surveillance eyes of ISPs.
In essence, Google and your ISP will be unable to detect your device and activities on the Internet.
ExpressVPN closes possible loopholes with its other features. The kill switch feature in VPNs secures every vulnerable entry caused by an interruption in the connection.
With such great security features, is very unlikely that ExpressVPN servers can be hacked. And even if that happens, your data is unreadable, thanks to the strong encryption algorithm.
Other notable features you will like about ExpressVPN include:
Proprietary Lightweight protocol
Lag-Free
256-bit AES encryption
DDoS and Leak Protection
Split Tunneling
Kill Switch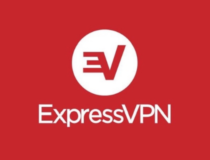 ExpressVPN
Get a steady connection and make the best of Adsense with strong, secure VPN servers!
5. CyberGhost– Zero Logs and Strong Encryption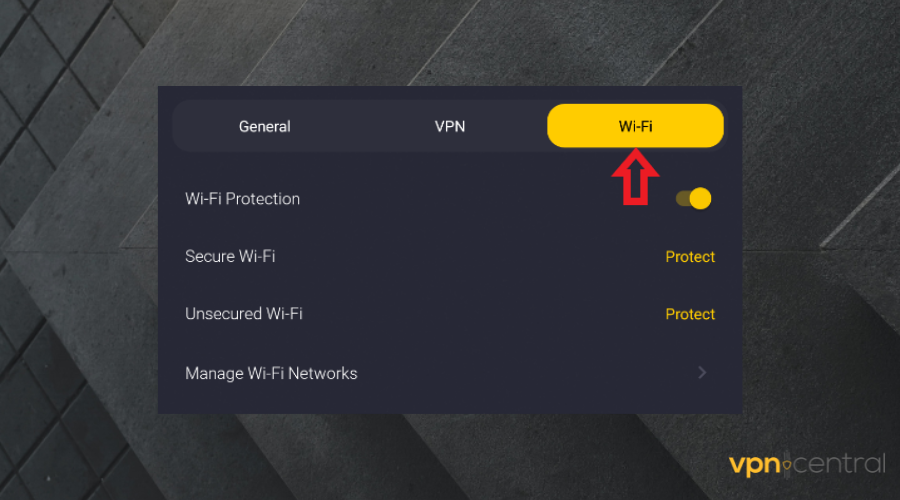 CyberGhost VPN is among the top VPNs in the market for privacy and heightened security. The VPN requires a certain subscription fee and then offers subscribers a wide range of security and privacy protocols.
Users get to enjoy limitless connections since they are on private servers with no prying eyes from ISPs. CyberGhost servers are protected while promising a good speed.
Connecting to a location where Adsense is not restricted will give you equal access as though you have never been in the restricted region.
You also get to enjoy bypassing other geo-blocked platforms such as HBO Max or Netflix, that are available in specific regions. You will also be protecting your data and device from hacking and phishing.
More notable features of CyberGhost include:
256-bit AES Encryption Technology
Ad blocking
High Speed and Unlimited Bandwidth
24/7 Live Customer Support
Anti DNS and IP Leak
OpenVPN, L2TP-IPsec, and PPTP protocols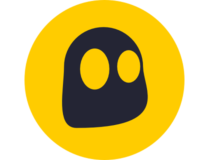 CyberGhost
Protect your data and boost up your online content with unrestricted support from Adsense.
6. Hide.ME VPN – Fast Servers and Secure Connections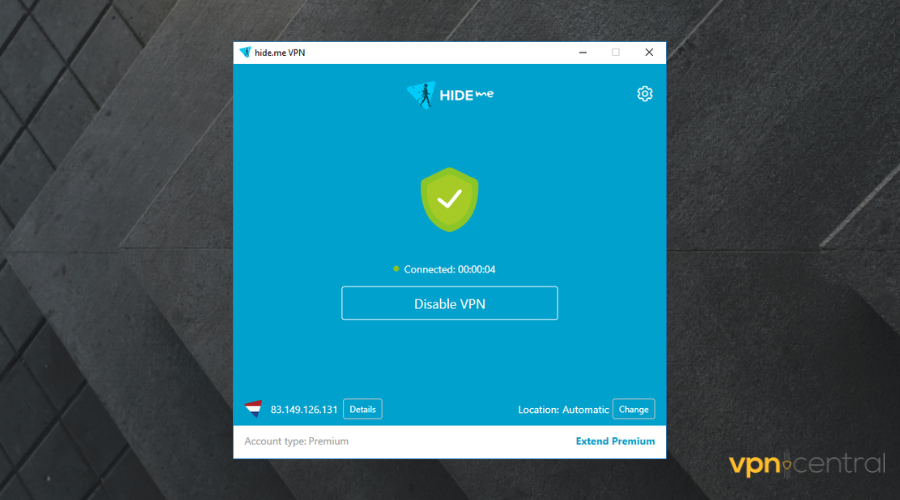 Bypass Adsense restrictions with Hide.ME when you subscribe for a month or more. The VPN offers subscribers modern security and privacy features online.
Bloggers and other web owners can access their Adsense accounts even if they are in a restricted region. The VPN uses the industry standard encryption which helps to protect your activities and remove Internet tracking.
Hide.ME VPN is easy to use, with a very straightforward configuration. If you are a Windows user, you can download the VPN directly from the Microsoft Store.
The personalized DNS enables you to have your own unique IP address, reducing the popular risk of using an IP address with another VPN user. In this case, you are the owner user of your address, thus any of your site visits, account creation etc, are untraceable.
More of Hide.Me VPN features are:
DDoS and Leak Protection
No Throttling
Fast Speed and Lag-free
Strong Encryption
No-Logs Policy
Lower Ping and Latency
Split Tunnelling Technology
Kill Switch (Automatic)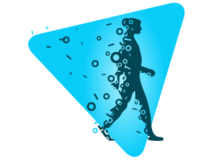 Hide.ME
Use Adsense without limitations, on any device!
7. VyprVPN – Data Leak Protection and Anti-Phishing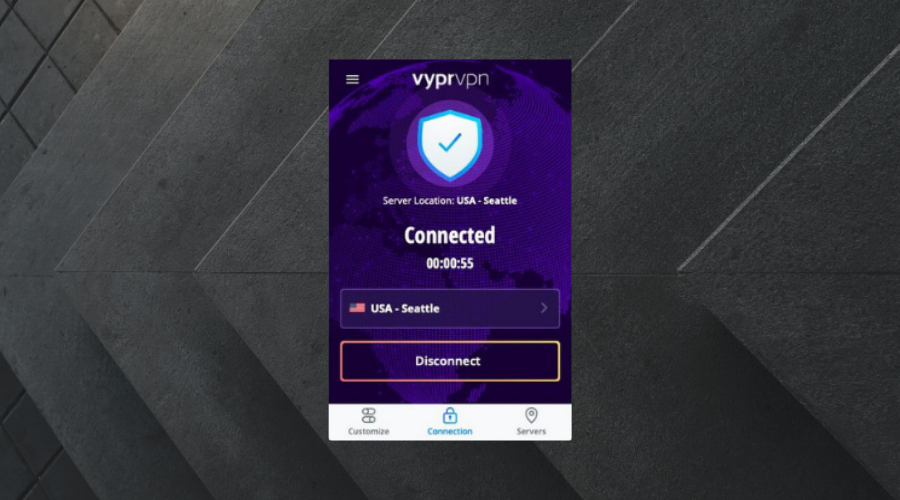 VyprVPN is making waves in the online security and privacy sector. The VPN client boasts of a sophisticated encryption algorithm and supports multiple devices.
Users can easily access Adsense from anywhere so far they connect to a strong server location where Adsense is not restricted.
Vypr will secure your connection and make it impossible for Google or your Internet Service Providers to track and see your activities.
This allows you to access and use Adsense without glitches. This service covers other platforms as well and you can decide which app or website the VPN should cover, thanks to its split tunneling technology.
Vypr has more in the stables for lovers of high-end security and privacy:
Personalized DNS
Kill Switch
L2TP, IPSec, Chameleon, WireGuard, OpenVPN Protocols
30 Devices per Subscription
24/7 Customer Support
Anti Throttling and Lag-Free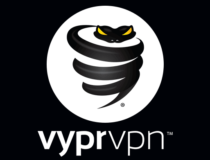 VyprVPN
Mask your location and access any geo-locked platform with ease!
Conclusion
AdSense is a powerful tool for those that use advertising to support their online business. Thanks to certain regulations, the platform is not available worldwide, but with a suitable VPN, you should be able to open it in just a few clicks.
Let us know which VPN you decided to use. If you have any more questions or suggestions, feel free to use the comment section below.