Many use VPNs to escape the Warzone's SBMM feature or to reduce lag but it is not always working.
For example, some gamers reported that they still got matched to lobbies based on their actual location even after connecting to a VPN server in a different country.
Some can't even connect to the game at all. If you have been experiencing this issue, continue reading to see how to fix it in no time.
Why is Warzone not working with your VPN?
📡 Connectivity issues – poor internet or speed throttling by your ISP
🛡️ Conflicting security software – your antivirus or firewall may block your VPN
❌ Connecting to a blocked server – having a VPN IP address that was blocked in the past
How to fix Warzone not working with your VPN
Here are a few basic checks you should perform before acting on any of the recommendations below:
Check your internet connection – Take a quick speed test to ensure that you have a working internet connection.
Update your apps – Update the game and your VPN app to the latest version.
Close background apps – Close all unnecessary apps before you launch your game to free up bandwidth and device memory.
Update your OS to the latest version – In addition to hardware requirements, ensure that your OS meets the requirements to play the game.
If you have done these basic checks and Warzone is still not working with VPN, below are our tested solutions to fix the problem.
1. Connect to a different server
When Warzone blocks VPN users, even different people using the same IP will be blocked.
The solution to this is to connect to another server in your preferred location. This will assign you a fresh IP address, and you should be able to connect to the game:
Open the app and disconnect your VPN.
Click on another location and the VPN will automatically connect to a server in that location.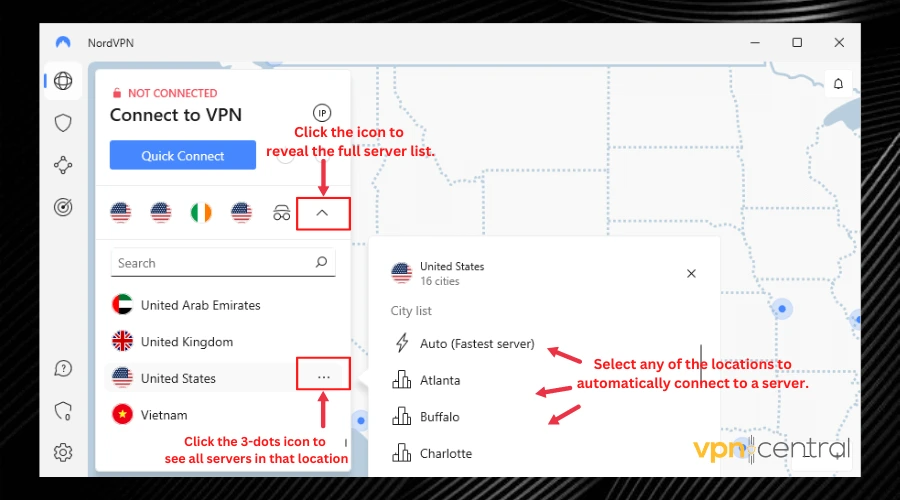 Access Warzone and see if it's working.
2. Whitelist your VPN
Your antivirus can interfere with other processes on your computer. Some apps and features get flagged even though they don't impose a real threat.
That's why whitelisting your VPN can fix this issue and allow you to change your location for better matchmaking in Warzone.
Below are the steps to achieve this in Windows Defender:
Time needed: 4 minutes.
Open Control Panel using the search bar next to the Start button.
Click on System and Security.

Click on Windows Defender Firewall.

Select the Allow an app or feature through Windows Defender Firewall option.

Find your VPN app on the list and tick both boxes labeled Private and Public next to the app.

Click OK to complete the process.
Connect to a server in the VPN and launch Warzone to see if it works.
Please note that the steps are similar for most security software, so it should be a straightforward process even if you use a third-party antivirus.
If you're playing on a console, you may have to change your router's settings and make sure it allows VPN usage.
3. Get a better VPN
If Warzone is still not working after trying the methods suggested above, changing to a different VPN is bound to solve the problem.
Using a premium VPN with lots of speedy servers in multiple locations means that you can always switch if you're landing on a blocked server and will probably have better connection speed.
For this, NordVPN is highly recommended, here's how to use it:
Visit NordVPN's website to select a subscription plan and download the app.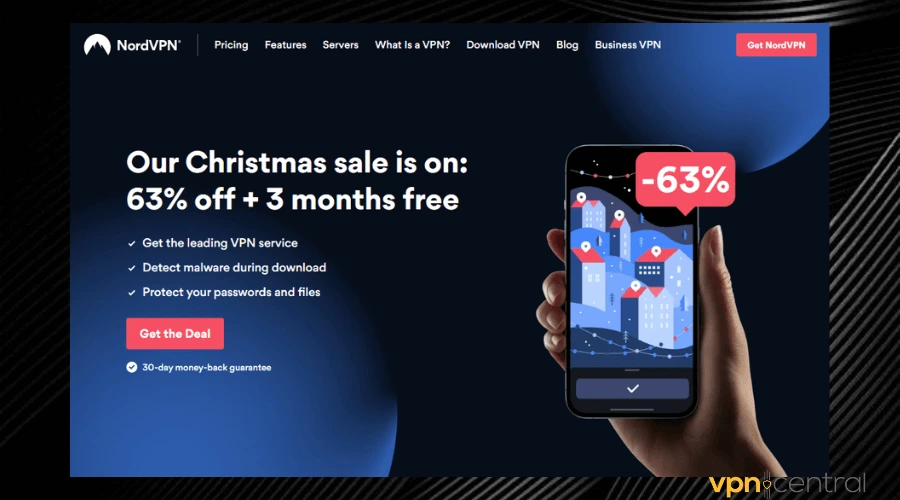 Install it on your device and launch the app.
Select your preferred location and connect to a server.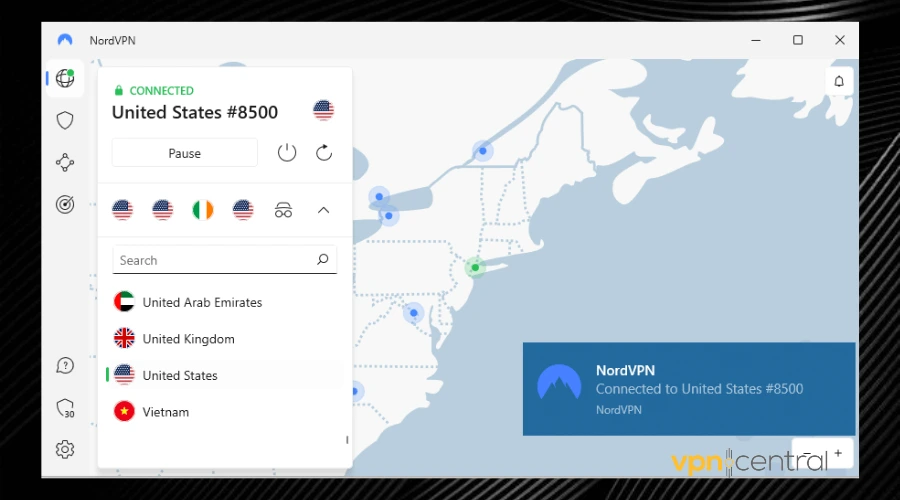 Enjoy playing your game with lower ping and zero restrictions.
NordVPN one of the best VPNs for Warzone in that it has 5500 speedy servers optimized for gaming, ideal for lower ping. They're located in 59 countries, offering more Warzone locations to play in.
With the 256-bit AES encryption and features the Nordlynx protocol NordVPN ensures top-notch privacy.
In addition, it also has a split tunneling option that allows you to prioritize VPN traffic to Warzone for faster and smoother connections.
The subscription plans support simultaneous use on 6 devices at once, including PCs and consoles.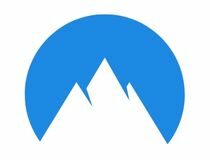 NordVPN
Change your Warzone location, bypass blocks, and enjoy a steady and fast connection!
Conclusion
Apart from getting guaranteed easier lobbies in Warzone, using a VPN can also help you to bypass your ISP's speed-throttling. This in turn will boost your internet speed and reduce your ping and lag spikes.
So, if you have trouble with your VPN not working with Warzone, make sure it has the right security permissions, your connection is up and you're using a reliable VPN client.