Are you a Romanian living in the United States, missing the entertainment and news from back home?
Or perhaps you're fascinated by Romanian culture and want to explore their television programs?
But you know, due to geo-restrictions, most of these channels are not accessible outside of the country.
Well, there's good news for you!
You can now watch Romanian TV in the US with the help of a VPN. It'll help you bypass the geo-location restrictions that otherwise block access to these channels.
Keep reading because I'll show you how to do that. Plus, I've tested and compiled some of the best VPNs that work for it.
Enjoy!
How to watch Romanian TV in the US? Here's it!
Romanian TV channels like TVR or Pro TV don't care whether you are a Romanian or a fan. Once you're out of the border, you can't access most of their channels.
So, to watch Romanian TV while in the US, you must use a VPN to encrypt your internet traffic and route it through a server located in Romania.
This grants you a Romanian IP address, effectively making it appear as if you are browsing from Romania, regardless of your physical location.
With that, you can easily unblock and enjoy Romanian news, music, and others even while abroad.
I'll recommend PIA because of its over 60 streaming-optimized servers in Romania.
Here's how to use it to unblock your favorite shows in the USA.
Subscribe to a PIA plan and download the app on your device.

Install and log in with your credentials. 

Launch the app and connect to a server in Romania.

Visit the website or app of the Romanian TV channel you want to watch and enjoy! As you can see, I watched the Agro Strategia show this morning on TVRplus.ro. Thanks to PIA! 
Why do you need a VPN to watch Romanian TV abroad?
You need a VPN to watch Romanian TV abroad because most TV channels use geo-restrictions to limit their content to viewers in Romanian.
This means that if you try to access channels like TVR3 or National TV from outside of Romanian, you will see an error message.
For TVR channels, you'll get this in the Romanian language: This program doesn't hold distribution rights in your country. Or something like that, depending on the channel you want to watch.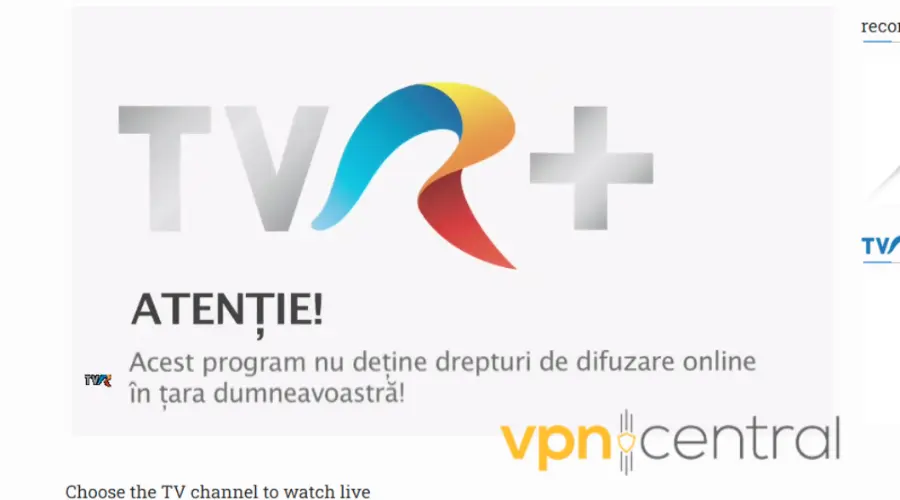 So, you might be wondering how it detects your location.
Here's it.
The TV's geo-block measures track your IP address which contains info about your location, and reveal it to the websites and apps you visit.
And if your IP address does not match the country where the content is available, in this case, Romania, it will block you.
But a VPN can help you overcome geo-restrictions by changing your IP address to match the country where the content is available.
By connecting to a VPN server in Romania, you can get a Romanian IP address and access the country's TV channels online as if you were there physically.
Besides helping you bypass geo-restrictions, it offers other benefits for your online experience.
It can:
Enhanced Privacy and Security: Using a VPN ensures that your online activities and data remain shielded from potential cyber threats, like hackers, identity thieves, or malicious entities attempting to monitor your online behavior.
Bypassing ISP Throttling: VPN encrypts your internet traffic, making it hard for ISPs to detect specific activities, such as streaming, and subsequently preventing them from applying throttling measures.
Safeguarding Public WiFi Usage: When connecting to public WiFi networks, your data becomes vulnerable to interception. A VPN establishes a secure tunnel between your device and the server, effectively safeguarding your sensitive information from prying eyes on these public WiFi hotspots.
Overcoming Censorship and Firewalls: Whether you encounter internet censorship in countries like China or face restrictions on workplace or school networks, a VPN proves invaluable in bypassing these barriers. Ultimately granting you access to your preferred streaming platforms and websites.
Seamless Streaming: A good VPN can significantly enhance your streaming experience by reducing buffering and lag. This establishes a more direct and stable connection to the streaming servers.
Best VPNs for Romanian TV
There are many VPNs on the market, but not all of them are suitable for watching Romanian TV abroad.
Some don't have servers in Romania, while others might have slow speeds or poor security features.
To help you choose the best VPN for Romanian TV, I've tested and reviewed some of the most popular VPNs based on their performance, availability of Romanian servers, privacy and security features, and customer service.
Here are my top picks:
1. PIA — overall best for seamless streaming on Romanian TV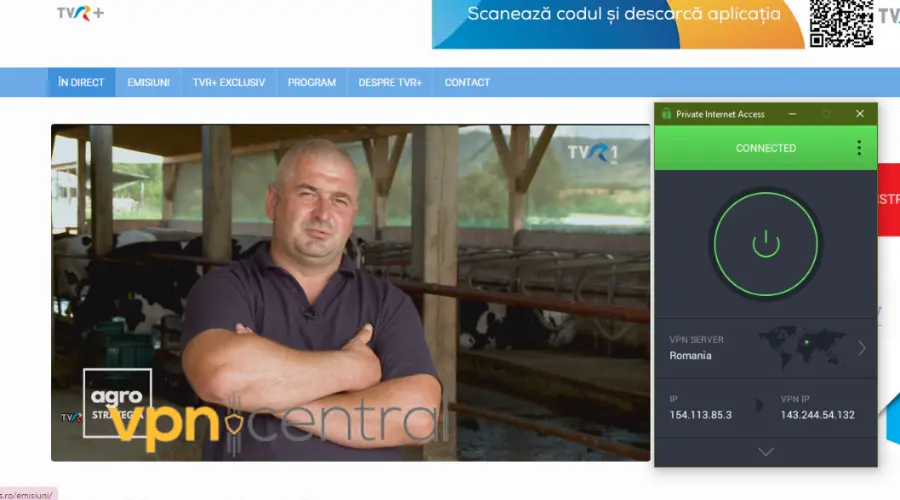 With lightning-fast speeds and an extensive selection of over 60 Romanian servers, PIA secures the top-performing VPN for Romanian TV.
Thanks to its powerful 10 Gbps NextGen servers, you can say goodbye to frustrating lags, buffering, and freezing and enjoy seamless 4K streaming without annoying delays.
What makes it even better is that it provides unlimited bandwidth.
This lets you stream shows like Ruxx or Spy/Master on HBOmax Romania and other channels without worrying about data caps or restrictions.
To keep your data secure during your streaming sessions, PIA employs robust encryption methods.
You can choose between 128-bit or 256-bit AES encryption ciphers, adding privacy and security to your streaming.
With this level of protection, your ISPs, third parties, or even Romanian channels won't be able to track your internet activities.
I also tested its Smart DNS feature that lets you change your virtual location directly from your Smart TV.
While this feature won't encrypt or redirect your data, it ensures your connection speeds remain unaffected.
Alternatively, you can install the VPN directly on your router, securing your entire network and protecting all your devices.
This way, all your online activities are secured by PIA's reliable VPN service.
✅ Pros:
Works with major streaming services
Excellent streaming speeds
Supports unlimited device connection
❌ Cons:
Live chat support isn't very responsive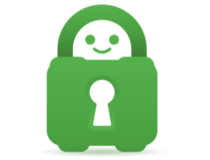 PIA
Never miss a moment of Romanian entertainment. Unlock any TV channel with PIA!
2. ExpressVPN — Fast connection to Romanian TV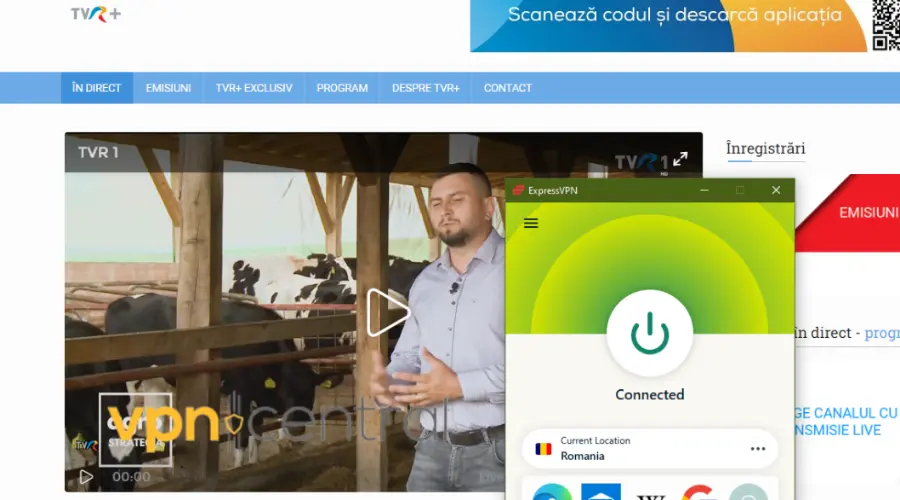 With several ultra-fast servers in Romania, ExpressVPN is an excellent alternative for watching the country's TV in the US.
It has top-notch features like 256-bit encryption and advanced leak protection that ensures your connection is secure while streaming.
And a kill switch, which means if your connection drops, it automatically cuts off your internet to protect your information.
Also, ExpressVPN has a strict no-logs policy and a TrustedServer feature, which wipes server data after each session.
So your online activities are never recorded. Hence they cannot track or sell them.
One feature I also enjoy is its MediaStreamer. It enables you to extend VPN protection to devices that lack native support for VPN connections.
This includes smart TVs, gaming consoles, streaming media players, and other gadgets without VPN apps.
Moreover, it works seamlessly on popular devices such as Windows, Android, macOS, iOS, and Linux, ensuring compatibility across multiple platforms.
Plus, its reliable and secure protocols let you enjoy smooth playback without any interruptions.
✅ Pros:
Ultra-fast Romanian servers
Best leak protection on the market
Consistently fast and stable
Apps for all conceivable devices
❌ Cons:
Not the cheapest
Its servers occasionally get blacklisted due to its popularity
Only five device connections at a time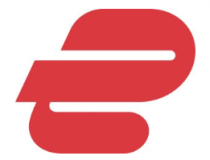 ExpressVPN
Access Romanian channels in the US effortlessly with this streaming-optimized VPN!
3. NordVPN — Best security feature for Romania TV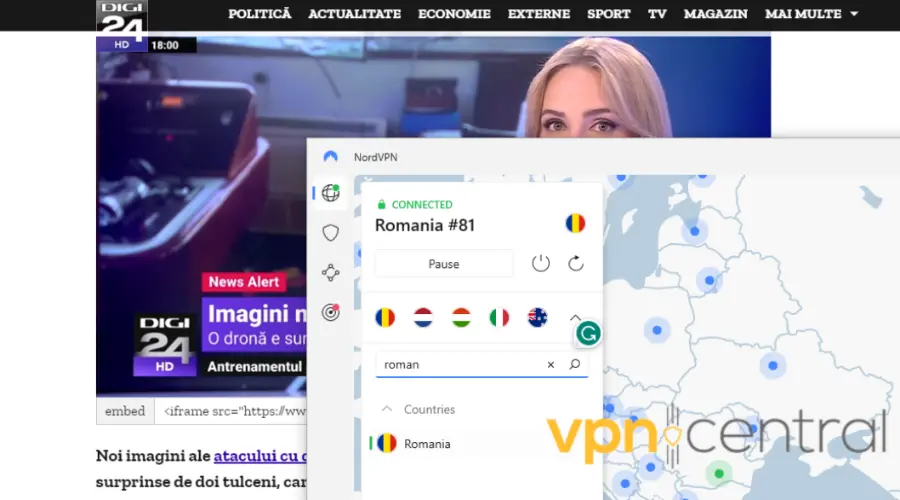 NordVPN has 20+ fast and secure servers in Romania, so you can always find one that works best for you!
What blows me away is the Threat protection feature that blocks annoying ads and malware I encountered with other VPNs.
It also takes care of your privacy using military-grade AES-256 encryption to keep your personal information safe and hidden from anyone wanting to see it.
With my test, I assure you can feel confident using NordVPN on public Wi-Fi. It hides your location so that no one can snoop on your activities.
So, whether you're streaming at the airport, a hotel, or a café, your browsing is always secure.
And if you want even more privacy, you can use the Double VPN feature, which adds an extra layer of protection.
And I found out it has an independently audited no-logs policy! This means NordVPN doesn't track where you go online.
So you don't have to worry about them sharing your info with third parties.
In addition, it ensures your online activities are fast, and you have no limits to how much you can watch in HD or 4K.
Also, it is easy to use on all your devices. Whether you have a Windows computer, Mac, Android phone, iPhone, or smart TV, NordVPN works with them.
And the icing on the cake is the 30-day money-back guarantee. You can try NordVPN risk-free and see how it works for you.
So, why wait? It's time to unblock channels like Prima TV, Pro Cinema, Antenna 1, and more with NordVPN!
✅ Pros:
Affordable monthly price
A high number of servers
Apps for Fire Stick and Android TV
❌ Cons:
Complicated when using router setup
Apps can sometimes be sluggish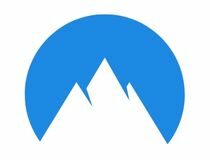 NordVPN
Bypass geo-restrictions and watch Romanian TV in the US using NordVPN!
4. CyberGhost — Streaming-optimized servers for Romanian TV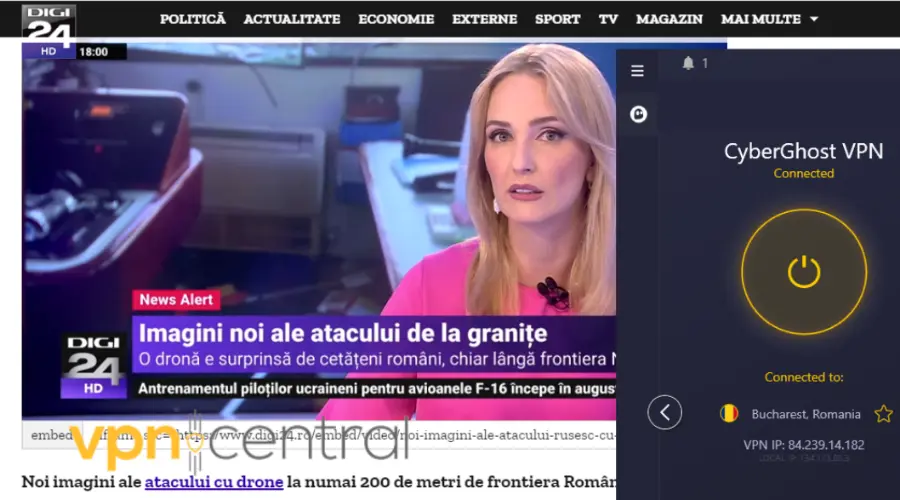 CyberGhost has a whooping 143 high-speed servers in Romania, which gives you plenty of options to choose from.
This means you'll never have to worry about picking a crowded one!
You'll also enjoy unlimited bandwidth, fast VPN protocols like WireGuard, and streaming-optimized servers that use 10 Gbps speeds in high-traffic locations.
That's great for uninterrupted streaming on your favorite Romanian channels like Digi24 or Acasa.
Want more? CyberGhost protects your online activity with its powerful 256-bit AES encryption. This ensures your sensitive data is safe from prying eyes and cybercriminals.
Also, its Kill Switch blocks all traffic if you get disconnected from the VPN until you can reconnect safely.
This way, your actual location is not revealed to the TV channel.
Additionally, with just one subscription, you can connect up to 7 devices simultaneously.
So, you can enjoy CyberGhost's user-friendly VPN apps on all your devices, including Windows, macOS, Linux, Android, iOS, Android TV, and Amazon Fire TV Stick.
And if you ever need assistance, its friendly 24/7 Customer Support team is available via live chat or email to provide guided walkthroughs and help you.
✅ Pros:
Fast streaming servers
Add-ons, including antivirus, data compression, and dedicated IPs
User-friendly interface
Has a 45-day money-back guarantee
❌ Cons:
Issues with connecting after sleep mode
Has customer support unavailable in some languages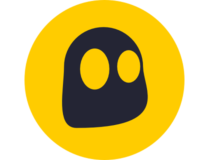 CyberGhost
Don't let borders limit your entertainment. Unlock Romanian TV with CyberGhost VPN!
5. Surfshark — Best value for money on Romania TV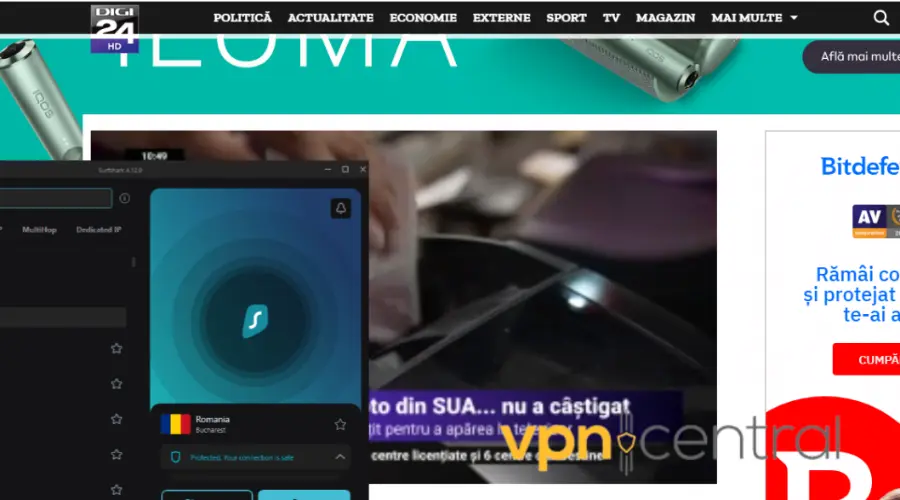 Surfshark offers several server options in Romania at an affordable price of just $2.49 per month.
One of its standout features is its unlimited data and unrestricted bandwidth.
This means you can stream your favorite Romanian channels with ease, as there are no data restrictions or caps to hinder your viewing experience.
Plus, you can connect unlimited devices simultaneously.
These include its user-friendly app of Surfshark on various platforms, such as Windows, Mac, Android, iOS, and more!
Additionally, you can enjoy your favorite programs and film channels like Film Cafe in high-definition or even 4K quality without any interruptions.
To ensure top-notch online security and privacy, Surfshark uses advanced protocols such as OpenVPN, IKEv2/IPsec, and WireGuard, all powered by the robust AES-256-GCM algorithm.
This encryption method effectively secures your data from prying eyes, and remarkably, it doesn't compromise your connection speed.
Surfshark also offers a convenient kill switch feature that automatically cuts off your internet connection in case the VPN connection drops.
This guarantees that your data remains private and your identity stays protected.
To cap it all, you'll enjoy features like CleanWeb, which blocks annoying ads ( I saw on HoraTV), trackers, and malware to provide a clean and uninterrupted streaming experience.
Love to watch some lovely Romanian music shows? Go unblock Etno TV with Surfshark!
✅ Pros:
Connect unlimited devices
Excellent streaming speeds
Extra features like virus protection
❌ Cons:
Inconsistent P2P performance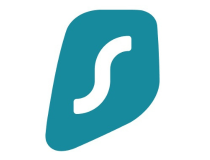 Surfshark
Get instant access to Romanian TV shows, news, and sports events with Surfshark!
Which Romanian channels can I watch online?
Using a VPN, you can watch many Romanian channels online that are otherwise geo-restricted outside Romania.
Here are some of them, depending on your preferences and interests.
1. TVR
TVR has seven channels. Each channel has a different programming focus, such as general interest, news, culture, international, or regional. Here's a quick summary of them.
TVR1 is the flagship channel of TVR, offering various programs, such as news, documentaries, talk shows, sports, entertainment, and culture. It also broadcasts live events, such as the Eurovision Song Contest, the Olympic Games, and the National Day parade.
TVR2 offers various programs for different audiences and interests, such as children, youth, education, health, lifestyle, music, and movies.
TVR3 offers programs that reflect the diversity and richness of Romania's regions and minorities. It also broadcasts programs in minority languages, such as Hungarian, German, Serbian, Turkish, and Roma.
TVR Info is a news channel that offers 24-hour news coverage of local and international events. It also features analysis, debates, interviews, weather forecasts, and traffic updates.
TVR Cultural is the culture channel of TVR, offering programs that promote the Romanian cultural heritage and contemporary art scene. It features documentaries, concerts, theater plays, opera performances, exhibitions, and festivals.
TVRi is the international channel of TVR, offering programs for Romanians living abroad and foreigners interested in Romania. It features news, documentaries, and more.
2. Antena 1
This is also one of the most-watched TV channels in Romania. Antena 1 offers a variety of entertainment programs, such as reality shows, talent shows, soap operas, and comedy shows.
Some of its most popular shows on Antena 1 are Chefi la cuțite (Knife Fight), iUmor (iHumor), and Asia Express.
3. Digi 24
Digi 24 is a 24-hour news channel that covers local and international news, politics, business, sports, culture, and more. It also features documentaries, talk shows, and live events.
4. ProTV News
ProTV is another 24-hour news channel that offers comprehensive and objective coverage of the latest news, as well as analysis, debates, and interviews. It also broadcasts live events, such as sports matches, concerts, and festivals.
5. Etno TV
Etno TV is a music channel that showcases the best of Romanian folk music, as well as pop, rock, dance, and hip-hop. It also features cultural programs, documentaries, and live concerts.
6. Hora TV
A cultural channel that promotes the traditional values and customs of Romania, as well as the diversity and richness of its regions. You can watch music, dance, cooking, crafts, and tourism programs.
7. Religious channels
If you like religious and spiritual programs, you can watch Trinitas TV, Speranța TV, Credo TV, or Alfa Omega TV.
Is it legal to watch Romanian TV in the US with a VPN?
It is legal to watch Romanian TV in the US with a VPN. There is no law in the US against using VPN to bypass TV or streaming geo-restrictions.
However, some Romanian TV channels might have terms and conditions that prohibit the use of VPNs or other methods to bypass their geo-restrictions.
In that case, you might violate their copyright or licensing agreements by using a VPN to watch their content.
Therefore, I would advise you to check the terms and conditions of the Romanian TV channels you want to watch before using a VPN to access them.
I'll also recommend you use a reputable VPN service that has a strict no-logs policy and does not share your personal information with third parties.
Summary
I have provided you with a comprehensive guide on how to watch Romanian TV in the US using a VPN.
Additionally, I've offered excellent recommendations for VPNs that work well with the channels. As a bonus, I've also shared a list of online Romanian channels you can watch.
By following this guide, you can easily bypass geo-restrictions and indulge in your favorite Romanian shows and programs from anywhere in the world!
---