There's no doubt lag is the worst part of online gaming. To eliminate or reduce it, you need a fast Internet connection with low latency that can lower your ping.
Therefore, your choice of ISP can entirely shape your gaming experience.
Below, we'll help you find the one that offers exactly what you need.
10 Best ISPs for low ping
Every gamer wants data from their devices to quickly reach the game server. In other words, the ping to stay as low as possible at all times.
That often depends on the chosen ISP. However, not all operators can provide good speed and a hiccup-free experience.
We reviewed all top ISP options on the market and singled out the ones that excel by these criteria. Take a look at our recommendation to find the one that works the best for you.
Cox
Cox is one of the top ISPs in the US. Although it's not available across the whole country, its customers speak highly of the service. Plus, it has a range of plans suitable for everyone's needs.
The best thing about it is its dedicated feature for gamers called Elite Gamer. Its slogan says it all — Less lagging. More winning.
This app reduces lag by up to 32% and decreases ping spikes by automatically finding the fastest routes to the server you're connecting to. That alone ranks it among the best ISPs for low ping.
The Elite Gamer app is compatible with over 150 popular titles, including League of Legends and Overwatch. It also supports multiple simultaneous logins.
This extra feature comes at no cost if you decide to get one of Cox's offers and add a panoramic Wi-Fi Gateway:
Preferred 250 — $49.99/mo: Up to 250 Mbps
Ultimate 500 — $69.99/mo: Up to 500 Mbps
Gigablast — $99.99/mo: Up to 1 Gbps
Essential 100 — $49.99/mo: Up to 100 Mbps (with Wi-Fi)
Alternatively, if you already have a modem, you can add the Elite Gamer feature for $6.99/mo.
All plans come with 1.25 TB of data and the possible purchase of an extra 50GB if you go over that. The first time, you'll get a one-time courtesy credit that covers all costs.
Another great feature is Cox's virtual assistant called Oliver. It'll connect you with the support team via chat and help you with anything else. You can also call and text them via phone.
This ISP operates in 19 states:
Arizona
Arkansas
California
Connecticut
Florida
Georgia
Idaho
Iowa
Kansas
Louisiana
Massachusetts
Missouri
Nebraska
Nevada
North Carolina
Ohio
Oklahoma
Rhode Island
Virginia
Pros:
Dedicated gaming feature
Very effective at lowering ping
Excellent customer support
Cons:
Available in only 19 states
Data allowance limit
Verizon Fios
Verizon has a reputation as one of the leaders in fiber optic technology. Furthermore, it offers great Internet and TV bundles.
Its fiber-optic Fios Gigabit Connection delivers data through hair-thin strands of optically pure glass instead of standard metallic lines. That's how Verizon provides 25x faster upload speeds.
Verizon Fios deals include:
300 Mbps — $24.99/mo
500 Mbps — $44.99/mo
1 Gbps — $64.99/mo
Verizon also offers some great perks for its customers with these plans.
For example, all include a Grubhub or DoorDash gift card and a discount on a Verizon Stream TV Soundbar or Pro. They also grant you a choice of an Amazon Echo Show or a Verizon gift card.
If you opt for the 1 Gbps deal, you also receive an additional gift — a MoCA ethernet adapter or a $50 Xbox eGift card bundle.
What's more, Verizon Fios plans don't have a data cap, and you can enjoy unlimited bandwidth.
If you need help from the company's customer support team, you can reach out via live chat and phone.
Verizon Fios is available in ten states:
Connecticut
Delaware
District of Columbia
Maryland
Massachusetts
New Jersey
New York
Pennsylvania
Rhode Island
Virginia
Pros:
No data allowance limit
Plans include more perks
Relatively cheap
Cons:
Poor coverage
No 5 Gbps deal
AT&T
With its maximum speed of 5 Gbps, AT&T is among the go-to ISPs for gamers, as it offers one of the fastest, low-ping connections.
We recommend getting one of its fiber deals, as they'll deliver better latency than the DSL ones.
Until recently, you'd receive six months of Google Stadia for free with your AT&T plan, but with the service shutting down in January 2023, this isn't something you can count on.
There are five plans you can choose from:
300 Mbps — $55/mo
500 Mbps — $65/mo
1 Gbps — $80/mo
2 Gbps — $110/mo
5 Gbps — $180/mo
While other AT&T deals include a 1TB data allowance, plans over 100 Mbps come with unlimited data.
The service's representatives are known for being friendly and helpful. You can talk to an automated assistant via chat and have it connect you with an agent or reach out via phone.
You can get this service in 21 states:
Alabama
Arkansas
California
Florida
Georgia
Indiana
Illinois
Kansas
Kentucky
Louisiana
Michigan
Mississippi
Missouri
Nevada
North Carolina
Ohio
Oklahoma
South Carolina
Texas
Tennessee
Wisconsin
Pros:
Lightning-fast speeds
Wide range of plans
Unlimited data
Cons:
Somewhat expensive
Available in only 21 states
Optimum
While not boasting great coverage, Optimum remains one of the top choices for gamers based across the Northeast of the US.
It offers fast and stable connections, ideal for players and streamers. With it, you'll be able to enjoy gameplay with no interruption and not concern yourself with ping.
Its fiber Internet network promises 99.9% reliability and increased bandwidth, ideal for use on multiple devices.
Optimum offers the following deals with a 2-year price lock and no data limit:
300 Mbps — $40/mo
500 Mbps — $60/mo
1 Gbps — $60/mo (special deal available at the moment)
2 Gbps — $120/mo
5 Gbps — $180/mo
Optimum customers also receive various perks with their subscriptions, including a Visa Prepaid Card, SHOWTIME for one year, and Service Protection for one year.
There's no live chat feature on the Optimum website, but you can still contact its customer support agents via phone.
Optimum targets the Northeast of the country and is only available in five states:
Connecticut
New Jersey
New York
North Carolina
Pennsylvania
Pros:
Speed up to 5 Gbps
Extra perks
Cheaper than some other services
Cons:
Limited to the Northeast
Lacking customer support
Google Fiber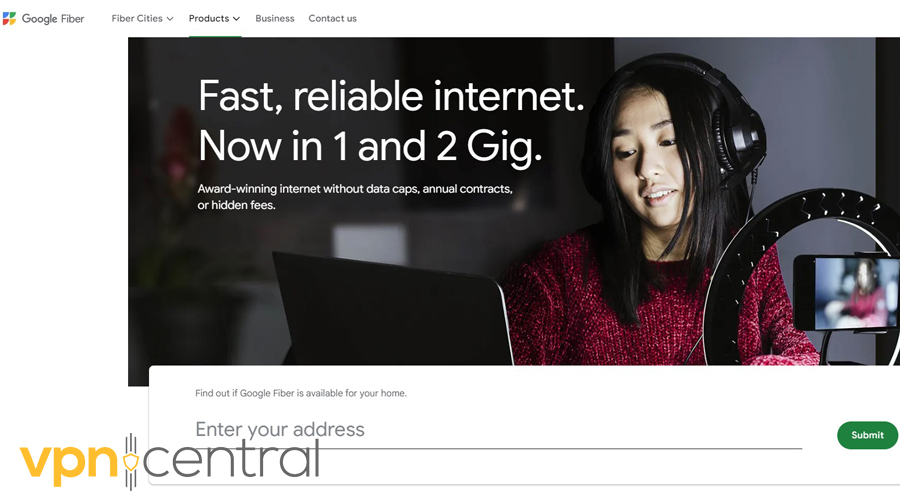 One of Google's selling points, to which many streamers, such as LEGIQN, attest, is its fiber Internet that pro gamers love.
Besides offering a lightning-fast connection, Google Fiber keeps your ping low and eliminates lag.
Google Fiber has only two deals available, but they come with a 1 TB of free cloud storage and no data allowance limit.
1 Gbps — $70/mo
2 Gbps — $100/mo
Also, you receive professional installation at no additional cost.
Another huge plus is that it doesn't use industry-standard annual contracts.
As always with Google services, the customer support you get is top-notch. You can reach out to its agents via phone, email, and live chat and get a response as quickly as possible.
However, the service doesn't have the best coverage — only 19 cities across 14 states, with more locations arriving soon.
Currently, it's available in some cities in the following states:
Alabama
California
Colorado
Florida
Georgia
Illinois
Iowa
Kansas
Missouri
North Carolina
Tennessee
Texas
Utah
Washington
Pros:
Renowned brand
Free cloud space included
No data allowance limit
Cons:
Very limited coverage
Only two pricing plans
Frontier
Frontier is one of the fastest and most reliable ISPs on the market, working hard to deliver the best service. It markets its fiber Internet as the gold standard for gamers.
Another great thing is that it offers bundling options for your home phone and Internet in one convenient bill. You can also add a DISH TV package to your subscription.
At Frontier, you can choose from three plans with no data allowance limit, all including an Amazon eero Wi-Fi router and free expert installation.
500 Mbps — $49.99/mo
1 Gbps — $74.99/mo
2 Gbps — $149.99/mo
Keep in mind that the 500 Mbps and 1 Gbps plans include a one-year agreement, while the 2 Gbps doesn't offer such a commitment. You can pick it up in months you know you'll play a lot, and you'll want your ping to remain as low as possible.
Frontier offers customer support through live chat on its website and via phone.
This ISP covers 25 US states:
Alabama
Arizona
California
Connecticut
Florida
Georgia
Illinois
Indiana
Iowa
Michigan
Minnesota
Mississippi
Nebraska
Nevada
New Mexico
New York
North Carolina
Ohio
Pennsylvania
South Carolina
Tennessee
Texas
Utah
West Virginia
Wisconsin
Pros:
Additional perks
No data limit
Decent coverage
Cons:
Expensive
Some customer service complaints
Astound Broadband (Formerly RCN)
Formerly known as RCN, Astound Broadband is another great ISP option for gamers looking to lower their ping.
Its network speed goes up to 1200 Mbps and ensures excellent quality at all times. What's more, its Nighthawk Pro Gaming routers are built to deliver pure performance.
Astound has two deals that require no contract and include 24-month Internet pricing.
940 Mbps — $54.95/mo
1200 Mbps — $64.95/mo
With a coupon available on the service's website, you can also receive three months of free service and free installation.
It's also worth noting that Astound has various bundles for Internet, TV, and phone.
When it comes to customer support, this ISP offers the standard combination of live chat and phone.
The service is available in 11 states:
California
Illinois
Indiana
Massachusetts
Maryland
New York
Oregon
Pennsylvania
Texas
Washington
District of Columbia
Pros:
Gaming router option
Three months of free service
Nice bundling options
Cons:
Lacking coverage
Only two pricing plans
Spectrum
Spectrum emerged as a great option for Internet, cable TV, and phone service. You can bundle all services for cheaper billing.
Spectrum markets that its service offers 99.9% network reliability, which is exactly what gamers need. It's also a preferred option for streamers on Twitch and other popular sites.
What's more, it has one of the easiest kits to install, and you can do it entirely on your own.
It has three Internet plans, all including advanced Wi-Fi, unlimited data, and a mobile line.
Internet — $49.99/mo: Up to 300 Mbps
Ultra — $69.99/mo: Up to 500 Mbps
Gig — $89.99/mo: Up to 1 Gbps
Each subscription also includes a free modem and antivirus software.
You can also sign up with your Spectrum account to unlock Peacock Premium for 12 months at no cost.
Customer representatives are available through live chat and phone, and its support app is among the highest-rated ones. It allows you to set up your profile for out-of-home Wi-Fi, troubleshoot any service-related issues, and browse upgrade plans.
It also offers coverage in 41 states, and the ones not on the list are:
Rhode Island
South Dakota
Utah
Pros:
Great coverage
No data limit
Top-notch support app
Cons:
CenturyLink
CenturyLink is a straightforward service, without contracts or cancellation fees, that may be exactly what many gamers are looking for.
While not the fastest service, its 940 Mbps deal should deliver a pleasant gaming experience. Besides, CenturyLink ensures the connection is always stable and without any ping issues.
It offers two deals, one of which is a fiber network with 20X faster upload from the cable:
Simply Unlimited Internet — $50/mo: Up to 100 Mbps
Fiber Internet — $70/mo: Up to 940 Mbps
Both deals include free modem and installation and have no data allowance limit.
Customer support at CenturyLink is available via live chat and phone.
While the standard Internet deal covers 36 states, its fiber optic service only works in 19 cities and surrounding areas in 12 states:
Arizona
Colorado
Florida
Idaho
Minnesota
Missouri
Nebraska
Nevada
Oregon
Utah
Washington
Wisconsin
Pros:
No contract
No data limit
Free modem and installation
Cons:
Only one fiber plan
Suboptimal coverage
Sparklight
Sparklight has bundles that are nicely put together for users looking for Internet, TV, and phone services. It's another decent option for any gamer looking to keep their ping low.
The deals you can choose from include:
Internet 200 — $50/mo: Up to 200 Mbps (700GB data cap)
Internet 300 — $80/mo: Up to 300 Mbps (1200 GB data cap)
Internet 500 — $90/mo: Up to 500 Mbps (1500 GB data cap)
Internet GIG — $110/mo: Up to 1 Gbps (no data limit)
Additionally, customer support at Sparklight is available through phone, email, and live chat on the company's website.
The service covers 21 states:
Alabama
Arizona
Arkansas
Idaho
Illinois
Indiana
Iowa
Kansas
Louisiana
Minnesota
Mississippi
Missouri
Nebraska
New Mexico
North Dakota
Oklahoma
Oregan
South Dakota
Tennessee
Texas
Washington
Pros:
Four pricing plans to choose from
Bundling potential
Decent customer support
Cons:
What ISP is the best for gaming?
When it comes to lowering your ping while gaming, the best ISP you can choose is Cox. The main reason is its Elite Gamer feature that'll always find the most efficient route to the game server.
Cox does have a data allowance limit, which is a negative, but it's actually higher than it is with some other services. To reach the 1.25 TB data limit, you'd have to play slightly over 20,000 hours a month, which is practically impossible.
However, if you game and stream in high-definition, you might want to consider ISPs without the cap, such as Verizon Fios and AT&T.
Another important thing to keep in mind is that most ISPs operate only in some states. Cox is available in 19 of them. If the service doesn't cover your area, finding one that operates in your state is not a matter of choice.
With most ISPs offering several pricing plans, you should always look for one that suits all your needs. Some providers offer more flexible structuring without contracts, while others require you to commit to a year or longer.
Does VPN better ping?
A VPN can help you send data from your device to the game server through more direct routes. That means the information will flow more efficiently, resulting in a lower ping.
Consequently, it's important to know where the game server is based if you want to find the ideal location to hop onto with your VPN.
Usually, it takes testing a few different locations to find the optimal one. The best low-ping VPN services you can choose from include:
ExpressVPN is one of the fastest and most reliable VPNs for keeping your ping low.
On top of this, the service has over 3000 servers in 94 countries. In the app, each location shows its ping rate, so you know what to expect.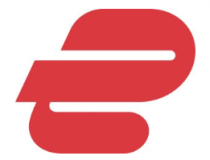 ExpressVPN
Ensure a flawless gaming experience by subscribing to this premium VPN provider.
PIA is another VPN known for its low ping rates.
This operator has 17,600+ servers in 84 countries, ensuring you can always find the optimal location for the game you're playing.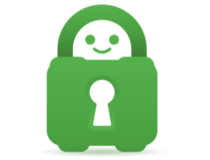 Private Internet Access
With PIA, you'll get ultimate Internet speeds and a wide choice of servers.
Cyberghost has servers specifically designed for gaming, this tells you everything you need to know about its efficiency.
With 6,000+ servers in 88 countries, you shouldn't have trouble finding one that's near the game server you're playing on.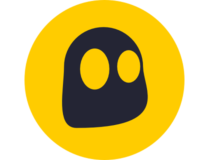 CyberGhost
For no-lag gameplay, you can trust this top-notch service.
Wrap up
Hopefully, you found all you need to choose the best ISP for low ping.
As shown above, in our detailed breakdown of each provider's offers, their features differ, and anyone can find what they need.
Once you decide which will serve you best, you'll be able to enjoy uninterrupted gameplay without hiccups.
FAQ
What Internet has the best ping?
Cox has a special gaming feature called Elite Gamer that'll help you find the optimal route to the game server, thus keeping your ping as low as possible.
What's more, it's compatible with over 150 popular titles.
What is the strongest ISP?
Evidently, AT&T is an extremely strong provider, offering low latency and speeds that go up to 5 Gbps.
What is the fastest ISP?
AT&T and Optimum are some of the ISPs with speeds that go up to 5 Gbps.
In theory, you'll rarely need that much for gaming, but having it available is always a plus.
Is VPN good for ping?
Yes, a good VPN can help you lower your ping by connecting you to the game server through a more efficient route.
Even if you're using one of the best ISPs for low ping, you can always benefit from some extra help.