Given that satellite Internet for Viasat is wildly different than its regular cable counterpart, usage might also be a bit different.
For instance, many users are curious as to whether Viasat Internet supports regular VPN usage. The short answer is yes, but the truth is that it's a bit more complicated than that.
This guide will help you understand the implications of having satellite Internet, how VPNs behave on such a connection type, and what are the best VPNs you can use with your Viasat Internet service.
Which VPNs work with Viasat?
1. ExpressVPN – Best encryption for Viasat Internet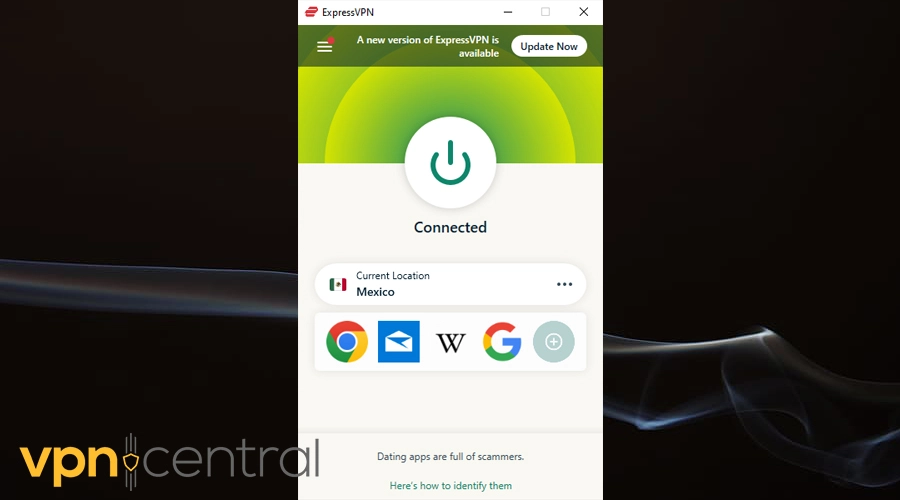 ExpressVPN is a VPN service that can work with Viasat Internet. This software is an effective match for slower internet speed, and it can improve your connectivity if you need faster internet.
If you need a trusted resource for Viasat Internet, ExpressVPN can be the perfect choice to start with.
The software has an intuitive interface and enables you to increase web privacy, as well as provide good connection speed for your satellite internet. With over 3000 servers you can by all chances improve the quality of Viasat's Internet service.
Express VPN encrypts your traffic data so your ISP provider won't be able to place any throttling on it. Plus, it provides powerful speed through unlimited traffic, so you can enjoy a fast Internet connection at all times.
ExpressVPN does not log or track any user data and they use powerful AES-256-bit encryption so there is no risk of data leaks.
Another great benefit of this app is that it allows you to prioritize your traffic with the split tunneling feature. In just a few clicks, you can pick which apps connect through your actual IP and which connect to a VPN server.
This can significantly improve speed rates and let you browse locally for those apps or services that get good traffic in your area.
Other key features include:
Use of 5 devices at once with the same subscription
Surpass geo-restrictions
Live chat technical support
ExpressVPN is compatible with all major platforms, so you can secure any device. They have multiple subscription plans, each with a 30-day money-back guarantee.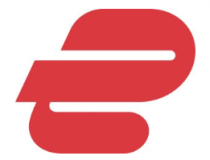 ExpressVPN
If you need a trusted resource for Viasat Internet, this VPN can be the perfect choice to start with.
2. NordVPN – Extensive server locations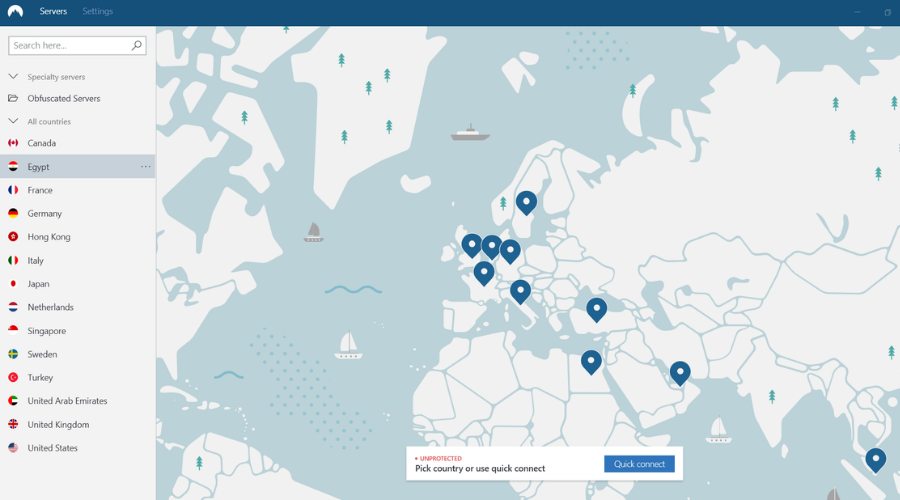 Without a doubt, one of the fastest VPNs currently available on the market, Tefincom & Co.'s NordVPN could really make a difference, especially with slower-than-fiber satellite Internet, such as Viasat's service.
This VPN service is very secure and private. It has a zero logs policy along with a double VPN feature. This feature bounces your connection through 2 secure servers so no data can be stolen by third parties.
NordVPN supports multi-factor authentication. This ensures that only you will be able to access your account and connect to the VPN.
It also supports dedicated IP so you will be able to hide your traffic data from your ISP and never get any traffic restrictions.
NordVPN is compatible with multiple devices, including your TV set. Noting that it is one of the fastest VPNs out there, it enables users to enjoy uninterrupted streaming from any location.
It supports split tunneling so you will be able to surf locally and connect to a VPN at the same time.
Other key features of NordVPN include:
Compatible with the Onion Router
Easy to use
Blocks ads and malware
Browser extension for Chrome, Firefox, and Edge
24/7 support
NordVPN allows you to protect up to 6 devices on the same plan and can be installed quite easily. You can easily choose one of its 5,400 servers located in 59 countries around the world to route your connection through. Did we mention it's fast?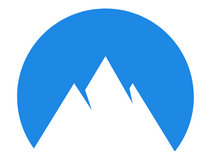 NordVPN
Need a fast, secure VPN to use with Viasat Internet? NordVPN has it all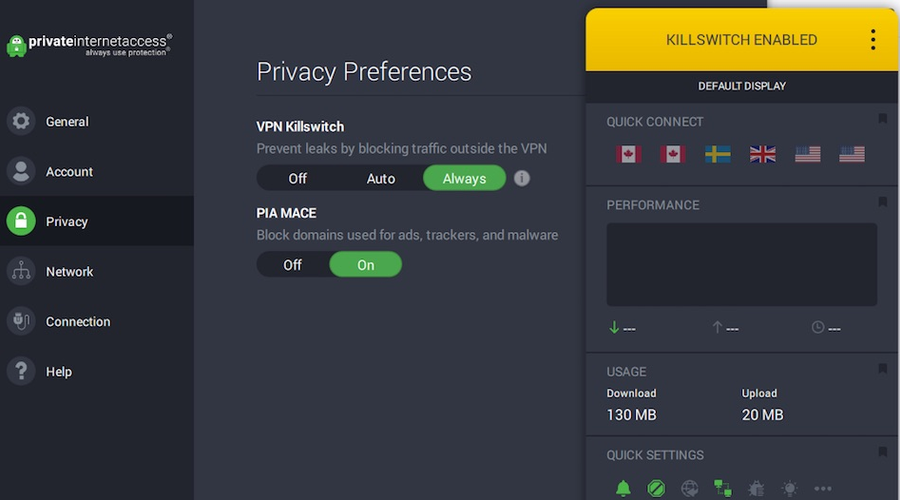 Private Internet Access (or just PIA for friends) is a great VPN service from Kape Technologies that you can use with Viasat Internet.
It can provide you with top-notch security and privacy features, and it doesn't slack on speed, either.
PIA is also one of the few VPN providers that offer 24/7 live chat support for its customers. At the time being, PIA has more than 15,000 servers in 74 countries, which is an outstanding size, compared to other similar services.
Moreover, when it comes to privacy and security, PIA has you covered. It implements multiple features that ensure your data stays completely private and your PC is protected against attackers.
For starters, you should know that this VPN encrypts traffic on public networks. This means that even if your connection may not be very secure, by using powerful end-to-end encryption, there is no risk of any leaks.
Along with that, the PIA MACE feature helps you block adware, trackers, and malware from infecting your device or getting any information about your identity or browsing activity.
The VPN itself does not keep track of any of its users' activity. It has a strict zero-logs policy.
When it comes to performance, along with the impressive number of servers you can connect to, it is also important to note that PIA has no bandwidth limit or speed throttling.
Plus, by hiding your IP address and keeping your data private, your ISP won't be able to track your traffic and place any restrictions.
Other key features of PIA include:
Support for P2P and torrenting
Connect to up to 10 devices simultaneously, on the same account
SOCKS5 proxy
PPTP, OpenVPN, L2TPsec, and WireGuard support
PIA has 3 major subscription plans. You can get the best deal for the 3-year plan. They offer a 30-day money-back guarantee so if you try it out and are not satisfied, you will get your investment back.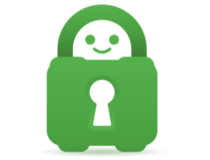 Private Internet Access
Need a reliable VPN to use with Viasat Internet? Give this VPN software a try for an enhanced connection.
4. Surfshark – Affordable VPN privacy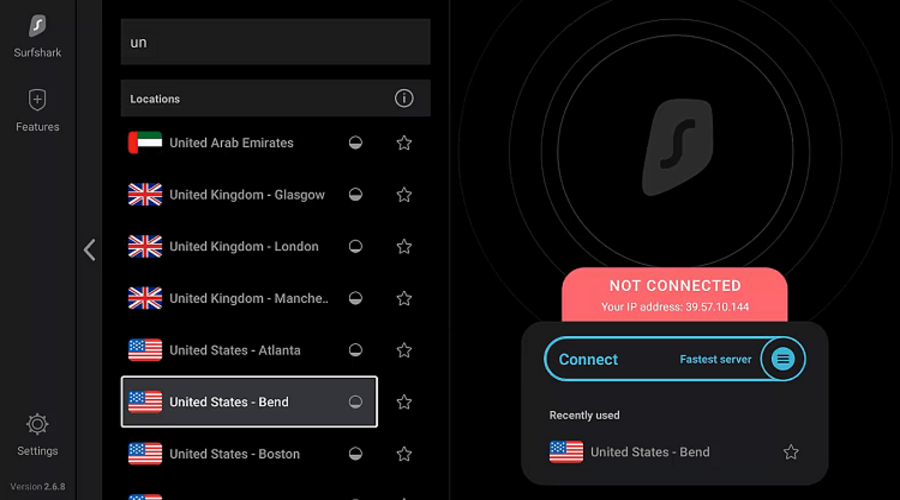 Surfshark is a top-notch VPN service from its namesake company, Surfshark LTD. You can safely use it with Viasat Internet since it's not the type of service that grants you security at the expense of speed.
In other words, it's a fast VPN service that won't get in your way too much, especially if you're trying to engage in high-bandwidth-usage activities, but will also keep your connection airtight.
Surfshark is very secure and private. It uses private DNS and leak protection for each server. Moreover, it has a very strict no-logs policy. No data is stored.
Along with that, they use military-grade AES-256-GCM encryption so no one can steal or access your data.
Surfshark helps you surpass geo-restrictions and get a high-speed connection regardless of your actual location. You can also use the split tunneling feature to connect certain apps via VPN and use your local traffic at the same time.
Surfshark uses secure IKEv2/IPsec protocols on all its apps. Users also have the option to select and connect to OpenVPN.
Other key features of Surfshark include:
More than 1, 700 servers in over 60 countries
Lest you engage in P2P activities in all of its servers
Integrates camouflage mode (masks VPN traffic to prevent detection)
Clean web features to block ads and trackers
Multihop lets you connect to multiple servers at once
Surfshark is compatible with any type of device. It is subscription-based and has a 7-day free trial.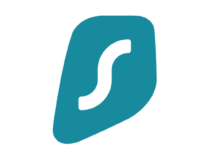 Surfshark
Looking for a great VPN service to use with Viasat Internet? Surfshark might be exactly what you need.
5. CyberGhost VPN – Efficient digital anonymity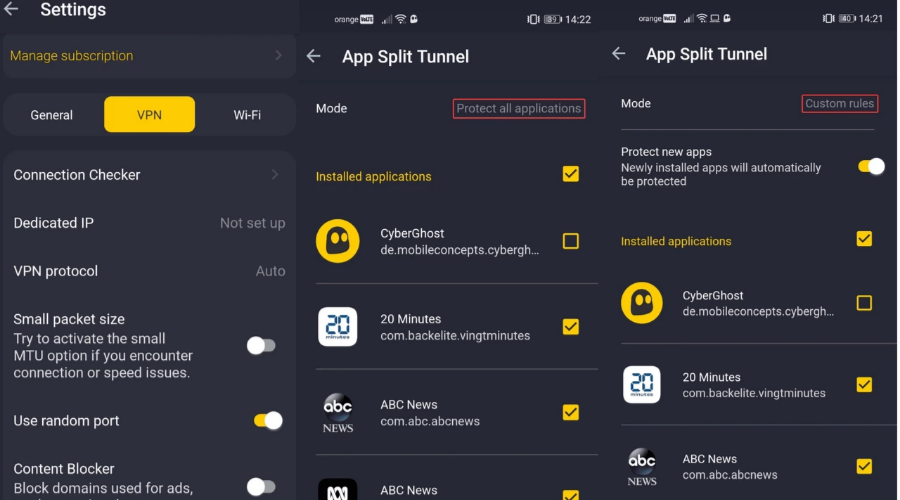 Kape Technologies' CyberGhost VPN is another top contender for the best VPN service you can use with Viasat Internet.
It encompasses high-speed servers and state-of-the-art security and privacy features to keep your traffic secure and away from prying eyes.
CyberGhost VPN is also great for torrenting and streaming multimedia content to your PC. Therefore, you can rest assured that even with Viasat's satellite Internet, this VPN's performance could be laudable.
Cyberghost strives to help users get high-speed rates and good connections for all sorts of online affairs. For this reason, they have specialized servers for torrenting and streaming, plus dedicate IP servers.
It is very suitable for Viasat Internet service and it lets you surpass geo-restricted content on platforms such as Netflix, Hulu, and BBC iPlayer.
Similar to the above-mentioned PIA, it secures public Wi-fi network traffic to keep your data completely safe.
Cyberghost implements military-grade 256-bit encryption and a strict no-logs policy. It does not keep track of your activity and does not allow any third parties to detect your identity, location, or browsing data.
Other key features of CyberGhost include:
Connect to up to 7 devices at the same time on the same subscription
Over 6 7000 servers worldwide in over 100 locations
Kill switch in case the connection drops
CyberGhost is a subscription-based service. If you are not happy with it, you can get a refund in the first 45 days of your subscription.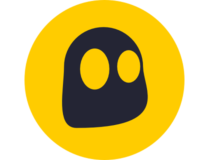 CyberGhost VPN
Want a VPN that works great on Viasat Internet? This VPN might be a great fit for your needs.
6. PureVPN – Access restricted content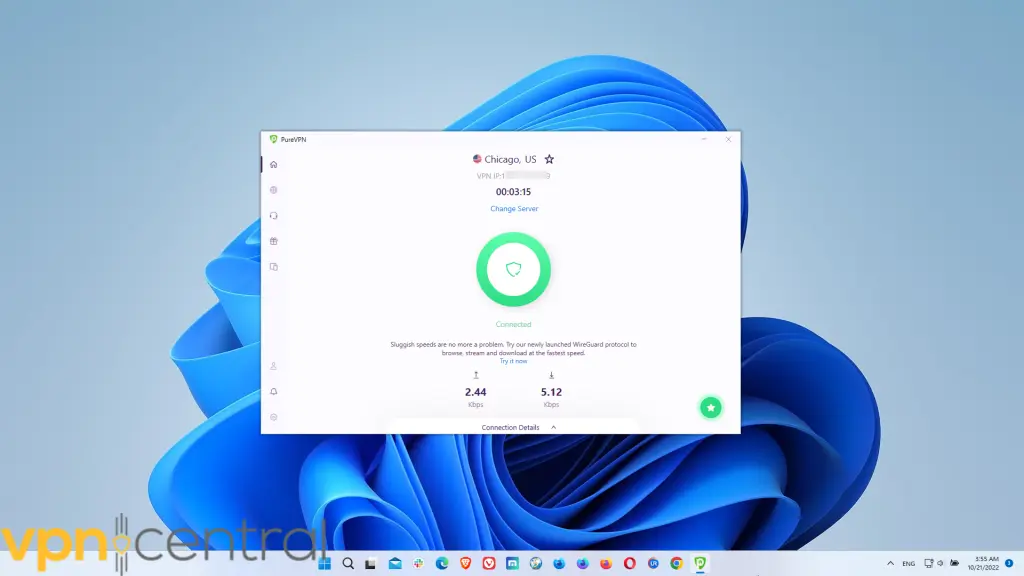 PureVPN can be the most practical choice to protect your Viasat Internet connection and speed up your browsing instantly.
This comprehensive VPN comes with high-speed servers that help you access web content in seconds. More exactly, you have 20Gbps servers and dedicated IPs.
The server network is also extensive so you can benefit from various IP locations and services according to your needs.
You can as well navigate without interruption due to useful tools like an Internet kill switch that secures your device when the VPN network drops.
Another important attribute of Pure is the latest data encryption. You're covered with AES 256-bit encryption for encrypted traffic.
Regarding the server network, you can connect to 6500+ servers globally which gives you all-rounded privacy anywhere you are.
Other key features of PureVPN include:
Multi logins for 10 devices
High-speed server network
No data logs policy
Split tunneling option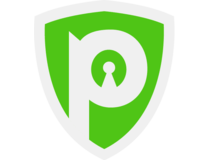 PureVPN
Increase your network speed for Viasat provider with this complete VPN service with many server locations.
7. PrivadoVPN – Generous free plan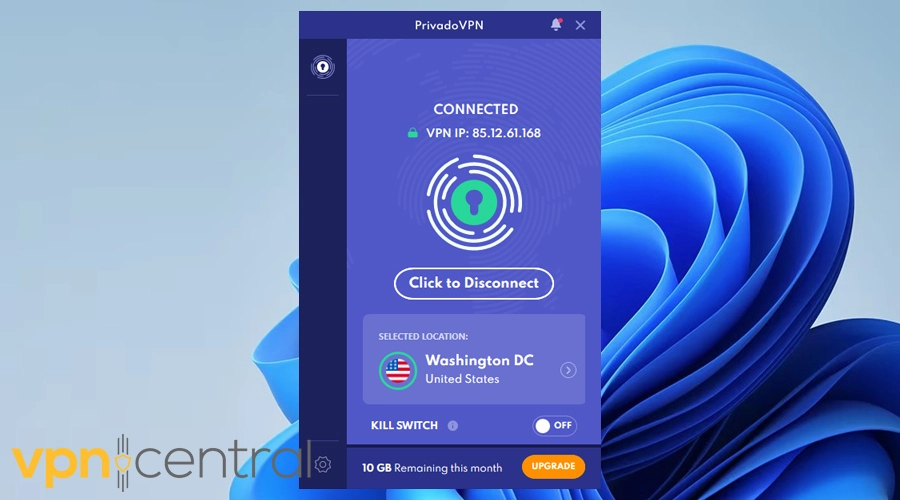 PrivadoVPN is a great Swiss-based provider you can use safely with Viasat Internet. It's one of the very few services that has a competent free plan.
This VPN also enforces a zero-log policy, doesn't throttle speed, and lets you switch servers as many times as you want.
It offers access to +300 servers in 48 countries. It also tells you which server will perform the best for you, so getting a stable connection is always easy.
Note that this VPN uses military-grade encryption that ensures your anonymity.
No malicious third parties will be able to steal your data. Plus, its kill switch feature protects your traffic even if the VPN connection drops.
Additionally, PrivadoVPN is compatible with most major platforms – Windows, Mac, Android, and iOS.
Free users receive 10GB of data per month, while there are no restrictions for premium users.
Some of its other key features include:
Auto connect feature
24/7 customer support
30-day money-back guarantee on long-term deals.
Overall, PrivadoVPN is a phenomenal VPN service with a generous free plan. You can use it to check whether you'd like to purchase a subscription.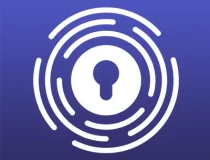 PrivadoVPN
If you're looking for a user-friendly and free service, PrivadoVPN will impress you.
Video Data Extender is incompatible with VPN
In case you didn't know, Viasat Internet plans include a nifty little feature called the Video Data Extender.
What this feature basically does is help you reduce data usage greatly while streaming online video content by reducing the resolution (DVD quality, optimized for 480p screens).
However, this service already has some trouble recognizing all video sources, so it may not work just about everywhere. Hence, there might be Viasat VPN issues.
Adding a VPN might complicate things even more, so you might expect compatibility issues with the Video Data Extender feature in this situation.
This could mean that you'll end up using more data while streaming video content with a VPN. More so, since a VPN can slow down your Internet connection, you could also experience a lot more buffering.
How can I improve my Viasat internet?
All things considered, we've got some good news for you. Not only can you use VPNs with Viasat Internet, but you also have several options you can choose from.
The consensus is that Viasat's Internet can be much slower than, say, cable or fiber Internet.
If you add a VPN to the equation, the speed will decrease even further, so it makes sense to only looking for fast VPNs that won't mercilessly slice through your bandwidth.
Regardless of your choice, the VPN services we've included here are our top picks and have constantly delivered fast connection speeds in a broad range of environments.
Does satellite Internet work with VPN?
Yes, it's possible to use satellite Internet like the one provided by Viasat company with the help of a VPN service.
For starters, the upload speeds you can achieve with Viasat Internet are generally much slower.
Let alone upload, satellite Internet such as Viasat's service is generally slower than cable or fiber Internet, which can be a bit troublesome.
Does Viasat work with VPN?
First things first, it's worth mentioning once more that Viasat offers satellite Internet, which is different than cable Internet.
You may already know that VPNs affect Internet speed, so it's not exactly hard to picture why using a VPN with a service that's already slow, to begin with, may not be ideal for many.
In that regard, Viasat advised its customers to invest in fast Internet plans, which are also more expensive, if they intend to use a VPN regularly while online.
On the other hand, Viasat Internet has no compatibility issues with VPN usage. Therefore, as long as you can afford to purchase a fast (if not the fastest) Internet plan from Viasat, you'll probably be fine with using a fast VPN.