6 Best VPNs for Coinbase to Trade Cryptocurrency Securely
13 min. read
Updated November 22nd, 2023
Published January 1st, 2023
---
Readers help support VPNCentral. When you make a purchase using links on our site, we may earn an affiliate commission.
Read the affiliate disclosure page to find out how can you help VPNCentral effortlessly and without spending any money. Read more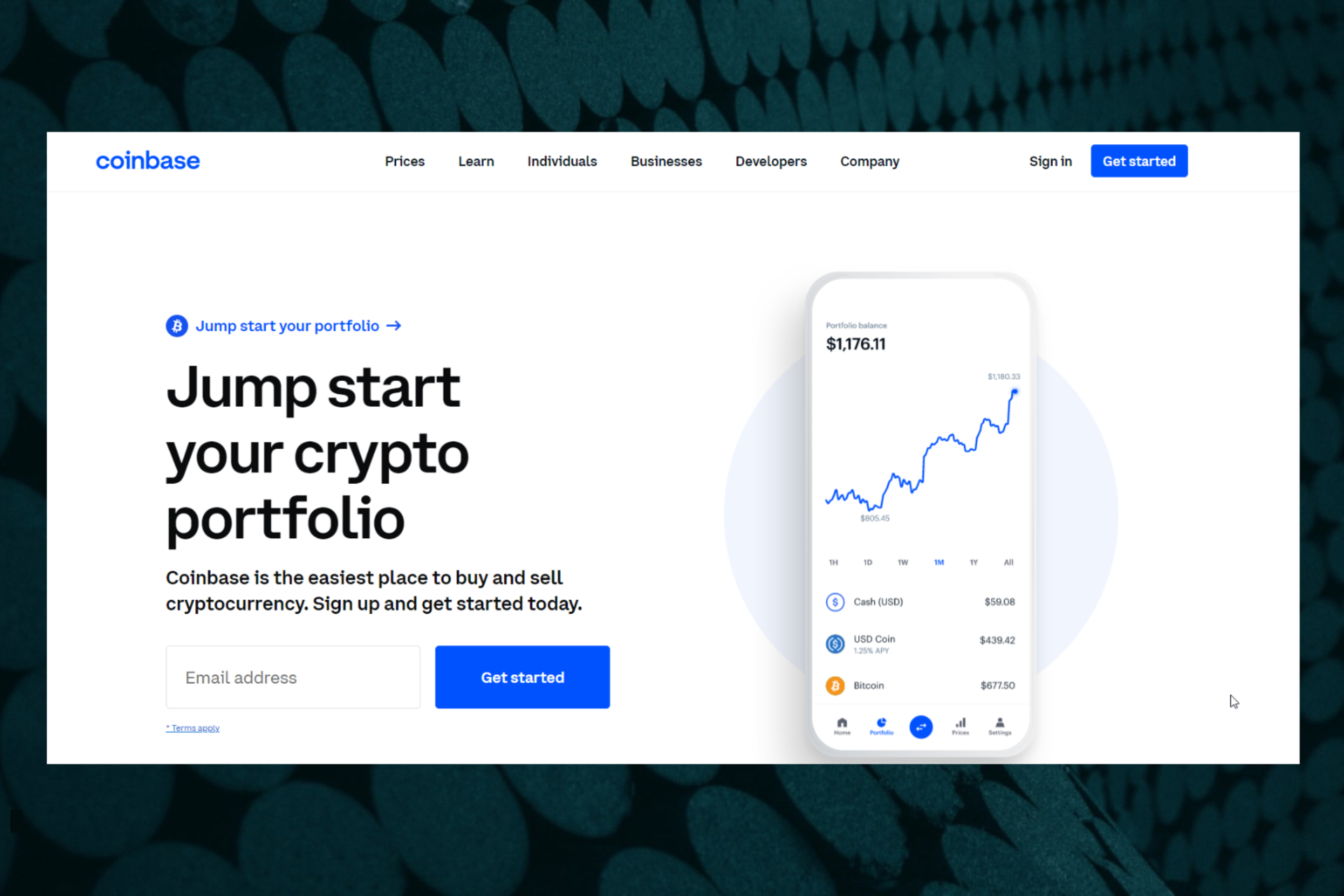 Coinbase is a popular cryptocurrency trading platform that is currently used by millions all around the world.
As with any cryptocurrency platform, you need to have an Internet connection to be able to use it.
However, high-risk online activities such as banking or trading (even for crypto) put you up against several risks.
Fortunately, VPNs can help you protect your online privacy and boost your security while browsing various websites, including Coinbase.
The same goes for services that are not available in your region, usual messages that a user gets being not tradable in your region or Coinbase does not currently support sells in your country.
Therefore, if Coinbase is not available in your country, feel free to use one of our recommended VPNs below.
Can I use a VPN for Coinbase?
Currently, Coinbase is available in more than 100 countries around the globe, so you can use the platform in these countries without the need to bypass geo-restrictions. You can freely use Coinbase in such countries as:
Nonetheless, if you live in a location where Coinbase is available, you should still use a VPN, as it will enhance your security significantly while trading crypto on the platform.
Certainly, you shouldn't have any difficulties using a VPN for Coinbase in most countries, neither from a technical nor a legal standpoint.
However, there are other countries where Coinbase is either unavailable or cryptocurrencies are banned. The countries where crypto is restricted or banned are Algeria, Bolivia, China, Colombia, Egypt, Indonesia, Iran, Iraq, Israel, Nepal, Ukraine, North Macedonia, Russia, Turkey and Vietnam.
For example, China recently banned crypto mining and declared all cryptocurrency transactions illegal. As such, you need to proceed with caution since even the use of VPNs might be restricted there to some extent.
The bottom line is that you can use a VPN for Coinbase in most cases legally and without any restrictions. Where certain restrictions apply, you need to get a powerful VPN service that is both effective at bypassing geo-blocks and state censorship.
To come to your help, we compiled the following list of best VPNs for Coinbase, which will help you trade crypto on the platform securely regardless of your location.
Coinbase supported countries
Coinbase has a huge marketplace and the platform is widely available around the globe. Currently, you can access Coinbase from the following locations:
| | |
| --- | --- |
| North America | Aruba, Bahamas, Barbados, Bermuda, Canada, Costa Rica, Curacao, Dominican Republic, El Salvador, Guatemala, Honduras, Jamaica, Mexico, Nicaragua, Panama, Trinidad and Tobago, United States, Virgin Islands |
| South America | Argentina, Brazil, Chile, Colombia, Ecuador, Paraguay, Peru, Uruguay |
| Europe | Andorra, Belgium, Bulgaria, Croatia, Cyprus, Czech Republic, Denmark, Estonia, Finland, France, Germany, Gibraltar, Greece, Guernsey, Hungary, Iceland, Ireland, Isle of Man, Italy, Jersey, Latvia, Monaco, Montenegro, Norway, Poland, Portugal, Romania, San Marino, Serbia, Slovakia, Slovenia, Spain, Sweden, Switzerland, United Kingdom |
| Asia | Armenia, Bahrain, Brunei Darussalam, Hong Kong, India, Indonesia, Japan, Jordan, Kazakhstan, Kuwait, Kyrgyzstan, Macao, Maldives, Mongolia, Nepal, Oman, Philippines, Singapore, Taiwan, Turkey, Uzbekistan |
| Oceania | New Zeeland |
| Africa | Angola, Benin, Botswana, Cameroon, Ghana, Kenya, Mauritius, Namibia, Rwanda, South Africa, Tunisia, Uganda, Zambia |
Can I use Coinbase outside the US?
Yes, you can. As presented above, the platform is available in a lot of countries around the world.
If you already have a Coinbase account in the US and plan to travel abroad, you can still keep up with your transactions if you use a VPN with US servers.
When traveling abroad, certain features may change up and you can face restrictions even if you are in a supported country.
So if you have a US account and wonder why your Coinbase account is restricted in France, it's most likely because the platform knows you have credentials for the US.
Many of the below-recommended VPNs provide plenty of fast VPN servers all over the world as well as strong encryption and protocols. They also include features like kill switch, split tunneling, and obfuscation.
How to use a VPN with Coinbase?
Using a VPN with Coinbase is no big deal at all. All you need to do is make up your mind as to which VPN service you want to use, which we hope will help you decide more easily with our recommendations below.
Then you just have to install it on your device. If you really are concerned about privacy, it's best you use a premium VPN.
Unfortunately, most free services limit data usage, or even worse, keep track of your traffic activity and sell it to third parties, which kind of defeats the whole purpose of using a VPN and makes you an easier target for cyber attackers.
The process of setting up the VPN may vary depending on the device you're using or the VPN product itself. Most well-reputed services have native applications that can be easily downloaded and installed on your device.
In the example below, we show you how to set up ExpressVPN on a Windows PC:
Go to the official website and get a subscription.
Select the appropriate application for your device.
Install the VPN client and launch it.
Go to the list of available servers.
Select a VPN server.
Connect to that server.
Now, you're ready to trade on Coinbase securely and without worrying about geo-restrictions.
What are the best VPNs for Coinbase?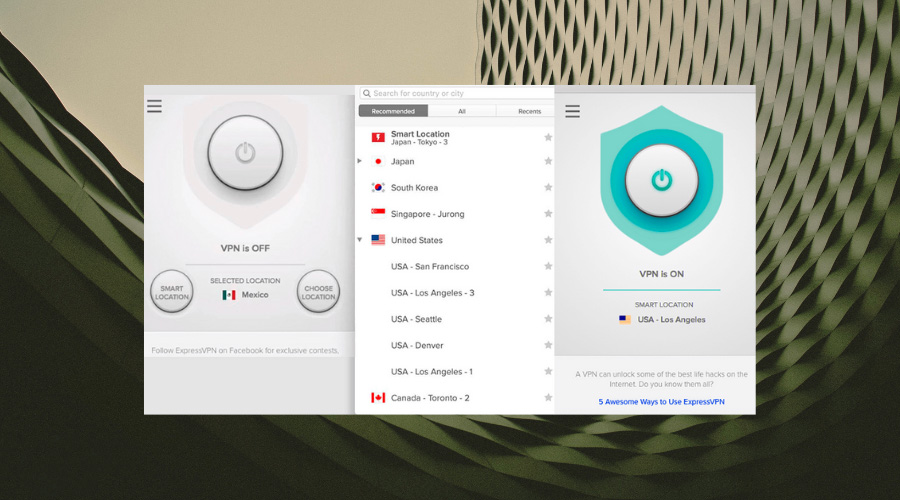 ExpressVPN has a large network of high-speed servers. It can successfully launch and run Coinbase regardless of your location.
With ExpressVPN, you get access to over 3 000 high-speed servers located in 94 different countries. All the servers run their own private DNS for increased security.
The VPN has strong encryption and hides your IP so you can bypass any regional blocks on Coinbase.
You can also get a dedicated IP address included in your plan. This can help if you often use the VPN to access restricted areas and don't want to be tracked down or reveal that you use VPN.
The dedicated IPs are not shared (as opposed to the other IP addresses from the VPN servers). If you get one, it's only you that will use it, but you have to pick a specific location for it.
Access to the servers is not restricted. You can switch them around and connect to different locations as much as you want.
Other key features of ExpressVPN include:
Multiple VPN protocols
AES-256 bit encryption
Free trial (mobile)
Dedicated apps for all major operating systems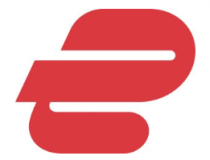 ExpressVPN
Use ExpressVPN to access Coinbase from restricted countries and keep up with your trading without being tracked!
2. NordVPN – most advanced privacy features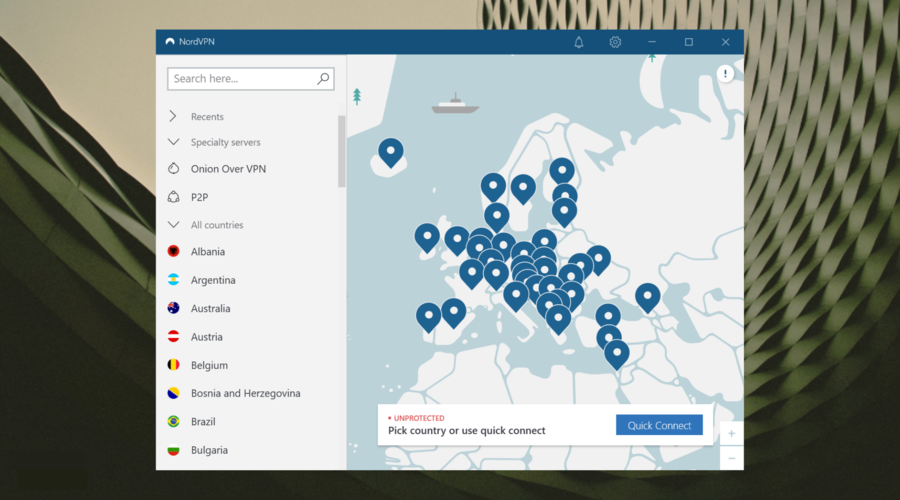 NordVPN is at the time one of the most popular VPN services on the market, and not without good reason.
It comes with top-grade encryption that can prevent traffic monitoring and keep your browsing activity secure and away from prying eyes.
Like any other respectable VPN service, NordVPN enforces a strict no-logging policy.
Furthermore, it has a built-in kill switch to protect you against accidental data leaks.
Last, but not least, NordVPN boasts CyberSec, a tool against ads and malware domains, and also features double VPN servers.
With NordVPN's strong obfuscation you will be able to use the platform from any location.
So if you want to access Coinbase from Lebanon or Korea, connect to a NordVPN server and bypass all restrictions.
These features combined make NordVPN an excellent choice for Coinbase users.
Take a look at NordVPN's key features:
Has more than 5,500 servers in over 59 locations worldwide
Strict zero-logging policy to protect personal data
Military-grade 256-bit encryption
Integrated VPN kill switch
Double VPN that bounces your connection twice for additional privacy
CyberSec feature that blocks malware domains and ads
Allows you to connect up to 6 devices simultaneously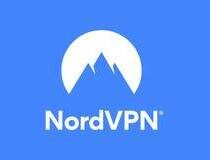 NordVPN
NordVPN's security and privacy features make it an excellent choice for Coinbase users.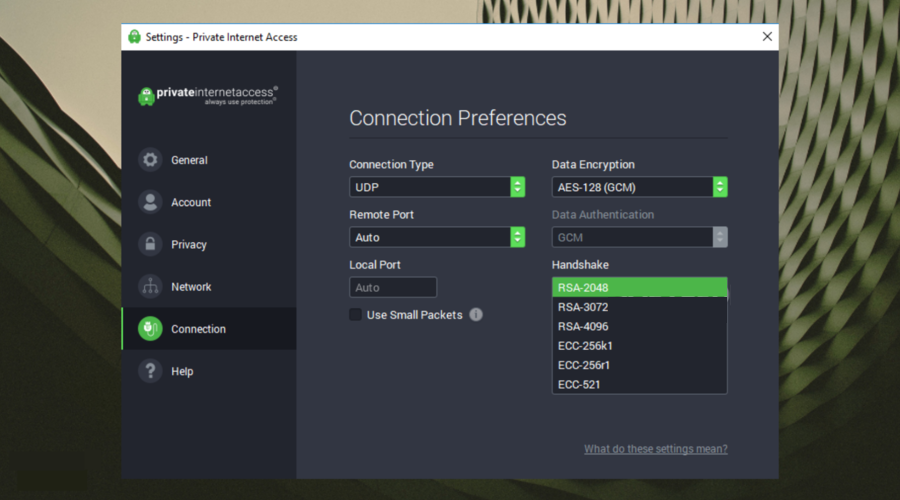 Private Internet Access, or simply PIA, is currently one of the best VPNs on the market.
It features not only great security and privacy features but also additional perks that reinforce its capabilities.
For instance, it's not a must for a VPN to have a lot of servers (although it's good), but PIA has a network of more than 35,000 servers.
With this VPN you can bypass restrictions and access Coinbase from Sri Lanka or other unsupported locations.
At the time being, PIA holds the largest network of VPN servers, which leaves you more than just a bit of wiggle room.
Furthermore, it provides users with private DNS servers, a component that blocks ads and malware hosts, and a VPN kill switch.
And did we mention that it can unblock most geo-restricted services? Long story short, Private Internet Access is great for Coinbase.
In case Private Internet Access is not working, make sure you check some solutions.
Here are PIA's main features:
More than 22,000 fast servers worldwide
Zero-logging policy
Military-grade 256-bit encryption
Supports OpenVPN and WireGuard protocols
Built-in kill switch
PIA MACE feature that blocks ads and malware domains
Unblocks various geo-restricted services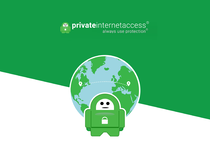 Private Internet Access
Looking for the best VPN to use with Coinbase? Private Internet Access might be just what you need.
4. CyberGhost VPN – worldwide server coverage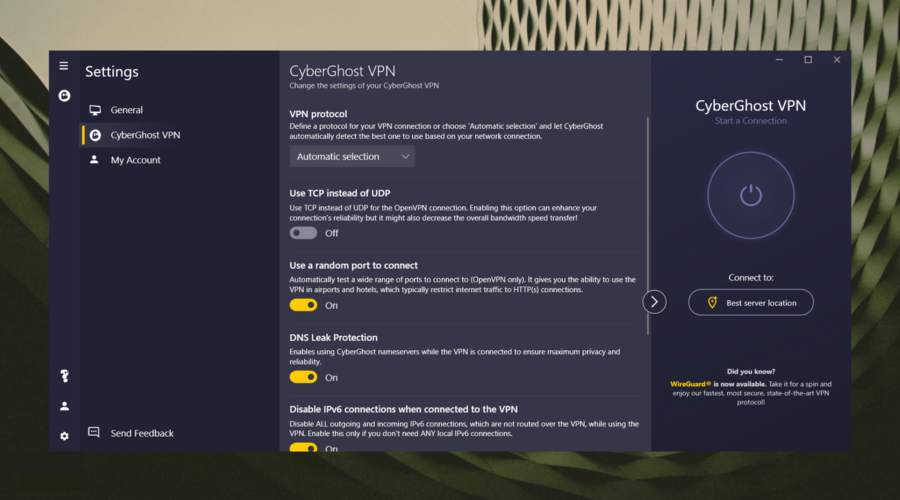 CyberGhost VPN is a solid VPN service from Kape Technologies that can protect your online privacy while using Coinbase.
It comes with 256-bit encryption, which is extremely difficult, if not downright impossible to break.
Its network counts over 6,700 servers scattered all around the world.
This service checks just about everything that makes a great VPN stand out in the crowd.
Not to mention that it is among the few VPNs that still offer free trials to their customers.
You can get a free 1-day trial as a Windows user, and up to 7 days if you're an Android/iOS user.
Here are CyberGhost VPN's main features:
Has more than 6,700 servers in its network
Lets you use it on up to 7 different devices
Enforces a strict, no-logging policy
Solid 256-bit encryption
Supports OpenVPN and WireGuard protocols
Has an integrated kill switch
Offers 1-day trials for Windows users and 7-day trials for Android/iOS users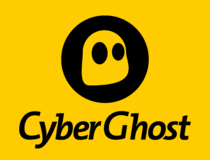 CyberGhost VPN
CyberGhost VPN can keep you secure and anonymous while trading cryptocurrency on Coinbase.
5. AtlasVPN – free servers and unlimited device support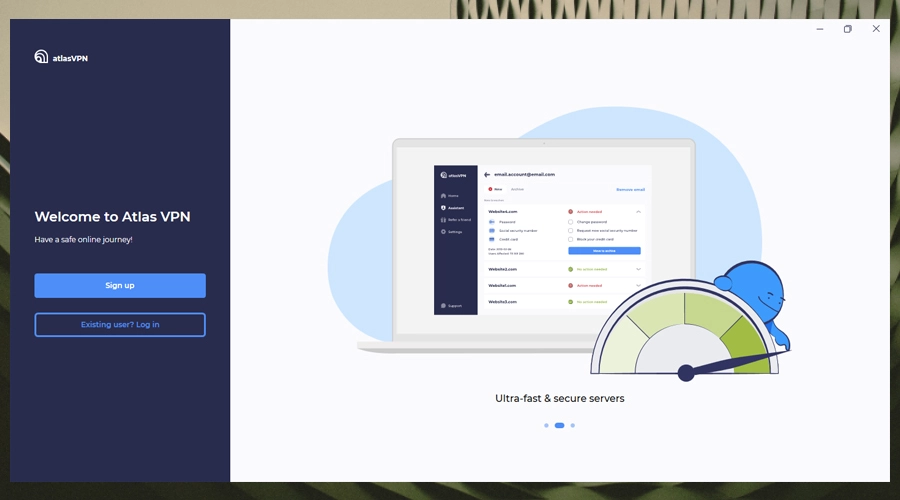 AtlasVPN is an excellent VPN that you can use safely with all online services, including Coinbase.
It will make sure that your cryptocurrency trading activities will stay safe, and your online business will remain private.
Additionally, if Coinbase is not available in the country you're currently in, it can bypass this geo-restriction with flying colors.
Aside from its great privacy/security features, AtlasVPN also has something that makes it stand out.
It lets you connect to some of its servers with no costs involved. As a free user, your experience will be limited but you'll have more than enough to trade effectively.
AtlasVPN features:
Over 1,000 servers in 42 countries for paid users
No-logging policy
Works on various devices including Linux
Unlimited simultaneous connections
Military-grade encryption to protect your data
Kill switch function
Best location detector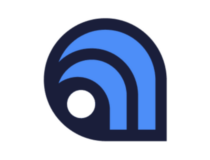 AtlasVPN
Trade on Coinbase in complete anonymity with AtlasVPN's extensive privacy features.
6. Surfshark – best budget friendly VPN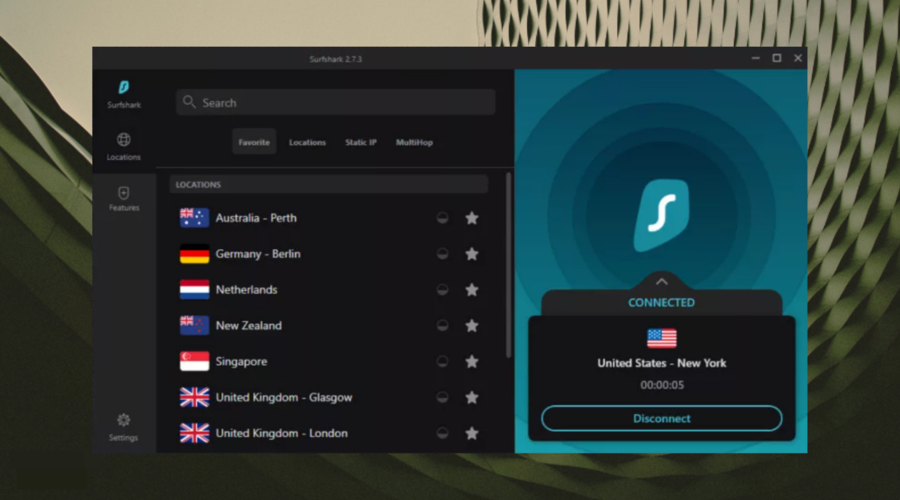 Surfshark is a great VPN service that you can safely use with Coinbase, whether for protection or unblocking the service in your region.
It's one of the few VPN providers that lets you connect an unlimited number of devices on the same account.
Surfshark packs a built-in malware domain and ad blocker suggestively called CleanWeb. Plus, it supports OpenVPN and WireGuard.
It provides its customers with no less than 3,200 servers located in 65 countries. Furthermore, it has private DNS on each of its servers.
Here are Surfshark's main features:
CleanWeb component that blocks ads and malware domains

Built-in VPN kill switch
Zero-logging policy
Supports OpenVPN and WireGuard
Provides split tunneling and obfuscation features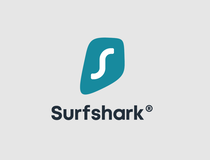 Surfshark
Want to stay secure and private while using Coinbase? Surfshark can take care of that for you.
7. VyprVPN – truly private and fast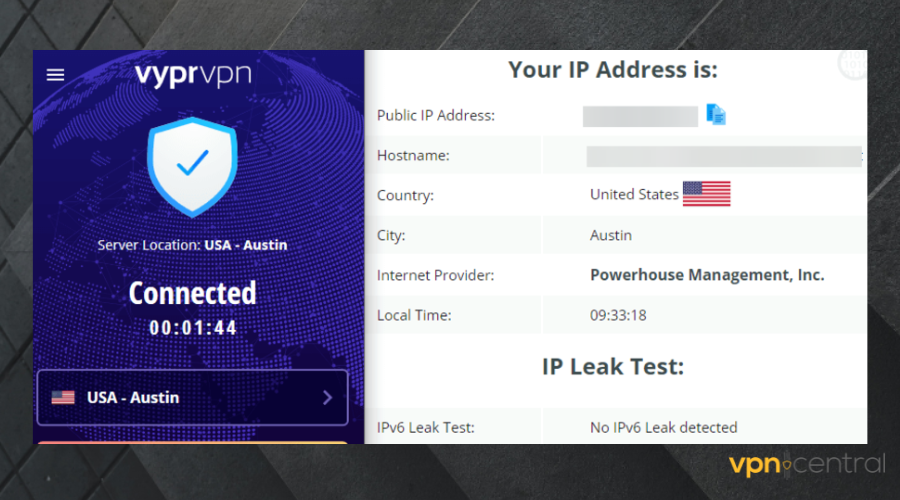 VyprVPN is another great choice for Coinbase.
It has 100+ different server locations, giving users the possibility to connect to and from pretty much any region in the world.
This VPN has a strong no-log policy. They don't log any traffic information, so you can rest assured that all your data is safe.
You can make transactions and payments without the risk of getting tracked.
On top of that, the VPN uses military-grade AES-256 bit encryption to make all your data unreadable, so even if it gets hacked, no information can actually be leaked.
VyprVPN has a secure killswitch that ensures no data gets sent online without a VPN connection. If you enable it, all traffic stops in case your VPN connection drops.
Other key features of VyprVPN include:
Dedicated apps for all major devices
Public Wi-Fi protection
700+ dedicated serers
DNS leak protection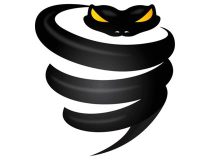 VyprVPN
Protect your Coinbase information and access the platform from anywhere in the world using VyprVPN!
How do I choose the right VPN for Coinbase?
When it comes to picking the right VPN for Coinbase, there are a few things you need to look at before making a decision.
First off, you need to check the product's reputation, that is, make sure the VPN has positive reviews and also many users that trust it.
Secondly, the VPN has to be effective at circumventing geo-blocks, particularly if you want to use Coinbase in a country where the platform is not available.
This means it has to provide an extensive network of VPN servers distributed all over the world so that you have enough options to choose from.
Also, the servers need to be updated regularly and to also be fast. Otherwise, you may experience interruptions, buffering, and lagging.
Moreover, security is of paramount importance, especially when your money is at stake. Therefore, the VPN must provide powerful encryption standards like the AES in order to secure your online traffic and data.
For the best performance, encryption should be combined with strong and reliable VPN protocols like OpenVPN, IPSec/IKeV2, or the newer WireGuard.
Other features such as kill switch, split tunneling, obfuscation, port forwarding, dedicated Coinbase IPs from supported countries, etc. are also important, as they add to the security and overall performance of the VPN.
Obfuscation, for example, is a unique and very helpful feature if you want to trade on Coinbase in areas where crypto is banned. When you enable the feature, no one can see that you're using a VPN to bypass geo-blocks and censorship.
All things considered, if you're thinking about opening a Coinbase account, picking a great VPN for this occasion is also a wise decision.
Whether you're trying to unblock the service in your region or protect your online privacy, a VPN can handle the heat.
Also, for a complete perspective about your service, we strongly recommend checking how to test VPN connection stability.