The Block is one of the most successful Australian reality TV series, capturing the interest of viewers from as far as the UK. That's why it's unfortunate that only old content is available to Brits via Prime Video.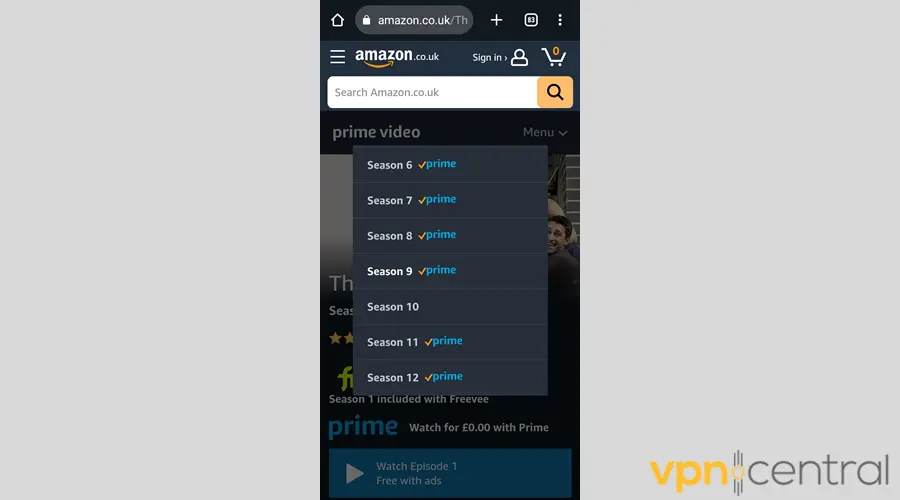 So if you want to catch up, you may never be able to, as the Nine Network is unlikely to distribute its latest seasons outside of the Land Down Under. Not unless you use a VPN.
Why do you need a VPN to watch The Block in the UK
A VPN is necessary to watch The Block in the UK because 9Now, the streaming service where it's available, is reserved for eyeballs in Australia only. The platform applies geo-restrictions, so its player isn't going to work when it detects that your IP address comes from elsewhere.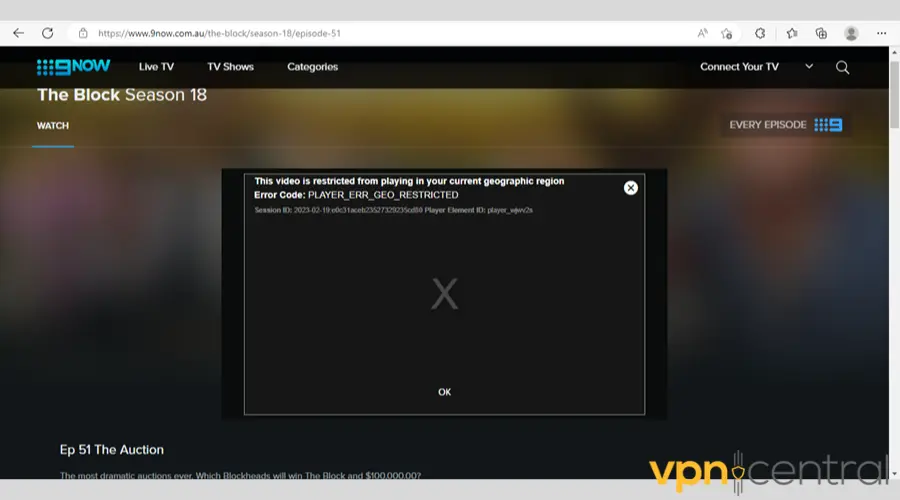 A VPN service helps you get around 9Now's regional lock by masking your real IP. If you connect to a VPN server paired with an Australian IP, the streaming site will think you're in Australia and let you in.
How to watch The Block in the UK
There are two ways to stream The Block on 9Now: through the Web via a desktop browser or through its iOS or Android app. The former offers the path of lesser resistance because downloading the 9Now mobile app can be a pain.
For instance, Google Play doesn't let you install it when your account's country setting doesn't say Australia.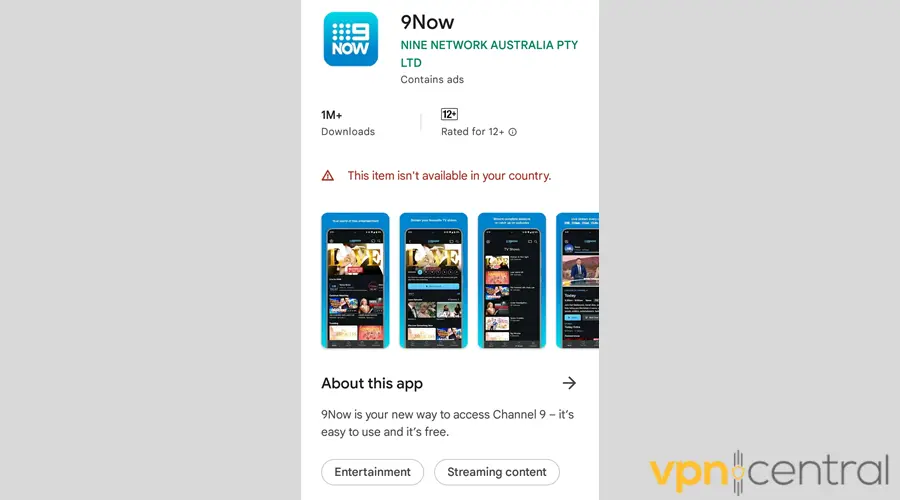 If you wish, you may switch regions. But doing so has some requirements like adding a new payment method. Plus, the new location is unchangeable for at least a year.
In other words, you won't be able to download and use apps restricted in Australia for the time being. If you had a remaining balance, Google Opinion Rewards, and/or Google Play Points, you couldn't use them until you revert to your old country.
So unless you already have the 9Now mobile app installed, we highly recommend you stream The Block through a desktop web browser instead.
This way, you only need to successfully spoof your location in order to unblock more recent The Block seasons outside Australia.
That said, you can't just use any VPN. Not all services are optimized for streaming. And some streaming VPNs aren't set up to unblock Australian streaming platforms.
So, what should you do?
ExpressVPN is our top pick for the job for many reasons, which we'll throw light on in a few.
But first, here's how to use it to watch The Block in the UK:
Go to ExpressVPN's website to pick a subscription and create an account.

Install the relevant app for your device.

Run ExpressVPN.
Click the ellipsis icon to view all server locations.

Click > next to Australia to see all server options in the country.

Connect to any city you prefer.

Once connected, go to 9Now's Australian version.
Set up an account.
Follow the on-screen signup instructions.

After verifying your email, go to 9now.com.au/the-block.
Select the episode you want to watch.
Enjoy streaming all seasons of The Block.
Best VPN services for watching The Block in the UK
In the past, we've ranked the best VPNs for Australia. And our recommendations are consistent with what we found most useful for unblocking the latest The Block episodes from the UK.
Our top three picks are as follows: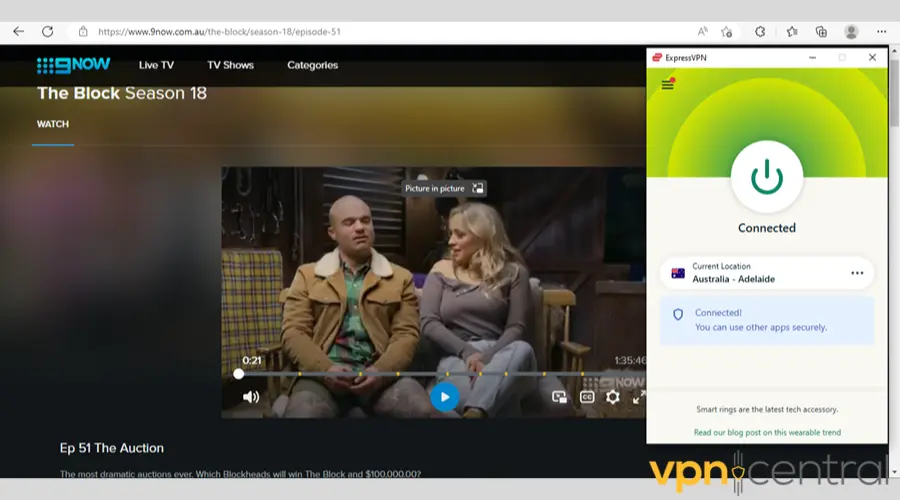 ExpressVPN takes the cake because it has servers in six Australian cities: Sydney, Woolloomooloo, Brisbane, Melbourne, Adelaide, and Perth. The country has three time zones, so connecting to the right location matters if you rely on 9Now's TV guide.
If your ISP slows down your internet connection when you stream to discourage you from using too much bandwidth, ExpressVPN will solve this with encrypted private DNS.
Unlike some VPNs that establish less secure data tunnels, this VPN service uses OpenVPN and its proprietary protocol Lightway.
Like OpenVPN, Lightway comes in TCP and UDP modes that give you more flexibility to boost your speed. In addition, Lightway supports both AES and ChaCha20, two of the most secure ciphers today.
To ensure seamless installation, ExpressVPN has native apps for Windows, macOS, Linux, and Fire OS as well as Edge, Chrome, and Firefox browser extensions.
In terms of privacy, ExpressVPN has a kill switch, configures its servers to run on RAM only, and logs no connection and activity data.
In monthly terms, ExpressVPN's price is on the high side, ranging from $8.32 to $12.95. But its subscriptions are fully refundable within your first 30 days.
Pros
Well-distributed server network in Australia
BVI HQ
Adjustable protocol settings
Cons
Five simultaneous device connections only
Incomplete 10Gbps server upgrade
No free trial for desktop systems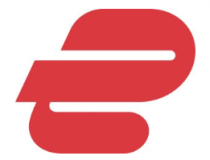 ExpressVPN
Unlock The Block from the UK and enjoy the best streaming quality with this high-performing VPN.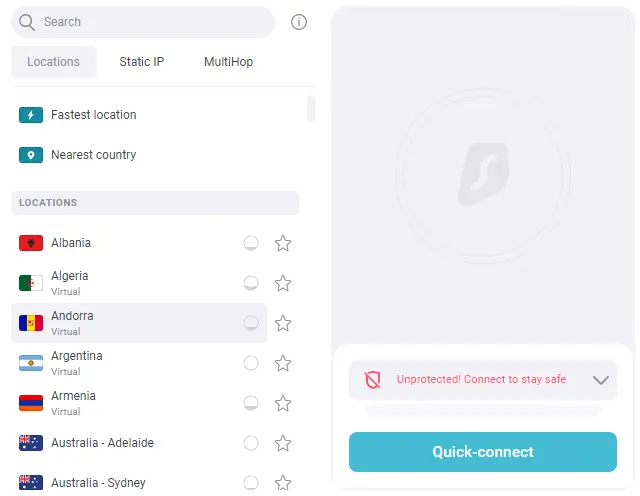 Surfshark VPN lets you watch The Block in the UK through 20 Australian servers, spread across Sydney, Brisbane, Melbourne, Adelaide, and Perth.
Its Sydney servers were high on its agenda for its 10Gbps hardware adoption, so expect a smooth 9Now streaming experience when you connect to any of them.
Whether you want to stream The Block on your PC or Mac, you can easily spoof your location on the Web with Surfshark's Windows and macOS clients and Firefox, Edge, and Chrome extensions.
All Surfshark VPN servers are optimized for obfuscation, which you can unlock when you set your protocol to OpenVPN rather than WireGuard. This stealth feature comes in handy when you travel to a place that heavily restricts or censors VPN use. 
With Surfshark's Nexus, you can take advantage of the IP Rotator, which gives you a fresh IP from the same location without switching servers or disconnecting from your VPN.
Like all self-respecting VPN vendors, Surfshark has a kill switch and keeps no record of usage logs.
Surfshark VPN's plans cost $3.99 to $12.95 a month and come with a 30-day money-back guarantee.
Pros
Global network of 100 countries and territories
Unlimited simultaneous device connections
Seven-day free trial for macOS
Cons
Small server fleet in Australia
Incomplete 10Gbps server upgrade
Netherlands HQ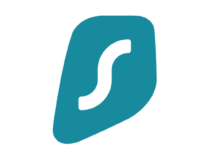 Surfshark
Enjoy 9Now on all your devices and benefit from a fast and secure connection with Surfshark.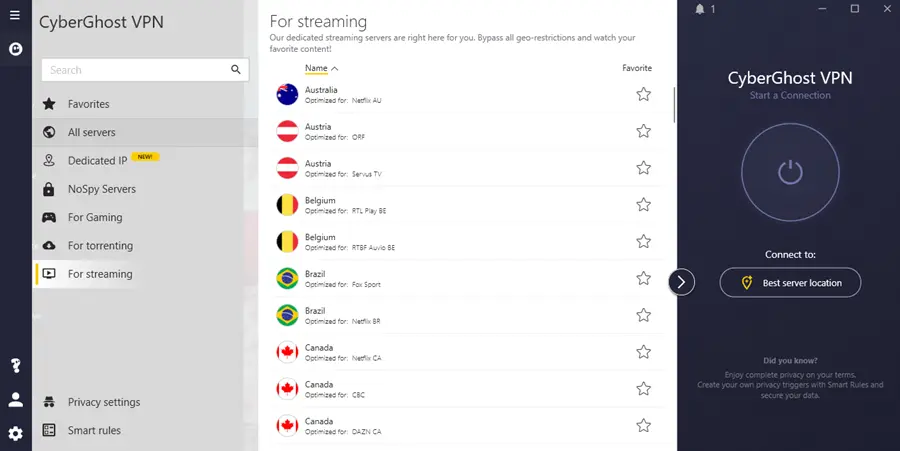 CyberGhost owns the distinction of having specialized hardware for 9Now, along with 10Play and Netflix AU. Such servers have a low chance of getting blocked and are built to handle bandwidth-heavy streaming activities for optimal performance.
All in all, this VPN vendor has 225 10Gbps servers scattered across 4 Australian locations: Sydney, Brisbane, Melbourne, and Adelaide.
For painless installation, this VPN has dedicated apps for Windows, macOS, and Linux and extensions Chrome and Firefox.
When it comes to protocols, CyberGhost supports OpenVPN and WireGuard. And it has a kill switch and split tunneling to boot.
Its no-logs policy states that it doesn't store IPs, DNS requests, browsing histories, bandwidth usage data, server connections, connection stamps, and the duration of VPN sessions. On top of that, its home base in Romania is outside the reach of the 14 Eyes alliance.
CyberGhost's plans, costing $4.75 to $12.99 a month, are proof against buyer's remorse, as you can get a full refund within 45 days.
Pros
9Now-optimized streaming servers
Romania HQ
45-day money-back guarantee
Cons
1-day free trial for Windows and macOS only
Incomplete 10Gbps server upgrade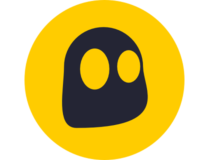 CyberGhost
Have your pick of locations in Australia and enjoy servers optimized specifically for 9Now.
Wrap up
In a perfect world, The Block would be available outside Australia without restrictions. That remains wishful thinking, but at least there are numerous tried-and-true VPN services at your disposal to stream this hit reality TV in its entirety as you please.
Now that you know how to watch The Block in the UK, it's time to freely enjoy the best of what 9Now has to offer!