Minecraft is an intriguing online game with an option for multiplayer.
As interesting as we find this game, it is not exempt from certain compatibility issues.
Here, we look at the issue of Minecraft Dungeons not working with ExpressVPN, what causes it and how to solve it.
Does ExpressVPN work for Minecraft Dungeons?
Yes, Minecraft Dungeons work fine with ExpressVPN. The client is compatible with pretty much any operating system, including those that support Minecraft Dungeons.
ExpressVPN can help with speed and reduce low FPS in Minecraft Dungeons as well as other connectivity problems. However, as is typical of technology, services and products can be occasionally unpredictable.
You may experience a few limitations when and find that Minecraft Dungeons not working with ExpressVPN.
No worries. We look at this predicament and how to fix it. Luckily, the issue is generally minor and you just have to tweak app settings or adjust server location.
Why is ExpressVPN not working with Minecraft Dungeons
You may find that Express VPN is connected but not working with Minecraft Dungeons. Users of the VPN have faced this several times and some take to online communities to understand the nature.
Some reasons for this are:
🟡 ExpressVPN server detected and blocked
🟡 VPN blocked by system antivirus of online security
🟡 Outdated ExpressVPN Version
🟡 Wrong VPN Protocol
These factors may be the reason you may have Express VPN connected but not working case. Let's take a ride through solving the issue with these easy steps.
Quick Tip:
If you are using the free trial or have the possibility to get your money back, consider trying another VPN. A good alternative is PIA VPN.
PIA has thousands of strong and fast servers and is popular for its no-lag nature when streaming, surfing, or gaming online, and might be a better choice for your specific Minecraft Dungeons configuration.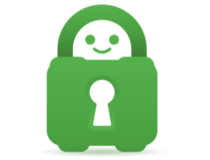 Private Internet Access
Pick from thousands of fast servers for unrestricted and fast gaming!
How to fix Minecraft Dungeons Not Working with ExpressVPN
1. Check Internet Connection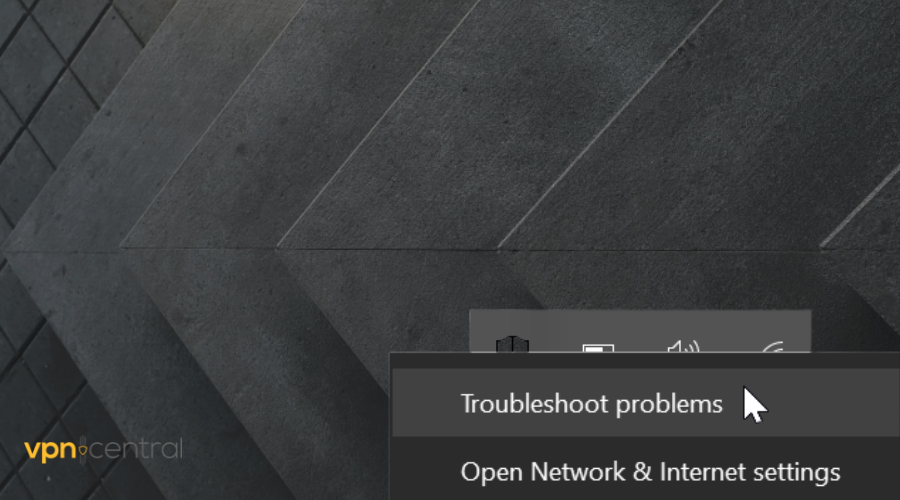 Your internet connection is one of the pillars of an awesome gaming experience. It is important to set everything right about your internet connection.
Check if ExpressVPN is not the only one not working. Try to access websites or applications with your connection.
If other websites go through without you connecting to ExpressVPN, then you can be sure your internet is okay.
If the opposite is the case, and you are unable to connect, then you should review your internet connection settings and contact your ISP. You can also try the automatic troubleshooter.
Right-click on your connection icon and click on Troubleshoot problems. Your OS will try to find any issues that cause problems with your Internet and help you fix them.
2. Update the VPN
Despite being one of the best VPNs for Minecraft Dungeons, having an outdated version of ExpressVPN will lead to connection problems in the game.
Launch your ExpressVPN app. When an update is available, you will get a notification in the main UI, along with an Update Now button.
Click on the button and follow the installation prompts to complete the update. You can also check for updates on the official ExpressVPN website.
We recommend uninstalling and reinstalling the app to the latest version if you have frequent problems with the VPN. Not only will you have the latest version, but you'll make sure that the app is corruption-free.
3. Change Server Location
As earlier mentioned, some possible causes of ExpressVPN is connected but not working with Minecraft Dungeons could be because your server location is banned or too slow.
Game and streaming platforms explicitly express their disapproval of VPNs, so they have dedicated teams working around this.
Open ExpressVPN.
Click on the three dots from Selected location.
Browse the list of servers and select a country/city you prefer. For Minecraft Dungeons, we suggest trying a server from the United States.
Although many users report their servers may have been banned, Express VPN has thousands of servers, so switching server locations is still a feasible option to explore.
4. Check your antivirus
Antivirus and VPNs are not particularly the best of friends. If you have your computer antivirus or firewall on, you may find ExpressVPN not working with Minecraft Dungeon.
To explore this solution, turn off your firewall or antivirus system to remove any possible obstruction for the VPN to perform properly.
If it works at this point, whitelist your VPN on your antivirus/firewall settings. Accessing the Internet without security is not recommended at all, so make sure you re-enable your antivirus as soon as possible.
If you keep having problems, switch to an antivirus with gaming mode. Those are configured to support uninterrupted gaming and have up-to-date detection features that won't mistakenly block VPNs.
5. Try another VPN protocol
VPN protocols differ and although this is to expand the user experience and allow for multiple device compatibility, using the wrong protocol may block certain services.
ExpressVPN boasts of a few protocols including Open VPN, IKEv2, and L2TP/IPSec.
Although the VPN recommends using the Automatic protocol, gamers may find it connectivity issues and should try other protocols and see if the issue is resolved. To change VPN protocols on respective devices, these links will help:
Open ExpressVPN and click on the Menu option.
Select Options.
Open the Protocols tab.
Select a protocol from the list and save your settings.
We are sorry to know about your frustration with Minecraft Dungeons not working with Express VPN. This is a common problem often mentioned in community platforms, and we have researched these solutions to help solve the problem.
Additionally, if you find that these solutions do not work, it helps to reach out to the ExpressVPN support team.
The paid VPN has a responsive 24/7 support chat for complaints and guides. You can send ExpressVPN your diagnostic report by using the Contact Us feature.
We hope this guide helps. How is the game coming across? And kindly leave your thoughts in the comment section.