If you've ever gotten error messages like cannot play this channel at this time, please try again later or this premium content is not available in your region on Twitch while using a VPN, you're in the right place.
These instances are bound to show up when Twitch is not working with your VPN.
The simple truth is, all VPNs are not equal.
While all of them claim to be the best to market, their quality of service differs greatly from one provider to the other.
As an avid VPN reviewer, I can help you suggest fixes to fix any problem you have with getting Twitch to work with your VPN.
I can also recommend the best VPNs for Twitch to help you skip all the trouble so you can get back to streaming your favorite channels without restrictions.
Read on to find all the information you need to easily access Twitch from any part of the world.
Users in regions like Russia, China, Vietnam, Iran, and Slovakia can't use Twitch due to government censorship.
Twitch not working with VPN? Try this!
✅ You should first try these preliminary fixes when you encounter issues with Twitch:
Take a speed test to verify that your internet connection works.
Reboot your device and WiFi router.
Update your Twitch app or browser.
Update your VPN app.
If you still can't get it to work after carrying out these preliminary fixes. then try any of the advanced fixes outlined below:
Connect to a different VPN server

If your VPN's server has IP addresses on Twitch's blacklist, you will be unable to access any content on its platform.
So, connecting to a different server is the best idea. Doing that is easy, just follow these steps:
1. Open the VPN app.
2. Disconnect from the server you were connected to.

3. Reconnect to a new server and try accessing Twitch.


Reinstall your VPN software

All you have to do is locate the app and uninstall it, follow the below steps to do that on your PC:
1. Open Settings from the Start menu.
2. Click on Apps from the Settings menu.
3. Scroll through the list of apps until you find your VPN app.

4. Click on the Uninstall button and follow the instructions to uninstall the app.
If your VPN software has bugs or configuration errors, this solution gets rid of them all.
Uninstalling and reinstalling the software deletes every pre-existing information on your device, allowing you to start afresh.
It also ensures that you're using the VPN app's latest version.

Clear browser cookies and cache

To clear cookies and cache in your browser, follow these steps:
1. Click on the 3 dots icon at the top-right corner of your browser to access the Menu panel.
2. Click on Settings.
3. Select Privacy and Security.
4. Click on Clear browser data.
5. Set the time range of cookies you want to clear and tick the appropriate boxes.

6. Click the Clear Data button to complete the process.
Cookies and cache store information from the different websites you visit and this includes details about your actual IP address.
This information can leak your actual IP address and location to Twitch even when you use a VPN to mask your location.
This is why it's a great idea to clear your cookies to avoid instances where Twitch won't work with your VPN.

If your goal is geo-unblocking, use a proxy

Unlike a VPN that encrypts all your internet traffic such that it's private and secure, a proxy doesn't encrypt your traffic.
This makes it less secure. However, due to the lack of encryption, the proxy is much faster than the VPN.
For this reason, it may work better with Twitch, especially if your Internet connection isn't the fastest to begin with.
So it's an easy way to spoof your location because it provides you with a new IP address to enable you to bypass blocks and restrictions.
You can get and install a proxy via your browser extensions or get a dedicated app.

Change your VPN provider

To save yourself the trouble of Twitch not working with your VPN, the best option is to change your provider.
This is why it's important to use a premium service like ExpressVPN as it's the best VPN for Twitch by a mile.
To get Twitch working again with ExpressVPN, follow these steps:
1. Visit ExpressVPN's official website to pick a subscription plan and download the software for your device.

2. Install the app and launch it.
3. Sign in and connect to your preferred server.

4. Open the Twitch app or visit the website in your browser to enjoy streaming.
As I said at the beginning of this article, all VPNs are not equal.
Therefore, your choice of VPN can determine whether you'll have unrestricted access to platforms or not.
Using a free VPN leaves you prone to detection, and a shadow ban isn't far away once Twitch detects that you are using a VPN.
It's common knowledge that free or cheap VPNs don't have enough resources to provide enough IP addresses to cater to their users' needs.
This makes it difficult for them to replace servers that get on Twitch's blacklists.
Therefore, change your provider if you're still using a free VPN to avoid shadowbans, and use ExpressVPN.
Does Twitch block VPNs?
Yes, Twitch blocks the use of VPNs.
Although it takes a nuanced interpretation of its terms of service, it's there in the fine print:
The actual text says you must not attempt to circumvent any content filtering techniques we employ or attempt to access any service or area of the Twitch Services that you are not authorized to access.
When you think about it, a VPN is a content-filtering tool.
It hides your actual IP address, thereby allowing you to bypass the content block on the platform so you can watch from any location.
How does Twitch detect my VPN?
Twitch uses a bunch of anti-VPN software to detect VPN traffic on its website.
Since VPN traffic is different from regular internet traffic, it's easily detectable, and that gets you blocked from accessing the platform.
In order to make your traffic undetectable even with a VPN, you should opt for premium VPNs that refresh their IP addresses very often.
Does Twitch work with a VPN?
Yes, Twitch works well with premium VPNs that can bypass its VPN blocks.
This is what cheap and free VPNs can't do as they may not be able to keep up with the service's rate of server blocks.
That is why I have taken the time to review the platform and create a list of the:
Best VPNs for Twitch
These VPNs are reliable and are always a step ahead of any restrictive measures any streaming platform or website may want to employ. They'll help you unblock Twitch without breaking a sweat:
1. ExpressVPN – Overall best Twitch VPN
With well above 3000 servers in 94 countries, ExpressVPN tops our list.
It boasts 10GB/s server speeds, making it one of the best providers in terms of super-fast servers.
This provides a smooth and buffer-free streaming experience.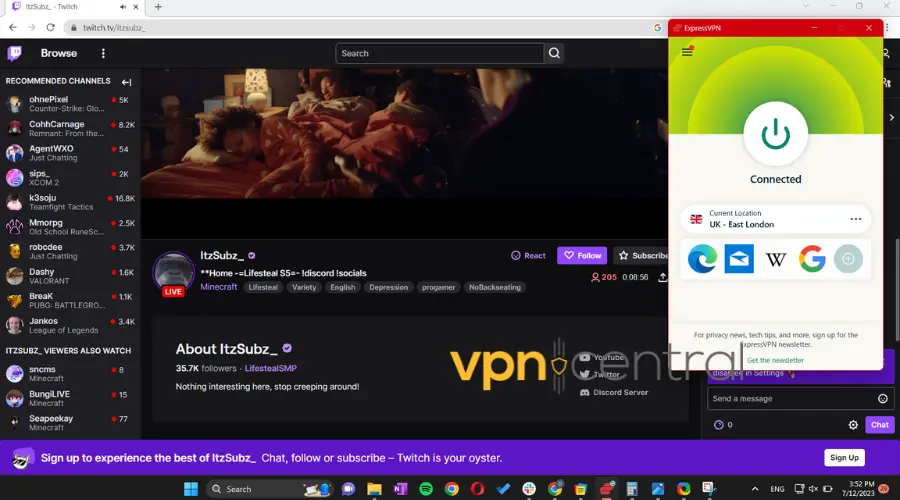 It uses a no-logs policy, coupled with the strongest AES 256-bit encryption to afford you maximum privacy.
In addition, it has strong unblocking abilities that make it able to bypass even the China Great Firewall without any hassle, so unblocking Twitch is an easy feat.
It has apps for Windows, Android, Mac, iOS, and other platforms.
What's more? Its MediaStreamer DNS service allows you to bypass restrictions on devices that don't allow VPN installations.
Pros:
Optimized servers for speed and fast connections
Over 3000 servers in 94 countries
Unblocks Twitch and other streaming platforms easily
Military-grade encryption
No logs policy
24/7 support team
30-days money-back guarantee
Cons:
Expensive subscription plans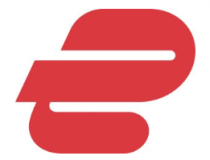 ExpressVPN
Watch Twitch hitch-free with this streaming-optimized VPN!
2. CyberGhost – Dedicated streaming and gaming servers
Over the years, CyberGhost has become one of the most popular and competitive VPNs in the market.
It has a constantly growing server network of over 9000 servers across 91 countries with fast connection speeds.
With CyberGhost, you'll be able to unblock popular streaming sites like Hulu, Amazon Prime Video, Twitch, and a host of many others.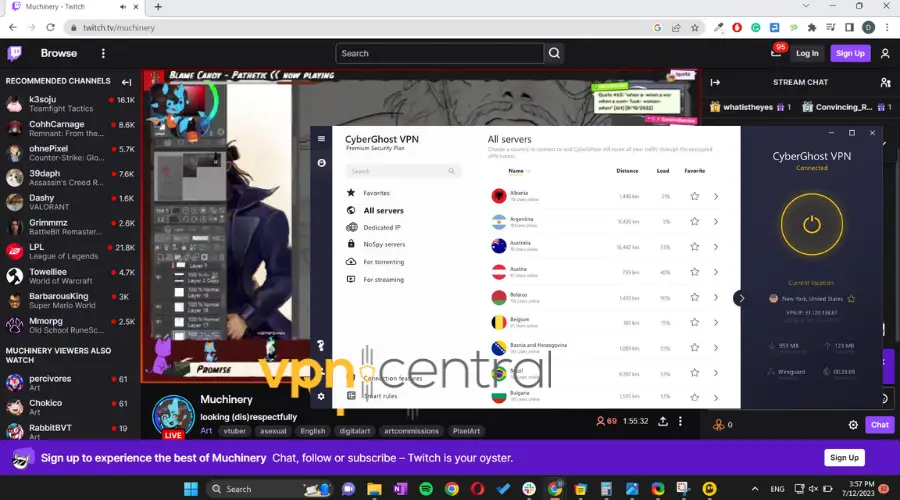 Worth mentioning is its outstanding performance when it comes to playing online games as it has gaming-optimized servers.
Just like ExpressVPN, it uses 256-bit encryption and has a no-logs policy which means you can enjoy streaming in your privacy.
It has apps for Windows, Android, iOS and MacOS.
Pros:
Over 9000 servers in 90 countries
Optimized servers for streaming
No logs policy
Affordable subscription plans
Beginner friendly configuration
45-day Money-back guarantee
Cons:
No apps for routers
Minimal unblocking for streaming sites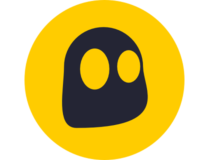 CyberGhost
Stream at peak video quality with CyberGhost's fast, unlimited bandwidth servers!
PIA has over 35,000 servers in 84 countries, which means that there's almost no way you can get on an overpopulated server.
It has a split tunneling feature which is necessary for optimizing VPN connection to dedicate its resources for certain apps.
It's able to unblock Twitch from any location in the world, thanks to its huge server network and strong connection protocols like OpenVPN.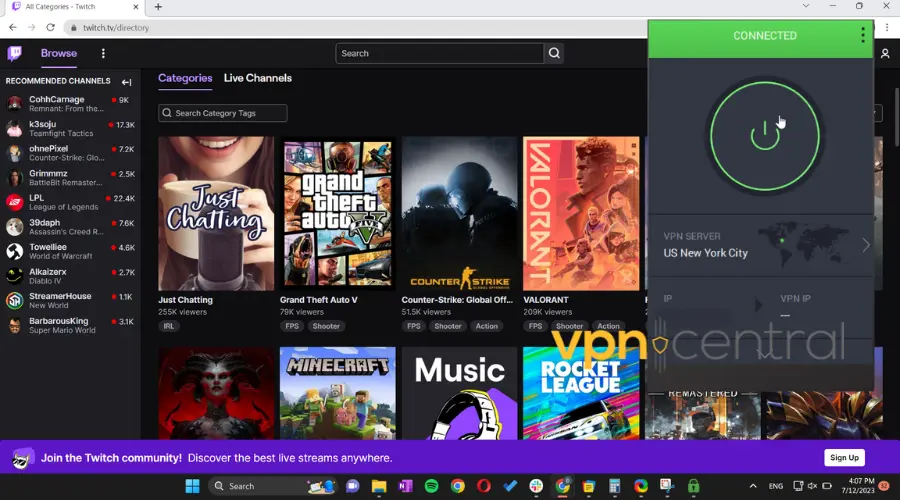 It has flexible security options, allowing you to use either AES 128-bit or 256-bit encryption.
PIA has apps for Windows, MacOS, iOS, Gaming consoles, Linux, routers, Smart TVs, and lots more.
Pros:
A huge number of servers
24/7 live chat support team
Affordable subscription plans
No logs policy
Unblocks Netflix, Twitch, Amazon Prime Video, Hulu, BBC iPlayer and lots more.
Unlimited simultaneous device connections.
Money-back guarantee
Cons:
Far servers didn't perform well in speed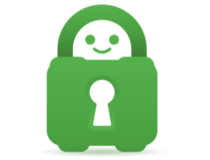 Private Internet Access
Fire up PIA for unmatched broadcasting quality & zero errors on Twitch!
Summary
Twitch is a strong contender amongst streaming platforms across the globe.
Unblocking Twitch was formerly a hassle for its users but now, with the help of the VPNs listed in this article, you're guaranteed to have a seamless connection and streaming experience on the platform.
These VPNs are premium and reputable providers with the necessary features needed to bypass any content block whether from the network or regional.
In addition to unblocking websites, these VPNs protect your data and information from unauthorized third parties, snoopers, and hackers.
My team did an in-depth study on the accounts Americans lose to hackers the most, and Twitch ranked pretty high. So taking all the measures of protection is paramount, and a VPN will surely play a big role in that.
FAQ
Can you stream on Twitch with a VPN?
Yes, you can stream on Twitch with a VPN.
Twitch doesn't permit the use of VPNs to circumvent or access content unavailable in one's region.
However, you can stream on Twitch if you're using a premium and reliable provider.
Does Twitch ban you for using a VPN?
Yes, Twitch can ban you for using a VPN. There are reports of users getting shadowbanned specifically when using a VPN.
Twitch has anti-VPN software on its website that detects and blocks VPN users.
Which countries should I connect to with my VPN to avoid Twitch ads?
To avoid Twitch ads, you can connect your VPN to any of the following countries:
Ukraine
Russia
Poland
Germany
Costa Rica
Lithuania
Romania
Georgia
Serbia
Slovakia
Mexico
How long does Twitch IP ban last?
Twitch IP bans depend on the offense. But if your VPN IP is banned, it will probably last forever. Since the platform does efforts to ban VPNs, they won't just remove the VPN IP from their blacklist.
So in order to access the platform again, you'll have to change VPNs or get a new IP address.
---