Are you an Albanian expatriate living in the UK, missing your favorite shows from back home?
Or are you simply captivated by the vibrant culture and fantastic programs that Albanian TV offers?
Fret not! In this article, we will guide you through the process of watching Albanian TV in the UK, no matter where you are in the country.
How to watch Albanian TV in the UK?
Albanian TV channels rely on your IP address to determine your location and may block access if you're not within the country.
However, using a VPN provides a clever solution.
By encrypting your internet traffic and routing it through a server in a different country, you can effectively change your IP address and appear to be browsing from that specific location.
In this case, connecting to a VPN server in Albania while you're in the UK allows you to access their TV channels online as if you were in Albania.
To watch Albanian TV in the UK with a VPN, follow these straightforward steps:
I am recommending ExpressVPN because it's a complete package in terms of speed, security, network coverage, privacy, and protection.
Visit the ExpressVPN website and subscribe to a plan.

Download the app and install it on your device.

Log into your account by adding your credentials and launch the app.
Click on the ellipsis icon.

Search for and connect to an Albania server by clicking the power button.

Now, you can instantly access local Albanian streaming services. (Here, I streamed Portokalli on Top Channel after connecting to the ExpressVPN Albanian server)
Why do you need a VPN to watch Albanian TV abroad?
Geo-restricted streaming services often block access to their content for users outside their designated regions due to licensing agreements and copyright concerns.
A VPN helps you bypass these restrictions and grants you access to Albanian TV, ensuring you can watch your beloved shows no matter where you are in the world.
Apart from unblocking Albanian TV, using a VPN for streaming offers several other benefits:
Enhanced Privacy and Security: A VPN encrypts your internet connection, ensuring that your online activities and data remain private and secure from potential cyber threats, such as hackers, identity thieves, or malicious entities trying to monitor your online behavior.
Bypass ISP Throttling: ISPs sometimes throttle or slow down internet speeds for specific activities like streaming. With a VPN, your traffic is encrypted, making it challenging for ISPs to detect your streaming activities and apply throttling.
Protection on Public Wi-Fi: Your data is vulnerable to interception when using public Wi-Fi networks. A VPN creates a secure tunnel between your device and the server, protecting your sensitive information from prying eyes on public Wi-Fi hotspots.
Bypass Censorship and Firewalls: If you travel to China or other countries with strict internet censorship or face workplace or school network restrictions, a VPN can help you bypass these barriers and access your favorite streaming platforms and websites.
Buffer-free Streaming: A reliable VPN can improve your streaming experience by reducing buffering and lag, as it helps create a more direct and stable connection to the streaming servers.
Best VPNs for Albanian TV
In the quest to find the best VPN for Albanian TV, it's essential to note that not all VPNs with Albanian-based servers can grant access to the country's most popular streaming services.
To assist you in making the right choice, I have conducted tests and reviews on some of the most popular VPNs.
These evaluations encompass their performance, ability to unblock content, features, and customer service.
If you're in the UK and eager to access Albanian TV, keep reading to discover the top VPNs that can fulfill your streaming needs.
Here are the best five:
1. ExpressVPN – top VPN for Albanian TV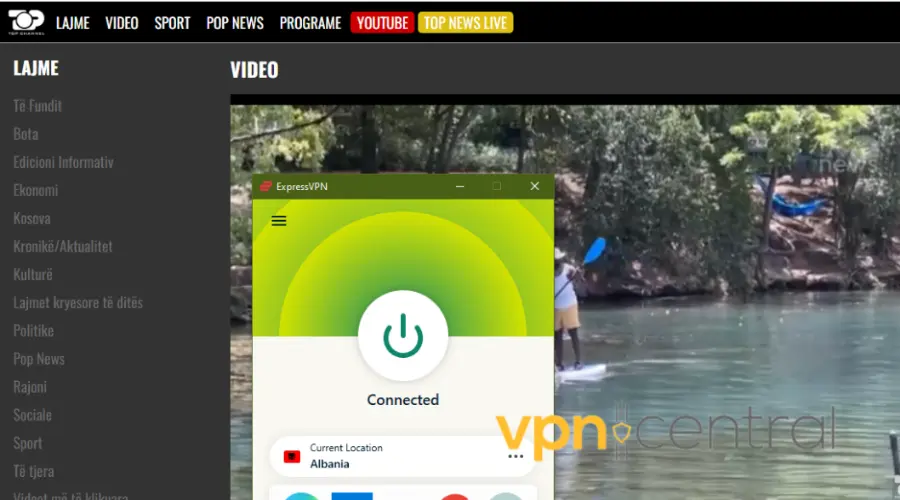 ExpressVPN boasts reliable servers, fast speed, and cutting-edge encryption technology.
It offers exceptional coverage with a vast network of 3000+ servers across 94 countries, including one server location in Albania.
The VPN is compatible with multiple platforms: Windows, iOS, macOS, Android, and Linux, where you can watch shows on channels like Top and Vizion Plus with ease.
Additionally, it supports MediaStreamer, enabling easy setup on Amazon Firestick, Apple TV, Roku, and Smart TVs.
For security, ExpressVPN utilizes AES-256-Bit Encryption, OpenVPN, WireGuard, IKEv2, and Lightway protocols, ensuring a protected online experience while in Albania.
While the cost may be higher than some alternatives, the value and benefits it provides make it a worthwhile investment.
Furthermore, new users signing up through smartphones are eligible for a generous 7-day free trial, allowing them to try out the service without any initial financial commitment.
Pros:
Best leak protection on the market
Consistently fast and stable
Apps for all conceivable devices
Cons:
Slightly higher price
Only five device connections at a time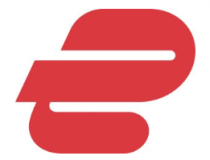 ExpressVPN
Enjoy all your favorite shows with this reliable VPN for Albanian TV!
2. CyberGhost – high-speed streaming server for Albanian TVs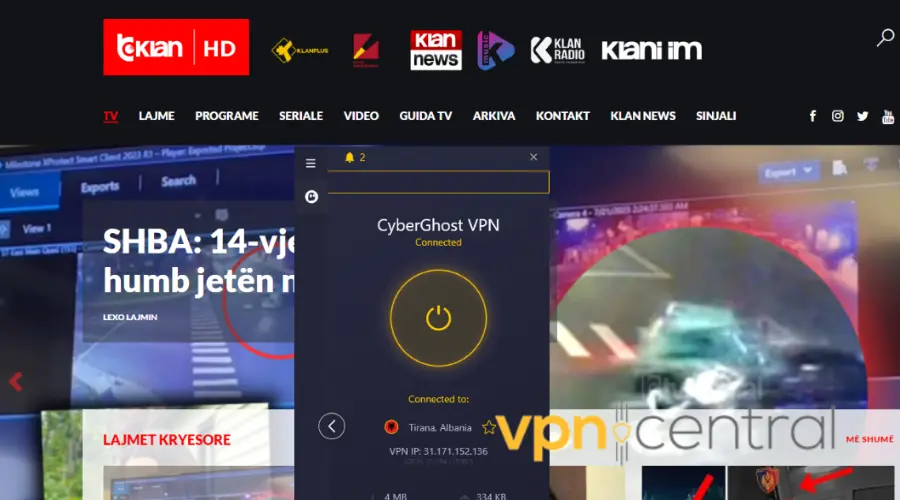 CyberGhost VPN is perfect for streaming Albanian TV. It offers 34 high-speed servers in Albania.
You can also choose from its 9528 servers spread across 91 countries, so no worries about crowded servers.
It quickly unblocks popular Albanian TV channels like KlanTV, RTSH, and others.
In addition, you will enjoy unlimited bandwidth, WireGuard® protocol, and 10 Gbps speeds in high-traffic locations for uninterrupted streaming.
CyberGhost secures your online activity with 256-bit AES encryption, protecting sensitive data.
Furthermore, the Kill Switch blocks traffic if disconnected from the VPN, hiding your actual location.
You can connect up to 7 devices with one subscription on Windows, macOS, Linux, Android, iOS, Android TV, and Amazon Fire TV Stick.
Friendly 24/7 Customer Support via live chat or email is available for assistance.
Enjoy easy streaming on Albanian TV with CyberGhost VPN!
Pros:
Add-ons, including antivirus, data compression, and dedicated IPs
User-friendly interface
It has a 45-day money-back guarantee
Cons:
Issues with connecting after sleep mode or in China
Has customer support unavailable in some languages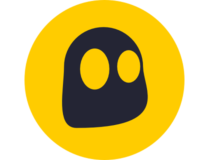 CyberGhost
Unblock Albanian TV within seconds with this easy to use VPN!
3. PIA – robust privacy features while streaming Albanian TVs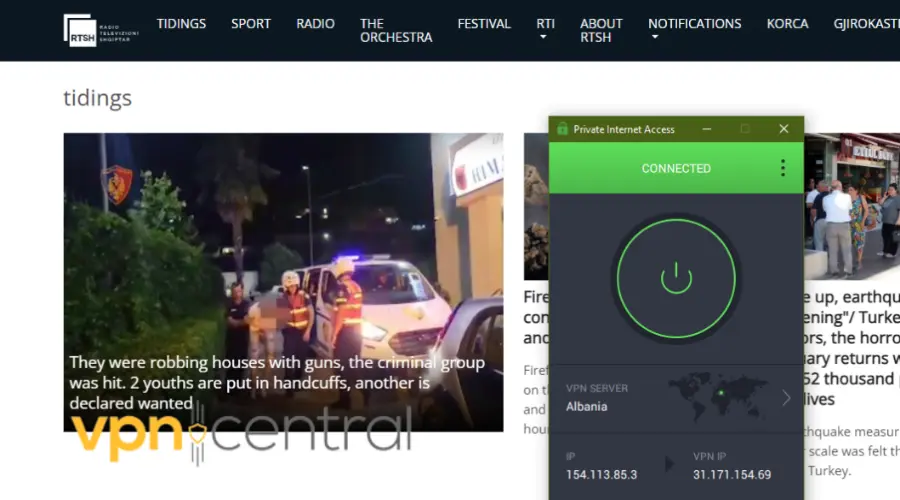 Private Internet Access is a perfect alternative for watching Albanian TV from the UK.
It offers an exceptional streaming experience with lightning-fast speeds and a wide selection of Albanian servers.
You can also enjoy seamless 4K streaming without frustrating lags or buffering, thanks to their powerful 10 Gbps NextGen servers.
The best part is the unlimited bandwidth, allowing worry-free streaming on your favorite channels without data caps or restrictions.
PIA offered robust encryption when I viewed a program on RTSH to prioritize my data security during streaming sessions.
Therefore, you can choose between 128-bit or 256-bit AES encryption ciphers for added privacy and security.
For your convenience, PIA includes a Smart DNS feature, enabling you to change your virtual location directly from your Smart TV without compromising connection speeds.
With PIA's reliable VPN service, you can rest assured that all your online activities remain safeguarded.
Therefore, enjoy watching Albanian TV from the UK with confidence.
Pros:
Supports anonymous payment methods
Offers a full-fledged Linux app
Provides a 30-day money-back guarantee
Cons:
Based in a 5-Eyes country, which could raise privacy concerns for some users
Speeds are average compared to some other VPN providers.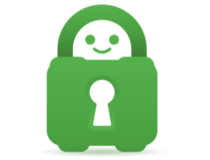 PIA
Watch Albanian TV as if you were there by connecting to PIA!
4. NordVPN – vast server network for unblocking Albanian TV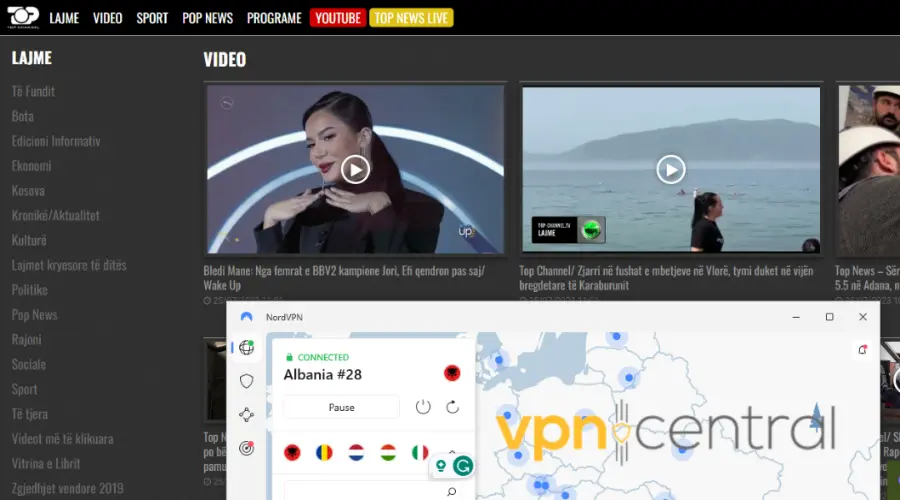 Popular for unblocking content, NordVPN offers a vast server network for smooth streaming, offering speed, reliability, and top-notch security.
With 5700+ servers in 60 countries, including one in Albania, NordVPN can provide you with an Albanian IP address.
Connecting to its Albania server lets you access your favorite local news channels, TV shows, and financial apps from the UK.
So, you can watch shows like Kafeneja Jonë and Opinion on Alsat M, and other TVs like Top Channel.
NordVPN allows you to have six simultaneous connections and works on Android, macOS, iOS, Linux, and Windows.
The SmartPlay feature enables easy configuration without encryption on devices like Apple TV, Amazon Fire TV, and Smart TVs.
You can even use NordVPN on Roku using its Smart DNS feature.
It offers features like Split Tunneling, Server Obfuscation, and Dark Web Monitor for added privacy.
And with the Kill Switch, your anonymity remains intact while enjoying Albanian TV content from the UK.
Pros:
Affordable monthly price
A high number of servers
Apps for Fire Stick and Android TV
Cons:
Complicated when using router setup
Apps can sometimes be sluggish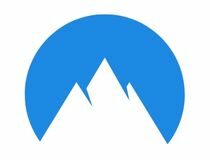 NordVPN
Bypass restrictions and stream Albanian TV using NordVPN!
5. Surfshark – budget friendly for unblocking Albanian TV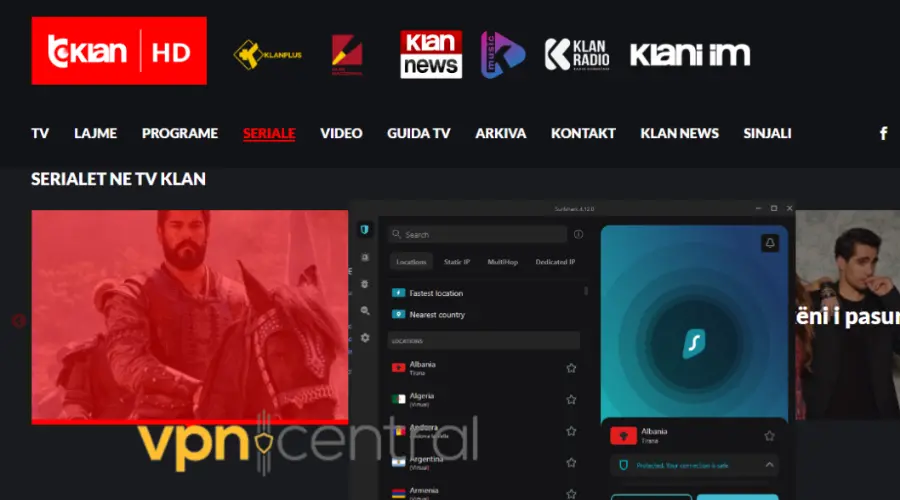 Surfshark is the best budget-friendly VPN for Albania. You won't find a better VPN for multiple devices with unlimited simultaneous connections.
It has 3200+ servers in 100 countries, including 32 servers in Albania. Therefore, you can connect to the Tirana server to access Albanian TV channels like Klan.
Surfshark can unblock other popular streaming platforms like Netflix, Amazon Prime Video, and Disney Plus. 
Also, it works on Android, Windows, Linux, macOS, and iPhone. You can also configure it on Firestick, Roku, and Apple TV.
It offers top-notch features like CleanWeb, Multi-hop Servers, and Camouflage Mode.
The advanced Whitelister feature lets you simultaneously use local Albanian apps and international websites.
New users get a 30-day money-back guarantee. Subscribing through a smartphone also gives you a 7-day free trial.
Pros:
Connect unlimited devices
Excellent streaming speeds
Extra features like virus protection
Cons: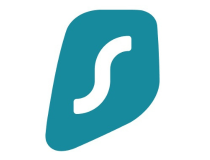 Surfshark
Don't miss out on your Albanian TV, even when in UK! Just connect to Surfshark!
Which Albanian channels can I watch online?
Albanian TV offers a plethora of exciting channels that showcase a diverse range of content, catering to various interests.
With a reliable VPN, you can access these geo-restricted channels from the UK and indulge in various shows and programs.
Here are some of the most popular channels:
With a VPN, you can bypass the geographical restrictions imposed on these channels, allowing you to enjoy the best Albanian TV from the comfort of your UK location.
Is it legal to watch Albanian TV in the UK with a VPN?
Watching Albanian TV in the UK with a VPN is generally legal, as there is no specific UK law against using VPNs to bypass geo-restrictions.
However, it's crucial to note that certain Albanian TV channels may have terms and conditions that prohibit VPN usage.
If you can access Albanian TV channels with a VPN, be aware of potential copyright or licensing violations.
To avoid legal issues, thoroughly check the channels' terms and conditions before using a VPN.
For a safe streaming experience, opt for one of the reputable VPN services I recommended above to protect your personal information.
By choosing such, you can enjoy Albanian TV content with peace of mind, respecting the channels' rules and regulations.
Summary
Unlock the world of Albanian TV in the UK using a reliable VPN service like CyberGhost, ExpressVPN, or PIA.
These VPNs will bypass geo-restrictions, granting you access to your favorite Albanian channels and shows.
Remember to choose a trustworthy VPN provider, as it ensures a smooth and secure streaming experience.
With a VPN, you can stay connected to Albanian culture and entertainment, no matter where life takes you.
So, get ready to immerse yourself in the colorful world of Albanian television!
---