Polish TV channels offer a variety of entertainment, news, sports, music, and cultural programs that you can enjoy.
However, you may want to know if you can access these shows here in Australia.
You're not alone; many people living abroad often need help accessing their cherished TV content from their home country due to geographical restrictions.
Don't worry! I will guide you through the process of watching Polish TV in Australia, no matter where you are in the country.
How to watch Polish TV in Australia?
Your IP address comes into play when attempting to access Polish TV channels from outside Poland.
The location shown by your IP address can result in restricted access if you are not within the country's borders.
Nonetheless, there exists an intelligent resolution to this problem: utilizing a VPN.
By encrypting your internet traffic and directing it through a server in a different country, you can effectively modify your IP address and appear to be browsing from that specific location.
Consequently, if you connect to a VPN server in Poland while in Australia, you can access Polish TV channels online as if you were physically present in Poland.
Follow these simple steps to accomplish this and watch Polish TV in Australia with a VPN.:
I recommend CyberGhost because it's a complete package regarding speed, security, network coverage, privacy, and protection.
Visit the CyberGhost website and subscribe to your preferred VPN plan.

Download the app and install it on your device.

Log into your account by adding your credentials.

Click on the server expand icon.

Search and connect to a Polish server.

Now, you can instantly access local Polish streaming services.
Why do you need a VPN to watch Polish TV abroad?
To watch Polish TV channels in Australia on your preferred devices necessitates relying on a VPN as the sole dependable solution.
Due to licensing laws and copyright concerns, geo-restricted streaming services often block access to their content for users outside their designated regions.
Without using a VPN to access TVP+ in Australia, I encountered the following error message: For licensing reasons, the material is not available in your country.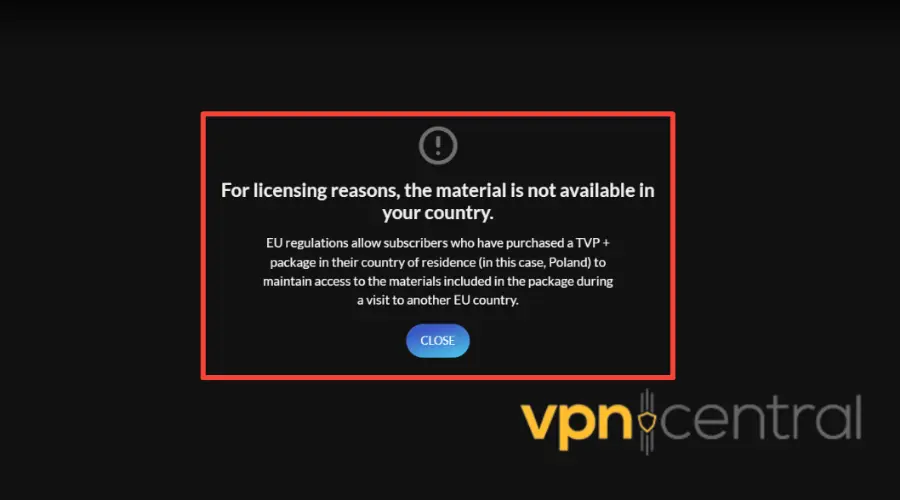 Therefore, attempting to access most Polish TV in Australia without a VPN instantly triggers a block, preventing you from accessing their content.
➡️ However, when I utilized a VPN and connected to a server in Poland, I could watch TVP1 and TVP2 without any issues, just as if I was residing in Poland.
This seamless access was possible because my internet traffic was routed through a server in Poland, assigning me a Polish IP address.
Consequently, the Polish TV website recognized my access as originating from within Poland, granting me full access to their content.
Best VPNs for Polish TV
To help you make the right choice, I've conducted tests and reviews on several popular VPNs.
These evaluations consider performance, content unblocking ability, features, and customer service.
Therefore, if you're in Australia and eager to access Polish TV, discover the top VPNs that meet your streaming needs.
Here are the best five:
1. CyberGhost – overall best performance on Polish TVs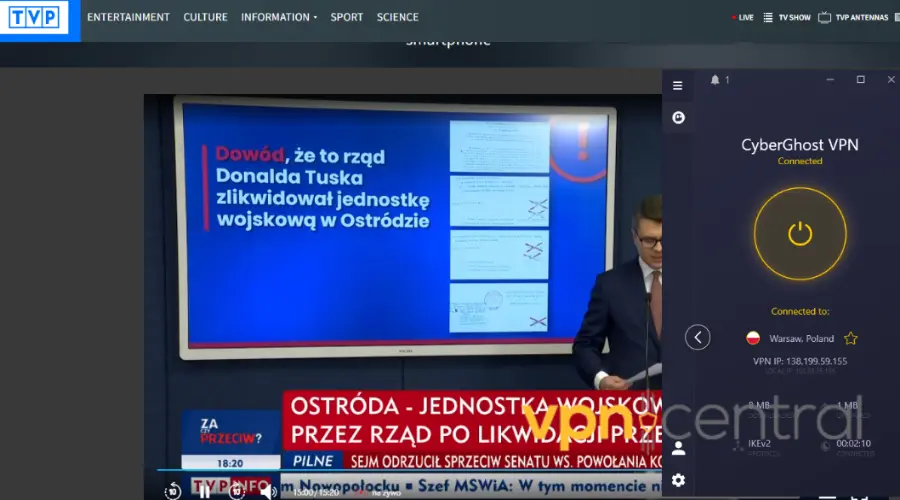 If you want to stream Polish TV hassle-free, CyberGhost VPN is the ideal choice.
It provides 72 servers in Poland for a fast and secure connection. This means their server infrastructure is never overloaded.
In addition, you'll have access to a vast network of 9438 servers across 91 countries, ensuring top speeds and security on other platforms anywhere in the world.
The Polish server in CyberGhost VPN allows you to enjoy exciting shows on channels like TVP and Polsat, giving you unrestricted access to your favorite content.
Plus, you can enjoy uninterrupted streaming without lag with unlimited bandwidth, WireGuard® protocol, and 10 Gbps speeds in high-traffic locations.
Your online activity is protected with 256-bit AES encryption, safeguarding sensitive data from prying eyes.
✅ Pros:
Add-ons, including antivirus, data compression, and dedicated IPs
Compatible with significant streaming devices
Exclusive kill switch features
It has a 45-day money-back guarantee
❌ Cons:
Issues with connecting after sleep mode or in China
Has customer support unavailable in some languages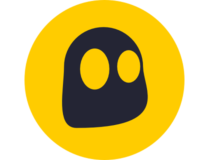 CyberGhost
Unlock the best of Polish TV abroad. Get CyberGhost now for unlimited streaming!
2. ExpressVPN – fast and reliable VPN for unblocking Polish TV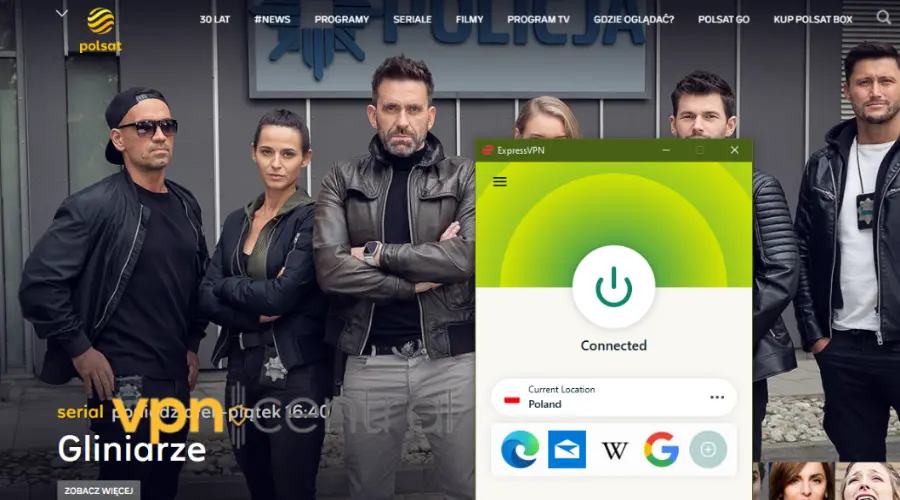 With an extensive network of 3000+ servers spread across 94 countries, including servers in Poland, ExpressVPN offers exceptional coverage to unblock Polish TV channels from Australia.
Also, it supports MediaStreamer, making setup on Amazon Firestick, Apple TV, Roku, and Smart TVs a breeze.
When streaming Polish TV with ExpressVPN, you can rest assured about your online security.
The VPN employs AES-256-Bit Encryption, OpenVPN, WireGuard, IKEv2, and Lightway protocols, providing a robust shield to protect while virtually located in Poland.
In addition, new users signing up through smartphones are eligible for a generous 7-day free trial, allowing them to try out the service risk-free before committing.
It is an excellent choice to unblock and stream Polish TV from Australia, offering speed, security, and a user-friendly experience across various devices.
✅ Pros:
Best leak protection on the market
Consistently fast and stable
Apps for all conceivable devices
❌ Cons:
Slightly higher price
Only five device connections at a time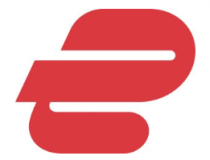 ExpressVPN
Grab ExpressVPN today to access your favorite Polish TV shows and films abroad!
3. PIA – excellent performance on Polish TVs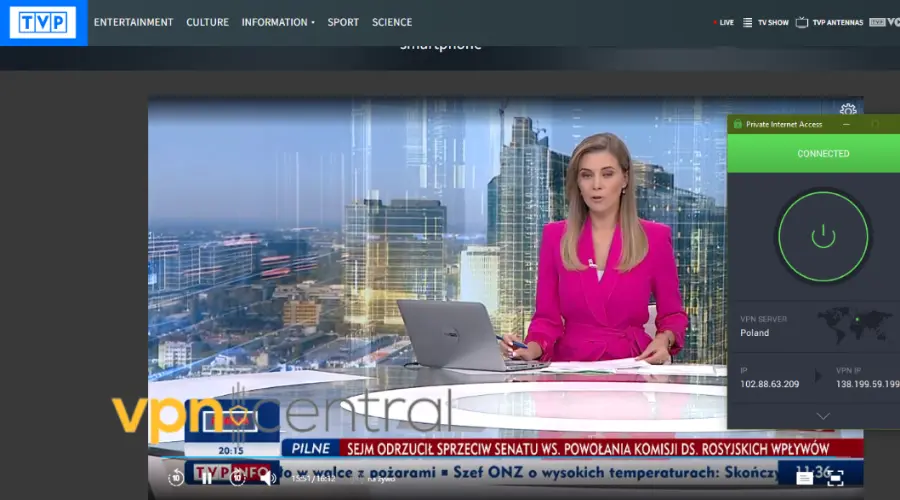 PIA boasts secure servers in Poland and 84 other countries, ensuring you can quickly obtain an IP address for almost any location.
When streaming, you'll experience exceptional performance, with lightning-fast speeds that allow for seamless 4K streaming without frustrating lags or buffering.
Its powerful 10 Gbps NextGen servers ensure a smooth and immersive streaming experience.
PIA delivers robust encryption methods, choosing between 128-bit or 256-bit AES encryption ciphers to ensure paramount data security during streaming sessions.
It offers a Smart DNS feature to enhance convenience, enabling you to change your virtual location directly from your Smart TV without compromising connection speeds.
With PIA's reliable VPN service, you can rest assured that all your online activities remain safeguarded.
Therefore, enjoy watching Polish TV from Australia with confidence.
✅ Pros:
Supports anonymous payment methods
Offers a full-fledged Linux app
Provides a 30-day money-back guarantee
❌ Cons:
Based in a 5-Eyes country, which could raise privacy concerns for some users
Speeds are average compared to some other VPN providers.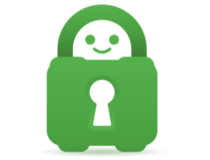 Private Internet Access
Don't let geo-blocks stop you! Get PIA VPN and watch Polish TV from anywhere in the world!
4. NordVPN – vast server network for unblocking Polish TV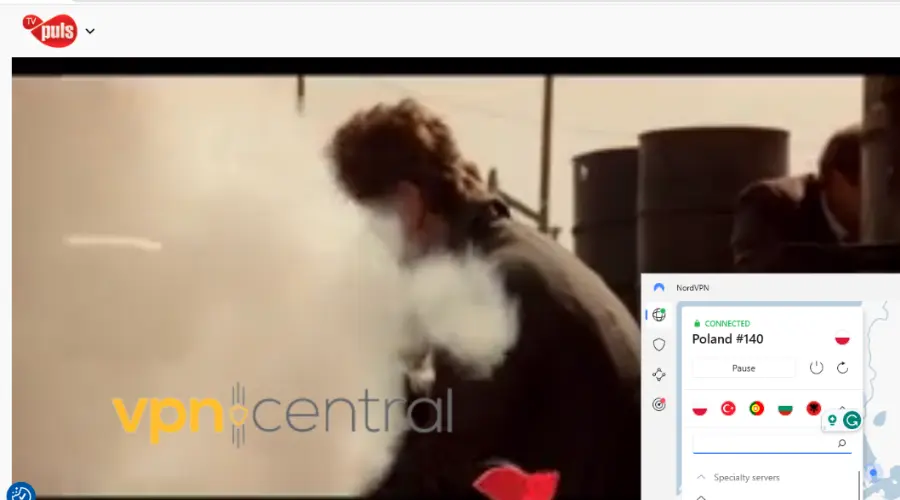 NordVPN's extensive server network ensures smooth streaming, delivering speed, reliability, and top-notch security.
With an impressive count of 5700+ servers, including over 70 in Poland, NordVPN grants you a Polish IP address.
Connecting to its Poland server lets you easily access your favorite local news channels, TV shows, and financial apps from the comfort of Australia.
NordVPN is incredibly versatile, allowing six simultaneous connections and compatibility with Android, macOS, iOS, Linux, and Windows.
Additionally, its SmartPlay feature enables seamless configuration without encryption on devices like Apple TV, Amazon Fire TV, and Smart TVs. Even Roku users can enjoy NordVPN using its Smart DNS feature.
NordVPN provides features like Split Tunneling, Server Obfuscation, and Dark Web Monitor to ensure utmost privacy. And with the Kill Switch functionality, your anonymity remains safeguarded while you indulge in Polish TV content from Australia.
✅ Pros:
Affordable monthly price
A high number of servers
Apps for Fire Stick and Android TV
❌ Cons:
Complicated when using router setup
Apps can sometimes be sluggish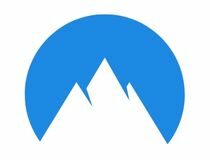 NordVPN
Get NordVPN today to easily watch your beloved Polish TV channels abroad.
5. Surfshark – the most affordable to stream Polish TV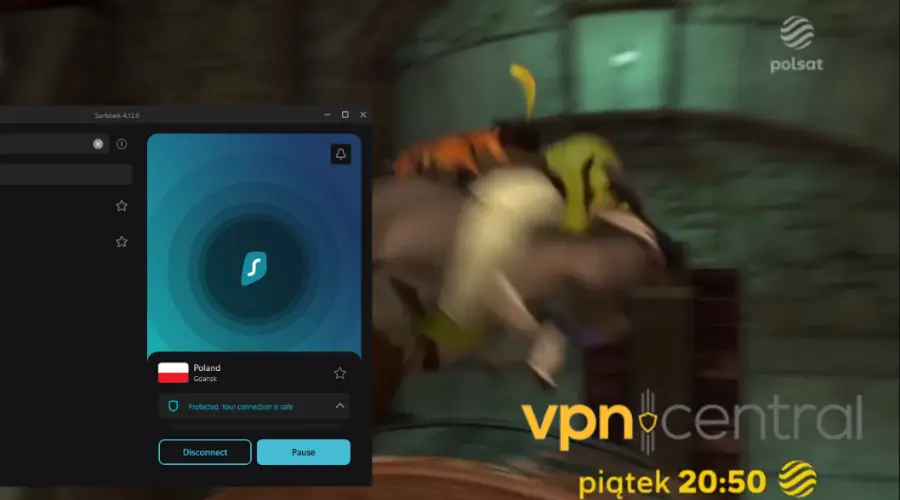 Surfshark boasts an extensive network of 3200+ servers across 100 countries.
You can easily access all your favorite Polish TV channels by connecting to the Gdansk or Warsaw server.
Whether you're on Android, Windows, Linux, macOS, or iPhone, Surfshark has got you covered.
In addition, it's compatible with Firestick, Roku, and Apple TV, ensuring you never miss a show.
Surfshark's top-notch features, like CleanWeb, Multi-hop Servers, and Camouflage Mode, guarantee your streaming experience remains secure and uninterrupted.
Plus, with the advanced Whitelist feature, you can simultaneously use local Polish apps and access international websites.
Are you worried about committing?
Don't be! New users get a 30-day money-back guarantee, and if you subscribe through a smartphone, you'll enjoy a 7-day free trial.
Unlock Polish TV in Australia effortlessly with Surfshark and dive into your favorite shows anytime.
✅ Pros:
Connect unlimited devices
Excellent streaming speeds
Extra features like virus protection
❌ Cons: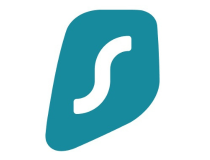 Surfshark
Unblock Polish TV channels with ease. Subscribe to Surfshark VPN to enjoy buffer-free streaming overseas!
Which Polish channels can I watch online?
Curious about watching Polish channels online?
I will lead you into an exciting world of diverse content, catering to various interests, as Polish TV offers many captivating channels.
You can unlock these geo-restricted channels from Australia using a reliable VPN and immerse yourself in various shows and programs.
Here are some of the most popular channels and shows you can view on them:
1. TVP (Telewizja Polska):
TVP is the national public broadcaster in Poland. It operates several channels, providing news, entertainment, and educational content. It is known for promoting Polish culture and producing high-quality programs. TVP is the broadcaster of television channels such as TVP1 HD, TVP2 HD, TVP3, TVP Info HD, Belsat TV, etc. In addition, TVP is the broadcaster of several Internet channels, including TVP World, TVP Kultura 2, TVP Historia 2, etc., available on the hybrid platform and the TVP VOD services, and the TVP GO application.
Examples of shows on TVP:
M jak miłość (M for Love) – A long-running Polish soap opera revolving around the lives of various families and their relationships.
Wiadomości (News) – The leading news program of TVP, providing current affairs, news, and updates from Poland and around the world.
Ranczo – A comedy-drama series that follows the adventures and misadventures of a young woman who inherits a farm in a rural area.
Polsat is one of Poland's major private television networks, known for broadcasting a mix of local and international content. It offers various programming, including reality shows, dramas, and entertainment.
Examples of shows on Polsat:
Must Be the Music – A music talent show featuring aspiring musicians and bands showcasing their skills in front of a judging panel and audience.
Barwy szczęścia (Colors of Happiness) – A long-running Polish soap opera that explores the lives and relationships of several families.
The Voice of Poland – A popular singing competition where contestants compete to be the best vocalist, mentored by famous Polish musicians.
Top Chef Polska – A cooking competition in which professional chefs demonstrate their culinary skills to impress the judges and win the title of "Top Chef."
TVN is a prominent private television network in Poland. It offers diverse programming, including news, dramas, and reality shows. TVN is known for producing original content and importing popular international series. One of its sister channels is TVN7.
Examples of shows on TVN:
The Four – A Polish version of the international singing competition format, where contestants defend their seats against challengers to stay in the competition.
Kuba Wojewódzki – A popular late-night talk show hosted by Kuba Wojewódzki, featuring celebrity interviews, humor, and entertainment.
Na Wspólnej – A long-running drama series following the lives of residents living on one street in Warsaw and their challenges.
MasterChef Junior – A spin-off of the "MasterChef" cooking competition featuring young contestants showcasing their culinary talents.
TV Puls is a general entertainment channel focusing on lifestyle, reality shows, and talk programs.
Examples of shows on TV Puls:
Rolnik szuka żony (Farmer Wants a Wife) – A Polish version of the reality dating show where farmers search for love and companionship.
Projekt Lady – A reality show where participants compete to win the title of "Lady of the Year" through various challenges and transformations.
W pogoni za marzeniem (In Pursuit of a Dream) – A documentary series showcasing inspiring stories of individuals pursuing their dreams and goals.
Świat się kręci – A popular talk show featuring celebrity guests, discussions on current events, and entertainment segments.
Comedy Central is a well-known comedy-focused channel offering a mix of stand-up comedy, sitcoms, and humorous shows.
Examples of shows on Comedy Central Poland:
South Park – The Polish version of the animated sitcom that satirizes various social and political issues through the adventures of four boys in a fictional Colorado town.
The Daily Show – The Polish edition of the acclaimed late-night satirical news program, hosted by a comedian who provides a humorous take on current events.
Impractical Jokers – A hidden-camera prank show where four friends challenge each other to perform outrageous stunts and pranks in public.
Tosh.0 – The Polish version of the comedy series hosted by Daniel Tosh, featuring viral videos, internet culture, and humorous commentary.
Discovery Channel offers educational and informative programming, including documentaries, reality shows, and science-based content.
Examples of shows on Discovery Channel Poland:
MythBusters – The Polish version of the popular show in which hosts test the validity of various myths and urban legends through scientific experiments.
Deadliest Catch – A documentary series following crab fishermen facing treacherous conditions in the Bering Sea.
These Polish channels and their diverse array of shows cater to various interests, ensuring that viewers can find engaging content aligned with their preferences.
Is it legal to watch Polish TV in Australia with a VPN?
Streaming Polish TV in Australia using a VPN is legal, as there are no specific Australian regulations that prohibit VPN usage for bypassing geo-restrictions.
However, it is essential to exercise caution, as some Polish TV channels may have policies that disallow VPN usage.
When utilizing a VPN to access Polish TV channels, it is crucial to be mindful of potential copyright or licensing infringements.
Summary
Using a VPN service, you can effectively mask your location and convince streaming platforms that you are in Poland, enabling unlimited streaming of Polish TV content.
Remember to choose a trustworthy VPN provider, as it ensures a smooth and secure streaming experience.
Also, follow the steps in the guide to set up your VPN and enjoy seamless access to Polish TV channels from the comfort of your home in Australia.
So, say goodbye to geographical restrictions and immerse yourself in the captivating world of Polish entertainment with the power of a VPN. Happy streaming!
---