Imagine having access to Spanish shows and movies, with channels like Antena 3, LaSexta, RTVE, and Atresplayer, all at your fingertips.
But here's the catch – most of this content is meant for Spanish viewers only. It's blocked outside the country.
But no need to worry! This guide is your golden ticket to bypass these boundaries.
I'll show you how to watch Spanish TV in Canada using a VPN.
Let's get started!
How to watch Spanish TV in Canada?
You will have to use a VPN with servers in Spain to watch Spanish TV in Canada. Doing so, you'll change your IP to one from the country, spoofing your geo-location.
Here's how it works:
CyberGhost has 194 servers in Spain, making it easy to obtain a new Spanish IP address.
It goes above and beyond with its remarkable speed, security, network coverage, privacy, and protection, making it the perfect choice for unlocking Spanish TV in Canada.
So, to get started, follow these simple steps:
Visit the CyberGhost website and select your preferred VPN plan.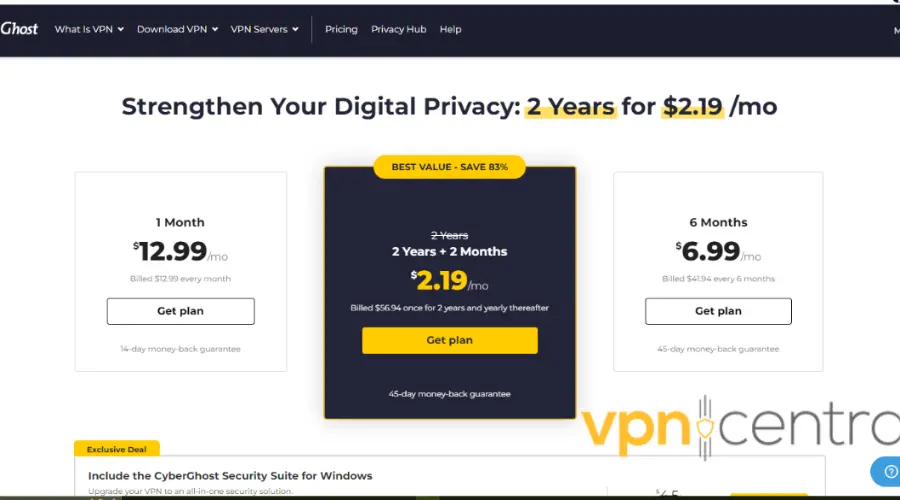 Download and install the CyberGhost app on your device.
Log in using your account credentials.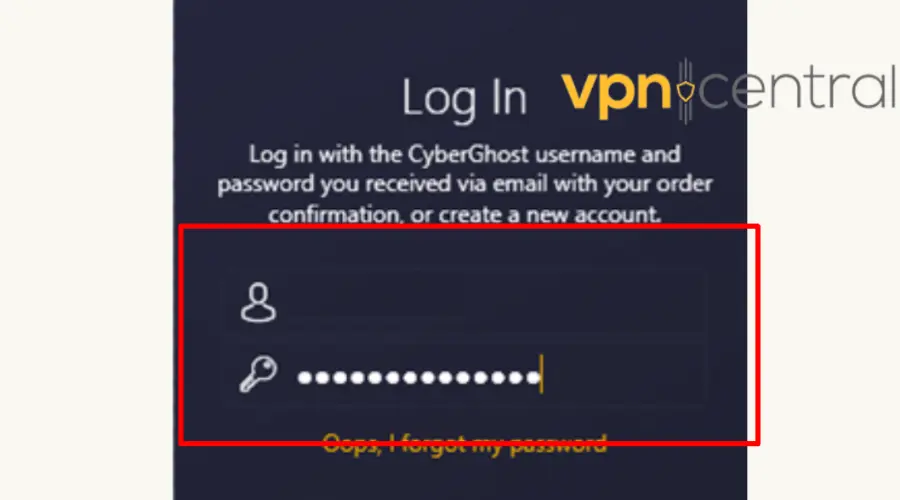 Connect to the Spanish server of your choice.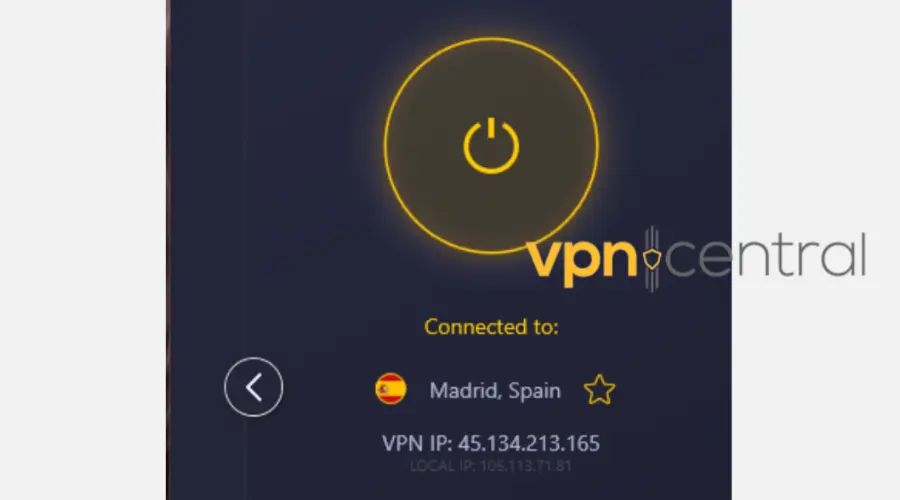 Open your browser or app, and access all Spanish programs on channels like Antena 3 without issues.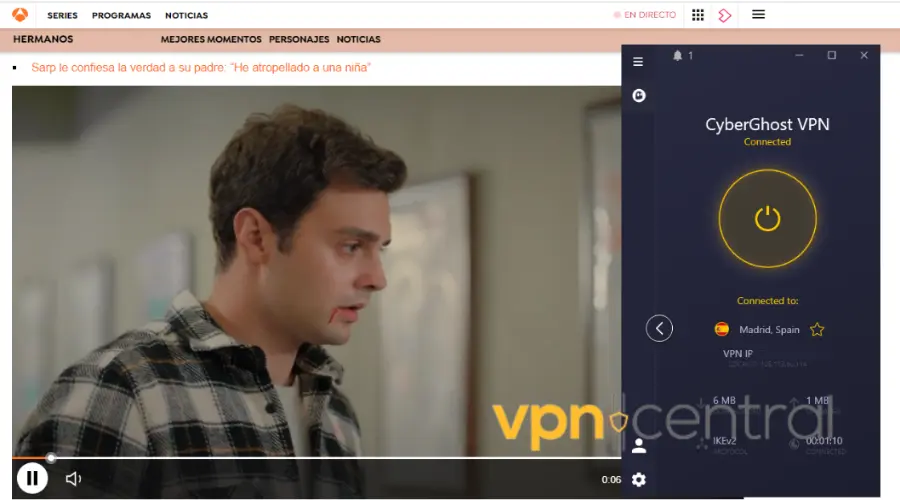 Why do you need a VPN to watch Spanish TV in Canada?
You need to use a VPN to watch Spanish TV in Canada because this tool can change your IP address to one from Spain, therefore allow you to bypass geo-restrictions on these channels.
If you don't do that, you'll encounter an error message, such as this one I got on Antena 3: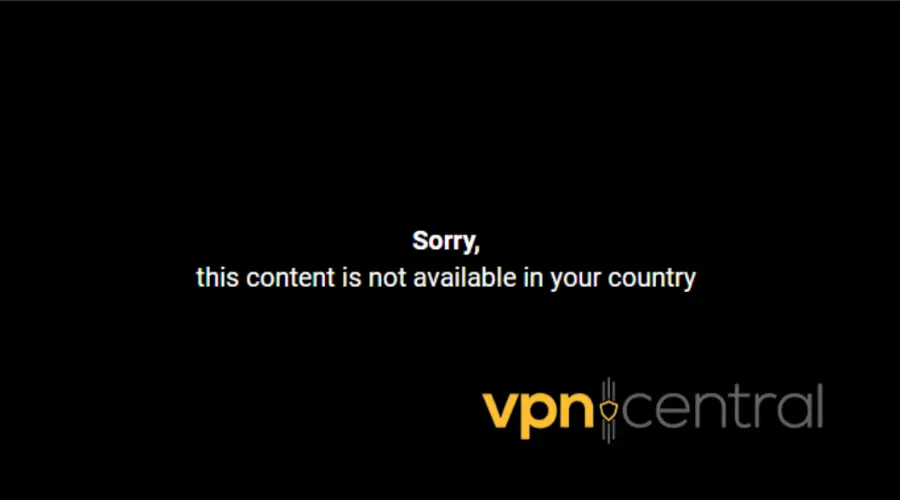 Your IP address contains some information about you, including your ISp and location. But the VPN solves this issue.
Now, let's consider the top VPN options to enhance your Spanish TV experience.
Best VPNs for Spanish TV
To begin, avoid free VPNs. They can put your data at risk and offer weak security with poor encryption.
Furthermore, free and lesser-known providers lack speedy servers, leading to delays and buffering problems. Therefore, premium VPNs are the superior choice for this purpose.
To access Spanish TV smoothly, the right VPN choice is crucial.
Having examined their attributes, connection speeds, and user feedback, here are the leading VPNs that stand out in bypassing restrictions on Spanish TV:
1. CyberGhost — smooth streaming performance on Spanish TV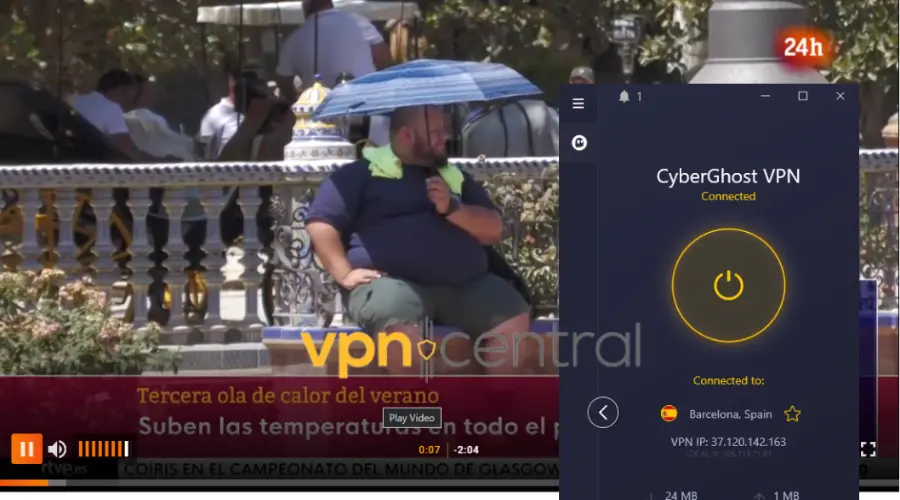 CyberGhost's extensive network of 194 servers in Barcelona, Madrid, and Valencia guarantees effortless access to Spanish channels such as RTVE, Antena 3, and even La Liga matches.
Security is a cornerstone, and CyberGhost excels in it. It employs OpenVPN, IKEv2, and WireGuard protocols to provide the highest level of encryption.
To preserve your privacy, it follows a strict no-logs policy that ensures your data is never retained and protected from third parties.
And that's not all – advanced features like ad blocking add an extra layer of protection.
Furthermore, you can connect up to 7 devices simultaneously with one subscription and get 24/7 support via live chat or email.
✅ Pros:
Streaming-focused servers
DNS and IP leak protection
Simultaneous connection for 7 devices
45-day money-back guarantee
No-logs policy
❌ Cons: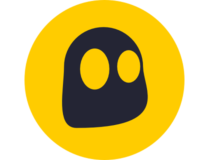 CyberGhost
Unlock Spanish TV in a split second using this reliable VPN!
2. ExpressVPN — top VPN for Spanish TV with fast speed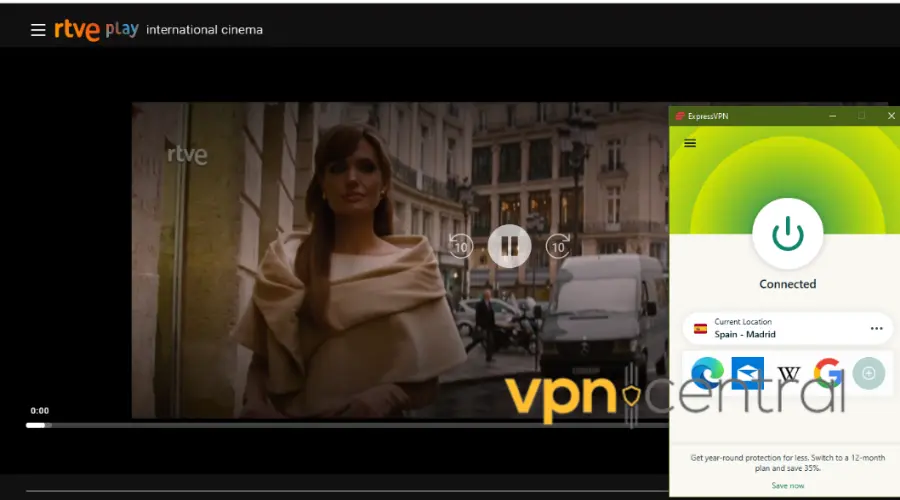 ExpressVPN is one of the best VPN services in terms of security and speed. It has a wide reach for seamless streaming.
It has over 3,000 servers globally, including in Spain and Barcelona.
In addition to its impressive server network, ExpressVPN's Private DNS is another distinctive feature.
By operating its DNS on every server, it reduces the risk of your online activity being exposed to potentially untrustworthy third-party DNS servers.
What's even better is that it allows you to connect up to five devices simultaneously to the VPN. This means you can watch Spanish TV on multiple devices at once without compromising speed.
Moreover, ExpressVPN provides a 30-day trial period with a money-back guarantee, giving you the freedom to evaluate the speed and performance of the VPN service.
✅ Pros:
Best leak protection on the market
Blazing-fast Spanish servers
Consistently fast and stable connections
Apps for all conceivable devices
❌ Cons:
Not the most affordable option
Occasional server blacklisting due to popularity
Limited to five device connections at a time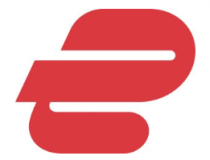 ExpressVPN
Enjoy boundless Spanish TV content with ExpressVPN!
3. PIA — lag-free Spanish servers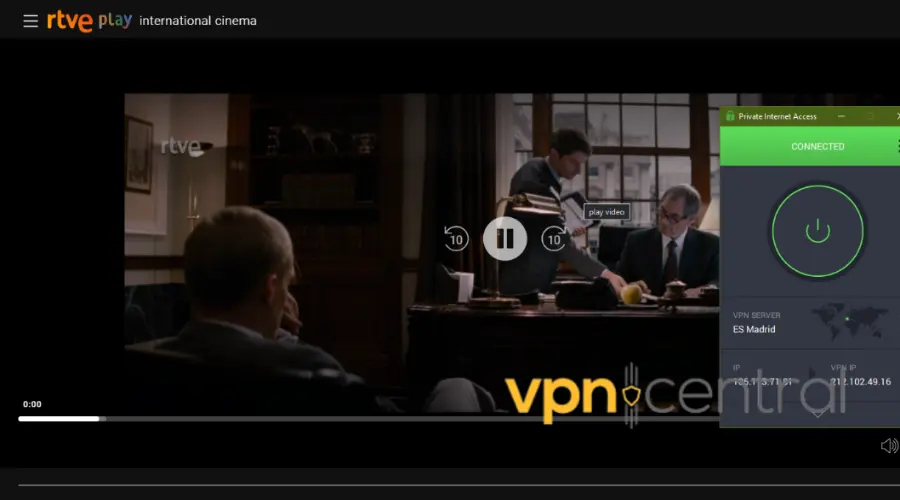 Affordable and reliable, PIA is the go-to solution for anyone who values online privacy and security.
With an impressive server count of over 35,000 spread across 84 countries, including Spain, PIA opens doors to diverse global content options.
What's more, its innovative and user-friendly apps ensure compatibility with most smart TVs, laptops, tablets, and even routers.
But that's not all. PIA packs an impressive arsenal, including an ad blocker, kill switch, and split tunneling.
Also, empowered by robust 10 Gbps NextGen servers, 4K streaming becomes a smooth experience without frustrating lags.
This ensures quick access to Spanish shows like Elite, La Casa de las Flores, and Cable Girls, all without any delays.
✅ Pros:
Extensive server fleet
Strict no-logs policy
Effective ad blocker
Split tunneling
❌ Cons:
Desktop apps could use improvement.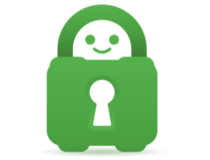 PIA
Bypass virtual borders and enjoy Spanish TV in Canada using PIA VPN!
4. NordVPN — untraceable connection to watch Spanish TV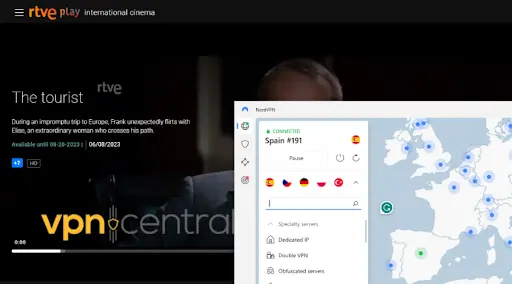 NordVPN offers a tailor-made experience with over 60 servers in Spain, making it easy to find the best one for your streaming needs.
Speaking of security, NordVPN's employment of ultra-secure AES-256 encryption leaves no room for compromise.
Your personal data remains encrypted, hidden, and safe from unauthorized intrusions.
Yet, NordVPN doesn't just stop at security – its lightning-fast performance provides seamless streaming, allowing you to enjoy HD and 4K content without a hitch.
Moreover, NordVPN works across various devices, including Xbox, Firestick, PlayStation, PC, Roku, Apple TV, and Smart TV.
Finally, to add to its features, NordVPN backs its service with a 30-day money-back guarantee.
✅ Pros:
Vast server network
Strong security features
No-logs policy
High-speed performance
User-friendly apps
❌ Cons:
Occasionally slower speeds on some servers
Limited split tunneling on mobile devices.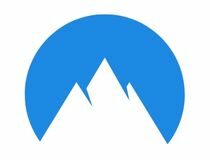 NordVPN
Swiftly unlock Spanish TV in Canada using NordVPN!
5. Surfshark — best value for money on Spanish TV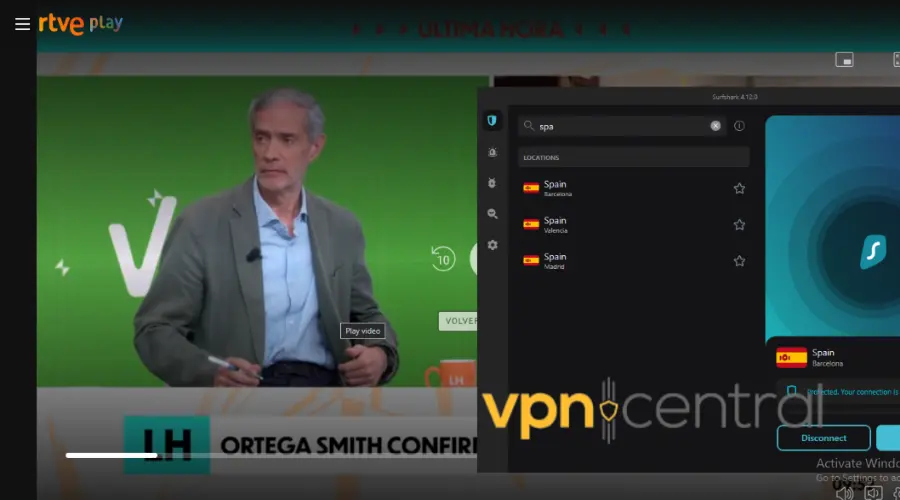 Surfshark offers several server options in Spain, and one of its standout features is unlimited data and unrestricted bandwidth.
Another distinctive feature is SurfShark's MultiHop, which routes your connection through multiple servers, adding an extra layer of anonymity.
Surfshark works seamlessly on various devices, including iOS, macOS, Windows, Android, Fire Stick, and more. It's versatile and can be used on nearly any device you have.
Moreover, Surfshark ensures top-notch online security and privacy with advanced protocols like OpenVPN, IKEv2/IPsec, and WireGuard, using the robust AES-256-GCM algorithm.
Lastly, a standout benefit of Surfshark is that it lets you connect unlimited devices simultaneously for all your devices.
✅ Pros:
Abundant server selection
Affordable subscription plans
Round-the-clock live chat support
No-logs policy
❌ Cons:
Speed issues with distant servers.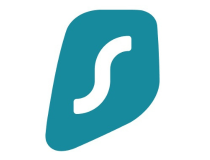 Surfshark
Effortlessly unblock Spanish TV in Canada through Surfshark.
Which Spanish TV channels can I watch online?
1. RTVE (Radiotelevisión Española)
The Spanish national public broadcaster, RTVE, offers a diverse range of programs and content for viewers.
From compelling dramas like Isabel and Cuéntame cómo pasó to thrilling sports coverage, including La Liga football matches, RTVE catered to a broad audience with its rich selection.
This is a renowned Spanish commercial TV channel offering a mix of entertainment, news, and reality shows.
Its online platform provided viewers with popular dramas such as El Internado and Velvet, along with exciting reality shows like Tu Cara Me Suena.
As a popular streaming service, Hulu Live TV offers access to Spanish channels, including live content from Spain, such as news, sports, and entertainment programs.
The streaming platform grants viewers access to an impressive lineup of programs from the Atresmedia Group. Also, it presents a wide array of shows and series, from Antena 3, La Sexta and more.
Additionally, Sling offers the Sling Latino Package, which includes channels such as Azteca, BabyTV Español, beIN Sports en Español, and Discovery en Español.
This streaming platform provides access to programs from the Atresmedia Group, offering a wide range of shows and series from Antena 3, La Sexta, and more.
The top shows include ByAnaMilan, Toy Boy, La Valla, A Funeral, etc
VIX offers a library of Spanish-language content, including movies, series, and documentaries, catering to a diverse range of tastes.
Is it legal to watch Spanish TV in Canada with a VPN?
In Canada, using a VPN to access geo-blocked content is legal. It allows users to access content from other regions, including Spanish TV channels.
While it is not illegal, it's essential to follow the terms of service of the streaming platform.
Some streaming services might have specific policies against using VPNs, so be sure to check their guidelines before streaming.
Summary
You now have the ultimate guide on how to watch Spanish TV in Canada. By changing your IP address to Spain with a VPN, you gain access to geo-restricted channels from anywhere in the world.
Throughout this guide, I've recommended top-notch VPNs based on their speed, security, and features, ensuring a seamless and secure streaming experience.
---