Users of ExpressVPN and Getflix can circumvent geo-restrictions on streaming platforms and watch their favorite shows from locations where they are not available.
With any of these two, you can enjoy international content on streaming platforms like Netflix, HBO, Hulu, Disney, and Prime Video.
Plus, you can browse the internet securely and privately. But which is the best choice between ExpressVPN vs Getflix?
To answer that, we put the two VPNs to the test. You can see what we concluded below and decide for yourself which of these two VPNs is the best.
We focused on streaming features specifically, but also tested how reliable they are in terms of privacy and security.
Before we dive deep, here is a quick comparison of some of the essential features of ExpressVPN and Getflix:
| | | |
| --- | --- | --- |
| Feature | ExpressVPN | Getflix |
| 🌐 Servers | 3,000+ servers in 94 countries | 90+ servers in 37 countries |
| ⚡ Speed | Fast | Moderate |
| 📄 Protocols | OpenVPN, L2TP, PPTP, IKEv2 | PPTP, L2TP, SSTP, OpenVPN, UDP |
| 🔐 Encryption | AES-256 | AES-256 |
| 🔌 Kill switch | Yes | Yes |
| ⛓️ Split tunneling | Yes | No |
| 👨‍💻 Live support | Yes | Yes |
| 🖧 Number of connections | 5 | 5 |
| 💸 Price | starting at $8.32/mo (longest plan) | starting at $2.25/mo (longest plan) |
Now that you have an idea of what this duo offers, we'll discuss each of those features in depth in the following section.
ExpressVPN vs Getflix – Features
When it comes to additional features, ExpressVPN has the edge in some areas over Getflix.
That's mainly because Getflix is built with streaming services in mind, while ExpressVPN is more of an all-in-one VPN deal.
Let's take a closer look at the features and performance of these two VPN services.
Network of servers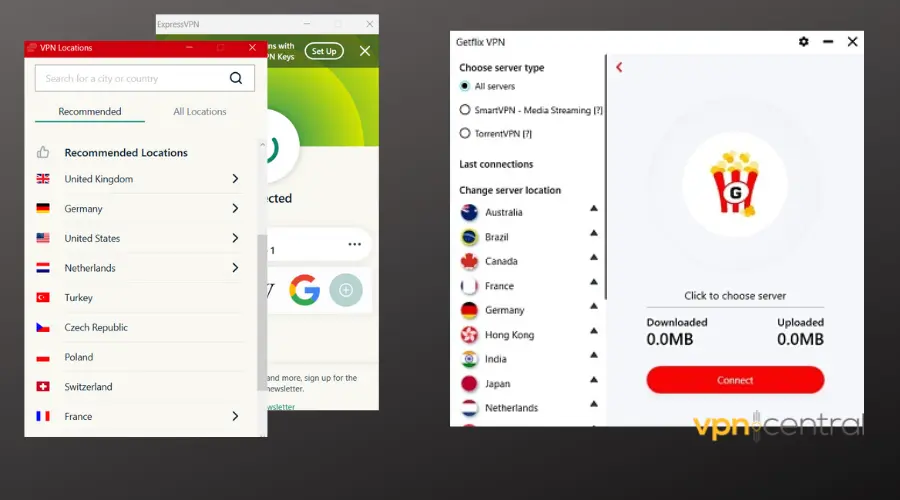 ExpressVPN has a vast server network, with over 3,000 servers in 160 locations across 94 countries. This allows users to access content from almost anywhere in the world.
In contrast, Getflix has a smaller network of 90+ servers in 37+ countries.
While this may be enough for some users, it may be insufficient for those needing access to content from more regions.
Plus, having more VPN servers in a particular location can minimize the risk of network congestion and slow internet traffic.
Consequently, ExpressVPN outshines Getflix in this area. But note that number of servers is not the only factor that makes a VPN good.
Speed
Speed is also a crucial factor to consider when choosing a VPN for streaming activities. So, it's essential to verify their speed before choosing one.
To test the speed of both VPNs, we used the website speedtest.net to check the ping, download and upload speeds of three servers in the US, Europe, and Australia.
First, we tested for our typical bandwidth speed without connecting to any of the VPNs, then when connected to ExpressVPN and Getflix for the three countries.
Here's what we got:
⚡ Download speed without VPN: 7.85 Mbps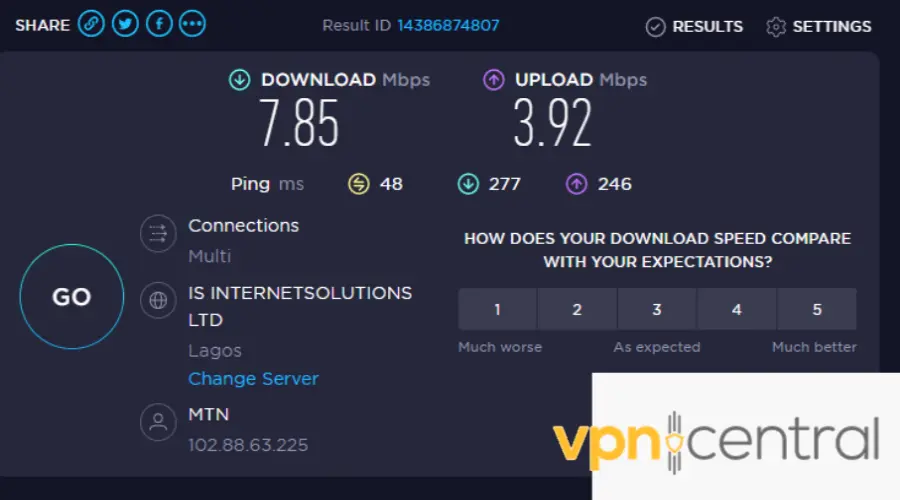 ⚡ Download speed with ExpressVPN with the USA server.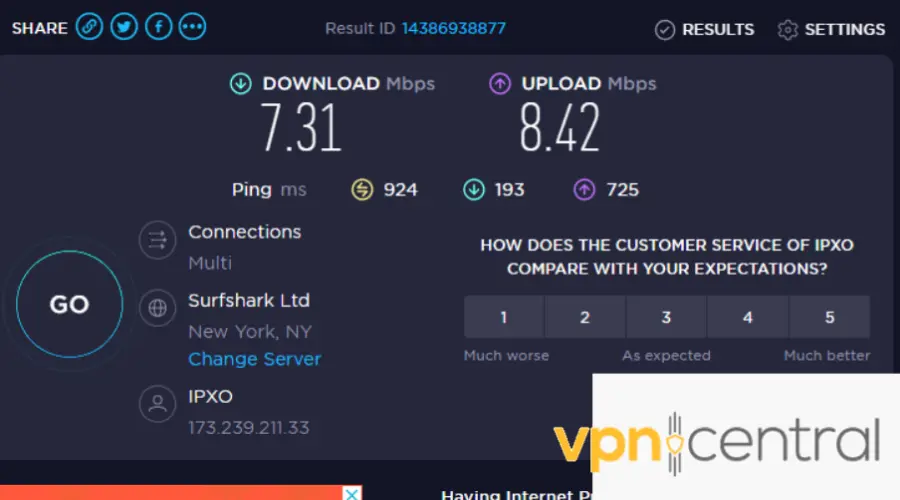 We got 7.31 Mbps. Compared to starting speed, that's a slight download speed decrease of 6.87%.
⚡ Download speed with Getflix VPN with a USA server: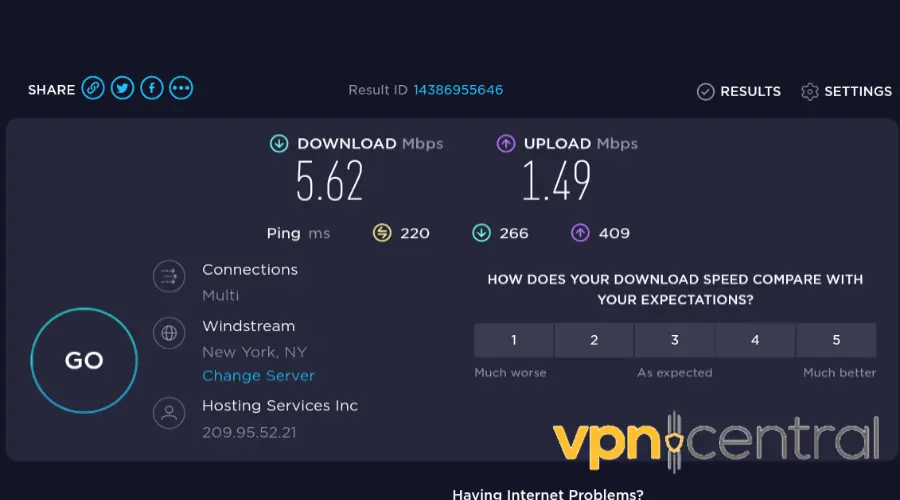 We got 5.62Mbps. Compared to starting speed, that's a download speed decrease of 28%.
Let's try out other server locations. This is because server locations affect internet speed.
If your servers are located far away, it will cause a delay in data transfer. As a result, you'll experience latency.
That's why we decided to try servers from different parts of the world, specifically Germany and Australia.
Here's how it went:
⚡ Download speed with ExpressVPN with a German server.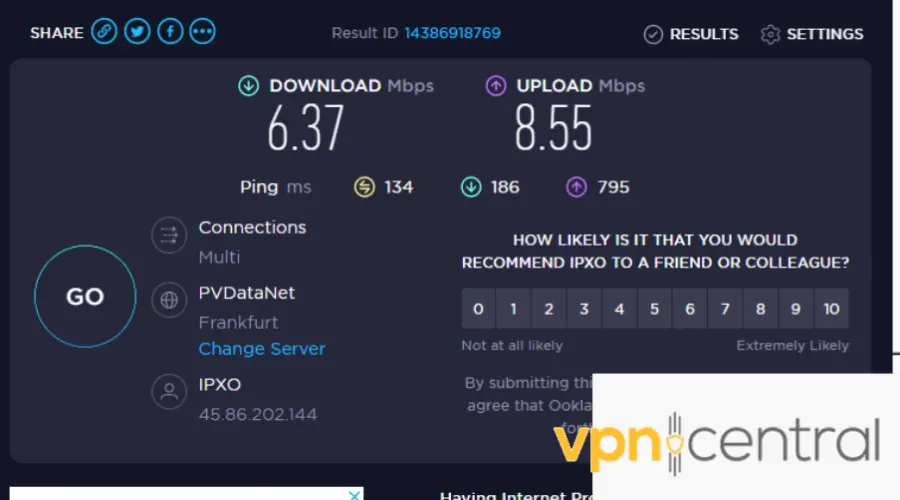 ⚡ Download speed with Getflix VPN with a German server.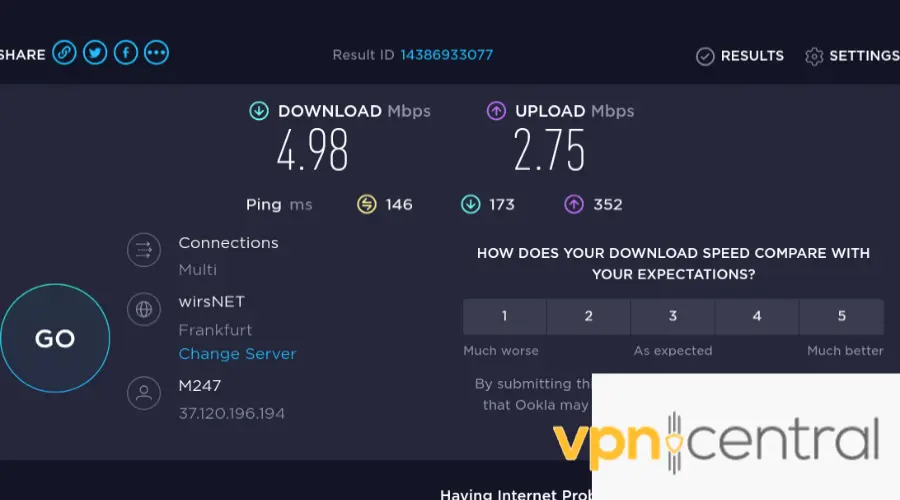 ⚡ Download speed with ExpressVPN with an Australian server.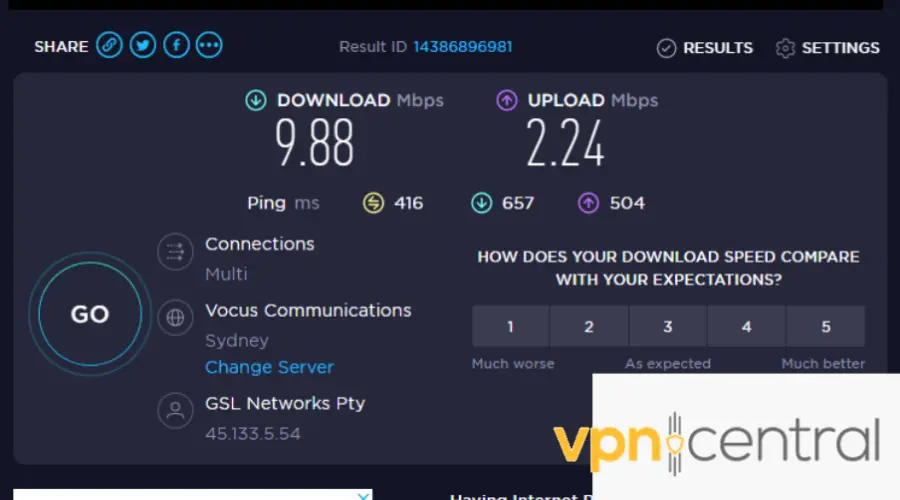 ⚡ Download speed with Getflix VPN with an Australian server.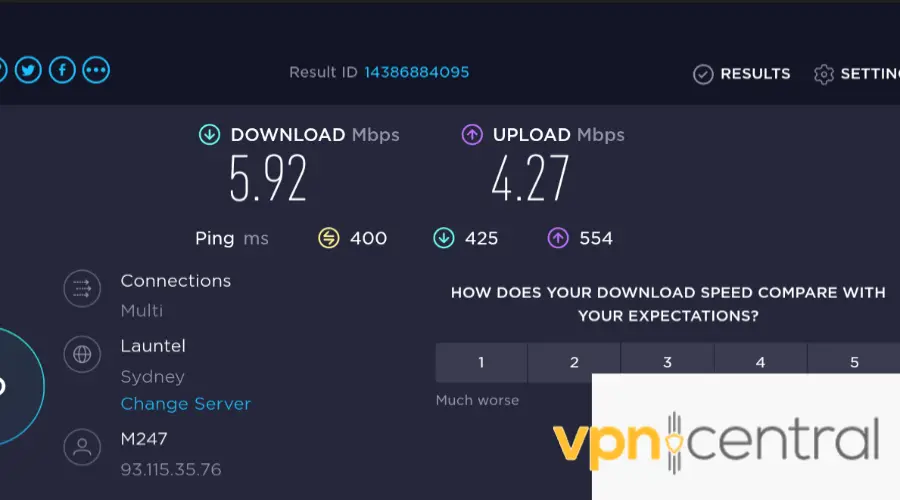 We compared the results with our typical bandwidth speed (i.e., without a VPN).
Overall, the three results showed that ExpressVPN had a faster connection speed, with a lower percentage drop in speed compared to Getflix.
Generally, a VPN connection can slow down your internet connection due to encryption, server distance, and network congestion.
In contrast, having a VPN with good speed can prevent and stop ISP throttling. So even if your connection speed drops a little bit, the overall experience will be better.
When considering streaming speed, you should choose ExpressVPN over Getflix. However, Getflix's speed result is not bad either.
Protocols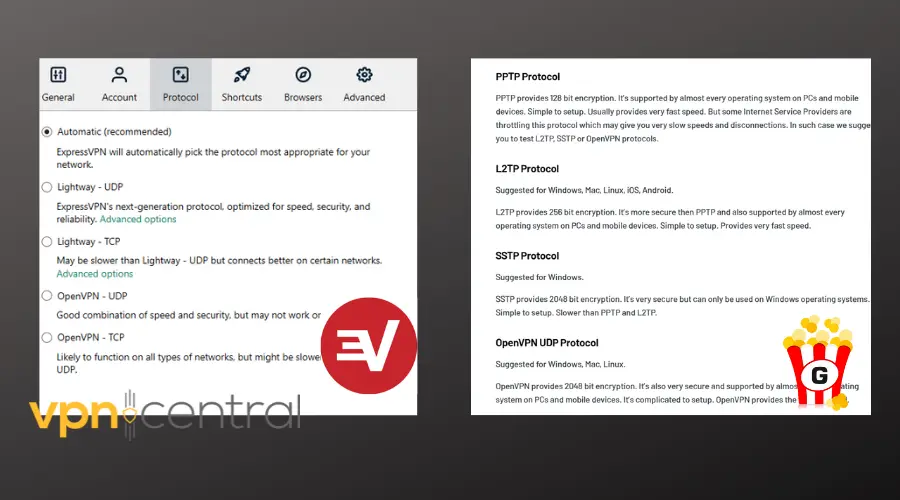 VPN tunneling protocols are a set of rules that establish how the connection is made.
In terms of supported VPN protocols, Getflix provides four different layers of VPN security protocols, including PPTP, L2TP, SSTP, and OpenVPN.
However, ExpressVPN also offers more modern protocols that provide users with enhanced security and privacy, as well as faster and more stable connections.
This includes Lightway, OpenVPN, and IKEv2 protocols. All of these protocols are up-to-date and secure, as opposed to PPTP for example, which is outdated in terms of speed and security.
Lightway also includes all the necessary security features, such as robust encryption, a kill switch, and a no-logs policy.
Furthermore, In terms of encryption, both ExpressVPN and Getflix offer AES-256 encryption, the highest level of encryption available for VPNs.
ExpressVPN vs Getflix streaming capabilities
Both options can effectively unlock streaming platforms. They have similar speed rates, so there won't be much of a difference in terms of performance.
That being said, ExpressVPN is a better option if you want more locations. As mentioned the VPN has servers in 94 countries, which is more than double of what Getflix offers – only 37 countries.
ExpressVPN unlocking Netflix on a German server: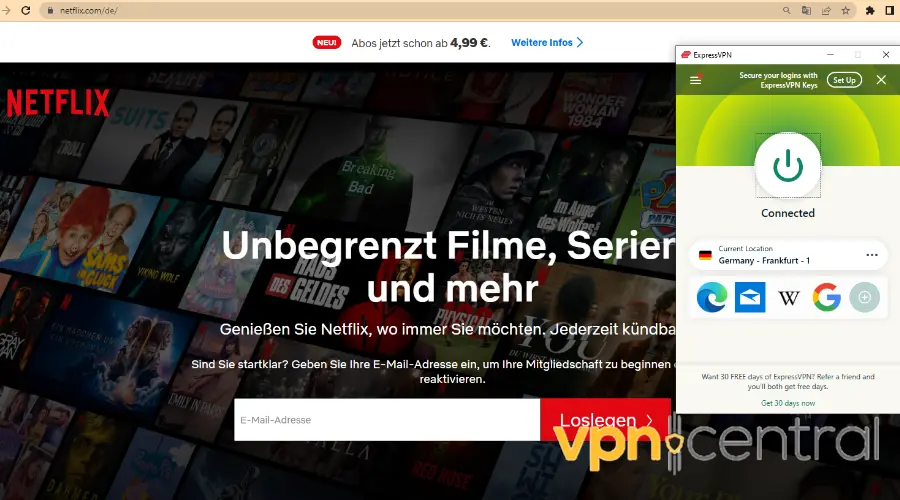 Getflix unlocking Netflix on a German server: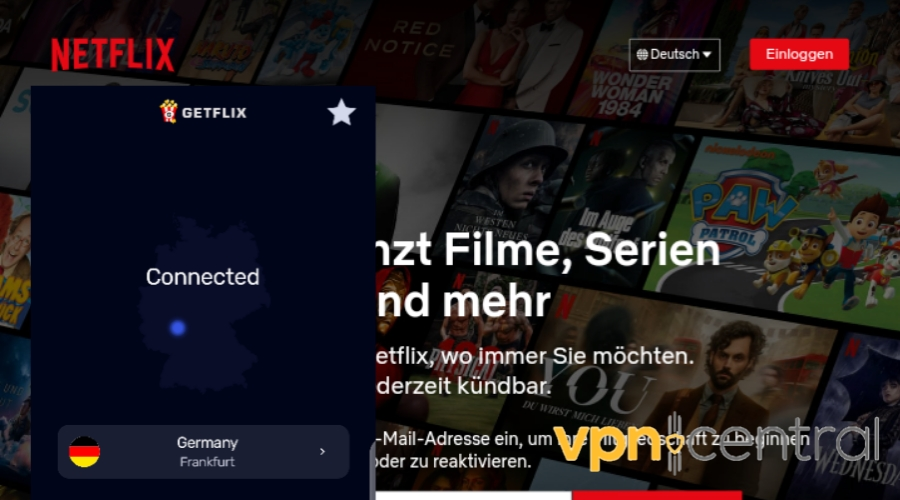 Logs and privacy policies
Since VPNs are ultimately used for anonymous and secure web browsing, they should follow a zero-logs policy, deleting sensitive data from their database.
But that's not true of all VPNs, as many may belong to alliance countries subject to mandatory data retention laws.
However, ExpressVPN is based in the British Virgin Islands, outside the 14 Eyes alliance.
This means they are not subject to mandatory data retention laws and can provide a more secure VPN service.
ExpressVPN also has a strict no-logs policy. And it is very transparent with the personal data associated with your account and how it uses it.
This includes the name, email, and payment information you submitted with your account.
In order to verify the claims on the website, we went through their privacy policy and got an excerpt from it:
We do not collect logs of your activity, including no logging of browsing history, traffic destination, data content, or DNS queries. We also never store connection logs, meaning no logs of your IP address, your outgoing VPN IP address, connection timestamp, or session duration.
Of course, they can't sell or use what they do not have.
Similarly, Getflix, based in Seychelles, which is also not a member of any alliance group, claims they do not log any user activity.
However, they do ask for and use some of your personal information, but you have to agree to it.
Again, we went through their privacy policy, and here's an excerpt that may pose a privacy concern.
We may use third-party service providers to help us operate our business and the Site or administer activities on our behalf, such as sending out newsletters or surveys. We may share your information with these third parties for those limited purposes provided that you have given us your permission.
But since it requires your approval, you may still have control.
Overall, both VPNs are good enough for privacy and anonymity. But ExpressVPN gives you more peace of mind regarding your privacy.
Data leaks
IP and DNS leaks can compromise your online privacy and security, so it's important to check for them when testing VPN services.
While both claim to protect against DNS leaks, We decided to put both to the test and see if you should pick ExpressVPN vs Getflix for better data protection.
Here's what we got.
IP leak test for ExpressVPN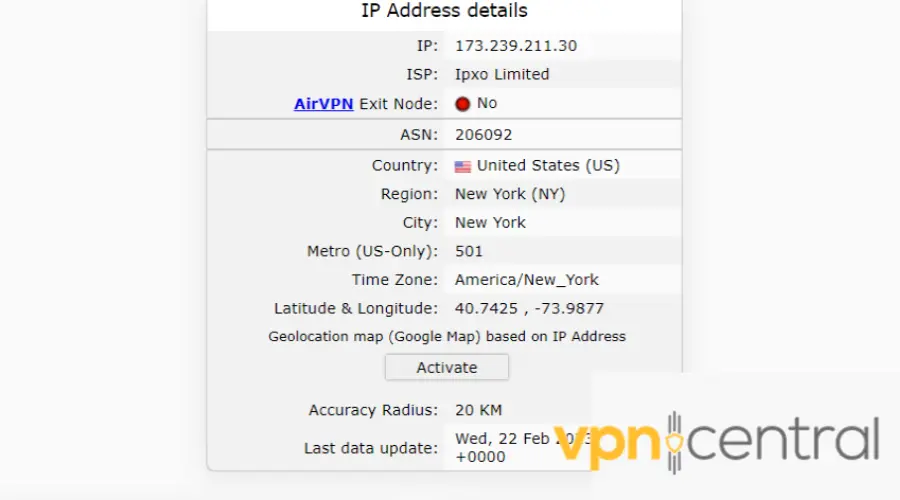 IP leak test or Getflix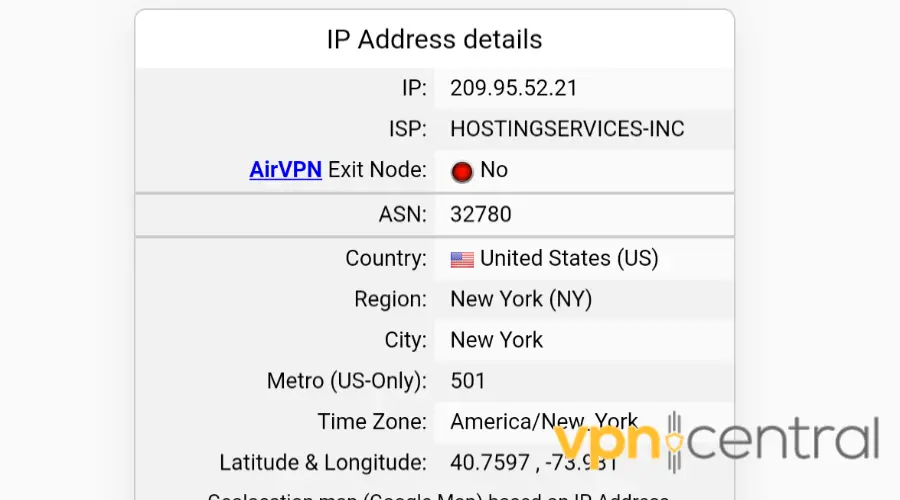 As you can see, both VPN clients were free of any leaks.
So, when it comes to data leaks, you can trust Getflix and ExpressVPN.
Price
When comparing ExpressVPN vs Getflix in terms of pricing, we can notice that there's a noticeable difference between the two. ExpressVPN's plans are a lot pricier.
Without further ado, here's ere's the pricing for ExpressVPN:
| | |
| --- | --- |
| SUBSCRIPTION PLAN | PRICE/MONTH |
| 12-month | $8.32 |
| Six-month | $9.99 |
| One-month | $12.95 |
Also, for ExpressVPN, each subscription comes with a 30-day money-back guarantee, so you can try the service risk-free.
For Getflix, it is generally budget-friendly, so if you're looking something cheaper, you should check out the prices below.
| | |
| --- | --- |
| SUBSCRIPTION PLAN | PRICE/MONTH |
| 24-month | $2.25 |
| 12-month | $3.32 |
| 6-month | $3.81. |
| Three-month | $4.31 |
| One-month | $4.95 |
With no credit card required, Getflix offers a 14-day free trial. With that, you have enough time to know if their service is best without risking your money.
Apparently, Getflix does not offer a money-back guarantee period. However, the 14-day free trial could be a better option.
ExpressVPN vs Getflix – Who is the winner?
Overall, ExpressVPN is the better VPN service compared to Getflix. ExpressVPN offers more features, better security, and faster speeds, but more expensive.
For this reason, it's an excellent choice for users who prioritize their online privacy and security and are willing to pay a premium for a high-quality VPN service.
That being said, Getflix is still a decent VPN service, especially for users on a budget.
Since Getflix's primary use case is unblocking channels, it would perform excellently well in this area.
Plus, it offers a subscription at an affordable price and access needed for an amazing streaming experience.
However, it falls short a bit in terms of speed and server numbers compared to ExpressVPN.
While both VPN services have pros and cons, we recommend choosing ExpressVPN if you need robust protection and advanced features for sensitive or specific activities.
But if your purpose is to unblock channels and stream videos, you may save money and go for Getflix.