The world of Virtual Private Networks will never stop expanding. New services pop up by the minute, and it's easy to get carried away with the noise every provider makes about their product.
But in this fast-paced world where every VPN provider claims it's the best, it's important to know which services you can actually trust with your online security.
That's why an ExpressVPN vs VirtualShield review article makes perfect sense.
Both services have been around for a while, and they are popular among many Internet users.
Users love ExpressVPN because of its top-notch unblocking capacity and its fast connections.
VirtualShield on the other hand has a strong US presence and a suite of security features that make it an interesting choice for anyone.
But which one will shine brighter if we place them side by side?
Read on to find out the best VPN for you in this ExpressVPN vs VirtualShield comparison article. But first, below is a look at both services at a glance.
| | | |
| --- | --- | --- |
| Features | ExpressVPN | VirtualShield |
| VPN protocols | OpenVPN UDP & TCP, and Lightway | OpenVPN UDP, TCP, L2TP |
| Number of servers | 3000+ in 94 countries | limited to 20 countries |
| Logging policy | No logs policy | No logs policy |
| Encryption | AES 256-bit encryption | ChaCha20 |
| Kill switch | Yes | Yes |
Evidently, ExpressVPN is one of the best VPNs available on the market. It's based in the British Virgin Islands, a place with no data retention laws, enabling it to keep its no-logs promise.
It offers top-notch security features such as split tunneling, a kill switch, and private DNS on every server, with the necessary protocols to protect users upon connection.
However, VirtualShield is a bit of the underdog because it's newer.
It was first released in 2017 and is owned by VirtualShield LLC, which is located in Delaware, United States.
The provider offers a VPN service as well as a host of other cybersecurity solutions offered as VirtualShield One.
However, we will only focus on the VPN side in this article.
ExpressVPN vs VirtualShield features
Now, it's time for an in-depth ExpressVPN vs VirtualShield comparison.
In this section, we will set side-by-side both VPNs in different categories of features, starting with their server networks.
1. Server network
ExpressVPN has the larger network of servers of the two services.
With a huge span of over 3000 servers in 94 countries of the world, ExpressVPN offers wide coverage of major locations.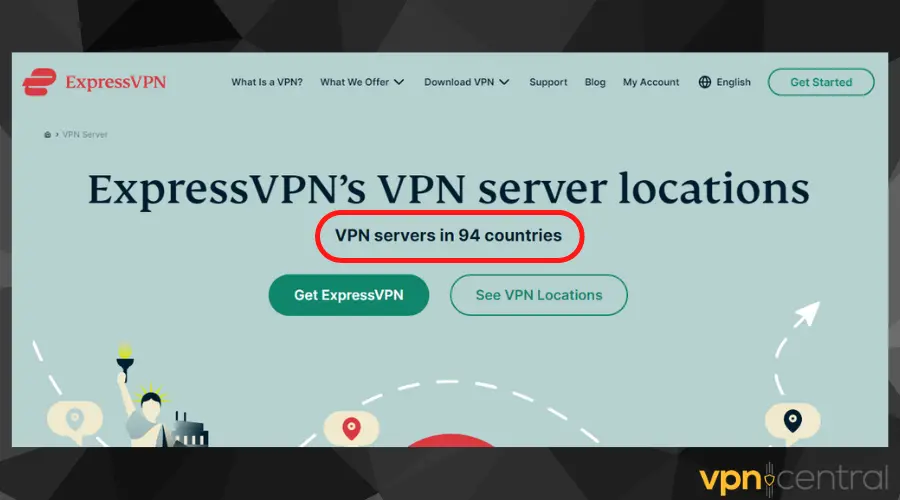 Not much is known about how many servers VirtualShield actually has. When I looked into the server number both inside the app and on its website, all I could find was a list of the locations where it has servers.
However, based on the information available on its website, it only offers servers in 20 countries, with none in the Middle East.
With this, it's obvious that it is limited in its location flexibility, placing it far behind ExpressVPN in this category.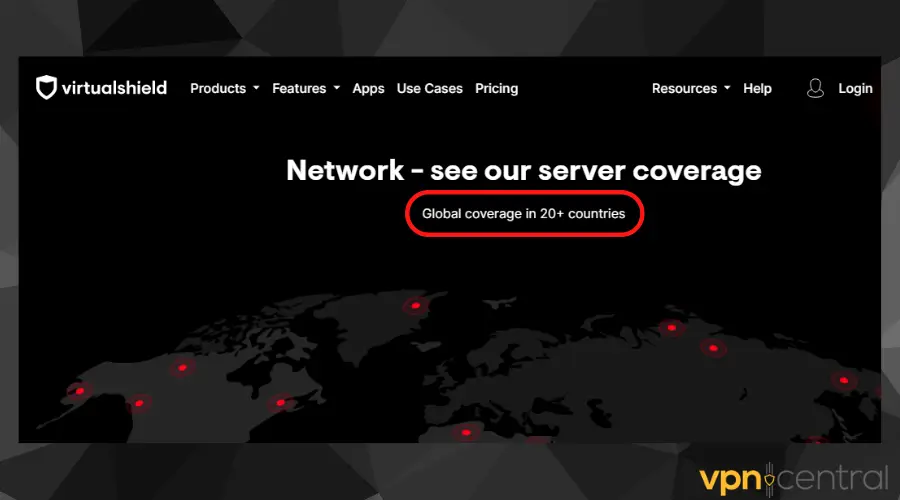 2. Speed
ExpressVPN boasts fast upload and download speeds. This is owing to its PrivateDNS feature available on every server.
PrivateDNS is ExpressVPN's way of securely handling DNS requests inside their already encrypted tunnel. This prevents hijacks, and tracking, and also means that users' DNS queries get faster responses.
VirtualShield also claims to be lightning-fast as stated on its website, but when we put both services to a quick speed test.
Below are the results we got, using Speedtest by Ookla.
⚡ Average Network Speed: 17 Mbps (Without VPN)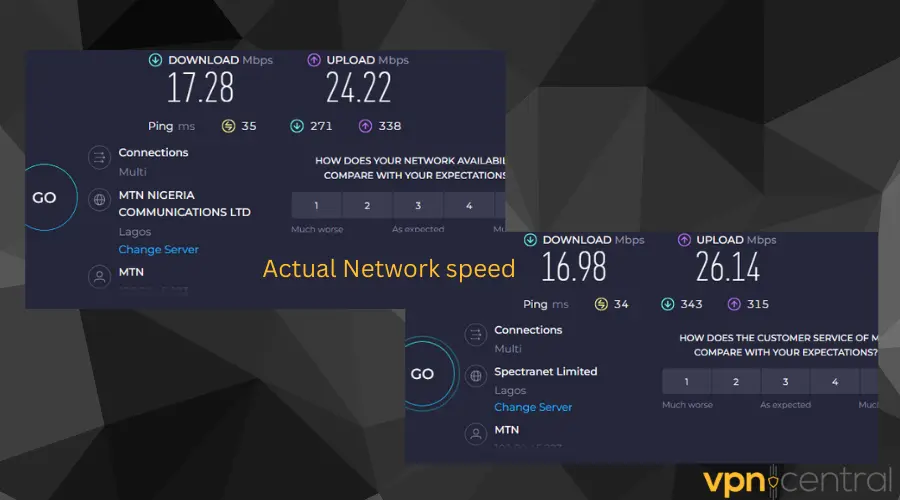 ⚡ Speed when connected to ExpressVPN:
USA server speed: 22.92 Mbps (34% increase in speed)
France server speed: 19.97 Mbps (17% increase in speed)
⚡ Speed when connected to VirtualShield:
USA server speed: 17.21 Mbps (1% increase in speed)
France server speed: 11.06 Mbps (34% decrease in speed)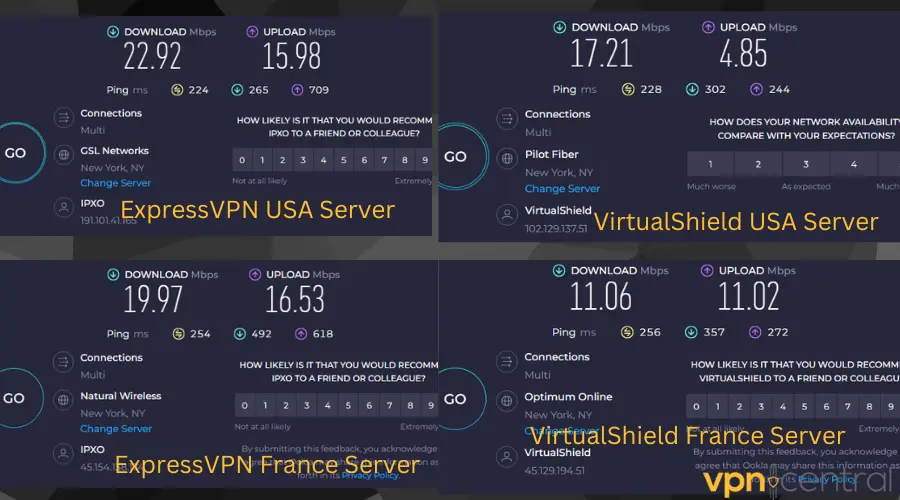 It is clear from the test results that ExpressVPN has faster speeds. This may be due to the extensive network of servers that it has.
Because they have more servers, it's less likely for them to be overcrowded, hence slower.
However, it is important to note that your physical distance to each server can affect the speed you will get.
Most times, if you connect to a server location near you, you will get higher speeds.
This happens because the closer you are to a server, the shorter the distance your traffic has to travel.
3. Encryption
Both services offer military-grade encryption which makes them secure and reliable.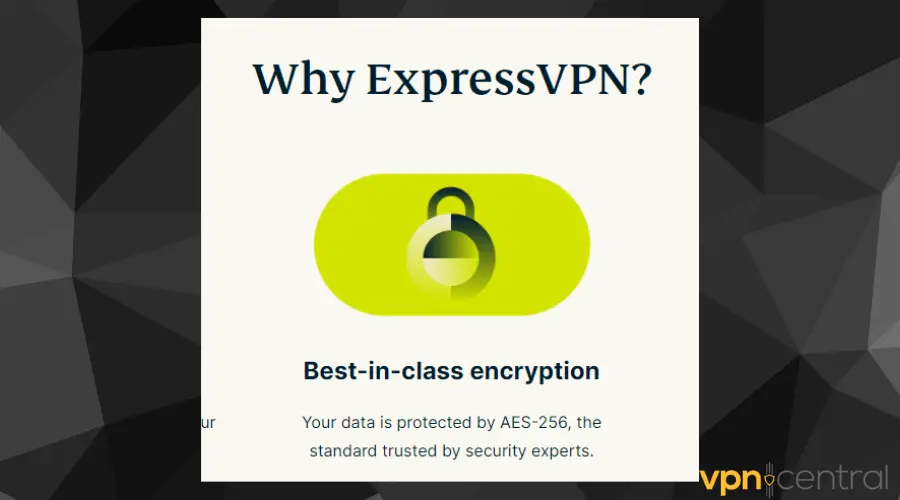 However, the subtle difference is that ExpressVPN uses AES-256-bit encryption, while VirtualShield uses ChaCha20 encryption.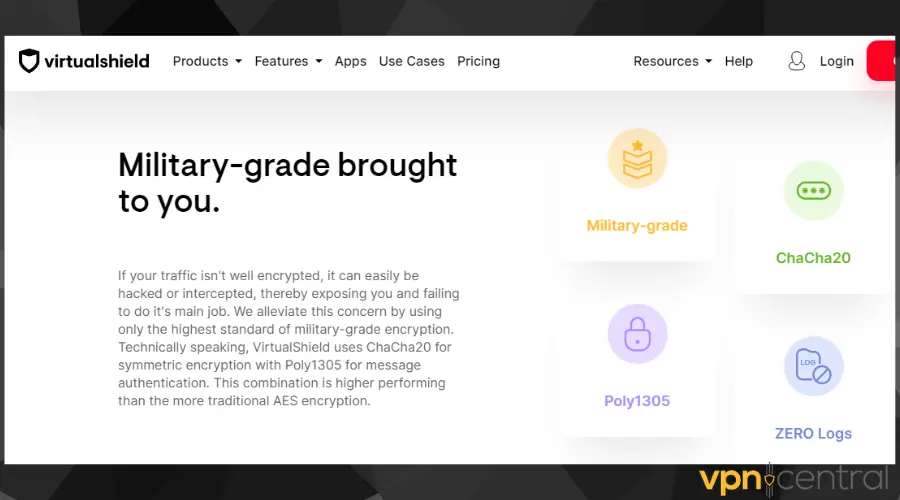 AES or Advanced Encryption Standard is a symmetric block cipher that uses the same key to encrypt and decrypt data in blocks.
ChaCha20 on the other hand, is a symmetric stream cipher that uses the same key to encrypt and decrypt data bit by bit.
This key difference in how they process data makes ChaCha20 faster and lighter as it does not need to divide the text into blocks before encrypting or decrypting it.
On paper, they are both extremely difficult to beat, but ChaCha20 slightly edges AES due to its lightweight nature and its ability to run smoothly regardless of the hardware specifications of the device in use.
Nevertheless, AES encryption technology is tested and proven to be just as tough as ChaCha20.
4. Protocols
Among ExpressVPN's available connection protocols, we have OpenVPN UDP and TCP protocols.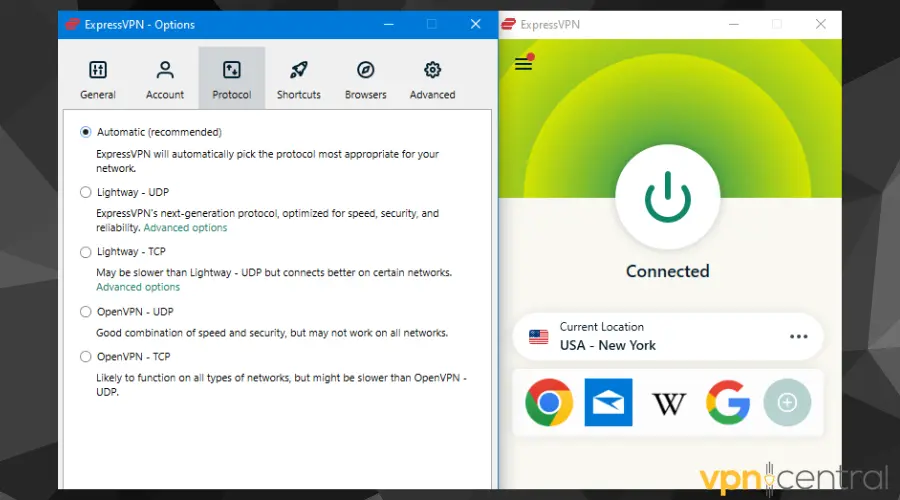 In addition, ExpressVPN also has a self-developed Lightway protocol that offers speed and security as well as powerful unblocking capabilities.
In comparison, VirtualShield does not say which protocols it uses on its website but you can get OpenVPN UDP, TCP, and L2TP protocols in the app.
5. Privacy and logging policies
Both ExpressVPN and VirtualShield operate strict no-logs policies which means that they don't keep or track any of their user data or information.
ExpressVPN's no-logs claim has been independently audited and found to be true. The same thing cannot be said about VirtualShield's claim.
However, this does not mean that they log your data, but being a US-based service, this claim is suspicious.
The US is a member of the 14 Eyes alliance, and that gives them the right to require all VPNs operating within their jurisdiction to log their users' data in case it's necessary for their investigations.
According to its privacy policy, VirtualShield will disclose your personal information to the government if the need arises. This is the only exception to its logging policy which still remains a strict no-logs policy.
So much for a VPN that protects its users' privacy, right?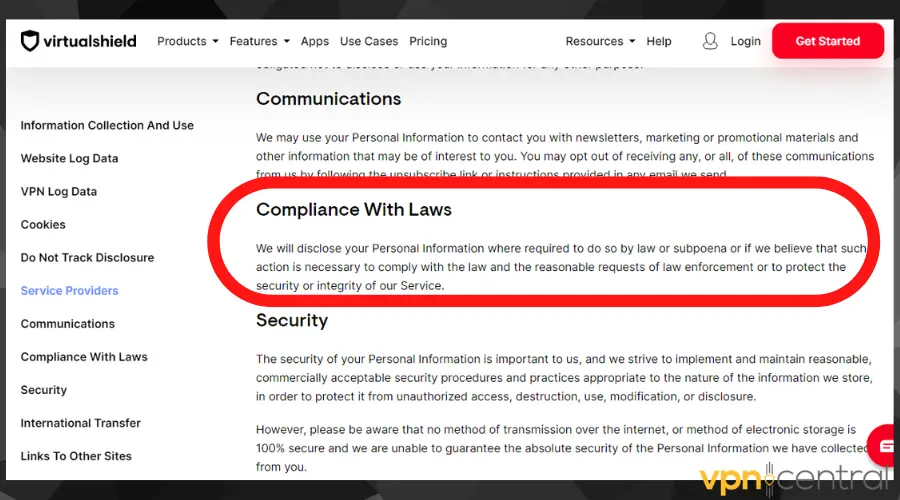 In contrast to VirtualShield, ExpressVPN is based in the British Virgin Islands, which is not a member of any surveillance alliance. This means that no law compels the service to log your data for any reason.
In summary, VirtualShield states in its privacy policy that it logs active connections into its database in a bid to limit simultaneous connections from the same account.
It also claims that it removes this data from its database upon disconnection which makes it a little bit confusing as to why they log it in the first place.
In contrast, ExpressVPN's privacy policy clearly shows that it protects user privacy while VirtualShield's privacy policy makes it a doubtful promise.
6. Data leaks
Some VPNs offer little or no protection from data leaks online.
If you use one of these weak VPNs, then your sensitive and private information can get exposed.
This can reveal your true identity, IP address, and location information to websites, leading to loss of access to restricted content.
In more serious cases, it can result in identity theft, phishing attacks, and financial losses.
However, just like ExpressVPN, VirtualShield VPN offers security features like DNS leak protection to protect websites from learning your true DNS and IP address.
Also, they both have a kill switch to take you offline when your VPN connection drops, and split tunneling to only route select apps through an encrypted tunnel.
These features are necessary to protect against leaks when browsing the internet.
6. Streaming and torrenting
VirtualShield performs relatively well when it comes to streaming, offering unlimited bandwidth to its users regardless of their subscription type.
However, it has a paid Premium Unrestricted Streaming add-on which is only on its VPN+ subscription package. This makes it a bitter-sweet choice.
It's also confusing because the basic subscription claims to allow for streaming so why do users have to pay extra for unrestricted streaming?
Nevertheless, VirtualShield unblocks most geo-restricted content easily, for example, it unblocked SNL as you can see in the image below.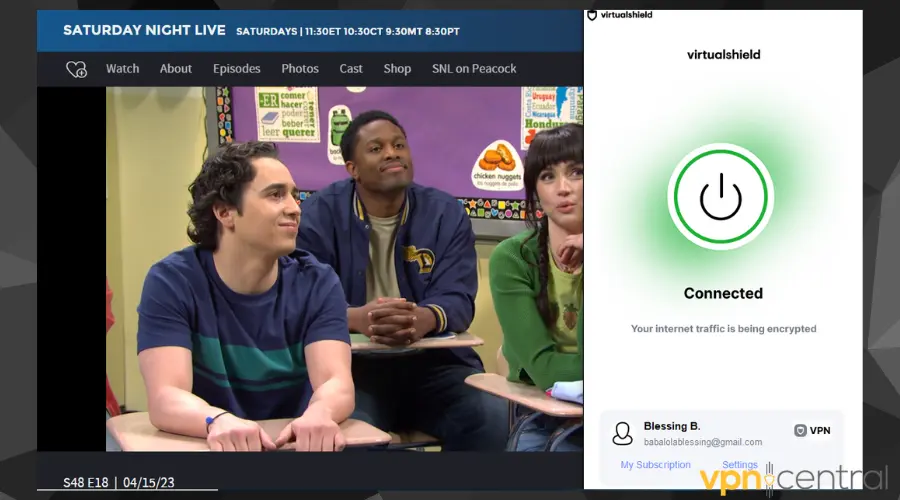 Also, it supports P2P file sharing as stated on their support page. However, they do not encourage torrenting as many torrents have copyright violation norms, hence we do not encourage it.
ExpressVPN on the other hand supports streaming and offers unlimited bandwidth as well, without needing any extra subscription.
In addition, it unblocks most geo-locked streaming platforms like Netflix, Disney Plus, Hulu, and lots more with ease.
In the image below, you can also see that ExpressVPN unblocked SNL with ease.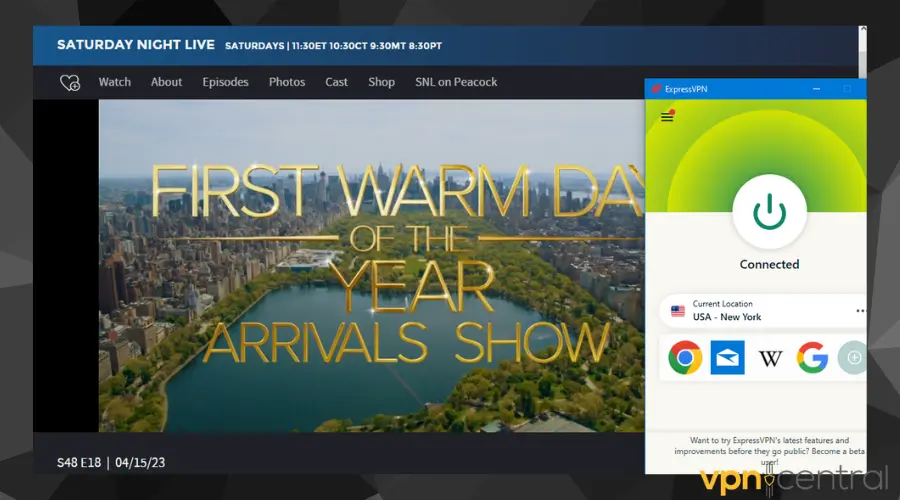 It also supports torrenting and P2P file sharing with impressive connection speeds.
7. Supported devices
Even though VirtualShield is a newer service compared to ExpressVPN, it supports Windows, Android, iOS, MacOS, and Linux, the same as the latter.
In addition to this, ExpressVPN also supports Xbox and routers.
8. Pricing and subscription plans
VirtualShield comes with various plans and pricing available for individual, business, and family use.
It has a basic VPN package that offers standard features such as anonymous browsing, and location spoofing.
In addition, it also has a VPN Plus package that has features like ID protection, ad blocker, malware blocker, and premium unrestricted streaming.
The 💰 Personal Plan costs $8.99 for one month, $107.88 for the 1-year plan, and $167.76 for the 2-year plan.
Meanwhile, the 💰 Family Plan costs $29.99 per month, $215.88 per year, and $359.76 for the 2-year plan.
For all subscription plans, you get 30 days for free.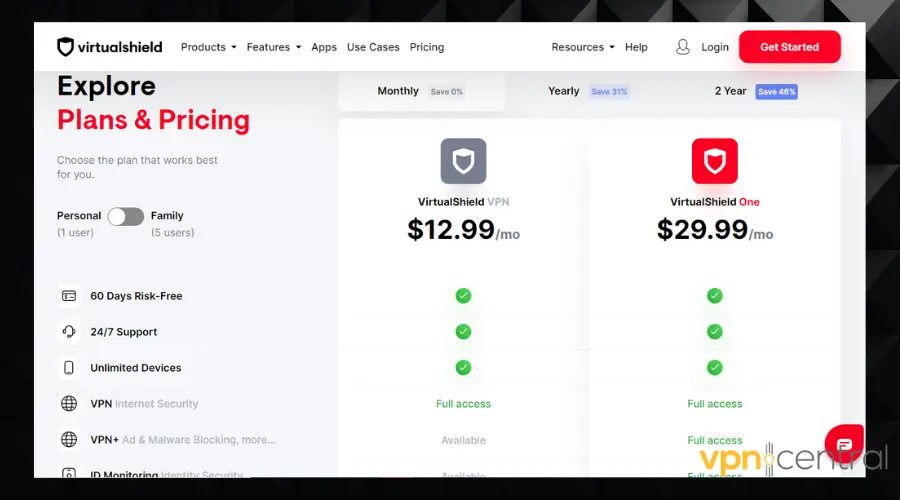 ExpressVPN doesn't have certain plans for special features as VirtualShield does.
It offers 3 different subscription plans and the only difference is the duration of the plan you select.
The longer your plan is, the more money you save.
ExpressVPN's subscription starts at 💰 $12.95, $59.94 for 6 months, and $99.84 for the 1-year plan.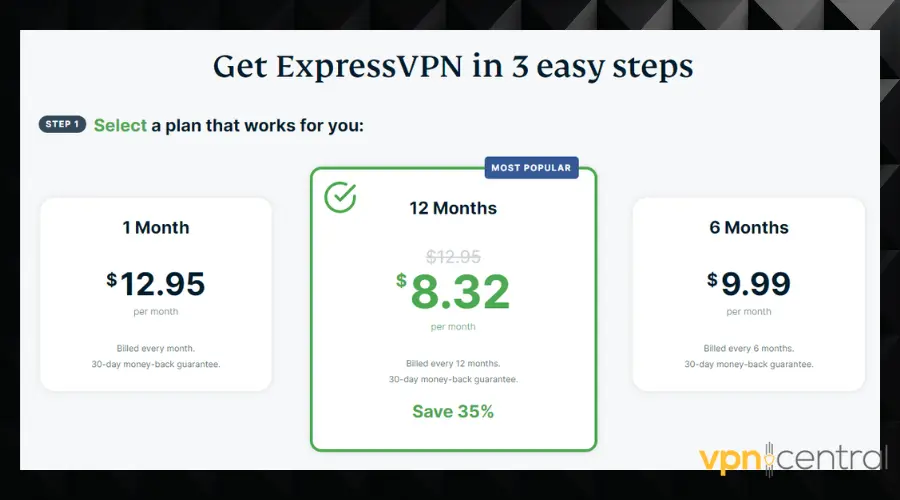 The service also offers a free trial in the form of a 30-day money-back guarantee.
---
Related:
---
ExpressVPN vs VirtualShield- Who's the winner?
At the end of this ExpressVPN vs VirtualShield comparison, ExpressVPN is the clear winner.
From the speed down to the pricing, ExpressVPN takes the lead.
However, VirtualShield VPN isn't a bad option for a beginner to VPNs due to its cheaper prices.
In summary, if you are torn between the two VPN providers, ExpressVPN is the clear choice because as opposed to VirtualShield, it offers a wider range of servers and it's anonymity claims are backed up by audits.