Although NordVPN is great at bypassing geo-block on Netflix, it may end up not working in some situations. One such scenario for example is connecting to an unsupported region.
On the other hand, Netflix does everything to restrict people from watching content not meant for their region to abide by distribution agreements. So, it has been on a VPN IP address blocking spree.
What this means is that your NordVPN IP is probably on Netflix's blacklist.
Guess what?
We know exactly how you can fix this so don't worry about it too much.
To stream all those fantastic movies from other countries check out the next section.
NordVPN not working VPN? Try this out!
Some people fall back on VPNs to circumvent geo-restrictions on Netflix. Sadly, sometimes due to technical issues, these VPNs cannot successfully unblock Netflix.
You may end up stuck on a forever connecting screen or an error telling you your access to the page is denied appears on the Netflix website.
Nevertheless, if NordVPN is not working with your Netflix, try each of the solutions below till the issue clears up.
Try another server


It is possible that Netflix has banned your IP address. Therefore, the first thing to do when you notice that NordVPN is not working on Netflix is to switch to a different server.

So follow this guide to do it yourself:
1. Launch and log in to the NordVPN app.
2. Then expand the arrow beside the existing location to see the server list.
3. Now select a server in the location of your choice.
4. Once the connection is active, go back to Netflix again – it should work now.

Change the active protocol

Some countries that are against the use of unregistered VPNs may block popular ports used by them. This can affect the performance of your VPN protocol if you are in such a region.

Use the steps below to change the protocol on NordVPN:
1. Open and log into the NordVPN app.
2. Once logged in, select the Gear icon to open the Settings menu and select Connection from the list.
3. Then go to VPN protocols or VPN preferences.
4. Choose an OpenVPN TCP or another protocol your choice.5. After that, disconnect and reconnect to the server you want.
6. Try using Netflix again and see if it works.


Use an obfuscated server

Since Netflix is particular about users accessing content that is not for their country using a VPN, it may detect and block your IP address. This is what NordVPN's obfuscated servers prevent.

These servers make your VPN traffic on VPN anonymous by making it appear as a normal connection.

To use an obfuscated server, do the following:

1. Launch the NordVPN app.
2. Log in with your details.
3. At the bottom-left of the window, click on Settings. Then select Connection.
4. Go to VPN protocols. Change it to OpenVPN TCP.
5. Return to the home window.
6. In the line of displayed countries, expand the arrow. 
7. Click on Specialty arrows. Select Obfuscated servers.
8. Click on the arrow in the dialog box that appears to choose a server.
9. Click to connect.
10. Go back and try accessing Netflix again.

Allow NordVPN through firewall

Firewalls are meant to protect your device from malware and virus attack that is why it will attack any app you have not allowed through it. In this case, it may affect NordVPN's performance.

To allow NordVPN through the firewall, do this:
1. On the Start menu, search for Windows Security. Click to open it.
2. Click on Firewalls & network protection.
3. Select Allow an app through Firewall.
4. Click the Change settings button.
5. Check the box beside NordVPN if it is empty.
6. If you cannot find NordVPN on the list, click the Allow another app button at the bottom right of the window.
7. Check the box under the type of network: either Private or Public, you want NordVPN to access.
8. Click Ok.

Clear cache and cookies

All browsers contain cookies and cache that store your personal data and this includes your location. Netflix may pick up on these bits of information and stop you from gaining access.

Continue to clear your browser's cookies and cache:

1. Open your browser.
2. Click on the three-dot in the upper-right corner of your browser to access the menu.1.
3. Scroll down to More tools. Click on it.
4. Select Clear browsing data.
5. On the Basic tab, click the drop down and select All time.
6. Check all the boxes besides Browsing history, cookies and other sites etc. 
7. Click the Advanced tab.
8. Repeat the same process.
9. Now click on Clear data.
10. Then, go back to Netflix and try again.
The guide above is for Google Chrome but the steps are almost similar for all browsers. So, you should be able to work it out regardless of the browser you are using.

Change your VPN provider

You may attempt every fix but NordVPN still does not work with Netflix. Though disappointing especially if your subscription has not expired, you would have to try out another VPN.

1. Subscribe to a reputable VPN provider like ExpressVPN.
2. Download the app to your device.
3. Install the app following the instructions carefully.
4. Click on the ellipsis to display the server list.
5. Choose any location of your choice.
6. Attempt using Netflix again. It should definitely work now.
If all these solutions do not work, which is unlikely, reach out to Netflix customer support to find out what is the problem. 
You can as well update both the VPN and Netflix app and then try the fixes all over again as it may be a bug issue.
Does Netflix block NordVPN?
It doesn't block the entire VPN service, because it would be impossible. However, users report that certain NordVPN IP addresses have been blocked by the website.
As you may already know, Netflix does not have the same media library for all countries due to licensing agreements. There are some programs on Japan Netflix that may not be accessible in the US.
Therefore to protect copyright, it clams down on IP addresses from popular VPNs so that users cannot use them to get around regional block.
Aside that, there is no official from the company about blocking a particular VPN. Similarly, VPN users on this streaming platform so far have not gotten warning concerning the use of VPN.
How does Netflix detect my VPN?
There are some techniques Netflix employs to sniff out your VPN usage to enable them ban your IP address.
Here's how Netflix finds you:
IP address tracking: Netflix maintains a list of blocked IP addresses linked to VPNs. If you access Netflix from a blacklisted IP address, you will be denied access.
DNS lookups: Netflix can identify VPN usage by analyzing the DNS lookups performed by your device. When you connect to a VPN, your device utilizes the VPN's DNS servers instead of your ISP's servers. Netflix tracks this DNS server change to detect VPN activity.
WebRTC leaks detection: WebRTC enables direct browser-to-browser communication, bypassing servers. Netflix detects VPN usage by identifying WebRTC traffic originating from an IP address that does not correspond to your ISP.
Because of this, we recommend you avoid free VPNs as they mostly offer weak encryption making them susceptible to data leaks.
Now let's dive right into the interesting section:
Best VPNs for Netflix
Check out the best VPNs for Netflix based on speed, security, privacy, and server count.
1. ExpressVPN – streaming-optimized servers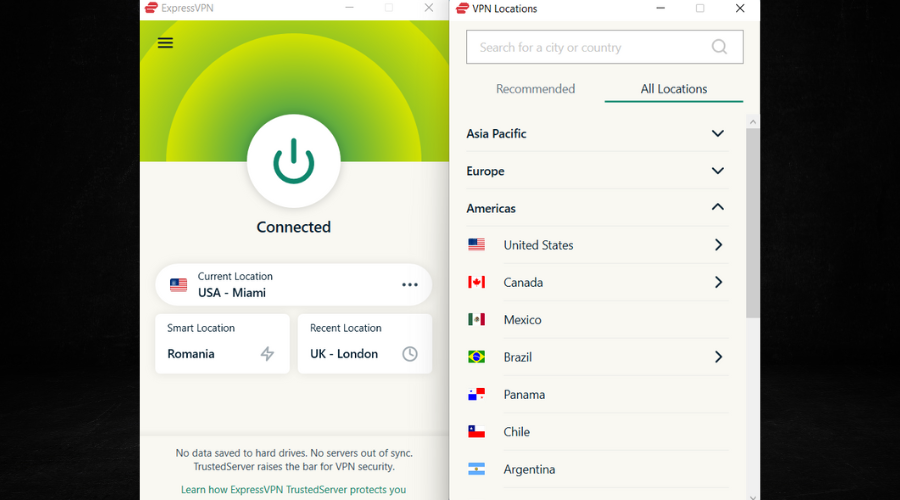 ExpressVPN consistently proves to be a top contender for those seeking uninterrupted access to Netflix's vast library of content worldwide.
Firstly, the service prides itself of over 3000 servers spread across 84 countries and 160 cities. It ensures that users have a wide range of options when it comes to bypassing geo-restrictions.
In addition to this, ExpressVPN also prioritizes speed and reliability, both of which are crucial for a smooth streaming experience in HD.
By optimizing its servers for speed and employing advanced protocols, such as OpenVPN and Lightway, ExpressVPN ensures that users can stream Netflix without any significant buffering.
Moreover, ExpressVPN is known for its robust security and privacy features, which includes a strict no-log policy. It also uses the AES-256 encyptionn to scramble users data.
Whether you prefer to stream on your computer, smartphone, smart TV, or gaming console, ExpressVPN offers dedicated apps various platforms.
Pros
Five simultaneous device connections
Bitcoin payment
Unlimited bandwidth
MediaStreamer DNS for Apple TV
Cons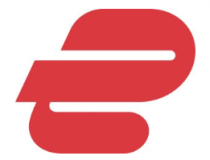 ExpressVPN
Get the best streaming experience with the fastest VPN on the market!
2. CyberGhost – easy-to-access interface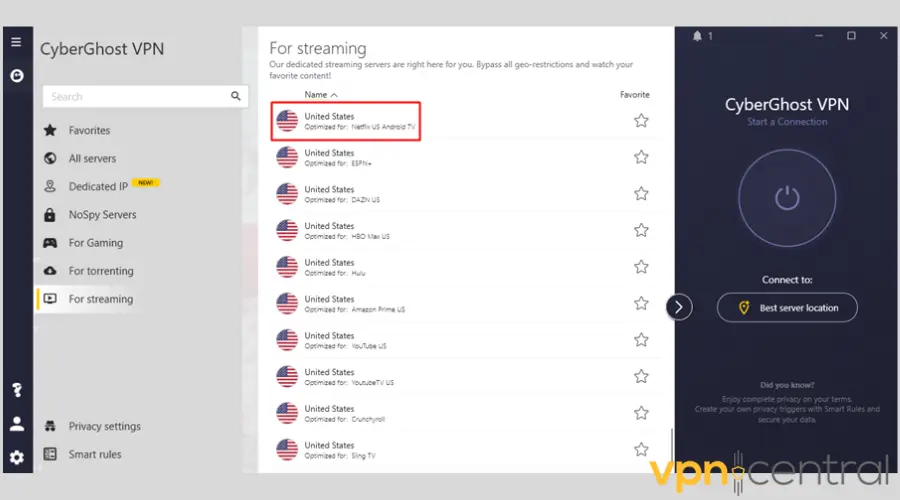 CyberGhost is widely recognized as a great VPN for Netflix due to several key factors. For example, it beats NordVPN and ExpressVPN when it comes to server count.
It offers 9800+ servers in 91 countries, enough for users to hop from one to another, spoofing their location with ease. This server size makes it easy to unblock Netflix with CyberGhost.
Additionally, CyberGhost focuses strongly on user privacy and security. It employs robust 256-bit encryption to safeguard data transmission.
With the automatic kill switch, it immediately halts internet traffic if the VPN connection drops. This protects users' privacy and prevents potential IP leaks that could reveal their true location.
Furthermore, CyberGhost's user-friendly interface makes it accessible to both VPN beginners and experienced users.
Another aspect that makes CyberGhost an excellent choice for Netflix is its reliable and consistent performance.
Its servers are known for delivering fast speeds and stable connections, minimizing buffering and allowing for seamless streaming of HD and 4K content.
Pros
DNS Leak Protection
Kill Switch
Streaming-Optimized Servers
Dedicated IP
Split tunneling
Cons
Servers can be overcrowded sometimes.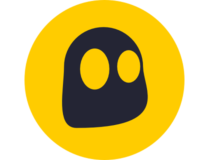 CyberGhost
Easily unblock Netflix from anywhere with this reliable and fast VPN!
3. Surfshark – swift servers to boost connection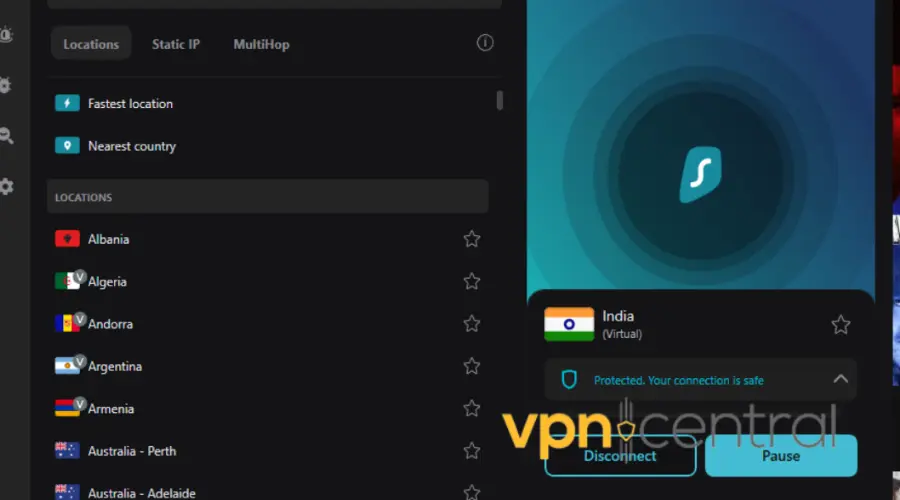 Another great alternative that you can try if NordVPN is not working with Netflix is Surfshark.
Despite having really cheap plans compared to other VPNs, this provider has a surprisingly high-quality service.
Starting with its high number of 3 200 servers located in 100+ countries and ending with advanced privacy features, Surfshark is everything you need for unblocking Netflix.
This VPN provider offers advanced features like obfuscation and double VPN that will prove effective in bypassing Netflix VPN detection.
You can enable these features on your PC, mobile device, or even smart TV and get a seamless experience.
Besides being compatible with most operating systems, including iOS, Android, PC, and macOS, Surfshark VPN also supports unlimited simultaneous connections.
So you can easily share your Netflix account and watch at the same time with your friends or family.
Pros
Multiple protocols
Automatic kill switch.
No activity log.
DNS leak protection.
DoubleVPN
Cons
Some PC users say the app is buggy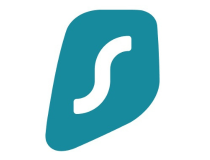 Surfshark
Watch any show from any country with this untraceable VPN for Netflix!
Summary
In a case NordVPN is not working with Netflix even when you have a good network strength, then it is likely a technical issue. Otherwise, Netflix has blacklisted your IP address.
Then again, it is possible the error you get when this happens is because you are connected to a wrong server. But regardless of the cause, the solutions in this article can get you back into Netflix in no time.
---