Whether you prefer playing games on a PC, console, or mobile device, improving your gaming performance or experience can be a difficult approach. This is exactly what a Rocket League gaming VPN will support you in during gameplay.
The ability to unblock different locations, safe encryption, fast servers, and low ping times are some of the most essential aspects to consider when determining how effective a VPN is for gaming.
If you are in England and play on servers in another country, the VPN is useful since you can select the VPN server location, which distributes the traffic across multiple network nodes.
However, this only slightly reduces ping, but can undoubtedly reduce packet loss in Rocket League.
However, as the game is popularly played globally, this can lead to ISP throttling as it happens with Verizon packet loss and DDoS attacks which rivals use to gain an unfair advantage against your gameplay.
Does Rocket League allow VPN?
While using a VPN won't result in your account being banned, it will almost certainly increase internet speed in the event that the Rocket League game server goes down.
In many cases, a VPN can be a better choice if your ISP employs particularly poor routing techniques. One of the wise choices to make while playing is to try ExpressVPN which reduces ping, for instance.
If you're in a region with poor connection or having geolocation blocks in connecting to the online servers, then you need to get a VPN.
Maybe you are chatting with online friends and you may need a VPN for Twitch ads and avoid any awkward moments in-game or even game lags.
Some best VPNs with fast server locations give reliable speed and secure your personal data. Hence, our software experts and editors have listed below the best VPNs for Rocket League.
What's the best VPN software for Rocket League?
1. ExpressVPN – Excellent to bypass ISP throtling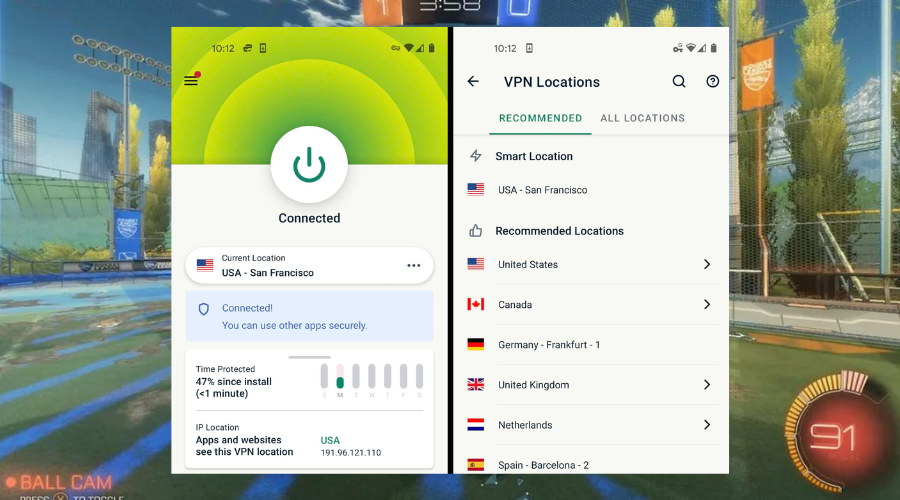 With multiple servers across 160 locations in over 90 countries, this Express VPN service allows you to access any gaming server from any location in the world.
ExpressVPN is known for its excellent encryption and server speed services. The VPN offers excellent options for Rocket League players from an easy user interface to decent server speeds.
In addition, security-conscious gamers are covered with 256-bit encryption which secures your personal information and ensures your privacy.
Your data is encrypted by ExpressVPN and sent through a secure tunnel inside your ISP's network. Additionally, you can connect to a server outside of your area or even your country using the VPN.
As the ISP cannot monitor the data you send and receive over their network, you cannot be accused of using their bandwidth for torrenting, downloading, streaming, or any other activity
The kill switch feature and no logs policy help to prevent snoops and DDoS attacks. Their servers are reliable and allow for an optimum gameplay experience.
ExpressVPN is on the pricier side, but they frequently offer discounts and different deals on their plans.
All plans come with a 30-day money-back guarantee which gives you enough time to test their services.
ExpressVPN
Play Rocket League restriction free with this reliable and incredibly fast VPN!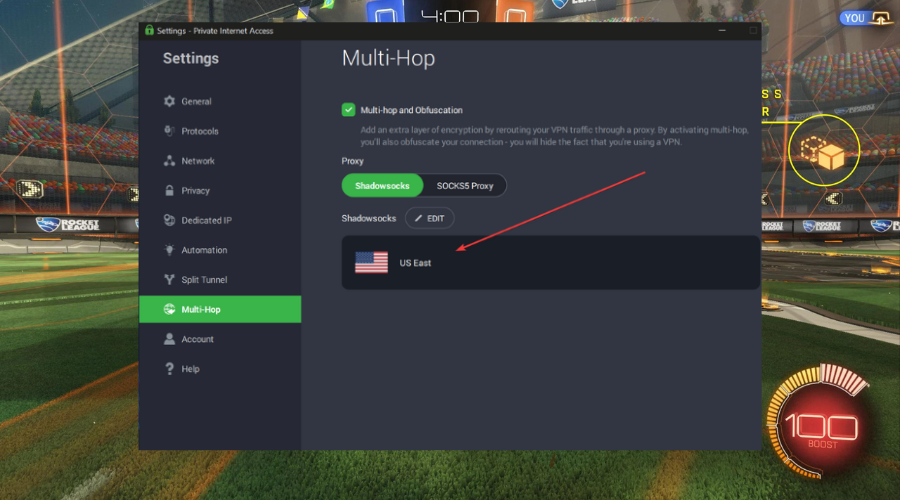 If you want to enjoy the gaming privacy that only comes with a high-end VPN, then you should take a closer look at what this Kape Technologies solution has to offer.
Of course, Private Internet Access is the perfect option for bypassing region locks. However, beyond the basics, it offers plenty of other extra benefits when your mission is to enjoy a smooth Rocket League gaming experience.
Since it uses encryption algorithms built by the world's greatest experts in cryptography, there's literally no chance to break PIA's encryption technologies.
With data encryption, DNS leak protection, and IPv6 leak protection included, rest assured that you're secure at all times.
Even more, Private Internet Access enforces a strict no-logs policy. As for that automated kill switch, it will protect your IP even if the connection to the VPN server fails.
When you use multiple servers to travel from point A to point B, this is referred to as using the Multi-Hop capabilities, also known as Double VPN or VPN Cascading.
Your data and identity are protected by this additional degree of security. Using a multi-hop VPN, for instance, can link you to another nation while you're travelling without requiring any further effort on your behalf.
This is especially helpful for Rocket League when VPN communication is blocked by firewalls or when a user needs to get past a bandwidth restriction.
Private Internet Access
Find the best-suited server to play Rocket League at high speed from anywhere in the world!
3. NordVPN – Best for the specialty servers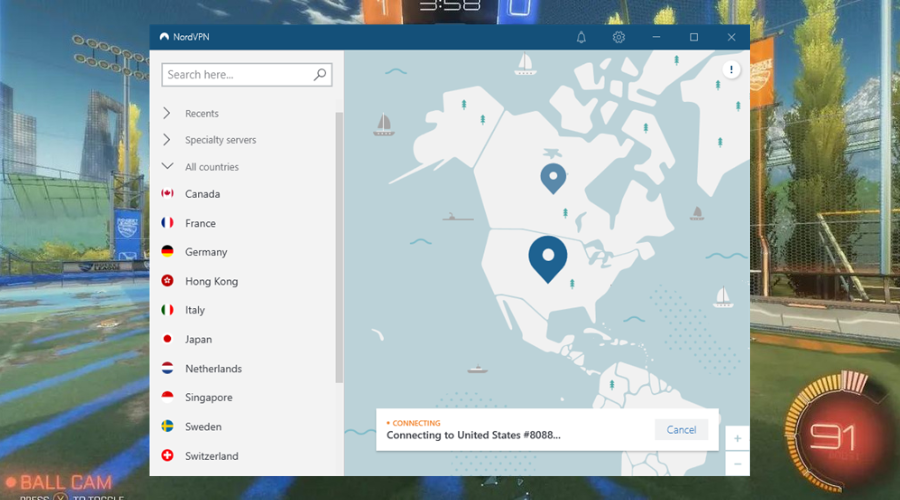 NordVPN is one of the best VPNs for Rocket League known for its reliable performance and secured encryption services.
The Panama-based Tefincom & Co., S.A. VPN has over 5400 servers in 59 countries which gives unlimited options in connecting to game servers, with each server boasting impressive speeds.
If you're worried about your online security being compromised, NordVPN takes care of this risk by rerouting all your connections through their own servers.
Four specialty server types are supported by NordVPN in all of its locations.
Double VPN refers to a connection to a server that is chained to a second VPN server in a different nation. The traffic is doubly encrypted, enhancing security and anonymity.
Through a VPN server and the Onion network, traffic is sent using the Onion over the VPN method.
Users that have purchased a dedicated IP address can access dedicated IP servers, and the P2P servers permit peer-to-peer communication.
The VPN also upholds a strict no-logs policy; this ensures your Internet activity is never logged on their servers.
In addition, NordVPN also offers DNS leak protection which secures your server from snoops and DDoS attacks.
NordVPN offers a 30-day money-back guarantee to test their services and gives good value for money.
NordVPN
Enjoy blazing speed connections to keep your VPN connection in Rocket League fast and stable.
4. Surfshark – Best for P2P optimized servers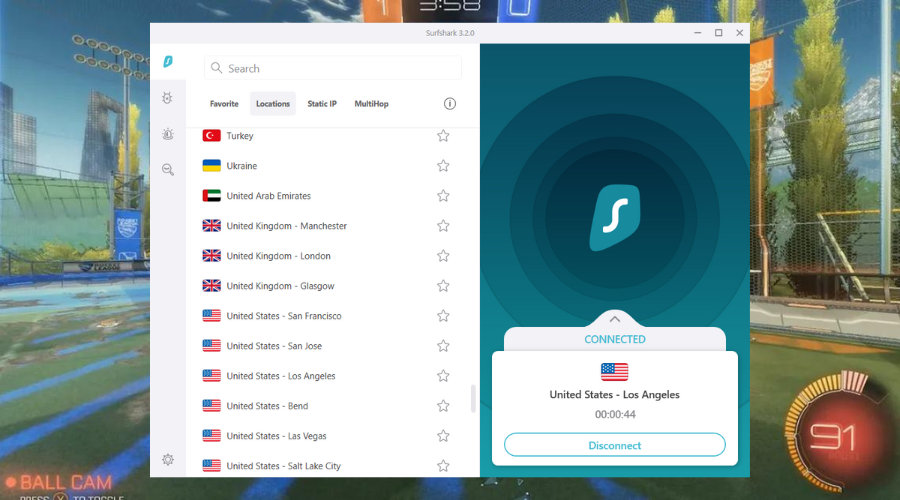 Surfshark is yet another great performance-oriented VPN service that can significantly improve your gaming experience.
It has over 3 000 servers across the whole globe, which means you will be able to enjoy a seamless connection at all times.
Each server has its own private DNS which makes for even better speed rates and security.
Along with that, Surfshark also has a split tunnelling feature. You can find it under the name of Bypasser.
This feature lets you prioritize your traffic towards Rocket League and thus reduces the risks of latency issues even more.
In terms of privacy, Surfshark has a strict no-logs policy. They do not store any of your data, and they protect it against third parties with powerful end-to-end encryption.
More than 3,200 servers, spread across 65 nations, are touted by Surfshark as being P2P-friendly. This VPN for Rocket League is suitable for those who haven't yet found the perks of using a VPN service.
The availability of servers that are tailored for P2P activity, however, varies by area. To find these servers, enter p2p into the server list because they are not labelled by default.
With the exception of nations where torrenting is prohibited, all of its servers enable P2P. If you connect to one of those servers, the app will divert your traffic to servers in Canada or the Netherlands that support torrenting.
Surfshark
Use Surfshark's impressive server network to make the most out of Rocket League!
5. CyberGhost VPN – Best for selective gaming servers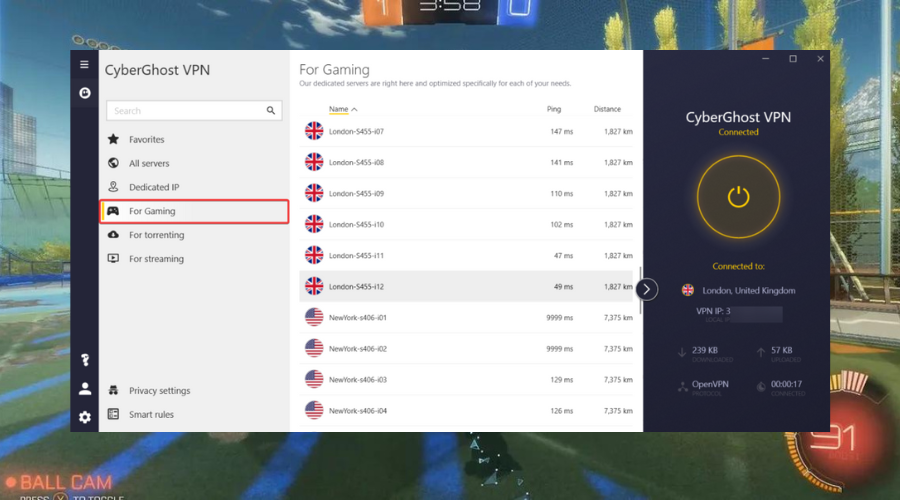 This popular VPN has many features that make it one of the most popular VPN services worldwide. CyberGhost offers subscribers over 6400 servers in over 80 countries.
You get lots of options to connect to gaming servers and the user interface of the game allows a quick connection without hassles.
Because CyberGhost VPN gives its users limitless bandwidth, it is effective for gaming. Additionally, its servers are prepared for gaming and streaming.
As a result, you can play video games for as long as you like without experiencing any problems.
You just need to be sure to connect to a server that is closest to you geographically while using CyberGhost VPN for gaming. By doing this, your connection can become faster, resulting in a reduced ping.
CyberGhost offers fast server speeds and comes with DDoS protection and a reliable kill switch option.
CyberGhost VPN is a subscription-based service. There are multiple plans available, depending on the number of devices you want to connect.
This may look expensive initially, but the VPN gives good value for money.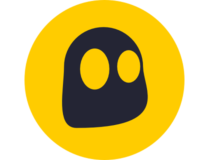 Cyberghost VPN
Try the gaming servers for the ultimate security and average speed to play Rocket League.
6. VyprVPN – Best to block DDoS attacks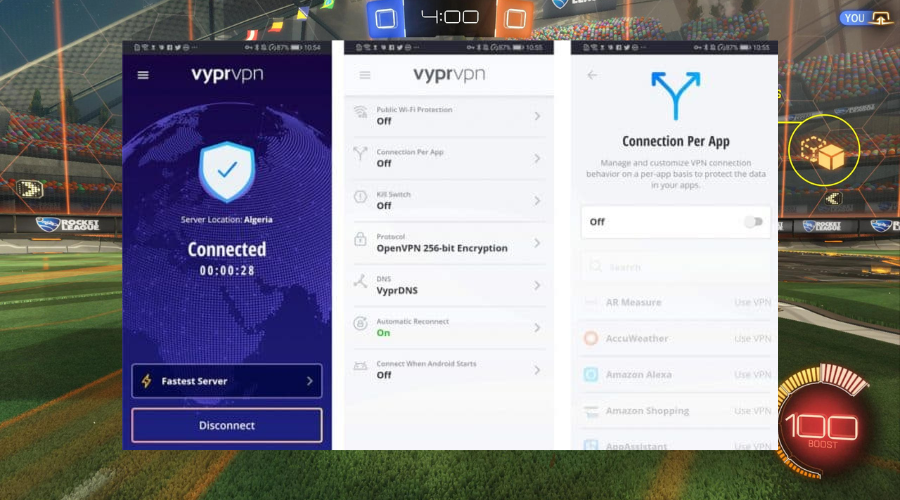 Another great VPN for gamers that we want to show you is the one developed by Golden Frog GmbH.
This service has over 1400 servers. Unlike some other VPNs, VyprVPN provides you with unlimited speed, so you should enjoy multimedia without any problems.
This service uses 256-bit encryption and PPTP, L2TP/IPsec, and OpenVPN protocols. There's also a unique Chameleon protocol based on the OpenVPN protocol that scrambles the metadata in order to prevent VPN blocking and throttling.
As for privacy, VyprVPN is located in Switzerland, therefore it has to comply with strict privacy laws.
This means that your data won't be sold to third parties. Speaking of your data, thanks to the no-logs policy, your browsing history isn't logged on VpyerVPN's servers.
In addition, VyprVPN uses its own servers and hardware, meaning that your data will always remain safe and protected from third parties.
It's also worth mentioning that VyprVPN has its own zero-knowledge DNS server, so your browsing queries won't be logged by third parties.
The service also has a NAT firewall, so you can ensure that all your network devices are safe from malicious users.
As for availability, this VPN is available on a wide range of platforms, including Windows, Mac, iOS, Android, and routers.
If you want to protect your privacy and have a smooth gaming experience, VyprVPN might be the right choice for you.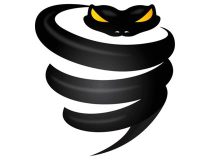 VyprVPN
Generate IPs to block DDoS attacks and improve network speed for better gaming with VyprVPN.
7. IPVanish – Best to hide and generate IPs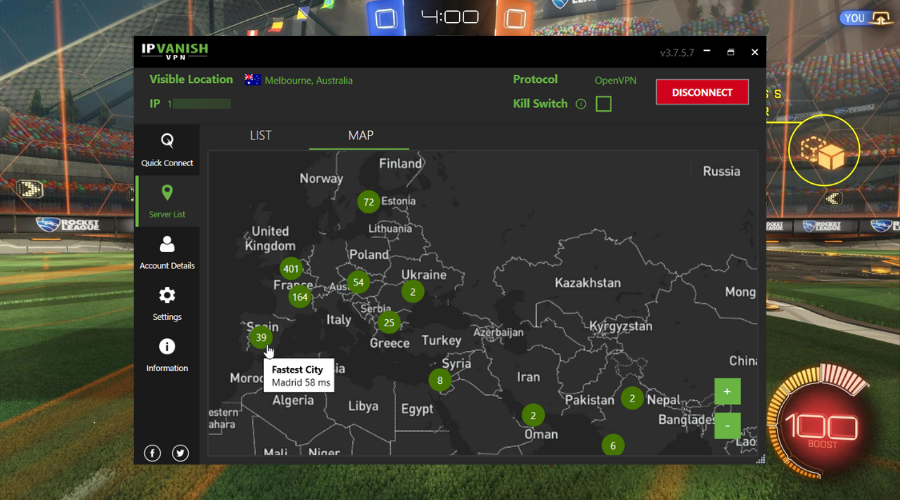 IPVanish has constantly been mentioned as one of the best VPN services available with its excellent features bringing rave reviews among customers.
The StackPath, LLC VPN provider runs its own servers which makes their connection fast and reliable when using the service on Rocket League servers.
Thanks to its over 1400 servers, gamers have lots of options to choose from when using this service as they can connect from anywhere in the world.
IPVanish has some of the fastest server speeds which allow for greater performance and an all-around gaming experience when playing Rocket League.
Your connections are secured thanks to their military-grade encryption which keeps your information hidden when gaming or performing other online activities.
The VPN comes with 3 different packages that are more expensive than rival VPNs. That 30-day money-back guarantee is though ideal if you'd like to try it out.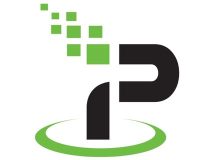 IPVanish
Aiming to be a pro Rocket League player but high ping stands in your way? IPVanish can take care of that.
8. PrivateVPN – Best against third-party spoofers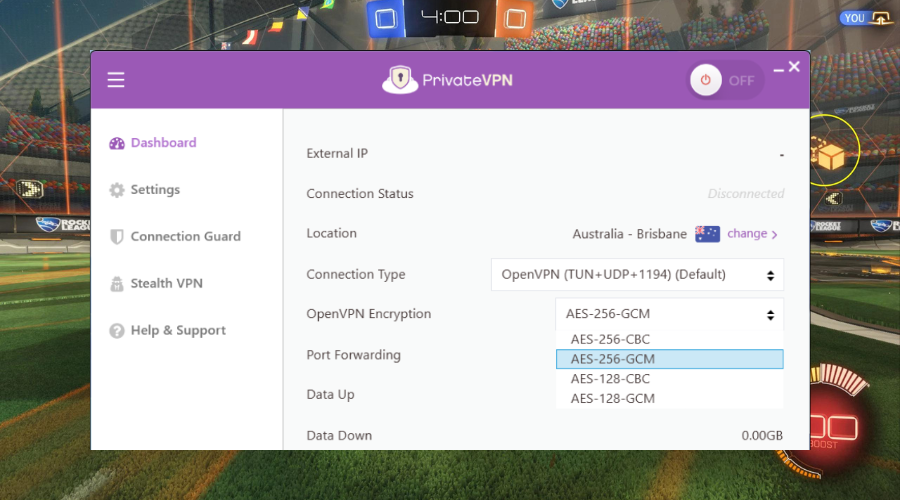 As its name suggests, Private VPN focuses mostly on the security aspect of VPN services and is known for its secured encryption.
It also offers many servers which makes it an ideal VPN for Rocket League gamers. PrivateVPN has an easy-to-use interface with many features and a decent price.
The VPN takes user information privacy very seriously with their servers encrypted with 256-bit military-style encryption which keeps all your information safe.
In addition, their servers have good speed and give a reliable performance when playing Rocket League online as they reroute all connections through their servers.
This VPN provider is among the cheapest VPNs available with the basic plan coming at a very low monthly price which is billed annually.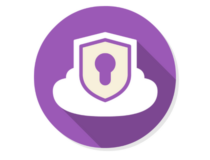 PrivateVPN
PrivateVPN can help you secure your connection, protect your privacy, and lower ping in Rocket League.
How long does Rocket League ban last?
While a VPN enables you to open a new account using a different IP address to get around a Rocket League ban for example you might choose to stick with your primary account.
Your greatest option in this situation is to challenge the ban. Additionally, by challenging a ban, you may make sure that you are abiding by Psyonix's Terms of Use.
Even better, doing this is a simple and quick process and you can still comply with the Privacy Policy standards of the Rocket League game.
Why does Rocket League keep banning me?
You won't be banned without cause, of course. If you violated any of the rules and regulations of the game, a penalty will be applied.
🐱‍💻The use of hacks, bots, or any other tool created specifically for the purpose of cheating is among the most frequent justifications for a potential ban, not only in Rocket League but also in other video games.
👎However, bans are frequently issued in Rocket League these days, primarily because of the hostile conduct some players exhibit toward their rivals or even their teammates.
📲Some even intentionally let their team lose to abuse others by voice call, chat, or other means.
How do I bypass the Rocket League ban?
But Rocket League also gives you the chance to make things right.
Although it will still depend on the system determining whether you are innocent of the accusation made against you, you are able to be unbanned from the sanction you received.
However, there is another way if you truly want to return to the game.
Your appeal against the ban can be denied. It could possibly be that you don't get a response.
In any event, a virtual private service like ExpressVPN can unban you from Rocket League, by creating a new account, in a legit and safe manner without breaking any rules.
These VPNs listed give you the best experience when connecting to Rocket League servers. Which one is your choice?