Good news! You can now watch Australian TV channels in Germany as long as you have an active VPN on your device. The country's TV channels like 7mate, SBS, Channel 7, and so on are restricted outside Australia.
Apart from granting you access to the country's TV channels, a VPN may boost your internet connection and help reduce unnecessary buffering while streaming. It's a super cool tool.
Less talk, more action.
Let's dive right into how to set up a VPN and watch Australian TV in Germany.
How to watch Australian TV in Germany?
In an attempt to stream SBS live TV outside Australia, I got an error message: Sorry, this video is only available to stream within Australia due to publishing rights.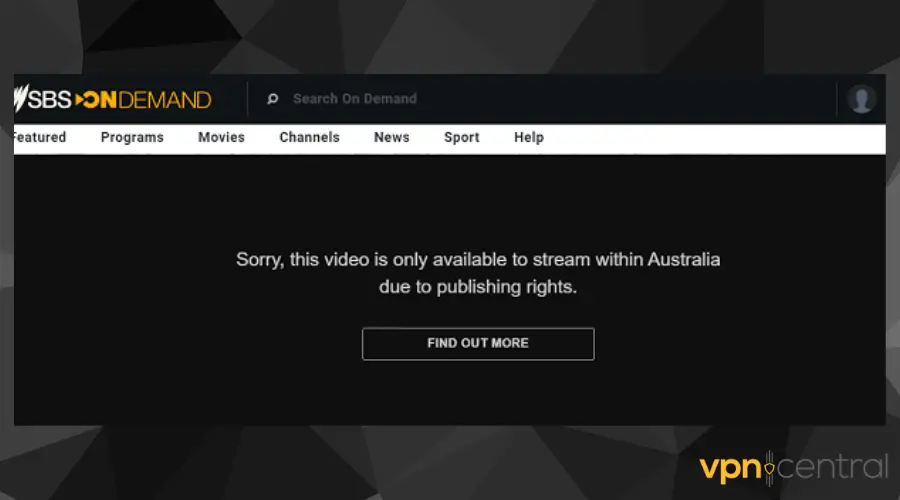 Then on Network 10, I was hit with an annoying Sorry, 10 play is not available in your region.
That's when I knew I had to wear my magical hat and apply some tricks. A VPN was my go-to tool and it worked just right.
With this method, you can even watch The Block – an Australian reality show – outside the country.
Follow the guide below to watch Australian TV channels in Germany. It worked for me.
Subscribe to a reputable VPN service like NordVPN because it easily bypasses restrictions and boosts streaming speed.
Download the app to your device.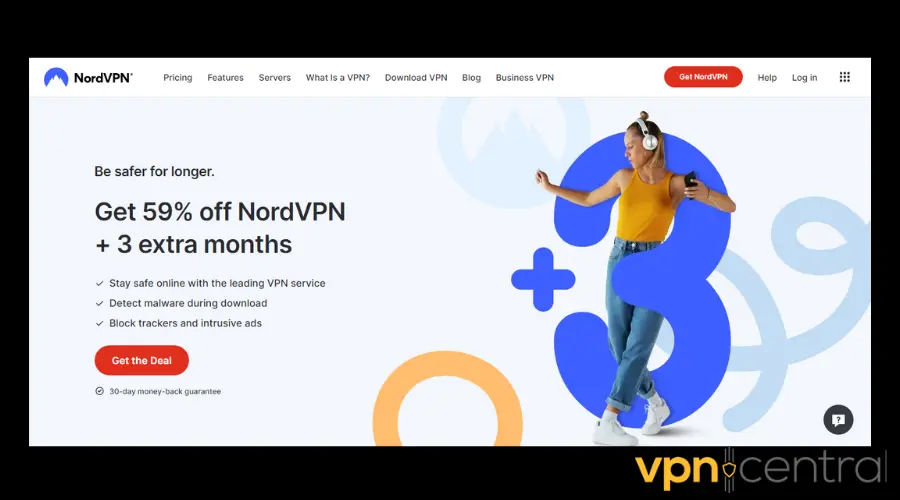 Log in with your credentials.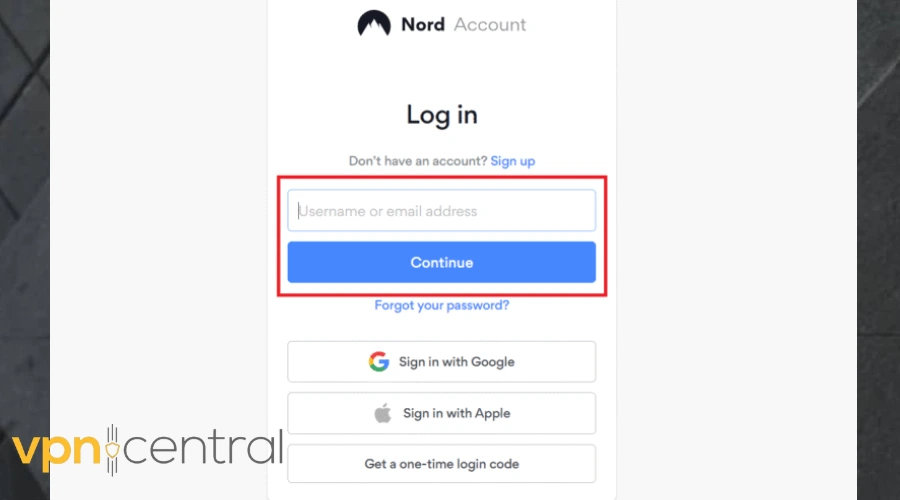 Click on the downward arrow to display all locations. Then choose a server in Australia.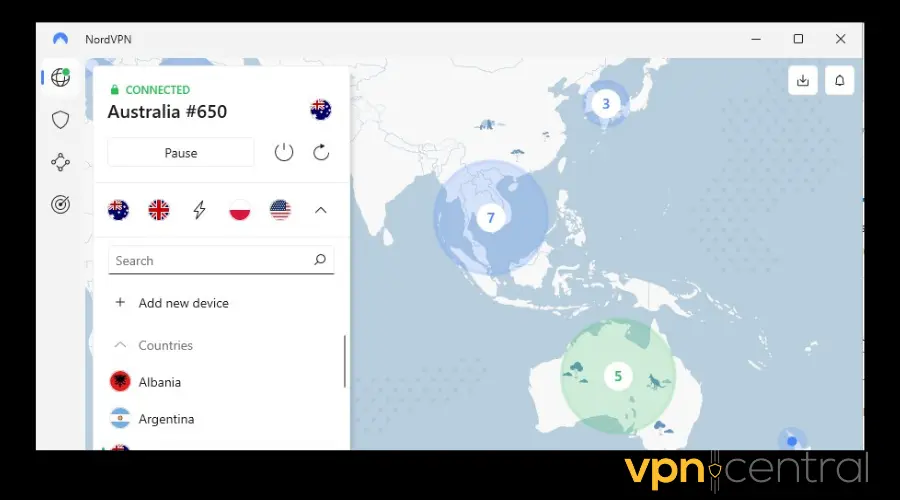 Go back to the Australian TV channel of your choice and try streaming again. It should work now. With this step, I was able to watch SBS live TV.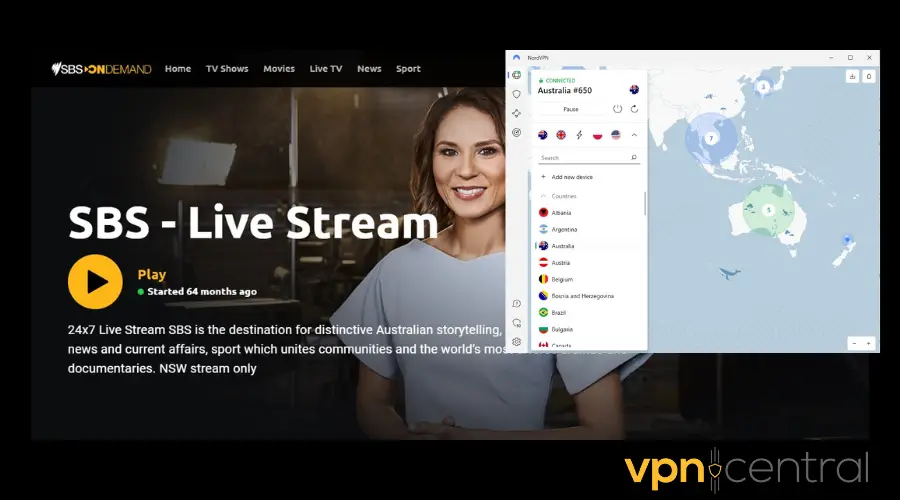 Why do you need a VPN to watch Australian TV in Germany?
You need a VPN to bypass geo-restrictions because all TV channels in Australia are unavailable in other parts of the world due to copyright laws and licensing agreements.
In addition to being able to watch Australian TV, a VPN can also be used to protect your privacy and security when you are online.
Best VPNs for Australian TV
Premium VPNs mostly offer the best features that come in handy while you are streaming content online. Below you can check out my top picks.
I made this choice after testing each VPN for speed and the ability to bypass geo-blocks. So rest assured that any of the VPNs you choose from this list will deliver well.
Here are the best VPNs to stream Australian TV in Germany:
1. NordVPN – bypasses geo-restrictions swiftly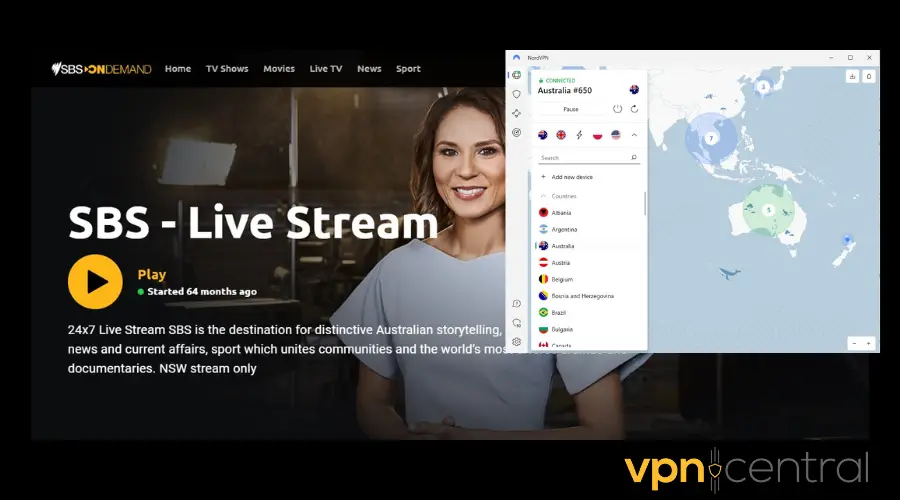 Located in Panama, NordVPN is one of the best VPNs worldwide and in Australia. It is capable of breaking through even the strictest restrictions on any website in milliseconds without a trace.
➡️ Whether you intend to stream from SBS, Network 10, Channel 7, or other Australian TV channels, NordVPN is your best bet. Just connect to one of its five Australian locations and get smooth access.
Talking about speed, NordVPN boasts 10 Gbps servers which means that buffering will be a thing of the past. Not only that, this VPN offers unlimited bandwidth.
With this, you stream a lot of shows for as long as you want without any transmission issues. In addition to that, NordVPN encrypts your traffic using 256-bit military encryption.
So, if you worry about your internet privacy, this tool has you covered.
✅ Pros:
5000+ servers worldwide
Automatic kill switch
256-bit military encryption
Split tunneling
DNS leak protection
❌ Cons:
Software upgrade issues on Apple devices.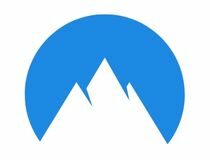 NordVPN
Freely watch your favorite Australian TV networks. Let NordVPN help you unlock unlimited content!
2. ExpressVPN – super-fast servers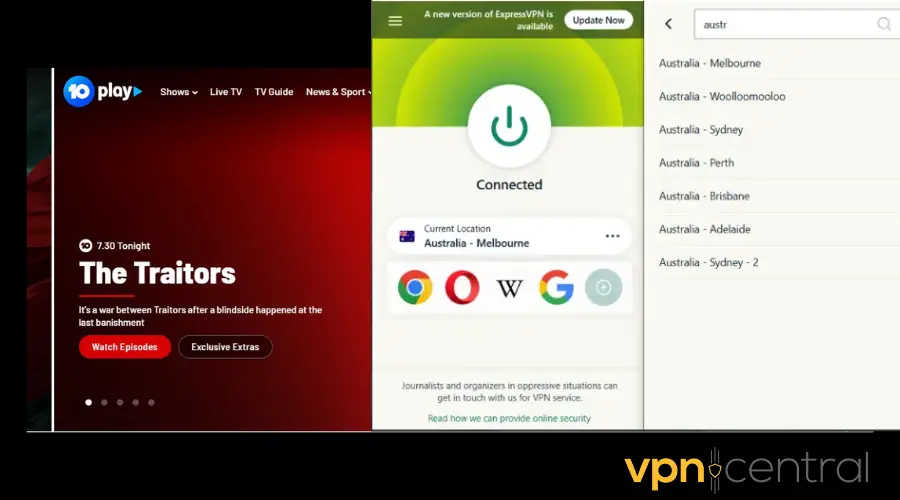 When it comes to speed, you can trust ExpressVPN to deliver at a fantastic rate. The servers of this provider are great for buffer-free streaming.
➡️ This speed coupled with ExpressVPN's unlimited bandwidth offer makes your viewing experience on any Australian channel genuinely memorable. Not only that, this VPN has five Australian servers.
Additionally, you can route only the TV website through the VPN using the split tunneling feature. This is particularly useful if you want to use your standard internet connection for other online activities.
Furthermore, ExpressVPN employs military-grade encryption to scramble your traffic and keep your activities hidden from your ISP and other third parties. This keeps your data secure.
Lastly, the VPN is compatible with many operating systems and devices including Android, Windows, iOS, routers, and so on. No wonder it has over 4 million users worldwide.
✅ Pros:
3000+ servers worldwide
Automatic kill switch
Split tunneling
Zero logs policy
DNS leak protection
❌ Cons: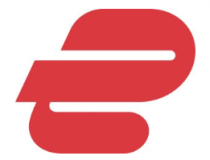 ExpressVPN
Expand your media access with unrestricted Australian TV. Fire up ExpressVPN for boundless entertainment!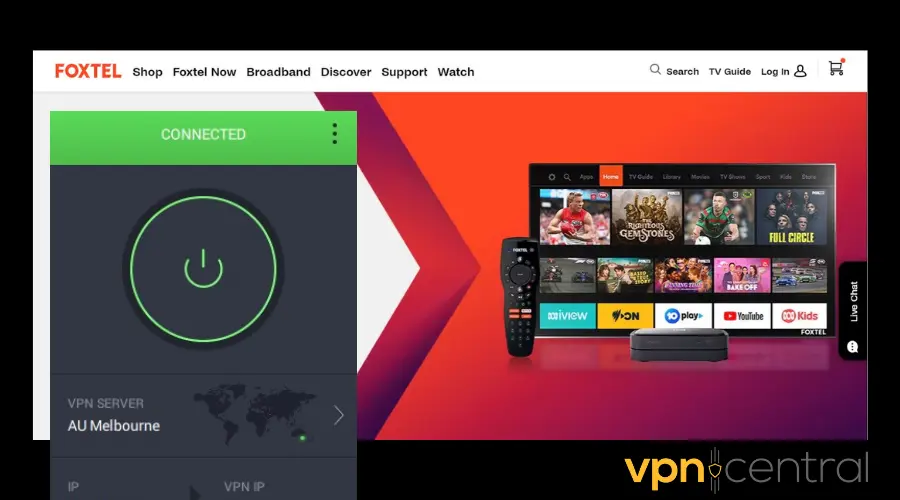 Private Internet Access (PIA) has been a force in the market over the years as far as bypassing geo-blocks is concerned. This VPN smoothly takes you past restrictions on websites without any alarm.
➡️ So, if you intend to watch Australian TV channels anonymously from Germany, PIA is a safe bet. This VPN has three fast servers spread across Melbourne, Perth, and Sydney.
With PIA's 10 Gbps NextGen servers, you can finally bid farewell to unnecessary lagging, buffering, and freezing during streaming in HD or 4K. In fact, you also get to enjoy the VPN's unlimited bandwidth.
In addition to that, this VPN has an ad blocker called the PIA MACE. Since it's common to run into ads on streaming platforms, this feature will come in handy as it will prevent your pop-up ads from ruining your moment.
Also, PIA offers limitless device connections. It doesn't matter how many people wish to watch Australian TV channels, only one account can cover them all without compromising on security or speed.
✅ Pros:
24/7 customer support
35,000+ global servers in 84 countries.
Strict no-log policy
Dedicated IP address
Multi-platform support
❌ Cons
Unfriendly user interface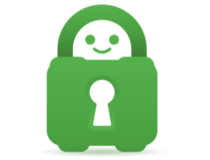 Private Internet Access
Unleash limitless access to Australian TV. Use PIA to unlock all channels in just a few clicks!
4. CyberGhost – dedicated IP address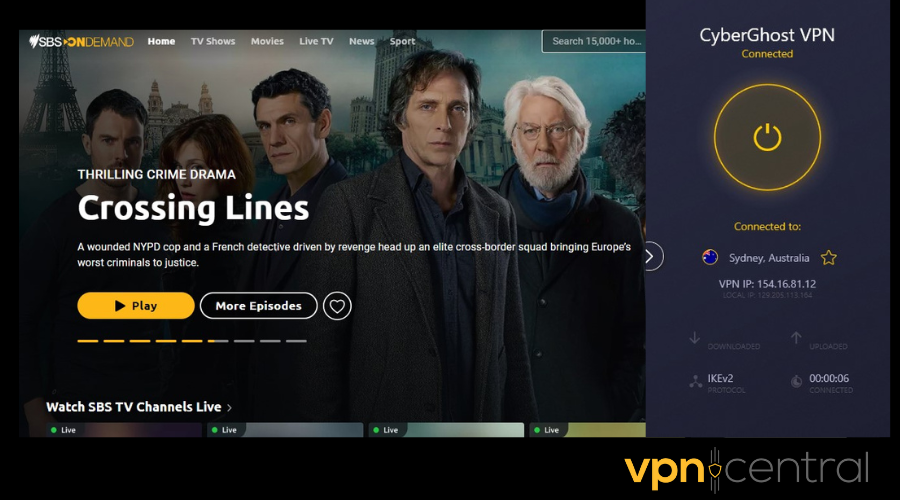 CyberGhost shines at its offering of a dedicated IP address to its users. This unique IP stays the same every time you use the internet and no other user shares it with you. It also has zero chances of getting blocked.
In terms of speed, CyberGhost does its best at making sure you don't experience any slowdown while doing bandwidth-intensive activities like streaming. Its servers run at lightning speed.
➡️ Talking about servers, CyberGhost boasts a whooping 213 Australian servers spread across Sydney, Melbourne, Adelaide, and Brisbane. This vast network gives you options if one server fails to connect.
Furthermore, this VPN employs 256-bit military-grade encryption to protect your traffic from the prying eyes of your internet service provider. Hence preventing ISP throttling.
✅ Pros
Dedicated IP address
Military-grade encryption
6000+ servers worldwide
7 devices with the same account.
24/7 customer support
45-day money-back guarantee
❌ Cons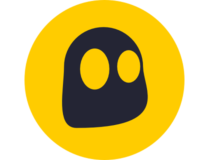 CyberGhost
Open the door to infinite Australian TV. Use CyberGhost to gain restriction-free access within seconds!
5. Surfshark – streaming optimized servers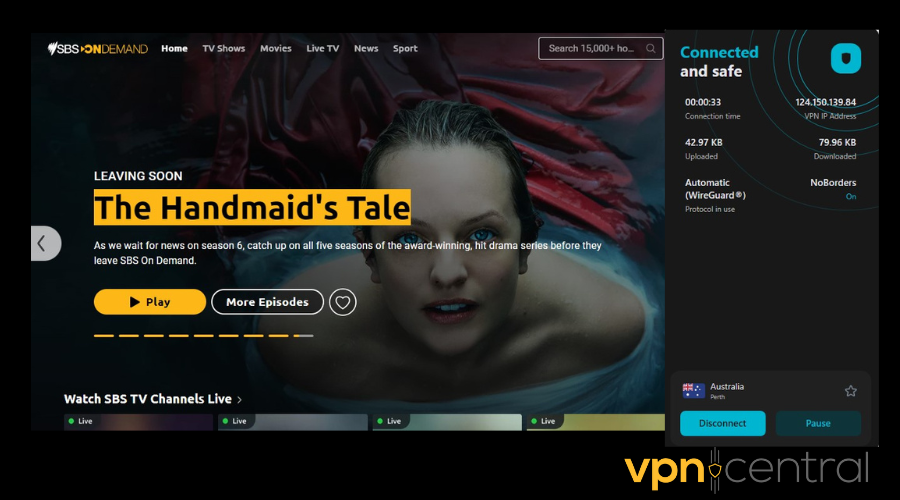 Surfshark is particularly suitable for streaming because of its swift speed. The provider's servers are designed to deliver consistently fast speeds, ensuring smooth streaming without buffering or lag.
➡️ This leading provider offers a robust network of 91 Australian servers strategically located in key cities such as Sydney, Brisbane, Adelaide, Melbourne, and Perth.
Additionally, Surfshark's split tunneling feature allows you to direct specific traffic through the VPN while leaving others unaffected.
This is particularly useful for streaming Australian TV while maintaining access to local German websites or services.
Lastly, Surfshark's generous policy on simultaneous device connections allows you to share your VPN subscription with family members or friends.
✅ Pros
Simultaneous connection
Split tunneling
Automatic kill switch
3000+ servers worldwide
30-day money-back guarantee
Affordable
❌ Cons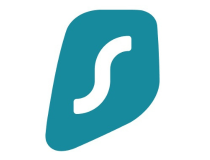 Surfshark
Tap into endless Australian TV content! Use Surfshark to spoof your location and watch all you want!
Which Australian TV channels can I watch online?
Check out the Australian TV channels you can stream online with a VPN from anywhere in the world:
SBS (The Bureau, Dark Side of the Ring, Gomorrah, Atlanta, The X-files, Spiral, The Life)
Channel 7 (I feel pretty, Jumanji, Goosebumps, Bruce Almighty, White House Down, The Nightingale)
Network 10 (Dr. Phil, The Doctors, Entertainment Tonight, The Graham Norton Show, Hunted, Ghost in the Shell)
Foxtel (The Vampires Diaries, Entourage, Mr. Inbetween, The Babadook, Queen of the South, Law & Order: Criminal Intent)
ABC News (Daily News shows, Good Morning America, News Tonight with David Muir, What You Need To Know, World News)
ABC Me (Mystery Lane, Miraculous, Bionic Max, Mustangs FC, The PM's Daughter, The Crazy Fun Park, Teenage Mutant Ninja Turtles)
ABC TV (Summer Binge, General Hospital, Celebrity Family Feud, The Prank Panel, CMA Fest, Generation Cap)
NITV (Blade Runner, Grace Beside Me, Thalu, Deep Blue Sea, Keeping Hope, Watership Down)
7mate (Your Home of Footy, American Pickers, Australia Rediscovered with Ricks, Gem Hunters Down Under, Rostered On, Step Outside with Paul Burt)
7two (The Deep, Gold Coast Ocean Rescue, The Wild Adventures of Blinky Bill, Bottersnikes, Gumbles, Around the World with Manu)
ABC iView (Fisk, Staged, The Capture, Utopia, Mystery Road, Superwog, Traces)
10 Bold (An Idiot Abroad, Black Ops, The Longest Day, Madagascar, Megafactories, Great Bear Stakeout with Billy Connolly)
10 Peach (The Real Love Boat, Nancy Drew, The Late Show with Stephen Colbert, Frasier, Bob's Burgers, Duckman)
7flix (The Prestige, Little Women, Spiderman: Into the Spider-verse, Prisoners, Lord of the Rings, Chicago Fire)
TVSN (The Witcher, Oppenheimer, Twisted Metal, Barbie, The First Inventors, Bondi Rescue)
9Now (The Block, Family Law, Married at First Sight, The Thing About Pam, Manifest, Travel Guides)
Is it legal to watch Australian TV in Germany with a VPN?
Yes, it is legal to watch Australian TV in Germany with a VPN. There is no law in the country that prohibits the use of a VPN to access geo-restricted content.
Summary
There are over 50+ Australian TV channels including 9HD, SBS, ABC Me, Racing.com, 7mate, Foxtel, Channel 7 and so much more. However, most of them are unavailable in Germany.
Thankfully, a VPN can help you circumvent these regional blocks and protect your data while at it. Some providers even offer additional features to enhance your streaming experience.
---