If you want to watch 10 play outside of Australia, you have to use a VPN since the television service doesn't have a license to broadcast elsewhere.
However, some users have reported that 10 play is not working with a VPN and they keep getting the 10 play is only available for Australian citizens error message.
In this article, we'll explain why that happens and suggest tested solutions to help you access the service from anywhere in the world.
Why is 10 play blocking your VPN?
There could be several reasons why 10 play is not working with your VPN, including:
Geo-restrictions: If your VPN server is located in a region where 10 play does not offer its services, you won't be able to access it, so make sure to check the server location and change it if necessary
IP blocking: 10 play may have blocked the IP address of your VPN server
DNS leaks: Your VPN may have DNS leaks, which means that it's not actually hiding your location
Outdated VPN software: Bugs in an old version of a VPN may make the app not function properly
The VPN server you are using is overloaded with traffic, it may not be able to handle your request to access 10 play
VPN protocols: Some older VPN tunneling protocols, such as PPTP, may not be able to bypass the restrictions implemented by 10 play
Firewall settings: You may need to adjust your firewall settings to allow your VPN to connect to 10 play
Technical issues: Technical issues, such as server downtime or maintenance, can also prevent you from accessing 10 play with your VPN
10play not working with VPN: Fixes
If you keep seeing an error every time you try to use your VPN to stream from the website, follow the fixes below.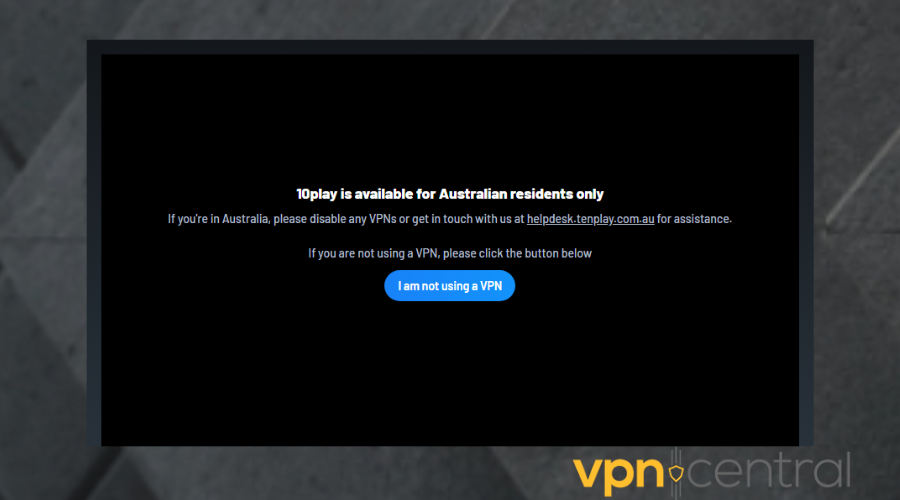 Preliminary checks: before we dive into the main solutions to clear this error, there are a couple of things you should check first:
Ensure your internet connection is stable.
Make sure to update your VPN app.
Now, let's go ahead and explore ways to eliminate that error.
Switch to a better VPN server for 10 play


10 play is only available in Australia. So to bypass this geo-restriction, you have to connect to an Australian server.

1.Log into your VPN app.
2.Expand the server list and browse for servers in Australia.
3.Go back to 10 play and try to access the website again. You should gain access now.

By using this method, you trick 10 play into thinking that you are in Australia at the time. The website will have no other option than to grant you access.

Change the VPN protocol


If you still have trouble circumventing the restriction, then change the protocol you are using. We recommend using OpenVPN.

a. Launch your VPN app.
b. Go to Settings.
c. Click on Connection.
d. Select VPN protocol.
e. Choose between OpenVPN (UCP) and OpenVPN (UDP).

Note: this step may differ with your VPN. However, regardless of the VPN you are using, you should be able to change the protocol from the Settings or Options section.

If your VPN does not have the OpenVPN configuration, then you can choose the WireGuard protocol or IKEV2/IPSec. They are also great options to unblock 10 play.

We suggest OpenVPN because it is versatile and flexible. The protocol is known to maintain a stable connection even when there are network disruptions.

OpenVPN is also known for its fast connection speeds and low latency. This means that it can handle high-bandwidth activities like streaming without buffering.

Allow the VPN through Firewall 


Your Firewall setup may be the reason your VPN cannot make it through 10 play. Follow the steps below to fix it.

On the Start menu, select Windows Security.

Click on Firewall & network protection.

Click the Allow an app through the Firewall option.

Click the Change settings button.

Check the box beside your VPN app on the left.

On the right, check the boxes under the networks (Private or Public) the VPN app can access.
Click Ok.

Close your VPN app if it is open. Then launch it again.

By allowing your VPN through Firewall, your device considers it a safe app and does not interrupt it. This enhances the performance of the VPN app.

Change your VPN provider 


If all the steps below fail, then you would have to use another VPN service. ExpressVPN is outstanding in making it around geo-blocks on 10 play.

Subscribe to ExpressVPN and download it to your device.
Install the app following the on-screen instructions.

Launch the app and log in.

Connect to an Australian server.

Go back to 10 play. The error should cease to come up by now.

In Australia, ExpressVPN has servers in Sydney, Melbourne, Adelaide, Brisbane, and Perth. This gives you options in case one of the server locations is overloaded, you can switch to another.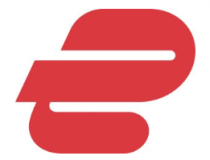 ExpressVPN
Use this industry-leading VPN to access 10 play restriction-free!
Where is 10 play available?
10 play is only available in Australia. It is not supported in other countries due to licensing agreements and copyright laws.
If you try to get access from an unsupported country, you will meet with an error that says 10 play is available for Australian residents only.
Wrap up
10 play may not be working with your VPN if the app is outdated, your firewall is blocking the connection, or the platform banned your VPN's IP address.
Following the instructions in this article, you should be able to get back on 10 play in no time.