PIA does a great job unblocking Amazon Prime and giving you a seamless streaming experience. However, despite being a top-tier service, it may sometimes not work as expected.
When PIA VPN is not working with Amazon Prime, you will get an error message telling you that your device is connected to an HTTP proxy. That's because Amazon Prime blocks IP addresses of known VPNs including PIA.
So what's to do when this happens?
As a big fan of The Marvelous Mrs. Maisel and other shows exclusive to Prime Video, I know all the tips and tricks to make the streaming service work with VPN. So bear with me.
After carefully following the instructions in this article, you should be back to be able to fix Amazon Prime Video is not available error.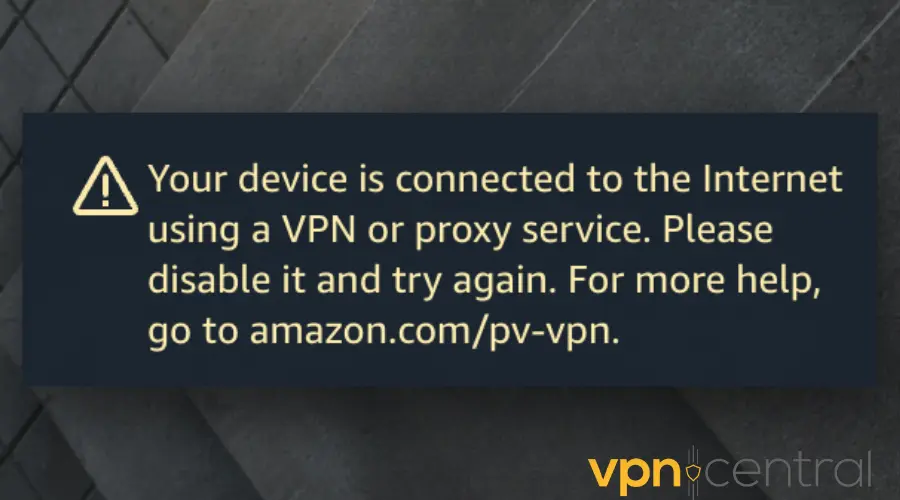 Is PIA VPN not working with Amazon Prime? Fix it now!
You don't have to deal with the constant error 1042 and 4601 that pops up asking you to disable your VPN on Amazon Prime when you can do something about it.
Try each of the following six detailed solutions to fix Amazon Prime not working with PIA. If one fix doesn't work out, move on to the next one.
Let's go!
Change to another server

It is possible that Amazon Prime has blocked the IP address to the server you are connected to or the server is overcrowded. Either way, you will not be able to access this website when this happens.

Therefore, you will have to connect to a different server and this is how to do it:

1. Launch and log in to your VPN app.
2. Expand the ellipsis or arrow beside the existing location to see the server list.
3. Click on the server of your choice.
4. Try streaming that movie again on Amazon Prime. It should work now.
If PIA is still not working with Amazon Prime, check out the next fix.

Disable WebRTC

WebRTC (Web Real-Time Communication) is a free and open-source project that provides web browsers and mobile applications with real-time communication (RTC) via application programming interfaces (APIs).

Use the steps below to disable WebRTC on your browser:

Note: You can't deactivate Google Chrome on WebRTC except by installing an extension meant particularly for WebRTC protection from the Chrome web store.

To disable on Moxilla Firefox:
1. Type about:config in the address bar and press Enter. 
2. Click the "Accept the Risk and Continue" on the warning screen that appears.
3. Type media.peerconnection.enabled in the search bar under the address bar.
4. Double-click the search result which will change the Value column to false. You've successfully disabled WebRTC.

On Safari:
1. Launch Safari. Navigate to Settings.
2. Click Advanced and then check Show Develop menu in menu bar.
3. In the menu bar, click the Develop tab. In the drop-down menu, navigate to the WebRTC option, then click Enable Legacy WebRTC API.
4. Go back to Amazon prime. It should work now.

Allow VPN through firewall

The firewall will mistakenly prevent your VPN from functioning properly if you don't allow it through. That happens because it is meant to protect your device from harm.

When your firewall puts up this defense mechanism, it will leave you struggling with PIA not connecting.

Follow the guide below to allow PIA through the firewall:
1. On the Start menu, search for Windows Security. Click to open it.
2. Click on Firewalls & network protection.
3. Select Allow an app through Firewall.
4. Click the Change settings button.
5. Check the box beside the VPN if it is empty.
If you cannot find PIA on the list, click the Allow another app button at the bottom right of the window.
Check the box under the type of network: either Private or Public, you want the VPN to access.
Click Ok.


Clear cache and cookies

Amazon Prime uses browser cookies to pin your actual location and will restrict your access if you are trying to stream a movie not for your region.

Clear cookies using these steps:

1. Open your browser.
2. Click on the three-dot in the upper-right corner of your browser to access the menu.
3. Scroll down to More tools. Click on it.
4. Select Clear browsing data.
5. On the Basic tab, click the drop-down and select All Time.
6. Check all the boxes besides Browsing history, cookies and other sites etc. 
7. Click the Advanced tab.
8. Repeat the same process.
9. Now click on Clear data.
10. Try streaming agin on Amazon Prime. It should grant you access.

Change your VPN provider

Not to be bearers of bad news but you will have to use a better VPN if all the solutions above does not produce positive results.

To achieve this:

1. Subscribe to a stealth VPN provider like ExpressVPN.
2. Download and install the app on your device.
3. Click on the ellipsis to display the server list.
4. Choose any location of your choice.
5. Go back to Amazon Prime and try to use it again.
Does Amazon Prime Block PIA?
Yes. Amazon Prime blocks PIA because the use of a VPN is against its terms and conditions. Amazon Prime detects and bans IP addresses particular to not just PIA but other popular VPNs also.
It blocks VPNs in order to prevent users from accessing content that is not available in their region. However, users complain about Amazon Prime blocking PIA the most.
This is because Amazon has licensing agreements with content providers that restrict the availability of certain content to certain regions.
How does Amazon Prime detect my VPN?
Amazon Prime can detect your VPN usage using the following methods:
IP address blacklisting: Amazon Prime keeps a blacklist of known VPN IP addresses. If your VPN's IP address is on the blacklist, it will block you.
WebRTC leaks: WebRTC is a technology that allows web browsers to communicate directly with each other. However, WebRTC can also leak your real IP address, even if you are using a VPN.
DNS leaks: If your VPN's DNS servers are not configured properly, your DNS requests may leak your real IP address. With this, Amazon will know you are using a VPN.
Cookie scanning: Amazon Prime can scan your cookies for information about your location. If Amazon determines that you are in an unsupported region, it will block your connection.
Best VPNs for Amazon Prime
Hundreds of VPNs cannot withstand the severe and frequent VPN ban that happens on Amazon Prime. However, a few have stood the test of time.
Check out the best VPNs for Amazon Prime:
1. ExpressVPN – WebTRC protection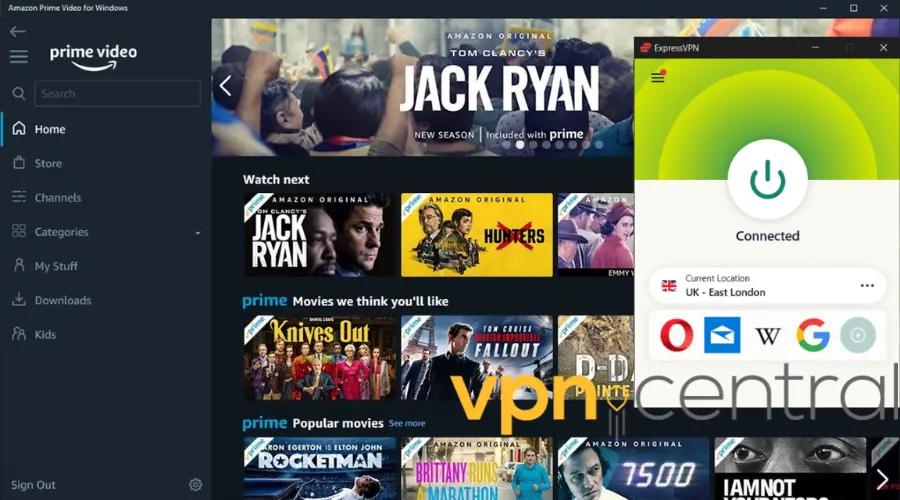 With its vast server coverage spanning across 160 locations in 94 countries, ExpressVPN offers a reliable solution to bypass regional restrictions imposed by Amazon Prime.
Whether you're traveling abroad or residing in a region with limited Prime content, this VPN allows you to connect to servers in countries where specific shows are available.
Moreover, ExpressVPN's optimized servers and protocols help maintain a high-speed connection. Thus, you can enjoy Amazon Prime content in high definition without latency.
Furthermore, ExpressVPN uses AES-256 bit encryption, to safeguard your data from the website. By encrypting your connection and anonymizing your IP address, ExpressVPN shields you from potential tracking.
Lastly, ExpressVPN offers all forms of protection from data leaks from DNS and IPv6 to WebTRC protection. All these are put in place to conceal any traceable information from escaping your traffic.
Extra ExpressVPN features
Split tunneling
No log policy
Five simultaneous connections
Kill switch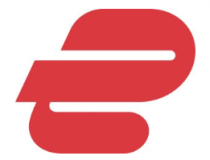 ExpressVPN
Unblock Amazon Prime hassle free with this reliable VPN for streaming!
2. NordVPN – double VPN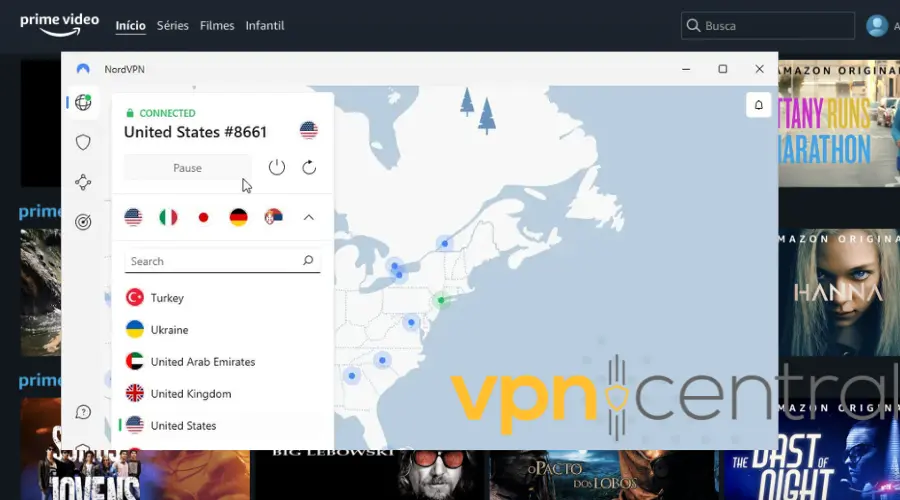 With an impressive arsenal of features at its disposal, NordVPN ensures an unparalleled streaming experience. Imagine a vast network of 5700+ servers spread across 60 countries.
All you have to do is choose a server. Then, connect to it, and you can spoof your location at any time of the day. Additionally, this will enable you to bypass geo-restrictions on this app.
Furthermore, NordVPN wraps your data in impenetrable AES-256 encryption, which ensures that your Amazon does not track your activities on the platform.
For those particularly concerned about stealthy navigation, NordVPN boasts obfuscated servers. These servers conceal your VPN traffic, making it seem like you are on a regular network connection.
However, NordVPN doesn't merely protect your privacy; it enhances your streaming experience as well.
In fact, SmartPlay, a feature exclusive to NordVPN, helps you effortlessly make it around geoblocking on Amazon Prime while streaming.
Moreover, if you seek an added layer of personalization, NordVPN offers dedicated IP addresses. Consequently, this helps maintain uninterrupted access to content on Amazon Prime.
Key features of NordVPN
Dedicated apps for all OS.
Six simultaneous connections.
OpenVPN
DoubleVPN
Strict no-logs policy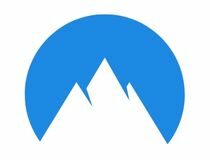 NordVPN
Easily unblock Amazon Prime with this error-free VPN!
3. Surfshark – multiple simultaneous connections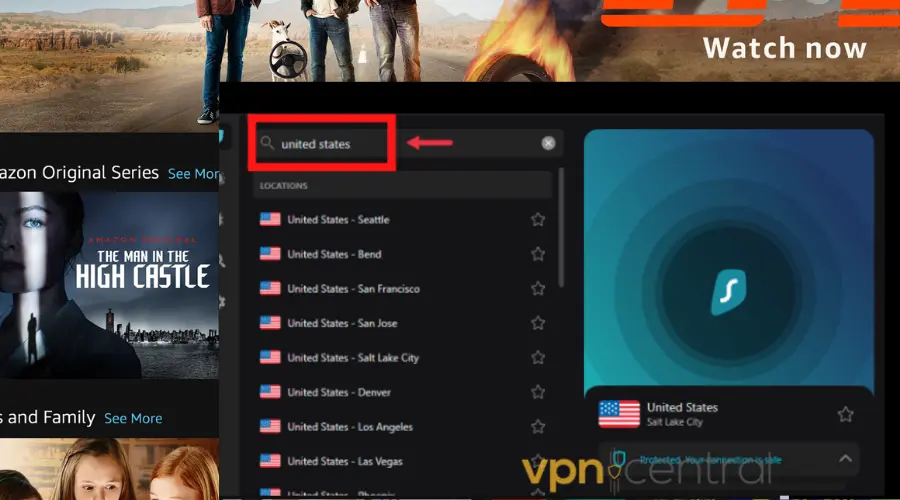 Why users love Surfshark particularly is its multiple simultaneous connections. So, if you and your friends wish to stream a movie or show on your individual devices, it can protect all of you.
Also, this VPN boasts 3200+ RAM-only servers in about 100 countries. With this wide global presence, you can change servers easily at any time and stream region-specific movies.
Additionally, to keep your data private and hidden from Amazon Prime, Surfshark encodes your traffic using the industry-recommended AES-256 encryption.
With the Bypasser feature on Surfshark, you can choose to use the VPN only on Amazon Prime so it will concentrate its resources on the website. This can further boost your internet connection.
Furthermore, this VPN uses top secure and speedy protocols like OpenVPN and WireGuard to add an extra layer of privacy for you. Hence, making your time on Amazon Prime worthwhile.
Lastly, Surfsharks' real-time protection feature scans any media you open online or try to download in order to guard your device against malware and virus infestation.
Key features of Surfshark
Simultaneous device connections.
WireGuard/OpenVPN protocol.
Automatic kill switch
Zero log policy
CleanWeb (ad blocker)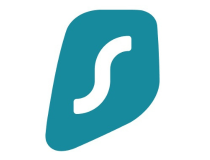 Surfshark
Bypass restrictions on Amazon Prime by connecting to this reliable VPN!
4. CyberGhost – easy user-interface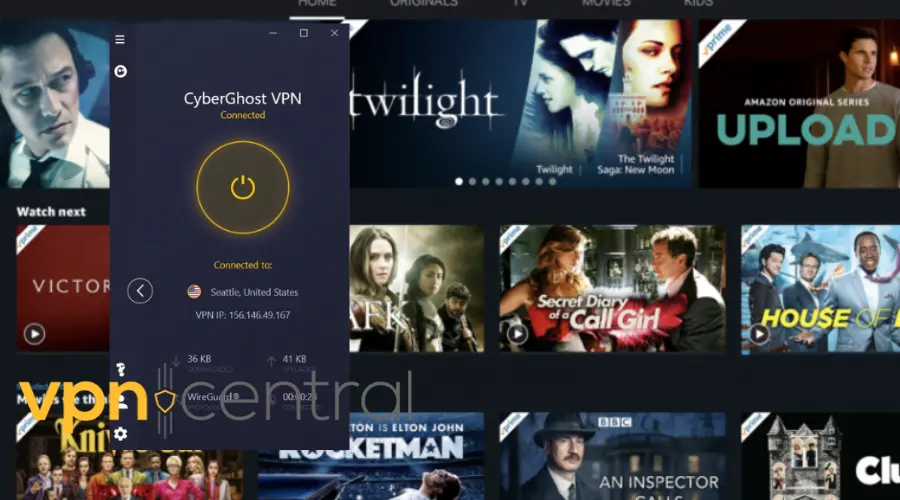 CyberGhost is an excellent choice for enhancing your Amazon Prime experience. Whether you're looking to access region-locked content or enjoy a smoother streaming experience.
Firstly, CyberGhost provides access to an extensive network of over 9000 servers located in 91 countries around the world.
With this, you can connect to servers in the US, UK, Germany, and many other countries, expanding your view to a wider selection of Amazon Prime movies, and other exclusive content.
When it comes to security and privacy, CyberGhost is a reliable companion. It encrypts your internet traffic and shields your online activities from prying eyes.
Furthermore, CyberGhost's dedicated streaming servers are specifically designed to handle high-bandwidth activities like streaming. Thus, minimizing buffering and ensuring smooth playback of Amazon Prime content.
Additionally, CyberGhost provides unlimited bandwidth and fast connection speeds, enabling you to stream Amazon Prime content in high definition without worrying about data caps.
This is especially beneficial for users who want to enjoy the full cinematic experience that Amazon Prime offers, including 4K Ultra HD content and HDR support.
Additional CyberGhost Features
No log policy
Split tunnelimg
Automatic kill switch
Multi-platform support
23/7 customer service
Dedicated IP address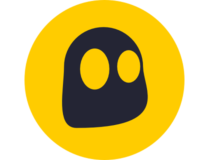 CyberGhost
Say goodbye to errors on Amazon Prime Video by connecting to this VPN's streaming servers!
Summary
Probably the reason why PIA isn't working with Amazon Prime is because the streaming platform does great efforts to block VPN providers.
That said, those efforts aren't 100% foolproof, and there are ways to configure your VPN to make it work again.
---