If you're experiencing Sea of Thieves high ping, you can use a VPN to reduce it and improve your gameplay.
Sea of Thieves is an action-adventure first-person multiplayer game, where you're a pirate on the quest to become a legend. You can play it on Windows (Steam, Microsoft Store), Xbox One, and Xbox Series X.
In this game, you can explore an open world in your ship, complete quests assigned by non-player characters (NPCs), and interact with other players.
Sea of Thieves runs game servers in several data centers across the world, including the US and Europe.
Unfortunately, many players report high ping in Sea of Thieves, which prevents them from fully enjoying the game.
If you're looking for a fast and easy way to eliminate Sea of Thieves lag spikes, use a VPN to reduce your ping and improve your gaming experience.
Why is my ping so high in Sea of Thieves?
There are multiple factors that generate high ping levels on your gameplay, so you might need to change different aspects of your PC.
This can happen because of an unstable network connection, background running apps, or even required hardware resources.
Plus, you can experience Sea of Thieves ping issues or Sea of Thieves ping spikes that will badly affect your game sessions.
If you still wonder how to lower ping in Sea of Thieves, you can use the practical methods described below or try a premium VPN for Sea of Thieves.
How do I fix the high ping in Sea of Thieves?
1. Set Sea of Thieves to High Priority in Task Manager
Press simultaneously on the

Ctrl,

Shift

and

Esc

keys to start

Task Manager.
Go to the

Details

tab, right-click on Sea of Thieves, and choose to

Set priority. Then, select any value that you want (Just like we show you with the Discord example directly below).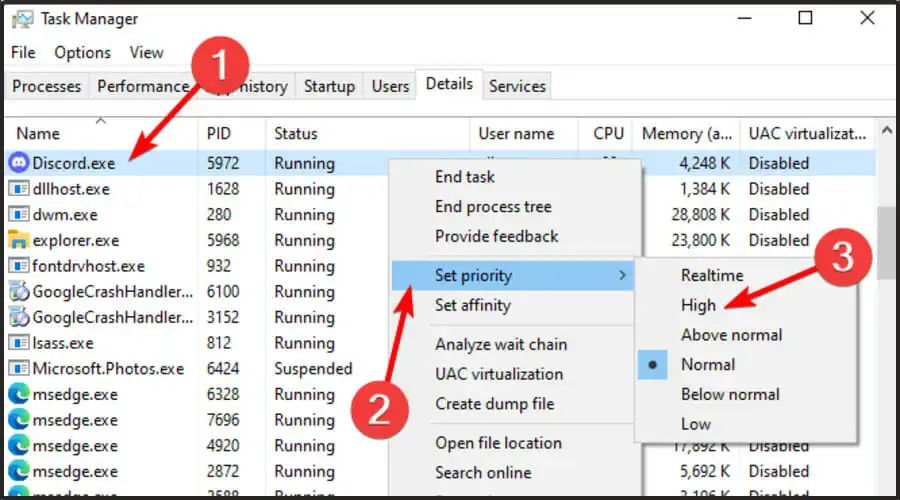 When the confirmation dialog appears, select

Change priority.
If you're running Sea of Thieves on a Windows PC and you're facing high ping problems, setting the high priority on Task Manager might be a useful workaround.
2. Temporarily disable your antivirus software
Sometimes, your antivirus software might be overprotective and even if it is meant to protect you against viruses and malware, it can interfere with your gaming experience.
Thus, we recommend temporarily disabling Windows Defender Firewall and any other antivirus tool that you're using on your Windows PC, then check if Sea of Thieves is still giving high ping.
3. Use a VPN
Sometimes, the best workaround that will help you to reduce high ping on Sea of Thieves is using a specialized VPN.
VPN solutions are meant to encrypt your Internet connection and hide your IP address.
Thus, they can potentially help you in several ways, like granting access to different servers, improving ping and reducing lag, or even protecting you against DDoS attacks.
In these terms, you can take advantage of tons of impressive features that will guarantee a smooth and complete gaming experience.
What are the best VPNs to fix Sea of Thieves' high ping?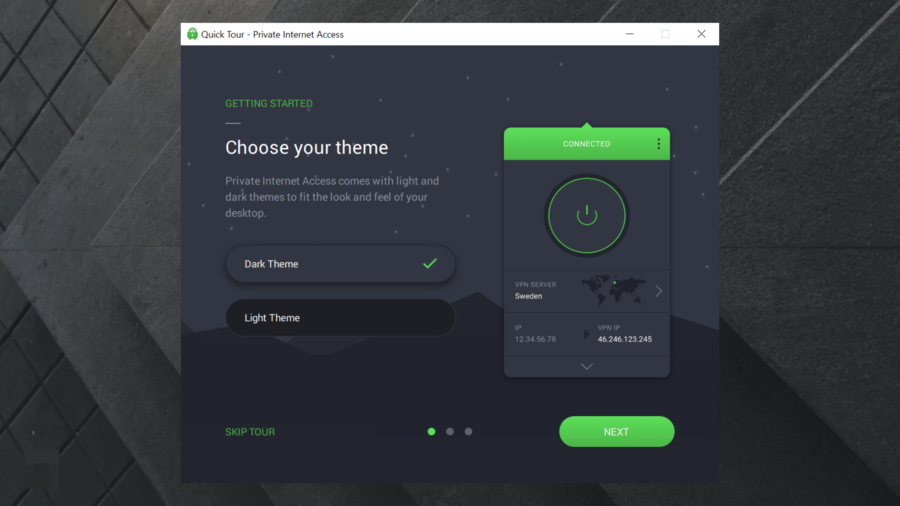 If you're wondering how to reduce ping in Sea of Thieves, look no further than Private Internet Access (PIA).
It's one of the fastest VPNs for streaming and gaming that you can use to speed up your network connection and protect your device online.
Made by Kape Technologies, it's one of the best VPNs for gaming and for fixing packet loss, which can make your Internet connections faster.
It's compatible with Windows and Xbox, allowing up to 10 simultaneous device connections. And, if you have any trouble with PIA, you can take advantage of its 24/7 live chat support.
Plus, it's wrapped in a user-friendly interface and intuitive security options, such as DDoS protection.
PIA key features:
+3,300 servers in 47 countries
Forward ports to make your Internet connection faster
It Fixes Sea of Thieves server lag in no time
30-day money-back guarantee (no free trial)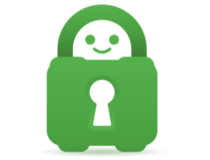 Private Internet Access
Fix Sea of Thieves' high ping and lag spikes using this fast and secure VPN.
2. NordVPN – Diverse server locations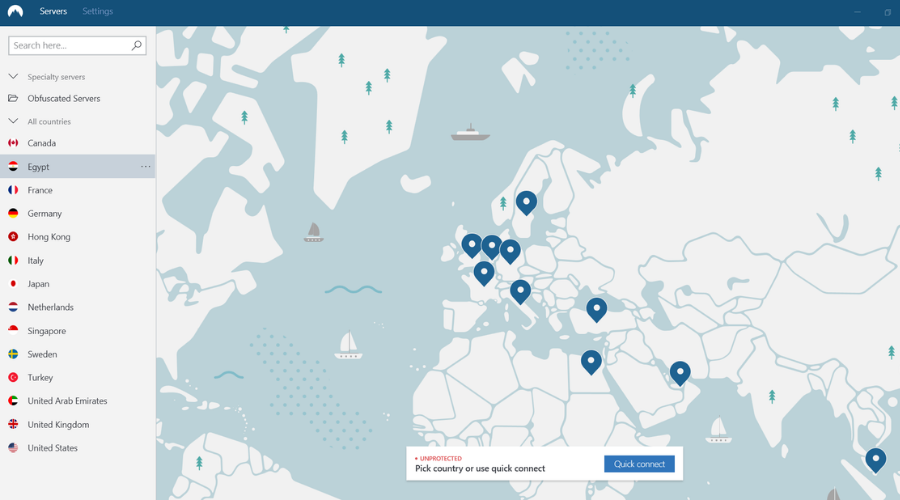 NordVPN is a worthwhile solution to reduce lag on Sea of Thieves and increase overall game performance.
This leading privacy software deserves a try because it's offering a great connection speed with a server network of 5500+ addresses.
In order to reduce high ping scores on your gameplay, count on this VPN as it offers unlimited bandwidth for your network and tested servers against ISP throttling.
You also benefit from obfuscated servers in 59 different countries. This feature allows any user to connect from different locations and improve Internet speed.
In addition, you have P2P server technology for numerous servers worldwide for smooth file sharing between users.
NordVPN key features:
One subscription for 6 devices
Double protection connections
Split tunneling tool
Obfuscated servers support
Kill switch protection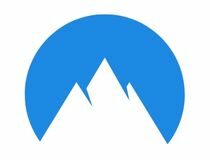 NordVPN
Go for this widest server network VPN to reduce high ping scores on Sea of Thieves today.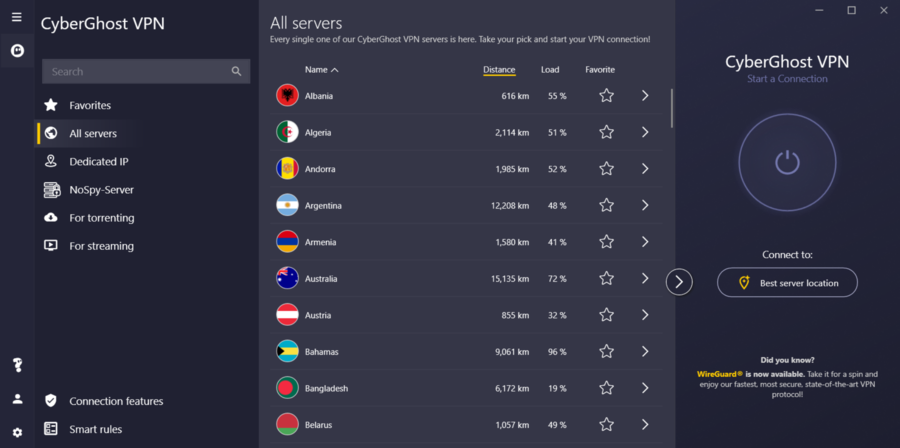 Another way to get rid of Sea of Thieves bad ping is by using CyberGhost VPN. Also owned by Kape Technologies, this VPN solution has servers optimized for gaming, streaming, torrenting, and secure browsing.
It's ideal for repairing network congestion, whether you choose to play the game on Windows or Xbox.
CyberGhost VPN has an extensive network of servers spread across the globe, even in the regions where Sea of Thieves has data centers.
Besides the fact that it's the only free VPN on this list, CyberGhost permits up to 7 simultaneous connections.
Plus, you can use it to evade geoblocks and access blocked sites. Not to mention that it has private DNS servers and leak protection, and it can fix Wi-Fi packet loss for gaming.
CyberGhost VPN key features:
+6,400 servers in 89 countries
Create whitelists or blacklists in split tunneling mode
Great for fixing Xbox controller lag in Sea of Thieves
45-day money-back guarantee (1-day free trial)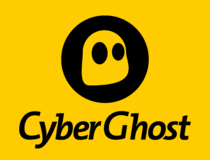 CyberGhost
Lower Sea of Thieves high ping by connecting to fast VPN servers.
4. Surfshark – Bypass restricted content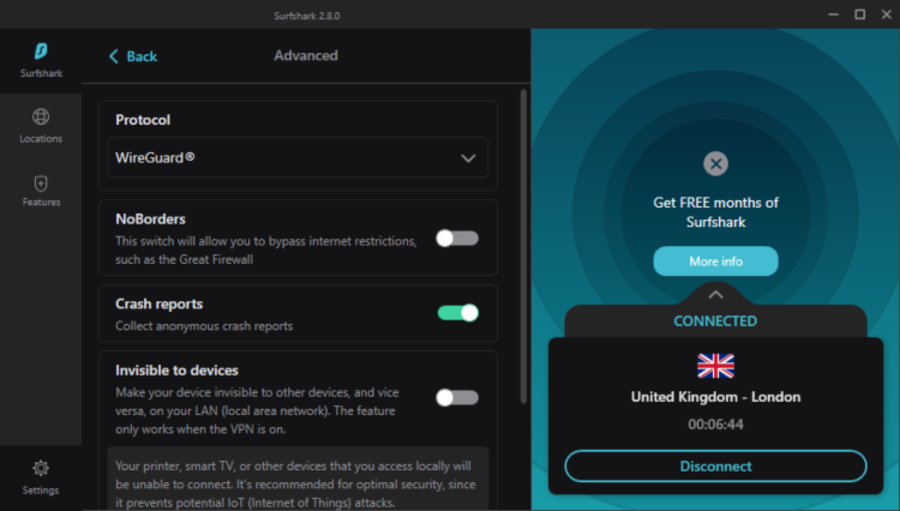 Surfshark it's not just suited for improving your game results, but it offers helpful privacy tools for online navigation and sensitive tasks.
First of all, you should know this VPN software comes with unlimited device usage so any of your peers can use it at once.
There are many functionalities you can benefit from, such as CleanWeb to avoid ad trackers and digital threats, CamouflageMode for hiding VPN traffic, free content access, and many more.
Moreover, you have industry-standard encryption to protect personal data on the web, plus advanced VPN protocols for enhanced speed.
Surfshark key features:
Private DNS protection
NoBorder mode for unblocked content
Kill switch functionality
Bypasser tool for allowed programs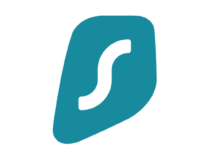 Surfshark
Consider this affordable VPN tool for maximum performance on your gameplay regardless of location.
5. ExpressVPN – Extensive server locations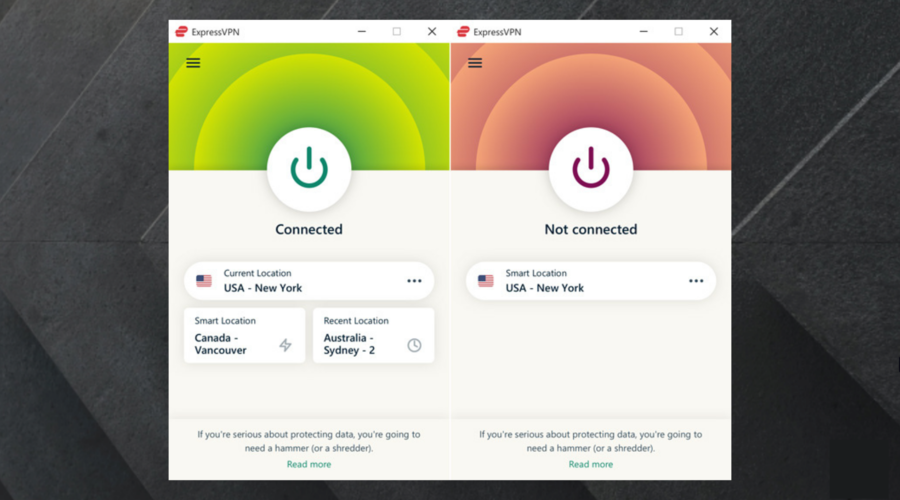 Owned by ExpressVPN International Ltd., ExpressVPN is a great option for privacy since it does not have any data retention legislation.
The service is very easy to use and is compatible with all major devices, including Windows, macOS, Linux, Android, and iOS. It can also be enabled as a browser extension for Chrome, Firefox, and Edge.
You can also set it up on your router and you'll also be able to play Sea of Thieves on your Windows PC and Xbox series.
It has an extensive set of features that ensure private and restriction-free browsing at a high speed and it is a great solution for ping and lag problems.
You get a large number of servers all over the world, so you don't have to worry about geo-restrictions and smoothly play Sea of Thieves, regardless of your physical location.
ExpressVPN key features:
+2,000 servers in 16 countries
Share VPN access with all your devices
Great for reducing Sea of Thieves server ping
30-day money-back guarantee (no free trial)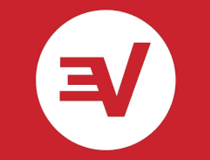 ExpressVPN
Take advantage of this reliable VPN connection for great speed on Sea of Thieves gameplay.
Can I use a free VPN for Sea of Thieves?
If the budget is concerning you, keep in mind that there are several free VPN options available on the market, that can be used to reduce high pings on Sea of Thieves.
However, in this way, you might run into more severe troubles, like catching viruses/malware on your device or getting restricted from specific servers or websites.
You should know that free Virtual Private Networks won't offer a smooth and complete experience as the premium ones do.
Paid VPNs usually tend to provide much more powerful encryption tools, so cybercriminals won't get a chance to access your personal data.
Even if free versions might sound like a good deal, if we were in your shoes, we would still go for Private Internet Access, as it seems to be the most impressive software on the market.
In conclusion, Sea of Thieves is a fun and exciting game that you can play with your friends on Windows and Xbox. But it can become impossible to enjoy it due to high ping.
Therefore, you can redirect all network traffic through VPN servers in order to significantly improve your connection speed and minimize Sea of Thieves' high ping.
Furthermore, a dependable VPN tool can help you easily host game servers for friends. Even if you connect all your household devices to the virtual private network, you can turn off your VPN anytime to regain access to the public web.