Final Fantasy 14 is an addition to the popular franchise from the gaming giant, Square Enix. The game takes you into a fantasy realm of the land of Eorzea, and players can choose one out of five races to play, each with its own unique features, so you get to pick from 8 combat classes and more than ten professions.
The key features of this game include graphics, music, cinematics, character customization, cross-platform (PC and PS4) play, player housing, a high level of content where players can spend hours on end gaming without running out of content, plus smaller features that complete the gaming experience.
This MMORPG (massively-multiplayer online role-playing game) was released worldwide by Microsoft in August 2013, originally as Final Fantasy 14: A Realm Reborn, which replaced the 2010 Final Fantasy 14 that got shut down after its negative reception.
Lovers of this game keep asking about the best VPNs for FFXIV (Final Fantasy 14), and below are some of our favorite picks.
Should you use a VPN for FFXIV?
Yes, a VPN is a great tool to use when playing online games, including FFXIV.
Connecting to a VPN server that is closer in location to the game's servers can help with Internet speed.
This in return helps with latency issues. Along with that, a VPN's encryption will help you keep your online data safe and prevent tracking or phishing on gaming servers.
What VPN should I use for FFXIV?
The biggest benefit of using a VPN for Final Fantasy XIV is that it helps reduce latency issues.
Other important factors to take into consideration are privacy, encryption, and platform compatibility.
For a VPN to provide all these, it needs to have the following features:
Good server coverage – has locations in all major regions across the globe
Powerful encryption – AES 256-bit, ChaCha20, AES 2048-bit, or something similar
DNS leak protection to keep your traffic data private
Compatible with PC, mobile, and game consoles
We researched the VPN market and found that the following VPN services provide the best set of features for a better FFXIV experience.
| | | | | |
| --- | --- | --- | --- | --- |
| VPN Name | Server Coverage | Encryption | DNS protection | Compatible platforms |
| Private Internet Access | Americas (US-focused), Europe, Asia, Africa | AES 256-bit encryption | Yes | Windows, Mac, Linux, Android, Firestick, Xbox, Playstation |
| NordVPN | Europe, Americas, Asia, Australia, Africa | AES 2048-encryption | Yes | Windows, Mac, Firestick, Xbox, Nintendo Switch, PlayStation, Android, iOS |
| Express VPN | Americas, Europe, Asia, Africa, Australia | AES 256-CBC encryption | Yes | Windows, Mac, iOS, Android, routers, PlayStation, Xbox |
| CyberGhost VPN | Eastern Europe, Central Europe, Americas, Asia, Africa, Australia | AES 256-bit encryption | Yes | Windows, Mac, Android, iOS, routers, PlayStation, Xbox, Nintendo Switch |
| Surfshark VPN | Asia Pacific, India, Europe, Americas, Africa, Australia | AES 256-bit encryption | Yes | Windows, Mac, Linux, iOS, Android, Xbox, PlayStation, routers |
| IP Vanish | Asia, North America, Europe, Latin America, Australia | AES 256-bit encryption | Yes | Windows, Mac, Android, routers, iOS |
| Private VPN | Europe, North America, Latin America, Middle East, Europe, Africa, Asia | AES 2048-bit encryption | Yes | Windows, Mac, iOS, Android, Linux, routers |
| VyprVPN | North America, Europe, Asia. Africa, Central America, South America, Middle East | AES 256-bit encryption | Yes | Windows, Android, Routers, macOS, iOS, QNAP, Blackphone, smart TVs, Anonabox, Linux |
What are the best Final Fantasy VPNs?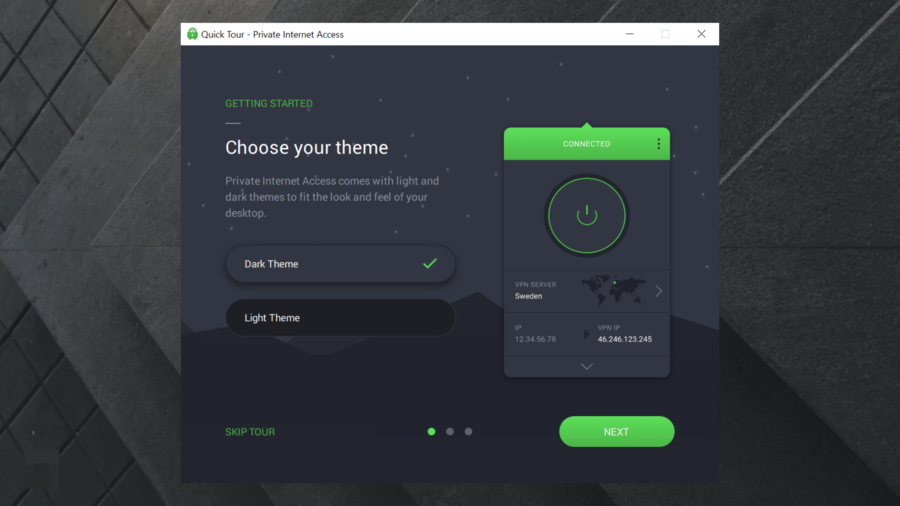 PIA developed by Kape Technologies is the best VPN for Final Fantasy 14 offering a great collection of features such as 3,310 servers in 25 countries.
It also offers file-sharing support and the best geographic diversity with servers in Central America, Europe, India, Asia, the UK, and the US, among others. However, it ceased its operations in Russia, entirely.
Many servers mean you have a chance at finding an uncrowded one to suit your needs, while many locations mean if you're traveling you can readily and quickly find a server nearby.
This VPN uses OpenVPN protocol on Windows and other OS clients, but also supports PPTP and L2TP for legacy users, though these are not recommended as they're outdated.
You also get access to a private DNS server and a SOCKS5 proxy, so you're protected because it won't log your movements.
Another benefit is the use of peer-to-peer file-sharing, and BitTorrent on its servers, plus it doesn't require you to limit your torrenting to specific servers.
The Kill Switch feature is also included in order to shut down apps if the VPN is suddenly disconnected.
Recently, PIA added MACE – an ad-tracker blocking tool – which when engaged, blocks those pesky ads plastered on websites with trackers that let companies snoop on your internet movements and activity.
The upshot is gamers can rest easy knowing that PIA won't store user information, masks your identity with IP cloaking, doesn't keep user log data, and won't inject ads into your internet traffic.
PIA gives you access to unlimited VPN gateways and offers unlimited bandwidth.
The applications are very easy to use and they do not log any user data.
It's important to mention that the app supports up to 10 simultaneous connections.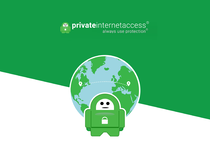 Private Internet Access
Keep your browsing habits private with this amazing VPN, now at a discounted price for a limited time only!
2. NordVPN – Best privacy features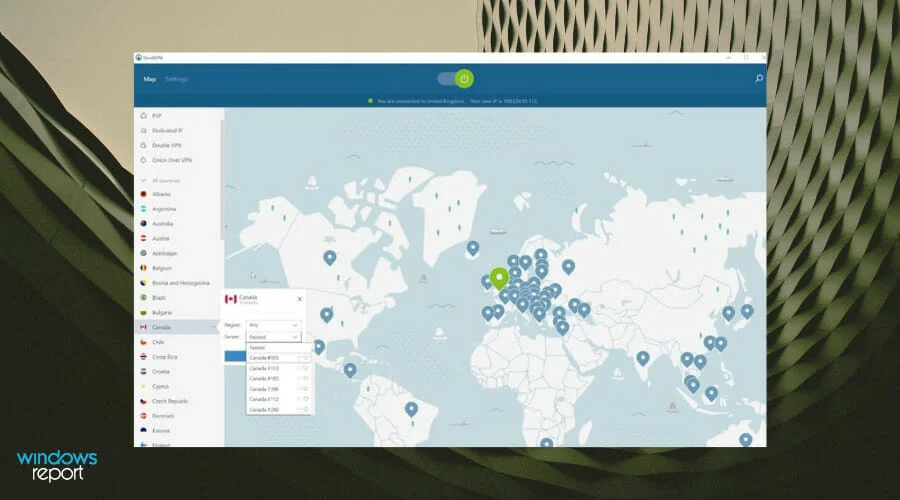 The fact that this is a great VPN for Final Fantasy 14, doesn't mean it is the best, but its combination of features makes it ideal for gaming.
NordVPN, developed by Tefincom & Co., S.A. features strong security, a strict focus on privacy, and handy support that is a click away are just among the benefits of using NordVPN when gaming or playing FFXIV.
Other great features include the double VPN, zero logs policy, Onion over PVN, 2048-bit encryption, kill switch, and peer-to-peer sharing, with a huge server network – more than 2000 – and fantastic speeds.
Notably, the CyberSec feature in this VPN is an ad-blocker and malware detector which is useful when you're on the web, which makes it an even more advanced VPN, plus the double VPN feature, and the Chrome Proxy that was added recently.
Connect up to six devices simultaneously to enjoy the FFXIV as it is a multiplayer game anyway, all on a single connection.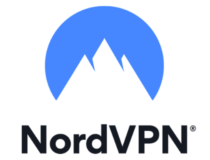 NordVPN
Want to enjoy FFXIV without limitation? Check out NordVPN.
3. ExpressVPN – Fastest protocol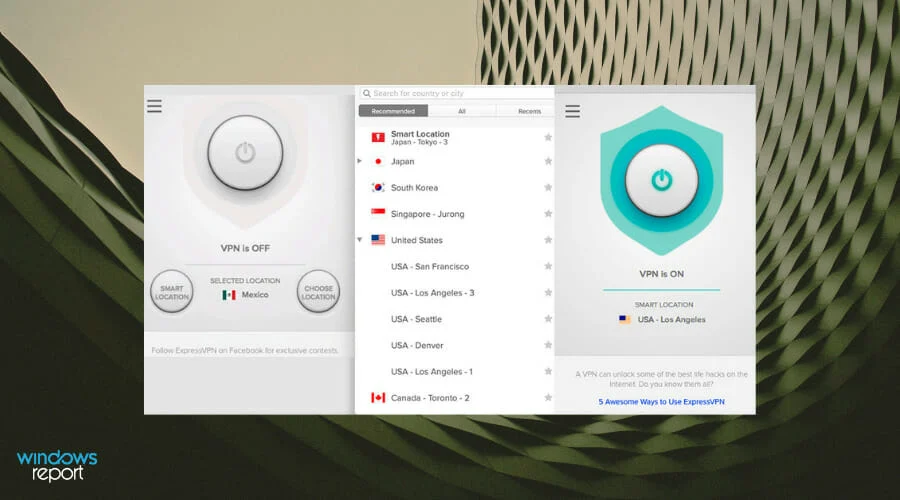 The first on our list of best VPNs for FFXIV is ExpressVPN. This VPN lives up to its name really, as far as speed and strong encryption, as well as access, goes.
This service developed by Express VPN International Ltd. includes strong encryption (AES 256-CBC military-grade), DNS leak protection and IPv6 leak protection, a built-in kill switch, split-tunneling, and a huge network of servers, and you can stream media content online without the restrictions.
Other features include a zero log policy DNS server network, to protect you from third parties, filtering, or blocking, so none of your personal data is stored on its servers, which means extra security for you.
This VPN's speeds make it one of the best VPNs for Final Fantasy 14, plus it offers unlimited bandwidth with a global network of over 1500 servers across 148 cities in 94 countries. It also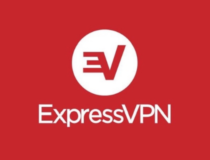 Express VPN
ExpressVPN can help you play FFXIV without limitations.
4. CyberGhost VPN – Best Windows application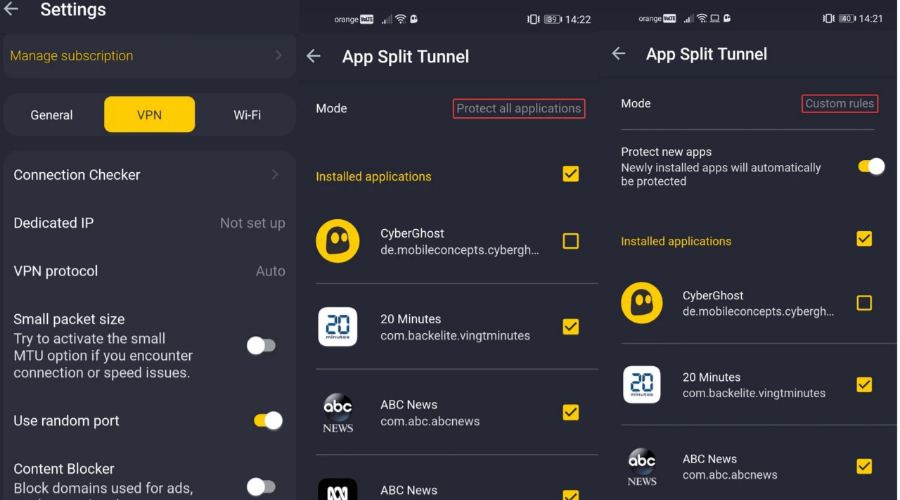 This VPN which is also developed by Kape Technologies lets you access geo-restricted content and has high speeds which let you not just watch streaming shows without buffering, but also play online games with so much ease.
The Romanian company offers features such as IP leak protection, DNS, kill switch, AES 256-bit encryption (double data encryption), and it doesn't keep logs of your activity online.
For any gamer, the considerations made include hiding IP addresses, security, zero logs, and great speeds on a stable location, all of which CyberGhost offers, plus much more – including their awesome customer support through live chat and ticket service.
CyberGhost has over 1250 servers worldwide in more than 60 countries, and you can connect to a single connection on up to 5 devices.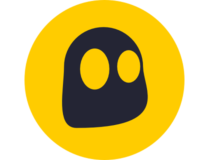 CyberGhost VPN
Want a VPN that works great with Final Fantasy XIV? Check out CyberGhost.
5. Surfshark – Best for multiple devices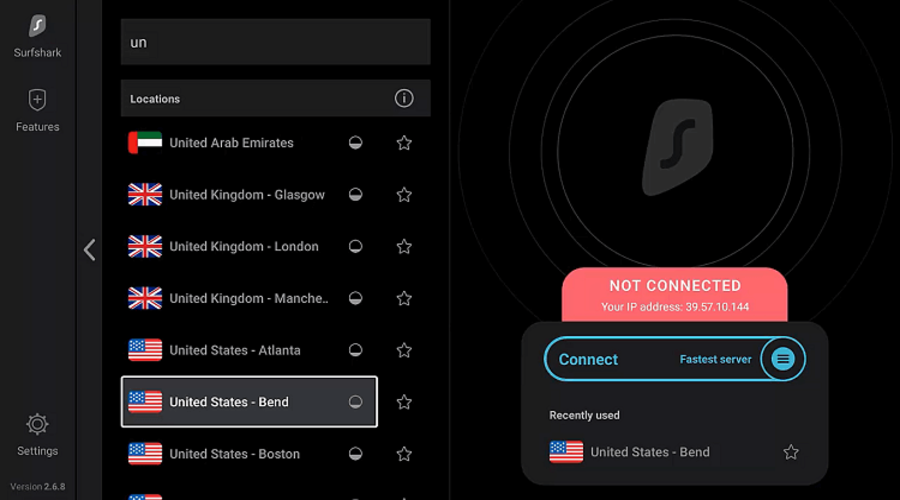 Surfshark is another good option that helps you boost game performance and reduce latency issues. Plus, it helps you hide your IP when you connect to gaming platforms, which is a plus for your online privacy and security.
This is one of the cheaper options, but that does not mean a lack of features. In fact, Surfshark is a well-rounded service that offers all the main benefits you would look for in a modern VPN.
Surfshark has a wide worldwide server coverage of over 3 000 servers. This means that you get to pick between multiple optimal connections for your precise configuration, and thus get the best out of Final Fantasy XIV.
On top of that, you can also use the split tunneling feature (the Bypasser) to prioritize your traffic. This way, you can connect to Final Fantasy XIV via the VPN, while keeping your other apps running on local traffic.
This can increase speed rates even more and decreases the risk of high ping or lag. You also get private DNS on each Surfshark VPN server.
Surfshark has a secure Killswitch in case the connection drops. It also gives access to OpenVPN and lets you connect an unlimited number of devices.
Surfshark VPN is a subscription-based service with 3 different plans available. You can get the best deal on the 2-year plan. You can try it out for yourself with the 7-day free trial.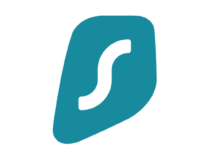 Surfshark
Enjoy Final Fantasy at great speeds and protect your online identity with this safe and budget-friendly VPN.
6. IP Vanish – Straightforward setup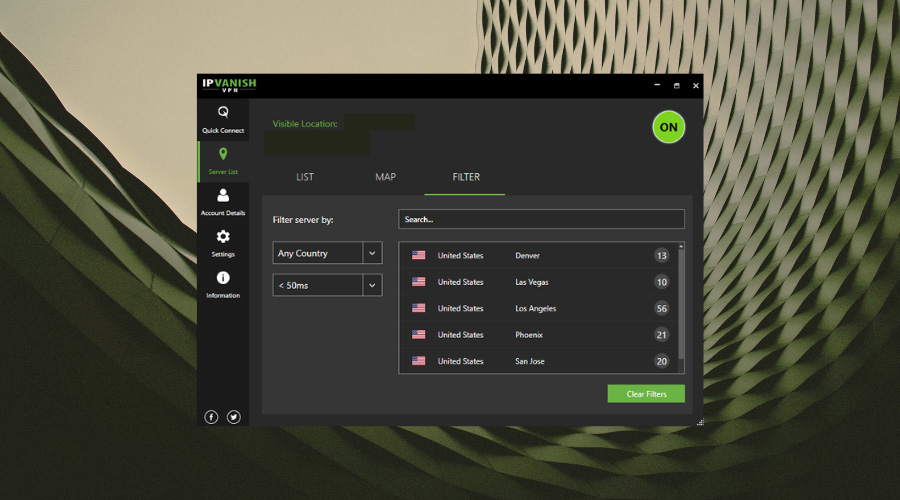 IP Vanish is another solid option that will help you reduce lag and ping in FFXIV. With over 2000 worldwide servers, this service ensures high-speed connections at all times.
It does not place any limitations on bandwidth and with its capability to hide your IP address, your ISP won't be able to throttle your traffic.
That gives you the possibility to enjoy Final Fantasy XIV for as many hours as you want without being restricted.
The servers are located in over 75 key regions across the globe. You will be able to join FFXIV players from anywhere and access geo-restricted game servers.
Online anonymity is highly important, especially when playing online games. Many members of game servers have malicious intentions, but with the strong AES 256-bit encryption, you don't have to worry.
No one will be able to track you down and find your location, identity, or browsing activity. IP Vanish also has a secure kill switch that stops all traffic data in case the connection drops and keeps it that way until it is restored.
VPN services offer access to different protocols. Each protocol is useful depending on what exactly you want to obtain. If you aim for great speed, WireGuard is your best bet.
IPVanish lets you pick your protocol and offers access to WireGuard along with other fast-paced protocols like IKEv2 and L2TP.
It also has a proxy option that is meant to boost speed even more. The SOCKS5 proxy is secure, but it does not have all encryptions and privacy offered by a normal VPN connection.
Other notable features of IP Vanish include public WiFi protection, DNS leak protection, and split tunneling.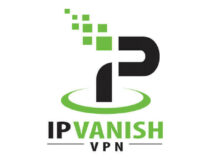 IP Vanish
Get access to thousands of fast servers and enjoy unlimited bandwidth.
7. Private VPN – Strong encryption and anti-tracking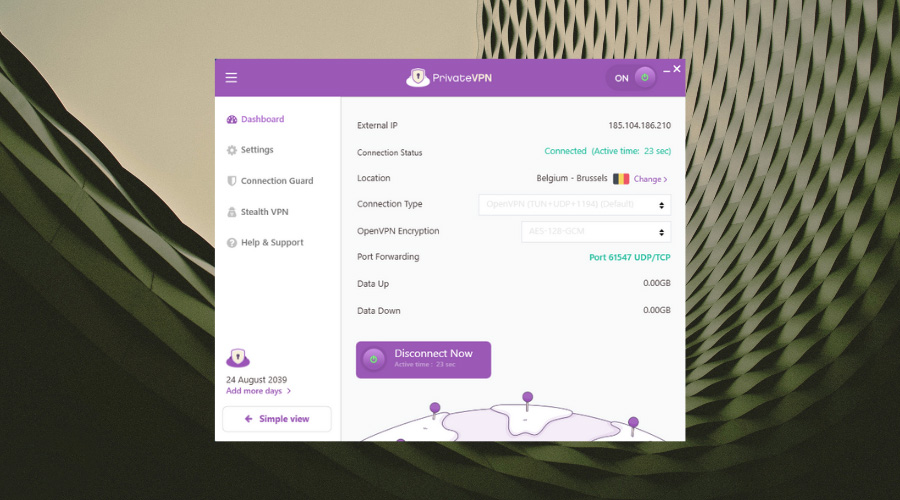 Next, we have a VPN service that does not have as many servers as other options on this list, but it implements a different method to get high-speed Internet.
Private VPN buys servers directly from the IP transit provider instead of a hosting company. This makes the tunneling more direct and in consequence, faster.
It offers unlimited bandwidth and hides your IP address. No one can track you down and identify you. Your ISP won't know how much traffic you use, so you will not be restricted.
This VPN uses the highest level of encryption to ensure that no one can detect the fact that you use a VPN in the first place. The 2048-bit encryption algorithm is the strongest one so far.
Not only does Private VPN protect your data against third parties, but it also does not keep any logs. They do not register your activity, identity or location at all.
The VPN has dedicated applications for multiple devices, so you can enjoy Final Fantasy XIV on the platform of your choice.
We must also mention that it secures up to 10 different connections at the same time. It also has some servers that are optimized for streaming.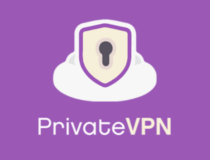 Private VPN
Play FFXVI without limitations with fast and secure VPN connections.
8. VyprVPN – secure VPN with fast configuration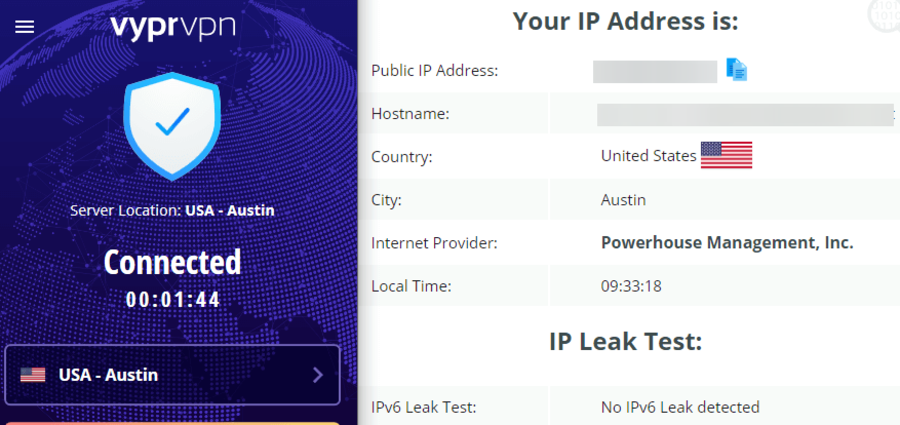 VyprVPN is another great VPN that you can use to improve latency and protect your data in Final Fantasy XIV.
With a growing network of over 700 servers located all around the world, this VPN can surely offer at least a few fast servers for your own configuration.
You can pick from multiple VPN protocols. Vypr supports Chameleon, WireGuard, OpenVPN, and L2TP/IPSec.
The VPN is very easy to set up. Its dedicated app has a friendly and intuitive UI that provides everything you need.
You can automatically connect to a VPN server in just one click or manually select a specific VPN location of your choice.
VyprVPN also includes DNS leak protection. This is another security measure to ensure that you cannot be tracked online.
It's also worth mentioning that VyprVPN has a strict zero logs policy. They don't keep track of any of your data.
Everything you do online is encrypted and hidden from hackers, trackers, and even your ISP.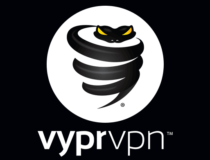 VyprVPN
Play FFXIV lag-free and protect your data from prying eyes with this strong VPN!
Can I use a free VPN for FFXIV?
Free VPNs are not as reliable and fast-paced as opposed to premium options. They generally place limits on traffic data and the number of servers.
Moreover, they are not as private and secure. Most free VPNs sell your user data. That is how they make a profit and can provide the service for free.
That being said, there are some good free VPNs that place fewer restrictions. A good option is Proton VPN because it places no limit on data.
Can I play FFXIV with VPN in Australia?
Yes. Many reliable VPN services offer server coverage in Australia. All options on this list have server locations there.
The most reliable VPN services for Australia are NordVPN, Surfshark, and ExpressVPN. This is because they have the largest number of servers, but the others options on this list come close.
Is there a favorite VPN you use for Final Fantasy 14? Share with us your experience by leaving a comment in the section below.