No doubt, if you love German TV but you reside in South Africa or any other part of the world, you'd be missing out on your favorite local channels and shows.
Yes, it's painful to see the forbidden error or access denied messages that pop up when you visit most websites.
However, the focus of this article is to show you how to watch German TV in South Africa.
Let's dive right in and you'll discover the easy way to bypass all restrictions so you can watch non-stop German TV anytime you want.
How to watch German TV in South Africa
The simple and easy way to watch German TV in South Africa is with a VPN.
A VPN enables you to spoof your location by connecting to the internet via an IP address on the server you connect to.
Therefore, by connecting to a German server, you will browse the internet with a German IP address and gain access to German TV channels.
But not all VPNs are created equally.
That is why I took the time to compare the performance of over 25 services.
As a result, to watch German TV in South Africa without any issues, I recommend that you:
CyberGhost is a VPN provider that's fully optimized for streaming and it outperformed every other VPN I tested for unblocking geo-restricted German TV channels.
Here are a few easy steps to watch German TV from South Africa with CyberGhost:
Subscribe to Cyberghost and download the software.

Follow the instructions to install the app.

Launch the app and connect to a German server to get a German IP address.

Once a connection is established, visit the website of your preferred German TV channel and enjoy watching. For example, I was able to access ZDF by connecting CyberGhost to a server in Frankfurt.
Why do you need a VPN to watch German TV outside Germany?
You need a VPN to watch German TV outside the country in order to mask your true IP address with the one provided by the VPN.
The truth is:
All geo-restricted websites enforce their blocks by detecting the location information provided by your IP address.
Once your real location is exposed to the website, these websites will deny you access to any content you request.
For example, here's a typical error message on ZDF saying the content is only available in Germany.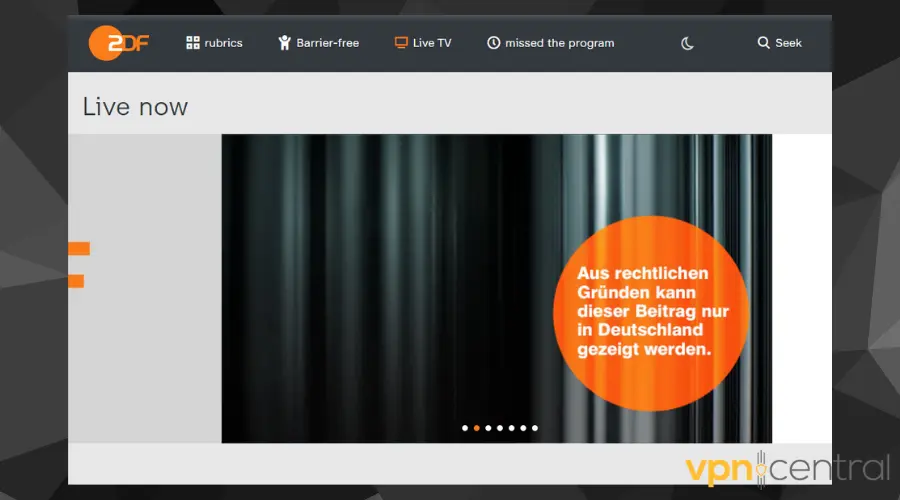 That's why you can't watch German channels from South Africa since you're not within the borders of the approved country.
This is why you need a VPN to spoof your location and trick the website into believing that you're in Germany when you're actually in South Africa.
A VPN replaces your actual IP address with a new IP address depending on the location of the server you choose to connect to.
This helps you bypass any geo-restrictions and access any blocked website from any location in the world and in this case, you'll have access to any restricted channels from South Africa without any hassle.
Best VPNs for German TV
These 5 VPN providers are the best services to bypass geo-blocks on German TV channels:
1. CyberGhost – overall best VPN for German TV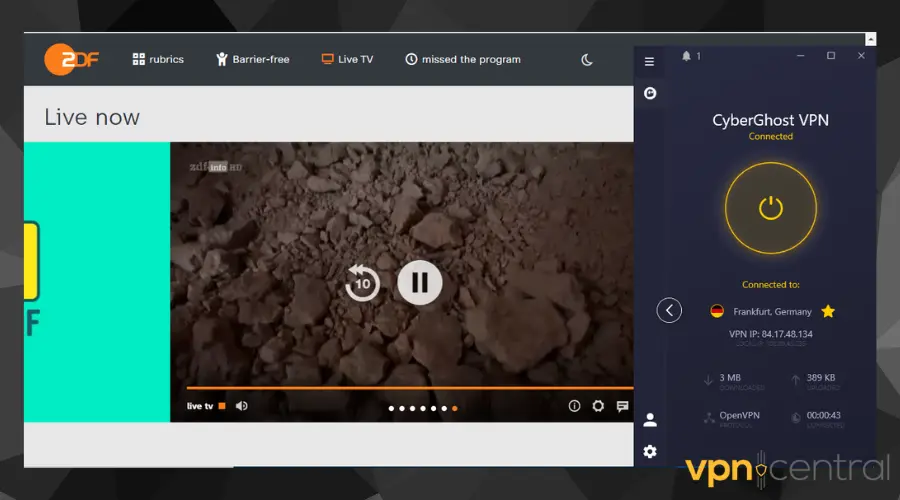 CyberGhost has the most German servers of all the VPNs on this list.
It has around 9000 servers in 91 countries, out of which 1000 servers are spread across Frankfurt, Berlin, and Dusseldorf.
This allows you to have seamless access to connect and stream your favorite German shows and movies from South Africa.
CyberGhost uses 256-bit AES encryption that ensures your data is kept unreadable for prying eyes and hackers alike.
Situated in a privacy-friendly country, it uses a strict no-logs policy so you can rest assured that none of your information is kept and can be used against you if need be.
Also, it protects its users from IPv6 and DNS leaks, coupled with the in-built kill switch feature that prevents accidental exposure when your connection suddenly breaks.
CyberGhost has apps that are compatible with operating systems like Windows, Android, iOS, Linux, and Amazon Fire TV.
In addition, its browser extensions are downloadable and suitable for Chrome and Firefox although they require manual installation and configuration.
✅ Pros
About 9000 servers across the globe and 1000 German servers
Speedy servers for buffer-less and lag-free streaming of German content
Secure encryption and security protocols
7 simultaneous device connection
No-logs policy
45-day money-back guarantee.
❌ Cons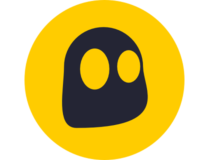 CyberGhost
Get CyberGhost installed on your devices for unrestricted access to German TV.
2. ExpressVPN – best streaming-optimized servers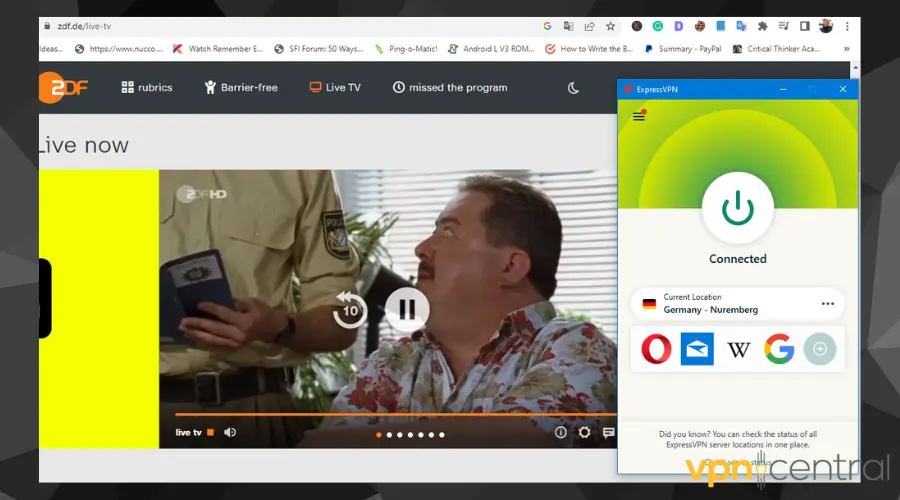 ExpressVPN is another top recommendation for watching German TV from South Africa.
It has over 3000 servers in 94 countries, including German locations like Nuremberg and Frankfurt. Interestingly, all its servers have the SmartDNS feature which makes for smoother streaming experiences.
In addition, ExpressVPN uses AES 256-bit encryption to hide your traffic.
Also, it protects you from IPv6, DNS, and WebRTC leaks, as well as accidental leaks due to unstable connections with its kill switch feature.
Furthermore, ExpressVPN unblocks major streaming platforms with ease, granting you access to a buffer-less streaming experience so you can watch your shows without any pauses in between.
ExpressVPN's apps are available for Android, Windows, iOS, Mac, and Linux. Also, it offers browser extensions for Firefox and Chrome as the router's custom firmware.
You can use one subscription on 5 devices simultaneously, and all new users get a 30-day money-back guarantee.
✅ Pros
About 4 German servers
Superfast connecting servers for streaming German content
Unblocks major streaming platforms
Topnotch encryption and security features
No-logs policy
❌ Cons
One of the most expensive VPNs available.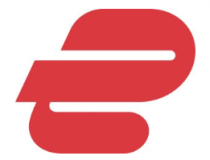 ExprressVPN
Don't miss out on German TV shows! Secure your connection with ExpressVPN today.
3. Surfshark – the most affordable premium VPN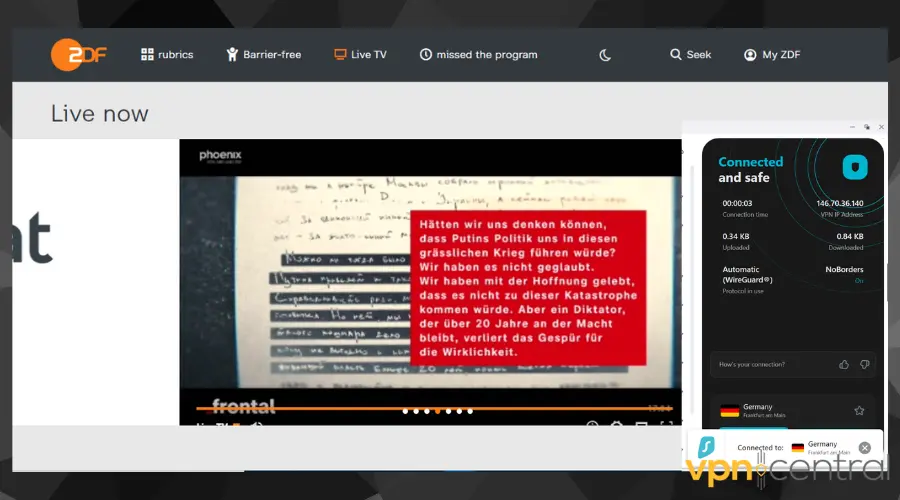 With a network of over 3000 servers and still growing, Surfshark has about 7 servers in Germany which include locations like Munich, Nuremberg, Berlin, and Frankfurt.
It performs well when it comes to unblocking content and it worked well for streaming content from German TV channels.
Similar to ExpressVPN and CyberGhost, Surfshark uses AES 256-bit encryption to scramble your data and keep it safe from hackers and trackers.
Its MultiHop feature works as a Double VPN connection and adds an additional layer of security to your internet activities if you use it.
Moreover, Surfshark operates a strict no-logs policy and has DNS and IPv6 leak protection.
Alongside, it has a kill switch for preventing leaks and an in-built ad-blocker that helps block ads, malware, trackers, and other malicious attacks.
Surfshark has apps for Windows, Android, iOS, Mac, Linux, and Amazon Fire TV.
It also offers browser extensions for Chrome and Firefox. However, it requires manual installation and configurations on compatible routers.
On top of its affordable subscription plans, you get to use it on an unlimited number of devices at the same time while also getting a 30-day money-back guarantee if you're a new user.
✅ Pros
Unlimited simultaneous device connections
Strong encryption and security protocols
Unblocks major streaming platforms
No-logs policy
Numerous German servers
Money-back guarantee
24/7 live chat and a responsive email support team
❌ Cons
Inaccurate connection to the nearest server most times.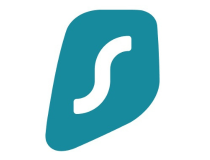 Surfshark
Watch German TV hassle-free in South Africa. Install a VPN like Surfshark now!
4. NordVPN – robust German server network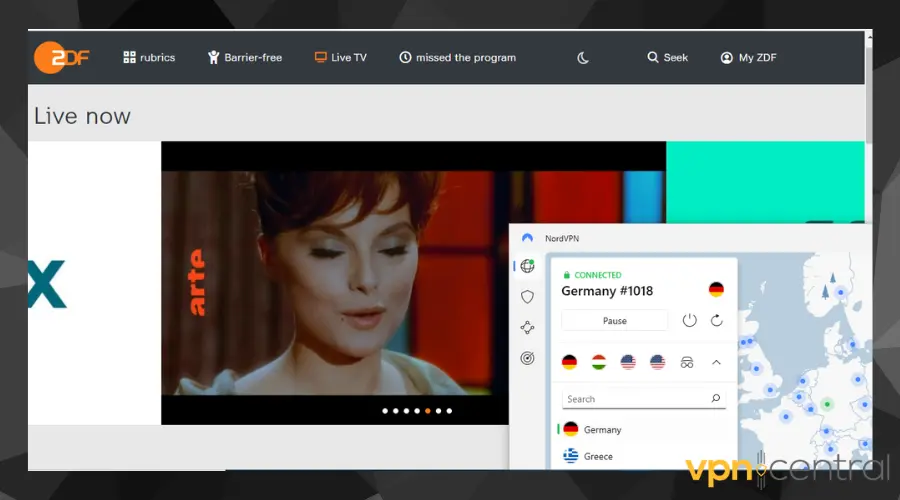 With a network of over 5000 servers worldwide, out of which 240 are located in Germany, NordVPN is suitable for watching German TVs from South Africa.
It uses servers that are fully optimized for streaming alongside obfuscated servers so your VPN traffic remains undetectable and enables you to bypass even the strongest internet restrictions.
NordVPN has an unlimited bandwidth so you can rest assured of a buffer-free internet connection.
It unblocks major universal streaming platforms and can unblock German TVs from South Africa.
Moreover, it has top-notch security features like 256-bit AES encryption, DNS and IPv6 leak protection, and an automatic kill switch which all protects your internet data, traffic, and activities from being tracked or spied upon.
NordVPN has apps available for devices like Android, Windows, Mac, iOS, Android TV, and Linux. It also has browser extensions for Chrome and Firefox which requires manual configuration.
You get a 30-day money-back guarantee when you subscribe to NordVPN.
✅ Pros
Unlimited streaming bandwidth
240 servers in Germany
High-speed servers for buffer-less streaming and viewing experience.
Strong security features and encryption
No-logs policy
30-day money-back guarantee
❌ Cons
Switching between servers might take so much time.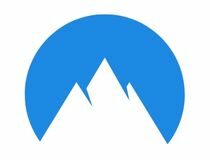 NordVPN
Unlock German TV content in South Africa in just a few clicks. Try NordVPN today!
5. IPVanish – a large pool of unique German IP addresses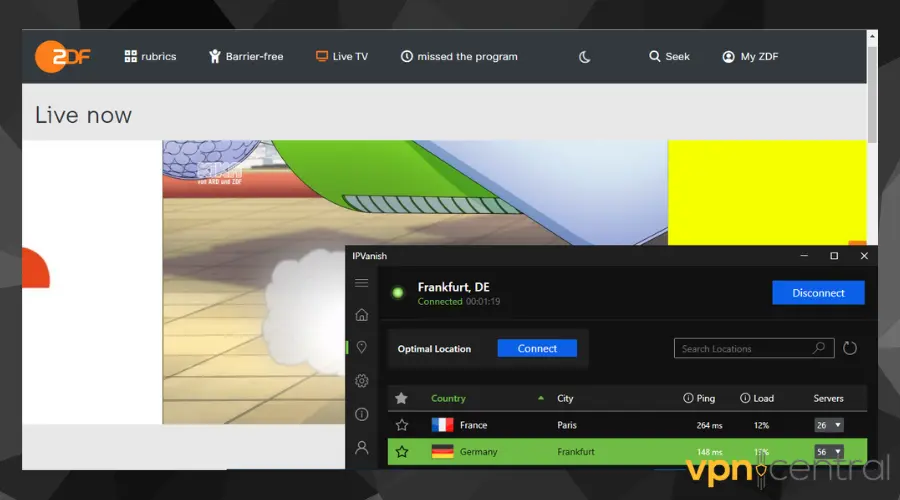 With a pool of 40,000+ unique IP addresses and a total of over 2200 servers in 52 countries, IPVanish proved to be reliable for watching German TV channels during my tests.
This is also helped by the fact that it has 50+ servers in Germany, all of which are suitable for streaming and watching online movies and shows.
It's also remarkable in terms of security as it has a kill switch, and DNS leak protection, just like the rest of the VPNs above.
In addition to that, IPVanish has obfuscated servers that hide your VPN traffic and make it appear like normal internet traffic.
The only drawback appears to be its location, which is in the United States, a 14 eyes alliance member.
However, independent audits have verified that it indeed operates a no-logs policy, which means that it keeps no records of your activities.
IPVanish performs well in unblocking geo-blocked platforms especially universal streaming platforms like Netflix, YouTube, BBC iPlayer, and others.
Its use of the WireGuard protocol is specifically responsible for its fast connection speed so you can be sure of a lag and buffer-free streaming when connected to IPVanish.
✅ Pros
Unlimited simultaneous device connections
Servers available in Germany
No-logs policy
AES encryption and other security features
Unblocks major streaming platforms
❌ Cons
Expensive subscription plans
Based in one of the Alliance countries.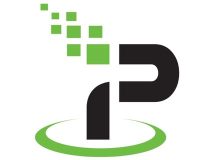 IPVanish
Connect to German TV shows effortlessly in South Africa using IPVanish VPN.
Which German channels can I watch online?
The following channels/platforms are available online and are accessible with the use of a VPN:
ZDF (Hullraisers, Hamilton, Postcard Killings, Penoza – The Avenger, Killing Eve, Agatha Raisin, etc.)
Kividoo (Barbie – Dreamtopia, Der kleine Prinz, Bob der Baumeister, etc.)
Netzkino (A Christmas Tree Miracle, The Cannibal Club, The Con Artist, Pan Man, etc.)
VOX (Goodbye Germany, Shopping Queen, The Perfect Dinner, Between Tulle and Tears, etc.)
Netflix (Buba, Into The Beat, Isi and Ossi, Alles ist Gut, Lommbock, etc.)
Disney+ (What If?, Peter Pan and Wendy, Kardashian, The Avengers, Secret Invasion, Captain America: Civil War, Happy Holidays, The Simpsons, etc.)
MTV Germany (Ghosted: Verliebt und Verschwunden, Catfish: Verliebte im Netz, Geordie Shore, Are You The One? etc.)
Nickelodeon (Die Patrick Star Show, Danger Force, Welcome To The Loud, Spongebob, etc.)
Deutsche Velle (The Day – News In Review)
Eurosport11 (Classica San Sebastián 2023, Tour de L'Ain, etc.)
Comedy Central (South Park, Bob's Burgers, It's Always Sunny In Philadelphia, etc.)
RTL Television (Stranger Sins, Ex On The Beach, The Bachelorette, The Rescuers, etc.)
Nitro (Copycat Killers, Buccaneers Of The Seas, Aladdin, Nitro. Wood Summers, etc.)
Is it legal to watch German TV in South Africa with a VPN?
Yes, it's legal to watch German TV in South Africa with a VPN.
There are no laws banning or restricting the use of VPNs in either country, making it acceptable and legal.
Although Germany is one of the countries in the 14-Eyes Alliance (a group of countries that allows the logging and sharing of their citizens' data), it hasn't taken an actual stand for or against VPN usage.
Hence, until it decides to be against the use of VPNs, VPN usage remains legal.
Summary
If you want to watch and enjoy German TV from South Africa, using a VPN remains the best choice.
This is because it protects your internet and online activities from your ISPs, trackers, snoopers, and other cybercriminals while helping you bypass and avoid any website restrictions.
The 5 VPNs on this list are the best options you can use to access German TV from South Africa.
Apart from getting an overall great performance, you can trust them to satisfy your quest for unrestricted access to German TV channels from South Africa.
In conclusion, the information in this article should help you solve the problem of how to watch German TV in South Africa.
---