If you're from Mexico but now living in Canada, you likely miss having easy access to your favorite telenovelas, news channels, and live sports.
Unfortunately, due to geo-blocking, streaming Mexican TV channels directly from Canada doesn't work.
But the good news is that you can fix this with a VPN. So, I've prepared a step-by-step guide on how to watch Mexican TV in Canada. Plus, I also recommend the best ones for the job.
How to watch Mexican TV in Canada
All you need to watch Mexican TV in Canada is a VPN.
It encrypts your internet traffic and routes it through a server in Mexico. This way, you can change your IP address and appear as if you are browsing from there.
I personally recommend using CyberGhost because of its over 50 streaming blazing-fast servers in Mexico.
Here's how to use it to watch Mexican TV.
Subscribe to a CyberGhost plan and download the software.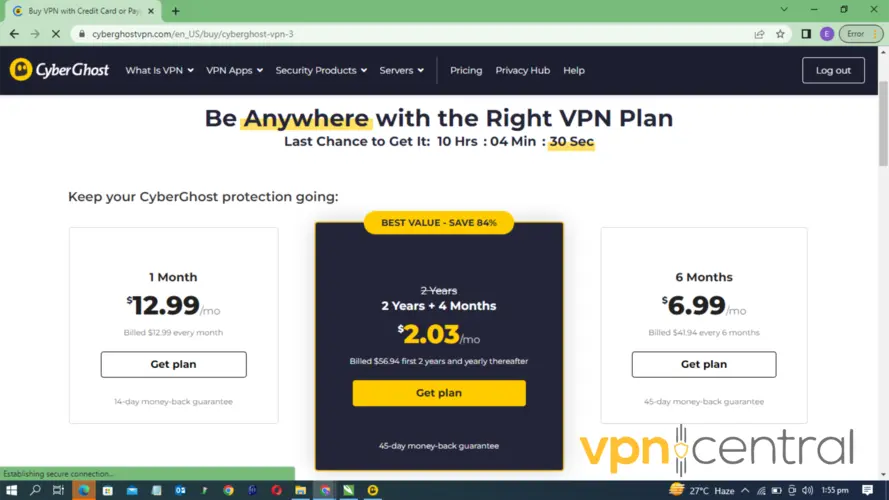 Follow the instructions to install the app and launch it.
Log in to your CyberGhost account with your credentials.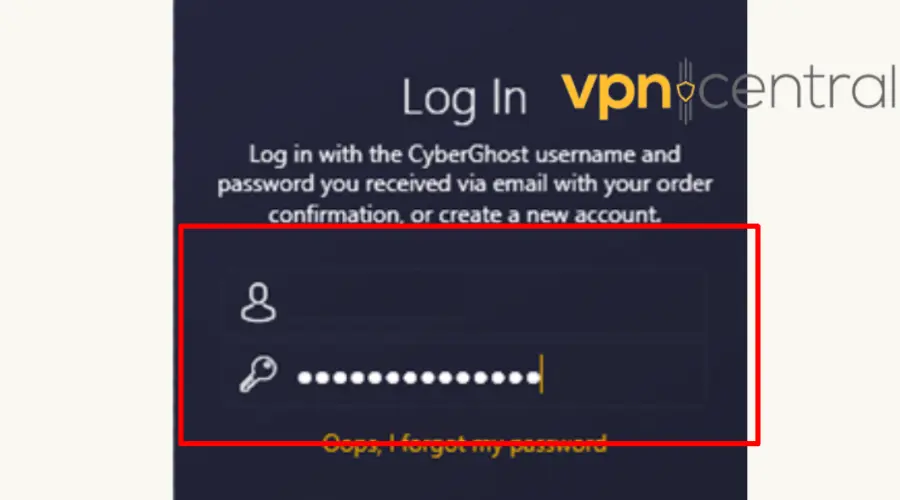 Search and connect to a Mexican server.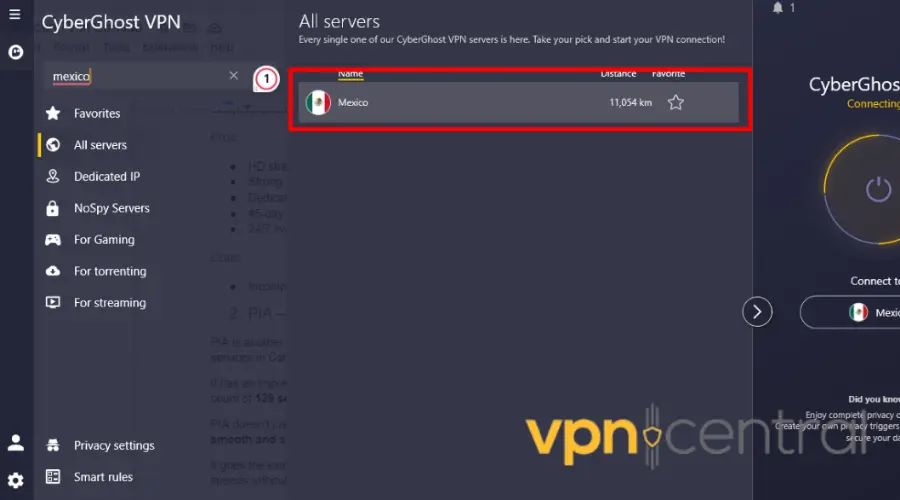 Access Mexican TV streaming platforms and start watching. For instance, I could watch Azteca 7 without any issues.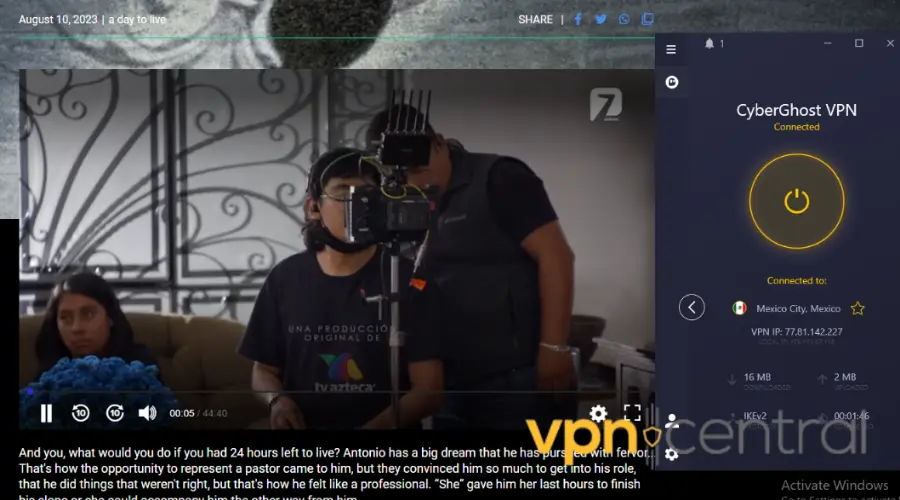 Why do you need a VPN to watch Mexican TV in Canada?
You need a VPN to watch Mexican TV in Canada because it helps bypass geo-blocks.
Most Mexican channels like Azteca 7 or Las Estrellas have licensing agreements that restrict where they can broadcast.
For example, I tried accessing Azteca 7 with a Canadian IP address but got an error message in Spanish.
In short, it says: This content is not available in your country or region.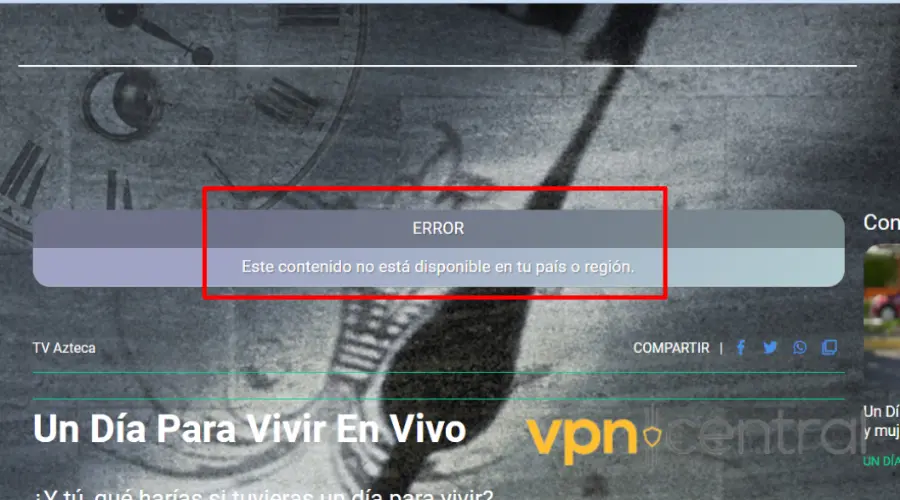 However, you can get a Mexican IP address with a VPN and enjoy streaming your favorite shows.
Best VPNs for Mexican TV
All VPNs are not the same in performance and security.
Therefore, I've done my homework and identified the cream of the crop of VPNs to make your Mexican TV dreams come true.
Here are they!
1. CyberGhost — overall best for Mexican TV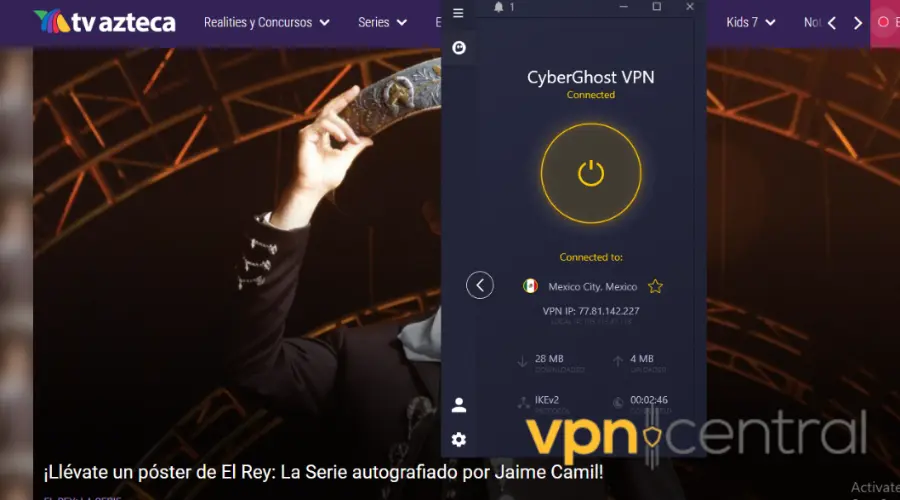 Based on my analysis, CyberGhost stands out as the top choice for Mexican TV in Canada.
One of its remarkable features is its extensive network, boasting over 9600+ servers in 91 countries, including 50 in Mexico.
This ensures you have ample options to bypass geo restrictions and access content from Mexico.
Additionally, speed is one of Its notable strengths. CyberGhost's robust speeds let you bid farewell to video buffering during an intense telenovela scene.
So, you can stream your favorite Mexican TV shows in high definition without any lags or interruptions.
Plus, it offers unrestricted streaming thanks to its unlimited bandwidth.
Shifting to security features, CyberGhost employs AES 256-bit encryption, the gold standard in the industry. It ensures your data is secure and shielded from hackers and prying eyes.
Its strict no-logs policy ensures it keeps no record of your online activities. So your streaming habits remain confidential.
To wrap it up, CyberGhost's generous 45-day money-back guarantee is a testament to the company's confidence in its service. It assures you, the user, to try the service risk-free.
✅ Pros:
HD streaming and unlimited bandwidth
Strong security features
45-day money-back guarantee
24/7 live chat support
❌ Cons:
Incompatible with some routers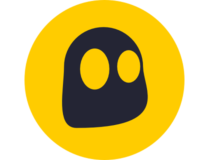 CyberGhost
Unlock Mexican TV & enjoy limitless streaming with CyberGhost VPN!
2. PIA — Lag-free Mexican servers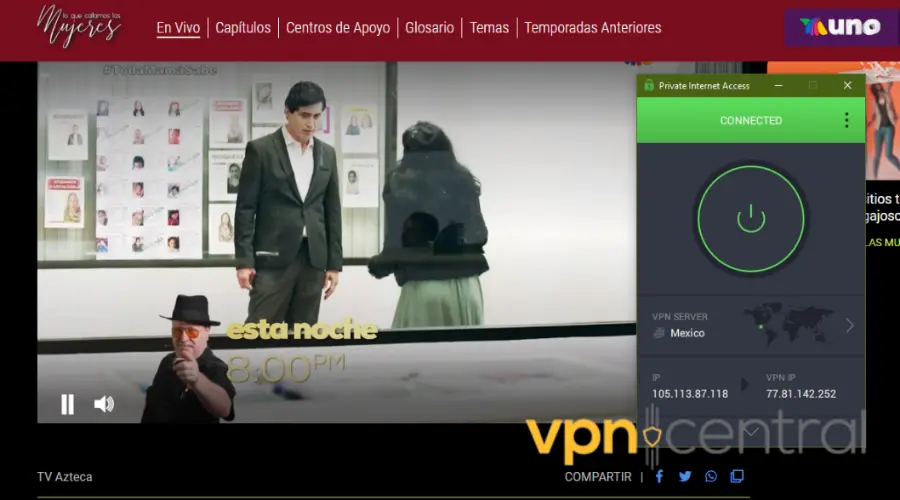 PIA is another reliable VPN for anyone aiming to tap into Mexican TV channels and streaming services in Canada.
It has an impressive network of over 35,000 servers across 84 countries and a generous count of 139 servers in Mexico. With that, you can easily bypass geo-restrictions.
PIA also ensures a smooth and seamless viewing experience with its decent speeds.
It goes the extra mile by including the WireGuard protocol, which is known to deliver fast speeds without compromising security.
Imagine watching your favorite Mexican soap opera without a hint of buffering – that's the level of service PIA aims to deliver.
With AES 256-bit encryption, it provides a level of security that stands among the best. Its strict no-logs policy ensures your morning news skims remain confidential.
Moreover, it supports unlimited simultaneous connections, ensuring you and your family enjoy secure and unrestricted streaming access across multiple devices.
To cap it all off, PIA offers a solid 30-day money-back guarantee. So, if it doesn't meet your standards, you're free to step back, no questions asked.
✅ Pros:
Works with major streaming services
Excellent streaming speeds
Supports unlimited device connection
❌ Cons:
Live chat support isn't very responsive
Speeds may vary depending on the server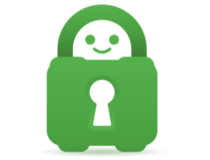 PIA
Gain unrestricted access and top video quality on Mexican channels with PIA!
3. ExpressVPN – ultra-fast Mexican servers + top-notch security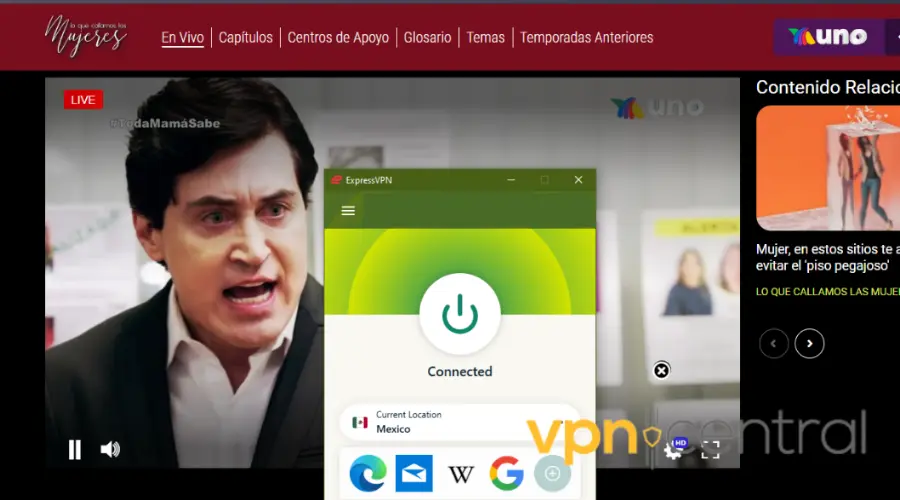 With ExpressVPN, diving into the vibrant world of Mexican television is just a click away, no matter where you are.
It Boasts a network of over 3,000 servers in 94 countries, including Mexico. This ensures you can effortlessly change servers to unlock various geo-restricted content in Mexico.
This includes popular Mexican TV channels and streaming services such as Azteca Uno, Las Estrellas, Imagen Televisión, and Netflix Mexico.
Also, with its unlimited bandwidth, you can wave goodbye to buffering.
But that's not all, its Smart DNS feature, known as MediaStreamer, enables you to unblock streaming services on devices that don't directly support VPNs.
This widens your options for where and how you watch.
It employs AES 256-bit encryption to secure your data. Plus, features like the kill switch, DNS leak protection, and the zero-logs policy keep your streaming activities private.
Whether a technical hiccup or a general query, its 24/7 customer support is always available via live chat and email. And you can try it risk-free with its 30-day money-back guarantee.
✅ Pros:
Ultra-fast Mexican servers
Consistently fast and stable
Best leak protection on the market
HD streaming and unlimited bandwidth
Apps for all conceivable devices
❌ Cons:
More expensive than some competitors
Its servers occasionally get blacklisted due to its popularity
Only five device connections at a time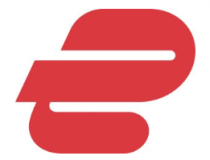 ExpressVPN
Open up Mexican TV in one click using powerful streaming VPN!
4. NordVPN — Best security + Privacy features for Mexican TV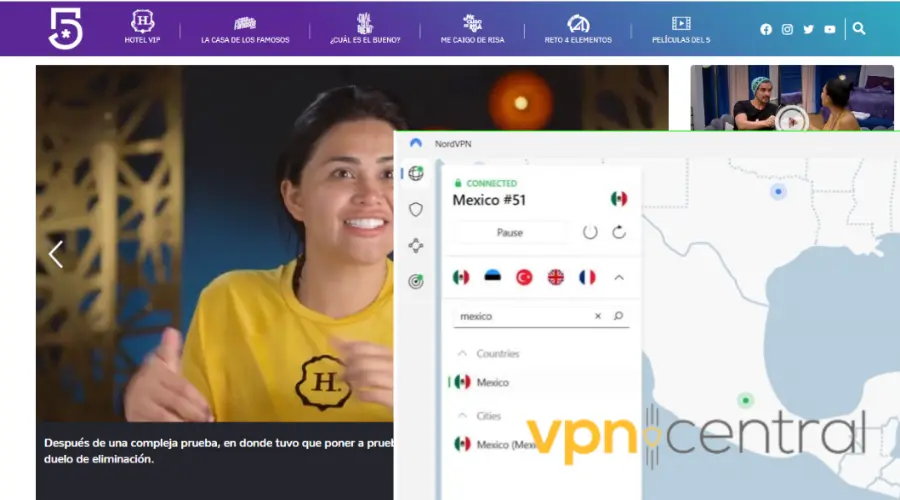 NordVPN is also a top-tier choice for watching Mexican TV in Canada.
With a vast network of over 5,500 servers across 60 countries—including 30 right in Mexico—NordVPN is your personal bridge to Mexican culture and entertainment.
One exciting part of this VPN is its Threat protection feature that actively blocks ads and malicious websites.
This ensures that your streaming experience isn't just private but clean and efficient.
With its unlimited HD and 4K content, I assure you you'll have a speedy, silky-smooth streaming experience.
In terms of security, it has military-grade AES-256 encryption that secures your personal data.
For more security, features like Onion over VPN and Double VPN route your traffic through multiple servers and layers of encryption, making your data hard to detect by cybercriminals.
And if your connection with NordVPN ever gets shaky, the kill switch feature instantly cuts your device's internet connection. This ensures your location isn't leaked to the TV channels.
Also, NordVPN has a strict no-logs policy, ensuring your streaming habits remain a secret.
So why wait? Go try it risk-free with its 30-day money-back guarantee!
✅ Pros:
Strong security and privacy features
Affordable monthly price
Smooth streaming experience
Apps for Fire Stick and Android TV
❌ Cons:
Complicated when using router setup
Apps can sometimes be sluggish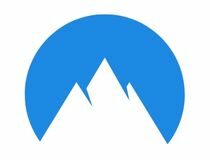 NordVPN
Remove barriers on Mexican TV and get endless entertainment with NordVPN!
5. Surfshark – budget-friendly for unblocking Mexican TV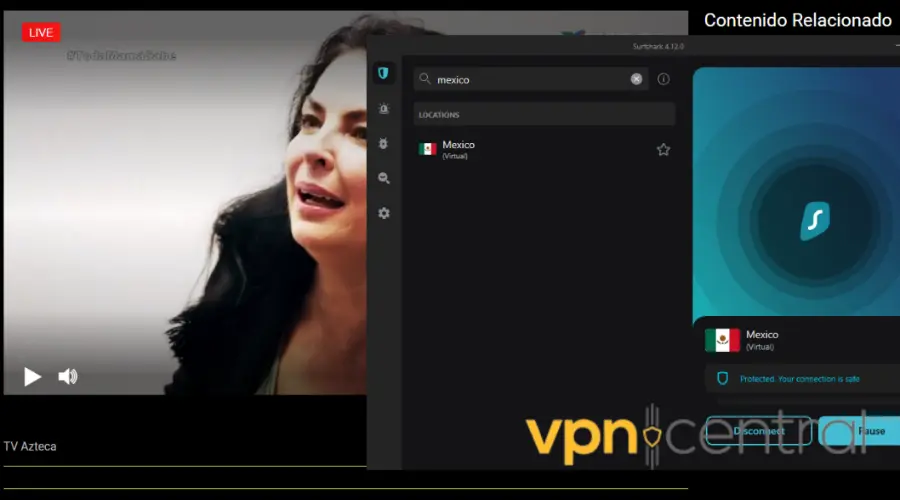 Surfshark is a budget-friendly option with a punch far above its weight class.
With a network of over 3,200 servers in 100 countries—including Mexico, you can watch your favorite Mexican TV channels without breaking the bank.
Additionally, Surfshark's unlimited bandwidth ensures your streaming sessions stay as boundless as your viewing appetite.
Heard of CleanWeb? That's Surfshark's ad blocker.
I can assure you that security with Surfshark is also top-notch. Its AES 256-bit encryption puts your secures your data well. And its kill switch and DNS leak protection keep your location data from leaking.
Also, Surfshark offers unlimited simultaneous connections. This means, under one subscription, every device in your household can access Mexican TV.
To wrap it all up, Surfshark offers a 30-day money-back guarantee. So, you can always claim a full refund if you don't like it.
✅ Pros:
Budget-friendly and efficient
Connect unlimited devices
Excellent streaming speeds
❌ Cons:
Inconsistent P2P performance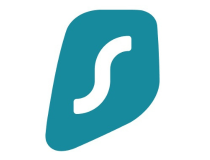 Surfshark
Bypass limitations on Mexican TV and enjoy boundless streaming with Surfshark!
Which Mexican channels can I stream online?
With a VPN, you can stream various Mexican channels and streaming services online from Canada.
Here are some of the most popular ones, along with examples of shows you can watch:
1. Azteca Uno (Free)
Telenovelas (La Reina Soy Yo)
Reality shows (Exatlón México)
Comedy shows (La Parodia)
Talk shows (Ventaneando)
2. Las Estrellas (Free)
Telenovelas (Vencer el Pasado)
Variety shows (Hoy)
Game shows (100 Mexicanos Dijeron)
News shows (Noticieros Televisa)
3. Imagen Televisión (Free)
Telenovelas (La Taxista),
Sports shows (Adrenalina),
Documentary shows (Sale el Sol)
News shows (Imagen Noticias).
4. Canal 5 (Free)
Cartoons (The Simpsons),
Anime (Naruto),
Series (The Big Bang Theory)
Movies (Jurassic World)
5. Azteca 7 (Free)
Series (The Walking Dead),
Reality shows (MasterChef México)
Comedy shows (La Isla de las Tentaciones)
Movies (Avengers: Endgame).
Sports programs, such as soccer (Liga MX), boxing (Combate Azteca), and wrestling (Lucha Azteca)
6. Blim TV (Paid)
Telenovelas (Rubí)
Series (El Dragón)
Movies (No Manches Frida)
Documentaries (El Chapo: El Jefe y su Juicio)
Is it Legal to Watch Mexican TV in Canada with a VPN?
Yes, watching Mexican TV in Canada with a VPN is legal. There's no law against VPN bypassing geo-restrictions on TV channels or streaming platforms in Canada.
However, some Mexican channels may have policies that discourage using them. Therefore, I recommend you check the terms and conditions of the specific TV channels before using a VPN.
Summary
Thanks to VPNs, Canadians craving their favorite Mexican TV can access channels like Televisa, Azteca 7, and Las Estrellas from anywhere in Canada.
With the quick steps I described above, nothing stands between you and Mexican television's riveting narratives, memorable characters, and current events, no matter where you find yourself.
So, sit back, and enjoy your Mexican TV like in Tijuana.
---