Accessing certain French TV channels and content from Canada can be difficult due to broadcasting rights and geo-restrictions.
But the good news is you can always bypass them through a VPN.
I'll show you how to do that so you can enjoy French TV from anywhere in the world, including Canada.
How to watch French TV in Canada
You can watch French TV in Canada using a VPN. It allows you to change your virtual location to France.
So, when you connect, it will appear as if you are in France, thus bypassing the geo-restrictions.
ExpressVPN's fast French servers allow you to access broadcaster websites and live streams as if you were in France.
Here's how to set it up:

Choose a plan and subscribe to ExpressVPN.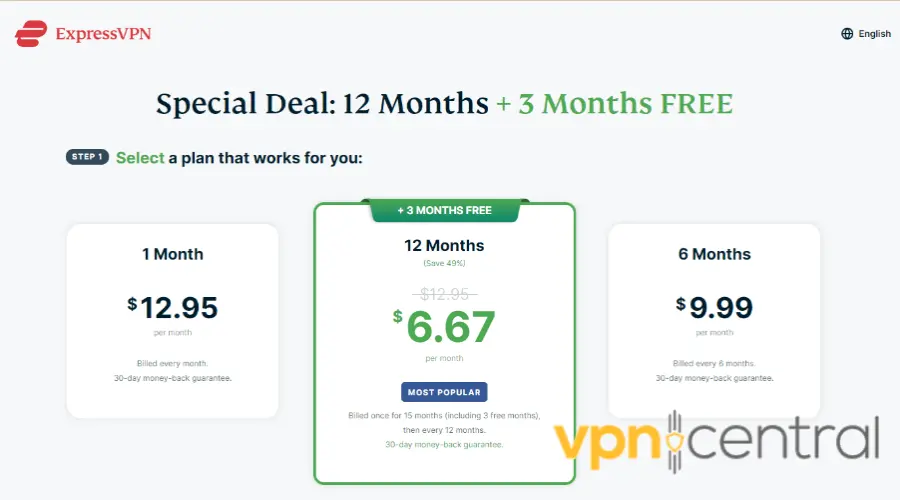 Download and install the VPN app.
Launch the app and log in with your credentials.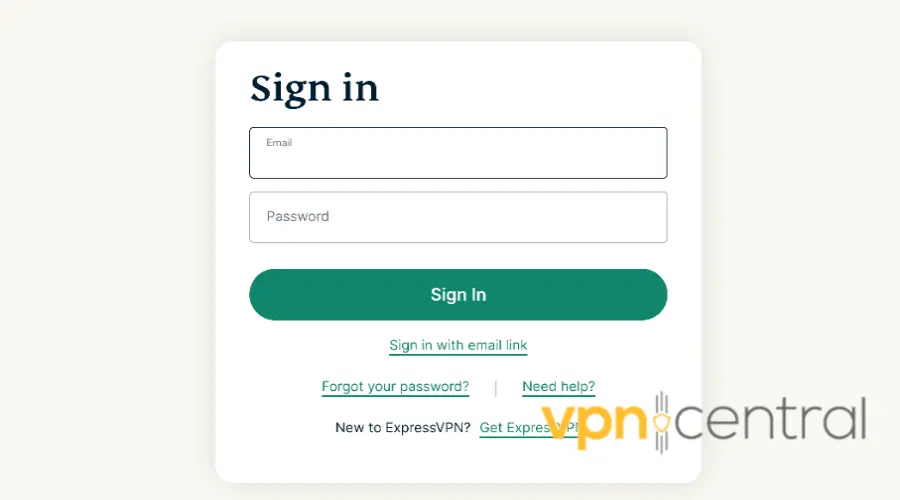 Connect to a French server.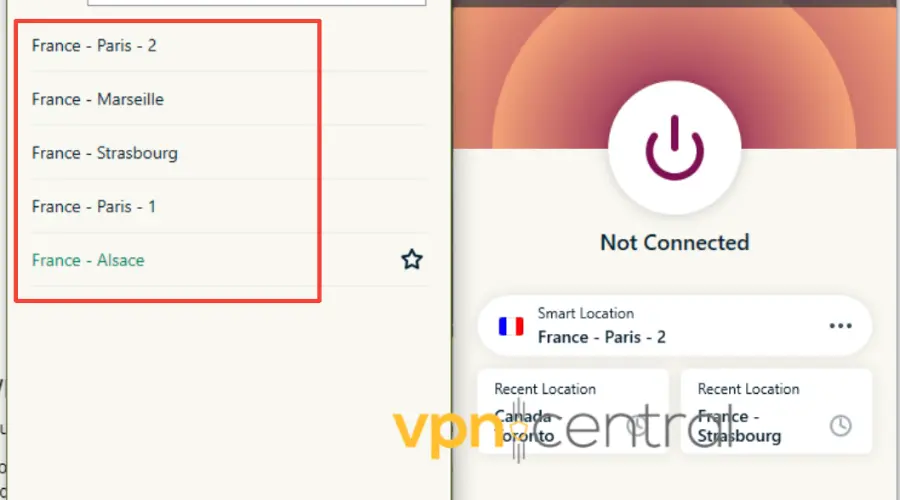 Visit the channel's website or streaming service and enjoy your favorite shows without restrictions! I tried watching 6play, and it worked perfectly.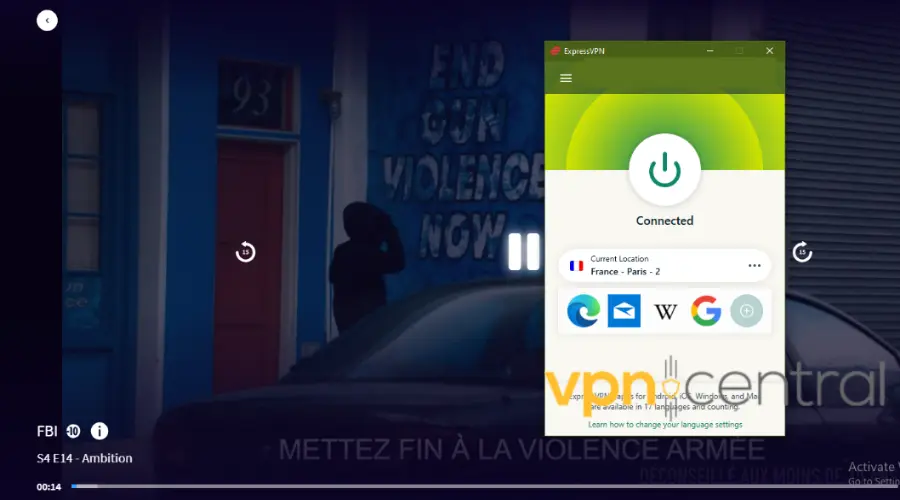 Why do you need a VPN to watch French TV in Canada?
You need a VPN to watch French TV in Canada in order to bypass geo-blocking restrictions. Broadcasters limit their content to within France, so you won't have access without a French IP address.
If you try it, you'll get an error message: Sorry, this video is not accessible in your country.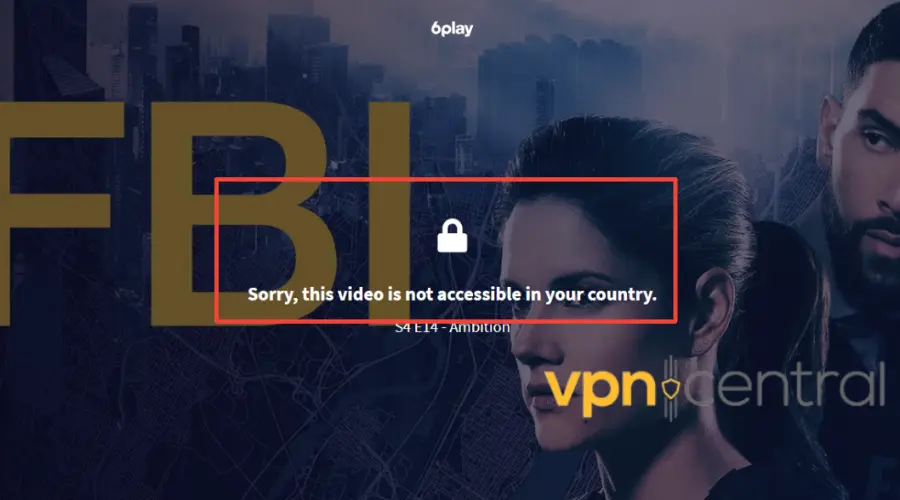 However, a VPN assigns you a French IP to bypass the geo-blocks and stream the channels you want.
Now let's consider which VPN to use.
Best VPNs for French TV
Numerous VPNs are available in the market, yet not all are good for streaming French TV content in Canada.
I've evaluated several options, assigning rankings based on their effectiveness, features, and overall worth.
Here are my top five recommended VPNs for accessing French TV content.
1. ExpressVPN — Overall best VPN for French TV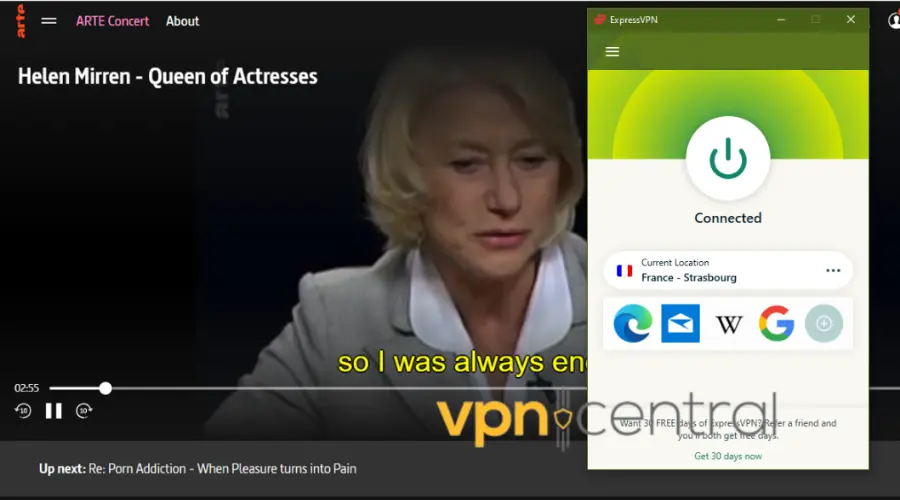 With ExpressVPN, you can enjoy your preferred French content across platforms such as 6play, TF1, Canal+, France.tv, OCS, and various others.
It has many streaming-optimized servers in Paris, Marseille, Alsace, and Strasbourg. This makes it easy to bypass geo-restrictions.
Furthermore, ExpressVPN guarantees swift speeds by employing the efficient Lightway protocol.
This translates to smooth streaming without buffering. So, you'll be sure to get top-notch video playback.
Furthermore, ExpressVPN works on Windows, iOS, macOS, Android, and smart TV systems like Apple TV, Amazon Fire TV Stick, and Samsung Smart TV.
Additionally, it offers strong security measures that keep you safe while you're streaming.
It uses the AES-256-bit encryption and advanced leak protection to protect your privacy. If your connection unexpectedly drops, its kill switch pauses your internet connection, preventing leaks.
✅ Pros:
Ultra-fast French servers
Advanced leak protection
Apps for all conceivable devices
❌ Cons:
Costlier than other competitor VPNs
Some of its servers may get blacklisted due to its popularity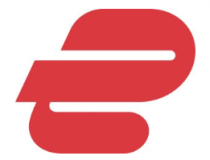 ExpressVPN
Watch your favorite French channels from Canada with ExpressVPN!
2. CyberGhost — Vast network servers to unblock French TV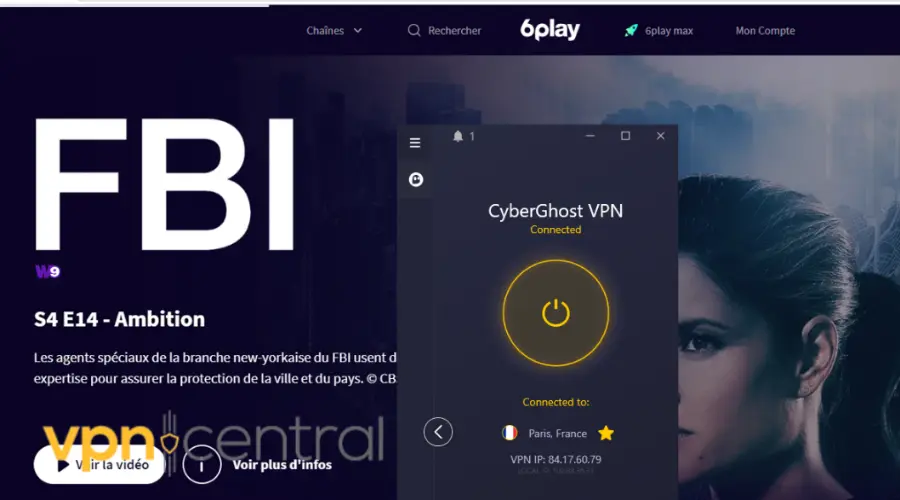 CyberGhost provides an impressive network of over 9600 servers worldwide. 852 of them are strategically located in Marseille, Strasbourg, and Paris, France.
This means you hold keys to unblock your favorite French TV channels in Canada easily.
It shields your data with ultra-strong 256-bit AES encryption.
It has a Kill Switch feature that immediately ensures your real location remains hidden from French TV providers if your VPN connection drops.
In terms of speed, it has cutting-edge technology like the WireGuard protocol that ensures smooth streaming without buffering.
Also, with a single subscription, you can connect with up to 7 devices simultaneously.
✅ Pros:
Fast streaming servers
Has Add-ons, including antivirus and data compression
User-friendly interface
45-day money-back guarantee
❌ Cons:
Its customer support is unavailable in some languages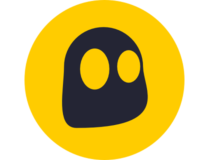 CyberGhost
Unblock French TV in the blink of an eye and enjoy unlimited access with CyberGhost!
3. PIA — Uninterrupted high-quality streaming on French TV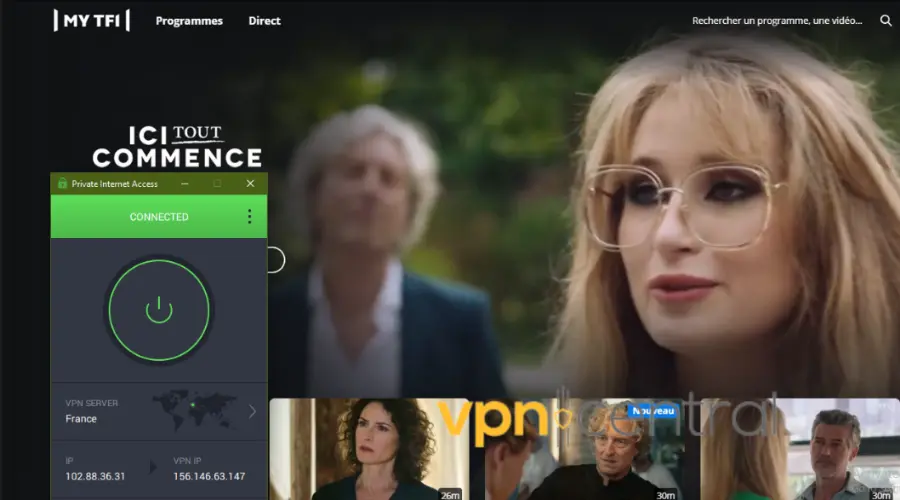 With 86 servers in France and 35,000 globally, PIA is another excellent choice to unblock French TV in Canada.
It has a special tool that blocks ads. So, you can watch the channels without annoying ads.
Here's the best part. You'll enjoy clear 4K shows. And with its 10 Gbps servers, there's no waiting or bad picture quality.
Also, you need to stay secure while streaming, and PIA does just that. It uses strong encryption like 128-bit or 256-bit.
With this strong safety, no one, not even your internet company, can check what you're doing online.
The bonus is, that a single subscription lets unlimited devices connect at the same time.
✅ Pros:
Works with major streaming services
Excellent speeds
Supports unlimited device connections
❌ Cons:
Live chat support isn't very responsive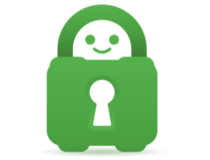 Private Internet Access
Enjoy unlimited French shows an movies using PIA's unblocking features!
4. NordVPN — Top privacy and unblocking tool for French TV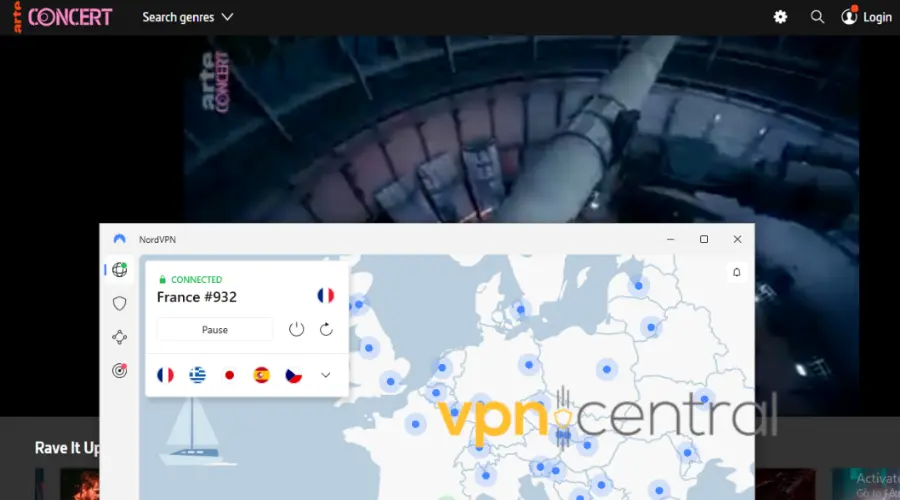 NordVPN boasts an impressive 5700 servers spread over 60 nations. Did you know? 230 of those are right in France. That provides solid access to the country's TV channels.
But that's not all. It promises swift online surfing, and there's no cap on enjoying HD or 4K content.
What I really appreciate is its Threat Protection tool. It's a lifesaver against those pesky ads on various TV channels.
But remember, while it keeps away harmful sites, it's not a substitute for antivirus software.
Also, NordVPN stands guard over your data using top-notch AES-256 encryption.
They've got an independent audited no-logs policy. In simpler terms, they don't keep your personal data and streaming activities.
Overall, I can assure you I was able to watch TF1, France 24, Canal+, and others using NordVPN.
✅ Pros:
Apps for Fire Stick and Android TV
Large server network
Strict no-logs policy
Ability to unblock French TV stations.
❌ Cons: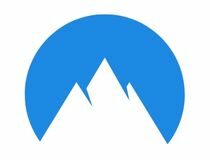 NordVPN
Unveil French TV in a few seconds using NordVPN's nifty servers!
5. SurfShark — Crystal clear streaming on French TV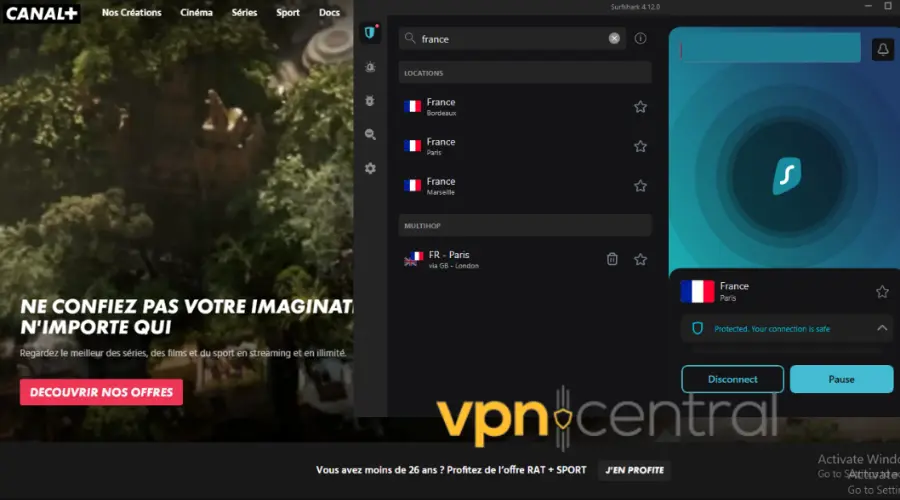 Surfshark VPN boasts 76 servers in France's key cities: Paris, Bordeaux, and Marseille. Globally? A whopping 3200! So, you'll always find one that's not too busy.
Based on what I've gathered, you get unrestricted speed, cutting-edge VPN tech like WireGuard protocol, and servers specially designed for streaming.
It has servers that run at lightning-fast 10 Gbps. This means crystal clear streaming of French channels.
Also, every subscription brings along the CleanWeb feature. It's like your personal bodyguard against harmful ads and risky websites.
So, fewer interruptions during your binge-watching sessions.
I also found a Kill Switch that halts all online activity during a sudden disconnect until you're securely back on the VPN. This way, no chance of TV channels catching a glimpse of your real location.
✅ Pros:
Affordable pricing
Good speeds
Unlimited device connections
Effective at unblocking French TV.
❌ Cons:
Smaller server network than some competitors.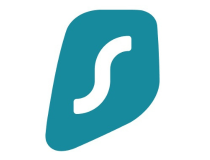 Surfshark
Watch French TV from Canada using Surfshark VPN!
Which French channels can I stream online?
If you're eager to dive into the world of French television, here's a handy list of its channels you can enjoy.
We've also mentioned some of their popular shows:
TF1 (Free): News, reality TV, and entertainment shows such as Koh-Lanta, Danse avec les stars, Le Grand, and Quiz and The Voice.
France 24 (free): This 24-hour news channel provides coverage of international and French news. It shows include Le Monde en 10 minutes, Envoyé spécial, and Complément d'enquête.
Canal+ (Paid):  Movies, sports, and entertainment shows. Some of its most popular shows include Game of Thrones, Engrenages (Spiral), Le Bureau des Légendes, and Vernon Subutex.
6play (Free): Focuses on entertainment, lifestyle, and reality shows. Some of the popular shows on M6 are Top Chef, Kaamelott, the Arthurian legend, and Scènes de ménages.
ARTE (free): It's a Franco-German cultural channel that offers documentaries, dramas, and films. This include Babylon Berlin, Le Bureau des Légendes, and Clem.
OCS (Paid):  Movies, sports, and entertainment shows, including Game of Thrones, Westworld, and The Handmaid's Tale.
Gulli (free): This children's channel broadcasts cartoons, anime, and live-action shows like Oggy et les Cafards, Peppa Pig, and Calimero.
Is it legal to watch French TV in Canada with a VPN?
Yes, using a VPN in Canada for any purpose, including watching French TV online, is legal.
However, some content providers may try to block or cancel your access if they detect that you are using a VPN to bypass their geo-restrictions.
So, I would advise you always to check the terms and policies of your TV channels.
Summary
A VPN can access several geo-restricted channels for those intrigued by French television.
This means you can enjoy popular free channels such as TF1, France 2, and M6
Amusez-vous bien! (Have fun).
---