Television stations in Japan, such as TBS and Fuji TV offer a diverse range of acclaimed content from around the world.
However, due to distribution agreements, these Japanese networks are typically limited to viewers within Japan.
The good news is that you can easily bypass these regional restrictions with the help of a reliable VPN.
Therefore, no matter where you are located in Australia, you gain instant access to these Japanese TV stations.
How to watch Japanese TV in Australia?
You can watch Japanese TV in Australia if you connect to VPN. The tool helps bypass geo-blocks. It masks your original IP address and replaces it with one from Japan.
Your IP shows your location, potentially leading to restricted access if you are situated beyond the country's borders.
Here's how to do it:
I recommend PIA because it's a complete package regarding speed, security, network coverage, privacy, and protection.
Visit PIA's official website and subscribe to your preferred VPN plan.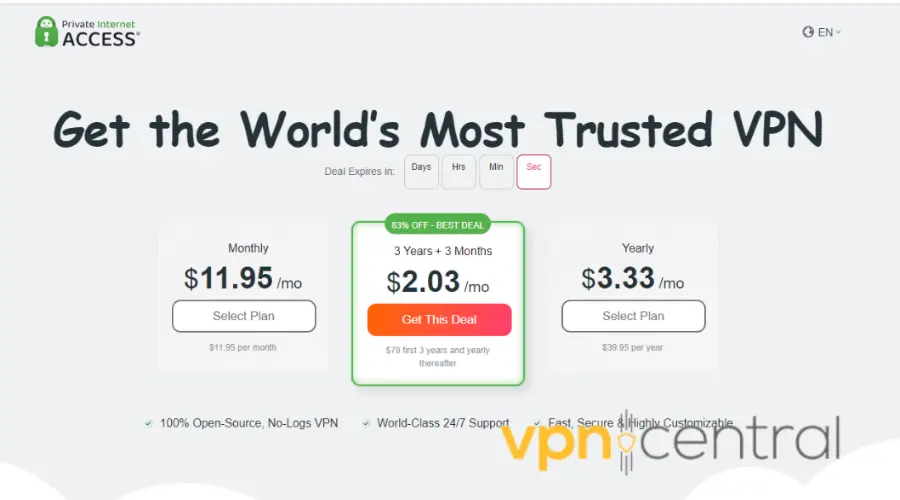 Download the app and install it on your device.
Log into your account by adding your credentials.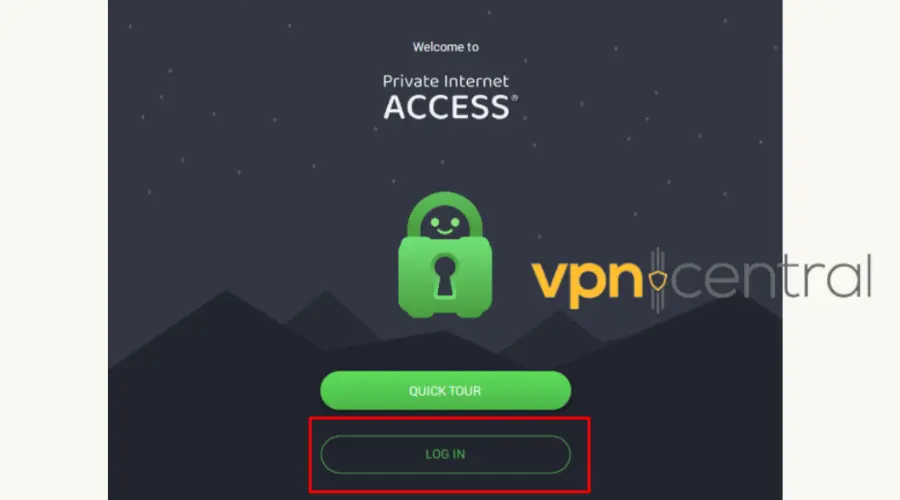 Click on the server expand icon.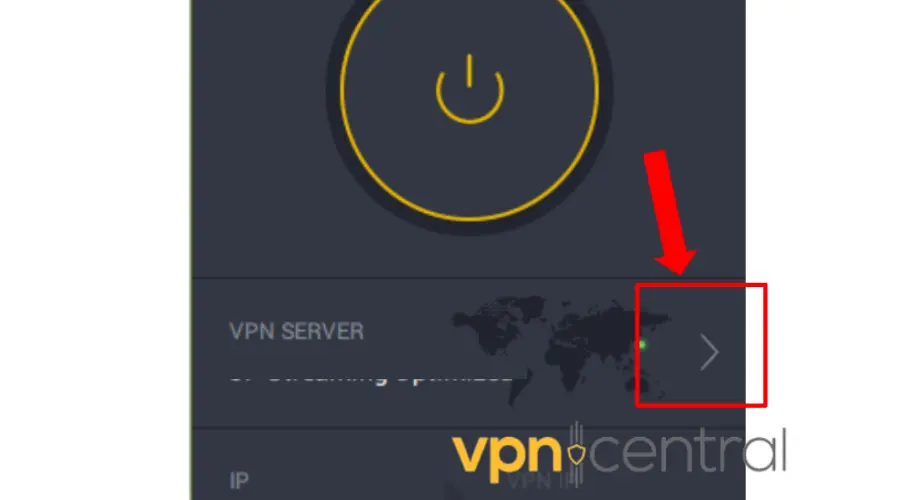 Search and connect to a Japanese server.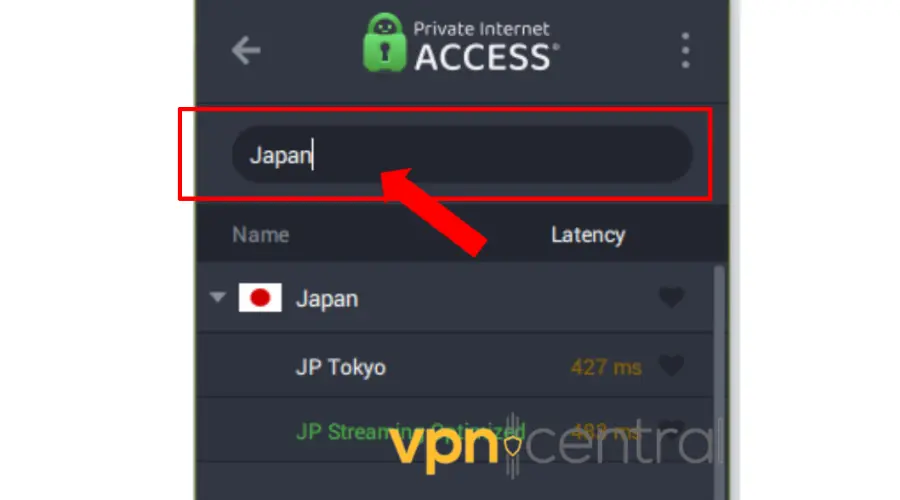 Now, you can instantly access local Japanese streaming services. As you can see, I could stream Jirisan – 'Signal to you' on TV Tokyo.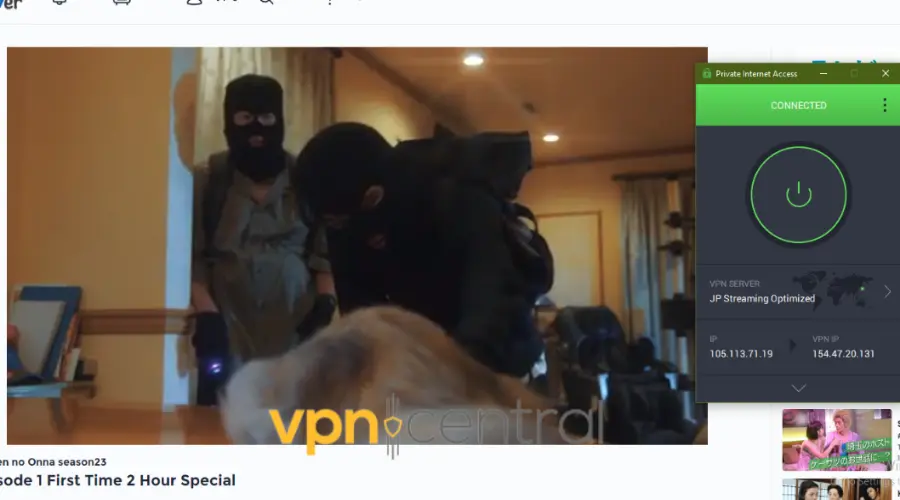 Why do you need a VPN to watch Japanese TV in Australia?
You need a VPN to watch Japanese TV in Australia because it helps you get past geo-location errors by spoofing your region to Japan.
➡️ If you try to access any Japanese channel without a VPN, it will result in failure.
For example, I tried to access one of my favorite movies on TV Tokyo but was greeted with an Error Code: PLAYER_ERR_GEO_RESTRICTED.
The error reads: Video is unavailable from your current location.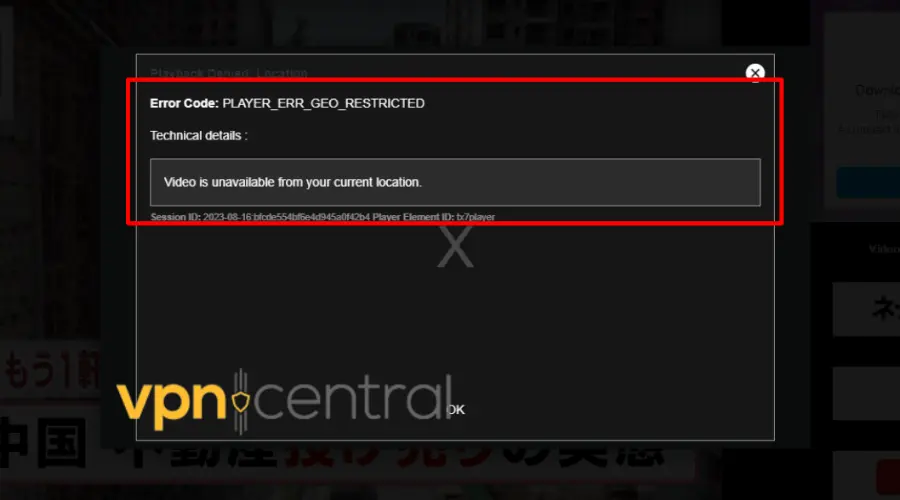 However, with a VPN, I could mask my Australian IP address with a Japanese IP address to view the show as if I was physically present in Japan.
Best VPNs for Japanese TV
It's vital to note that not all VPNs with servers in Japan guarantee unrestricted access to the country's popular streaming platforms.
To help guide your decision-making process, I've thoroughly assessed and reviewed numerous leading VPNs. I considered their performance, content-unblocking capabilities, features, and customer support quality..
Here are my top 5:
1. PIA – overall best to unblock all Japanese TV in Australia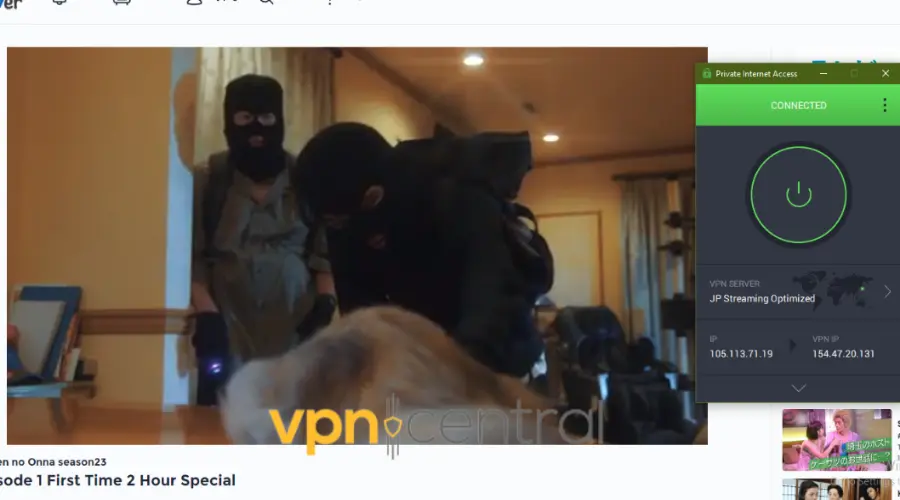 PIA, an excellent choice for enjoying Japanese TV in Australia, provides lightning-fast speed servers in 84 countries, including Japan.
This robust network ensures optimal streaming performance. Also, with its powerful 10 Gbps NextGen servers, frustrating lags, buffering, and freezing become a thing of the past.
The VPN allows you to indulge in seamless 4K streaming without annoying delays.
However, what makes the PIA experience even better is its provision of unlimited bandwidth, eliminating worries about data caps or restrictions.
This feature enables you to stream Japanese shows like Kasou Taishou or Newsroom Tokyo without concerns about usage limits.
To ensure the security of your data during streaming sessions, PIA utilizes robust encryption methods.
You can choose between 128-bit or 256-bit AES encryption ciphers, adding privacy and security to your streaming activities.
✅ Pros:
IP/DNS leak protection
Streaming-Optimized Servers for uninterrupted
Zero buffering
❌ Cons:
Live chat support isn't very responsive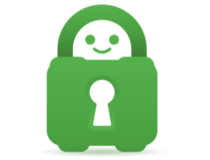 PIA
Enjoy endless Japanese TV content from anywhere in the world. Bypass geo-blocks with PIA!
2. ExpressVPN – secured server for streaming Japanese TV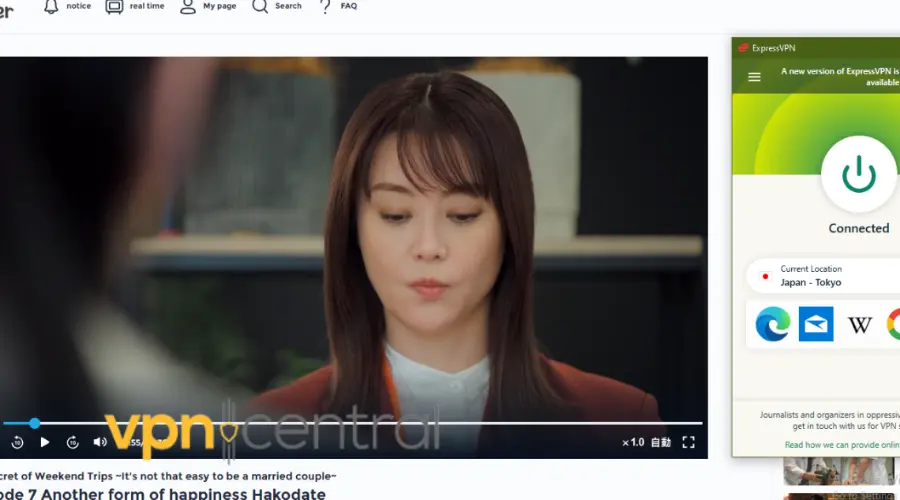 ExpressVPN features high-speed servers in Tokyo, including Shibuya and Yokohama. In addition, its network covers 94 countries, ensuring smooth connections to secure VPN servers worldwide.
One of ExpressVPN's remarkable strengths is its ability to effortlessly bypass geo-blocks on networks like TBS, Fuji TV, or TVer.
Furthermore, speed is crucial for streaming, and ExpressVPN certainly delivers.
Its Lightway protocol maintains above-average performance levels. This ensures great speed rates for HD streaming.
In addition, ExpressVPN prioritizes security. It provides top-tier encryption, leak prevention, a no-logs policy, and a dependable kill switch.
While the cost of ExpressVPN may be slightly higher than other recommended providers, it's important to note that it offers a risk-free 30-day money-back guarantee.
This means users can try out the service and, if not completely satisfied, claim a hassle-free refund, making it a low-risk option to explore.
✅ Pros:
High level of trustworthiness and compatibility
Fast download speeds
Availability of 24/7 live chat customer support with excellence
Strong security measures ensure privacy
❌ Cons:
Higher cost compared to other providers
Only five device connections at a time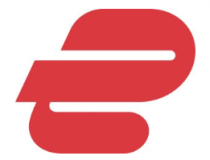 ExpressVPN
Stream boundless Japanese TV from Australia. Unlock international entertainment with ExpressVPN!
3. CyberGhost – streaming-optimized server for Japanese TVs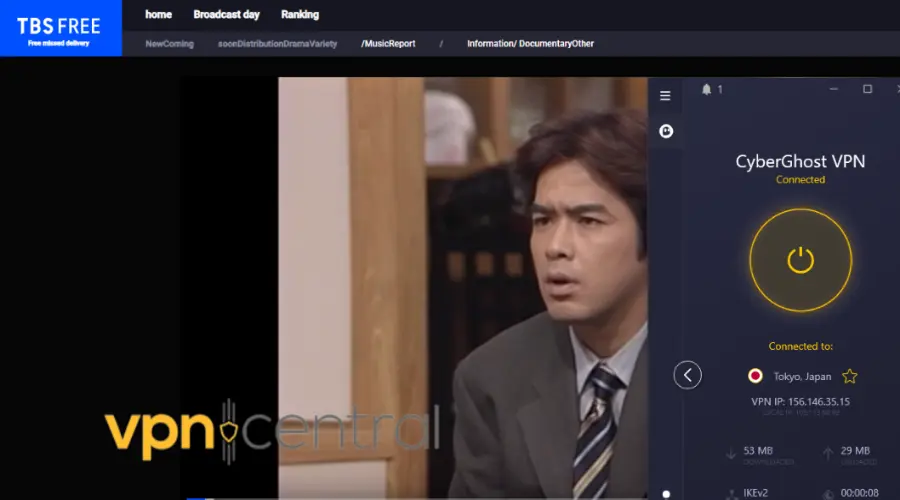 CyberGhost boasts an extensive network of 9,678 VPN servers worldwide, with 109 of them situated in Tokyo.
These streaming-optimized servers grant you seamless access to TV Tokyo, TBS, and WOWOW.
In addition, CyberGhost is a great choice because it embraces the WireGuard protocol.
This is a technological gem that ensures remarkably fast high-definition streaming without buffering.
When it comes to safeguarding your online presence, CyberGhost takes the matter seriously. It provides DNS leak prevention, a dependable kill switch, and robust 256-bit AES encryption.
This strong emphasis on user security guarantees the confidentiality and integrity of your digital activities.
In terms of pricing, CyberGhost doesn't fall short, offering pretty good deals. Its attractive plans allow up to seven simultaneous device connections on a single account.
✅ Pros:
Fast servers suitable for seamless streaming of TV Tokyo and TBS.
Remarkable speeds
24/7 availability of live chat support
Strong security with a strict no-logs policy
❌ Cons:
Fewer features are available on iOS devices.
Issues with connecting after sleep mode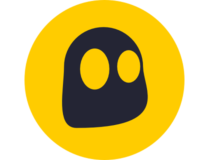 CyberGhost
Access your favorite Japanese content in one click! Get CyberGhost for unrestricted streaming!
4. NordVPN – large server network to watch Japanese TV in Australia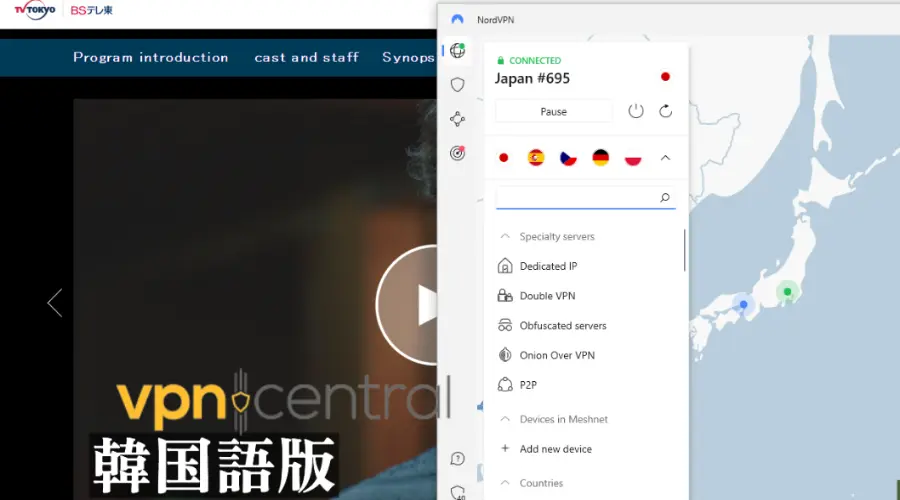 NordVPN offers an impressive selection of 130+ fast and secure servers within Japan, ensuring you can always find the optimal connection in Australia.
But there's more to it than just server variety. It also safeguards your privacy by employing military-grade AES-256 encryption.
From my tests, I can confidently assure you that NordVPN is reliable for securing your online activities, even on public WiFi networks.
On top of privacy, NordVPN also prioritizes speed, ensuring smooth online activities and unrestricted HD or 4K streaming.
Its user-friendly nature extends to all your devices, from Windows computers to Macs, Android phones, iPhones, and Smart TVs.
Also, to sweeten the deal, NordVPN comes with a 30-day money-back guarantee. This risk-free period allows you to explore its features and see how they align with your needs.
With this VPN you'll unlock channels like Asahi TV, Animax, and TV Tokyo in the blink of an eye.
✅ Pros:
Extensive global server network of 5,000+
Robust encryption and a strict no-logs policy
Ability to connect up to six devices per account
Availability of applications for popular devices
❌ Cons:
Limited free trial availability, restricted to Android devices.
Complicated when using router setup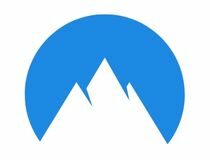 NordVPN
Remove barriers with NordVPN! Watch Japanese TV in Australia with no limitations!
5. Surfshark – cost-effective VPN for streaming Japanese TV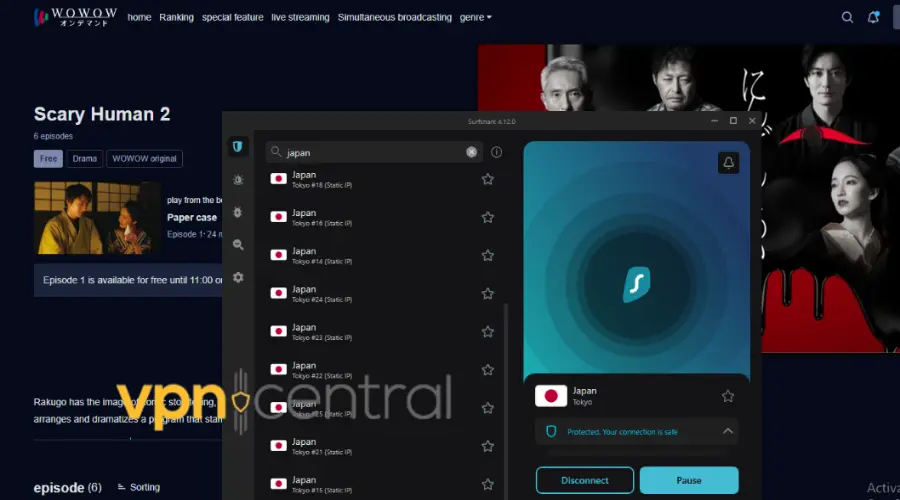 At an attractive price of just $2.49 per month, Surfshark presents 62 servers in Japan and over 3200 worldwide.
Notably, it's not only the affordability that makes Surfshark appealing but also its standout feature of providing unlimited data and unrestricted bandwidth.
This lets you enjoy your favorite Japanese channels like Fuji TV with no limits.
In addition, its user-friendly app is available across various platforms, including Windows, Mac, Android, iOS, and more, making it versatile and accessible.
You can revel in your preferred programs and film channels like TBS and TV Tokyo in HD and 4K quality, free from interruptions that can mar your streaming experience.
Also, in the realm of security, Surfshark offers a fail-safe kill switch.
If the VPN connection drops, this feature automatically severs your internet connection, ensuring your data remains private and your identity stays safeguarded.
✅ Pros:
Unlimited simultaneous connections
Access to 24/7 expert live chat support
Utilization of AES 256-bit encryption
Advanced protocols like OpenVPN, IKEv2/IPsec, and WireGuard
30-day money-back guarantee
❌ Cons:
Problems with browser extensions
Inconsistent P2P performance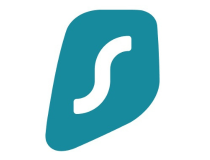 Surfshark
Don't miss out on Japanese TV shows and films! Watch with no borders with Surfshark VPN!
Which Japanese TV channels can I stream online?
Japan has many exciting channels with different kinds of shows for different tastes.
If you're in Australia, you can use a good VPN to watch these special channels and enjoy lots of different programs.
Here are some Japanese TV channels that were known to offer online streaming options:
Fuji TV: Terrace House, Detective Conan (Case Closed) Kasou Taishou
TV Tokyo: Takeshi's Castle WBS (World Business Satellite)
TBS (Tokyo Broadcasting System): Hanzawa Naoki, Ariyoshi Japon, NN News
Nippon TV: Itte-Q!, News Zero, Anone
Asahi TV: Shikko!! – Dog, Me and Enforcer, Kasken no, Onna season 23, Falcon fire brigade, Lieutenant Daimajin, Knocking on the locked door, and Halation love.
WOWOW: Cold Case: Shinjitsu no Tobira and Zero: Ikkaku Senkin Game
Animax: One Piece, My Hero Academia, Attack on Titan
Is it legal to watch Japanese TV in Australia with a VPN?
Watching Japanese TV in Australia via a VPN is legal. Australia doesn't have regulations against using VPNs to get around TVs or streaming restrictions based on location.
However, remember that specific Japanese TV channels might have rules against using VPNs or similar tools to bypass their geographical limits.
If you do this, you could potentially violate their copyright or licensing agreements. This can result in a ban.
It's a good idea to choose a good VPN service that you know for sure won't leak your location.
Summary
Accessing Japanese TV shows from Australia is an exciting way to explore Japan's rich culture and entertainment.
Whether your interests lie in anime, dramas, variety shows, or documentaries, the array of choices is extensive.
Therefore, by utilizing online streaming platforms and VPN services, you can directly explore the captivating essence of Japanese television in Australia.
---