The Metaverse – a digital wonderland of virtual games and experiences, is more real than ever.
However, just like any new adventure, the Metaverse is still growing, and there's a need for personal info and data protection.
Similar to locking your room, using a VPN in the Metaverse keeps your info safe and shields you against cyber threats.
So, we'll discover the top VPNs that ensure your safety and privacy in this virtual world.
Let's go!
Best Metaverse VPN
Now, let's examine the key factors that make up the best Metaverse VPNs.
We've carefully selected and compared the top 7 VPNs to help you make an informed choice.
Look at the comparison table below to find the one that suits your Metaverse adventures best.
| | | | | | | |
| --- | --- | --- | --- | --- | --- | --- |
| VPN | Server Locations | Countries | Encryption | Speed | Price | Logging Policy |
| CyberGhost | 9,500 | 91 | 256-bit AES | Very fast | $12.99/month | No logs |
| NordVPN | 5,800 | 60+ | AES-256 GCM | Very fast | $12.99/month | No logs |
| ExpressVPN | 3,000+ | 94 | 256-bit AES | Very fast | $12.95/month | No logs |
| Surfshark | 3,200+ | 100 | AES-256 GCM | Very fast | $12.95/month | No logs |
| Private Internet Access | 35,000+ | 84 | 256-bit AES | Fast | $11.95/month | No logs |
| Atlas VPN | 1000+ | 40+ | AES-256, ChaCha20-Poly1305 | Fast | $11.99/month | Logs some connection data |
| IPVanish | 2,000+ | 75 | 256-bit AES | Fast | $11.99/month | Logs some connection data |
Now, let's look deeper into each. We'll explore their unique features, and advantages, and how they can enhance your Metaverse experience.
1. CyberGhost — top choice for the Metaverse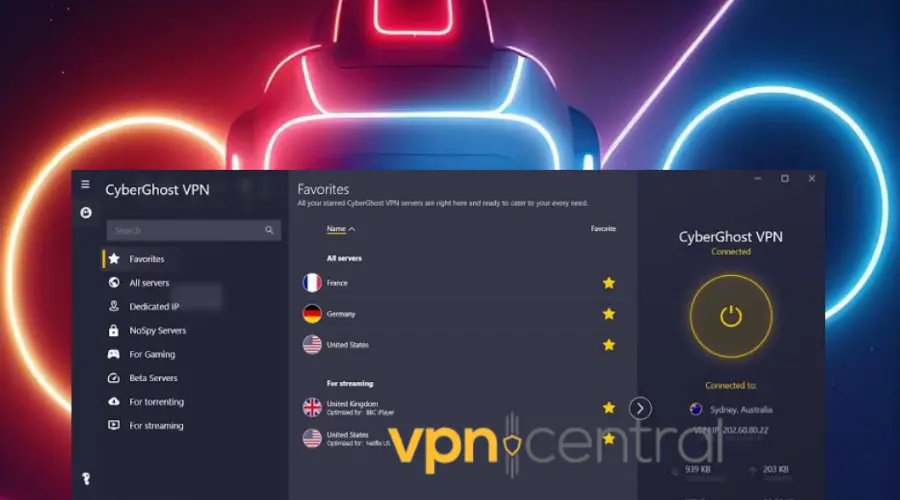 CyberGhost's vast network of over 9000+ servers in 90+ countries offers unbeatable access to the Metaverse without borders.
It is also known for its fast speeds, which is important for the Metaverse, as it allows you to play games, watch videos, and interact with other users without lag or buffering.
One of its standout security measures is the implementation of a military-grade standard AES-256 encryption, known for its unbreakable strength.
Additionally, CyberGhost's tunneling protocols include both OpenVPN and IKEv2/IPsec, further enhancing security and ensuring that your Metaverse connections are solid and encrypted.
Also, CyberGhost's ability to connect up to 7 devices simultaneously provides a seamless Metaverse experience across Windows, Mac, iOS, Android, Linux, routers, and more.
For an extra layer of security, CyberGhost employs double encryption to safeguard your Metaverse interactions.
Moreover, the open transparency report reinforces their commitment to privacy. Plus, the availability of 24/7 live chat support in English, French, and German ensures assistance is always at hand.
CyberGhost's additional features:
Enhanced security for safeguarding your DNS requests
Absolute privacy with a strict no-logs policy
45-day money-back guarantee and a 1-day free trial.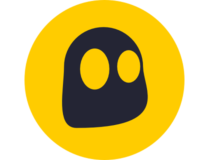 CyberGhost
Secure your data and get restriction-free access to Metaverse environments!
2. NordVPN — secure Metaverse VPN with vast server network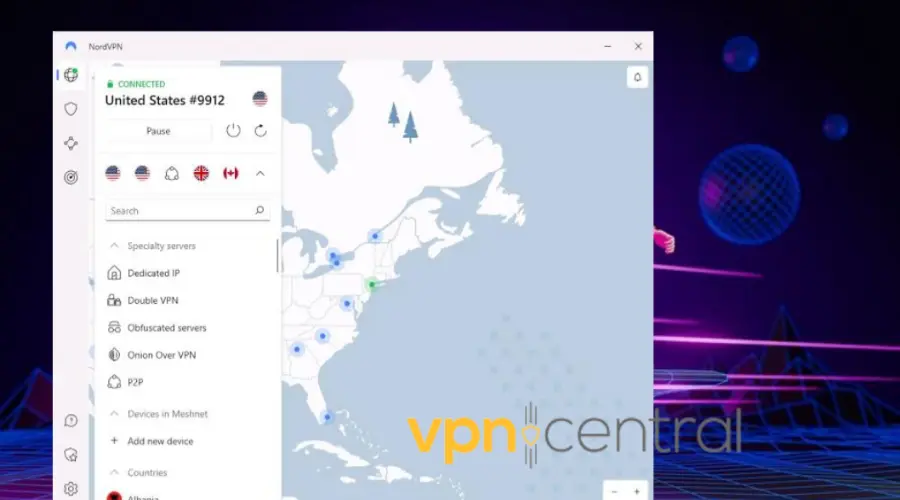 NordVPN is a powerful contender as a VPN for the Metaverse. It brings an impressive array of features to enhance your virtual adventures.
First, it excels in global server coverage, boasting over 5,000 servers in over 60 countries.
Its commitment to user privacy is unwavering, as NordVPN does not keep logs. It's safeguarding your Metaverse activities from unnecessary tracking.
Furthermore, NordVPN offers double encryption. This acts just like having a combination lock on top of a regular lock. So you can rest assured your data is protected.
Moreover, the capability to connect up to 6 devices simultaneously is particularly advantageous for Metaverse enthusiasts who want to experience the virtual world across multiple platforms.
Whether you're exploring on Windows, Mac, iOS, Android, or even routers, NordVPN's extensive compatibility ensures a consistent metaverse experience.
Moreover, NordVPN's fast connection speeds facilitate smooth Metaverse activities, from virtual gaming to immersive shopping.
Furthermore, the unlimited bandwidth ensures that you can freely explore the big digital world without worrying about data limitations.
Plus, the 30-day money-back guarantee ensures that you can test the waters with assurance. If the service doesn't meet your expectations, you have the freedom to opt-out within the trial period.
Important points about NordVPN:
Utilizes custom DNS servers
DNS leak protection
Kill Switch support
Torrenting compatibility
Adheres to a strict zero-logging policy
It doesn't offer a free trial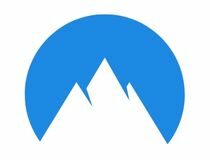 NordVPN
Explore the Metaverse safely using NordVPN's streamlined security features!
3. ExpressVPN — fastest VPN for Metaverse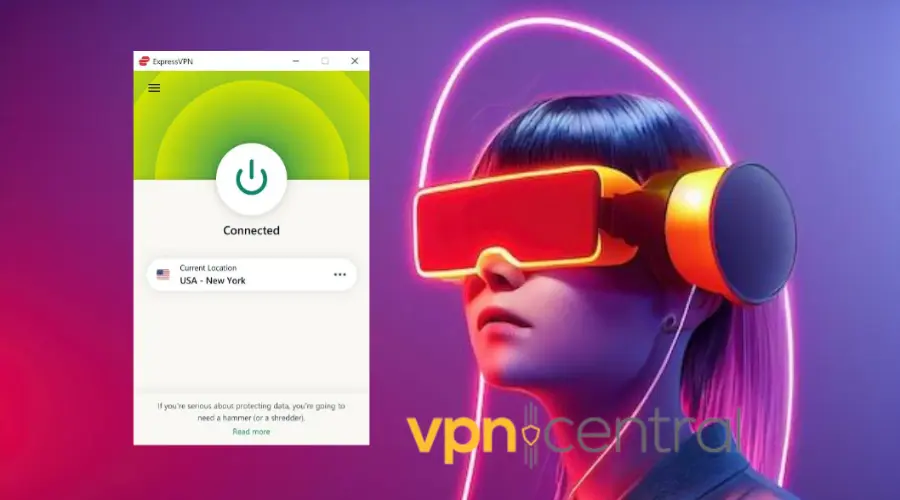 ExpressVPN is a prominent player to enhance your Metaverse experience. It does this by offering a comprehensive set of features to improve your digital adventures.
The strongest available encryption, 256-bit AES, fortifies your data and guarantees the utmost privacy during your metaverse endeavors.
Also, ExpressVPN utilizes industry-leading protocols like OpenVPN to ensure that your metaverse connections are shielded against cyber threats.
Additionally, a strict no-logs policy further enhances this protection. With this policy, the VPN doesn't keep track of your data. This ensures that your online actions stay private.
Moreover, their extensive network of servers, spread across 160 locations in 94 countries, ensures you enjoy seamless streaming, quick downloads, and smooth gameplay.
In addition, its exceptional speeds make it an ideal choice for Metaverse enthusiasts, particularly in streaming.
It's compatible with various devices, from Windows, Mac, iOS, iPhone, iPad, iPod, Android, Apple TV, Kindle Fire, PlayStation, Xbox, and Linux, to routers.
What's more? The availability of 24/7 customer care through live chat, email, or contact form ensures you're never alone in your Metaverse journey.
Additional features of ExpressVPN:
Network kill switch
Optimized protocols
TrustedServer technology
Private DNS for every server
Up to 5 simultaneous device connections with a subscription.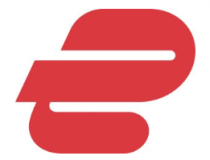 ExpressVPN
Use ExpressVPN to get top speed to navigate every corner of the Metaverse!
4. Surfshark — unlimited connections in the Metaverse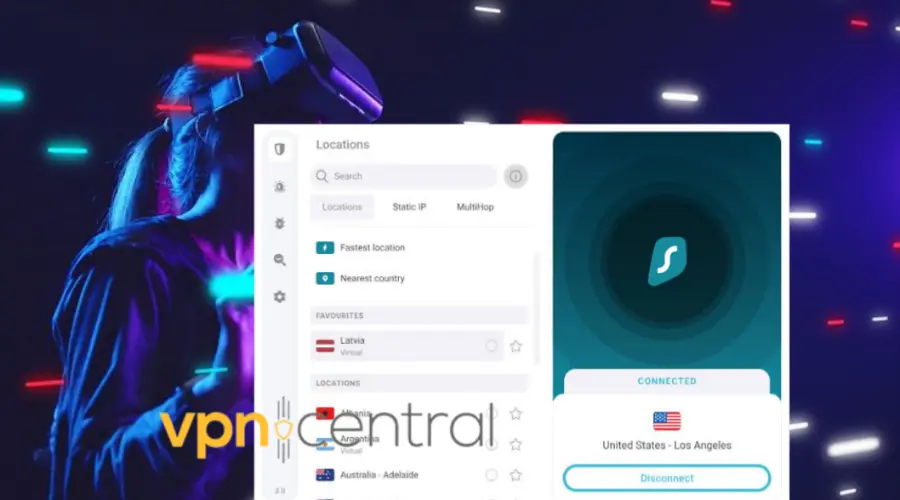 With a vast network of 3,200 servers in over 100 countries, Surfshark ensures that your Metaverse journey remains stable and fast, regardless of location.
Its versatile protocols include WireGuard, IKEv2, and OpenVPN. These ensure flexible and secure Metaverse connections.
Additionally, it offers a Kill Switch feature that prevents any potential data leaks should your VPN connection drop unexpectedly.
Furthermore, Surfshark prioritizes your data security and safeguards your metaverse activities by utilizing AES-256-GCM encryption.
The best part? Surfshark imposes no connection limits, so you can use it at the same time on multiple devices.
Also, Surfshark includes a feature called VPN split tunneling, which lets you choose which apps or websites use the VPN, and which ones don't.
Furthermore, Surfshark's versatility extends across various devices, including Windows, MacOS, iOS, Android, routers, and more.
Surfshark provides 24/7 customer care through email and contact forms. This ensures you can always reach out for assistance.
Finally, its 30-day money-back guarantee ensures that your Metaverse journey is risk-free.
Additional Surfshark features:
Smart DNS for extended access
Ad-blocker to refine your metaverse experience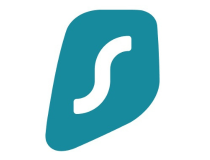 Surfshark
Increase privacy and connection quality as you dive into the Metaverse!
5. PIA — easy-to-use VPN in the Metaverse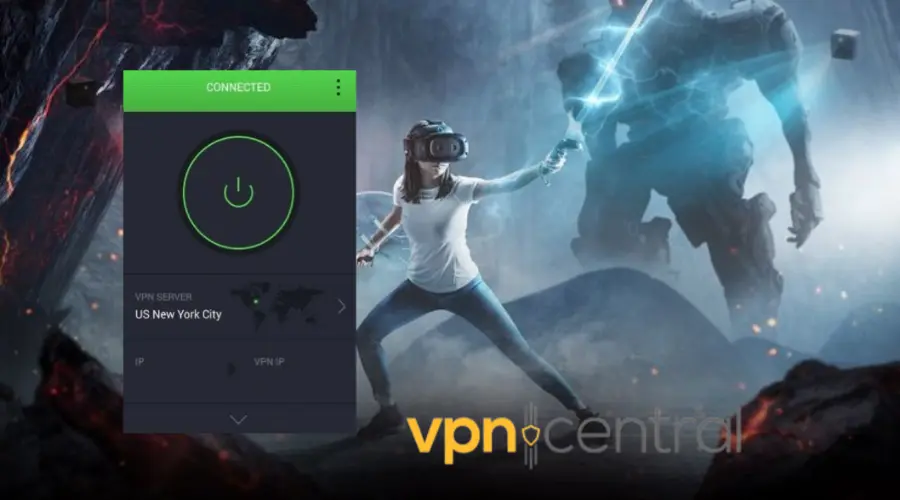 PIA's extensive network reaches over 35,000 servers in 84 countries. This vast coverage is advantageous for seamless virtual experiences.
Its advanced security features, including 256-Bit Encryption and 4096-Bit Encryption Keys, underscore its commitment to data protection in the Metaverse.
Moreover, PIA fully supports P2P file sharing and Torrents, making it a convenient choice to share content within the Metaverse.
The multi-platform support offered by PIA ensures seamless metaverse experiences across various devices, spanning Windows, Mac, iOS, Android, and more.
With a strict no-traffic logs policy, it guarantees that your Metaverse activities remain confidential.
Moreover, the inclusion of a Kill-Switch, DNS, and IPv6 Leak Protection ensures that any potential vulnerabilities are effectively mitigated.
Perhaps one of PIA's compelling features is the capability to connect an unlimited number of devices simultaneously.
To wrap things up, the 30-day money-back guarantee allows you to explore the metaverse risk-free, experiencing all the benefits of PIA's feature-rich VPN service.
PIA additional offers:
Adblocking feature for an uninterrupted metaverse experience
Suitable for torrenting
Options for anonymous payments
Unlocks the US Netflix library
Full-fledged Linux app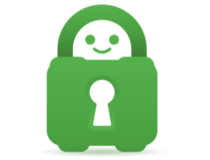 PIA
Get quick and unrestricted access to everything Metaverse with PIA VPN!
6. Atlas VPN — reliable Metaverse security + free tier option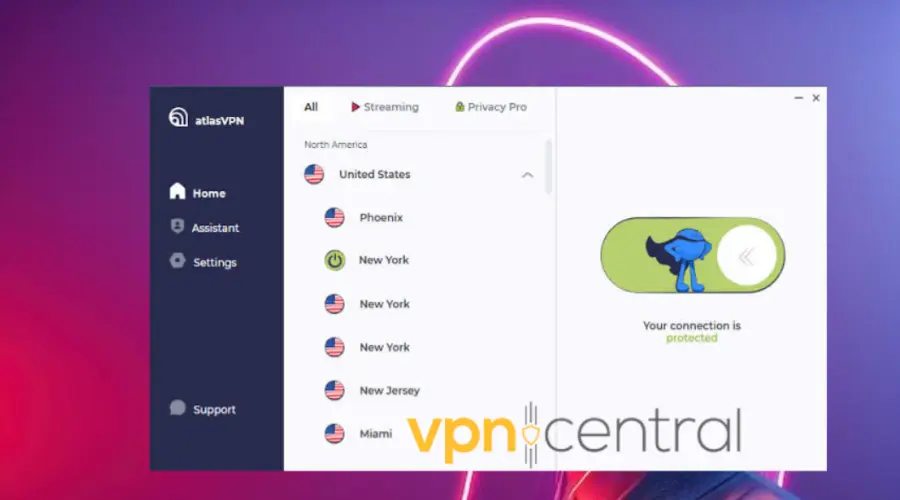 Atlas VPN is a compelling choice for those who want to explore the Metaverse on a budget while maintaining a secure and reliable online experience.
With over 1000 servers across 42 countries, Atlas VPN ensures a diverse and extensive network for your metaverse connections, allowing you to explore freely from various locations.
Additionally, Atlas VPN ensures online security using powerful encryption methods like ChaCha20 and AES-256.
It creates secure pathways through IPSec/IKEv2 and WireGuard, reinforced with SHA-384 and PFS for added protection.
Moreover, a hallmark of Atlas VPN is its strict no-logs policy, safeguarding your Metaverse activities from unnecessary tracking or data retention.
With pricing starting from an affordable $1.82 per month and the availability of an 85% OFF coupon, Atlas VPN offers a budget-friendly solution for Metaverse security and accessibility.
Here are some of the additional features of Atlas VPN:
Kill switch for added security
Split tunneling for customized connections
Unlimited device connections
MultiHop to enhance privacy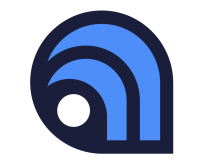 Atlas VPN
Make the most of your Metaverse experience. Bypass censorship & speed up your connection!
7. IPVanish — tons of servers for optimal Metaverse experience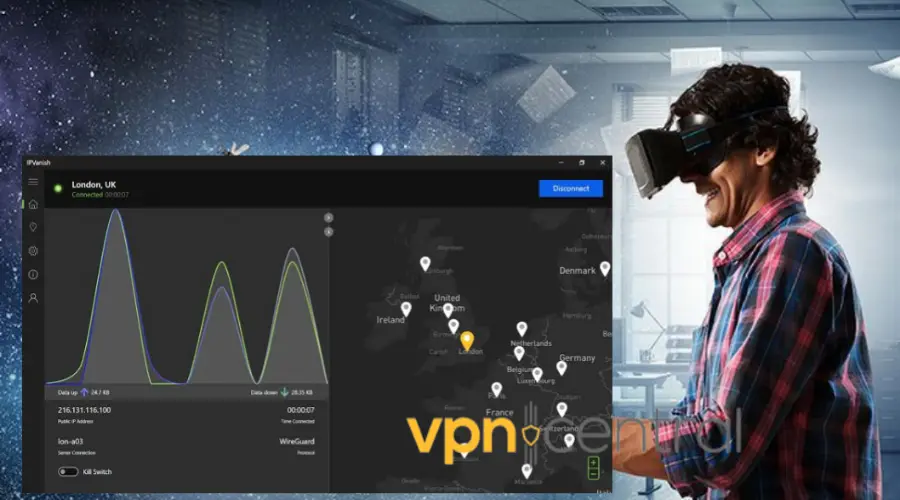 IPVanish is a great option if you seek a reliable and comprehensive VPN to enhance your privacy, security, and metaverse experiences.
It's an ideal content-sharing choice and adds versatility to your Metaverse experiences by supporting P2P file sharing and Torrents.
Notably, its affordability makes it an attractive choice for those seeking effective Metaverse protection without breaking the bank.
Moreover, IPVanish's unlimited devices feature benefits Metaverse enthusiasts who want to secure multiple devices simultaneously.
This flexibility ensures that all your devices, whether your computer, smartphone, or tablet, can be protected under a single IPVanish subscription.
To sum up, the inclusion of a 30-day money-back guarantee ensures that you can explore the Metaverse risk-free.
IPVanish additional offers:
Native applications for Windows, Mac, iOS, and Android.
Great VPN server network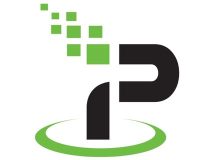 IPVanish
Step into the future with this reliable and error-free VPN for the Metaverse!
Why do you need a VPN for the Metaverse
You need a VPN for the Metaverse because it enhances your security, privacy, and access. It encrypts your data, shields you from cyber threats, and prevents tracking.
Here are the key reasons the use of a VPN is essential in the Metaverse:
1. Protect your personal data
As an integral part of Web3, the Metaverse's reliance on the internet and evolving tech amplifies the potential for data exploitation.
The more information shared online, the greater the digital footprint and vulnerability to cyber threats.
With user data including sensor, location, and social details, a VPN becomes pivotal. By encrypting activities, it preserves privacy, and guards against unauthorized access and data misuse.
2. Security of digital assets
Account hacking in the Metaverse could lead to unauthorized access to personal and financial details, photos, avatars, NFTs, and other digital assets.
However, a VPN encrypts your Metaverse interactions and adds a layer of security that defends against unauthorized access, data breaches, and malicious exploits.
Moreover, it makes it much harder for hackers to infiltrate your Metaverse activities. It scrambles your data and protects it with strong encryption.
3. Accessibility
Governmental limitations can hinder Metaverse accessibility. Much like certain cryptocurrencies, the Metaverse could be inaccessible due to such restrictions.
But with a VPN, the barriers crumble, allowing individuals, whether buyers or sellers, can seamlessly navigate marketplaces from regions otherwise barred from exchanges.
4. Prevent Metaverse fraud
The Metaverse investment in 2022, which soared past $120 billion, presents an enticing playground for both genuine creators and those with malicious intentions.
So issues like NFT thefts and cryptocurrency scams take center stage, with victims paying for virtual assets they never receive.
But in the face of these intricate threats, a VPN emerges as a reliable defense mechanism.
It protects your Metaverse activities in encrypted layers and fortifies your virtual presence against potential manipulation and exploitation.
5. Improved Metaverse gaming experience
Platforms like The Sandbox serve as gateways to the Metaverse's immersive universe. Here, players seize the power of ownership and forge multiplayer realms.
Amidst these immersive possibilities, the inclusion of a VPN deepens your gaming endeavors. That's because it improves the gaming experience by minimizing lag and enhancing ping times.
This optimization is achieved by directing traffic to a nearby server, resulting in smoother gameplay and more smooth interactions.
Wrap up
To ensure your Metaverse journey is smooth and secure, having a VPN is non-negotiable. It enables expanded access, shields your privacy and data, and offers seamless streaming.
---