If you travel outside the country but want to keep up with your television programs, you will have to use a VPN.
For most travelers, spending time away from family and friends is difficult. Moreover, they cannot watch their favorite television programs due to geo-restrictions on content.
Your IP address displays your location, so when you try to access your favorite UKTV platform, you'll get a message telling you that you are not allowed to watch from outside the country.
Lovers of British channels such as BBC, Sky Go, ITV, NowTV, and others are geo-restricted or blocked in the following countries:
USA
Australia
Spain
UAE
Canada
France
New Zealand
This leads to many Brits and others who are addicted to British TV content to use geo-spoofing services such as VPNs or Smart DNS proxies.
A VPN will let you watch British TV shows while boosting your online privacy so no one can find you or track your activity.
Be sure to find a VPN that can unblock the majority of British TV, with high encryption levels, fast speeds for seamless streaming, and great customer support for when you need assistance.
If you're one of those who need to unlock great British shows and bypass geo-restrictions, check out the best VPN for watching UKTV abroad from our top picks below.
Can I watch UKTV from any country legally?
When it comes to whether you can watch UKTV abroad legally or not, the simple answer is yes, with very few exceptions, which include countries with strong censorship regulations.
Since UKTV is only available for UK residents as well as others living in some countries that are also part of the Commonwealth, you will need a VPN to circumvent geo-blocking if you're located outside these areas.
Currently, VPNs are illegal in Iraq, Belarus, and North Korea, and their usage is heavily restricted in countries such as China, Russia, Turkey, Iran, Oman, Turkmenistan, etc.
Therefore, if you want to watch UKTV with a VPN in these countries, you need to be cautious and make sure to also use a service that is reliable and strong enough to bypass VPN blocks and censorship.
Many ISPs can detect that you're using a VPN, even though they don't know what websites or services you're visiting. However, there are certain VPNs that have a special feature called obfuscation that will allow you to evade censorship in heavily-restricted environments like China.
Sometimes, you may find it hard to choose the right VPN to both circumvent geo-restrictions and also bypass online censorship, so we came to your help by providing you with an inclusive list o powerful VPN services that are very effective at achieving both.
How can I watch UKTV outside the UK?
Decide on a VPN client and get a subscription. We decided to use Private Internet Access because it has 4 different server locations in the UK, some of which are optimized for streaming.
Install the VPN client to your device and log in with your credentials.
Open the VPN app and click on VPN Server.
Type UK in the search bar and you'll get a list with all UK server locations. Connect to one of them. We picked London-streaming optimized.
Now you will be able to bypass geo-blocks and enjoy British TV channels and streaming services as if you were browsing from inside the country.
What are the best VPNs to watch UKTV out of the country?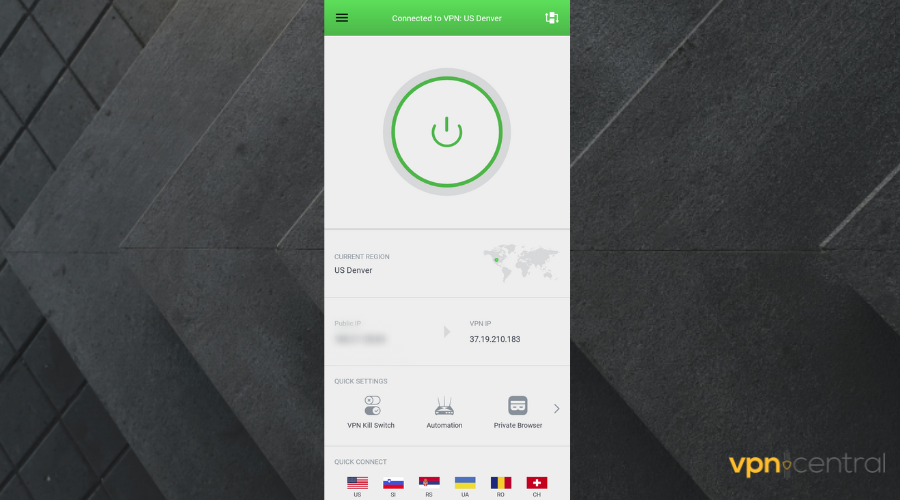 User-friendly, extremely fast, and solidly secure, Private Internet Access from Kape Technologies has all chances to win you over.
Anyone can install and watch UK television in minutes when using it. For this reason alone, it became so popular amongst VPN users all over the world who want to enjoy British TV.
Besides that, keep in mind that it uses industry-leading encryption protocols, including OpenVPN and Perfect Forward Secrecy.
Therefore, its encryption system automatically changes the keys it uses to encrypt and decrypt information.
If a key happens to get compromised, then it exposes your sensitive data for only a small fraction of time.
So, we're clearly talking about a private VPN solution that couldn't get any better for streaming and torrenting.
Moreover, Private Internet Access is compatible with the most popular platforms. That includes Windows, Mac OS, Linux, and Android.
It even supports routers, technically speaking. The manual setup is easy even for non-tech savvy people who own ASUSWRT, DD-WRT, Lede, Merlin, PFSense, or Tomato routers.
All PIA's servers offer unlimited bandwidth, so you can enjoy as much content as you like. You can enjoy content without interruptions with the innovative PIA MACE ad blocking feature.
Along with its cross-platform dedicated apps, PIA also offers browser extensions for Chrome, Firefox, and Opera.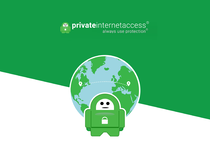 Private Internet Access
Private Internet Access is your top VPN choice to watch British TV. Now available at a major discount!
2. NordVPN – great UK server base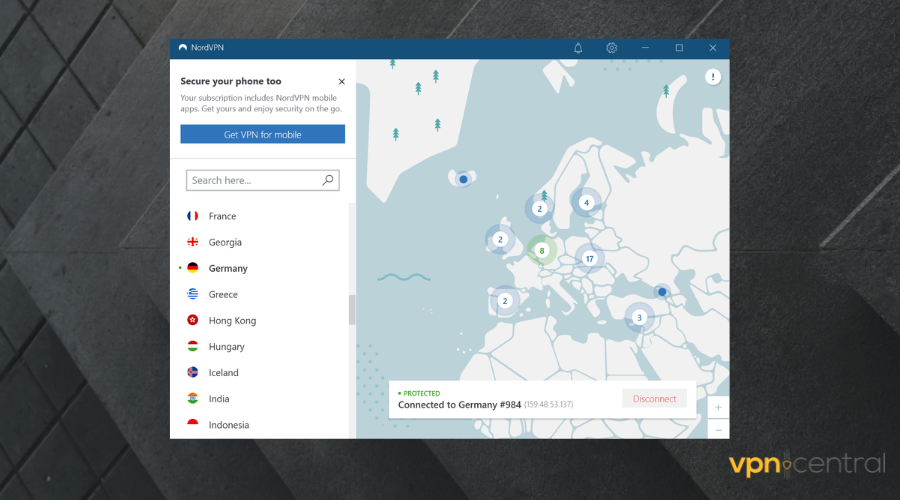 This VPN developed by Tefincom & Co., S.A. is growing very fast to become one of the best VPN services to watch British TV.
It is Panama-based meaning they promote the internet without censorship or surveillance owing to their no mandatory data retention laws – but they don't compromise on speeds and no-log policies.
It uses double-encrypted tunnels so you're double sure of protection and privacy, plus their over 5400 dedicated servers across 59 countries globally means you'll always get a server even if the one you were using is down.
NordVPN has a clear interface, with other must-have features essential for any user like Kill-Switch, dedicated IP addresses, double-VPN for double protection, and Tor software for ultimate protection.
For ultra-fast connection, NordVPN offers the fastest servers so you can stream HD or play games online.
However, its monthly subscription is pricey, but it is user-friendly and allows you to connect up to 6 devices simultaneously.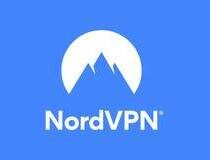 NordVPN
Watching the best British TV has never been easier! Get the 3-year NordVPN deal now!
3. ExpressVPN – optimized for streaming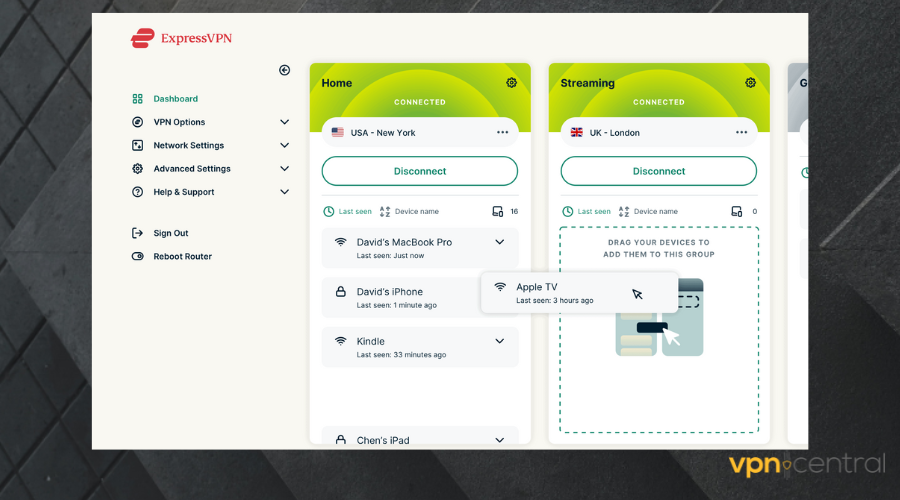 This VPN coming from Express VPN International Ltd. is quite old in the market, but it is very popular among users of virtual private network services.
It is known for its high-speed connections and vast coverage in different countries, plus it comes with user-friendly apps on many platforms.
Like other best VPN services to watch British TV options, this too has servers in Britain so you're sure of accessing British TV with an assigned IP address, using the easiest software no matter your level of tech knowledge.
It is also reliable, and your internet speeds remain consistent while you stream HD shows, plus you can reach out to their tech support if you need any assistance as they're available 24/7.
Your logs are not recorded as it has a strict zero-logs policy, and your privacy is protected with encryption.
ExpressVPN also has native, intuitive apps and extensions available on Chrome and Firefox. However, it is more expensive than other VPNs and doesn't have a built-in firewall.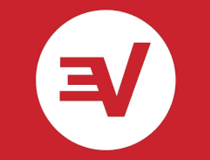 ExpressVPN
ExpressVPN can help you bypass geo-restrictions and watch British TV shows online.
4. Surfshark– most budget-friendly option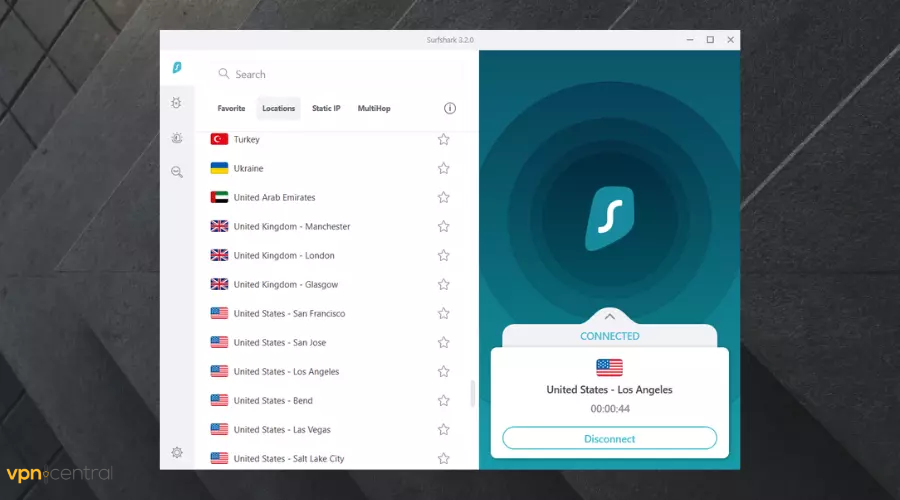 Love streaming? Consider Surfshark's LTD VPN! It offers fast speeds and attention to security and privacy.
If you are interested in watching British TV by using a security-minded VPN service, Surfshark is an excellent choice.
You'll be able to access a secure server that masks your local IP address and provides you with one that will hide your identity.
This service is highly reliable, and you can access help from the VPN 24/7 if needed. Their no-logs policy, AES 256-bit encryption, IKEv2, and OpenVPN protocols make your connection private and anonymous.
You also have access to over 1700 servers, which are located in more than 63 countries. You can use an unlimited number of devices on a number of platforms, which gives you a great amount of flexibility.
Surfshark has some of the cheapest subscription plans. The pricing is separated into three option, with the two-year plan offering a great deal.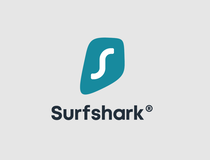 Surfshark
Want to watch British TV shows but you're facing geoblocking? Surfshark can help you bypass it.
5. CyberGhost – great for mobile and smart TV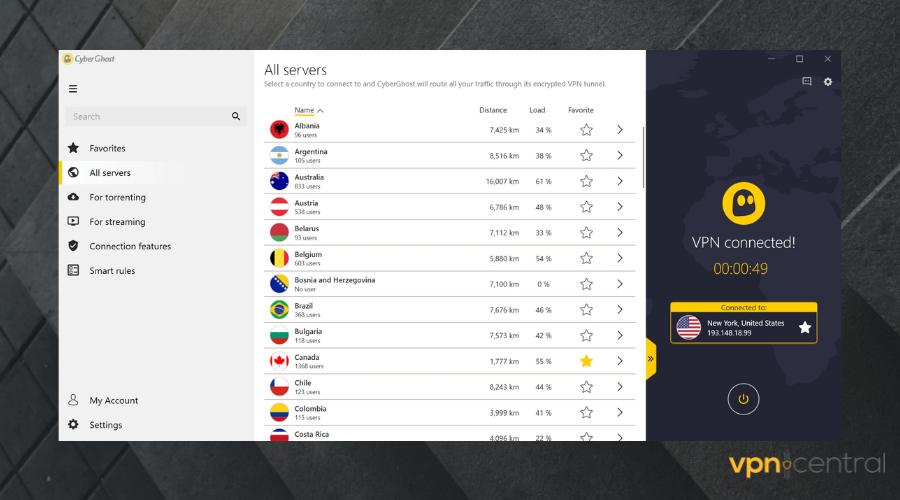 You can use a free VPN service or pay for a premium one to watch British TV. CyberGhost offers everything you need to access your favorite content, whether you want to pay for it or stream for free.
With CyberGhost, your computer will appear as if it is located in the UK, when you're really not, and it works well for channels like Sky go and BBC iPlayer as well.
Once you're connected using this best VPN for streaming UKTV, it places your computer in a country automatically, but you can change this and select your desired location, and then stream the content.
Streaming TV providers are always on the lookout to spot IP addresses that are used by VPNs as endpoints, but CyberGhost is ahead of these as it regularly changes these endpoint IP addresses to stay ahead of detection attempts.
You can also stream using CyberGhost on other devices like your mobile phone so you won't have to miss any of your British TV shows.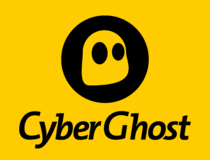 CyberGhost
Discover British TV with CyberGhost VPN. Claim the best deal now!
6. VyprVPN – increased DNS security and speed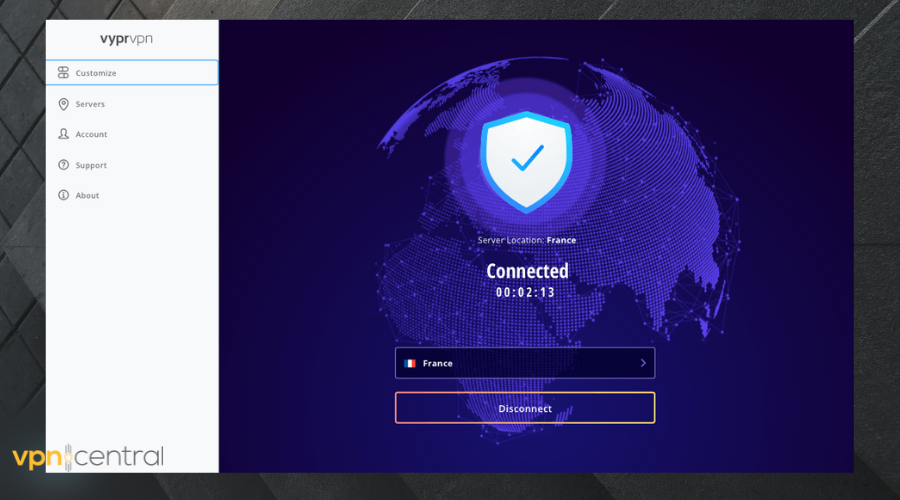 This is a Swiss-owned VPN service developed by the Golden Frog company that's big on privacy, security, and access to the free and open Internet.
VyprVPN offers advantages such as fast DNS because their servers are privately owned and non-monitored, zero censorship, and you won't have DNS blocks with this VPN.
Other features include NAT firewall to block external connections, Kill Switch, native apps for mobile, simple and user-friendly interface, and fast server selection.
We do not recommend this VPN if you intend to download torrents or P2P as it isn't torrent-friendly due to its log policy.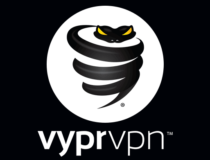 Vypr VPN
Chat on Omegle without getting your data leaked with this secure and fast VP with privately owned servers.
7. Zenmate VPN – strong online security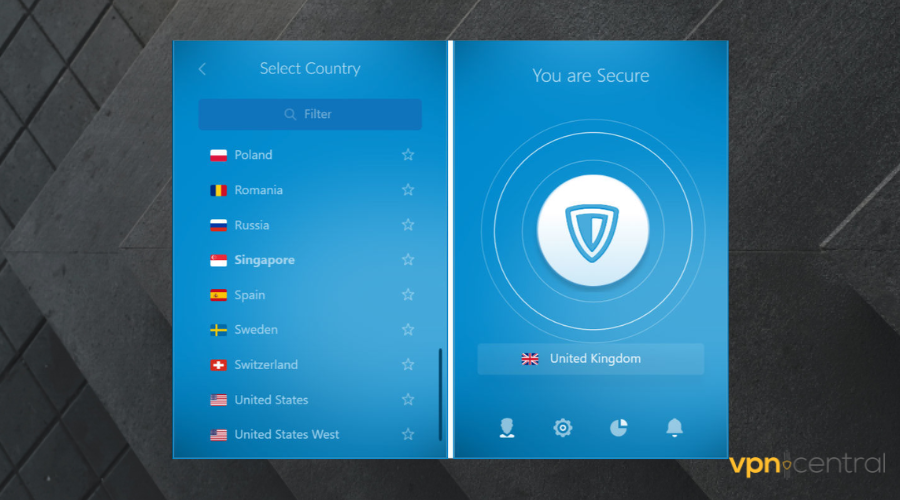 Another great VPN to watch UKTV outside the country is ZenMate.
The client uses advanced AES-256 bit encryption and is capable to remove strict restrictions without being detected.
In the UK this VPN has two locations: London and Manchester with 295 servers in total.
This makes it a great candidate for streaming UKTV content because a large number of servers eliminates the risk of overpopulated servers.
So you should be able to enjoy lag-free streaming at all times without no much effort. The VPN offers unlimited bandwidth, so you don't have to worry about running out of data either.
This VPN is very versatile, offering dedicated apps for a wide range of platforms, including Windows, macOS, Linux, iOS and Android.
On top of that, it also is available as a free browser extension for Chrome, Edge, Opera, and Firefox.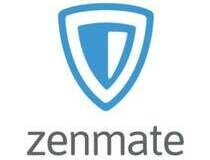 ZenMate VPN
Connect to a UK server for uninterrupted streaming of your favorite shows!
Is there any good free VPN to watch UKTV?
Free VPNs are more restricted, but there are some services that give access to UK-based servers. Free options are not the best solution you can use to watch UK television abroad.
Many free VPNs have confusing privacy policies and all of them have data or server location restrictions. This can lead to slow connections at times which is not great for streaming.
Good VPNs with decent access to UK servers include Windscribe, and Tunnelbear. All have data restrictions and limitations, but users report being able to connect to UKTV with them nonetheless.
With Windscribe and ZoogVPN you will get 10GB of monthly data, and with TunnelBear you will get 500 MB. Although they don't have premium-level server coverage, they are some of the best VPNs for watching UKTV abroad.
What apps can I use to watch UKTV overseas?
Depending on the media company you wish to watch British TV from, you have the option to stream content from the official websites or through the corresponding desktop or mobile apps.
Some of the most popular names in the UK media industry are BBC, Sky UK, Virgin Media, ITV (legally known as Channel 3), etc. Once you've chosen a reliable VPN service, you can easily watch UKTV from these media outlets, no matter where you're currently located.
If you want to watch BBC, you can do it via the very popular BBC iPlayer, either on the website or via the BBC iPlayer app for mobiles and tablets.
In the above image, you are shown the BBC iPlayer web version as well as a message informing the user that the service only works in the UK. But don't worry, a VPN will easily get you around this.
If you want more in-depth info about how to set up your VPN for BBC content and other alternative solutions, check our guide on how to watch BBC One outside the UK.
If you're a Sky TV fan, you can watch your favorite Sky content on their website or by getting the Sky Go app from the App Store or Google Play.
For Virgin Media, you have Virgin TV Go, which can also be accessed through the website for PC users or downloaded from the store if you want to use it on your phone or tablet.
ITV allows you to watch its channels via ITV Hub. All you need to do is access it through the main ITV website or get it from the official store for your iOS or Android devices. Also check the following guides dedicated for ITV streaming outside UK.
If you want to watch UKTV on your Smart TV and don't know how to access the required apps, check out the articles below:
How to watch UKTV with a VPN from anywhere?
To access UK television from anywhere, you need to route your traffic through a UK-based VPN server.
It's important to get a reputable VPN that is able to stay private and not be detected by streaming platforms or TV that ban VPNs.
Setting up a connection is pretty straightforward:
Open your VPN app.
Select a UK server location.

Connect to that server.
Access the UKTV service you want to use.
How to watch UKTV abroad on Smart TV?
If you want to watch UKTV directly from your TV, you can install a dedicated VPN app directly to your smart TV. Android TVs and Amazon Fire support VPN apps and connections.
All VPNs on this list have dedicated apps for Smart TVs. Just install them, login with your credentials, and pick a VPN server located in the UK.
If it does not work properly from the first attempt, try to switch out to a different UK server.
Finally, after consulting our list of the 7 best VPNs to watch British TV, you should be able to make up your mind and choose the right service that will allow you to enjoy content without restrictions.
Which VPN service will you use to watch British TV? Or which one do you currently use and it probably didn't make the list? Let us know in the comments section below.