Do you experience issues with YouTube not working when connected to a VPN? You're not alone.
Errors such as VPN/Proxy Detected or simply video unavailable can appear for many reasons. The VPN service's IP address may be blocked by YouTube, or the VPN isn't actually masking your traffic data.
We'll look at some of the most common reasons why it happens as well as some solutions you can watch anything you want on YouTube while connected to a VPN.
Why is YouTube not working with your VPN?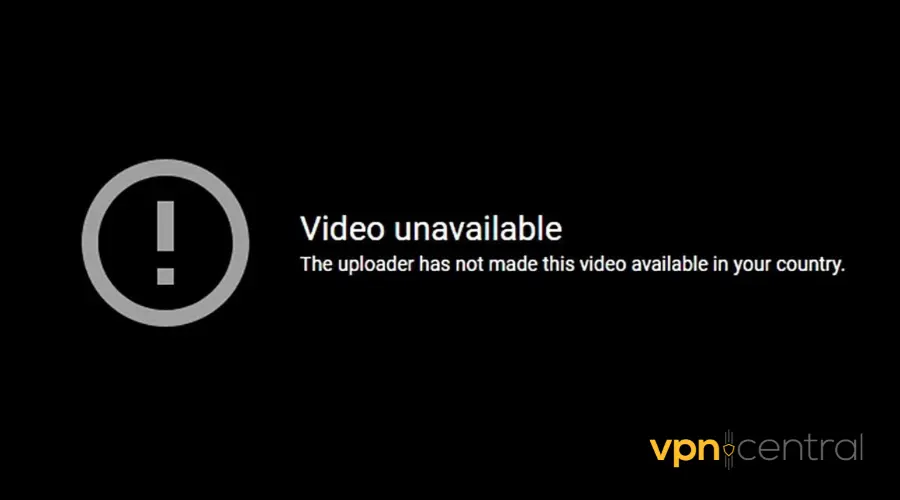 Some of the several reasons why YouTube may not work with a VPN include the following.
How to fix it?
If you are having issues with Youtube not working with VPN, here are some potential fixes for you.
1. Clear your browser cookies
YouTube may detect that you're using a VPN if the data in your cookie location differs from the VPN location.
This can result in YouTube not working with your VPN, and your IP address may also be restricted.
Follow these steps to clear cookies.
Access your browser's settings by clicking the three dots or lines in the top-right corner of your browser's screen.
Click on Privacy & Security.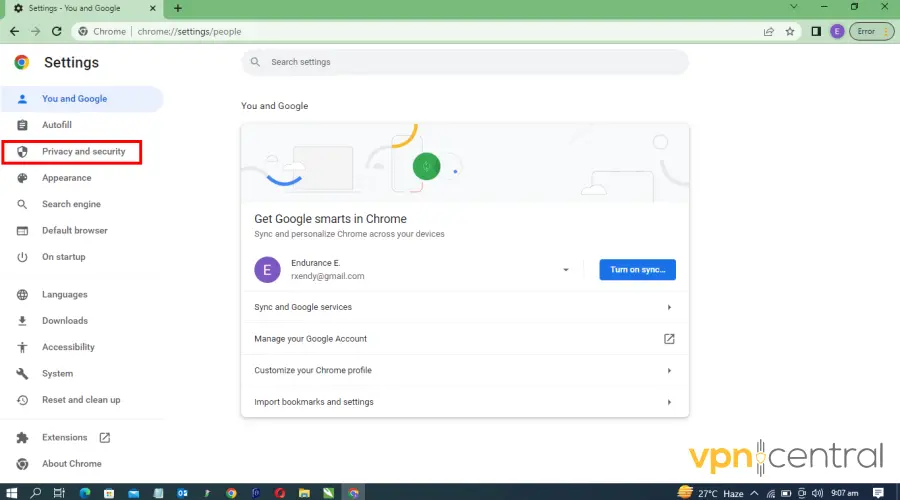 Select Clear Browsing Data.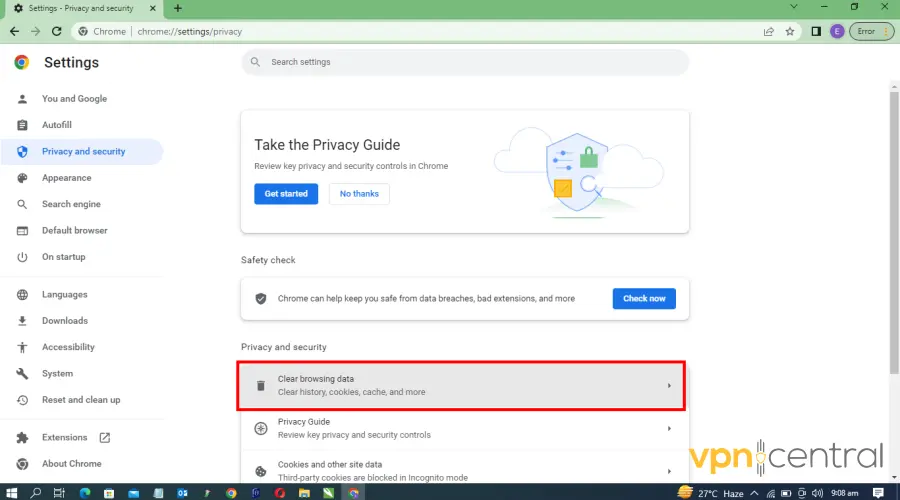 Choose the option to delete all cookies and other site data and then select clear Data.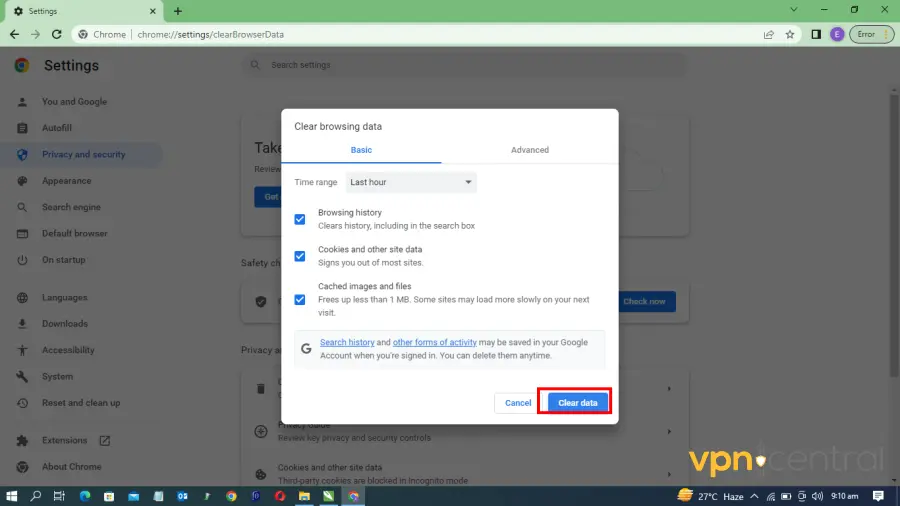 Clearing your browser cookies to delete any trace of your real IP online and resetting your IP address helps bypass any VPN blocks in place.
In addition to resolving your VPN issues with YouTube clearing your cookies can improve your browsing speed and protect your privacy.
We use Chrome as an example, but similar steps work for other major browsers like Edge, Opera, or Firefox.
2. Change your server
Switching to a VPN server closer to your location can reduce latency, provide a faster connection, and improve Youtube's overall performance.
Follow these steps to change to another server on NordVPN.
Open your VPN and expand your server list.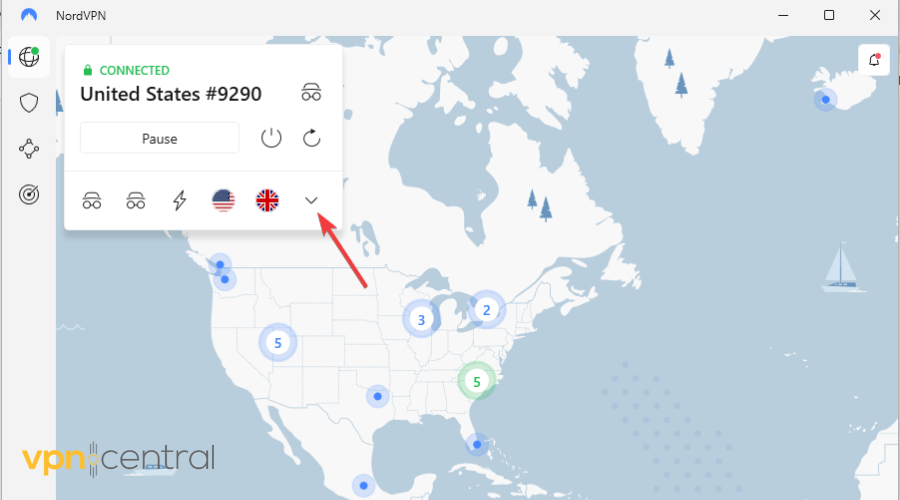 Choose another server and connect.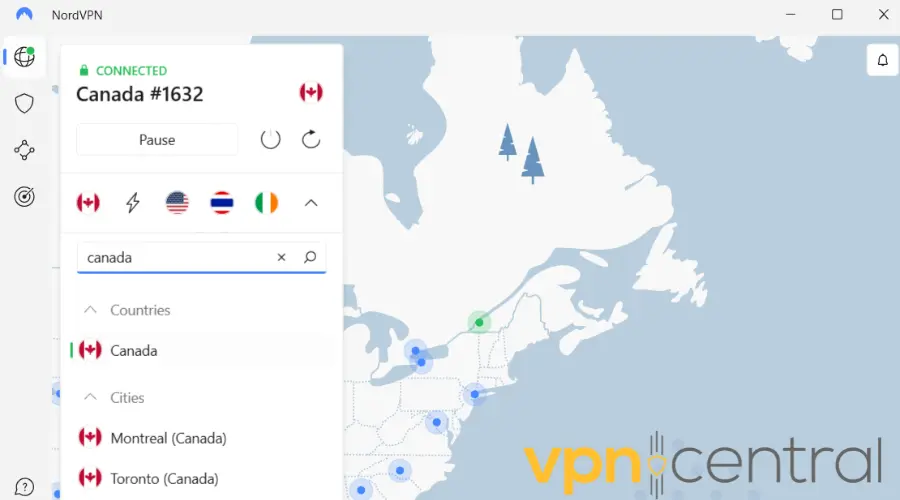 Launch your Youtube.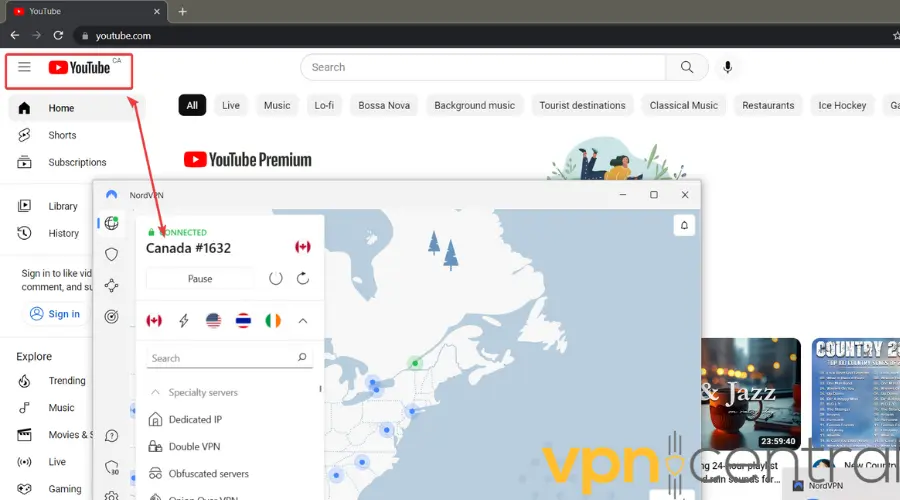 As you can see, after the server change, you'll be connected to the YouTube homepage corresponding to your VPN's server.
If you want to watch YouTube local content from a different region, just repeat the process, but pick the country where those are available.
For example, connecting to a US server will allow you to watch YouTube US from Canada.
3. Switch VPN protocols
VPN protocols govern how a VPN reroutes data across its servers. If your VPN is not working well on YouTube, try switching to a different protocol.
For faster connections, ideal for watching videos on YouTube, we recommend OpenVPN. Many users have a better time with video media content when they switch to this protocol.
Click on the cog (gear) icon to access the app settings.

Click on Connection.

Under VPN protocol, select OpenVPN (UDP) or OpenVPN (TCP) from the drop-down menu.

Save your settings and connect to a server.
Try streaming with Youtube again. Now it should work without any issues.
4. Change the VPN provider
Different VPN services offer different features and switching to a provider that better meets your needs may be beneficial.
For YouTube, NordVPN is a great pick. It has servers in multiple locations, unlimited bandwidth, and optimal protocols for fast connections.
Here's how to use it with YouTube:
Subscribe to a NordVPN plan and download the software.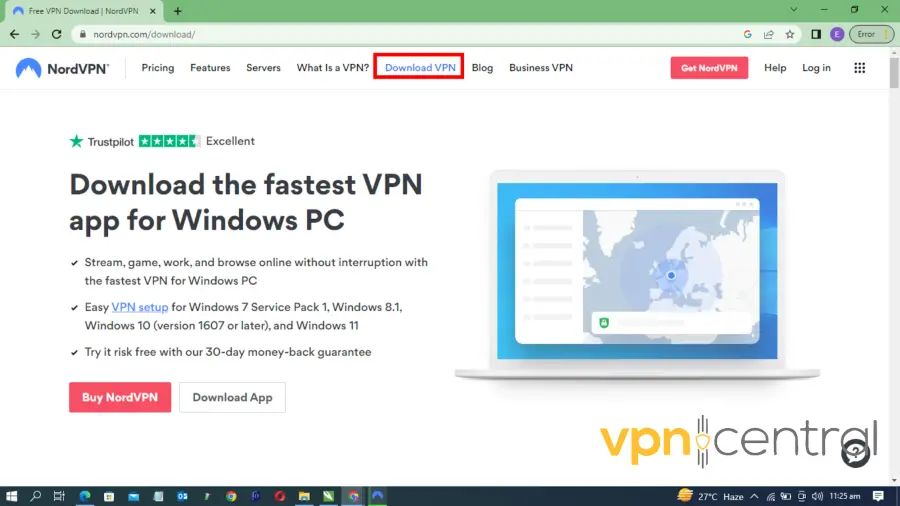 Install the NordVPN app on your computer.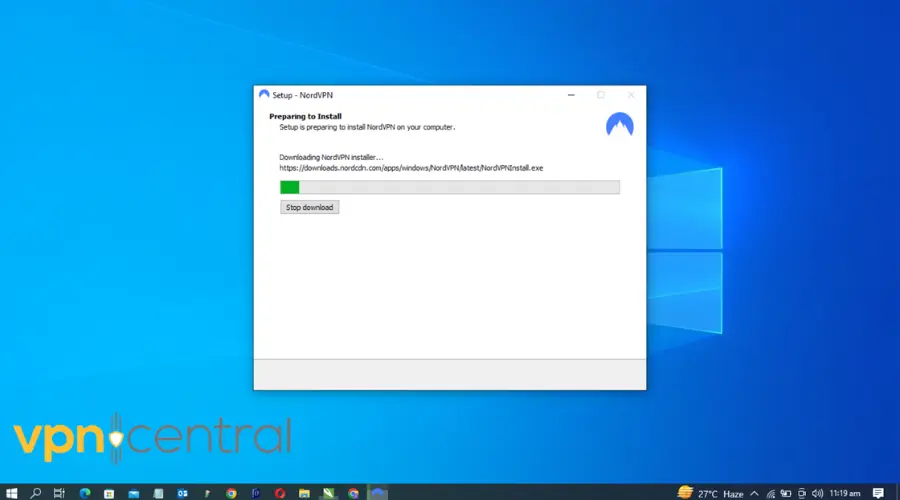 Log in with your credentials.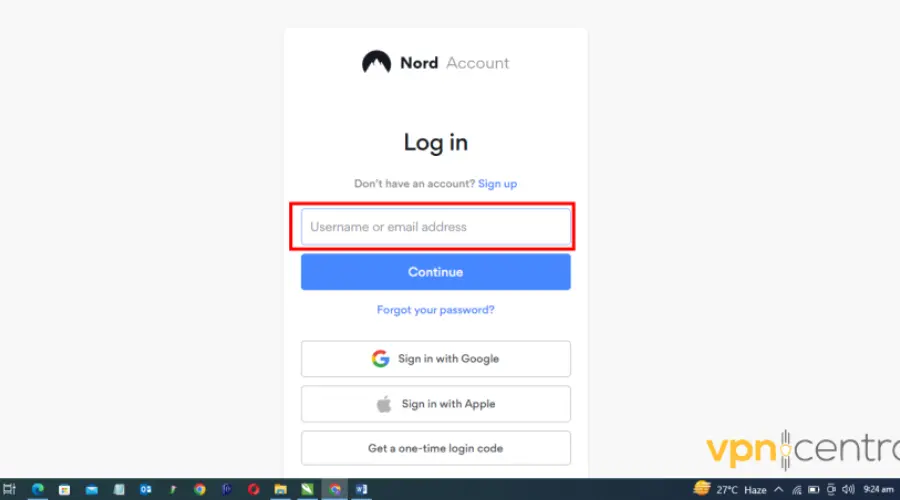 Search for a server and connect.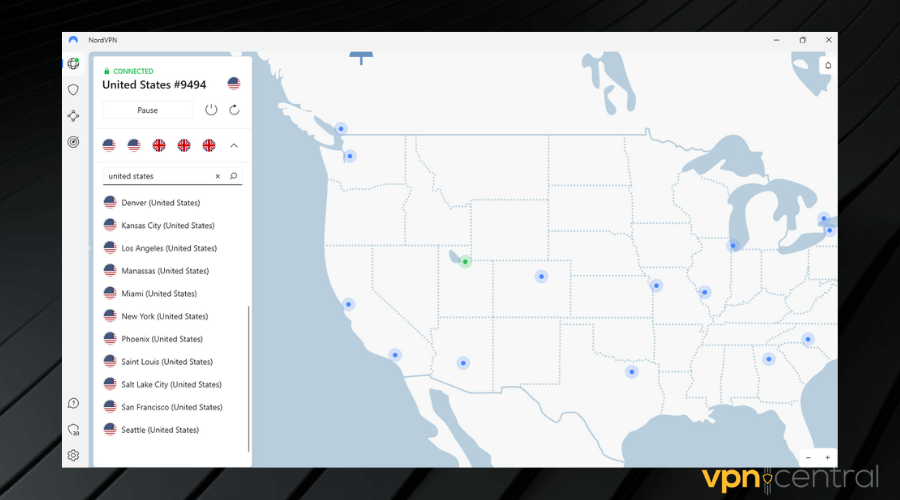 Go to Youtube and watch your favorite content.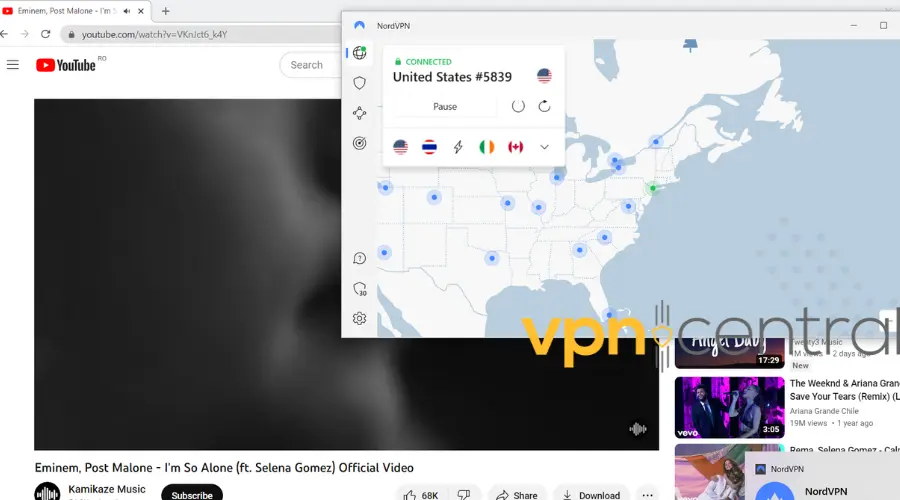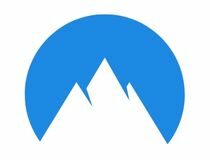 NordVPN
Connect to NordVPN to easily get access to all the content on YouTube!
Where is YouTube unavailable?
| | |
| --- | --- |
| Completely banned | China (excluding Hong Kong and Macau), Eritrea, Iran, and North Korea |
| Partially restricted | Finland, Turkmenistan, Uzbekistan, Sudan, and Pakistan |
YouTube is completely banned in some countries due to government regulations and censorship policies. China for example bans a lot of foreign websites, including YouTube.
However, even in countries where YouTube is legal and available, access to certain types of content may be restricted.
In Finland, the country's copyright laws have led to a large number of music videos being blocked.
There are other countries where certain videos will not be available. That depends on the distribution rights the channel has for its content.
Wrap Up
When your YouTube is not working, you may miss out on your favorite live streams and videos.
However, the quick fixes outlined in this article will help you resolve the issues.
A server change, VPN provider switch, or clearing cookies can get you access to YouTube again with a VPN.
And finally, if you haven't still upgraded to YT Premium, check out this easy guide on how to get the subscription for much cheaper.