You can stop stressing over how to bypass blocks and watch Greek TV in Canada already. Because guess what? I have a solution for you.
A VPN is a vital tool that allows you to easily circumvent geo-restrictions on Greek TV. It offers you complete access by automatically changing your IP address while connecting to servers in Greece.
So If you are ready to access Greek TV channels like Alpha TV, Skai TV, Mega Channel, ANT1, or ERT2 with no limitations, keep reading!
How To Watch Greek TV In Canada
To watch Greek TV in Canada, you need a VPN to replace your original IP address with one from Greece so as to trick the country's channels into giving you access.
Follow the step-by-step guide below to get this done:
Subscribe to ExpressVPN. I recommend it because it's not only swift but also bypasses geo-restrictions expertly.
Download the VPN application to your device.
Then, launch it and log in with your correct details.
Click on the ellipsis to display the list of servers.
Now, choose Greece as your location.
Go back to any Greek channel like Alpha TV and stream to your heart's content.
Why do you need a VPN to watch Greek TV in Canada?
You need a VPN to watch Greek TV channels in Canada because the tool will change your IP address to one in Greece. This tricks local TV channels into thinking that you are actually located in Greece.
Apart from that, most VPN servers are optimized for streaming. This means that it'll enhance your connection speed and limit the appearance of buffering or lagging especially when streaming in HD or 4K.
Best VPN for Greek TV
There are many different VPN providers available, but not all of them are created equal.
When choosing a VPN for Greek TV, you'll want to make sure it has servers in Greece, fast speeds for streaming video, and strong security features.
Based on these criteria, here are a few of the best VPNs for Greek TV channels:
1. ExpressVPN – Fast connection speeds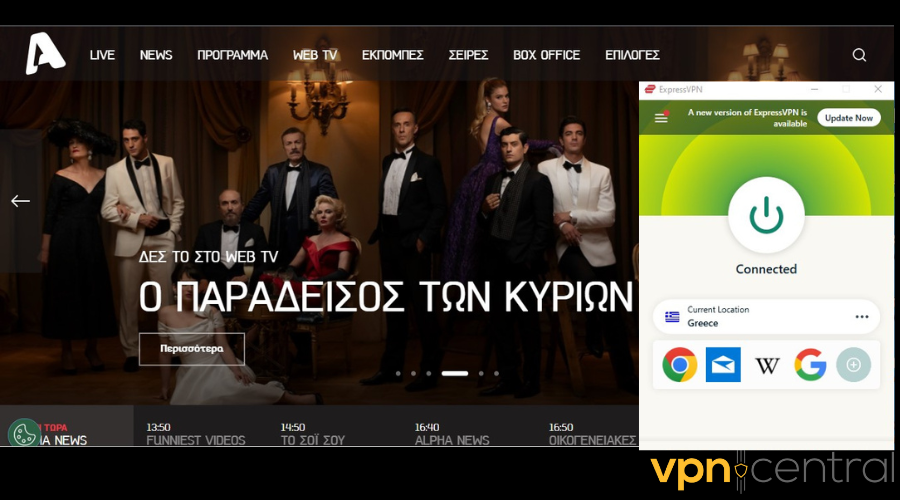 With its next-gen 10 Gbps 3000 servers scattered across 94 countries worldwide and supporting up to 8 simultaneous connections, ExpressVPN is a top choice for streaming.
It doesn't matter if you are watching in HD or 4K, ExpressVPN is fast enough to accommodate any quality you wish to watch Greek TV channels with.
Especially as it also offers unlimited bandwidth.
In addition to that, ExpressVPN keeps your information locked in using the standard 256-bit military encryption.
Aside from that, while your internet service provider can see the amount of data you consume at once, it doesn't have insight into your online activities.
So it won't know you are accessing Greek streaming sites. This feature not only ensures your privacy but also prevents speed throttling.
ExpressVPN is particular about guaranteeing your total privacy and anonymity; thus, its servers are designed to erase all data with each reboot.
✅ Pros:
Split tunneling
No activity log
24/7 customer support
Military-grade encryption
❌ Cons:
Costly subscription plans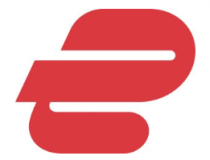 ExpressVPN
Watch Greek TV from Canada in one click with ExpressVPN!
2. NordVPN – Stealthily circumvents regional blocks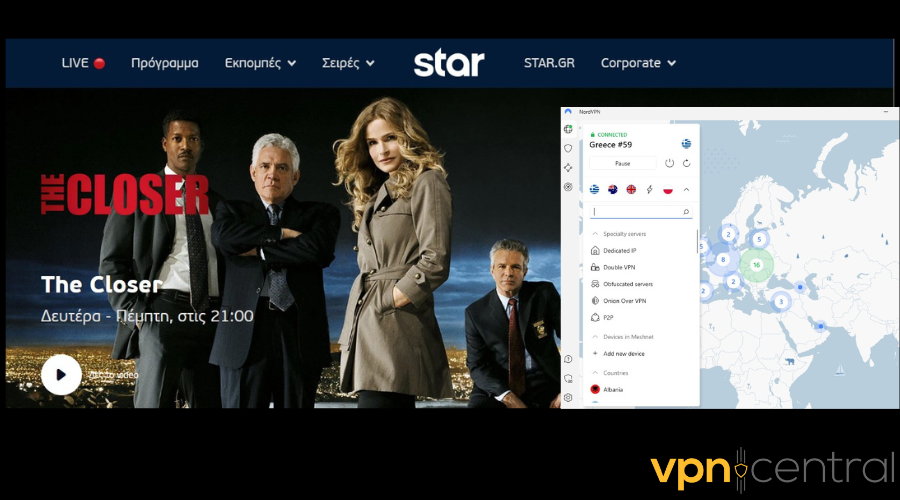 NordVPN has gathered customer testimonials over the years due to its consistent performance when it comes to making it around geo-restrictions.
Not only that, this VPN has five server locations in Greece, and all function at superpower speed. This means you don't have to bother about that annoying latency anymore.
Whether you wish to stream from Alpha TV, Skai TV, ERT 1, or any other Greek TV channel in Canada, NordVPN maintains a steady connection till you are done.
It even generously offers unlimited bandwidth.
Moreover, NordVPN incorporates a smart DNS feature called SmartPlay. This allows you to connect to every type of entertainment without compromising speed.
Lastly, the VPN is compatible with different devices including phones, tablets, PCs, routers, and so on. You can even connect up to six devices to the same account simultaneously.
✅ Pros:
5800+ servers in 60 countries
256-bit encryption
Automatic kill switch
SmartPlay
Multi-platform support
❌ Cons:
Refund issues on Apple devices.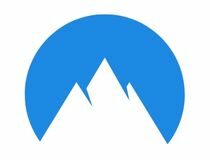 NordVPN
Enjoy Greek TV in Canada, restriction-free with NordVPN!
3. Surfshark – Affordable subscription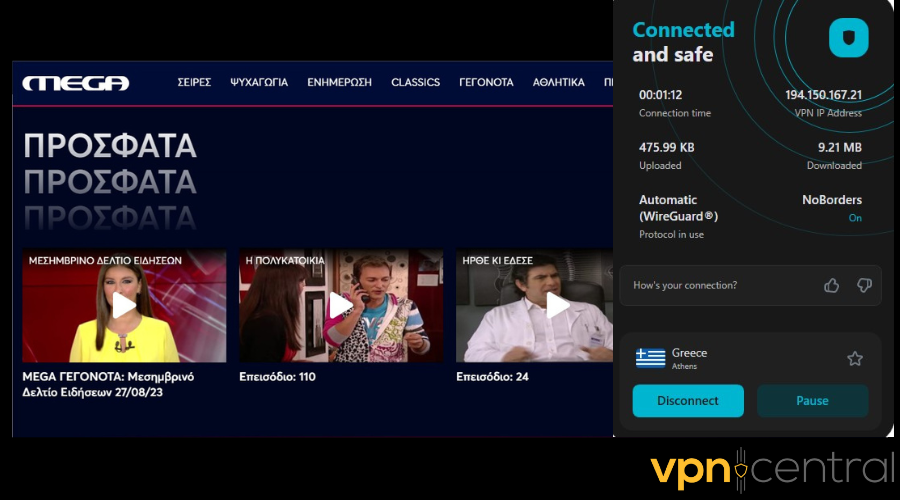 If you don't want to break the bank, Surfshark is your go-to VPN. Regardless, it delivers flawlessly without compromising on quality and security.
This VPN recently launched a dedicated IP feature that ensures your IP stays the same whenever you access the internet with Surfshark. It is less likely to be blocked by streaming websites.
When it comes to speed, Surfshark combines its 10 Gbps servers with unlimited bandwidth to provide a smooth streaming experience on any of the Greek TV channels.
Furthermore, there's a kill switch feature that logs you out of the internet anytime your VPN goes off. The purpose of this is to prevent your data, including your original location from leaking out.
Additionally, Surfshark allows multiple simultaneous connections for a single account. With this, your friends or family can join in on watching shows and movies like Pame Paketo.
It even has dedicated apps for different operating systems and devices including phones, tablets, PCs, and macOS. Even as a beginner, you'll be able to use Surfshark's apps without guidance.
✅ Pros:
Cheap plans
Simultaneous connections
256-bit military encryption
Dedicated apps for most devices
Unlimited bandwidth
❌ Cons:
Data leaks are common in macOS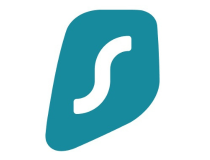 Surfshark
Unblock Greek TV for boundless watching even from Canada!
4. PIA – Simultaneous connections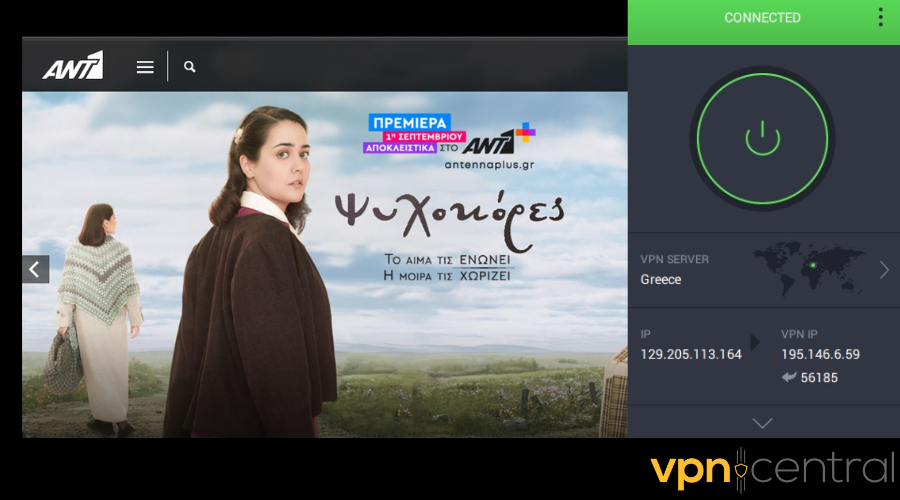 Firstly, PIA boasts a vast network of servers spread across 84 countries, including one in Athens, Greece. This extensive coverage ensures a fast connection, enabling seamless streaming without buffering.
The VPN relies on these servers to easily bypass geo-restrictions. So be assured that once you connect to Greece on PIA, you'll go in and out of any of the country's streaming websites at will.
Secondly, PIA is known to employ strong encryption protocols and a strict no-logs policy. These features keep your streaming private, making PIA an ideal choice for those concerned about privacy.
Furthermore, PIA offers user-friendly apps for various devices, making it easy to set up and use on your preferred platform, whether it's a computer, smartphone, or smart TV.
Lastly, PIA is reasonably priced, offering affordable subscription plans with the option to connect multiple devices simultaneously. The VPN even offers a 30-day money-back guarantee.
✅ Pros:
Dedicated IP
30-day money-back guarantee
Live chat support
Simultaneous connections
Automatic kill switch
❌ Cons:
Does not offer the best speed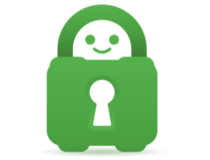 Private Internet Access
Bypass region blocks on Greek TV and stream it without limits in Canada!
5. CyberGhost – Dedicated IP address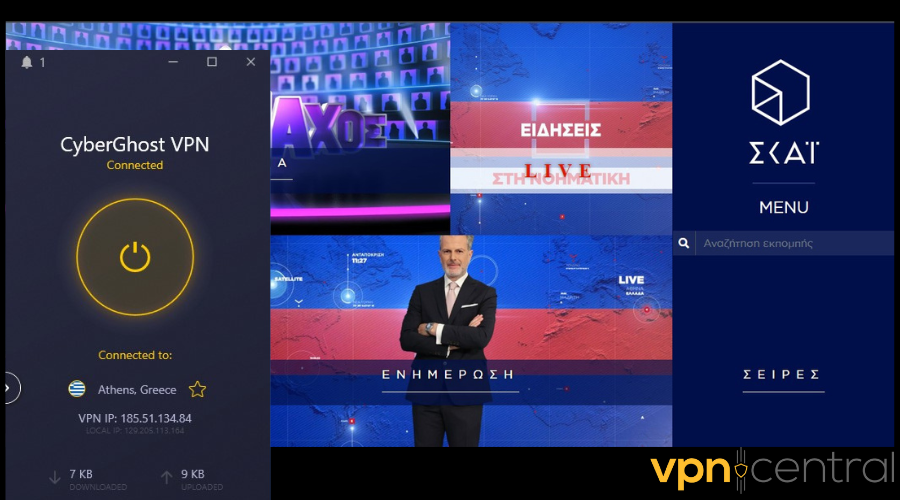 Now, when you rate VPNs with great streaming speed, CyberGhost is worthy of mention. This provider has 9600+ super-fast servers in 91 countries including 24 server in Athens, Greece.
By connecting to one of such servers, streaming content on any of the channels in the country would be smooth and interruption-free.
Additionally, CyberGhost is one of the VPNs that offer dedicated IP.
This feature is important while streaming all the shows, movies, sports, or documentaries on Greek TV channels because it makes it impossible for these streaming platforms to detect your VPN usage.
Lastly, CyberGhost offers users a 45-day money-back guarantee unlike others that the limit is 30 days. Within this period, if you are not satisfied with its services, you can have a full refund.
✅ Pros
Dedicated IP address
256-bit military encryption
Automatic kill switch
40-day money-back guarantee
7 devices simultaneously
❌ Cons
Apple apps have fewer features.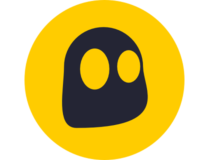 CyberGhost
Say goodbye to regional blocks and relish every bit of Greek TV content you want!
Which Greek TV channels can I watch online?
One of the Greek TV channels you can watch online is Alpha TV which is popular for shows like Pame Paketo, Eikones, and so much more.
Below is a comprehensive list of the Greek TV channels you can stream online:
Alpha TV (Pame Paketo, Eikones, To Kouti tis Pandoras, Mia agapi, mia zoi, Yperoha plasmata, Tha se do sto ploio)
Skai TV (Fear itself, Changing Climates – Changing Times, X-Factor, Life, The Good Wife, Agria Go, Glykanisos, The Masked Singer Greece)
Mega Channel (Mega Stories with Dora Anagnostopoulou, Celebrity Game Night, Everything about our life with Michalis Kefalogiannis, Spiti me to Mega)
ANT1 (Greece's Next Top Model, Agries Melisses, Parousiaste, Eglimata, To Kafe tis Charas, Turkish for Beginners, The Sun, Min Psaroneis, Eikenes kai Ego)
ERT1 (Remember When, Μηχανή του Χρόνου, Act like you are asleep, Music Box, And Yet I'm Still Here, Mama's Cake, Froutopia, The Numbers)
ERT World (Queen of the Deuce, Aegean Acropolis Tournament, Greektown, Ertworld Europe, Apo to '21 sto '55, I skoni tis Kabul, I thysia tou Avraam)
Star Channel (O antras ton oneiron mou, Sti Folia ton Kou Kou, Stin Kouzina me ti Dina, Made in Star, Nistikoi Praktores, Ti tha fame simera, The Closer, Lethal Weapon 4, Fame Story)
Makedonia TV (The Real Ghostbusters, A Cinderella Christmas, Max Steel, The Lost Treasure of the Grand Canyon, Dilbert, The Nine Lives of Christmas)
ERT2 (The Missing, And Then They Were None, The Christmas Cottage, The Christmas Contract, Marrying Father Christmas)
Is it legal to watch Greek TV in Canada with a VPN?
Yes, it is legal to watch Greek TV in Canada with a VPN. There are no laws in Canada that expressly prohibit the use of VPNs to access foreign TV content.
However, it is important to be aware of the terms of service of the streaming websites in Greek that you will be using as some may prohibit the use of a VPN.
Summary
You are lucky to have a VPN present in this digital age to spoof your location anywhere. Also, the fact that its use is legal in Canada makes it even more exciting.
With this tool, you can connect to a server in Greece. Then, immediately after your IP changes to one in the region, you can grab your popcorn and comfortably watch Greek TV channels in Canada.
---