Valorant is a multiplayer tactical FPS that you can play for free on Windows. There are two teams competing against each other, each with 5 players. You can choose your player by country, culture, and skill set.
Unfortunately, many users experience issues when trying to play Valorant, such as network lag, packet loss, high ping, and stuttering.
If you tried to fix this problem by minimizing graphic settings but didn't work, the best solution is to use a VPN.
A VPN can improve your ping during multiplayer gaming by connecting you to a VPN server closer to the remote host. This results in a faster and more reliable Internet connection.
Why do I need a VPN for Valorant?
If you're still wondering why you should use a VPN while running Valorant, you're in the right place! We'll show you some of the most valuable reasons you can imagine.
🛡 In case you don't already know, if you choose the right virtual private network (VPN), you'll obtain a powerful tool for securing your Internet connection.
🌐 However, this is not the only reason you should consider. With the best VPN, you'll be able to spoof your location, then gain access to servers from other countries, no matter the distance.
⚔️ If you're an expert gamer, the next aspect should really concern you. Your competitors might attempt DDoS (distributed denial of service) attacks to knock you on offline mode. Fortunately, some VPN solutions are capable of blocking your rivals' strikes.
Now, let's discover some of the most amazing options you should definitely try today.
What are the best VPN locations for Valorant?
Valorant is available worldwide for free. However, there are certain geographical restrictions. You can only play on regional servers with players that are located nearby.
The game is however played by 22 million gamers worldwide. With a VPN you will be able to access more servers and compete against players everywhere, regardless of the actual location. It's especially popular in these regions:
Asia Pacific
Brazil
Europe
Korea
Latin America
North America
Valorant has a solid server base for all these regions. The problem arises when some servers are down. In that case, to reconnect, you will most likely need a VPN to access a different location.
Our research pointed out that especially users from Asian locations, such as India and the Philippines are looking for the best VPN for Valorant. Players from other regions are looking for VPN solutions as well.
That's why we comprised this overview of the best VPNs that cover worldwide regions. They can give you access to Valorant servers all around the world, without limitations.
| | |
| --- | --- |
| VPN Name | Server regions |
| Private Internet Access | North America with a focus on the United States, Latin America, Europe, Asia, Africa, Australia |
| NordVPN | North America, Latin America, Europe, Africa, Asia, Australia |
| ExpressVPN | North America, Latin America, Europe, Asia Pacific, Middle East, Africa, India |
| CyberGhost VPN | Europe, North America, Central America, Africa, Asia, Australia, Middle East |
| SurfShark | North America, Europe, Australia, Asia, Latin America, Africa |
| PrivateVPN | Europe, North America, Latin America, Middle East, Europe, Africa, Asia |
| IP Vanish | Asia, North America, Europe, Latin America, Australia |
As you can see, all these VPNs cover locations all around the world. They are all fast and have strong privacy policies to ensure your data is safe.
You should weigh which set of features best fits your specific needs. If you can't decide, we suggest going with the first option on our list. You can also try out a few of the options that offer a free trial.
Which is the best VPN for Valorant?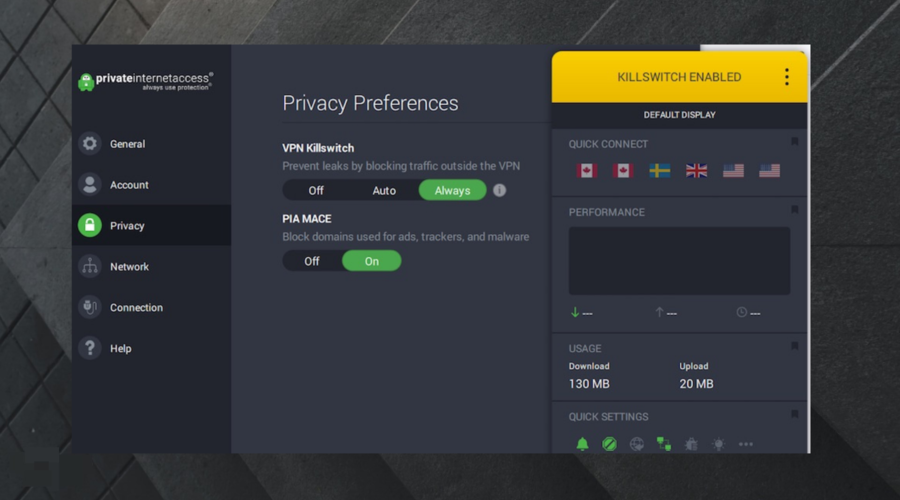 Developed by Kape Technologies, Private Internet Access (PIA) is a top-ranked VPN for gaming, including Valorant. It comes with over 29.200 servers from 77 countries.
You can use PIA to host game servers for you and your friends without having to change router settings, thanks to the fact that it has native support for port forwarding.
PIA supports OpenVPN, WireGuard, Shadowsocks, SOCKS5, and split tunneling. You can choose from static and dynamic IP addresses, and many more advanced features.
The split tunneling feature can help you boost your Valorant experience. You can set up your network to use the VPN service only for certain activities while allowing you to connect directly to your actual IP address for others.
Playing Valorant with this VPN would be extremely satisfying. If you create a separate tunnel for Valorant, you decrease ping and latency problems.
This VPN software guarantees safe browsing even in case your VPN connection is down. It automatically detects network problems and doesn't allow for any traffic data to leak.
This VPN can surpass any geo-restrictions so you can enjoy any content across the web. You can get full access to geo-restricted shows on your favorite streaming platforms, and you can also play games that are not available in your location.
What else you must know about PIA:
10 simultaneous connections
No logs or leaks
24/7 live chat support
Private Internet Access is a subscription-based VPN service. If you are not satisfied with the features it provides, you can get your money back in the first 30 days.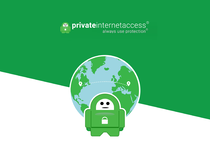 Private Internet Access
Use this fast and secure VPN for Valorant to reduce your in-game lag.
2. NordVPN – Complete anonymity with DoubleVPN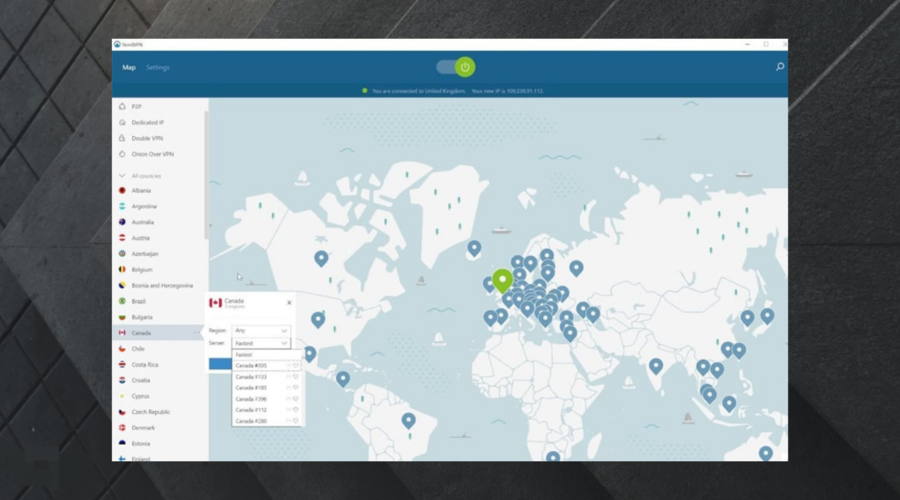 NordVPN is a super-secure VPN created by Tefincom & Co., which you can use to improve your Valorant gaming experience with ease. It features more than 5,100 servers spread across 59 different countries.
The tool uses OpenVPN with up to 256-bit military-grade encryption to create a secure tunnel and protect your data from man-in-the-middle attacks.
It has a kill switch, Double VPN, Onion-over-VPN servers, dedicated IP addresses, private and custom DNS, together with a malware and ad blocker for browsers.
The double VPN feature is an extra precaution against any traffic data leakage. Your original VPN-generated IP address gets an extra layer of protection so your identity and browsing activity will be impossible to detect.
Not only is this feature great for privacy protection, but it can also prevent your IPS from restricting your connection, as it won't be able to identify you.
You can use NordVPN on all your devices. There are no restrictions when it comes to the number of devices you can connect. However, you can only use it for up to 6 at the same time.
What else you must know about NordVPN:
No logs or leaks
24/7 live chat support
Private LAN connection
NordVPN is a subscription-based VPN service. It offers a 30-day money-back guarantee in case you are not satisfied with the features.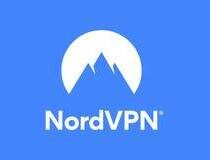 NordVPN
Keep your Valorant gaming sessions safe from harm by turning to this trustworthy VPN.
3. ExpressVPN– Best server speed assessment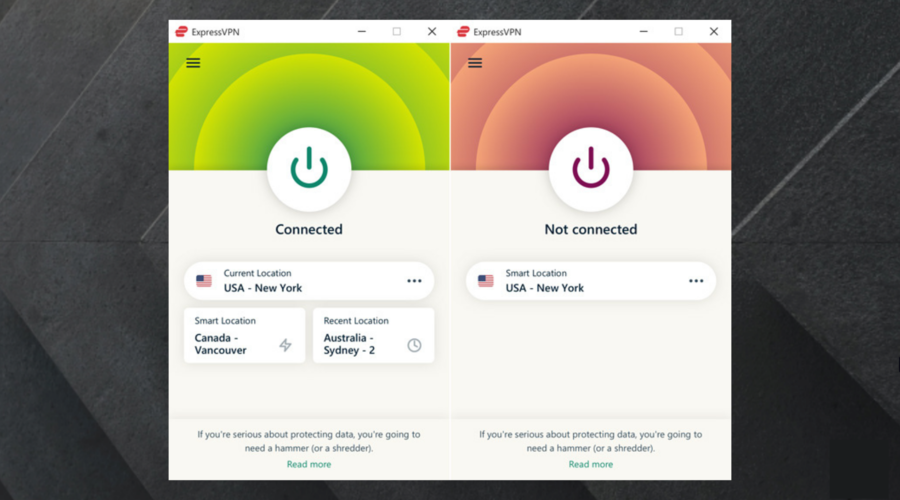 Made by Express VPN International LTD, ExpressVPN is a speedy VPN that you can trust to reduce high ping in Valorant. It has more than 3,000 servers in 94 countries.
You can use ExpressVPN to fix network congestion and reduce ping in Valorant. It's also one of the fastest VPNs for streaming, ideal for watching Netflix and other similar services.
ExpressVPN supports OpenVPN, split-tunneling mode, and zero-knowledge DNS servers, together with DNS leak protection. Plus, it's one of the few VPNs that work with China, which is great for bypassing government censorship.
The split tunneling feature allows you to simultaneously access local and foreign servers. It is also good for gaming since you can set your server up only for Valorant while running the rest of your online activities directly from your actual local server.
The Network Kill Switch keeps your data safe even if the connection drops. ExpressVPN can detect connection problems and block all internet traffic until the protection is restored.
ExpressVPN has over 160 VPN server locations across the whole world. It allows access to geo-restricted content so you can enjoy all types of entertainment and information regardless of your actual location.
Another important feature provided by this VPN software is the Speed Test. It is available on desktop devices. It is a quick scan that will display server locations sorted by variables such as speed index, latency, and download speed.
This type of information allows you to knowingly select the best server for your online activity. Some servers may be better for gaming, while others may be better for streaming. Keep in mind that ExpressVPN also has an automatic selection feature that picks the best server for you.
What else you must know about ExpressVPN:
5 simultaneous connections
No logs or leaks
24/7 live chat and email support
30-day money-back guarantee
7-day free trial for Android and iOS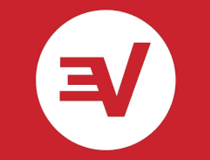 ExpressVPN
Speed up your Valorant servers with the help of this dependable and speedy VPN.
4. CyberGhost VPN – Best DDoS attacks shield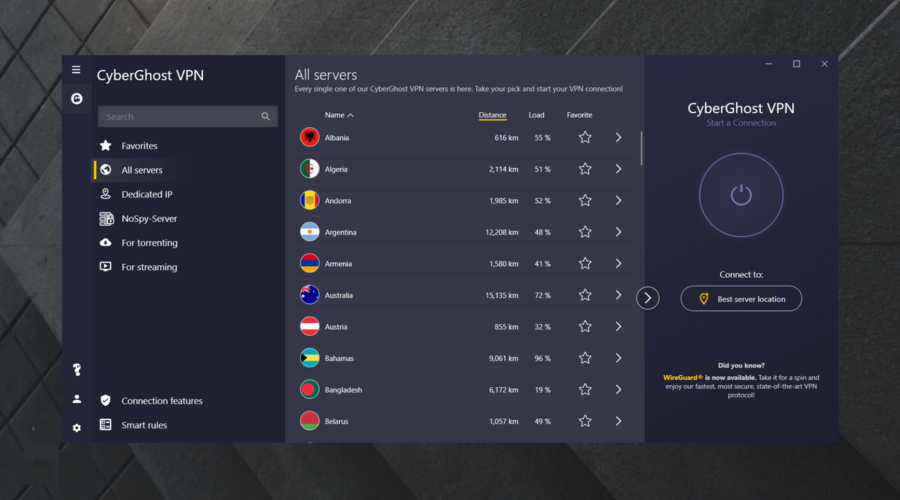 CyberGhost VPN is another service operated by Kape Technologies. It comes with more than 6,500 VPN servers in 89 countries.
This VPN service can quickly fix in-game lag, thanks to its high-speed servers. Plus, it can defend your router from hackers and keep you safe from DDoS attacks.
CyberGhost VPN comes with OpenVPN, split tunneling, a kill switch, and DNS leak protection. You can also use it to unblock popular streaming services like Netflix.
This VPN uses advanced end-to-end AES 256-bit encryption. You can rest assured that none of your browsing activity and private data will be accessible to any third parties. No one can access your data without your permission.
It is also equipped with features that fight against DNS leaks. Cyberghost has its own DNS service and doesn't log any of your information.
Cyberghost has extensive coverage which means it can ensure a private connection without compromising on speed. You can connect to the best server to play Valorant and enjoy a lag-free experience.
What else you must know about CyberGhost VPN:
7 simultaneous connections
No logs or leaks
24/7 live chat support
Up to 45-day money-back guarantee
1-day free trial for Windows and macOS
7-day free trial for Android and iOS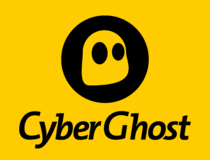 CyberGhost
Use this secure and fast VPN for Valorant to fix lag and reduce ping with minimum effort.
5. Surfshark – Unlimited simultaneous connections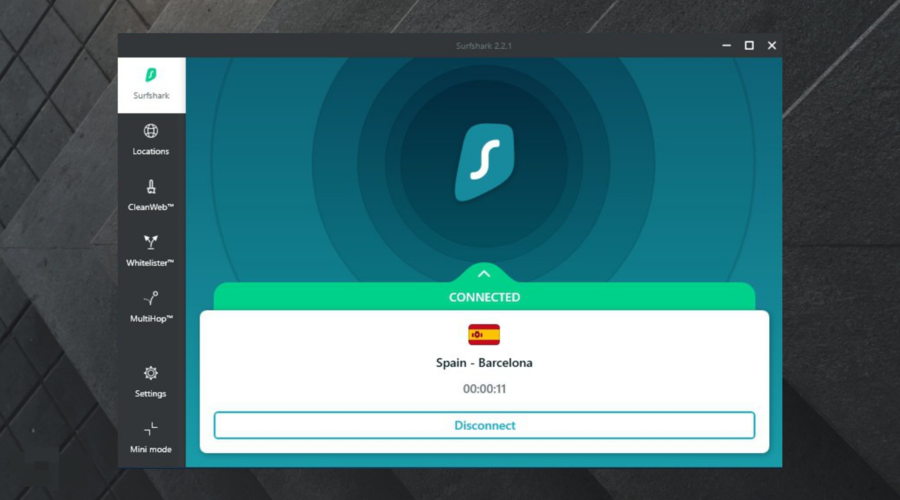 Surfshark is an affordable VPN produced by Surfshark LTD, which you can use if you're not ready to spend too much money on online privacy and security. It has over 1,700 servers in more than 63 countries.
The app comes with security features like obfuscation mode to hide the fact that you're using VPN. You can also use multi-hop VPN mode to stay connected to two VPN servers at the same time.
Moreover, Surfshark supports WireGuard, OpenVPN, Shadowsocks, exclusive DNS servers, split-tunneling mode, and a kill switch. It's an excellent VPN for Valorant to fix stuttering.
This VPN software provides a split-tunneling feature as well. You can use it to create a dedicated connection for Valorant and keep the rest of your activities running under your actual server. This can significantly reduce latency problems.
Surfshark uses the new open-source VPN protocol known under the name of WireGuard. Its aim is to provide a faster connection by reducing the lines of code that are used in a classic VPN connection.
The software also provides a set of features for your browser that can really improve your experience. It has an integrated ad blocker and a good online malware detector.
What else you must know about Surfshark:
Unlimited simultaneous connections
24/7 live chat and email support
30-day money-back guarantee
7-day free trial for Android and iOS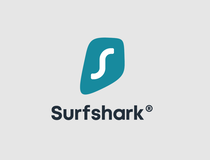 SurfShark
Get this budget-friendly and ultra-secure VPN for Valorant to enhance your gaming experience.
6. Private VPN – Strongest encryption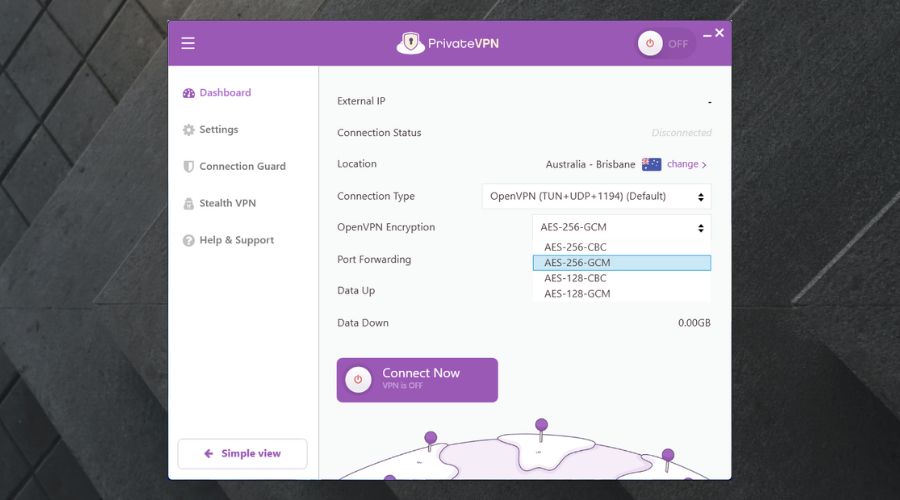 PrivateVPN offers access to 200+ servers across 63 countries worldwide. It promises high-speed rates and has great privacy features to make sure you are undetected.
Geo-blocked games like Valorant are against VPN usage. If they detect you use a VPN, they will block your IP address and/or DNS server.
This can be easily fixed with a VPN. You just have to switch up to a different server. However, to avoid having to deal with this situation on a regular basis, it's recommended you use a VPN that's encrypted enough to go undetected.
PrivateVPN uses strong 2048-bit encryption. It's the strongest encryption algorithm on the market. It ensures that the websites and services you access when connected to PrivateVPN won't be able to tell that you use it in the first place.
The tool offers unlimited bandwidth, so you can rest assured that you can play Valorant at high-speed rates for as long as you want.
In terms of speed, PrivateVPN fights to reduce lag and ping issues with High-Quality Network. HQN is the standard they follow when buying servers.
They get them directly from the IP transit provider, as opposed to a hosting company. This results in overall faster connections.
Not only that, but in case you have a limited Internet plan, this VPN can prevent your ISP from throttling or limiting traffic data.
By hiding your real IP and browsing information, PrivateVPN makes sure your ISP won't be able to see how much you actually use.
Another important thing to mention here is that Private VPN has a strict zero data logging policy. It doesn't keep or sell any logs and makes sure no third party can get any information about your identity and location.
Other key features of PrivateVPN include:
Public WiFi protection
Dedicated apps for Windows, Mac, iOS, and Android
Optimized for streaming
With PrivateVPN you are able to secure 10 simultaneous locations, use port forwarding for torrenting and get access to plenty of safety protocols.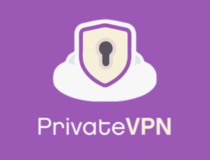 PrivateVPN
Shield your traffic data and play Valorant without restrictions with this secure and fast VPN.
7. IPVanish – Great protocols for high speed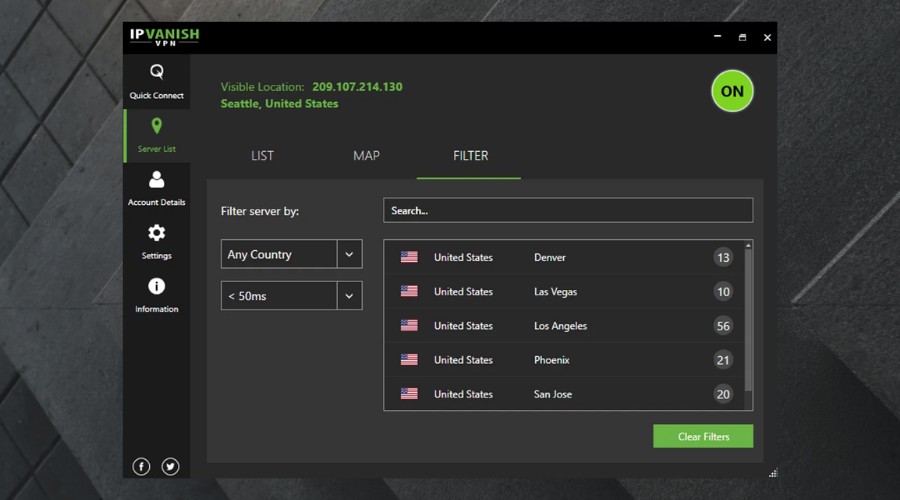 IPVanish is definitely worth considering using with Valorant. If you want a straightforward app that's quick and easy to set up, then this is the VPN for you.
It has solid worldwide server coverage, with over 75 locations. With IPVanish you get access to 2000+ servers and you can switch between locations without any limits.
The tool is great for Valorant because it lets you select your favorite server location. It does of course have an automatic setup as well, if you prefer that.
IPVanish changes your IP address and virtual location so you can access remote Valorant servers regardless of where you are actually located.
This VPN grants online anonymity with advanced encryption algorithms. It uses military-grade AES 256-bit encryption which is highly recommended by cybersecurity experts.
The high level of encryption combined with the VPN kill switch ensures you won't be detected and blocked. The killswitch is a prevention feature that stops traffic in case your VPN connection drops. It keeps traffic data locked until you are able to reconnect to the VPN.
Along with that, IPVanish also implements strong DNS leak protection. It makes sure no data about your real location, identity, or browsing activity are visible.
The large number of servers that prevents low speeds caused by overpopulation is not the only way IPVanish can reduce ping and lag issues.
The VPN also gives access to multiple VPN protocols and you get to choose your preferred option. For high speeds, VPN experts recommend WireGuard, L2TP, and IKEv2.
Other key features of IPVanish include:
Public WiFi protection
Blocks geo-tracking attempts
Prevents ISP throttling
Access to multiple game servers worldwide
Maximize speed with the SOCKS5 proxy option
All in all, IPVanish is a great VPN for Valorant and it comes at a decent price. If you opt for it, note that the 1-year plan has a 30-day money-back guarantee.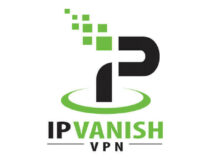 IPVanish
Connect to Valorant servers across the globe and maximize connection speed with this simple, yet effective VPN service.
Are free VPNs good for Valorant ?
It seems like many gamers are interested in discovering a good free VPN for Valorant. The main benefits you get are reduced ping and lag, higher privacy, and access to international servers.
Well, even if there are several available options on the market, it's best to avoid these solutions. With free gaming VPNs for Valorant, you won't take advantage of the complete protection of your activity and data.
You should also consider that this type of VPN doesn't offer unrestricted bandwidth or the high speeds you need for a delightful gaming experience.
The good news is that many of the VPNs on this list provide free trials so you can test out their features without financial commitment.
It gives you an opportunity to connect multiple VPNs to Valorant and see for yourself which one performs best. All VPNs on this list provide money-back guarantees for their paid plans, so take that into consideration as well.
That being said, there are completely free VPNs that provide decent services. A good example is Proton VPN. It has no traffic data limitations and lets you pick multiple virtual locations. The servers may however become overcrowded at times, which can affect speed.
In conclusion, you can use a VPN for Valorant if you're experiencing multiplayer issues such as lagging, high ping, stuttering, or packet loss.
Also, note that your game might sometimes run into certain troubles. That's why our team compiled a list of the best solutions to fix Valorant FPS drops in Windows 11. In case you ever face this issue, do not hesitate to use our dedicated guide.
Feel free to share your opinion with us, by leaving a comment in the section below.